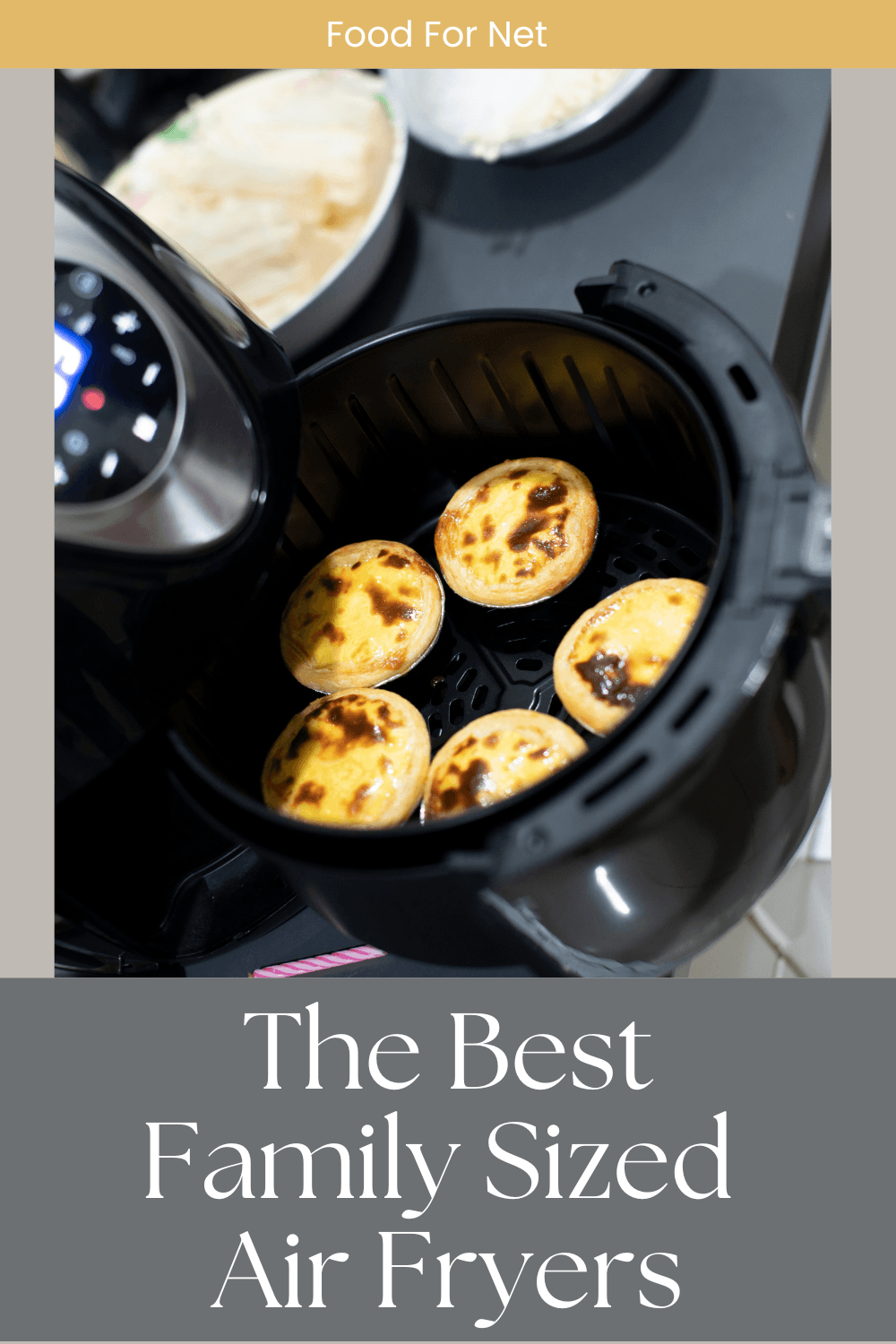 Air fryers are amazing tools, allowing you to make healthier versions of traditional deep fried classics, like fried chicken, French fries, and mozzarella sticks (to name just a few). By using the tool, you're getting much of the same crispness as traditional fried food, while using barely any oil. Family sized air fryers mean you can prepare food for a crowd, all within a single tool.
Such air fryers are powerful for families, as they allow you to make the foods your kids love without stressing about the health impacts. There are plenty of delicious dishes for adults too, especially if you turn to an air fryer cookbook.
Air fryers also have many other benefits for families, as they're a fast way to create delicious meals. Cleanup is easy too and certainly much better than cleaning a deep frier once you're done.
The minimal setup and cleanup is perfect for busy families. After all, the end of the day is often overwhelming and stressful on its own. The last thing we need is to try and prepare a complicated dinner right when everyone is tired and hungry.
P.S. Family size meal kits are another excellent choice for families. These ship out recipes and ingredients, making it easy to prepare delicious food at home. Some of them even have features that help kids get involved in the cooking process.
Or, if you're very short on time, you could experiment with frozen meal delivery instead. Such meals are never as good as what you can prepare yourself, but they're certainly better and healthier than takeout. There are also some surprisingly tasty ones out there these days.
The Best Family Sized Air Fryers
Instant Vortex Air Fryer Oven Combo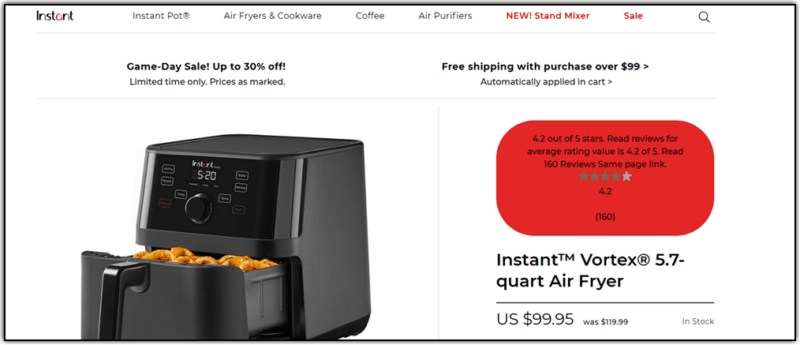 There's no denying it, the Instant Vortex Air Fryer Oven Combo is impressive. The air fryer comes from the makers of Instant Pot, so it's certainly a high quality product.
Like Instant Pot itself, there are a ton of features with this air fryer, including smart cooking programs, a digital touchscreen, and even an accompanying app that gives you more than 100 recipes. This isn't just an air fryer either, as you can roast, bake, and reheat food in it as well.
Your ingredients can be added to the air fryer through a drawer, which includes a dishwasher safe basket to make cleanup even simpler.
The temperature can be set from 120˚F to 400˚F, which provides plenty of versatility for cooking. The main downsize is the size. At 5.7 quarts, this air fryer is big enough for many family meals, but isn't incredibly impressive.
Ninja DZ550 Foodie 10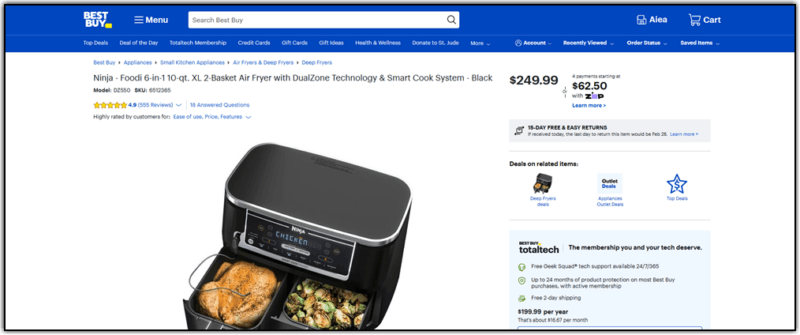 If you need a lot of space, the Ninja DZ550 Foodie 10 is one of the best air fryers on the market. It has two independent temperature-controlled sections, with a total of 10 quarts in space. It's large enough that you can even cook a 6-lb chicken in one of the baskets.
The fryer has been designed to make these two baskets work perfectly together. To help with this, there's a Match Cook option that copies your settings from one basket to another, plus Smart Finish, which ensures that your two meals finish cooking at the same time. Few other products make it this easy to cook two different dishes.
This is an incredibly versatile tool, as it also offers the ability to air broil, bake, roast, dehydrate, and reheat your food. There's a wide temperature range as well, stretching from 105˚F all the way up to 450˚F.
If this version is too large, there's also an 8-quart version that offers most of the same features, including two different frying baskets.
GoWISE USA 5.8 Quart Digital Air Fryer


The GoWISE USA 5.8 Quart Digital Air Fryer is perfect for when you want a decent size and range of functions, without an exceptionally high price. The air fryer also looks elegant, making it an easy addition to many kitchens.
The device includes eight different presets to make cooking even more straightforward. This includes presets for favorites like fries, chicken, shrimp, pizza, and even cake. There's also a start and stop button that allows you to adjust time and temperature in the middle of the cooking process.
The temperature ranges from 180˚F to 400˚F. This isn't as broad as some other air fryers, but is still more than enough for most situations.
Finally, this air fryer is easy to set up, use, and clean. This helps to save you time and means that even beginners will be able to use the air fryer well.
Dreo Air Fryer Pro Max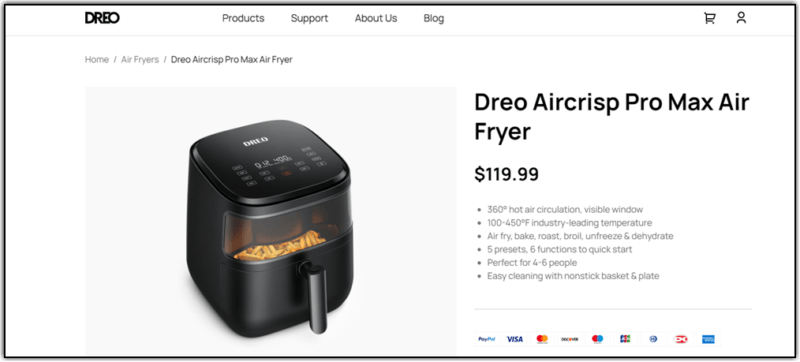 The Dreo Air Fryer Pro Max has an unusual feature – a viewing window. This allows you to keep an eye on your food as it's cooking, which is perfect if you've never used an air fryer before.
The presence of the viewscreen means that the settings for this device are on the top, rather than in front, but this doesn't affect functionality at all. There are plenty of available settings, including five different presets and six distinct functions. You can even dehydrate fruit and make yogurt in the air fryer.
Temperature settings range from 100˚F up to 450˚F, giving you the flexibility to make almost any meal you can imagine. The size is decent too, as this air fryer contains a 6.8-quart nonstick basket. It can easily prepare meals for four or even six people.
GoWISE USA 12.7 Quart Electric Air Fryer Oven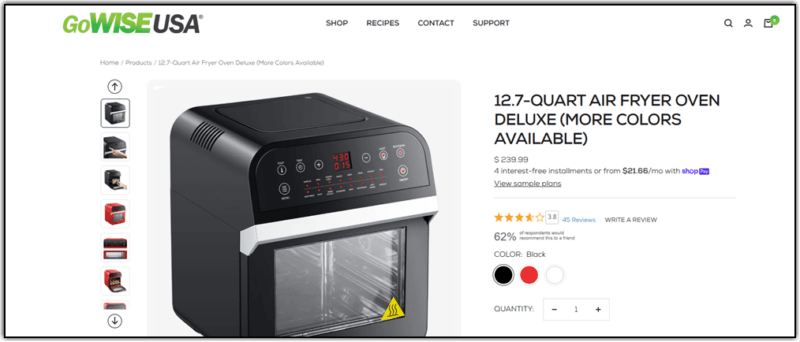 If you want the largest tool with the most features, the GoWISE USA 12.7 Quart is the air fryer to go with. It's even a little misleading to call this an air fryer, as we're basically talking about a mini oven with a huge range of features (it even looks like an oven!).
One of the impressive features is the ability to cook rotisserie meat. The oven is large enough for this and includes all the accessories you need to make the process work.
There is also space for three tiers of racks within the air fryer, allowing you to control how crisp your food ends up and to cook multiple dishes at once. Plus, you have almost 13 quarts of space to work with. That's more than almost any other model on the market.
The presets on this device make it easy to use, so you don't need to research cooking times and temperatures. Also, despite the complexity of this tool, it's often surprisingly inexpensive, sometimes coming in at under $100 on Amazon.
Further Details
How Air Fryers Work
Despite their name, air fryers don't really fry food at all. Instead, they're a type of convection oven that uses a fan to rapidly move hot air. This means you're essentially baking your food rather than frying it, although you wouldn't guess that from the finished dish.
The hot air helps to make food brown and crispy, giving it a similar texture to deep fried food. This approach means that air fryers only need small amounts of oil, which is why air fried food is a much healthier approach.
Air fryers are also incredibly practical, as they sit on your countertop, require almost no preheating, and cook food quickly. This makes them fantastic for times when you need to feed a family quickly.
Because the cooking method is so different, air fryers don't produce exactly the same results as deep frying (and most people will notice the difference). Still, it's exciting to find a healthy cooking method that gets so close to the texture of fried food.
What Oil Do You Use?
You can choose which type of oil you use in your air fryer. High smoke point oils tend to be best, including avocado oil, sunflower oil, and many oils used for roasting vegetables.
Despite common assumptions, you can also turn to olive oil. Olive oil has a higher smoke point than many people assume and has considerable oxidative stability. Because of this, it remains safe even when you're cooking at high temperatures.
What You Can Make Using An Air Fryer
Air fryers are famous for their ability to make healthy 'fried' foods, including the classics like fried chicken, chicken nuggets, French fries, and the like. However, this isn't the only approach.
You can also make healthy sides in the air fryer, such as roasted potatoes, carrots, cauliflower, onions, and many other veggies. Main dishes work surprisingly well too, including meatballs, steak, salmon, tofu, and even plant-based meats. Some air fryers even have two temperature-controlled sections, making it easier to cook different ingredients simultaneously.
That's still just scratching the surface, as you're not limited to individual pieces of a meal, like veggies and meat. You can actually create surprisingly complex dishes within the air fryer, including breakfast pizzas, casseroles, avocado eggs, and many more options.
Delicious Air Fryer Recipes
If you're new to air frying, recipes are your best friend. These will teach you many different styles and techniques – helping you to create some truly amazing dishes.
The site airfryerworld.com is one of the best places to start, as the creators offer recipes for appetizers, entrees, meat, vegetables, keto, frozen food, and more. There are even quick and easy recipes for those nights when you have little time to spare.
Then there's aheadofthyme.com. This isn't a dedicated air fryer site, but there's a fantastic roundup of different air fryer recipes. There are some very exciting entries in the mix too, including Sticky Honey Garlic Meatballs, Greek Salmon, Sweet Chili Chicken Bites, and Mediterranean Chicken Patties.
The nytimes.com also offers an amazing roundup of recipes, which even features an Air Fryer Cheesecake. Yes, you really can make a cheesecake using your air fryer – amazing, right?
Don't forget about cookbooks either. These often provide detailed information about how to use your air fryer, along with a decent selection of recipes in many different styles.