Feeding two people on a budget can sometimes be a bit challenging, especially with food prices as they are. Thankfully, there are plenty of tricks for keeping your costs low. A big part of doing so is preparing the right meals. That's why today's post focuses on the cheapest meals for two.
Choosing your meals carefully makes a huge difference. After all, some dishes are much more expensive than others, especially when they rely on many ingredients, pricy cuts of meat, or rare spices.
So, the meals on this list are all inexpensive options. They're also incredibly flexible. Most of the time you can tweak the ingredients to match your favorite flavors and textures. Sometimes you can even turn these dishes into keto friendly versions.
P.S. For another approach, why not look at cheap meal kits? While these cost more than buying the ingredients individually, they are a great way to save time.
Such meal kits are also cost effective, as you receive the right amount of ingredients for your meal. This is much better than needing to buy extra food because some of the ingredients you're looking for aren't sold in small portions.
Cheap Meals To Feed A Couple (With Pictures!)
Chicken Fajitas

Chicken fajitas are an easy and delicious go-to. They're particularly cheap if you buy chicken breast when it's on special and focus on seasonal vegetables. You could even turn to chicken thigh or make the fajitas using leftovers from a roast chicken. Those approaches could make the meal even cheaper too.
You can also bulk out the meal by including beans in with the chicken. The beans provide extra nutrients and are always cheaper than chicken.
It's crucial to choose your ingredients well here. Some popular fajita ingredients, like feta cheese, avocados, and eggplant might be a bit pricey. But, don't worry, you can still make delicious fajitas by focusing on the cheap ingredients.
You don't need to stick to the traditional fajita ingredients either. Instead, why not focus on produce that's in season, particularly items you already have on hand. After all, the fewer ingredients you need to go out and buy, the better.
Veggie Laden Pot Pie

Pot pie is another surprisingly inexpensive choice, particularly if you include plenty of veggies. Mixed frozen vegetables and potatoes are a fantastic way to bulk the pie out, while providing many important nutrients. Don't forget to use plenty of spices to raise the flavor of the pie.
You could add a decent source of protein to the pie too. Chicken is the obvious choice here and you don't need much to make the pie unforgettable. But, chicken isn't essential. Even just focusing on plant-based ingredients will still give you a delicious main meal.
Homemade Burgers

Making burgers at home is surprisingly inexpensive, especially if you get the meat on special. You can even stretch your meat further by making a burger patty using a combination of lentils and ground beef.
Other ingredients can be included in the burger patty too, such as mushrooms or even zucchini. These don't just make the meat stretch further, but also provide a fantastic flavor and texture contrast.
Then you just need the rest of the classic burger ingredients, like lettuce, tomatoes, and perhaps some cheese. Of course, your ingredient selection will be influenced by what's in season and the current specials.
A beef burger isn't your only option either. Chicken burgers work well too, made with chicken breast or perhaps ground chicken.
Meatloaf

We can't go past meatloaf, can we? It's such a classic and tends to be very cheap to make. You can even mix it up and bulk it out in countless ways.
For example, Beth at budgetbytes.com offers a Cheddar Cheeseburger Meatloaf recipe, which adds plenty of cheese to give you a dish that's both familiar and new.
While meatloaf is a great financial choice, finding a good recipe is essential. Who hasn't tried to choke down dry and flavorless meatloaf at least once in the past?
Omelets

Ah, omelets. They have so much going for them. They're inexpensive, easy to prepare, and surprisingly filling. These features omelets as excellent breakfast foods. After all, many have limited time and energy first thing in the morning.
You can also easily mix up the ingredients. A cheese omelet is a simple place to start. While cheese isn't the cheapest ingredient, it's a valuable one, you don't need to use much cheese to add plenty of flavor and creaminess to your dish. The protein in cheese also helps to keep you full.
Then, you can go to town. A smattering of herbs or spices is an easy way to boost the omelet's flavor. You could also add fresh vegetables too or even leftovers from your fridge (potatoes work surprisingly well).
Pasta And Ground Beef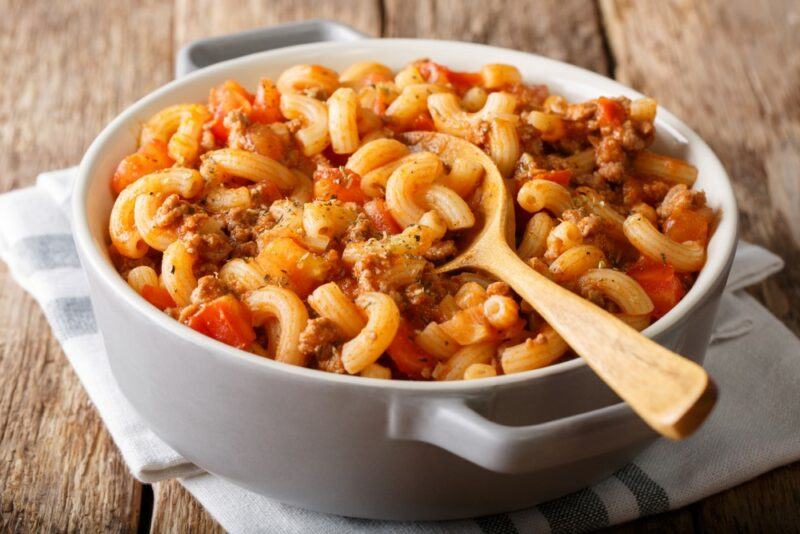 This one is a very American dish. You're basically combining macaroni with beef with tomatoes, red sauce, and various herbs and spices.
The sauce and herbs give you plenty of flavor, while you get protein from the beef and carbs from the pasta. All-in-all, this dish is an excellent balance of macronutrients and flavors.
What's more, the meal is very easy to cook and reheats like a dream. So, if you're serving two, you might have this for dinner one night and leftovers the next day.
Some versions of this recipe use red wine as an extra ingredient. Doing so bumps up the price a little, but the wine does add plenty of flavor.
Bangers And Mash

Sausages are often inexpensive and there are plenty of styles to choose from. Even plant-based sausages work well, although they're often more expensive than traditional sausages.
Regardless of the type, sausages pair well with mashed potatoes. You could serve some seasonal vegetables on the side or perhaps cooked frozen vegetables. This mightn't be a complex meal, but it doesn't need to be either. Sometimes simple really is best.
Black Bean And Sweet Potato Nachos

This is a fun and surprisingly inexpensive dish. The base relies on black beans, diced sweet potatoes, canned tomatoes, and some veggies (zucchinis work well). You'll want some spices and perhaps tomato paste as well, to bring everything together.
The hard ingredients are sauteed together first, then everything is mixed and allowed to simmer. You end up with a flavor-packed meal that can be easily eaten with tortilla chip spoons. There's a ton of food too, giving you plenty of leftovers for the next few days.
Peanut Butter Ramen

Do ramen noodles remind you of being a student? They're a classic student ingredient that many of us turn to when finances are tight.
But, ramen noodles don't need to be boring. It's easy to make them more exciting, like using a combination of peanut butter, soy sauce, and brown sugar. These ingredients give you a Thai-style dish that tastes much better than it sounds.
If you prepare this one well, the type of noodles won't even be noticeable.
Ramen With An Egg

For an even simpler version of ramen, try serving it with an egg. You can theoretically poach an egg in the ramen water while it's cooking. That approach is amazing when it works well, but it's easy to mess up.
You can make things easier by poaching the egg separately or simply mixing it into the ramen. You could even use two eggs instead of one. The egg provides plenty of protein, making ramen much more satisfying than normal.
Lentil Bolognese

This dish is a riff on the classic spaghetti bolognese. The difference is obvious from the name – you're using lentils instead of meat.
The approach is excellent financially, as meat is getting seriously expensive. Focusing on lentils also means you can make a vegetarian or vegan friendly dish without much effort. You'll still need crushed tomatoes, spices, and the rest of the classic ingredients.
Adding half a cup or so of chopped walnuts to the bolognese sauce helps too. The nuts provide a helpful flavor and texture contrast.
If you're a huge meat fan, you could also try a half and half version. This would involve combining lentils, walnuts, and ground beef. The approach helps to stretch out your ground beef, while also giving you a pretty healthy meal.
Lentils And Rice

Lentils and rice is one of the simplest dishes you can make – as it's literally what the name suggests. Both ingredients are inexpensive and shelf stable.
Of course, lentils and rice on their own aren't that exciting. Adding some spice and perhaps caramelized onions is a great way to make everything taste better. There's even a dish called mujadara, which is a flavorful version of lentils and rice that still keeps the cost low.
Scrambled Eggs And Black Beans

Here's another easy dish that works well. As the name suggests, you're simply combining black beans with scrambled eggs. Surprising as it may seem, eggs and beans work perfectly together, giving you a great balance of textures and flavors.
You could eat this combination on its own, but the ingredients are even better when served in a warm tortilla. Spices, soy sauce, and even a little can be used to create a more interesting meal. None of these are essential though. Even just eggs, beans, and a tortilla tastes fantastic.
Chicken Soup

Chicken soup is an exceptionally cheap dish, partly because you're often making it from leftovers. In particular, you might buy a whole chicken, roast it and use it as the main meal.
Then, when most of the meat has been used, you can use the carcass as a base for chicken soup. Then you just need a few ingredients to bulk the soup out. Even just potatoes, celery, and frozen peas can give you an excellent soup.
You could add noodles too. This would give you a delicious chicken noodle soup without much effort. You're making more than two servings, but soup can be easily reheated on another night.
Black Bean Soup

Black bean soup is almost always cheap, especially if you prepare it using dried beans rather than canned beans.
If you want an incredibly easy version, try combining a can of the beans, one of stewed tomatoes, and one of corn. The flavors and ratios come together surprisingly well and give you a low key yet tasty dish.
Salsa Chicken

It's hard to go past salsa chicken if you want something easy. The dish just involves throwing a few chicken breasts in the slow cooker, along with seasoning ingredients and a jar of salsa.
After around six hours on low, the chicken breasts are tender and delicious. You can then serve them alongside rice, potatoes, or any other starchy side.
Potato And Chickpea Curry

This simple dish relies on diced potatoes, canned chickpeas, tomatoes, and spices. You can add lentils and spinach if you want even more nutrients, but doing so isn't essential.
The chickpeas are particularly powerful, as these give the dish plenty of protein. Plus, you can use chickpeas straight from the can, which makes the meal very easy to prepare.
Chicken With Frozen Vegetables

This dish would work with any cut of chicken, although chicken drumsticks are often particularly cheap (a rotisserie chicken would work well too). The meat can then be paired with cooked frozen mixed vegetables, plus perhaps a cup or two of rice.
None of the ingredients are exciting, but you do get a nutritious meal that's easy to prepare. Sometimes this is all you need, particularly at the end of a busy work day.
Tuna Casserole

While tuna casserole isn't the most nutritious meal, it's excellent in a pinch, particularly as all the ingredients are so inexpensive. You're simply relying on pasta, canned tuna, mushroom soup, and a handful of other ingredients.
Because these are all shelf stable ingredients, you can easily keep them in the cupboard for when you have few other meal options.
Chili

Chili is another classic that's hard to ignore. The combination of ground beef and beans means you're getting plenty of protein. The right spices means that chili can easily be turned into a flavorful dish too.
If you don't want chili on its own, you can try serving it with rice, cauliflower rice, cornbread, or potato skins. Well, to be honest, almost any source of carbs is going to work well.
Shepherd's Pie

Shepherd's pie is both easy and satisfying. The base layer relies on ground beef in a rich gravy with plenty of vegetables (even frozen vegetables will work here).
Then you have a layer of mashed potatoes topped with cheese. The entire dish is baked in the oven, which allows the cheese to melt and form a crispy crust.
It's easy to see why this works, as you're getting veggies, meat, and potatoes from the same dish. Shepherd's pie also reheats well, so it won't matter if there's some left for the next day.
This is another dish where you could drop out half of the mince and add some lentils instead. Doing so changes the flavor profile and texture a little, but not dramatically.
Pulled Pork

If you can find pork at a good price, then pulled pork is an excellent low price meal. It's easy to prepare too, as your slow cooker will do the bulk of the work for you.
Then, once the pulled pork is made, it can be used in endless ways – like in sandwiches, enchiladas, or simply served alongside potatoes and beans. You can also make pulled pork bowls, using rice or couscous as the base, then adding pork (and beans, if you like), cheese, and perhaps some fresh veggies.
The same approach can be taken with other types of meat too, including chicken. The best meat will be influenced by what you can find on special.
Meatball Subs

Subs are an excellent way to make meatballs more exciting. You can cook the meatballs in the traditional way or do so in the slow cooker instead. Either way, they're going to be delicious.
One Pot Chicken And Rice

This chicken and rice recipe comes from budgetbytes.com, which means it was designed to keep the cost low. The dish is simply what the name suggests – chicken and rice all cooked together.
The author suggests using boneless chicken thighs for the recipe. You could use chicken breasts, but there's a risk they dry out too much.
There are also countless variations to this recipe, like using different herbs and spices. Even just changing a few ingredients gets you close to an entirely new meal.
How To Cut Down Your Costs

Practice Meal Prep
Cooking for two can be frustrating because ingredients are often sold in larger servings than your recipe calls for. You might need to buy a whole pumpkin just to make pumpkin soup for dinner or a large bunch of celery for one or two meals.
Meal prep helps you get around this issue. The idea is that you're cooking multiple meals at once. The extra food can be frozen or kept in the fridge for later in the week.
You might do so by cooking full meals that are ready to go (like soup or a casserole). Other times you might prepare components of meals, like a dish of cauliflower rice, one of marinated tofu, and perhaps some chicken drumsticks. You can then mix and match the individual components to create different meals.
Use Legumes For Protein
Protein is an essential part of eating on a budget. If your protein intake is too low, then you'll be hungry much of the time and regularly need more food to keep you full. Being hungry can also lead to impulse food purchasing, which is the last thing you want.
Legumes like beans and lentils are excellent choices here, as they're shelf stable, are packed with protein, and tend to be cheap as well. They also work well in many recipes, including those that are designed to include meat.
Choose Inexpensive Cuts Of Meat
If you're taking the meat route, then inexpensive cuts are your best bet, including cheap cuts of steak. Such cuts are often fairly tough, but you can use marinades to make them more tender.
Don't forget about the slow cooker either. Slow cooking is a fantastic way to make inexpensive meat taste better. It's also a hands off approach, which is perfect if you're also very busy.
Buy Seasonal Produce
Fresh fruit and vegetables are always cheapest when you buy them in the right season. This is particularly true if you're shopping at local farmer's markets.
If you have the time and space, growing your own veggies works well too. You don't need a huge veggie garden. Even just growing a few of your favorites could help to cut down your grocery bill.
Look For Specials And Buy In Bulk
Buying food on special can make a huge difference to your bill. So, when you see an exceptional price, you might want to stock up. It often helps to purchase a large amount, portion it out into freezer safe bags, and then freeze the food for a later date.
When doing so, it's important to label your food well. Include dates on the label so that you can use the frozen food while it's still good quality. Combining this approach with meal prep is powerful for keeping you well fed.
But, to truly save money, you need to be careful. It's extremely easy to buy more than you need when there's a good special and simply forget to use all of it. Doing this could mean that you spend much more than you save.
Don't Forget About Frozen Veggies
While frozen veggies aren't that exciting, they're excellent for saving money. After all, they last much longer than fresh veggies, can be easily split into portions, and are often cheaper than fresh veggies.
And, surprising as it might seem, the veggies can also be highly nutritious. This is because they're snap frozen right after harvest, which makes them as fresh as possible.
Many of the meals we've featured on this list can easily be made using frozen veggies. Sometimes you mightn't even be able to tell the difference between versions with fresh and with frozen veggies.