One of the most popular American side dishes is the good old mashed potatoes. It can be as simple as your regular boiled potatoes with butter, milk, salt, and pepper, or a slightly more flavorful garlic-herbed ones. You can even dress them up in quite a variety of ways with some spices for mashed potatoes, and of course everything pairs really well with meat and vegetables.
Mashed potatoes are really easy to make, no doubt about that, but when you're working with the simplest and basic ingredients, everything counts. So, nailing for example the spices for mashed potatoes can seal the deal and earn you that thumbs up approval.
But first things first, choosing the right potatoes. You want to go for the starchy ones, and since there are a lot of different types of potatoes, one may think it's going to be a challenge. Well, not really, you just have to try one or two types and you're more likely to find the best one for your preferred kind of mashed potato.
For one, russet or Idaho potatoes are usually used because it falls apart easily when cooked. It also absorbs cream and butter quite well which results in light and fluffy mashed potato. Yukon golds on the other hand may not mash up quite as well but it has a rich texture and subtle creaminess. It also has that lovely golden color.
You can try working on these two potatoes separately and see how it turns out and measures to your liking. You can also try using both, fifty-fifty, that way you can get the natural creaminess and color of Yukon Golds and still get that extra-lightness and fluffiness from Russets.
Now, when boiling your potatoes. It's best to add them while the water is not boiling yet so that they cook evenly. It's better to leave them unpeeled and whole as well so that they absorb less water while it's cooking. If you want, you can also try baking them.
Mashing the potatoes is simply that, mashing it. Although you have to make sure that you don't overdo it because too much starch will leach out. When that happens, you'll end up with gummy or gluey potatoes. You want to handle them as little as possible. A regular potato masher will absolutely do. Don't get tempted to throw those potatoes in the food processor or blender.
When choosing which butter to use, simply go for the good-quality ones. Remember that mashed potatoes are dominantly flavored with butter, so whatever butter you're using make sure that it's not the cheap kind and also – that you like how it tastes.
The milk will help turn your mashed potatoes into a scrumptious, creamy side dish so feel free to substitute and go for half-and-half or even for a cream! But of course, you can always use regular milk. Perhaps reserve this for the special occasion that calls for an extra special side dish for perhaps a beautiful roast beef or roast pork.
You can try gently heating the butter and milk first before adding them in. And also, add the butter first. Make sure, too, that you pour the milk (or cream) gently. Don't just add it all at once, smaller pours will ensure that the liquid is properly absorbed. This will prevent a watery mashed potato.
And another important thing, don't forget to season it! Simple salt and pepper will do, of course. But if you want to level it up a bit, try adding herbs and spices as well. For one, garlic herb mashed potatoes are always a hit. It doesn't hurt to experiment with different herbs and spices every once in a while. After all, mashed potato is absolutely a great base flavor to do exactly that.
So, to keep your ideas flowing, here's a list of herbs and spices for mashed potatoes that you can use to level up this classic side dish.
Spices for Mashed Potatoes (With Pictures!)
Paprika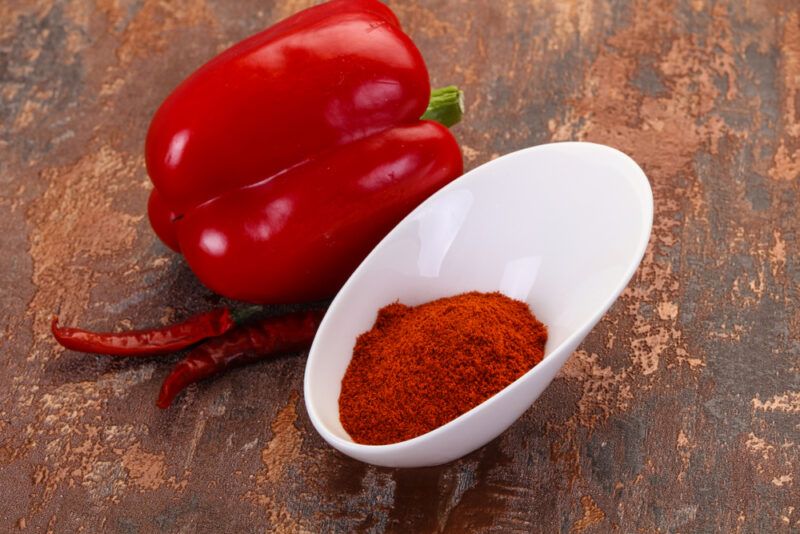 This red spice is derived from a variety of dried red peppers, generally, the milder types, which are grounded into a powder. It's rich in iron and vitamin E which are both important in supporting healthy blood. It also contains capsaicin that has antioxidant properties.
The addition of spices in this Paprika and Pepper Mashed Potatoes recipe gives this classic side dish a lovely hue and interesting layer of flavor. Paprika along with cumin, and cayenne pepper adds a decent kick and peppery taste that compliments the mash's creaminess.
Basil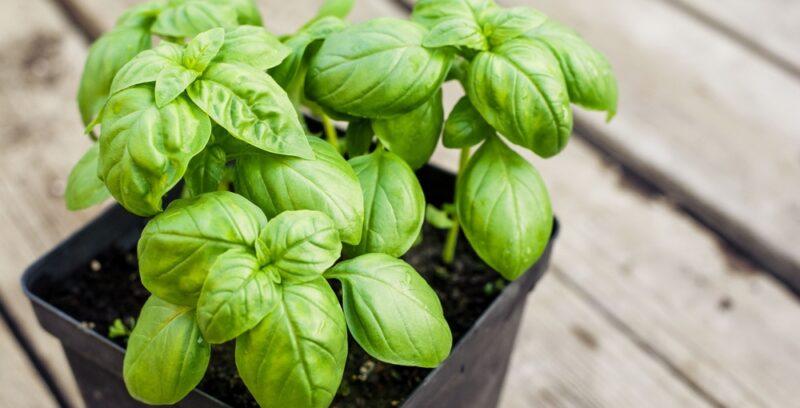 Basil is a culinary herb that belongs to the mint family and is native to Central Africa and Southeast Asia. In addition to its antioxidants content, it also contains micronutrients such as vitamin K and calcium. It also has eugenol content which may help in lowering blood pressure.
The combination of roasted garlic and fresh herbs, basil, chives, rosemary, and oregano; pretty much sealed the deal for this Garlic Herb Mashed Potatoes dish. The herbs give the dish lightness and freshness which balances the overall flavor.
Cumin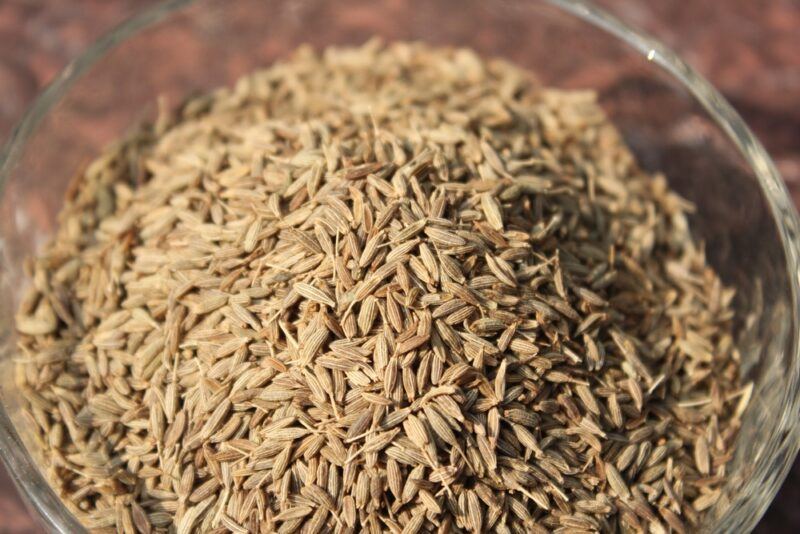 Cumin seeds are the seeds of a flowering plant in the parsley family. It's native to the Mediterranean region and is also cultivated in India, Mexico, and China. It's a good source of iron, magnesium, calcium, and phosphorus. It can help in promoting digestion and weight loss, preventing food-borne illnesses, and improving blood cholesterol.
If you want one with an Indian twist, try this Masala Mashed Potato. The classic mash is seasoned with cumin, turmeric, ginger, chilis, and coriander – beautiful Indian flavors that are meshed together into a delicious creamy masala mashed potato.
Chives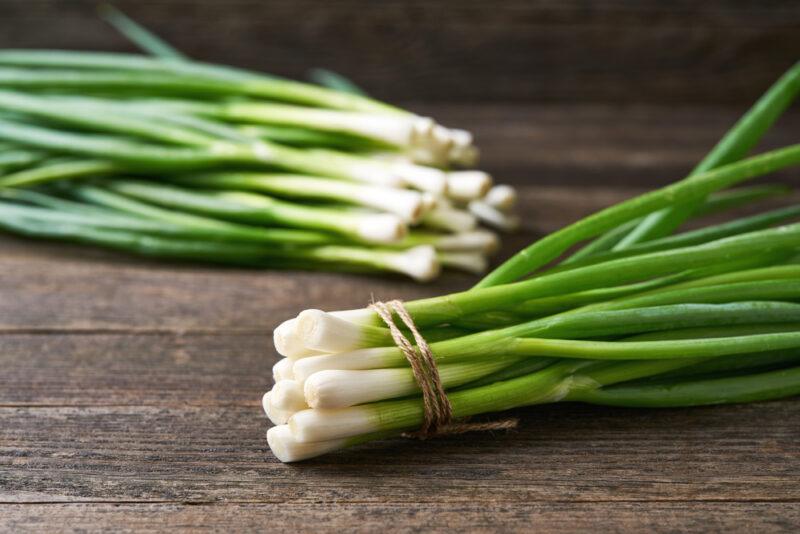 Chives is a species of flowering plant in the family Amaryllidaceae. Both of its leaves and flowers are edible. It's rich in vitamin C, riboflavin, potassium, iron, thiamin, vitamin A, and beta carotene. It's good for preventing the common cold and fever, maintaining blood pressure, and boosting the immune system.
You simply can't go wrong with a mash simply seasoned with salt and pepper and finely chopped chive like this Ultimate Mashed Potatoes recipe. The chive is enough to provide that herbaceous taste that highlights the potatoes' creaminess and richness.
Mustard seeds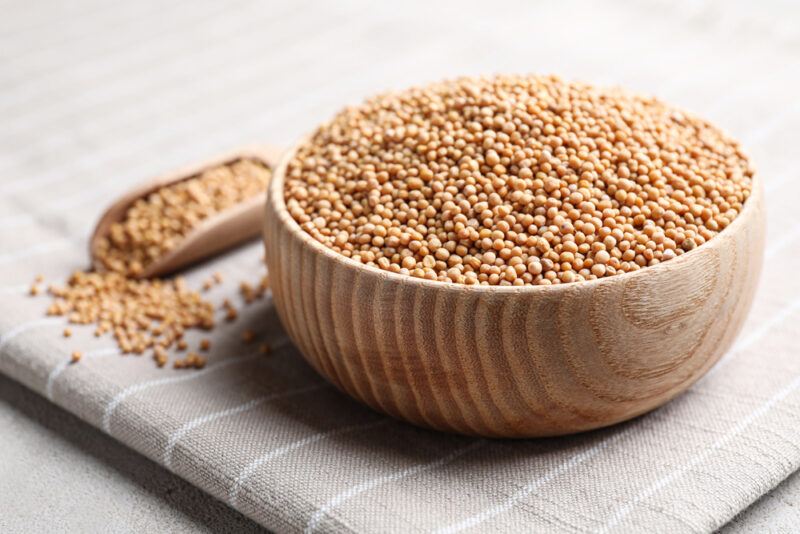 These tiny round seeds came from various mustard plants. It's used either whole or grounded in cooking. These seeds are particularly rich in fiber, magnesium, selenium, and manganese. It's good for strengthening bones, nails, hair, and teeth. It also has antioxidant and anti-inflammatory properties.
If you want to try something different from your classic mashed potato, here's a dish called Creamy Mashed Potatoes with Warm Spices. Aside from cumin and turmeric, the mustard powder is also used in the spice mix that absolutely elevated the dish.
Parsley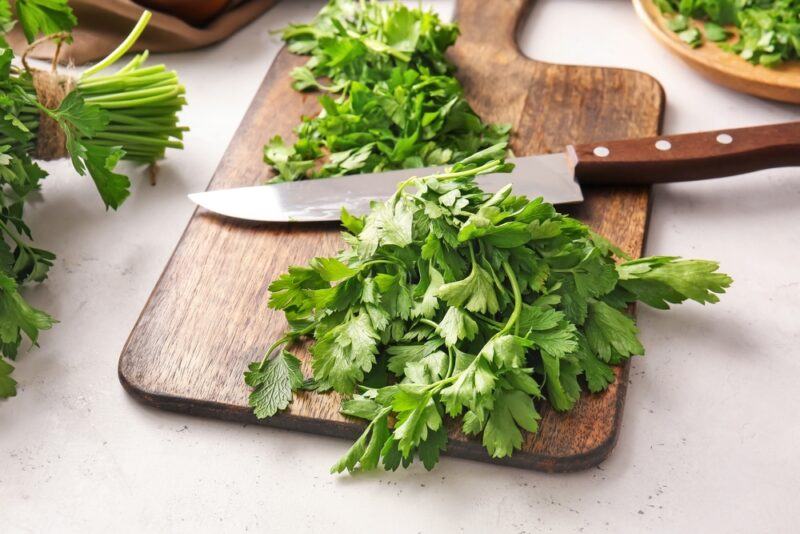 Parsley, also called garden parsley, is cultivated both as an herb and as a vegetable. It's native to the central and eastern Mediterranean region. It's a rich source of vitamin K. Parsley also contains a good amount of vitamin A and flavonoids.
Most herbed mashed potatoes have parsley but this one uses it in combination with chives which really works. And you'll like the idea, too, of preparing the mashed potatoes ahead of time (up to one day). This will be perfect when you still have a lot of dishes to make for dinner.
Chat masala

Chat masala is a spice mix that originates in South Asia. The mix usually contains mango powder, cumin, coriander, ginger, mint leaves, black rock salt, and pepper. Chat masala is rich in iron, calcium, and magnesium because of the mango powder and cumin seeds. Its nutrient content varies depending on the spices used in the mix.
Here is a dish called Mashed Potatoes Indian Style if you're craving more Indian flavors. Beautifully seasoned with warm spices including chaat masala, there's absolutely no shortage of flavors here. Be patient with the ingredients, though. After all, this is you leveling up your mashed potatoes.
Rosemary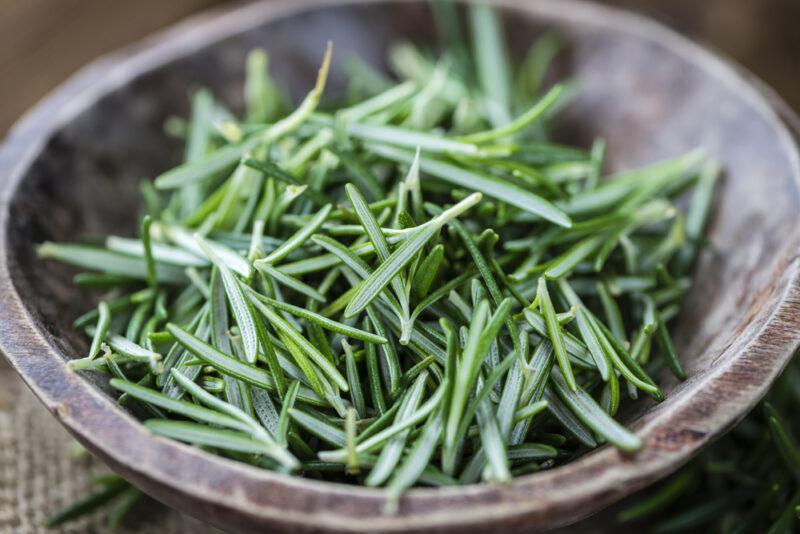 Rosemary is a shrub that is also native to the Mediterranean region. It has fragrant, evergreen, and needle-like leaves. It's a good source of iron, calcium, and vitamins A, B6, and C. It also contains antioxidants and anti-inflammatory compounds which help in boosting the immune system and improving blood circulation.
Using rosemary in this garlic and herbed mashed potato recipe adds a fresh lemony and somewhat piney taste that works with the savory flavor. The addition of sage also pairs really well with the rosemary.
Turmeric powder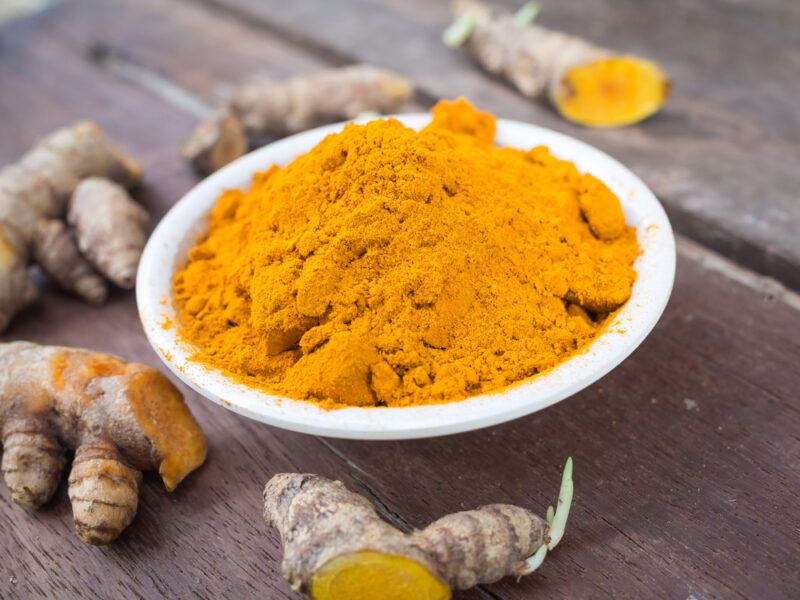 This brightly colored yellow spice is derived from dried and grounded turmeric rhizomes. It's a popular spice in India and the one responsible for curry's yellow color. It's rich in curcumin which has powerful anti-inflammatory and antioxidant properties. It also contains vitamin C and vitamin B6.
Aside from the lovely color, this Turmeric Mashed Potatoes recipe also boasts some serious flavor. Along with turmeric powder, cumin, coriander, and mustard seeds are also used. The dish is then balanced by the freshness of cilantro leaves.
Dill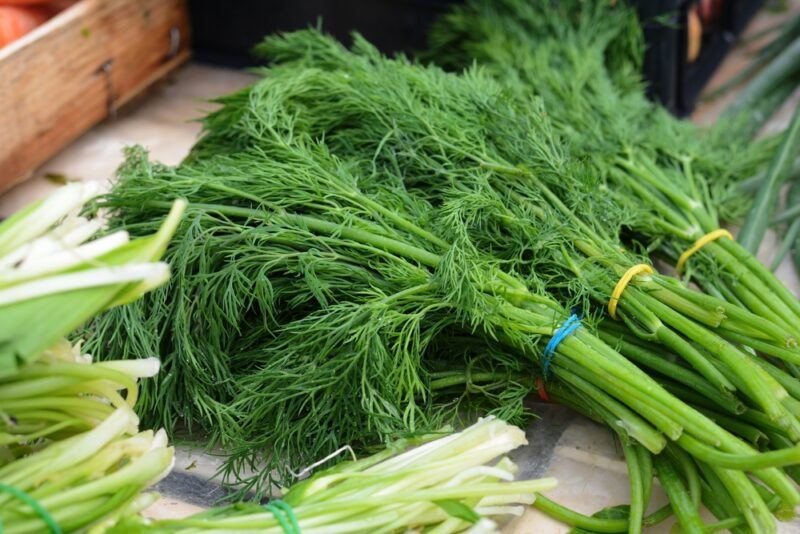 This annual herb belongs to the celery family and is widely grown in Eurasia. Dill's leaves and seeds are used as herbs or spices in cooking. It's rich in antioxidants and also a good source of vitamin A, vitamin C, and magnesium. Dill may help in protecting against chronic diseases like cancer and heart disease.
To balance the creaminess of this Herb and Garlic Mashed Potatoes, a fresh herb combination of dill and parsley is added along with the very fragrant roasted garlic. It doesn't hurt that even the site of dill's delicate leaves sprinkled on top of each serving is already a refreshing feat.
Cajun seasoning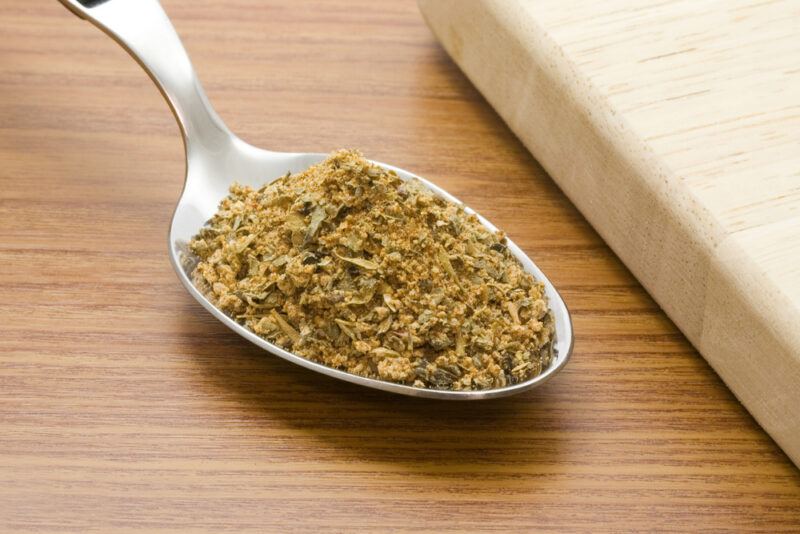 Cajun seasoning is a spice blend that originates from Louisiana. There are store-brought readily mixed Cajun seasoning but of course, you can always make one at home. Its nutrient content varies depending on the concentration of spices used in the mix. The blend usually has cayenne, paprika, black pepper, crushed red pepper, thyme, oregano, garlic powder, and onion powder.
This particular Cajun Mashed Potatoes recipe surely has some serious Cajun flavor. The mash is seasoned beautifully with homemade Cajun seasoning that contains garlic powder, paprika, black pepper, salt, and cayenne pepper. Just make sure to taste your mash as you mix the seasoning before you add any additional salt.
Cilantro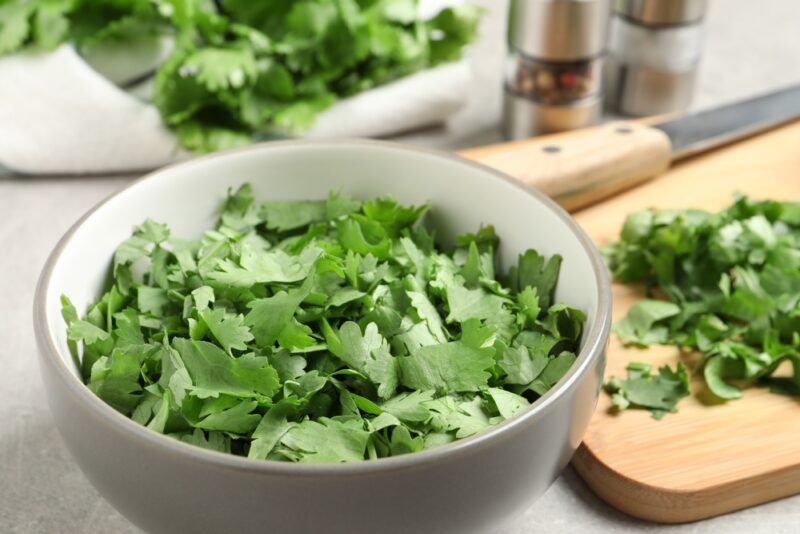 Cilantro is the leaves of the coriander plant which is an annual herb in the family Apiaceae. It is sometimes called Chinese parsley or dhania. Cilantro contains vitamin A, vitamin C, vitamin K, folate, manganese, and potassium. It may help in reducing the risk of heart disease, obesity, and diabetes. It may also boost energy levels and support healthy hair and skin.
See if this Healthy Spicy Mashed Potatoes dish is up to your liking. It is simply spiced with green chilies, flavored with fresh cilantro and mustard oil, and seasoned with salt and pepper. It doesn't have any dairy. This aromatic side dish, known as aloo pitika in the Northern state of India, is served alongside steamed rice, lentil curry, roti, or roast turkey.