Herbs and spices have a long history in traditional medicine and modern society is just starting to rediscover their power. A few standout herbs and spices, including cinnamon, ginger, and turmeric are leading the way in this revolution. As it turns out, the bright yellow turmeric powder is useful for much more than just making your curries taste delicious. So, why is turmeric good for you?
What is it about this little spice that makes it so special?
And, while we're at it, how do you get the most out of turmeric? We're going to answer all of those questions in this post, along with plenty of others.
Is Turmeric Good For You?
What Is Turmeric
Health Benefits Of Turmeric
Potential Problems With Turmeric
Getting More Turmeric In Your Diet
Are Turmeric Supplements Helpful?
How Much Turmeric Should You Be Taking?
Final Thoughts
What Is Turmeric?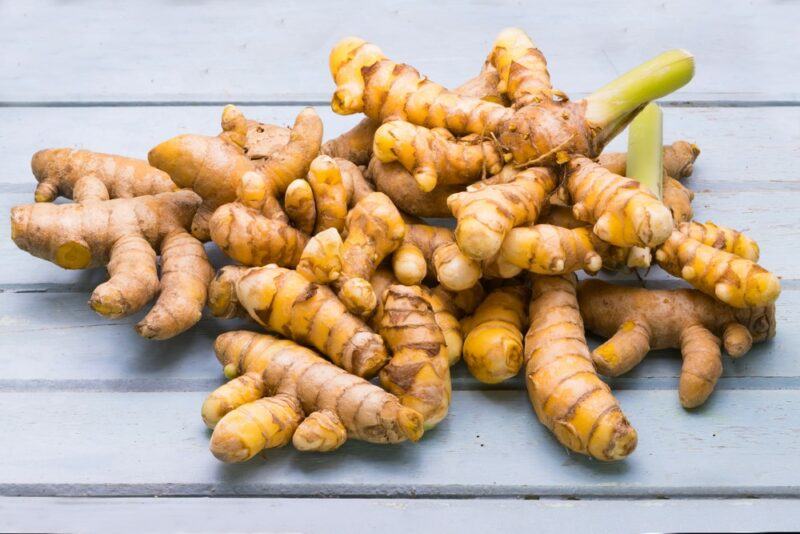 To begin with, let's talk a little about turmeric itself. Turmeric itself is a tall plant with the scientific name Curcuma longa. It grows in Central America and Asia, and turmeric root has long been used in traditional medicine, in cooking, and as a type of dye.
You may even recognize the vibrant yellow color and distinctive flavor, as turmeric is often used as an ingredient in curries. Some curries use turmeric directly, while others include it as one of the many spices in curry powder.
Health Benefits Of Turmeric
May Decrease Inflammation
Turmeric is perhaps most famous for its anti-inflammatory effects. The benefit appears to mostly come from curcumin, which is the active ingredient in turmeric and is also powerful as an antioxidant.
Curcumin is special as an anti-inflammatory agent, as it's been studied so extensively. Multiple studies have shown a link between turmeric and decreased inflammation (although, some authors are less enthusiastic).
Now, inflammation itself is an interesting topic. On one hand, inflammation is an important process. Without inflammation, our bodies couldn't repair damage well or fight infections.
But, long-term persistent inflammation has been linked to a variety of problems. It could even increase the risk of some serious diseases, including Alzheimer's disease, heart disease, and perhaps cancer.
Inflammation might even be partly why so many people suffer from health problems these days. After all, our diets are high in processed foods, many of which promote inflammation. Turning to anti-inflammatory foods instead may be a powerful way to decrease inflammation and disease risk, while improving your health.
It Could Relieve Pain
The anti-inflammatory effect could make turmeric very relevant for fighting pain – particularly for arthritis pain.
For example, one study found that people with knee osteoarthritis experienced just as much pain reduction from 2 grams of turmeric or 800 mg of ibuprofen per day.
This is a powerful result, as many people are concerned about taking ibuprofen regularly. Turmeric could be a much safer choice.
Anecdotal reports back up the link between turmeric and pain relief too. Many people have noticed the same effect in their own lives, adding weight to the research.
It's An Antioxidant Too
Then there are the antioxidant properties of turmeric. These are very relevant for health too, potentially decreasing your risk of some diseases and promoting health in other ways.
Antioxidants are vital, as they fight free radicals. Those are highly reactive molecules that can have dramatic impacts throughout our body, including causing damage to our DNA. This is why antioxidant rich foods are so important. Turmeric is just one example, but its antioxidant effects are potent, which makes turmeric valuable in your diet.
Could Help With Your Brain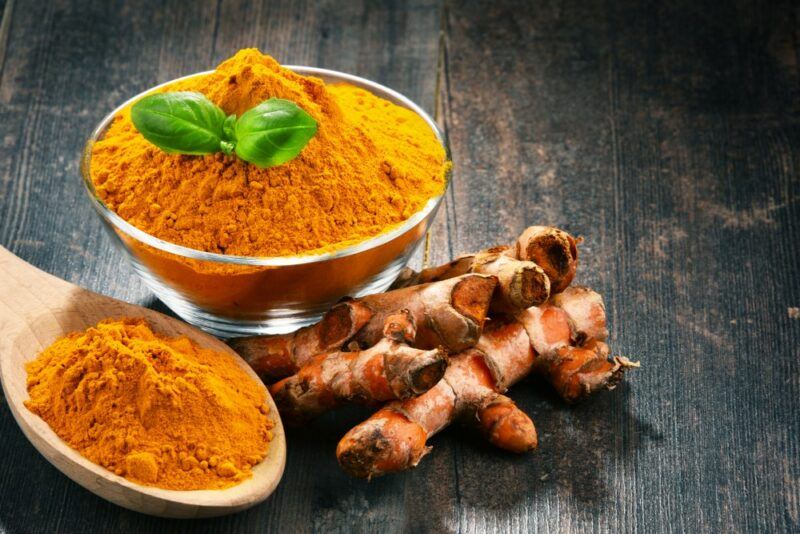 Turmeric is often associated with brain health too, potentially decreasing the risk of Alzheimer's disease and also helping with some mental health disorders, like depression. You might even find that turmeric helps to lift your mood.
Such effects are largely linked to the anti-inflammatory and antioxidant properties of curcumin.
There's also the chance that turmeric could help make antidepressants work better. But, if you're taking antidepressants, talk to your doctor before supplementing with turmeric, as combining the two comes with some risk as well.
May Promote Health In Other Ways Too
The antioxidant and anti-inflammatory effects of turmeric mean that the spice could offer many other health benefits as well.
For example, it's been linked to better liver function, decreased cancer risk, improved digestion, and decreased cholesterol levels. These areas are all powerful, especially when combined with a healthy diet.
However, more research is needed. The effects are also likely to vary from one person to the next.
Is Well-Studied And Likely To Be Safe
Turmeric has a long history in traditional food and medicine, so we can be confident about its safety. This is particularly true for using turmeric as a spice.
Studies into turmeric as a supplement show that it is likely to be safe too, up to 8 grams/day for 2 months or 3 grams/day for 3 months. Higher doses could or longer durations could be safe too, but research is still ongoing.
Many People Have Positive Experiences
If you look online, you'll notice countless people raving about turmeric. We're not just talking about people who are selling turmeric-related products either. The reviews section on WebMD, for example, shows an average rating for turmeric of 4.1, across 405 reviews.
Many of these reviewers say that they are feeling less pain after starting to supplement with turmeric regularly. This is particularly true for people with arthritis and other joint pain problems.
Now, personal reviews aren't the most reliable source of information, but they're still relevant. After all, scientific research focuses on averages, so it can never truly account for the experiences of individuals.
Potential Problems With Turmeric
So, what about the flipside of the coin? Most foods and supplements have some issues and turmeric is no exception.
Turmeric Isn't Absorbed Well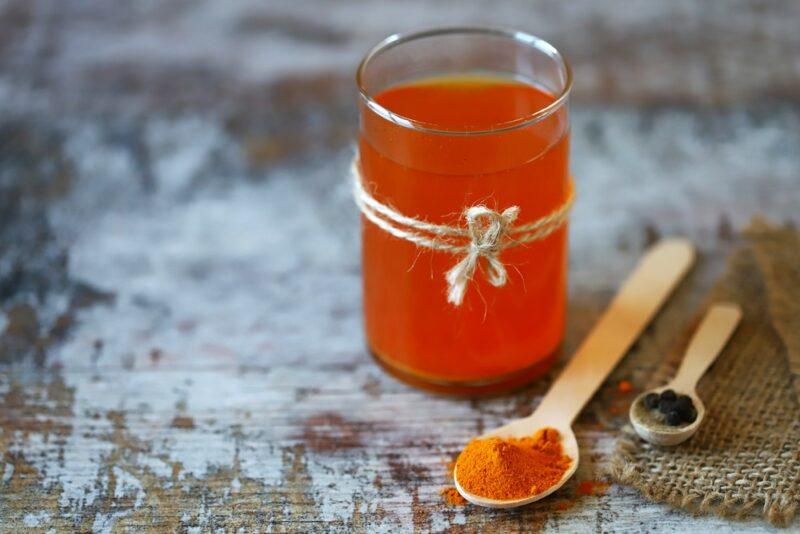 You don't get the benefits of food simply by eating it. Instead, the compounds in the food first need to be absorbed. If absorption is low, then there really isn't much point.
Turmeric naturally has low absorption, as does the active ingredient curcumin. This is one reason why simply getting turmeric in your diet mightn't be enough to improve your health.
Because curcumin is fat soluble, absorption may increase if you consume fat at the same time. Black pepper is an even more powerful option. The pepper contains a compound called piperine, which increases turmeric absorption, by as much as 2,000%. How's that for impressive?
To get around the absorption problem, it's important to make sure you have black pepper at the same time as turmeric. Thankfully, many supplements do this or they increase absorption in other ways. Many turmeric shots include black pepper as an ingredient too.
Besides, the piperine in black pepper may have health benefits of its own, so getting more of it should be a good thing.
There Are Some Side Effects
Turmeric does also come with side effects, especially if you're supplementing with it. Nausea, diarrhea, and headaches are all commonly reported issues of turmeric supplementation. Keep an eye out for skin rashes as well.
Iron absorption is another issue, Turmeric can decrease the amount of iron that your body absorbs. If you're not getting much iron in your diet anyway, this decrease in absorption could lead to iron deficiency.
Turmeric can also decrease your blood sugar levels. While this is often a good effect, it can be a problem if you have low blood sugar already or are taking diabetes medication.
Turmeric can influence the effects of other medications too, including antidepressants and blood thinning medications. This shouldn't be too concerning if you're just using turmeric in your diet. High dose turmeric supplements, on the other way, could be a serious issue.
The Required Doses Are High
While turmeric has been linked to a variety of health benefits, you often won't see these from simply using the spice in your cooking. Even drinking golden milk regularly mightn't be enough.
This is partly because of the absorption issue. But, even if you're consuming black pepper at the same time as the turmeric, you may not be consuming enough turmeric to truly see benefits.
After all, most of the research studies have focused on turmeric supplements, rather than the powder itself. Those supplements contain a higher concentration of curcumin than you get with turmeric powder itself.
The Research Is Ongoing
Turmeric has been more heavily researched than most other spices, so we know a lot about the potential benefits. Even so, we don't know everything.
For example, one study showed that curcumin was easily activated in the test tube, but this same type of activation in humans wasn't consistent. The pattern may explain why turmeric studies have varied in their outcomes.
There's also been a large-scale study that failed to show any anti-inflammatory effects from turmeric (a surprising outcome, to say the least).
That's the thing though. The intersection between food and health is always complex. There are many things going on and effects can differ from one person to the next.
The most useful approach is to see turmeric as a spice, or a supplement, that may provide some health benefits, but those benefits aren't guaranteed. You'll need to try it out for yourself to see whether turmeric is helpful.
It Isn't As Amazing As You Might Think
Turmeric is often seen as this amazing spice, one that can dramatically reduce inflammation, improve your skin, decrease pain, and have countless other benefits.
But, as you've already seen, the research isn't clear-cut. And, even when there are proven benefits, turmeric isn't going to radically change your health overnight. Instead, the spice is just one part of a healthy diet.
Getting More Turmeric In Your Diet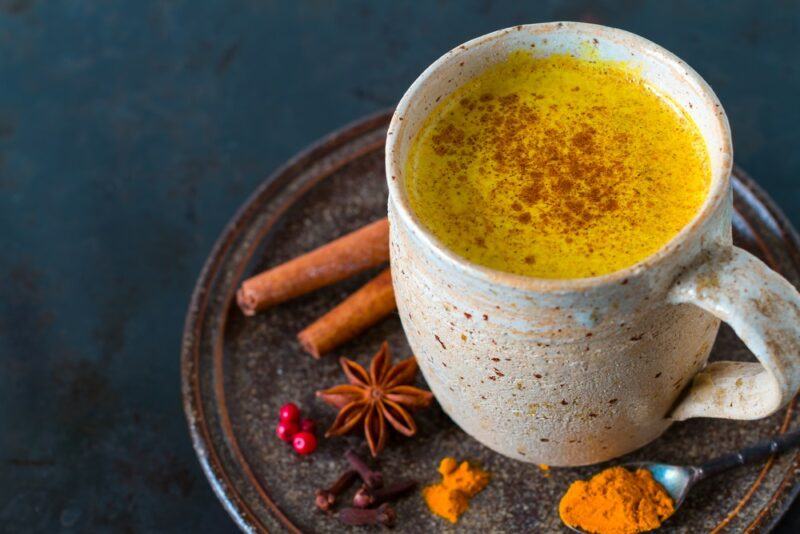 With all the potential benefits, it's not surprising that many people are trying to increase their turmeric intake.
There are plenty of ways to do so. But, to see the most benefits, you'll need to consume some fat and black pepper at the same time.
Golden Milk
Golden milk goes by a few names, including turmeric latte, turmeric milk, or haldi doodh. It's a bright yellow drink, which isn't surprising, as turmeric powder and milk are the main ingredients.
You'll often see black pepper as an ingredient too, along with other spices like cinnamon and ginger. It's easy to see why this works, as you get some fat from the milk and piperine from the black pepper.
You don't need to rely on dairy milk either. Many people rely on plant-based milk instead. Doing so gives you a vegan drink that avoids all the potential issues found with regular milk.
If you use plant-based milk, pay attention to the fat content. Some plant milks, like almond milk, are very low in fat, so the turmeric may not be well absorbed.
Curries
Curries are an obvious way to eat turmeric. They already rely on the spice, plus many recipes use black pepper and contain a decent amount of fat.
You don't need to stick to traditional recipes either. There are countless curry recipes to choose from, including vegetarian and vegan ones, as well as those that use lots of meat.
Other Options
Turmeric is far more versatile than you might imagine. As we've highlighted elsewhere, there are many ways to increase your turmeric intake. Doing so could be as simple as mixing turmeric into your hummus, salad dressing or dip, or using it as an ingredient in baking.
Many of these approaches won't give you the ideal daily dose of turmeric. Still, you could easily use turmeric in multiple foods to get the amount that you need.
Watch Out For Commercial Products
You'll also see other options, like a turmeric protein bar, smoothies, or bliss balls. While such foods might be good when you make them at home, the commercial versions leave much to be desired.
Many such products end up being highly processed and packed full of sugar.
Are Turmeric Supplements Helpful?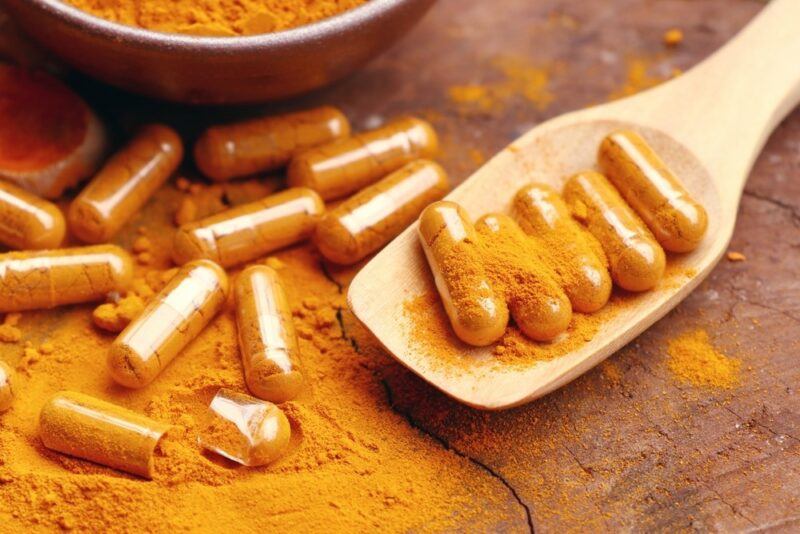 Turmeric supplements are the easiest way to increase your turmeric intake, particularly if you don't like the flavor of turmeric. They can be powerful too, giving you more turmeric than you'd get in most meals.
Plus, many brands focus on absorption. This often means that they use piperine as an ingredient, along with the turmeric. Others may take a different approach, using their own formulation and plenty of testing, to create optimal absorption.
While some supplements use turmeric root powder as an ingredient, many others rely on turmeric extracts instead. Such extracts give you a greater concentration of curcumin, without all the other components you find in turmeric.
Besides, most studies have focused on turmeric supplements, rather than getting turmeric in your diet. This suggests that the supplements really can be powerful. There are, however, some important things to consider.
Choose Your Supplements Carefully
The popularity of turmeric means that there are countless turmeric supplements to choose from. But, they're not all created equal. Some are little more than turmeric powder in a capsule, while others use a researched and tested extract that's designed to maximize absorption.
Paying attention to the ingredients labels should help.
The best companies will provide details about how they improve absorption. They may provide even more information on their website, including results from third-party testing.
Look for products that rely on turmeric extract, rather than turmeric powder. These should give you the most benefits.
External recommendations can be helpful too. Some sites, like Healthline, have lists that compare different turmeric supplements. These make it easier to sift through the industry and work out which products are worth the price.
Consumer Reports also did some independent testing and highlighted a selection of turmeric supplements that lived up to their potency and purity claims.
Be Cautious With Supplements
Turmeric supplements are more powerful than using the spice on its own, but the supplements are also riskier.
The problem here is the supplement industry. Regulation surrounding supplements is surprisingly light, so it's easy for companies to get away with poor quality products.
Tests from the company Consumer Reports found this to be a particularly big issue with turmeric. They tested 13 turmeric supplements (along with 16 echinacea supplements) and found cause for concern with more than a third of the supplements tested.
Some supplements didn't contain as much curcumin as they claimed to. Others had significant levels of bacteria or lead.
This is why you should always pay attention to your body. If you have any concerning reactions, it's best to stop using the supplement and keep yourself safe.
How Much Turmeric Should You Be Taking?
The final thing to talk about is your dose.
Studies suggest that you should be getting at least 500 mg to 1,000 mg of curcumin per day. This is easy enough to do if you're taking curcumin supplements. It's harder to achieve with turmeric, as you get roughly 200 mg of curcumin in a teaspoon of turmeric.
This means that you'll need around 2.5 teaspoons of turmeric powder to hit the minimum amount of curcumin. Let's say 3 teaspoons to be on the safe side, as the curcumin content can vary.
Of course, you don't need to get all of that turmeric at once. You could space it out during the day, perhaps by starting the day with a turmeric latte and using turmeric in your dinner too,
There's also an upper limit to think about. Not surprisingly, too much turmeric isn't a great idea. It could easily be harmful.
Right now, we know that as much as 8 grams of curcumin per day (that's curcumin, not turmeric) may be safe for as long as 2 months. But, there isn't much long-term data. Keeping going at this dose could easily cause harm.
Some studies suggest that even higher amounts of curcumin could be safe, like up to 12 mg per day.
Going above these doses, or doing so for too long, could easily be harmful.
Thankfully, you're unlikely to hit such doses by just having turmeric in your food. Still, you could go above that level if you take a high dose turmeric supplement and also use turmeric as a spice.
Remember too that safety research tends to focus on healthy participants. This means that people with medical conditions and those on medication may be more at risk for problems from turmeric than the general population.
For example, anyone on anticoagulant medication, antidepressants, or antibiotics needs to be particularly careful when taking turmeric supplements.
If you do have any health problems, it's best to talk to your doctor before supplementing with turmeric regularly. This way you know about any areas of concern beforehand.
Final Thoughts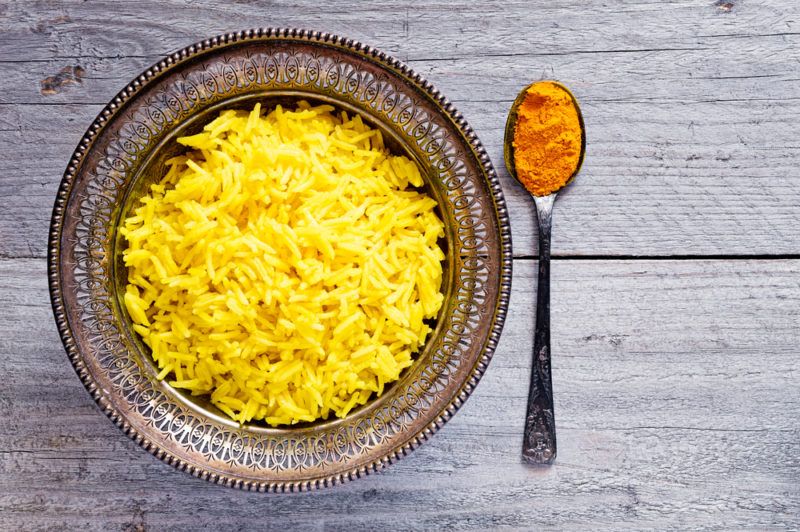 Turmeric offers some clear benefits. It may help to reduce inflammation, to fight free radicals, to lower pain, and to boost your mood.
Yet, as is often the case, turmeric isn't as amazing as you might expect. There are absorption issues and some studies question whether turmeric even helps with inflammation.
It's also hard to get enough of the active ingredient from the spice alone. You need to rely on supplements instead, which come with their own issues.
The problems don't mean that you should avoid turmeric, not at all. It's still an interesting spice, one that could be very powerful.
Instead, these issues simply suggest that you should be cautious. Choose any supplements carefully and pay attention to how your body responds. This way you can spot any issues early on. Be sure to check with your doctor too, especially if you have a health condition or are on any medication.
Finally, don't forget about using turmeric root or powder directly.
While the supplements may be more powerful in some ways, they also come with more risk. Including turmeric in recipes gives you access to a broader array of nutrients, while also helping to protect you.
Frequently Asked Questions
Is Turmeric A Blood Thinner?
Like cinnamon, turmeric is a natural blood thinner. This doesn't mean you can ditch blood thinners though. Research is still ongoing into the ideal doses and types of turmeric for this effect.
Turmeric may also be less effective than blood thinner medications, so relying on the spice instead of medication could put your health at risk.
Can Turmeric Cause Diarrhea?
While most people tolerate turmeric well, some do experience side effects, including diarrhea, dizziness, and nausea. These side effects are more likely if you're using high doses of turmeric at a time.
What Medications Should Not Be Taken With Turmeric?
Because of the blood thinning effect, you need to be cautious with any blood thinning medications. This includes actual blood thinners like Coumadin, along with medications that have blood thinning properties, like aspirin.
Medications for diabetes are relevant as well because turmeric has some impacts on blood sugar levels. The combination of turmeric and diabetic medication could theoretically decrease your blood sugar levels too low and put your health at risk.
Turmeric can also interact with products like Zantac and Pepcid. These are designed to reduce stomach acid, but can increase it instead when turmeric is taken at the same time.
These interactions don't necessarily mean you need to avoid turmeric entirely. However, if you're using any of these medications, you should talk to your doctor to find out how turmeric may affect you and the best doses.
Is Turmeric Spicy?
Turmeric has a combination of bitterness and pungency, with earthy flavor tones, but it doesn't have any spicy heat. Instead, it's the type of spice you'd use to add richness and depth to a meal.
Is Turmeric Safe During Pregnancy?
Small amounts of turmeric are safe during pregnancy, like the amounts you'd regularly consume with curries. However, high doses and turmeric supplements aren't wise, as these could easily lead to side effects or unexpected interactions.