Stevia is a common sweetener. It's often considered safer and healthier than artificial sweeteners like sucralose, partly because it's natural instead. But, what does that term even mean and is stevia good for you?
Well… to start with, most people aren't expecting stevia to offer direct health benefits. Unlike foods like dark leafy greens, legumes, and quinoa, stevia isn't packed with nutrients. Instead, stevia is used as an alternative to sugar, giving you sweetness without added calories.
The health benefits, then, come from the substitution effect. If you're using stevia instead of sugar, you'll be consuming less sugar and your calorie intake could easily decrease. Those effects could influence your health by decreasing the risk of obesity and type II diabetes while lowering inflammation.
Those effects sound fantastic. So, does stevia actually do all of that? And, even more importantly, is it safe? These questions are important, as despite how widely used the sweetener is, there's plenty of controversy about its effects on health.
Is Stevia Good For You?
What Is Stevia?
How Stevia Can Be Helpful?
Why Stevia May Be A Problem
Is Raw Stevia Safe?
Is Stevia Better Than Artificial Sweeteners?
Is Stevia Better Than Sugar?
Is Stevia Natural?
Final Thoughts
What Is Stevia?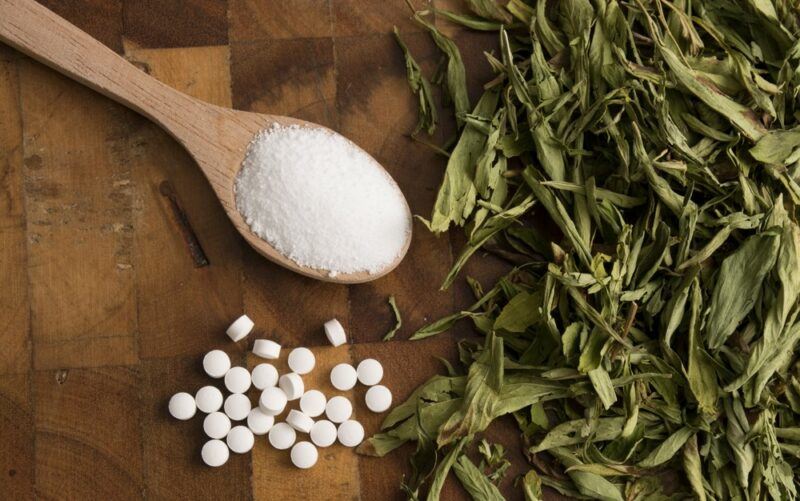 Stevia comes from the plant Stevia rebaudiana, which grows in South America. It is sometimes known as sweet herb or sweetleaf, due to the sweetness of the leaves. Not surprisingly then, the leaves have often been used as sweeteners to make traditional drinks taste better.
In 1931, two chemists identified and isolated the compounds stevioside and rebaudioside. These are both steviol glycosides and they give stevia its sweet taste. The stevia products that you see in the stores these days rely on two glycosides, rather than whole stevia leaves.
For that matter, unprocessed stevia extracts and whole stevia leaves are not Generally Recognized as Safe in the United States. This is why stevia products rely on extracts instead.
Stevia products aren't all the same. Many of them rely on rebaudioside A. This steviol glycoside is roughly 200 times as sweet as sugar. It also has less bitterness than any other steviol glycoside, which is why it's the most popular.
Rebaudioside A stevia products often contain other types of sweetener too, like erythritol or even dextrose. You'll need to check the ingredients label to see what else is used in the sweetener.
How Stevia Can Be Helpful
Stevia has one huge benefit – it helps to decrease your sugar intake.
We all know about the problems with sugar, right? It's been linked to countless health problems, including increased inflammation, a higher risk of obesity and diabetes, problems with immune function, tooth decay, and blood sugar issues.
Then there are the calories in sugar to think about, which clearly don't do you any benefits at all.
Products like stevia seem to offer a miracle solution. They give you the sweetness of sugar, without the calories or all the negative health impacts. This may seem perfect, given that many of us don't want to give up on sweet foods entirely.
It's easy to see how this would improve your health. You could swap most of your sugar for stevia, which could dramatically decrease your sugar and calorie intake.
Plus, stevia is a natural product. This seems to make it a much better idea than artificial sweeteners.
Stevia also has a low glycemic index, so it doesn't increase your blood sugar levels. This makes it especially important for anyone with diabetes. Some research links stevia extract to decreases in LDL cholesterol and total cholesterol, along with increases in HDL cholesterol. Those effects mean that stevia could help with heart health.
Of course, stevia is only powerful if it has those effects without causing unexpected health issues.
Why Stevia May Be A Problem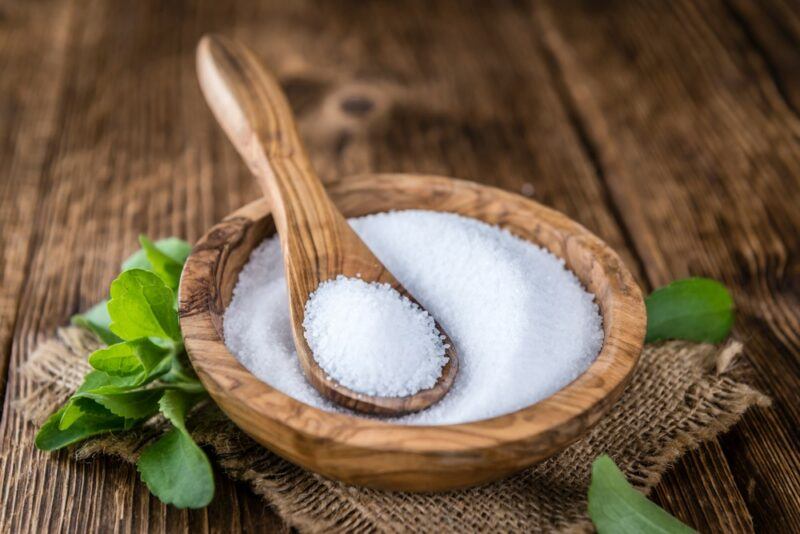 Side Effects
Side effects don't just happen with artificial sweeteners. Plenty of people experience side effects from stevia as well.
Some side effects are related to digestion, like nausea, gas, and bloating. There are other side effects too, including muscle pains and dizziness.
Thankfully, the side effects don't last long and don't appear to cause long-term harm. Still, if you regularly get side effects from stevia, the sweetener probably isn't a great choice.
May Harm Your Gut Health
Early research suggests that stevia might negatively affect the bacteria in your gut. This is concerning, as we now know that your gut health can have many impacts on your body.
There currently isn't much evidence for this gut health effect. However, it's an area to think seriously about. Trying not to overdo it with stevia could help you see benefits from the sweetener, without putting your gut health at risk.
The Other Ingredients Can Cause Issues Too
Stevia products often include at least one other type of sweetener, like erythritol. You'll generally need to read the ingredients label to find out exactly what is included, as the marketing isn't always clear.
These other ingredients can be a problem, as many are also associated with side effects.
Erythritol, for example, is a sugar alcohol that can cause gas and stomach cramps for some people. This happens because our bodies don't digest sugar alcohols and they can be fermented in the colon.
Because stevia products use different extra ingredients, you may find that your body reacts differently to some of them than to others. It may take some experimenting to find products that are the right fit for your needs.
Stevia May Not Help With Weight Loss
Stevia contains no calories, so it seems like an obvious tool for weight loss. Yet, research hasn't proven this effect at all. In fact, using sweeteners like stevia could even lead to weight gain rather than weight loss.
This may happen because natural and artificial sweeteners don't satisfy your craving for sweet foods. They may even make your cravings worse. Some people find that they end up eating more food than they would otherwise.
This is one you'll need to work out for yourself. Keep an eye on what you eat when you're using stevia and when you're not. This should give you a sense of whether stevia is likely to help you lose weight.
If you're often craving sweet foods and having unplanned snacks, then stevia might not be helping at all.
The Flavor Isn't That Great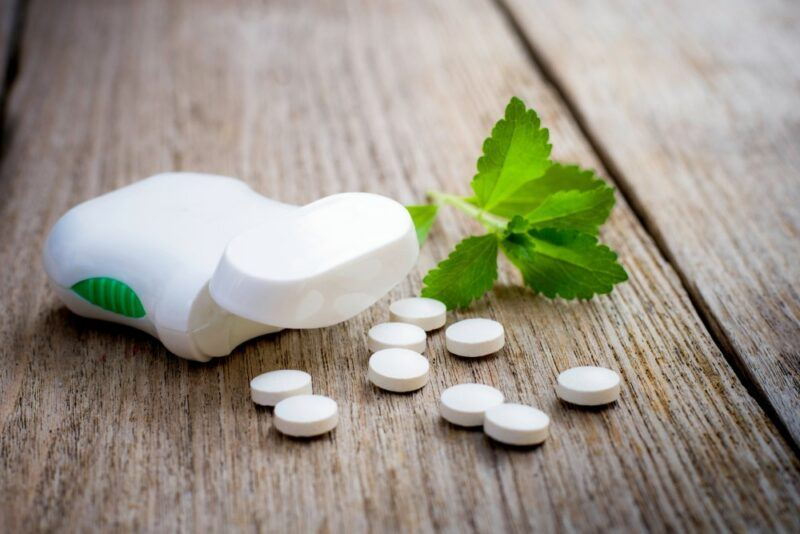 While some people enjoy the taste of stevia, many people find it something to be tolerated – at best. The flavor is distinctive, with slight bitter licorice-like tones.
If you find stevia helpful, you might be able to get used to the flavor, but not everyone can. For some, the flavor is enough of a reason to avoid stevia entirely.
The Research Is Ongoing
While stevia, and other nonnutritive sweeteners, are now frequently consumed, there's still a lot that we don't know. Many of the studies out there were based on animals, not humans, and these were often industry funded.
There's particular concern about the long-term effects of sweeteners. This isn't surprising, as short-term studies are much more common than long-term ones (and few long-term studies have been conducted for stevia).
It's also difficult to tease out the impacts that specific foods have on health, as there are so many interactions to consider.
And, there are plenty of ways that stevia could impact health. As mentioned earlier, the sweetener could influence your gut health. That effect could then have many other impacts, including ones on your digestion, weight, and even disease risk. Obtaining sweetness without calories might also influence the way our body regulates energy.
Finally, remember that levels of stevia used in studies might not be the same as you're consuming. If you're using stevia regularly in food and drinks, you might be having more than was used in some studies. That means an increased risk of problems.
The limits of research mean that it's always best to be wary. If you're going to use stevia, try not to go overboard. Perhaps you could use the sweetener as one strategy for decreasing your sugar intake and use other strategies too, like drinking water instead of soda.
Is Raw Stevia Safe?
While the FDA has approved stevia glycosides for use in human food, the same isn't true for whole stevia leaves or extracts that use more than just those approved glycosides. There isn't enough safety data to be confident that such stevia products truly are safe.
Plus, there are concerns that the herb itself could have negative impacts on your blood pressure, dropping it lower than is safe. Stevia leaf might also harm your kidneys, interact with blood sugar medications, or cause other negative effects.
You might feel safe with stevia leaf if you've used it a few times and had no problems. However, some of the potential issues with stevia leaf won't show up immediately. Others, like kidney damage, may be difficult to detect.
Is Stevia Better Than Artificial Sweeteners?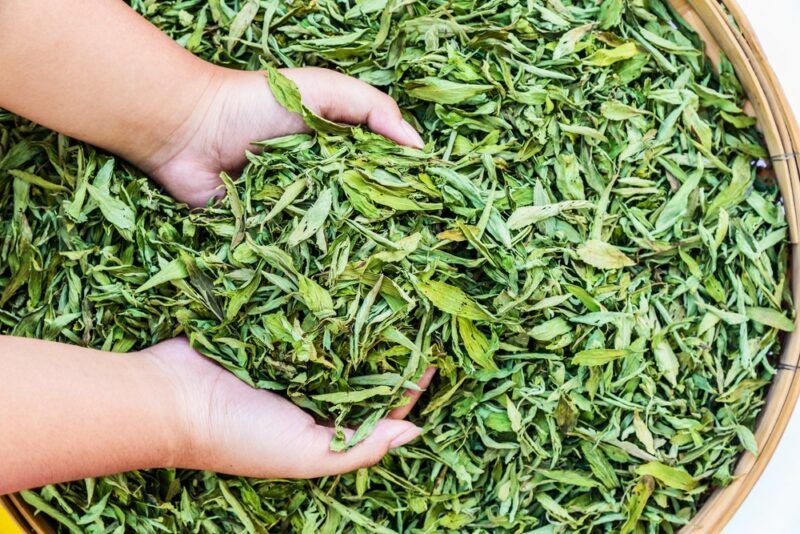 Stevia is often seen as much safer than artificial sweeteners, like sucralose. This isn't surprising either, as animal studies have shown some concerning effects from artificial sweeteners, including increased risk of cancer, weight gain, and other problems.
While stevia does have some issues too, these are much less significant than the issues with artificial sweeteners. There's much less evidence linking stevia to any serious harm.
So, if you're choosing between stevia and artificial sweeteners, stevia is the clear winner.
However, you do need to be more cautious with whole leaf stevia, as most research and safety testing has focused on stevia extracts. Many people do use the whole leaves, often by growing the plants themselves. But, the long-term effects of doing so aren't clear.
Is Stevia Better Than Sugar?
Stevia does seem to be a much better choice than sugar. For one thing, it's many times sweeter than sugar, so you don't need to use very much of it at all.
Plus, there's plenty of evidence for all the harm that sugar can do. While stevia has some negative impacts, they're not nearly as strong and are more easily mitigated. For example, you can offset the negative impacts on your gut health by making sure you're consuming plenty of probiotics and prebiotics.
You can also limit your stevia intake. This might involve cutting down your reliance on sweeteners and learning to enjoy food and drinks that aren't as sweet. It's often best to lower your intake of sweeteners gradually, as this gives your tastebuds time to adjust.
You don't need to avoid sweeteners entirely, but cutting down your intake can help you avoid any serious problems.
Is Stevia Natural?
Stevia is often called a natural sweetener because it comes from a plant, while sweeteners like sucralose and aspartame are made in the lab. Even so, stevia isn't nearly as natural as you might expect, as it is highly processed.
Most of the time, steviol glycosides from the leaves are extracted and then purified. The extraction and purification can be done using alcohol or water, but enzymes or genetically modified yeast may also be used in the process.
Besides, here's the thing – 'natural' isn't a regulated term and means different things to different people.
Some companies use the term natural for anything that came from a plant, regardless of how processed. You can even get highly processed foods that contain many refined ingredients that are still considered 'natural' under this definition.
Customers, on the other hand, sometimes assume that natural means unrefined and that the food is close to its natural state.
If you follow the first definition, then yes, stevia is natural. But, if you're looking for something close to nature – stevia isn't the right choice.
Final Thoughts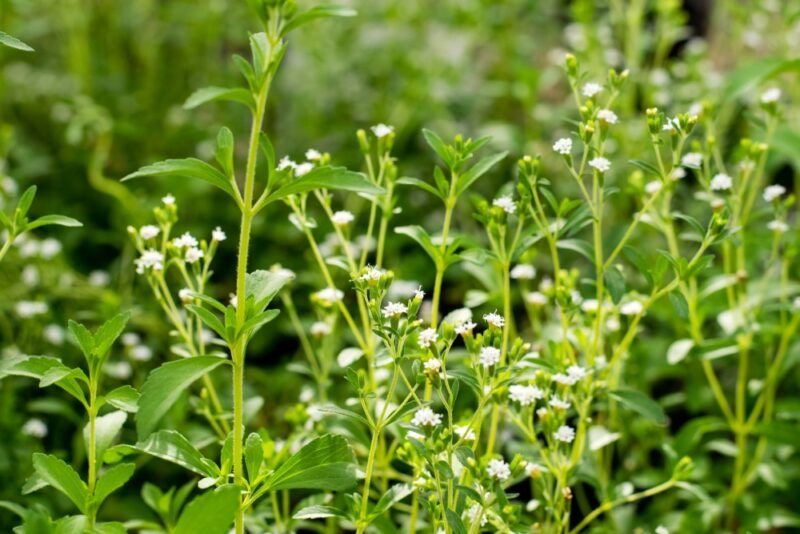 Despite the downsides, stevia extracts are still generally considered safe. While there are some side effects, these don't tend to be serious and don't appear to cause long-term harm.
These features suggest that stevia is a wise choice, as long as you're not using excessive amounts.
If nothing else, there are fewer risks with using stevia products than relying on sugar instead. After all, we know that sugar causes a lot of harm, while research has failed to link stevia to many significant issues.
That being said, more research is needed, particularly for whole stevia leaves.
If you're concerned about these research gaps, the simplest approach is to limit your use of sweeteners as much as possible. All sweeteners, including zero-calorie ones and ones that rely on sugar, have their issues and could have negative health impacts. Limiting the amount you use helps to protect you from any potential issues, while still allowing you to enjoy some sweetness.
Frequently Asked Questions
What Does Stevia Taste Like?
Stevia has a sweet taste. It's much like sugar, but is sweeter, so only tiny amounts of stevia are needed to get the sweetness you need. However, stevia has a distinct bitter aftertaste that can be difficult to get used to.
Thankfully, companies are getting better at getting rid of this aftertaste. Sometimes it isn't noticeable at all.
Is Stevia Keto Friendly?
Yes. Stevia contains barely any net calories, making it perfect for keto. It's also considered a natural sweetener and is less concerning than artificial sweeteners like sucralose. As a result, stevia is one of the most commonly used sweeteners among keto dieters.
Why Was Stevia Banned?
Stevia was briefly banned in the United States because some studies suggested that it might increase cancer risk. These days purified stevia extracts are common and legal.
Despite being marketed as natural and safe, some controversy still remains around stevia. Part of the problem is that most research has had a short-term focus, so we don't fully understand the long-term effects of the sweetener.
How Long Does Stevia Stay In Your Body?
Stevia is quickly excreted from your body and doesn't stick around. This should mean that it's clear of your system within 24 hours. However, as we mentioned before, there is still much to learn about stevia and how it impacts our bodies.
Does Stevia Cause Inflammation?
Stevia is often used as a way to decrease inflammation, particularly if you're consuming it instead of sugar. While some sweeteners promote information, there's no evidence that stevia does this.