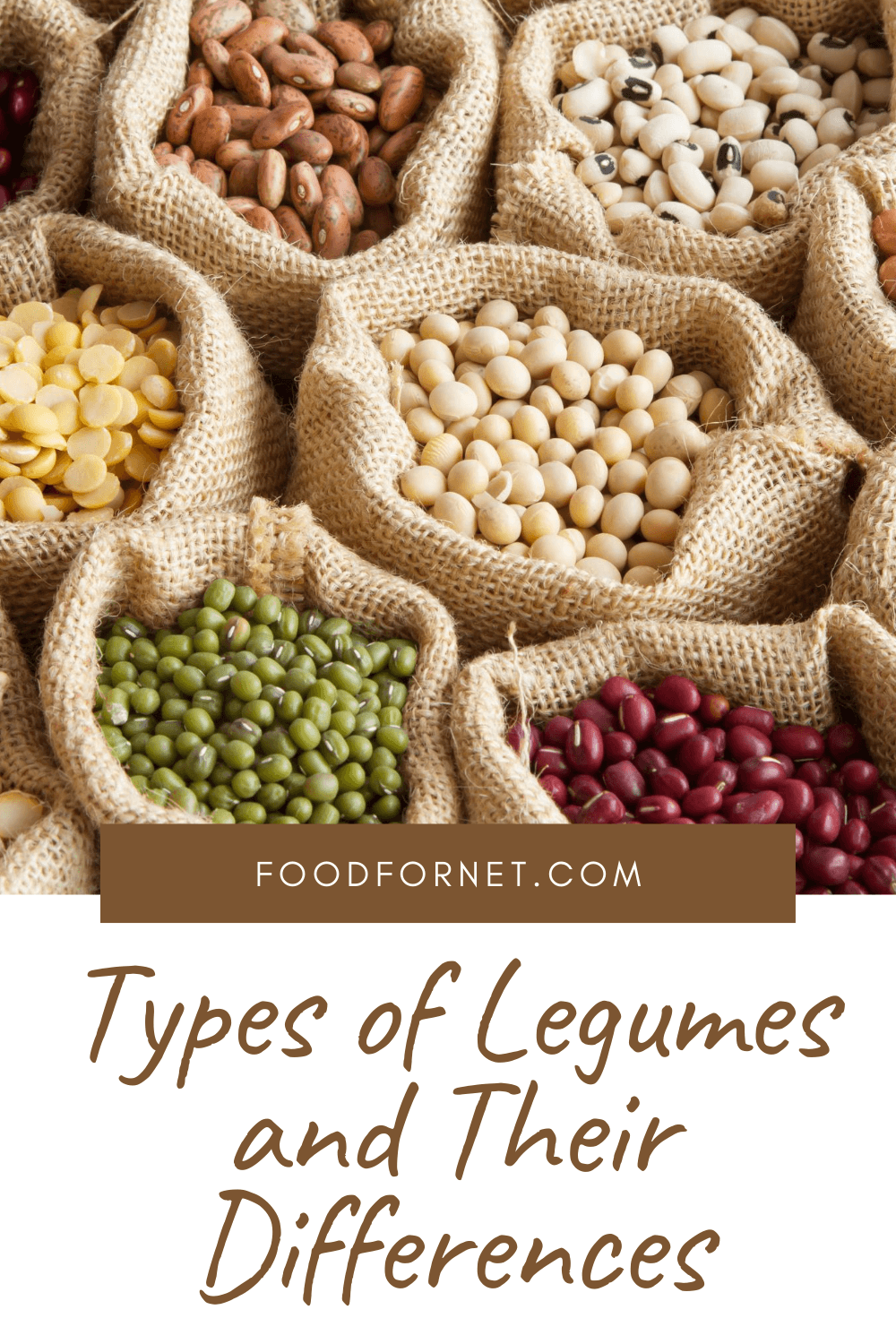 Legumes tend to feature in most discussions of healthy eating. They are, after all, powerful sources of protein and fiber, especially for vegans. The whole field can also get a bit confusing, as there are various types of legumes to choose from, along with varieties of these types. How do you know which ones to choose and how to take advantage of them?
The simple answer would be to use whatever legumes you feel the most comfortable with. Many of the advantages are the same, or at least similar, regardless of the legume that you pick.
Still, that idea isn't helpful if you don't know where to begin. And, what if you like the idea of variety in your diet? Using multiple types of legumes is an amazing way to do just this.
Before we dive in, it's worth mentioning that legumes are a little controversial. Some people, including paleo dieters, tend to either avoid legumes or keep legume intake low.
Potential problems include lectin content, compounds known as saponins, and phytic acid. However, there is little evidence that any of these areas have negative impacts on health, especially if you have a balanced diet. There are also many beneficial compounds in legumes, so eating them regularly just makes sense.
Types Of Legumes
Lentils
Peanuts
Split Peas
Soybeans
Chickpeas
Dry Beans
Broad Beans
Peas
Green Beans
Lupins
Lentils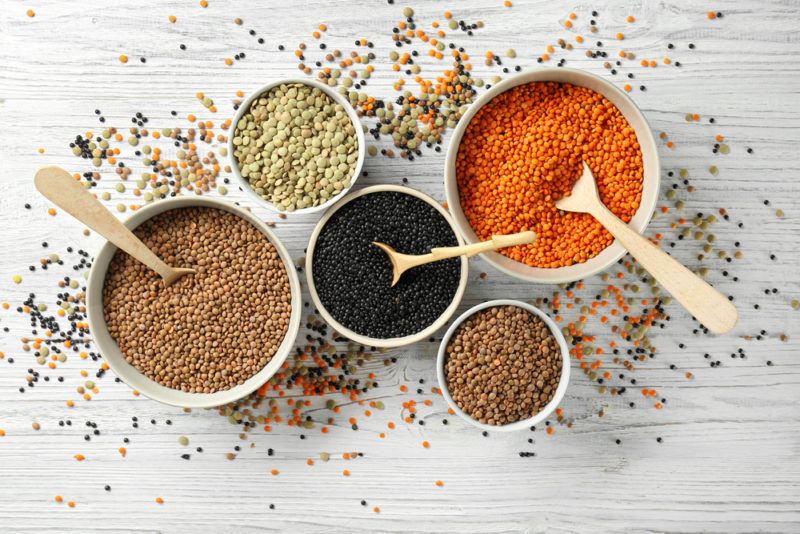 Lentils are a commonplace legume. They turn up all the time in Asian and Mediterranean cooking, as well as in countless other meals.
They're often popular because they are so practical. Not only are lentils fast to cook, but they don't require soaking either. This makes it easy to prepare them when you need dinner in a hurry.
There are many types to choose from too, including green, brown, red, yellow, and orange lentils. Each color has a slightly different nutritional profile. They behave differently when you cook with them too, as the green or brown ones are less likely to be mushy if you cook them on their own.
There are flavor differences too. For example, black lentils have an earthy flavor, while red and yellow lentils tend to be sweeter.
Cooking lentils can be a little tricky, as they cook fast and it's easy to end up with mushy lentils. One trick is to quickly bring the lentils to a simmer and then decrease the heat until there are hardly any bubbles in the water.
You have less to worry about if you plan to simply throw the lentils into a stew or soup.
There's a financial benefit to using lentils too, as the legume tends to be inexpensive and stores well. While fresh lentils tend to be best, you can store dried lentils for a year without any problems at all.
One final thing of note – you can't eat lentils raw. This is true for most legumes, as legumes often contain significant amounts of lectin, which can cause all sorts of unappealing outcomes (including vomiting, not fun).
Peanuts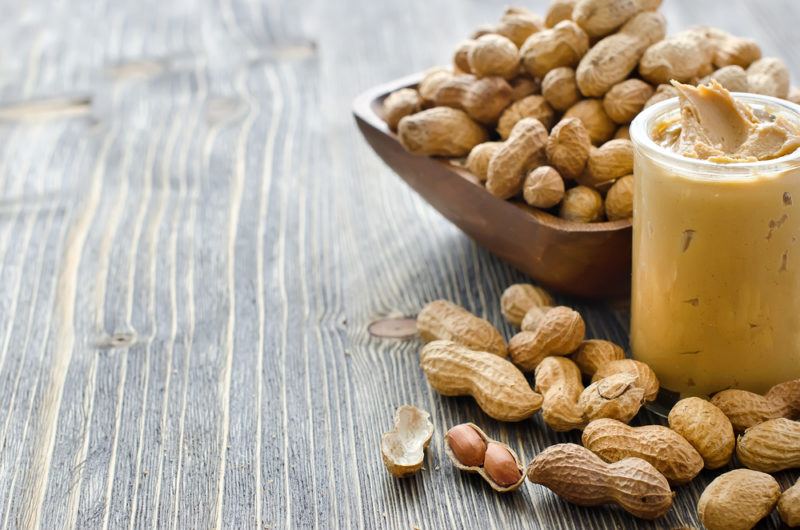 Peanuts are the legume that you may not have known was a legume. This is because legumes are defined as an 'edible seed that grows in a pod' and peanuts do fall into that definition.
Peanuts are called nuts due to the similarities in texture and nutritional composition between these and botanical nuts. For that matter, many of the foods that we call nuts aren't technically nuts at all.
Peanuts do have an advantage over tree nuts – they're much cheaper. A bag of peanuts or a jar of peanut butter won't set you back much at all, while the same amount of almonds would be a completely different story.
Because of this, peanuts are an easy way to add more protein to your diet. For example, peanut butter on toast for breakfast will give you more sustainable energy than jam on toast will.
Plus, peanuts are one of the few legumes that you can safely eat raw. You can easily throw them in meals too, like adding raw peanuts to a stir-fry. They're even more delicious roasted.
Split Peas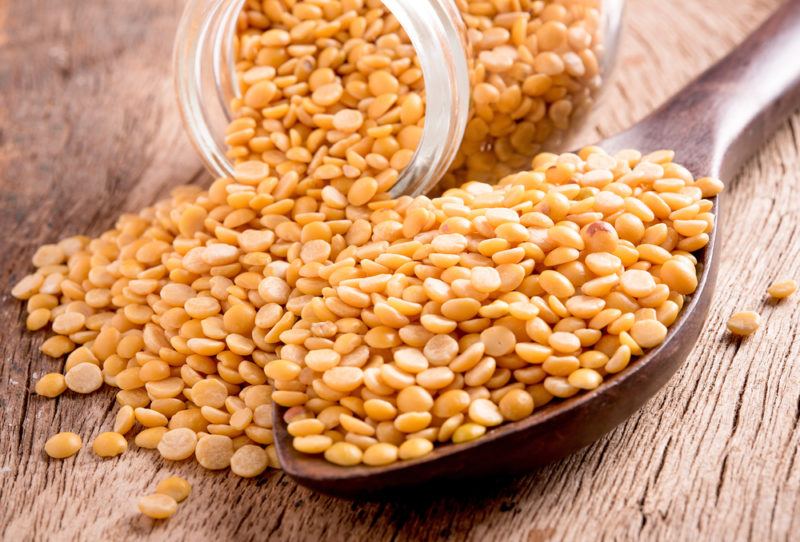 Split peas are simply peas – either green peas or yellow peas. The difference between the two is in how they are processed. To make a split pea, a regular pea is peeled and dried. Natural splitting occurs as the pea is dried and this splitting can be enhanced mechanically.
Split peas can be soaked before you cook them, but this isn't essential. If you do soak them, the cooking time decreases from between 1 and 2 hours to roughly 40 minutes. So, you can follow whichever approach works best for your schedule.
When cooking the peas, you can stop as soon as they are tender. However, you can also keep cooking them until they start to fall apart. This is especially good if you're making split pea soup, as you end up with a softer texture.
Many people use split peas to make split pea soup and little else. But, you can make other meals using split peas too, including curry, salad, and even hummus. Plus, just like lentils, split peas are inexpensive. They're an easy way to enjoy nutritious food without spending too much money.
Soybeans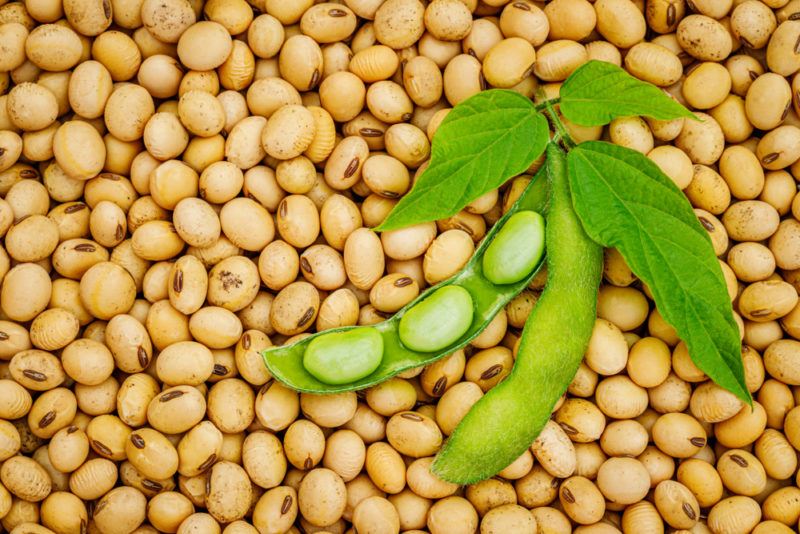 Soybeans are one of the most interesting legumes out there, as this type of bean is used in so many different ways.
For one thing, soybeans are often processed to create oil. The oil can then be refined to create cooking oil or for industrial use. You'll often see soybean oil used as an ingredient in processed foods, including bread, cookies, pies, and salad dressings.
Soybeans have other uses too, like being used in industry or as animal feed. But, today we're most interested in the way that people like you and I rely on soybeans.
Soy milk is one example. This is sometimes used as an alternative to dairy milk and is also an ingredient in various foods, such as tofu. Some fermented foods rely on soybeans too, such as natto, soy sauce, tempeh, and fermented bean paste.
The widespread use of soybeans is partly because they are inexpensive to produce. However, the legume is more controversial than most.
In addition to the concerns that surround all legumes, some writers worry about the phytoestrogens in soybeans. These compounds have a structural similarity to estrogen, which could potentially be a problem.
While there's little evidence to support concerns about phytoestrogens, watching your soybean intake is probably a good idea. After all, soybeans are used in many foods, in one form or another, so it would be easy to consume a large amount of the legume without meaning to.
Chickpeas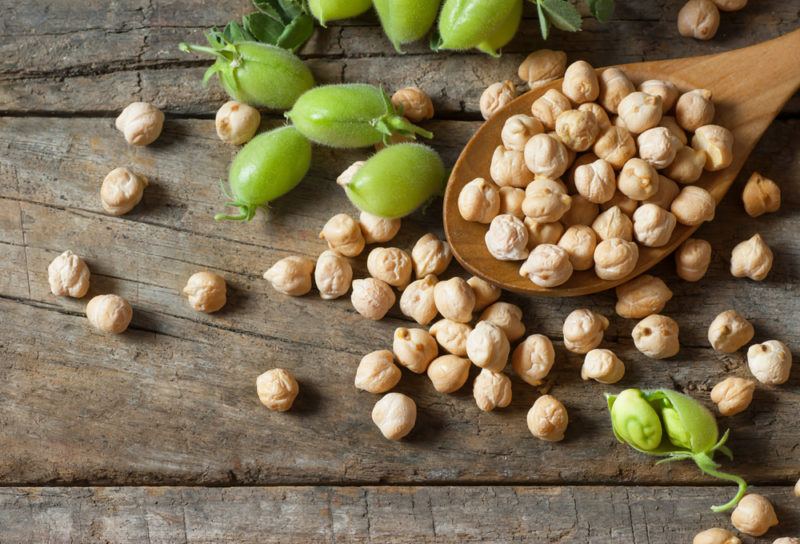 Chickpeas all come from the species Cicer arietinum, but there are now multiple varieties, such as the light tan Kabuli chickpea and the Desi chickpea that comes in various colors.
Chickpeas are particularly well-known as an ingredient in hummus and in falafel. Chickpeas can be used in other ways too, including soups, salads, stews, and curries.
Roasted chickpeas have also become popular. These are an easy and nutritious snack that contains fewer calories than nuts, making them a relevant weight loss snack.
Boiling is the main method of cooking chickpeas. This can take a while, especially if the chickpeas were dried. Soaking the chickpeas first reduces the cooking time. Other cooking techniques can sometimes be used, such as sous vide or pressure cooking.
Dry Beans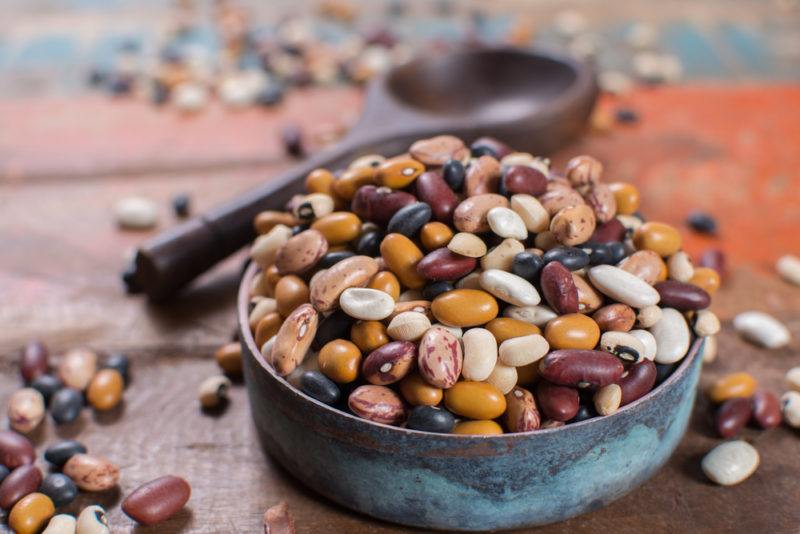 Beans are the largest category of legumes, which is why we're not going to cover every single type. Different dry beans tend to have similar properties to one another and are often cooked in the same way. You can even substitute one type for another in a recipe without too many problems, especially if you choose similar beans.
If you're going to use beans regularly, soaking or sprouting them first is important. This helps your body to absorb nutrients and decreases the risk of any digestion problems.
It's also critical that you cook your beans before eating them. Beans can easily make you sick if they are raw or haven't been properly cooked. This is true for all the beans we're covering here and all the ones that we miss.
Navy Beans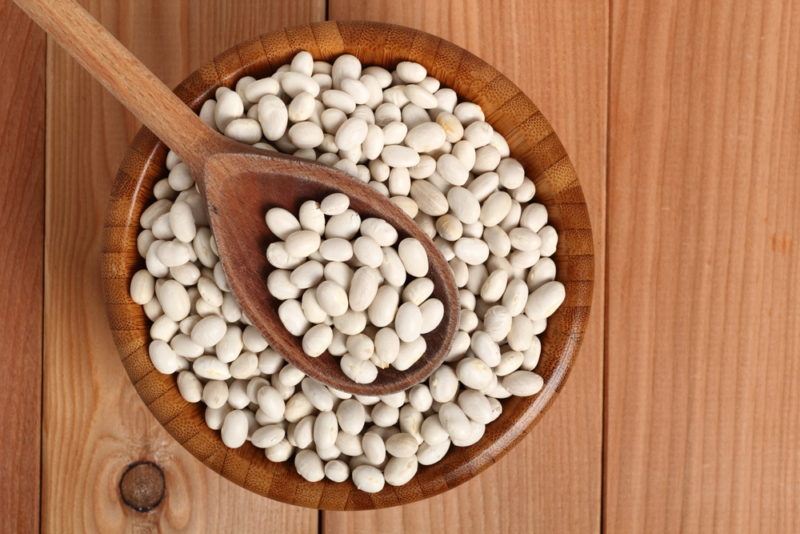 Navy beans are small and white. They can easily be found canned or dried at many grocery stores.
Their mild flavor makes them an easy choice as an ingredient. They can also be substituted for cannellini beans or Great Northern beans in recipes, as the three types of beans have similar flavor profiles.
Here's an interesting thing. Did you know that many types of beans are varieties of the same species? The species is Phaseolus vulgaris and includes kidney beans, navy beans, pinto beans, and others.
Black Turtle Beans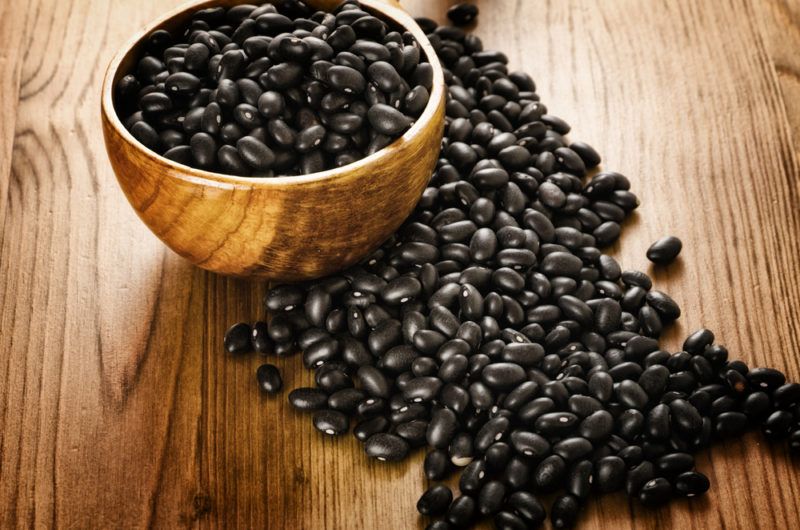 Black turtle beans are a popular bean variety, especially in Latin American cuisine. The beans crop up in other areas too, including meals from south Louisiana. They're often simply known as black beans, which can be confusing as there are other types of black beans out there too, including the black adzuki bean.
The popularity of the beans may come from their texture, which is dense and meaty. This makes the beans an easy meat alternative in vegetarian and vegan meals.
Kidney Beans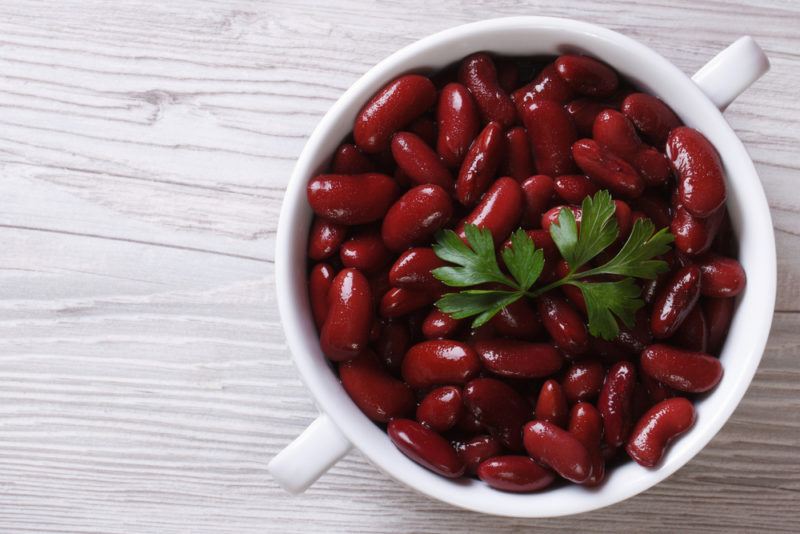 Kidney beans are another popular option, one that features in many traditional recipes. While red kidney beans are the type that you'll the most often, there are plenty of other colors too, like purple, white, cream, and striped kidney beans.
The carb content of the beans is high, but the beans do have a decent amount of fiber and protein as well. In fact, the protein content of boiled kidney beans is around 27% of their total calories.
The amount of protein is one reason that beans are so popular. They're an inexpensive source of protein compared to meat. This also makes beans especially relevant to anyone following a vegetarian or vegan diet.
Lima Beans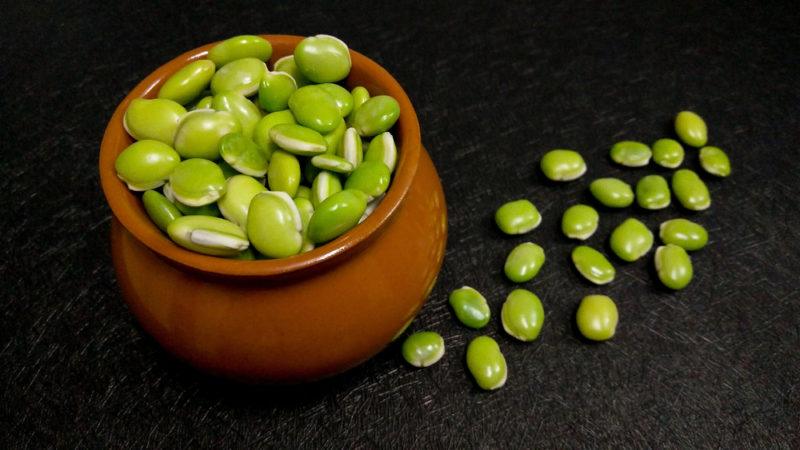 Lima beans are a type of white bean. They sometimes go by the name butter bean, double bean, or Madagascar bean. There are now different varieties of the beans. Some of these have smaller seeds than others.
The terms can, however, get a little confusing, as the meaning can vary depending on where you happen to live. For example, in the United States, the terms butter beans and lima beans can refer to different types of beans.
Cannellini Beans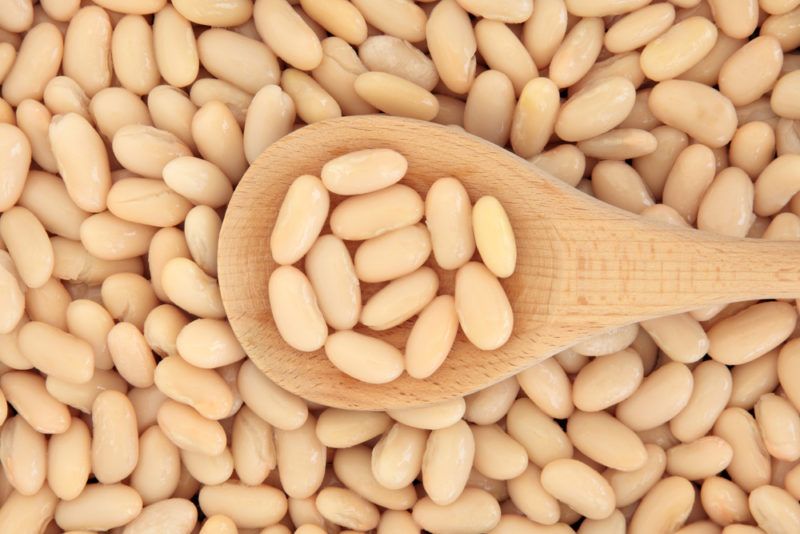 Cannellini beans are white kidney beans. They're white (not surprisingly) and have a thin skin. They have a mild flavor, which makes them easy to use in many different recipes.
Similar beans include Great Northern beans and navy beans. You can easily substitute one type of bean for another in a recipe.
Black-Eyed Peas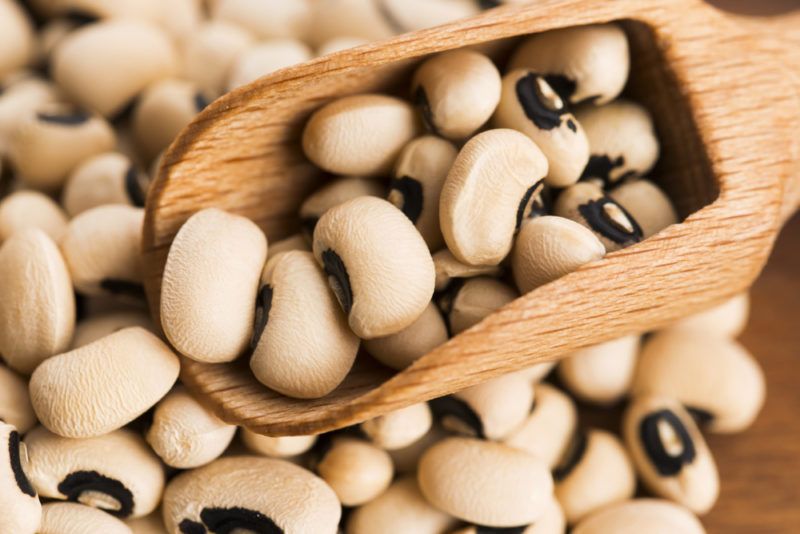 Despite the name, black-eyed peas are actually a type of bean. They're white with a notable black 'eye', which makes them easy to identify.
Similar beans include cranberry beans, lima beans, and romano beans. If a recipe calls for black-eyed peas and you don't have some on hand, any of those options could work just as well.
Purple Peas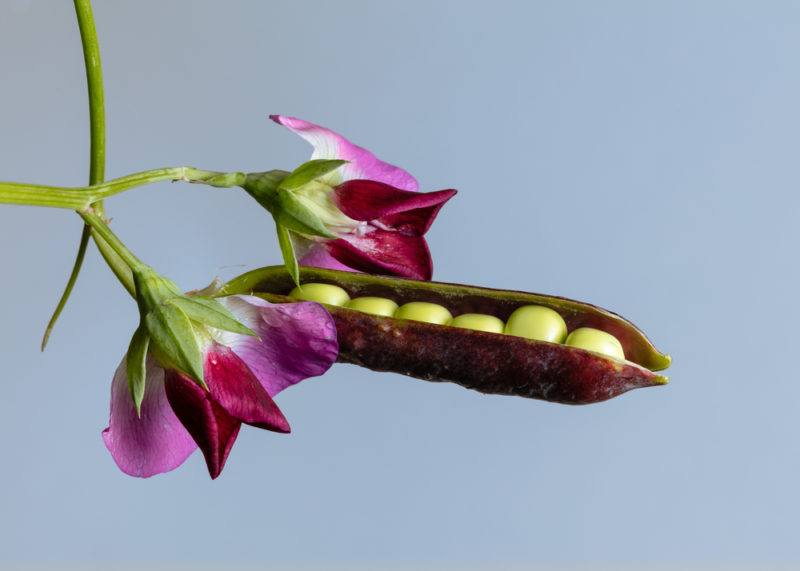 Purple peas, or purple hull peas, are an interesting colored vegetable. Yet, despite the name, the peas themselves aren't purple. Instead, it is the peapod that has deep purple coloring.
They're also another case where the term pea isn't entirely accurate. Instead, purple hull peas are related to black-eyed peas and can be considered a type of bean.
Home gardeners sometimes grow the bean, in either vining, semi-vining, or bush styles. There are multiple varieties in each style. These individual varieties have their own strengths and weaknesses.
Mung Beans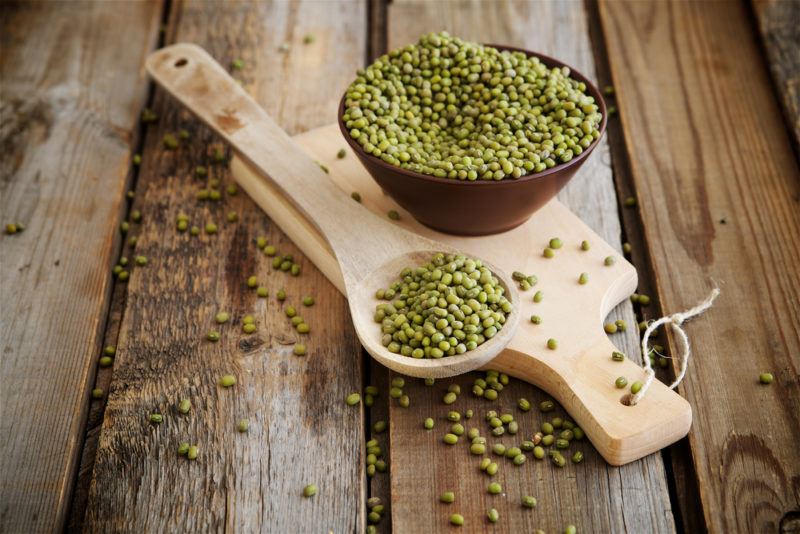 Mung beans tend to be small and green. Once their skin has been removed, they have a light yellow color instead and are often used in this way for Indian cooking. Other cuisines often rely on whole mung beans instead.
The beans are cooked in the same way as other types of dry beans, which involves boiling them in water. The beans are considered cooked once they are soft.
Alternatively, the beans can be sprouted to create bean sprouts. These sprouts are often cooked as part of a meal or served as a side dish.
Broad Beans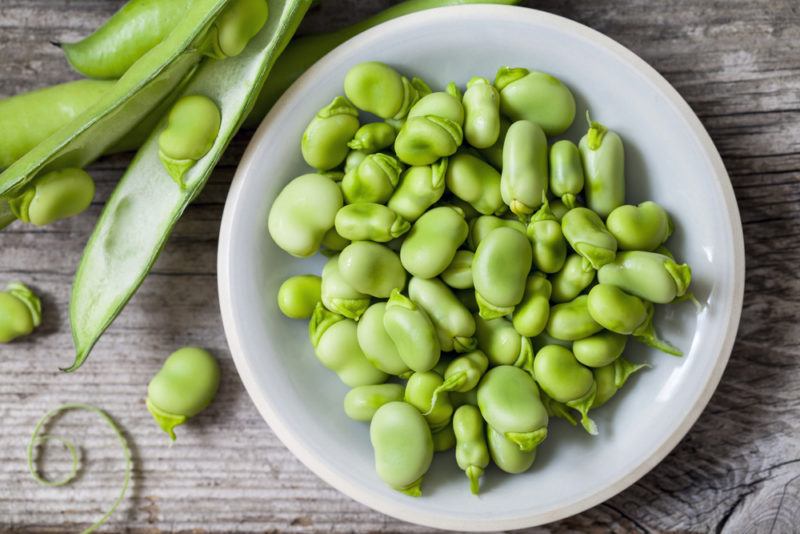 Broad beans are a little different than the beans that we've talked about so far, as they are eaten fresh, rather than dried. Like most fresh food, they tend to taste best soon after they are harvested.
The beans tend to be firm and have a nutty flavor. While the flavor is noticeable, it isn't overwhelming, which helps the beans to work well in many different meals.
Unlike some other types of beans, fava beans can be found peeled or unpeeled. This means that you're removing the gray outer skin of the bean to access the bright green interior.
Peeling the beans manually can be a frustrating process. Even more so if you already shucked the beans by hand. Still, the process can make the beans taste so much better.
Peas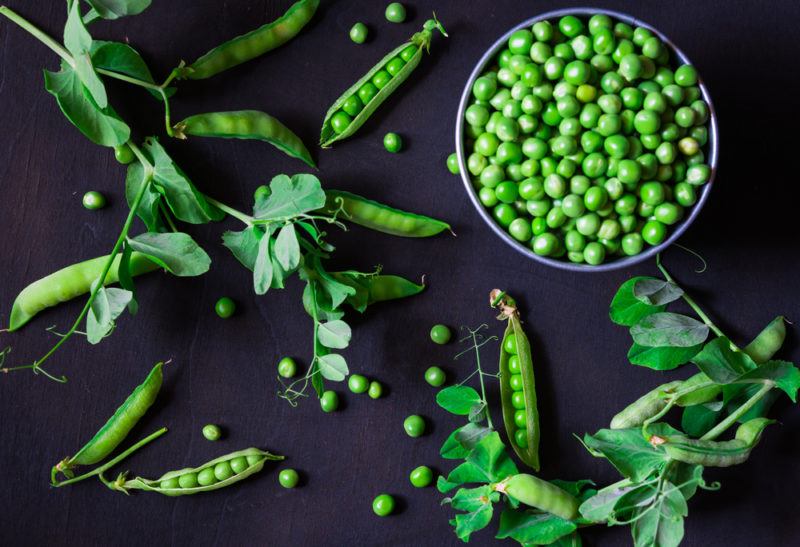 Peas are the other large category that's worth talking about. Most people will be familiar with green peas, as they're such a staple at dinner time. However, there are many other types of peas as well.
As with beans, there are notable differences between one type of pea and the other, along with many similarities.
Green Peas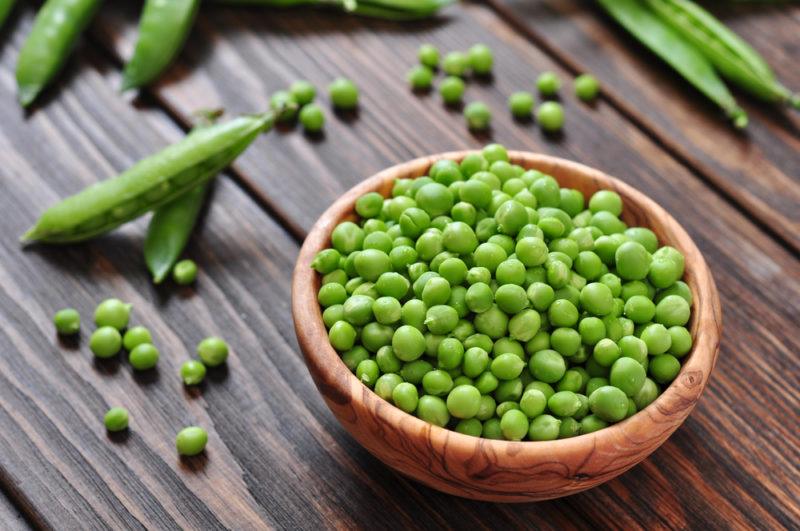 We talked about green peas earlier, as they're used to create split peas. But, it's worth talking about green peas themselves as well.
Green peas are incredibly common at dinnertime, partly because they're inexpensive. They're convenient too, as frozen green peas can be cooked in a few minutes without thawing them at all. You can find fresh and canned green peas as well.
The popularity of green peas makes them easy to overlook. They don't have the same amazing reputation as modern superfoods or pseudocereals like quinoa. Yet, green peas aren't too shabby when it comes to nutrients either. They're particularly good as a source of vitamin A, vitamin K, and thiamine.
Snow Peas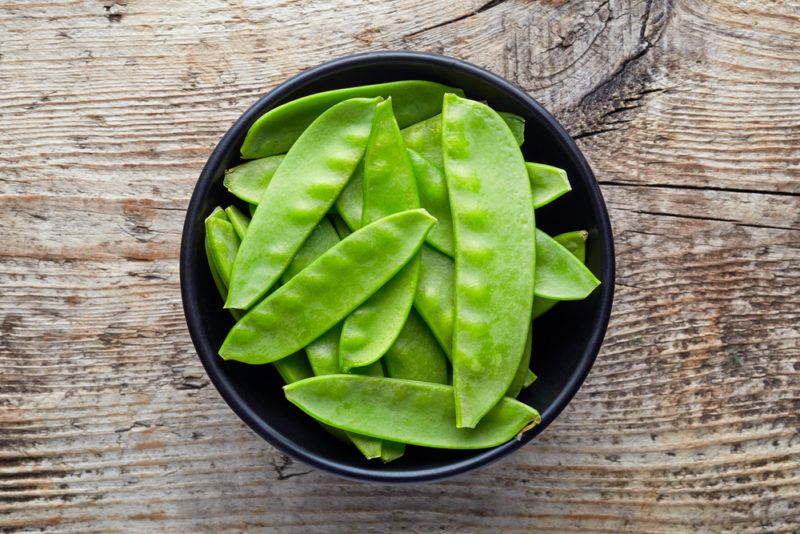 Snow peas produce a flat seed pod that has thin walls. The peapod tends to be eaten whole, with the seeds still inside, generally before it has ripened.
Snap Peas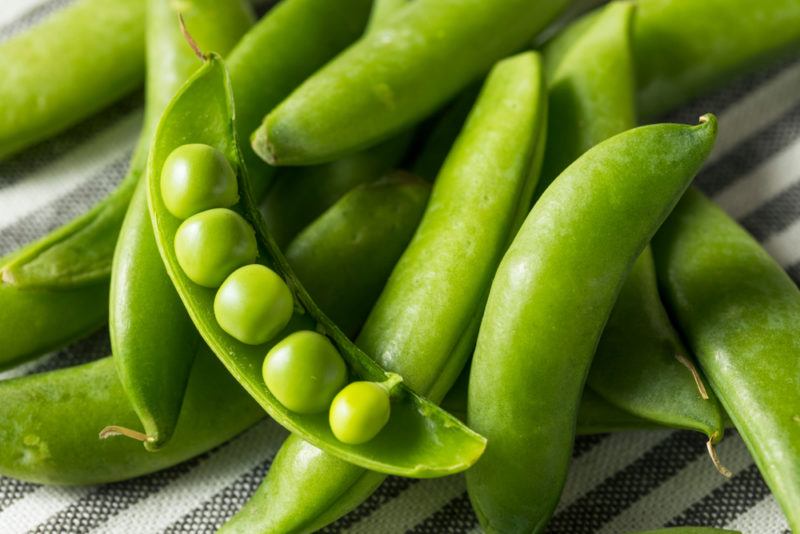 Snap peas, or sugar snap peas, are the other main pea species where the entire pod can be eaten, rather than just the seeds. However, snap peas are notably different than snow peas, as the walls of the snap peapod tend to be thicker and the pod is rounded.
Green Beans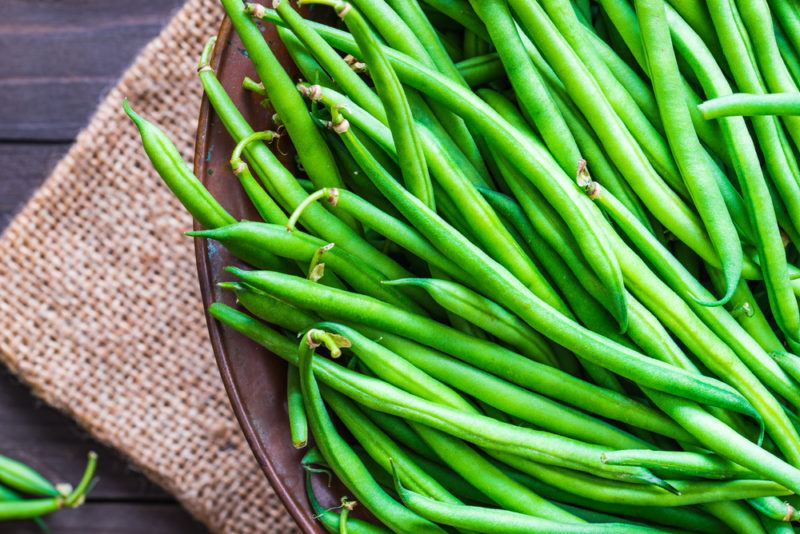 Green beans are another type of bean that tends to be eaten fresh, rather than dried. The beans often go by the name string beans instead, which is a reference to strings of fiber that ran down the beans and needed to be removed by hand.
Selective breeding has removed the strings, creating beans that are easier to prepare – but the name string beans has stuck.
Many recipes rely on cooking the beans in the pod and then eating the pods on their own or as part of a larger meal. For example, a simple cooking method would be to sauté the beans in garlic and olive oil, then serve them as a side.
You may also find hericots verts in the store. The French phrase literally translates to green beans, but hericots verts beans tend to be a bit longer and thinner than regular green beans. They can be more tender too. The differences are minor, which isn't surprising, as hericots verts is a cultivar of green beans.
Lupins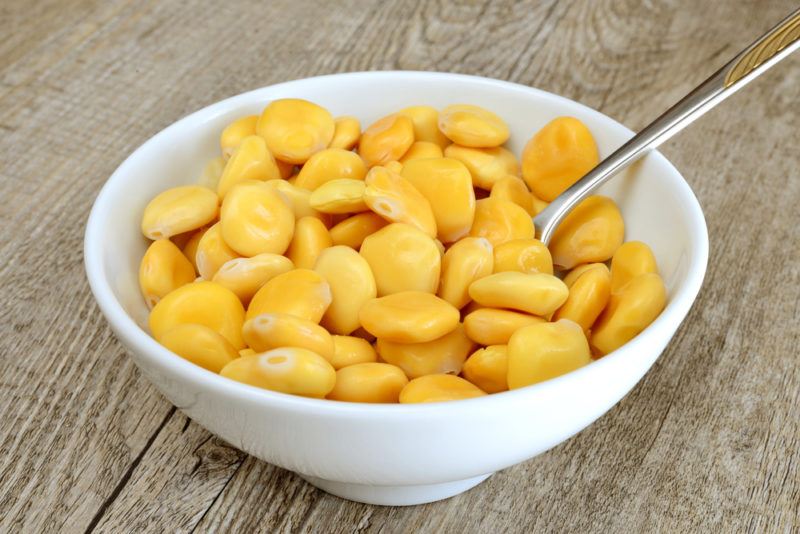 Lupins are sometimes known as lupini beans, but they are distinct enough from other beans to deserve their own mention. All lupins are seeds from species in the genus Lupinus. They're particularly popular pickled and served as a snack food.
Varieties of lupins can be broken down into two distinct groups. Bitter lupins contain a significant amount of toxic alkaloids and need to go through considerable soaking and rinsing before they can be eaten. Sweet lupins, on the other hand, have smaller amounts of these compounds and do not have the same bitter flavor.
While lupins are relatively uncommon compared to other types of legumes, they are growing in popularity. For one thing, they contain many important amino acids, making them a valuable plant-based source of protein. They can also be grown in temperate to cool climates, which makes them a valuable alternative to soybeans.