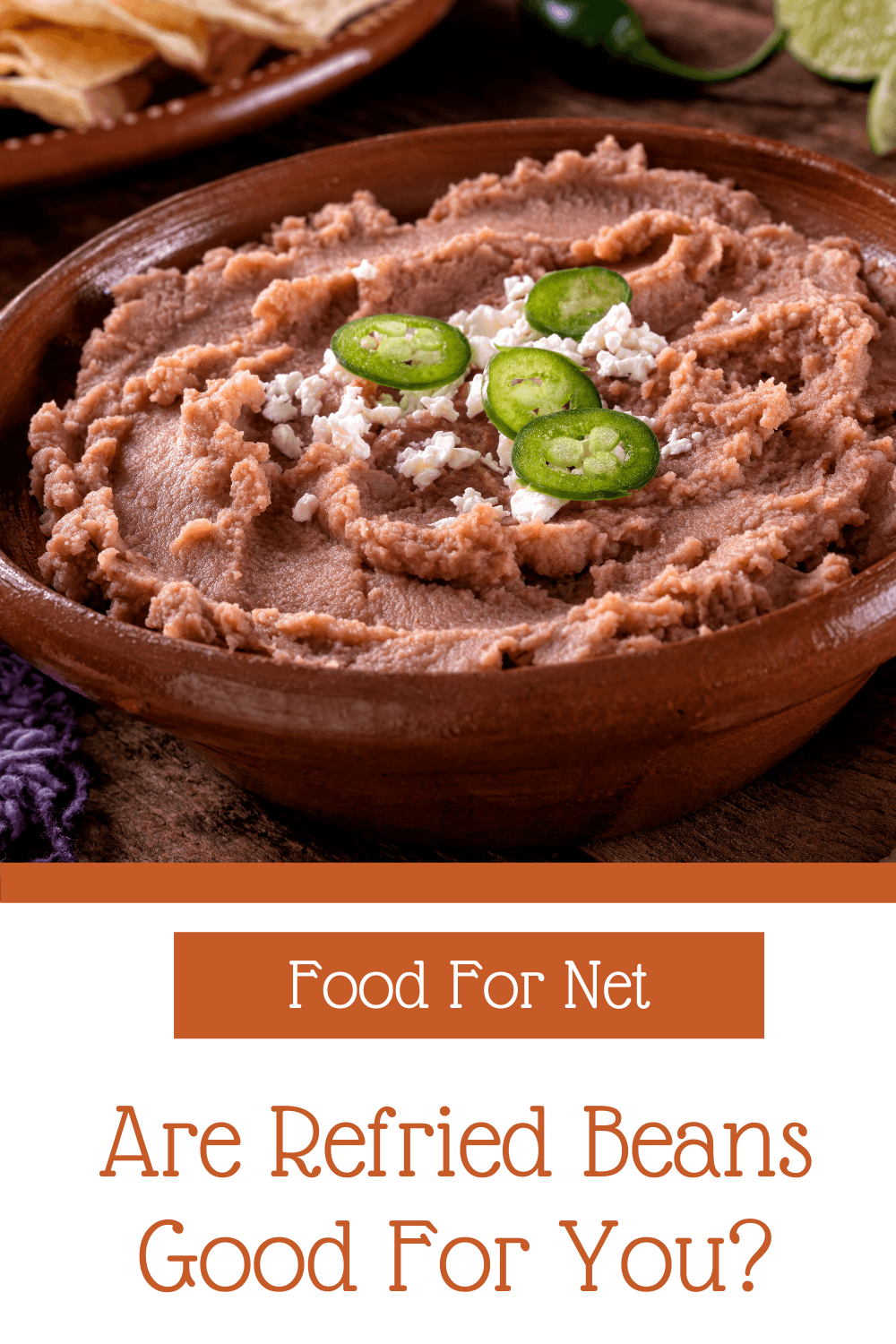 Refried beans are a classic dish that shows up regularly in many Latin American cuisines and recipes. They're delicious, versatile, and popular. Sometimes they're used as a side dish, while other times they're the main ingredient in a meal or a dip, giving you plenty of flexibility. But are refried beans good for you?
The health implications are interesting. On the one hand, refried beans rely on a whole food ingredient that's rich in fiber, protein, and nutrients. On the other hand, beans and other legumes can't seem to escape controversy. There's also the frying step to think about.
So then, are refried beans good for you? If they can be, what's the best way to make them? After all, some approaches are going to be healthier than others.
Are Refried Beans Good For You?
How Are Refried Beans Made?
Benefits Of Refried Beans
How Refried Beans Could Be Harmful
How To Prepare Healthy Refried Beans
Do Refried Beans Make You Gain Weight?
What About Canned Refried Beans?
Final Thoughts
How Are Refried Beans Made?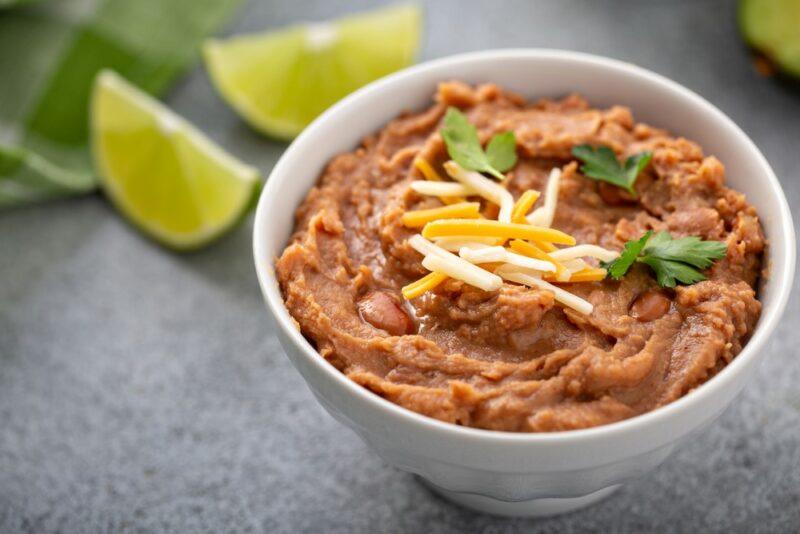 First things first… the term refried beans is misleading. It suggests that you're frying the beans twice or that they're being deep fried. In practice, the beans are boiled, just like normal, then mashed and fried.
If you're in the United States, you'll probably be using pinto beans and frying them in lard. You might add some seasonings or extra ingredients, like onions and garlic.
There's plenty of room for variation, as you can easily change the type of beans you use, what you fry them in, and what other ingredients you add.
Benefits Of Refried Beans
They're Rich In Nutrients
Beans are an exceptional source of nutrients, giving you plenty of iron, magnesium, potassium, and thiamine. They also contain small amounts of various other nutrients, including the B vitamins and zinc.
The iron here is particularly relevant, as iron deficiency is surprisingly common, even in the United States.
The plant-based iron found in beans isn't as readily absorbed as the iron from meat, but there's a decent amount of iron present, so you'll still absorb some of it.
Besides, it's always powerful to find foods that are rich in vitamins and minerals. These can help you to meet your daily targets and ensure your body functions as it should.
Can Improve Your Digestion
Refried beans are relevant to digestion too, as they're rich in both soluble and insoluble fiber.
Our bodies don't digest fiber, but it's still essential for health. Seriously. Most of us actually need more fiber than we're currently getting.
Soluble fiber helps you to feel full, while also being a food source for your gut bacteria. Insoluble fiber makes your stools bulkier. While that sounds like a bad thing, it's vital for regularity and keeping constipation at bay.
The combination of soluble and insoluble fiber also helps your body to absorb nutrients from your food, giving you even more benefits.
They're Excellent For Protein
Just like regular beans, refried beans are excellent as a source of protein. This feature can be important for helping with health and weight loss.
The combination of protein and iron also helps, as this makes refried beans a useful alternative to red meat. You might even replace some of your red meat with refried beans, an approach that could offer many health benefits.
Besides, the ingredients for refried beans are all inexpensive. This often makes the dish much cheaper than meat. Plenty of nutrients and protein at a low price; how can you go wrong?
Can Help With Your Heart Health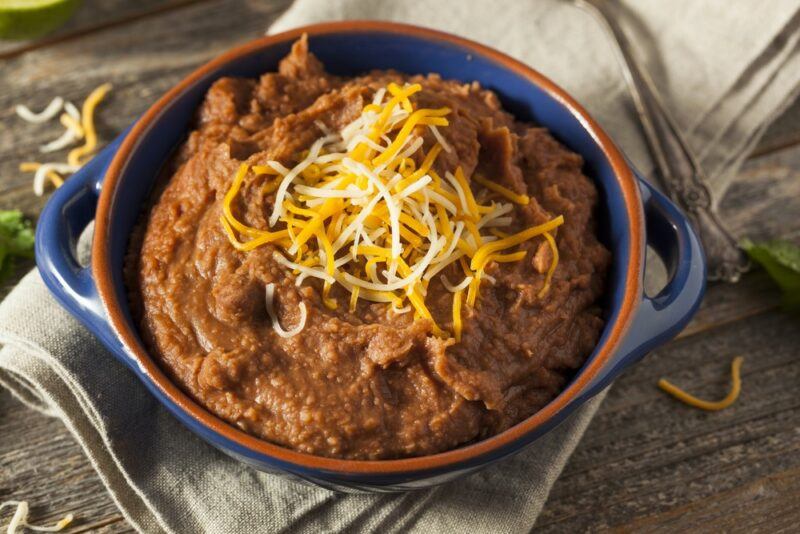 If your refried beans are made with a plant-based oil rather than lard, they can be powerful for your heart health.
This is particularly true if you choose to have beans instead of red meat. Doing so would decrease your saturated fat intake, while giving you more heart healthy fats.
Some of the nutrients in beans are relevant to your heart too, particularly potassium, which keeps your blood pressure levels balanced.
The fiber in beans is relevant here too, as high fiber foods help to lower cholesterol levels.
Could Help With Blood Sugar Levels
Refried beans can help with your blood sugar levels too, largely because they're high in fiber and low in sugar. They're even a low GI food, which means they have a minimal impact on your blood sugar levels.
Including plenty of low GI foods in your diet can help to keep your blood sugar levels more stable. That effect might even lower your risk of diabetes and can help diabetics to prevent complications.
They Contain Antioxidants Too
Antioxidants are an often overlooked feature of legumes, but they're there and can be powerful. Their main benefit is clear from the name – antioxidants help to lower oxidation.
Specifically, they prevent harmful oxidative damage. By doing so, antioxidants can even lower the risk of some diseases and protect your health. The same compounds can have other helpful roles in your body too.
How Refried Beans Could Be Harmful
They're Often Fried In Lard
Refried beans are traditionally cooked in lard, along with plenty of salt. This lard can be a problem, as even a single tablespoon contains a whopping 5 grams of saturated fat.
This saturated fat makes traditional refried beans a poor choice if you're worried about heart health.
There are also concerns that the saturated fat increases your blood cholesterol levels, which then raises heart disease risk. The link between saturated fat, cholesterol, and heart disease is under intense debate, with some studies supporting the link, while others suggest that the opposite might be true.
Still, most health recommendations still suggest avoiding saturated fat where you can – as it has few potential benefits and plenty of potential risks.
Plant-based oils can be used instead of lard. Doing so decrease the saturated fat content and provides you with more healthy fats instead.
Making the swap from lard to plant-based oil works well if you're preparing refried beans at home. But, you don't have the same control if you're buying them at a restaurant. Some places may use a plant-based alternative, while others will stick with lard.
They Can Be High In Calories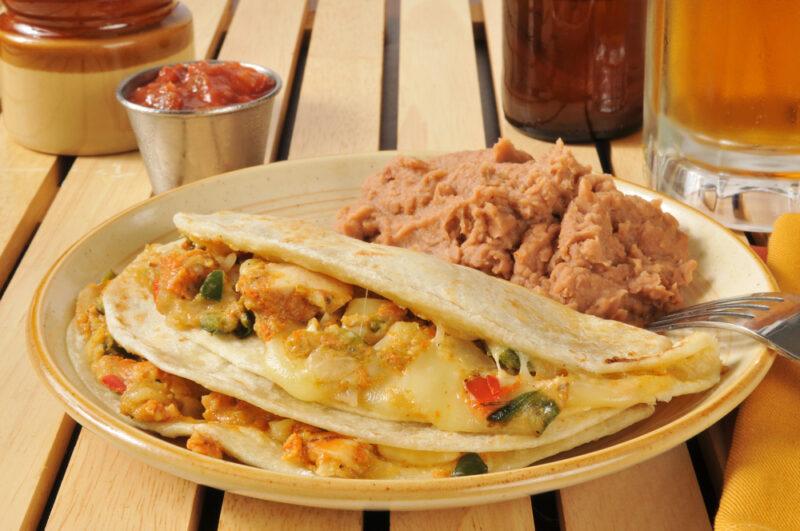 If your beans are fried in a decent amount of fat, they're likely to be high in calories. This is true even if you're focusing on a plant-based oil rather than lard. The calorie content could easily be a problem, potentially leading to weight gain and raising your risk of other health conditions.
To make matters worse, we often eat refried beans with other high calorie ingredients, including cheese and sour cream.
Their Sodium Content
Sodium is another serious issue, as refried beans are traditionally made with plenty of salt. You might even get 20% of your daily sodium from a single half cup serving.
It's also easy to lose track of your serving size and consume more refried beans than you intend to. Or, you might be eating refried beans with other high sodium ingredients.
Sodium isn't all bad. It's still a mineral that our bodies need and is also an electrolyte. The problem is that sodium is everywhere. Most of us already consume too much of it and certainly don't need more.
Plus, getting high amounts of sodium can be dangerous, leading to higher blood pressure, increased heart disease risk, fluid retention, and other health issues.
Can Be Difficult To Digest
Beans are often difficult to digest, partly because of their antinutrients. This issue is why so many people get side effects from beans, including bloating and stomach cramps.
Annoyingly refried beans don't solve this problem. In fact, the fat used to cook them could make them even harder to digest.
The trick is to pay attention to your own body. See what happens when you eat refried beans. Do they make you feel good or give you side effects? If side effects are common, you might need to cut down on the beans – or avoid them entirely.
If you're preparing the beans yourself, try starting with dry beans and soaking them for at least 12 hours before cooking them. Doing so helps to lower the antinutrient content, making the beans easier to digest.
They're High In Carbs
Regardless of how you prepare them, refried beans will always be high in carbs.
They're a source of complex carbs, which makes them much better than refined carb rich foods like bread and pasta. Complex carbs have even been linked to plenty of health benefits.
Still, even complex carbs are somewhat controversial, with fears that they can increase blood sugar levels, inflammation, and disease risk. You may also need to keep carb intake low if you're following a keto diet.
If you are worried about carbs, then refried beans won't be a good choice. You may even need to avoid legumes entirely. Just make sure that you get plenty of nutrients elsewhere.
How To Prepare Healthy Refried Beans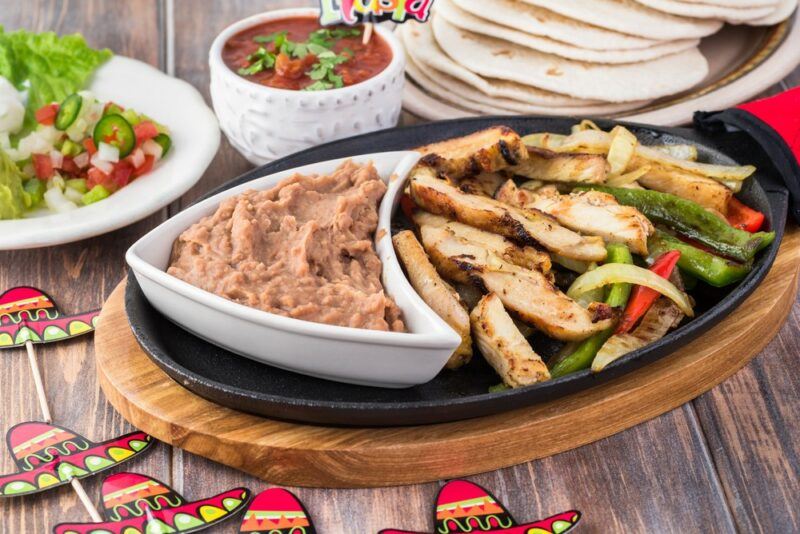 The biggest issues with refried beans come from how they're prepared. Thankfully, these problems are easily avoided if you make the beans at home.
The first trick is to swap out the lard for a plant-based oil instead, like olive oil. This decreases the saturated fat content and gives you healthy fats instead.
Second, be frugal with the amount of oil you use. You don't need a large amount of oil to make delicious refried beans. Sometimes just a tablespoon of the oil is enough.
Third, keep the salt levels low. There are plenty of other ways to make your beans taste interesting, like adding some chili powder, lime juice, cumin, or cilantro.
Most refried bean recipes suggest using dried beans that you prepare yourself. Doing so gives you a better texture and more control over the sodium content.
However, canned beans are an option too. Canned beans make the dish fast to prepare, which may be exactly what you need.
Do Refried Beans Make You Gain Weight?
Like many foods, refried beans can help with your weight loss goals or sabotage them. Which effect they have depends on how the beans are prepared and how you're using them in your diet.
Using the healthy approaches from above should keep the calorie content of your beans at reasonable levels.
What about how you use them?
Well, part of the problem is that refried beans are often served in large portions or as part of a dish that's already oversized and packed with calories. This is particularly true if you're buying meals at a Tex-Mex restaurant.
We've also accustomed to eating the entire meal in front of us, even if we're satisfied halfway through. This practice can easily lead to overconsumption and weight gain.
To use refried beans well, you need to pay close attention to your portion sizes and the calorie content of your meal. Eating slowly and mindfully can help as well. Doing so makes it easier to recognize your body's signals that it is satisfied.
What About Canned Refried Beans?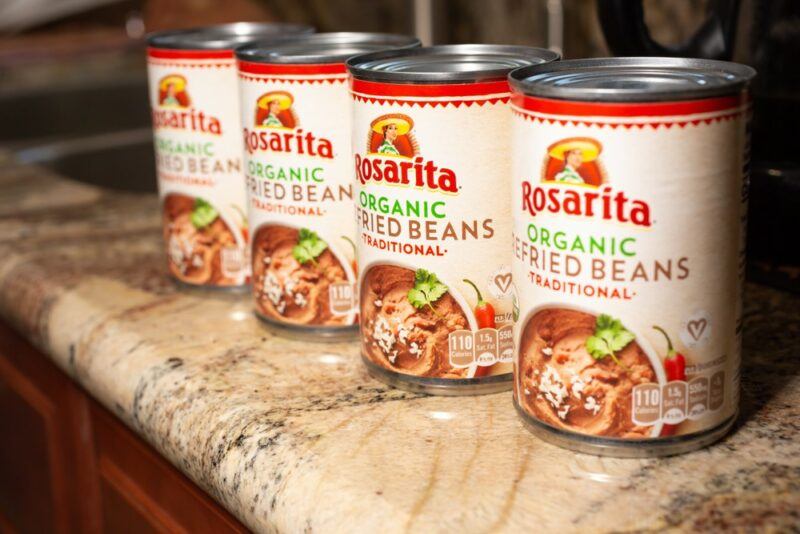 You can also buy refried beans in a can. This is the ultimate in convenience, giving you the chance to prepare side dishes and meals with barely any effort.
Most of the benefits and risks we've talked about are the same for canned beans as for fresh ones. However, you will need to watch the sodium, as this can be excessive. For example, a half cup serving of Bush's refried beans contains close to 20% of your daily sodium intake.
Be sure to check the ingredients label too, as some companies use ingredients that you mightn't expect. This should also help you find versions that are low in sodium and saturated fat.
There are also potential risks with canned food, including trace BPA from the can and the chance for bacterial contamination. Thankfully, the risks are low. They're mostly a reason to be cautious with canned food, rather than avoid them altogether.
Because canned refried beans are practical and have a long shelf-life, you might use them time to time. There's nothing wrong with doing so. Just remember that homemade refried beans tend to be much healthier.
Final Thoughts
Refried beans can be healthy. They give you all the nutrients, fiber, and protein that you find in regular beans – in a form that's delicious and versatile.
The biggest problems are the saturated fat, calories, and sodium, but these can all be avoided. The easiest approach is to prepare the beans yourself at home, using a small amount of plant-based oil, rather than lard.
Canned refried beans and any you order while out can be more difficult, as these may be prepared with lard. Thankfully, plenty of companies are stepping away from lard, so you should be able to find some healthy products if you look for them.
Frequently Asked Questions
How Many Carbs In Refried Beans?
Refried beans are fairly high in carbs, with a half cup serving containing roughly 21 grams of carbs. The carb content is influenced by the recipe used and any additives. However, because the product always relies on beans it's never going to be very low in carbs.
Are Refried Beans Vegan?
Traditional refried beans aren't vegan, as they rely on lard as one of their main ingredients. However, you can easily make a vegan version of refried beans by using olive oil instead of lard. Some companies even produce vegan refried beans in cans.
Are Refried Beans Keto Friendly?
Beans, including refried beans, are a seriously bad keto choice due to their high carb content. A full cup of the beans could even hit you over your daily carb target all in one go. Even small servings of beans could be too high in carbs.
Can Diabetics Eat Refried Beans?
Despite their carb content, refried beans are excellent for diabetics. They can even help with your glycemic control and overall health. The beans also contain plenty of powerful nutrients, but you'll need to watch your portion size, as refried beans can easily be high in calories.
Are Refried Beans Good For Weight Loss?
The fiber and protein content of refried beans can help with your weight loss, but you'll need to be careful with your serving size because the beans are pretty high in calories. Honestly, if you're trying to lose weight, regular beans are a better choice than refried beans anyway.