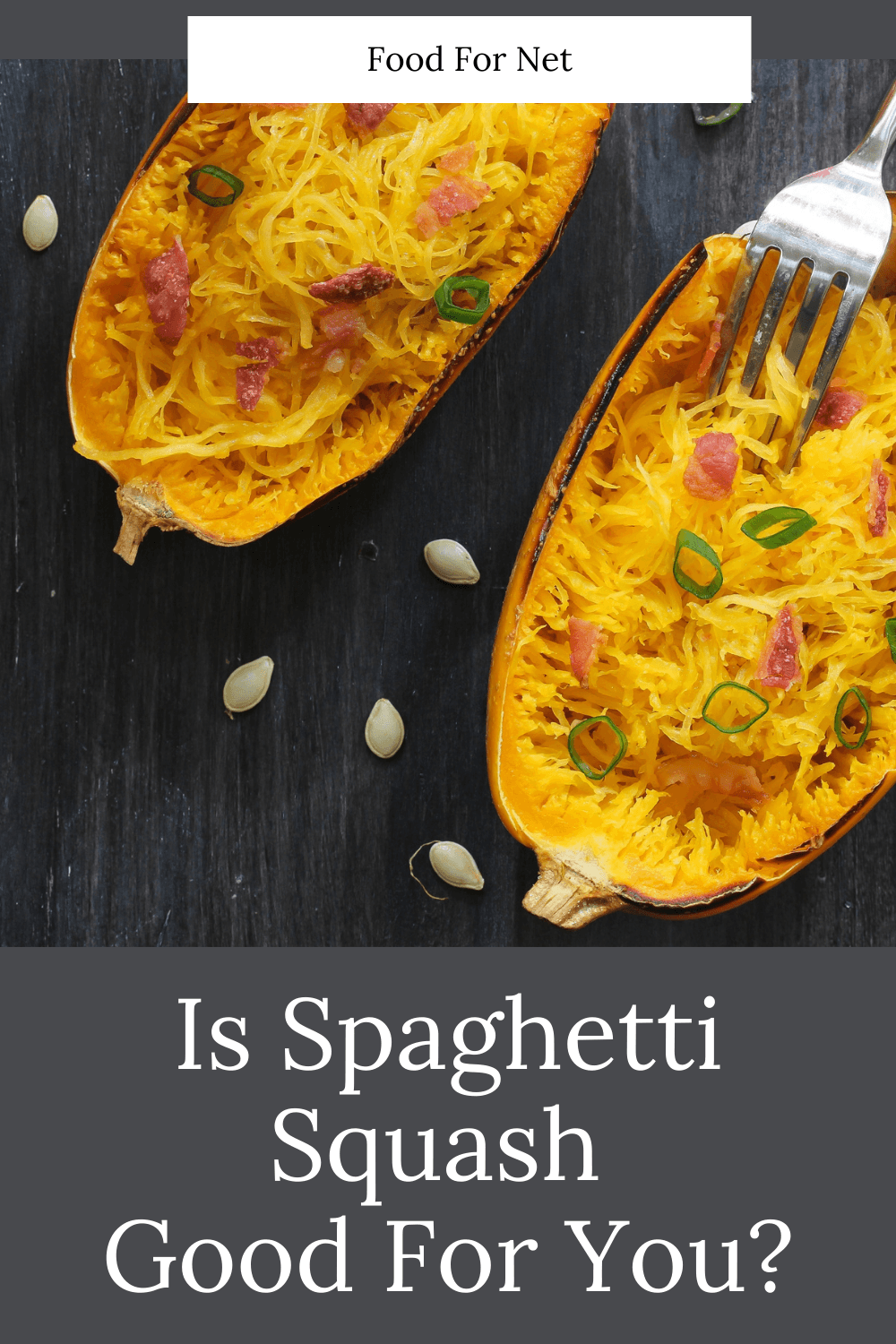 At first glance, spaghetti squash is an uninspiring vegetable. It's yet another winter squash, one that has a mild flavor, so it's not going to many any of your recipes stand out. But is spaghetti squash good for you and should you add it to your diet?
Despite this, spaghetti squash continues to be a trending ingredient, one that is used in countless recipes. Just like cauliflower and zucchini, the reason has little to do with flavor. Instead, spaghetti squash can be used exactly like the name suggests – as a replacement for spaghetti.
This begs the question, though, is spaghetti squash good for you? After all, if you're going to use it regularly in your diet, you'll want to be sure that the vegetable actually helps.
Is Spaghetti Squash Good For You?
Why Spaghetti Squash Is So Interesting
Benefits Of Spaghetti Squash
How Spaghetti Squash Could Be Harmful
Is Spaghetti Squash Similar To Pasta?
Final Thoughts
Why Spaghetti Squash Is So Interesting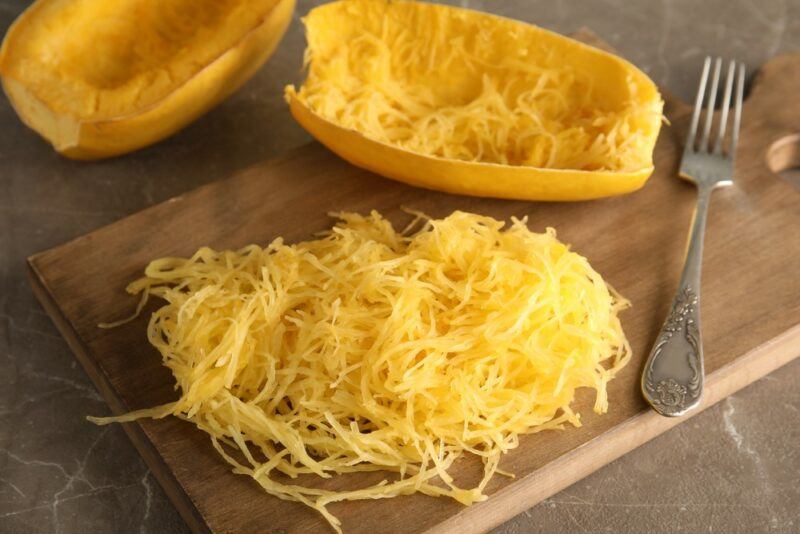 Most of the benefits and risks of spaghetti squash are similar to any other type of winter squash. But, there's one thing that makes the squash stand out – its flesh.
Spaghetti squash is unusual in that when the squash is cooked, the flesh can be pulled out in spaghetti-like strands, ones that can be used in a similar way to regular pasta
Countless recipes use spaghetti squash in exactly this way. Many use the squash instead of pasta, combining it with familiar sauces and ingredients. You'll even see keto spaghetti squash recipes. These are powerful, as you can't include regular pasta on a keto diet.
Benefits Of Spaghetti Squash
Much Healthier Than Pasta
Spaghetti squash isn't used as a pasta replacement because it tastes better. Most of us would still prefer to have actual pasta, if possible. Instead, spaghetti squash shines because of its nutritional profile.
Let's start with the carbs.
Spaghetti squash is a starchy vegetable, so it's hardly the lowest carb vegetable out there. Compared to pasta, however, spaghetti squash wins hands down. You get around 10 grams of carbs in a cup of spaghetti squash, while a cup of cooked pasta contains around 42 grams of carbs (if not more).
Even if you're not following a low carb diet, 42 grams of carbs is a concerning amount. That's just for a cup of pasta too. You might actually consume more than that in a sitting.
Spaghetti squash is also much lower in calories than pasta, making it an ideal choice for weight loss.
Pasta does contain more protein and fiber than spaghetti squash, but the differences aren't dramatic.
The Nutrient Profile
Spaghetti squash has a great nutrient profile as well, giving you some vitamin C, manganese, vitamin B6, potassium, and niacin, along with smaller amounts of magnesium, iron, and calcium. These nutrients all matter, given they play so many different roles in your body.
You get less than 10% of your daily intake for each of the nutrients, sometimes less than 5%. That's okay though. Little bits still add up and spaghetti squash will normally just be one ingredient in your meal.
Plus, those nutrients come from a single cup of cooked spaghetti squash, a serving that just contains 42 calories. For the number of calories, then, the nutrient profile of spaghetti squash is very impressive indeed.
Provides You With Antioxidants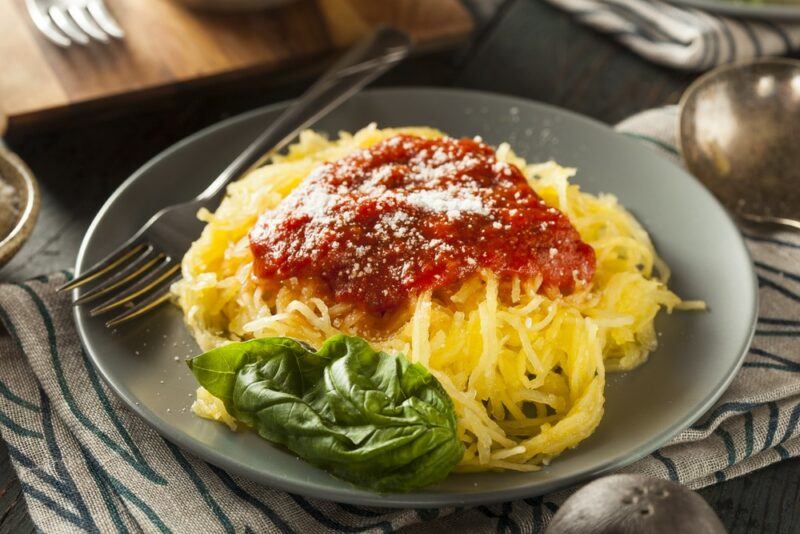 Like other vegetables, spaghetti squash is a useful source of antioxidants. These antioxidants play vital roles in reducing the risk of oxidative damage. By doing so, they help to protect us against disease.
There's still plenty that we don't know about antioxidants, including which types are the most powerful, the amounts we need for optimal health, and all their effects in our body. But, even now, we know that antioxidant rich diets tend to promote health.
Plus, antioxidants don't just reduce oxidation. They all have other roles in our bodies as well. For example, two prominent antioxidants in squash are vitamin C and beta carotene. Vitamin C is strongly linked to your immune system function, while beta carotene converts to vitamin A and is important for eye health.
Provides Some Fiber
We can't forget about the fiber either. While fiber can seem a bit passe, it's incredibly important for keeping your digestive system functioning well. In particular, too little fiber raises your risk for constipation, while getting enough helps to keep you regular.
Most of us don't get the fiber we need currently, making fiber rich foods perfect for promoting health.
As Useful Weight Loss Ingredient
Whether you're following a low carb diet or not, spaghetti squash is a fantastic way to promote weight loss. Not only is the calorie content much lower than regular pasta, but you're also getting some fiber, which helps to keep you satisfied for longer.
Spaghetti squash is also a fantastic way to still enjoy some of your favorite pasta dishes without worrying about your waistline. It doesn't taste quite the same as pasta, of course, but once you get used to the difference, you might even prefer spaghetti squash.
Low In Carbs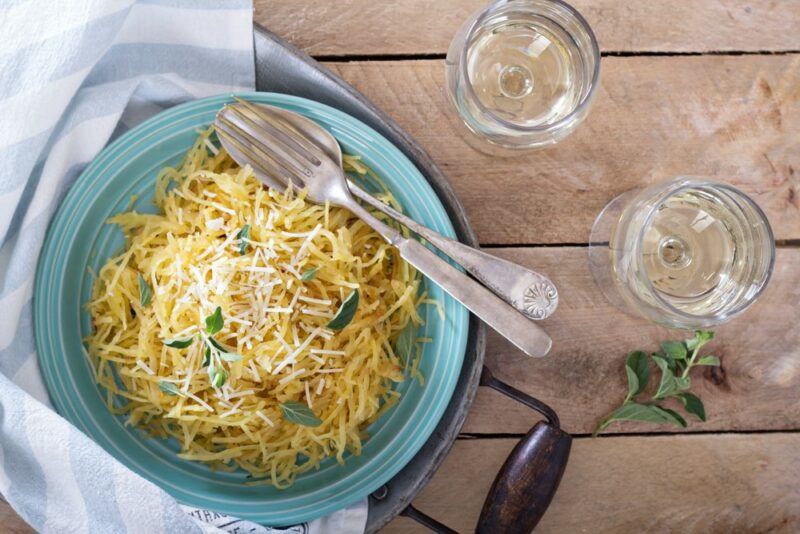 Despite being a type of winter squash, spaghetti squash is very low in carbs, with 100 grams of the cooked squash containing around 5 net grams of carbs. This carb content is low enough that even keto dieters can include spaghetti squash in their eating plans and many of them do.
If you've spent any time looking at health blogs, you'll probably know that carbs are very controversial. Despite being a valuable source of energy, carbs are also linked to blood sugar fluctuations and may cause increased inflammation.
Such patterns mean that some people choose to minimize their carb intake as much as possible. If you're in this camp, then it's essential to find nutritious foods that are low in carbs. Spaghetti squash is an excellent example.
Fits Onto Many Diets
Spaghetti squash also works well for many people. It is low in FODMAPs, so it shouldn't cause side effects like stomach cramps or gas for people with irritable bowel syndrome.
It can also be enjoyed on paleo diets and keto diets. Plus, we're talking about a vegetable, so vegetarians and vegans can enjoy it, while the low calorie content makes spaghetti squash perfect for dieters too.
It's pretty hard to find anyone that can't enjoy this vegetable.
Easy To Use
One final advantage is that spaghetti squash is very easy to use. You simply need to cook the squash and then tease out the flesh with a fork to create spaghetti-like strands.
Cutting the squash in half and cooking it in the oven is one of the simpliest approaches, although some people use an Instant Pot or a microwave instead.
While most people cut the spaghetti squash in half lengthwise, some bloggers suggest cutting in the other direction instead. This approach means that when the spaghetti squash is cooked, you get longer strands of 'spaghetti' to work with.
How Spaghetti Squash Could Be Harmful
Allergic Reactions
Some people are allergic to winter squash, leading to symptoms like itching, swelling, and stomach cramps. Such allergies aren't common, but if they apply to you, you might need to use a different pasta alternative.
The Calorie Content Might Be Too Low
The low calorie content of spaghetti squash is generally a good thing, as this can help you to lose weight. However, cutting your calories down too far doesn't do you any good at all.
In fact, severe calorie restriction can lead to nutrient deficiencies, a lack of energy, and the loss of muscle. Pairing your spaghetti squash with lean protein, vegetables, and sauce can help to ensure you're still getting enough calories and plenty of nutrients.
Cutting The Squash Can Be Dangerous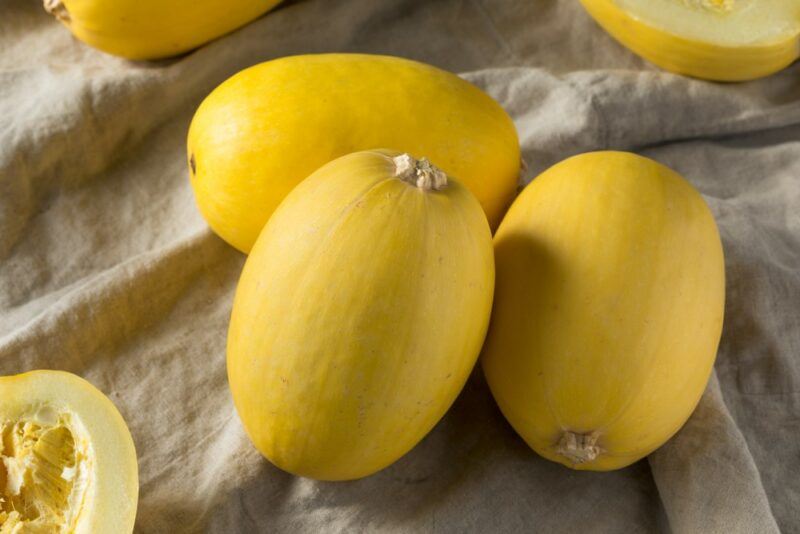 The biggest risk of spaghetti squash doesn't come from eating the vegetable at all, but from cutting it open. Truly. Because the squash is so tough when it's raw, you need to apply a decent amount of pressure, and it's very easy for the knife to slip.
If you're clumsy, at all, it's best to partly cook the squash before you try to cut it in half. This way you reduce the risk dramatically.
If you can't cook it first, then be sure to watch a few tutorial videos before even attempting to cut the squash. You might learn a few tips that make everything much easier and safer.
Is Spaghetti Squash Similar To Pasta?
Spaghetti squash does look like pasta, can be used roughly the same way, and even has a similar texture. Even so, it's hardly a dead ringer for pasta.
The biggest difference is the taste, as spaghetti squash doesn't taste like much of anything. It's not as earthy or sweet as other types of squash, but doesn't really taste like pasta either.
Cooking your squash fully helps considerably. If it's undercooked, even by a little, then the strands have a slight crunchiness that makes them even less like pasta. Spaghetti squash often takes longer to cook than you might expect, so plan ahead of time.
Using a flavorful sauce is important too. This way the mild flavor of the spaghetti squash isn't noticeable at all.
Final Thoughts
Spaghetti squash offers some health benefits, as it's a reliable source of antioxidants and provides some nutrients.
Where it really shines, however, is when you use the squash as a replacement for pasta. Making this swap means you get fewer carbs and calories per serving. It's a fantastic trick, as it's far too easy to overdo it with pasta and end up with a very unhealthy meal.
Spaghetti squash isn't the same as pasta, of course, so it takes time to get used to. It won't give you the same carb hit either, which might feel disappointing at first.
Stick with it though. With the right recipe and enough cooking, spaghetti squash really can create some amazing meals. For an easy starting point, why not make a dish that uses spaghetti squash and pasta? The two ingredients complement each other surprisingly well – and you're still cutting down your carb intake considerably.
Frequently Asked Questions
Is Spaghetti Squash Keto Friendly?
A cup of cooked spaghetti squash has somewhere between 5 and 8 net grams of carbs per serving (depending who you ask). This makes it feasible for keto dieters, especially as spaghetti squash could be a main ingredient in your meal.
Notably, spaghetti squash is often used as a replacement for pasta. It's perfect in this role, as a cup of cooked pasta can often contain 40 net grams of carbs – if not more.
What Is The Glycemic Index Of Spaghetti Squash?
Spaghetti squash works well for diabetics, as it has a low glycemic index. This often comes in at less than 20, which is fantastic. Real pasta has a much higher glycemic index (often between 50 and 55), which is how it can spike your blood sugar so dramatically.
Is Spaghetti Squash Low FODMAP?
Monash University lab tests show that a cup of cooked spaghetti squash is low FODMAP, making it helpful for IBS sufferers. A cup is a decent serving size too. It should be enough to prepare many meals.
Slightly higher serving sizes should be safe as well. However, going above 2.5 cups starts to give you too many fructans and could lead to some issues.
How Many Calories Are In A Whole Spaghetti Squash?
A cup of cooked spaghetti squash generally gives you around 40 calories. You get around 6 to 8 cups of spaghetti from a large spaghetti squash, which gives you between 240 and 320 calories for the whole squash.
Of course, that's just a rough estimate. Spaghetti squashes come in different sizes with varying amounts of flesh, so the calorie content will vary from one to the next.
Is Spaghetti Squash Good For Diabetics?
Yes. Not only is spaghetti squash low in carbs and sugar, but it's also a decent source of fiber. This combination is exactly what diabetics need for managing their blood sugar levels.