Cauliflower is hardly the most exciting vegetable. It's white, doesn't have much flavor, and the texture isn't amazing either. Yet, cauliflower isn't just healthy, it has a surprising array of benefits. So, we need to ask, why is cauliflower good for you? What is it that makes this plain vegetable so special?
You probably know one reason for using cauliflower already – the vegetable's versatility. Cauliflower is now used in endless ways, particularly by keto dieters.
The lack of flavor is an advantage here, as you can use other ingredients to make cauliflower taste more interesting. This works so well that sometimes you mightn't even realize that you're eating cauliflower at all.
You'll also see cauliflower turn up in unexpected places, like cauliflower bread, pizza bases, cauliflower rice, and more. The vegetable, then, is clearly useful. Let's see how the health effects stack up.
Is Cauliflower Good For Your Health?
The Benefits Of Cauliflower
The Health Risks Of Cauliflower
Ways To Use Cauliflower
Final Thoughts
Cauliflower, like broccoli, brussels sprouts, collard greens, and kale, comes from the species Brassica oleracea. It's a slightly unusual vegetable with a large white head, which is the only part that we typically eat.
While most of us are familiar with the traditional white cauliflower, there are plenty of varieties, some of which are still on the market today. You'll even find other colors, like orange, green, and purple cauliflower.
The unusually colored versions do have their advantages. For example, the purple one is rich in anthocyanins, while orange broccoli is a source of beta-carotene instead.
The Benefits Of Cauliflower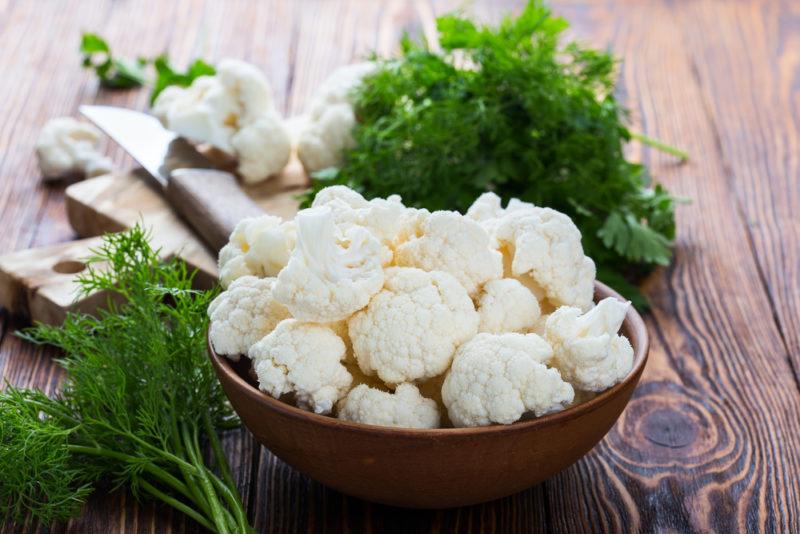 A Nutritious Vegetable
The first surprise of cauliflower comes from its nutrient profile. The vegetable contains some important nutrients, including vitamin C. In fact, a cup of raw cauliflower contains more than 75% of your daily vitamin C intake. How's that for impressive?
The other nutrients are less remarkable, but you still get a decent amount of vitamin K, vitamin B6, and folate per serving. There are also lower amounts of potassium, manganese, phosphorous, and magnesium, which are all essential.
There are, of course, plenty of other places to get the same nutrients, but cauliflower has another advantage too – its low calorie content. That cup of raw cauliflower we mentioned earlier just contains 25 calories.
Nutrient-dense vegetables like this are the perfect way to boost your nutrient intake, as they're not going to add to your waistline.
The Low Carb Content
Much of cauliflower's popularity comes from its low carb content. A cup of raw cauliflower just contains 5.3 grams of carbs and 2.5 of these are from fiber. This puts the digestible carbs very low indeed, which is why cauliflower features so heavily on low carb and keto diets.
Why the fuss about carbs anyway?
Carbs, or carbohydrates, are a key source of energy. They're converted to glucose, which is then used throughout the body. This conversion to glucose is sometimes seen as a problem, as it means that carbs increase our blood sugar levels and may lead to disease.
Experts often suggest that complex carbs, the type found in legumes, whole grains, and many other whole foods, are healthy, while simple carbs are less good for you and refined carbs are even worse.
Cauliflower performs well, as it is naturally low in carbs and is a whole food.
The Fiber Content

Fiber is a type of carb as well, but it isn't controversial. Instead, the health benefits of fiber are well recognized. Fiber is important because our bodies often don't digest it. Instead, fiber provides bulk that helps our digestive systems to function well.
Eating a fiber rich diet is important for managing your blood sugar levels, for decreasing constipation, for stopping you from overeating, for lowering heart disease risk, and for helping you to lose weight.
Cauliflower Is A Cruciferous Vegetable
Cruciferous vegetables is a large family of foods, including cabbage, broccoli, cauliflower, collard greens, radishes, wasabi, and turnips, plus plenty of others. While these vegetables are quite different than one another, many have a bitter flavor and an unappealing smell.
Both factors are due to contains a class of compounds called glucosinolates, which contain sulfur. While the glucosinolates might not be appealing, they're the reason that cruciferous vegetables are linked to so many health benefits.
When we eat these vegetables, the glucosinolates are broken down in our bodies. Some of these breakdown products can promote health, like decreasing your risk of cancer, lowering inflammation, and fighting oxidation.
Research into the precise benefits of cruciferous vegetables is ongoing. Still, the vegetables are certainly good for you. If they help with your heart health and cancer risk too, that's even better.
Versatility

There are plenty of other low carb, low calorie, and nutrient dense vegetables. Cauliflower, however, stands out because of how versatile it is.
You'll often see cauliflower used to create low carb versions of regular dishes. Cauliflower rice, for example, is simply cauliflower that is processed into very small pieces and it can be used just like rice. Cauliflower can also be used as an ingredient to make cauliflower bread, pizza crusts, and much more.
Can Keep You Hydrated
This benefit is easily missed. Most of the weight in cauliflower comes from water, so the vegetable can help you to stay hydrated.
This is an important effect, as many of us don't drink enough water each day. Getting some of our hydration from food as well is an easy way to stay on track.
Might Fight Aging
Some of the compounds in cauliflower, including sulforaphane and antioxidants, could influence the aging process. For example, sulforaphane could have an anti-aging effect because of how it interacts with some of your genes.
The Health Risks Of Cauliflower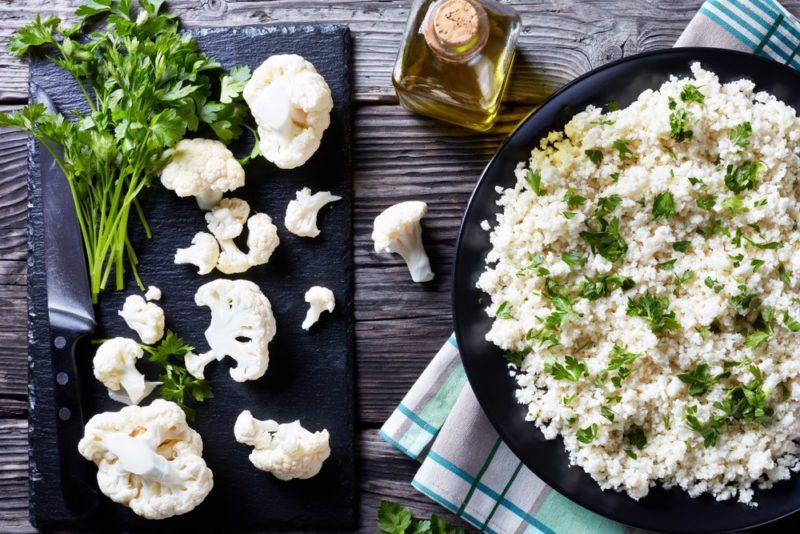 Cauliflower is generally a safe vegetable. It doesn't have many concerning features and can be included in most types of diet. Still, there are some issues to watch out for.
Can Interfere With Blood Thinners
Cauliflower contains vitamin K, so it can influence blood thinning medications like warfarin. This happens because vitamin K plays a role in blood clotting, making blood thinners less effective.
Taking blood thinners doesn't mean that you need to avoid vitamin K rich foods. Instead, the goal is often to keep your vitamin K levels consistent. This way your medication can be adjusted to match your vitamin K intake.
Doing so often involves talking to your doctor and making a plan about your vitamin K intake. This is particularly important if you are following a low carb or keto diet, as your cauliflower intake might be higher than is average.
Cruciferous Vegetables And Your Thyroid
Some research suggests that a high cruciferous vegetable intake may increase the risk of thyroid cancer. Thankfully, this isn't a universal effect. Instead, it just seems to happen when people aren't consuming enough iodine.
The effect makes sense, as iodine is important in the production of thyroid hormones. If you're not getting enough iodine, your thyroid might not function optimally and eating large amounts of cruciferous vegetables could be risky.
Thankfully, most people get enough iodine in their diets, often through iodized salt. But, pregnant women and anyone who avoids iodized salt could be at risk. If this is the case for you, make sure that you're eating enough iodine rich foods.
Cauliflower Allergies
It's possible to be allergic to almost any type of food or drink, including cauliflower. While cauliflower allergies are rare, they do happen, so it's important to pay attention to how your body reacts when you're eating cauliflower.
May Give You Gas
While this isn't a risk per se, cauliflower sometimes has the uncomfortable side effect of giving you gas. This comes from a sugar called raffinose that's found in cauliflower. The same sugar is in other foods too, like beans, cabbage, and broccoli sprouts.
Anyone sensitive to this effect may need to limit their cauliflower intake.
In fact, cauliflower is a high FODMAP vegetable. This means that some people experience stomach discomfort, gas, and even pain from eating just a little cauliflower. You'll need to experiment for yourself to work out whether cauliflower works well or is a problem.
Ways To Use Cauliflower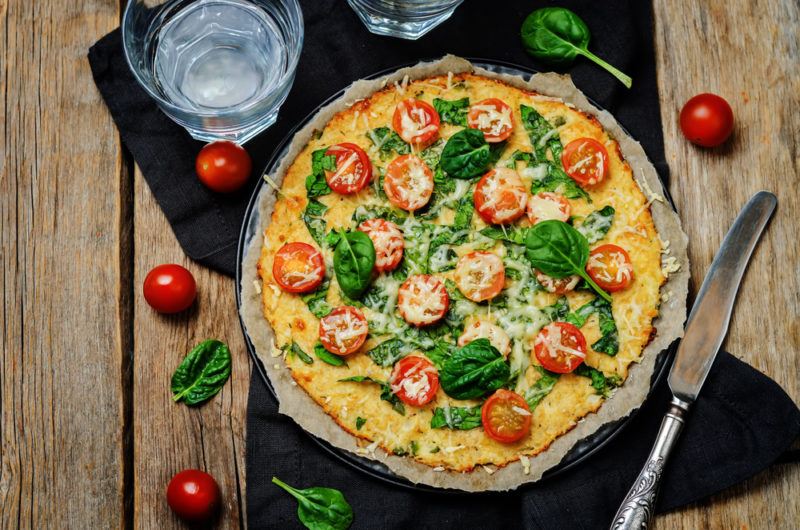 As we mentioned earlier, cauliflower can be used in countless ways. The simplest is to cook cauliflower as a side dish, perhaps with broccoli. This is an approach that many of us have followed for decades.
These days, however, there's no shortage of other options.
Many of these start by creating cauliflower rice. Doing so is as simple as roughly chopping your cauliflower and running it through a food processor. Once you have riced cauliflower, there are plenty of things that you can do with it.
You can even treat cauliflower rice much like regular rice. Why not stir fry it with vegetables and spices? You can even buy cauliflower rice already made and frozen, so all the hard work is done for you.
Cauliflower can also be used in soups, as part of a cheesy bake, as an ingredient in bread or pizza bases, roasted whole, or even deep fried.
Another trick is to use cauliflower a little like chicken. For example, you can cook cauliflower in buffalo spices and create a dish that's surprisingly similar to buffalo chicken wings. The taste and texture aren't quite the same, of course, but the cauliflower works surprisingly well in this role.
Final Thoughts
There's little debate about it – cauliflower is healthy. The vegetable is low in carbs and calories, while also being packed with nutrients and being incredibly versatile. Plus, cauliflower is a cruciferous vegetable, which means that it's linked to loads of health benefits.
There are some risks, of course, including the potential for cauliflower allergies and the possible interaction between cauliflower and thyroid cancer. Even so, getting enough iodine is enough to get around the thyroid association and allergies shouldn't be a problem for most people. So, why not start getting more cauliflower in your diet today?