As you have probably known by now, vegetables may not exactly a catch-all term for all vegetables – that is of course if you really want to get to know your veggies. Of course, vegetables are vegetables still, don't get me wrong. Nightshade vegetables? Sure. If there are cruciferous vegetables, root vegetables, starchy vegetables, and so on and so forth – then why not nightshade vegetables, right?
So, what are nightshade vegetables you ask? These are vegetables belonging to a family of flowering plants called Solanaceae. As to why nightshades, they say because these plants grow in shades. Actually, the etymology of its Latin name is not very clear either. So, perhaps let's just stick with nightshades for now.
There have been discussions about nightshade vegetables – whether it's worth keeping in your diet or maybe perhaps you should opt for the alternative. Well, if Tom Brady himself doesn't eat nightshade vegetables then it's pretty understandable if one would start doubting these veggies as well. I mean, it's Tom Brady. Right?
But what's wrong with these nightshade vegetables anyway? Well, it turns out, they contain a chemical compound called alkaloids which if taken in large doses can be dangerous to health. Now, that sounds worrisome, but the keyword here is large doses. These vegetables only contain trace amounts of alkaloids. However, it'll be best to be cautious around green potatoes as high concentrations of solanine (the alkaloid compound) are believed to be present.
A belief also emerges that nightshade vegetables cause inflammation. The thing though is that there are no concrete studies made yet to prove this claim. Sure, there are people who are finding relief and are feeling better after excluding these veggies from their diet. But there is also that possibility that it simply means that perhaps they just have certain food sensitivities. The point being, it doesn't necessarily mean that it applies to everyone and that we all should refrain from eating these vegetables.
It would still be best, of course, to be observant of your body's reaction to the food you eat – not just with vegetables but basically anything you're putting in your body. Having said that, you can maybe start your observation when you eat these nightshade vegetables:
Types of Nightshade Vegetables
Eggplant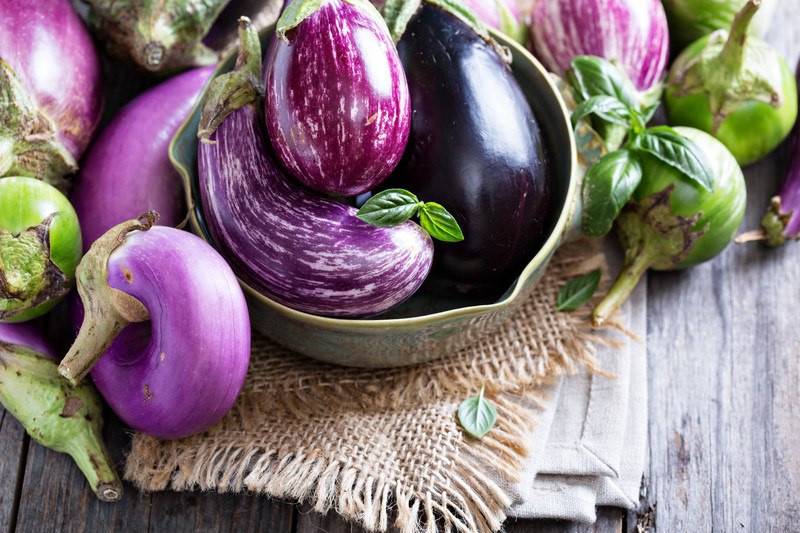 Eggplant, also called aubergine, is a spongy and absorbent fruit that usually comes in purple color. It is grown worldwide and is used in many different cuisines.
When raw, eggplant has a bitter taste with an astringent quality. However, it turns spongy, mild, and somewhat bland when cooked. Its absorbent quality allows the flavor of sauces or seasonings in a dish to easily enhance its taste.
It contains vitamins and minerals like manganese, folate, potassium, and vitamins K and C. It's also high in antioxidants that can protect against cellular damage. Eggplants may also reduce the risk of heart diseases, help with weight loss, promote blood sugar control, and protect against certain types of cancer.
Chili Peppers

Chili peppers originated in Mexico and are widely used to add heat along with flavor to many dishes. Pepper like cayenne, jalapenos, serrano, habanero, and red and green chilies range from mild to screaming hot and measured in upwards of 2,500 Scoville Heat Units. They also come in a variety of colors.
Chili peppers, aside from their hot taste, also have a woody, earthy, and pungent taste – although sometimes these flavors are overpowered by their spiciness.
Peppers are rich in antioxidants called capsaicin and contain vitamins A, B6, C, and K1, as well as minerals like potassium and copper. It also has a small amount of fiber and protein. Peppers can help in weight loss, improve heart health, lower blood pressure, and pain relief.
Potatoes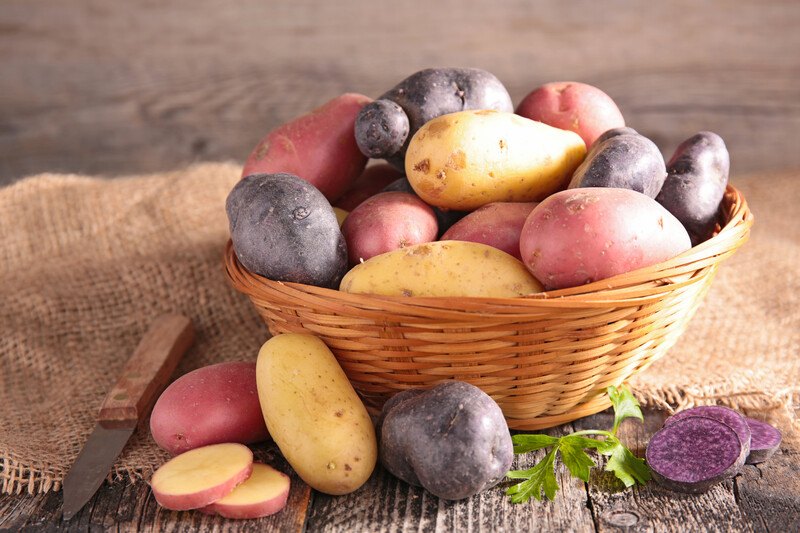 Potatoes are also root vegetables and one of the largest food crops in the world next to corn, wheat, and rice. There are nearly 4,000 potato varieties that are categorized based on their characteristics – russet, red, yellow, purple, and white potatoes.
Its flavor varies slightly depending on the variety. It can be slightly sweet and mild like the white potatoes, or earthy and mild like the russet potatoes. Most varieties have a slightly sweet, mild, and buttery taste.
It's high in fiber, antioxidants, vitamins, and minerals. The starch found in potatoes is called resistant starch which may help to improve blood sugar and digestive health, decrease the risk of heart disease, and lower blood pressure.
Sweet Peppers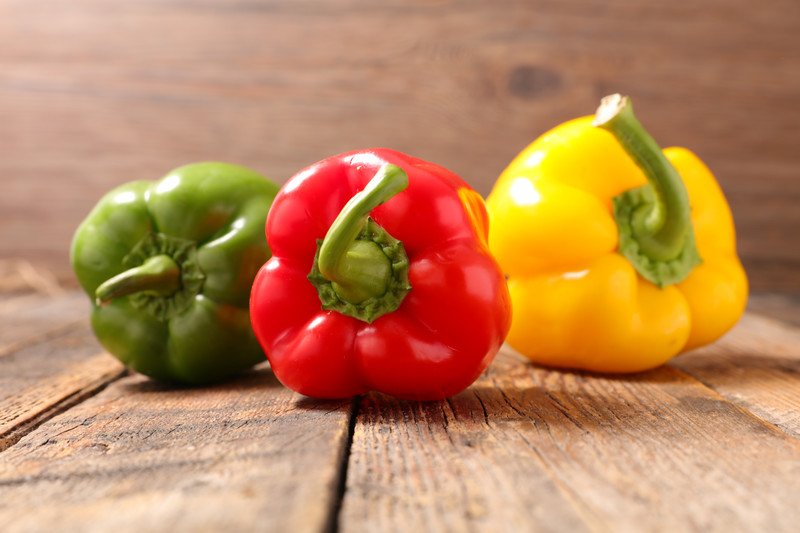 Sweet peppers or bell peppers are also technically chili pepper but came to be known as a separate category since it's less pungent and in fact scored the lowest level on the Scoville scale. And since capsaicin is what's giving peppers its hot taste or kick, bell peppers don't have that.
It has a sweet and mild flavor with the smooth outer skin, hollow insides, and crunchy flesh. Sweet peppers come usually in red, green, yellow, and orange colors. There are also some rare varieties that come in white, purple, and brown.
Sweet peppers are high in vitamin C. It also contains beta carotene, folate, potassium, and vitamins A, E, and K. Bell peppers lower blood pressure, promote digestive health, and reduce the risk of diabetes and heart attack.
Tomatillos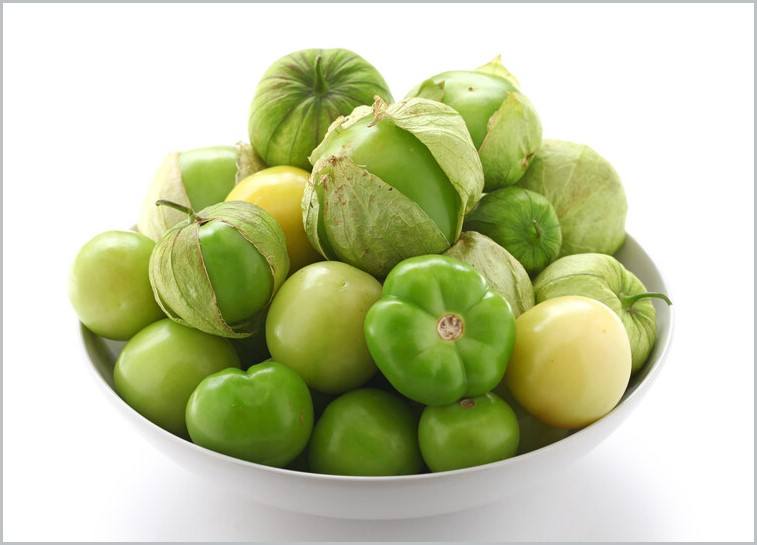 You might think that tomatillos are little or young tomatoes but they're not, they are actually the fruit of a totally different plant in the nightshade family. They look green, small, and spherical covered with a thin papery husk.
Tomatillos taste vegetal and bright with citrusy notes. When compared to tomatoes, tomatillos are slightly less sweet and slightly more acidic. It is also sometimes called Mexican husk tomato or simply husk tomato – the Mexican part is basically because it originated in Mexico.
It is rich in vitamin C and fiber. It also contains beta carotene, niacin, and unique antioxidants. These antioxidants are not just antibacterial but are also natural cancer fighters. Tomatillos are great for boosting the immune system, promoting healthy vision, and keeping metabolisms in check.
Tomatoes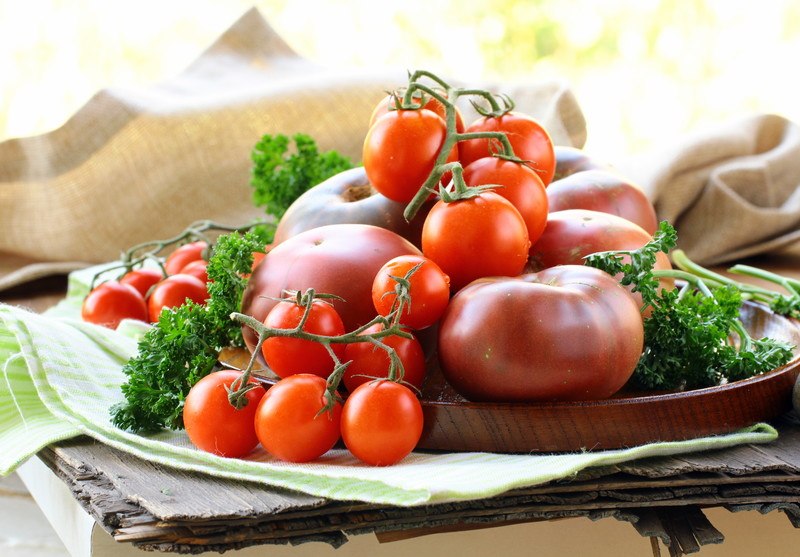 This nightshade vegetable originated in South America and doesn't only come in red or green color. There are also some varieties that come in yellow, pink, orange, purple, striped, and even black.
Tomatoes have a sweet, tangy, and tart flavor. They are also a significant source of umami flavor. And although botanically speaking tomatoes are fruits, they are generally prepared and eaten like a vegetable.
Tomatoes are known for their lycopene content which is linked to a lot of health benefits like reduced risk of cancer and heart disease, and beneficial for skin health. They also contain vitamins C and K, along with folate, potassium, and soluble fiber. Tomatoes also boost skin health, weight loss, hydration, and bowel movement.
More about nightshade vegetables
There are over 2,000 Solanaceae species
Yes, in fact, there is a total of 2,700 species. Nightshades have a worldwide distribution except in Antarctica. The most economically important genus, however, is the Solanum which contains the potato, the tomato, and the eggplant.
Rich sources of nutrients
In spite of the bad rap that these vegetables are getting, it still doesn't discount the fact that these nightshade vegetables are packed with nutrients. I mean check out the nutrient content of the veggies we have on our list, right? You should take note though that, unlike other nightshades, potato is particularly also a starchy vegetable. So be mindful of that one if you are on a low-carb diet, have diabetes, or trying to lose weight.
Food sensitivity is patient-specific
Suffice to say that what's true for Nick isn't necessarily true for Patrick. In addition, food sensitivity to nightshades can be just a symptom of another imbalance, and eating a particular food is only the trigger for the inflammation. So simply put, if Nick's not eating tomato salsa with his Doritos, then Patrick can have a second helping.
It's not the end of the world
If you suspect that you have sensitivity to nightshade vegetables (symptoms worsening when you're eating them or finding relief when taken out of the diet), it's not the end of the world (of course it's not, but you get what I mean). You can try eliminating them altogether from your diet and then slowly re-introduce them again. This is of course, while carefully taking notes of your body's reaction. This way you can pinpoint if these veggies are really the ones triggering your symptoms.
It's not the end of the world part 2
Say you know for sure that you're sensitive to nightshade vegetables, you simply can't eat them – again, it's not the end of the world. There are food substitutions that you can try to: first, still enjoy what you normally do with your nightshades (say roasted sweet potatoes instead of roasted potatoes), and second, ensure that you're not depriving your body of the nutrients that your body needs but unfortunately are in nightshades (say get your lycopene now from watermelon or papaya instead of tomatoes).