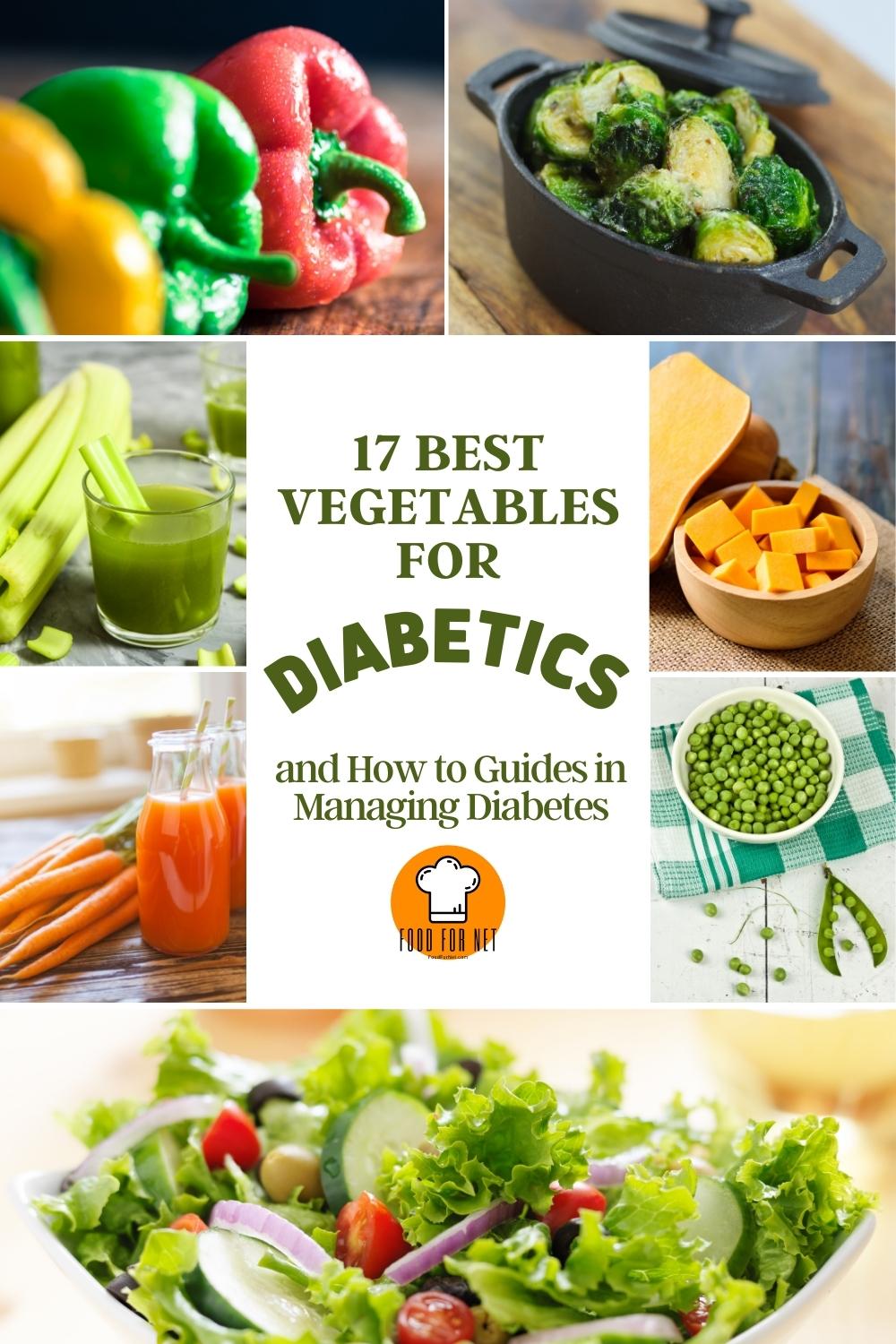 Vegetables are of course healthy and while the majority are in the clear for people with diabetes, there are a few that are quite high in GI or glycemic index. This is why it's important that you know the best vegetables for diabetics. From there you can create a balanced and healthy diet with veggies that you're positively sure will not cause blood sugar spikes.
If you already have diabetes or are prone to having one, you really should start minding the food that you eat. Well, we all do, but especially so when you already have problems controlling blood sugar levels. If this is you, then start looking at the best foods for diabetics and start working them into your diet plan.
You want to aim for food with a low GI or Glycemic Index which is less than or equal to 55. Medium GI foods are between 56 to 69, and high GI foods are those greater than or equal to 70. A healthy and diabetic-friendly diet can still be fun and healthy. In fact, you can still enjoy delicious snacks without the guilt or fear of spiking your blood sugar levels.
It pays to know your food if you're looking to succeed in any diet plan. For instance, you might think, eat any vegetables for vegetables are healthy, right? You're probably thinking, how can it possibly harm me. Well, if you're diabetic, some can actually can. There are a handful of veggies that can cause your blood sugar level to rise. So, it's really important that you make mental notes of the best vegetables for diabetics that you can freely enjoy without risking your blood sugar level spiking.
Get to know those vegetables here and start planning how you can incorporate them into your diet.
Best Vegetables for Diabetics
Asparagus

Asparagus is a great side dish that is packed with nutrients. It's so easy to cook and low GI at the same time. With a little help of some spices or seasoning, you can simply steam, grill, or roast it.
Asparagus is a great source of fiber, folate, and vitamins A and K. It's high in antioxidants like vitamin E, C, glutathione, and various flavonoids and polyphenols.
Bamboo shoots

Canned bamboo shoots or bamboo sprouts is also low GI, only 45. It tastes like water chestnuts or artichokes, sweet and refreshing at the same time. It's a popular ingredient in many Asian cuisines.
Bamboo shoots contain fiber, copper, and vitamins B6 and E. It also contains vitamin K, riboflavin, thiamine, iron, phosphorus, and potassium.
Broccoli

Broccoli as always is one of the most favored vegetables, and rightfully so because of its nutrient content. Add the fact that it's quite delicious and easy to cook. Well, it's also diabetic-friendly because it's low GI.
Broccoli is rich in vitamin C, in fact, it's as rich in vitamin C as an orange! It also contains calcium, phosphorus, iron, potassium, zinc, thiamin, riboflavin, niacin, folate, and vitamins A, B6, B12, D, E, and K.
Brussels sprouts

Brussels sprouts when properly cooked can be a delicious side dish. Its sweet, nutty, and smoky flavor hyped with some herbs or spices can result in some really amazing dishes that can easily become a household favorite.
Brussels sprouts, like kale and spinach, are loaded with antioxidants. It contains potassium, manganese, copper, folate, and vitamins A, B6, C, and K.
Butternut squash

You can keep enjoying the sweet and nutty-tasting butternut squash because it's also low GI, only 45. You can simply bake or roast them until it caramelizes. It can be a challenge to peel them though, so perhaps try microwaving it first to soften it a bit or simply leave it on especially when you plan to roast them.
Butternut squash is a good source of vitamin E, potassium, niacin, thiamin, vitamin B6, folate, pantothenic acid, and manganese.
Carrots

Keep snacking on carrots because they're also low GI, especially when you enjoy munching them raw. When boiled it has a GI of 47. You can also saute, steam, roast, or even juice carrots.
Carrots are known for their vitamin A and beta carotene contents. It also contains fiber, potassium, vitamin K1, and other antioxidants.
Cauliflower

Cauliflower is quite easy to add to the diet, especially when its GI is only at 45 then you really should include it in your meal plans. You can steam, boil, saute, or roast them. With a little help of some spices for cauliflower, you're bound to make some really amazing dishes.
Cauliflowers are a good source of antioxidants. It's also rich in vitamin C and folate. It also contains potassium, vitamins A and B6, choline, and sulforaphane.
Celery

If you love eating celery raw, or enjoy drinking celery juice then good for you because it contains a lot of soluble and insoluble dietary fiber and it's low GI as well! It's of course mainly water, but flavor-wise it has a very interesting profile.
Aside from dietary fiber, celery also contains plant compounds that have powerful antioxidant properties. It also has small amounts of folate, potassium, and vitamins A, C, and K.
Courgette

Keep enjoying your courgetti because it's in the clear! Courgette or zucchini is a variety of summer squash that belongs to the gourd family. And fortunately, it's low GI, only 45 as well. It's also quite versatile, so you'll never run out of ideas to add to your diet.
Courgette is a great source of potassium which helps in controlling blood sugar pressure. It also contains immune system-boosting vitamin C and soluble fiber that also helps in preventing constipation and relieving irritable bowel symptoms.
Curly kale

Curly kale, which is the most commonly available type of kale out there, is very low in GI. Its dark green color on the other hand lets you know that it's packed with flavor and nutrients. You can simply eat them raw in salads or smoothies, or cooked in soups, pasta, or even as snack chips!
It's very nutrient-dense. It contains vitamins A, C, K, and B vitamins, as well as manganese, calcium, and magnesium. It's also low in carbs and calories.
Green salad

Enjoy your green salad because it's definitely in the clear with a GI of only 45. It's a very versatile side dish to any protein and can be easily turned into the main dish if you wish to. You have got to love greens so keep them coming!
Green salads are packed with fiber, vitamins A and C, beta carotene, calcium, folate, and phytonutrients. It'll make for a great addition to any diet not only because it's nutritionally packed but because it's very filling as well.
Green and red capsicum

Although red pepper packed more nutrition compared with green peppers, they're both low in GI. So, keep using them to add flavor (and color!) to your dishes.
The red ones contain about 11 times more beta carotene than the green ones. But that is not to say that green peppers are no good. They're both packed with fiber, folate, and vitamins A, B6, C, and E. They're also an excellent source of antioxidants including flavonoids.
Mixed vegetables

Mixed vegetables that usually contain cubed or sliced cabbage, peas, cauliflower, carrots, and green beans only have a GI of 45. So, just like your green salads, keep mixed vegetables in your meal plans even if you're diabetic.
You can expect a parade of nutrients from mixed vegetables. For sure, you'll be getting a good amount of alpha-carotene, beta carotene, lutein, and zeaxanthin. There will be no shortage of dietary fiber either. Its potassium content will be beneficial in regulating blood pressure.
Peas

Peas, whether it's frozen, boiled, or canned, only have a GI of 39-48. It's absolutely rich in fiber so It's a great addition to your diet especially if you're trying to lose weight. It helps you feel fuller for longer so it lessens your cravings and helps you not to overeat.
Peas, aside from fiber, also contain zinc, magnesium, potassium, calcium, other antioxidants, and vitamins A, B, C, and E.
Spinach

Among the dark leafy greens, spinach seems to be quite a favorite! And not surprisingly because aside from the fact that it's loaded with nutrients it's so easy to find, too. And of course, there are so many ways for you to add it to your diet. It can be eaten raw in salads, smoothies, or pesto. You can also add it to soups, stews, stir-fries, and omelets.
Spinach is rich in vitamins A, C, and K, folate, fiber, iron, and potassium. It's good for fighting oxidative stress, improving eye health, and preventing heart disease and cancer.
Sweet corn

Enjoy sweet corn to your heart's content because it's also low GI, whether it's boiled corn on the cob, canned, or frozen. It will make for a healthy and delicious side dish or snacks.
Sweet corn is rich in dietary fiber, phosphorus, manganese, folate, and vitamins B1, B5, and C. It is a low-starch variety with higher sugar content which is mostly sucrose. Don't worry though because, in spite of its sugar content, it's not high glycemic.
Tomatoes

Tomatoes are diabetic friendly so eat away! They're very low in GI and are also packed with goodness that does wonders to your body – whether it's raw or cooked.
Tomatoes are known for their lycopene content which is linked to reduced risk of heart disease and cancer. It's also a great source of folate, vitamin C, and potassium.
How to Manage Diabetes
Now that you have an idea on what are the best vegetables for diabetics that you can include in your diabetic-friendly diet, here are a few more how-to guides in managing diabetes.
Embrace a healthy diet
Aside from focusing on foods with low GI, make sure that your diet is a well-balanced one. Adding as much as vegetables and fruits in there is of course ideal. But don't forget about the other food groups as well. Make also reading food labels and making meal plans a habit. And remember that embracing a healthy diet is tantamount to changing a lifestyle.
Let go of that extra weight
It's time to lose it, let go of that extra weight! Not only will it help you have better control of your blood sugar level but it will also help in reducing blood cholesterol and high blood pressure. If you can muster to lose 5 or 10 percent of your body weight, that is fairly enough to start a reaction and give you better control of your blood sugar level.
Commit to exercising
You have to get off the couch and start exercising! In fact, you'll have to really commit to it – firstly, so that you lose the extra weight, and secondly, to keep them off for good. Start off slow and easy, and then as you build confidence and strengthen your stamina, you can gradually level up your exercise routine. Exercising will help in decreasing insulin resistance and regulating blood cholesterol and blood pressure levels.
Make quality sleep a goal
You will have to really strive to get as much quality sleep as possible because lack of it can disrupt the balance of insulin and blood sugar. At the very least, six hours of quality sleep is ideal. It will help if you can establish a sleep routine. Try also lowering the temperature in your bedroom and making it as dark and as quiet as possible to make it even more conducive for sleeping. It will also help if you can avoid caffeine and spicy foods at night.
Test your blood sugar
To give you a good gauge on where your blood sugar levels are mostly at, do a regular blood glucose test. It will give you a better picture of which, more or less, activity or food is causing the increase in blood sugar levels. You can then use this information to better plan your meals and activities in such a way that it won't cause any blood sugar spikes.