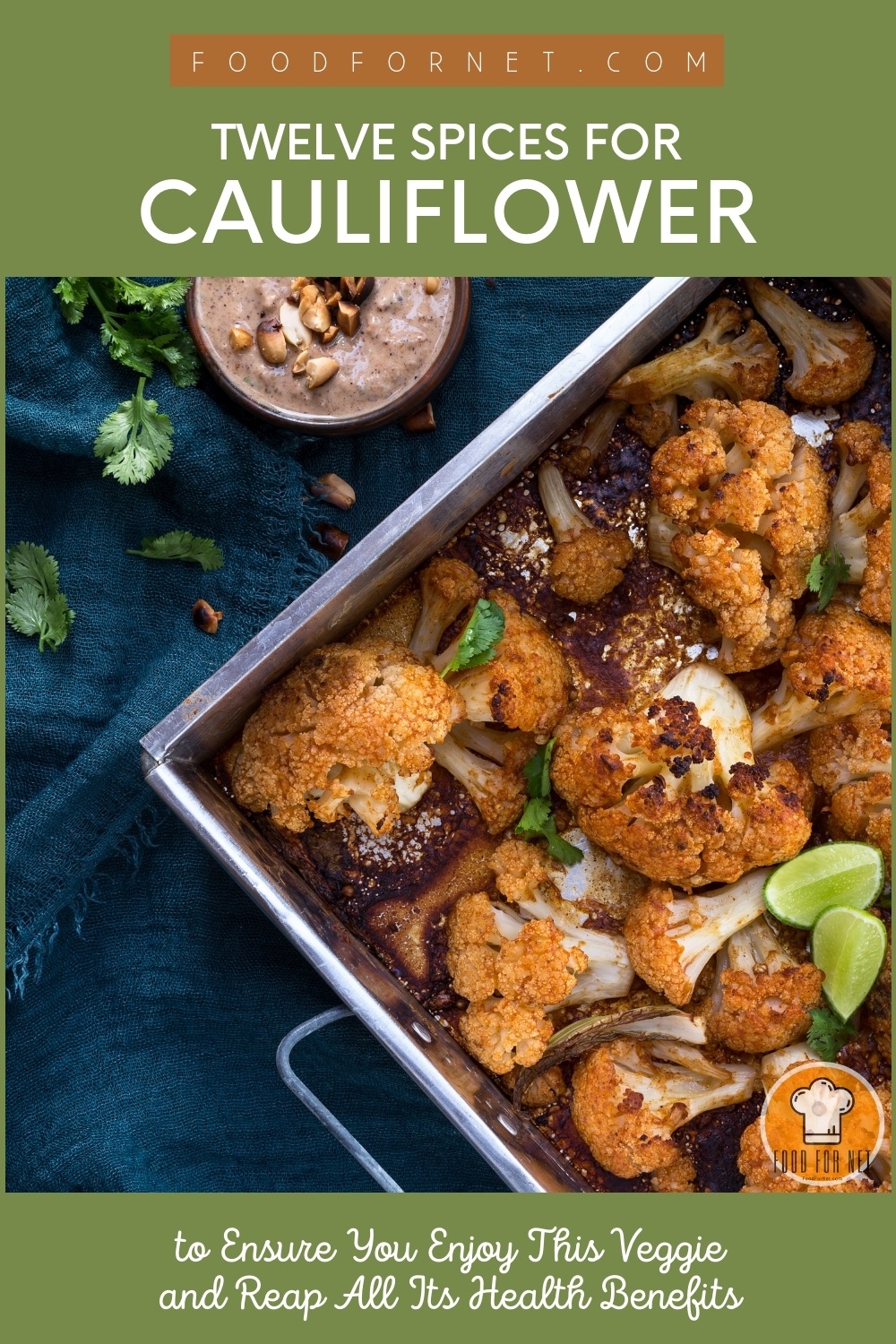 Cauliflower hasn't lost its steam since its accession to popularity when it becomes a favorite option to replace flour, rice, and other simple carbs. Today, it's so normal to hear cauliflower pizza crust, cauliflower rice, cauliflower gnocchi, mashed cauliflower, and so much more. Its neutral flavor and versatility make it a great base for an amazing dish or an addition to many recipes.. If you can nail the right spices for cauliflower, you use it in just about any type of cuisine you want.
Cauliflower is a cruciferous vegetable that is quite a favorite among dieters because it's high in fiber, low in calories, and very filling. It's also rich in vitamin C and folate and a good source of potassium, vitamin A, and vitamin B6. Cauliflower is also one of the top 25 powerhouse fruits and vegetables according to CDC (Centers for Disease Control and Prevention) with a 25.13 Nutrient Density Score.
Cauliflowers have a lot of health benefits. Not only is it a good source of antioxidants but it's also high in choline which is essential in brain development, and rich in sulforaphane which fights cancer. Cauliflower may also support hormonal imbalance and the immune system. Suffice to say that cauliflower is really good for you.
Although there are hundreds of cauliflower varieties out there, we are most familiar with the one with white curd or head surrounded by green leaves. Its white color makes it a great canvas when cooking – imagine adding colorful spices to it! Its neutral flavor on the other hand allows it to blend beautifully in any dish since it'll take on the flavor of whatever ingredients you add to it – hence the importance of choosing the right seasoning for cauliflower.
Here are the twelve spices for cauliflower that you can experiment on to spice up your cauliflower dishes. Check out the accompanying cauliflower recipes as well to give you an idea of how the spices actually work. Let us know if you tried any of the recipes or share with us the dish you came up with, we'll be delighted to hear from you.
Oh, and if you need to replenish your spices simply buy them online! Here are just a few websites where you can order fresh spices and have them delivered right to your doorsteps.
Spices for Cauliflower
Paprika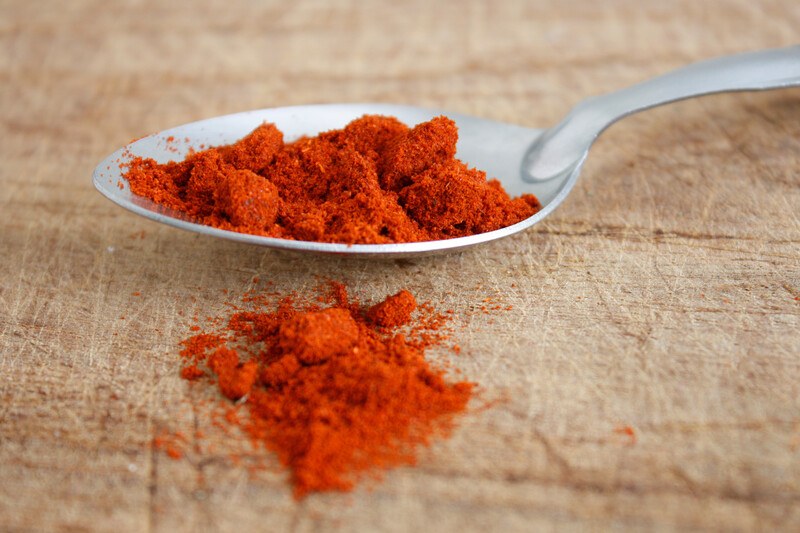 This rich red-colored powder is made from dried and grounded fruits of the sweater varieties of Capsicum annuum plant. These peppers are milder in flavor and have thinner flesh. It has an earthy, sweet, and peppery flavor.
Paprika is rich in vitamin E and iron and also has antibacterial and antioxidant properties. It's good for alleviating gas, speeding up wound healing, and reducing the risk of heart disease and cancer. It also helps in improving one's immunity.
This roasted cauliflower will make for an easy and excellent side dish. Super easy to make and perfectly seasoned with paprika, cumin, chili powder, garlic powder, and onion powder. Simply drizzle some olive oil onto cauliflower florets, add the seasoning, and then pop it in a preheated oven at 425 degrees for about 30 minutes. Just don't forget to give it a quick tossing at least once.
Turmeric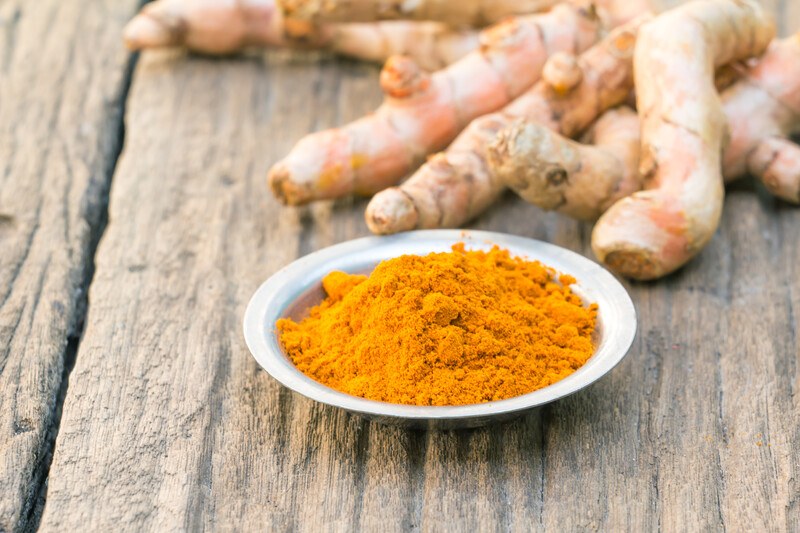 Turmeric powder is made from grounded dried rhizomes of turmeric. This orange-yellow spice is one of the most common spices used in Asian cuisines. It has an earthy aroma, with a pungent and slightly bitter flavor.
Turmeric powder contains anti-inflammatory and antioxidant properties and is rich in vitamin C, vitamin B6, and omega 3 fatty acids. It is also a good source of potassium and loaded with selenium. Turmeric helps protect against heart disease, ease symptoms of osteoarthritis, treat or prevent diabetes, improves skin health, and protect the body from free radicals.
Now how about pickled sous vide cauliflower? Yes, a very French side dish that is way cheaper and flavorful than those store-bought pickles. Just be cautious working with fresh turmeric as it can really leave a wicked stain in your hands or even on your kitchen counter. You can of course substitute turmeric powder in place of the fresh ones.
Thyme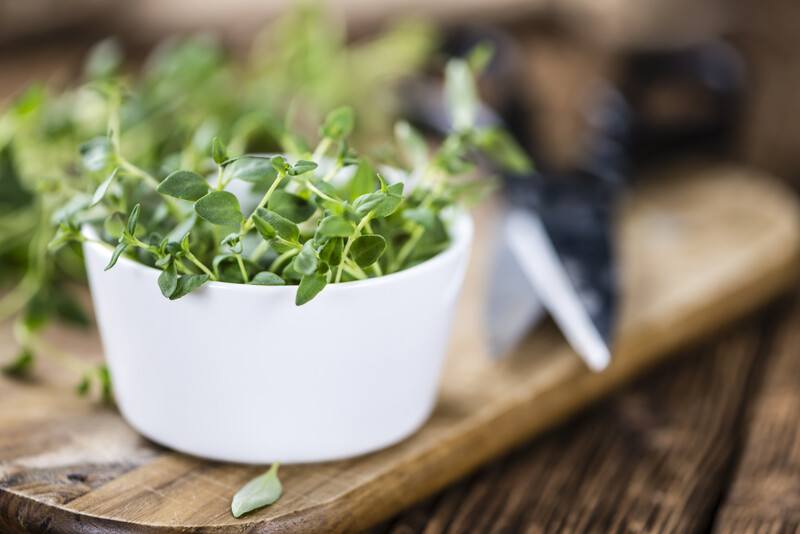 Thyme is closely related to oregano and part of the mint family. It has dietary, medicinal, and ornamental purposes. In cooking, it can be used fresh or dried. Thyme has a minty, sharp, and earthy flavor with a slightly sweet and peppery taste.
Thyme is rich in vitamin C and also contains fiber, copper, iron, manganese, and vitamin A. It helps in stopping cough, lowering blood pressure, boosting mood, and supporting the immune system.
Enjoy a heartwarming creamy cauliflower soup seasoned with fresh thyme, black pepper, garlic, and onion. This soup is made with delicious and healthy ingredients that will leave you feeling good, full, and satisfied.
Cumin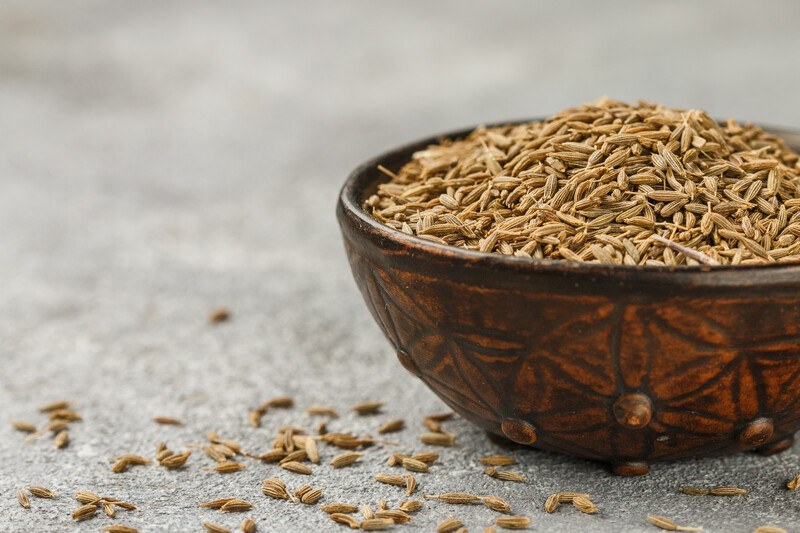 Cumin refers to the dried seed of Cuminum cyminum plant. It is yellow-brown in color with a ridged and oblong shape. It is also a part of the parsley family. Cumin has a warm and earthy flavor with hints of sweetness and bitterness.
Cumin is a rich source of iron and beneficial plant compounds. It aids in promoting digestion, improving blood cholesterol levels, and may also help with diabetes.
These grilled cauliflower steaks are rubbed with a spicy blend of cumin, chili powder, garlic, salt, and pepper. The spiciness is balanced by the mix of lime zest, lime juice, cilantro, honey, and olive oil which is used for basting. Remember to nail those grill marks – there really is something satisfying about seeing those on grill foods.
Capers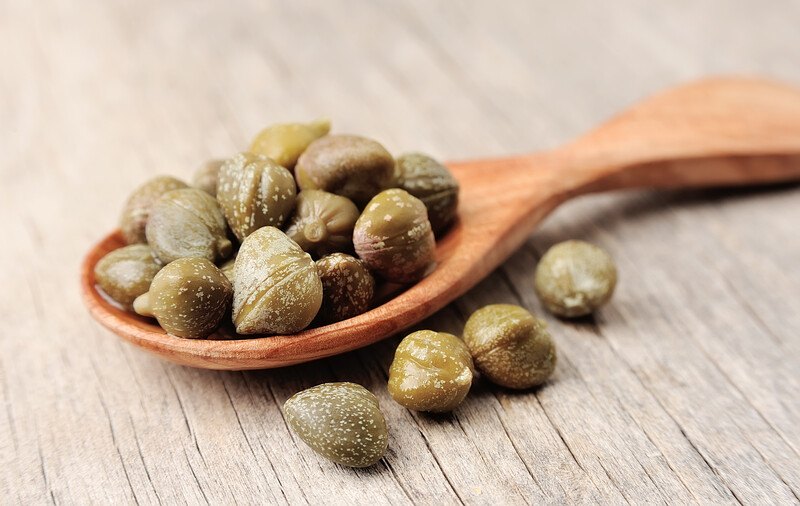 Capers are the edible green and unripe flower buds of a perennial plant called Flinders rose or simply caper bush. It has a tangy and sharp flavor with a slightly lemony and herbal taste.
Capers are rich in flavonoid compounds that are potent sources of antioxidants. It aids in limiting oxidative stress, reducing the risk of cardiac arrhythmia, and may even reduce the risk of certain types of cancer and prevent Alzheimer's disease.
For a refreshing (and colorful if you opt to choose the colored ones other than white) cauliflower salad, try this recipe. With a simple dressing made of vinegar, olive oil, capers, parsley, and garlic, you are almost set. Simply steam your cauliflower and toss it with the dressing once you've drained it properly. I suggest you try it both with white cauliflower and with colorful ones – both are equally delicious of course but they do give off a completely different vibe.
Curry powder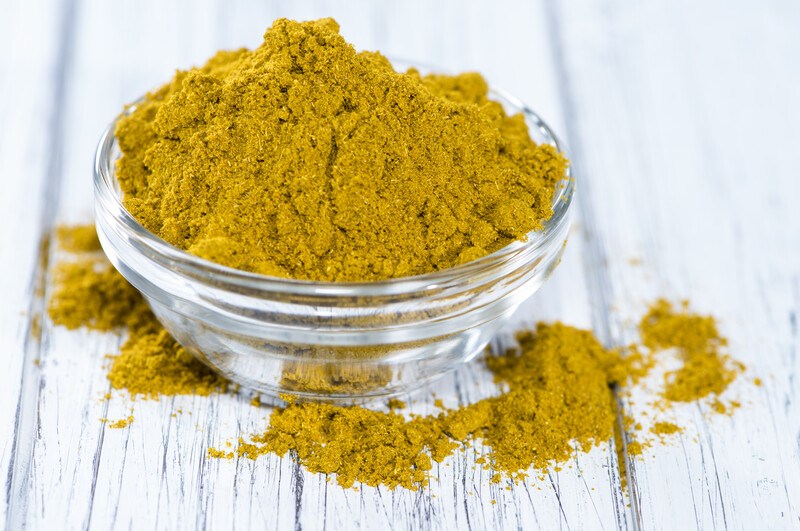 Curry powder is a popular spice in Indian cuisine. It is a blend of spices usually containing turmeric, cayenne, cumin, garlic, and ginger. The taste may slightly vary depending on the spices used but generally, it has a deep and earthy flavor with a slightly sweet taste to it.
Curry powder is rich in powerful antioxidants and anti-inflammatory properties. Its health benefits also range from aiding digestion, reducing inflammation, battling bacteria, to fighting cancer – because again, it's a blend of different spices.
Vegan or not, you'll surely love this cauliflower curry. The very sauce alone is loaded with flavors, and with the cauliflowers, well this for sure is an absolutely healthy one-pot dish. You can enjoy it as is or with a serving of white rice or naan.
Nutmeg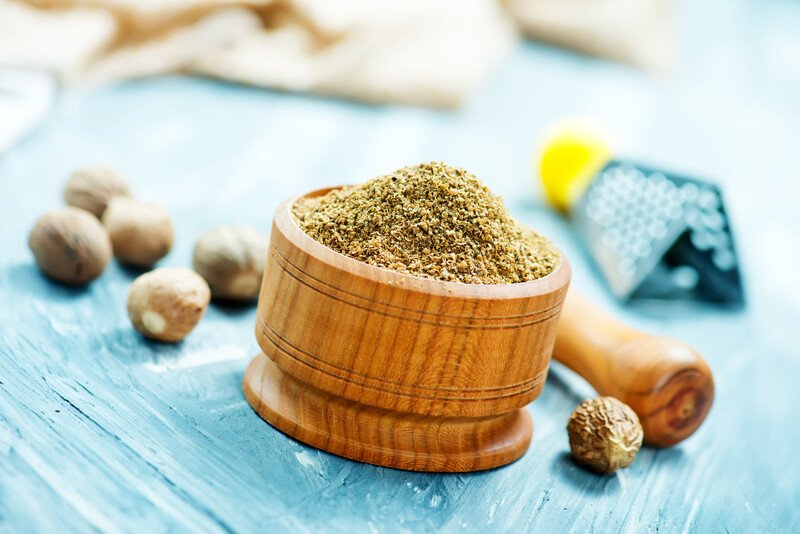 Nutmeg is a spice that comes from the dried seeds of several species of the genus Myristica. It is one of those spices that are used sparingly in dishes. Nutmeg is highly aromatic with a warm, wood, and slightly sweet taste.
Nutmeg is rich in fiber. It's also a good source of vitamins A and C, plus minerals like iron, calcium, manganese, and potassium. It also contains anti-inflammatory properties. Nutmeg helps in keeping our digestive system healthy and in managing blood pressure and circulation.
Even with just the tiny amount of nutmeg in this cauliflower gratin recipe, it sure adds a warm and aromatic flavor to the dish. It's an Ina Garten recipe so if that's not good enough to interest you about this recipe, I don't know what would. Suffice to say, it's an absolute must-try!
Chives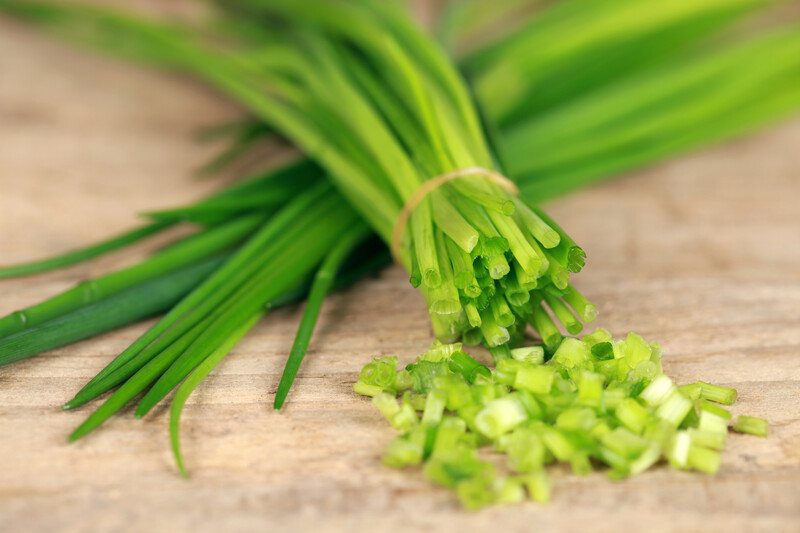 Chives is an herb that is closely related to garlic, onion, shallots, leeks, and scallion. It produces edible flowers and leaves and has a similar flavor to onion with a slightly garlicky taste.
Chives are rich in vitamin C, riboflavin, potassium, vitamin A, iron, thiamin, and beta carotene. It's good for maintaining bone health and blood clotting, preventing age-related macular degeneration, and improving memory.
Have a break from your usual mashed potatoes and try this garlic and herb mashed cauliflower. Super simple to make. It's simply seasoned, yet absolutely delish! You can enjoy this in under 30 minutes. It'll make for a great side dish for your steak.
Red pepper flakes

Red pepper flakes are made dominantly from cayenne pepper with the addition of different varieties of peppers. They are dried and roughly grounded with seeds, skin, and all.
It is rich in beta carotene, iron, magnesium, and cryptoxanthin. It also has vitamins A, B-6, C, and E. Red pepper flakes help boost the immune system, aid in weight loss and improves eye and skin health.
Here's a super quick and easy side dish idea, sauteed cauliflower with bacon seasoned with red pepper flakes, salt, ginger, and coconut aminos. This dish cooks in 15 minutes so it's perfect for really busy nights.
Coriander seeds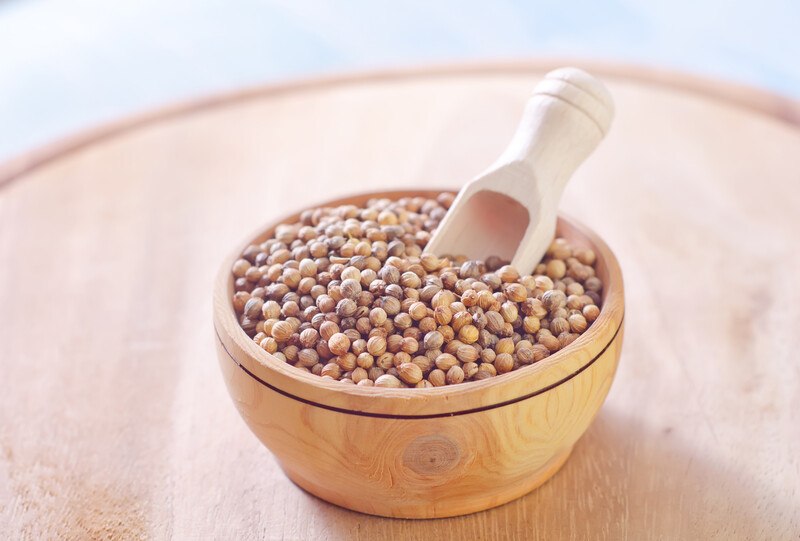 Coriander is an herb belonging to the Apiaceae family. Its seeds are used as spices in cooking. It has a spicy, nutty, warm, and citrus flavor which intensifies when the seeds are dry roasted first.
Coriander seeds are rich in copper, iron, zinc, and other essential minerals. It helps to reduce bad cholesterol, improve heart health, increase RBC, and boost metabolism.
For this Indian-Style cauliflower dish, coriander seeds along with cumin, curry powder, and turmeric powder are used for seasoning. The dish is equally delicious and beautiful at the same time. And did I mention it's aromatic as well? And cooks super-fast? It's really hard not to like this dish.
Caraway seeds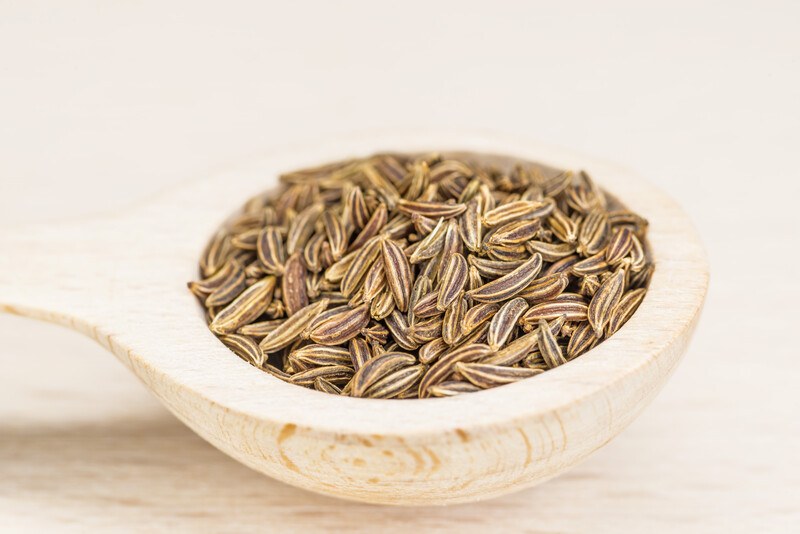 Caraway seeds come from the dried fruit of the caraway plant – a biennial plant in the family Apiaceae. These crescent-shaped seeds with pale ridges are highly aromatic. It has an anise-like flavor with a nutty, sharp, and bitter taste. It also has a slightly citrusy and peppery taste.
Caraway is rich in fiber and minerals such as calcium, copper, iron, and magnesium. It's also a good source of antioxidants. It's good for relieving heartburn, gas, bloating, constipation, and loss of appetite. Caraway also aids in killing bacteria.
How about whole-roasted cauliflower? Yes, let cauliflower take center stage and present it whole on the table. Let it roast nicely for about an hour and let the rub consisting of olive oil, caraway seeds, mustard, and salt seep in gently into the heart of it. Best serve with the pickled red onion and dried apricots.
Allspice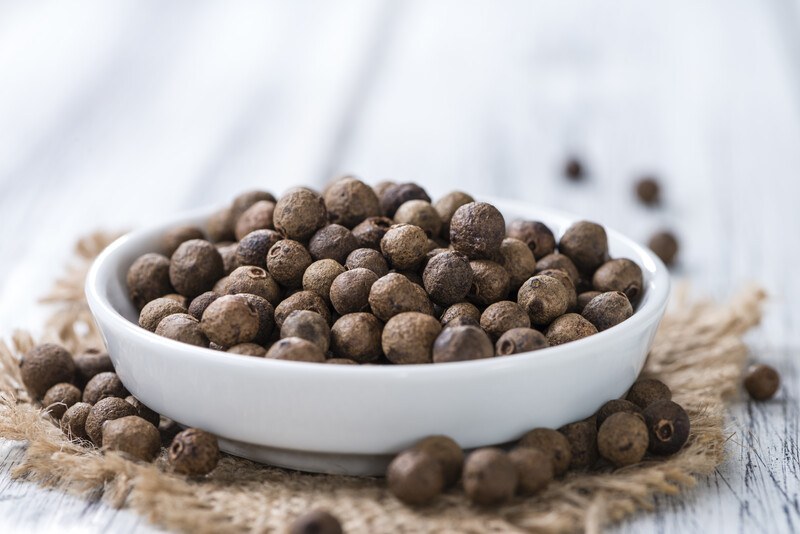 This brown-colored spice resembles peppercorns but is in no way related to peppers. Allspice is actually the dried fruit of the Pimenta dioica plant. It has a flavor profile reminiscent of nutmeg, cloves, cinnamon, and black pepper – the very reason behind its name.
Allspice is a good source of antioxidants and also has anti-inflammatory properties. It aids in relieving indigestion, abdominal pain, vomiting, diarrhea, colds, fever, high blood pressure, and fever.
This slow-roasted cauliflower will give you a shawarma vibe. Although there's no meat involved, there is no shortage of flavor either. The cauliflowers are seasoned with not just allspice but with cumin, coriander, pepper, and turmeric as well. You'll have to try it to see for yourself how this spice combination really works for this dish.