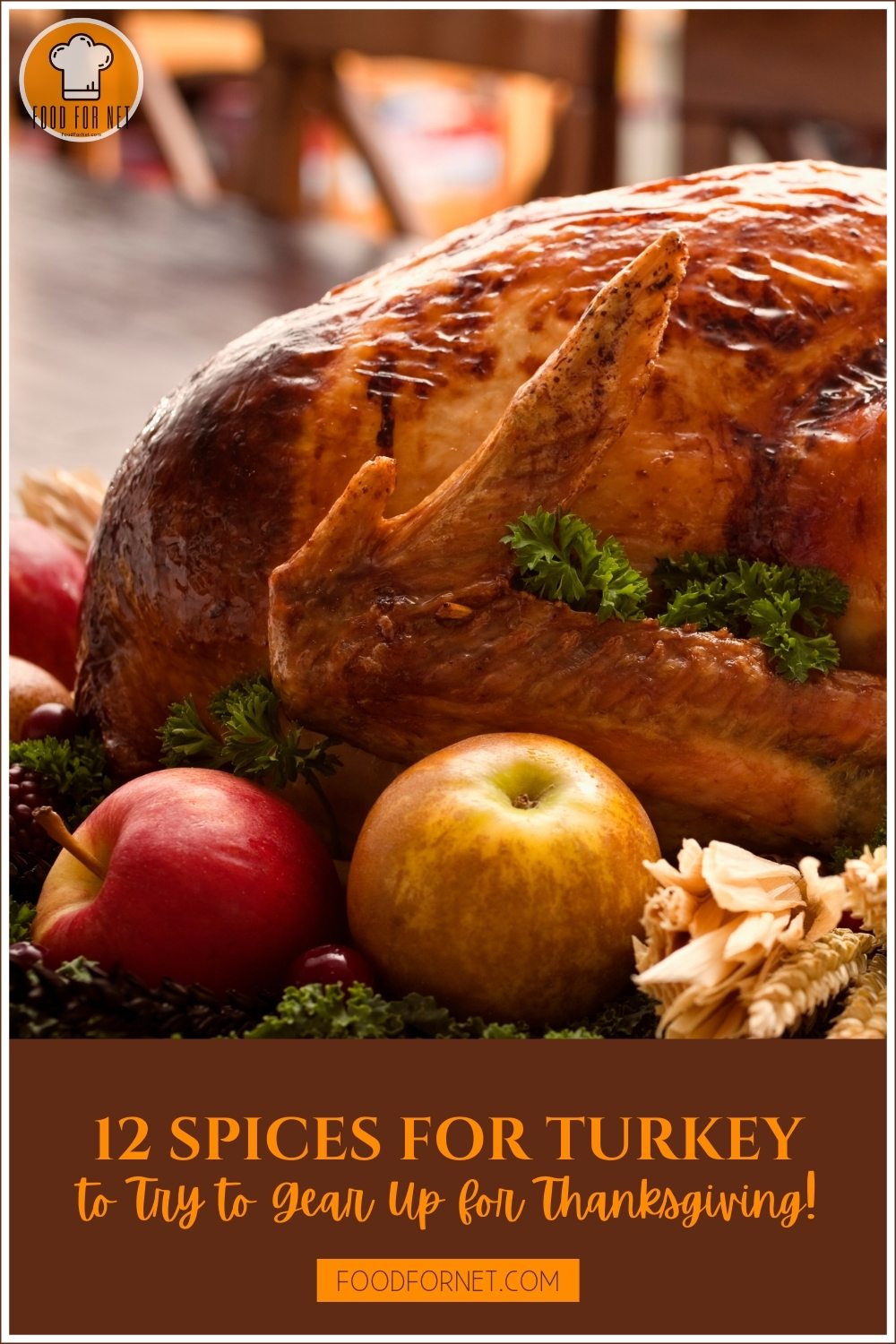 You don't necessarily have to go for the premade turkeys (which are quite overpriced) to fix your turkey cravings or to complete your Thanksgiving dinner – which by the way is just around the corner! You just have to play with a handful of spices for turkey and you'll have yourself your very own turkey rub just like that.
Turkey rub, which can also be brought premade, is simply a mixture of spices and herbs that will flavor up your meat. Yep, it's not necessarily just for turkey but would work just perfectly as well with pork, beef, chicken, or even with veggies!
You're maybe thinking what flavors go well with turkey – apparently, turkey pairs well with sweet and savory flavors. This is why adding brown sugar or agave syrup to your turkey rub works amazingly! Not only does it work to offset the herbs, spices, and salt, it also helps your bird to develop an appetizing golden-brown crust.
Another good thing about making your own turkey rub – aside from saving money and the bragging rights that you made it yourself, is that you can always tweak it to your liking. Say, you want it a tiny bit spicy then simply add more cayenne or chili powder. You want a smoky taste, add smoked paprika. You want it even more aromatic, then bring out the dried herbs! And of course, you can always control its salt content – one thing that is common with ready-mix spices is loads of salt!
Frankly, the spices for turkey that you'll be needing to make your very own turkey rub may well be already in your pantry! Yep, just waiting for you to put them to good use. Well, it's about time you put those spices to work. If for some reason, you run out of a spice or two then don't panic just yet – you can simply buy them online and carry on with your spice planning.
You can even make a big batch and store it for future use – that is assuming of course that you've made the necessary adjustments needed and have perfected and customized it to your taste. You see, the only way for you to really find out if a spice combo work is to actually try it. And now, or in the coming weeks, is a great time to do just that before your turkey makes its grand debut on Thanksgiving dinner!
Turkey rubs are great for when you don't have the time to wet or dry brine your turkey. It'll only take about 12 hours and you're good to fry or roast your turkey. Remember though that when frying, it's best to dry rub turkey to achieve that crispy skin. On the other hand, when roasting, it's best to use fat like butter or olive oil with your turkey rub.
When applying that turkey rub, make sure that you season under the skin. Loosen it up first by gently pushing underneath it – I know it looks scary and it seems like it's going to tear, but have faith, calm down and keep going! You'll see, it'll loosen. If you can, you can also try injecting turkey with seasoning. You can use your turkey rub with your injection sauce – just make sure that the spices or herbs used are ground into bits that are small enough to pass through the injector.
Now, take a look at these spices for turkey that you can use to make your very own spice rub. There are also recipes that go with each of them so that you'll get an idea of how it actually works and how they pair with the other spices. You can actually opt to try any of the turkey rub recipes here then work your way into customizing it to your taste. If you're itching to test the recipes but don't have the bird yet, again don't fret and simply buy fresh turkey online!
Spices for Turkey
Rosemary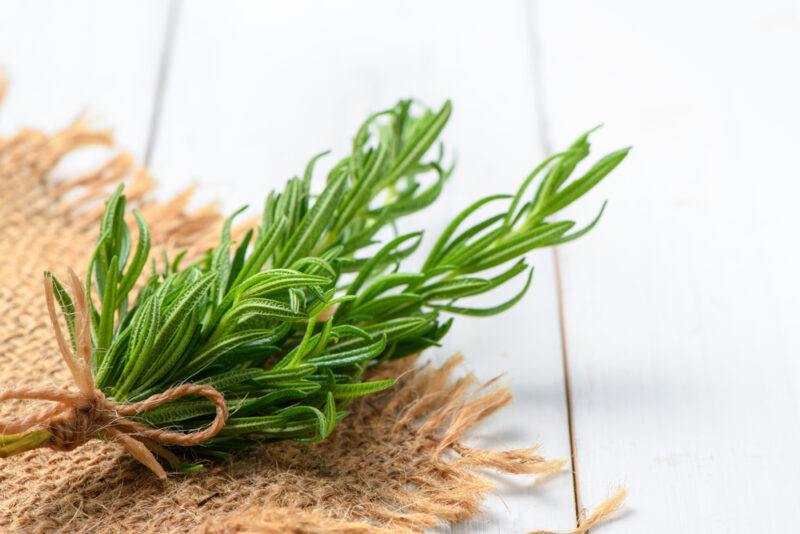 Rosemary simply goes well with turkey and other poultry. And although it's oftentimes used along with other herbs like thyme and oregano – it can very well be used on its own just fine.
Rosemary has a citrusy, piney, peppery, and minty taste with a woodsy aroma. It's a good source of antioxidants and calcium, iron, as well as vitamins A, B6, and C.
This fennel and rosemary turkey rub could not get any simpler. But mind you, it tastes absolutely good. It has that fresh herby flavor with a subtle kick of heat.
Red pepper flakes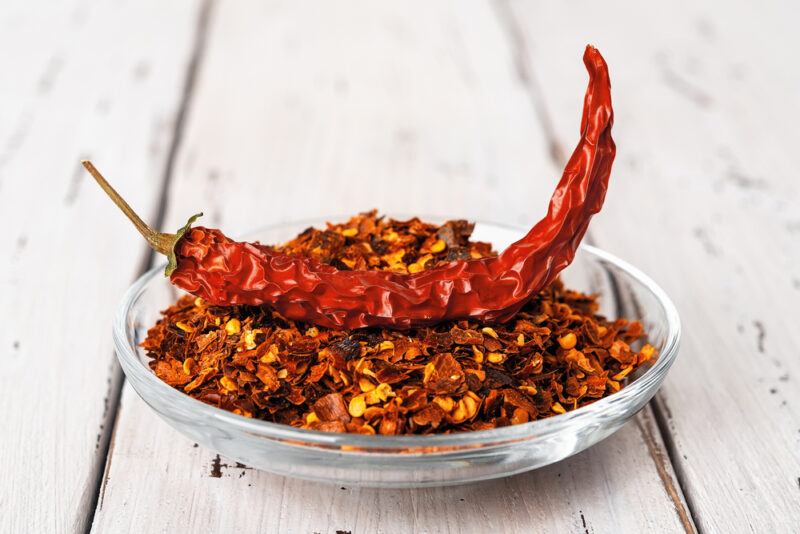 Red pepper flakes are a great way to add heat to your dishes. Visually seeing the pepper flakes (seeds and all) also appeals to certain types of dishes.
It has a slightly sharp and earthy taste with a mild dose of spicy that is good enough to add a pleasant note of heat to dishes. It's rich in capsaicin compound and other antioxidants that help in fighting oxidative stress in the body. It also contains iron, magnesium, potassium, and vitamins A, B6, C, and E.
If you feel like you want to try brining your turkey, then here's an easy turkey brine recipe for you. It has both wet and dry brine. The wet one contains the red pepper flakes, I say, add it too in dry brine – you can cut the black peppercorns in half if you're worried it will get too spicy.
Paprika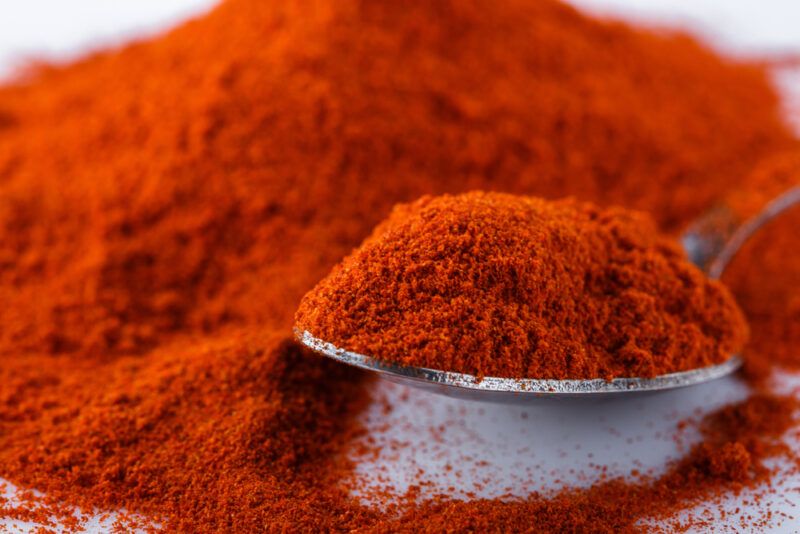 Paprika is no doubt a great flavor enhancer. Its sweet and peppery taste is a great flavor base to work with. The flavor as well as the color, are quite dependent on the type of peppers used in making the paprika.
Paprika generally has a sweet and peppery taste with hints of earthiness. Although some are quite spicy, like the hot paprika, the sweet types contain no heat. Smoked paprika on the other hand has an additional outdoorsy flavor. It's mainly rich in vitamin E and iron which are micronutrients that are beneficial to blood health
Serve something different this coming Thanksgiving and try this roasted Peruvian Turkey. It's beautifully flavored with a spice combination that is mainly paprika (that explains the beautiful color). The paste rub really does its job. And in conjunction with the gravy, this dish will surely be a hit on your dinner table.
Dried thyme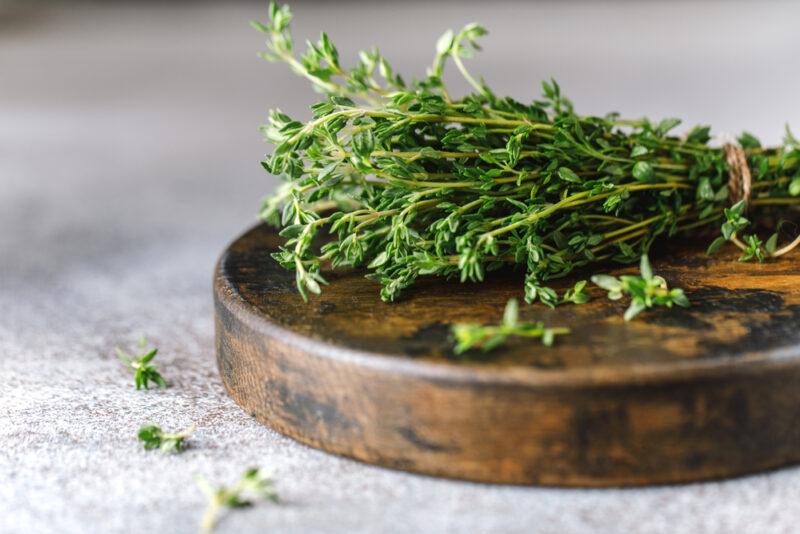 Time and again, thyme never ceases to deliver flavor to dishes, and to nail most turkey rub, thyme seemed like a prerequisite.
Thyme has a sharp and somewhat minty flavor with an earthy, floral, and a little sweet and peppery taste. It's packed with vitamin C and is also a good source of copper, iron, manganese, fiber, and vitamin A.
See this simple turkey rub that is mainly just dried herbs, garlic powder, and salt. Again, don't discount the power of simplicity in dishes. This one is surely one of them.
Mustard seeds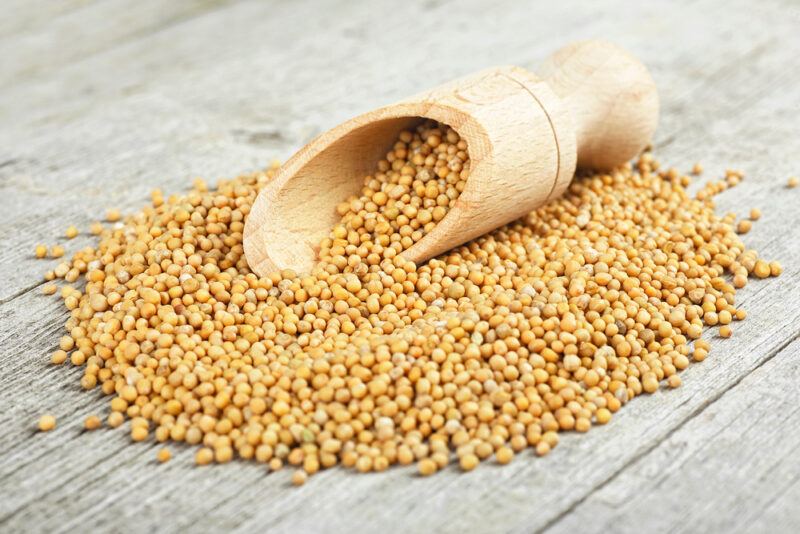 Mustard seeds are a good spice to use in food with mild flavor like turkey or chicken. They make for a great marinade base. Toasting them first before grounding does not only round out its flavor and aroma but also adds a nutty taste and a crunch as well.
Mustard seeds have a somewhat spicy and slightly sweet taste with hints of bitterness. They are a great source of calcium, manganese, iron, zinc, protein, dietary fiber, and omega 3 fatty acids.
If you're planning to dry-cured your turkey, check out this dry brine recipe. The combination of different dried herbs is tie up together with the spice combo of mustard seeds and black pepper.
Garlic powder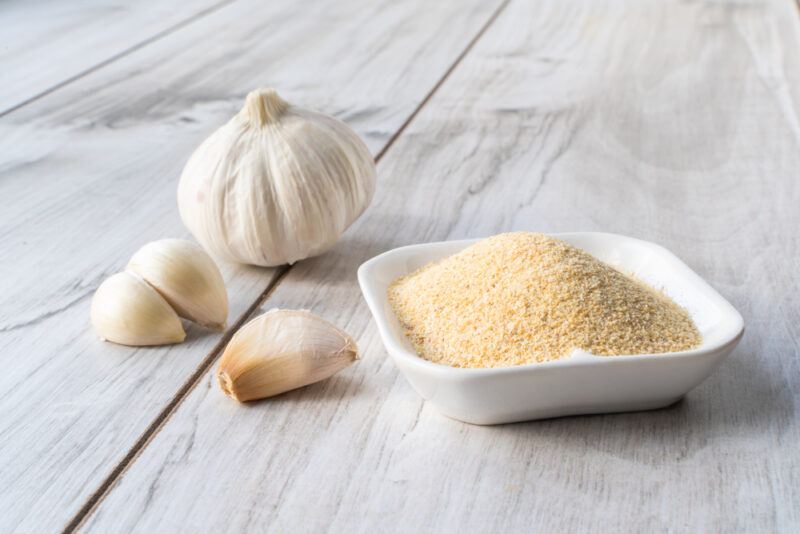 Garlic is surely one of the spices commonly used to flavor a lot of dishes, and it surely rings very true with most turkey rub seasonings as well. A tablespoon or two is a great start and buildable base to add flavors on.
Although garlic powder tastes quite different from its fresh counterpart, it still has that garlicky flavor. It tastes sweeter, too, but less assertive and without the spicy hint like the fresh ones. It's rich in vitamins C and B6, manganese, and other nutrients.
This roasted turkey recipe obviously didn't shy away from using different herbs. And as simple as it may sound, it works wonderfully with garlic powder, onion powder, black pepper, and paprika.
Dried sage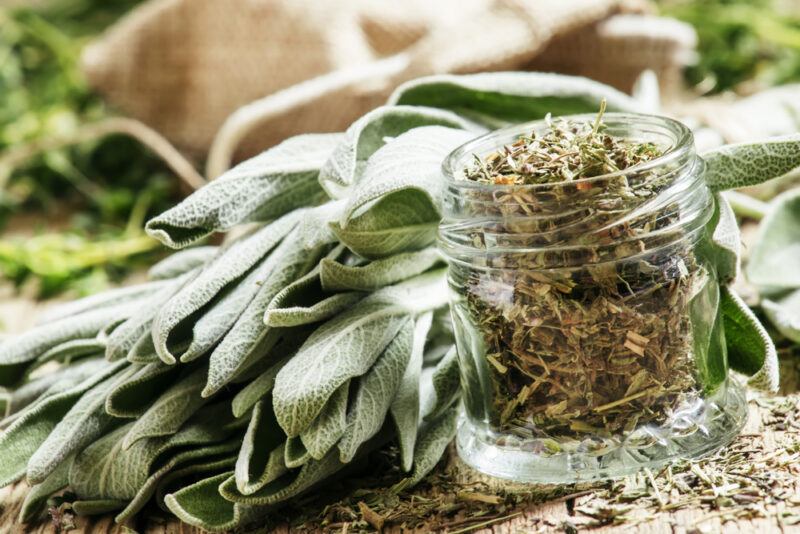 Dried sage is oftentimes used and paired with other herbs but it is surely worth a try to use it alone along with other spices. It works well with other rich ingredients and can hold its own in spite of the presence of other bold flavors.
Sage has an earthy, peppery taste with hints of mint, lemon, and eucalyptus. It contains vitamins A, C, and K as well as other antioxidants that help in reducing the risk of certain health conditions.
This maple sage spice rub can easily become one of your favorite turkey rubs. It's mainly kosher salt, sage, pumpkin pie spice, garlic, pepper, and maple syrup. The spice combo simply works!
Chili powder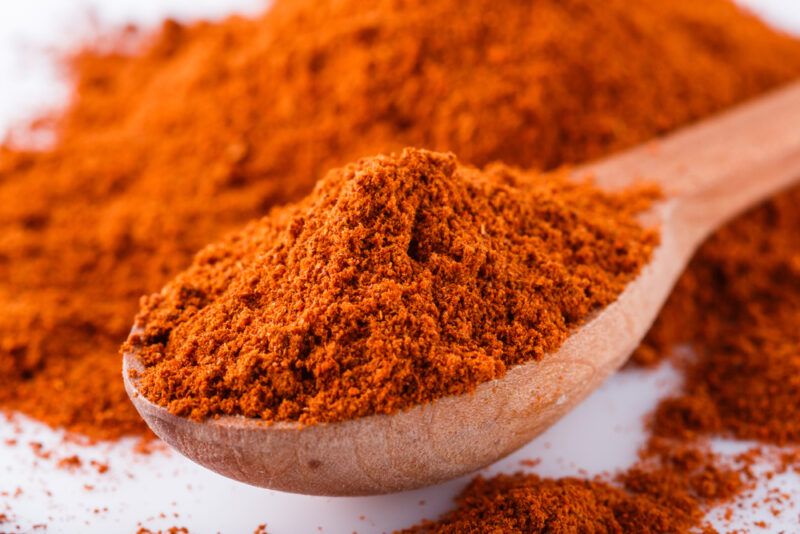 Another spice that is great for adding heat to your dish is chili powder. If you want mild heat with a more earthy and smoky flavor then go for ancho chili powder which is made from dried and grounded poblano peppers.
Chili powder is mild to moderately spicy – its heat is highly dependent on how much cayenne pepper is used in the mixture. Chili peppers are loaded with vitamin C. It also contains vitamin A, iron, and dietary fiber.
Bring some Mexican flavor onto your dinner table with this Chile-rubbed roast turkey recipe. It calls for the pure ancho chili powder and not the chili powder with added spices, seasonings, and salt.
Peppercorns

Aside from the fact that pepper along with salt is a basic seasoning – peppercorns particularly work really well with turkey or poultry meats. For me, frankly, the more the better.
Peppercorns have an earthy, spicy zest with a hint of fruity taste. They're a good source of vitamin C, vitamin A, and flavonoid antioxidants like carotene, cryptoxanthin, zeaxanthin, and lycopene.
This dry brine recipe is a must-try, the citrus and peppercorn combo are both refreshing and spicy at the same time. Not exactly spicy hot but you can remedy that by adding chili powder or red pepper flakes. The aroma alone of the toasted black, pink, and white peppercorns, and bay leaves will surely excite you.
Dried oregano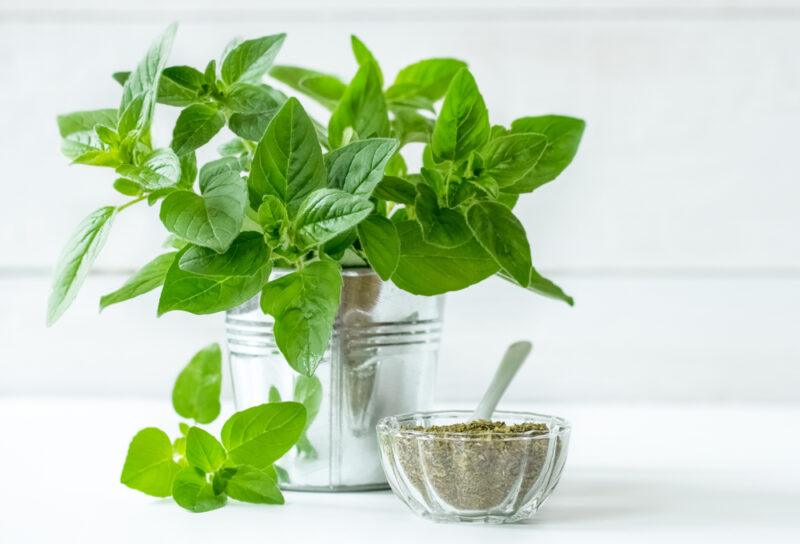 Dried oregano, just like dried rosemary, thyme, and sage, works great too with turkey. Don't be surprised if you oftentimes see these herbs together in dishes – that's how wonderful they are together.
Oregano has a bold and earthy taste with a slight bitterness. It also has that herby and peppery flavor and is quite similar to thyme. Oregano contains vitamin K and E, manganese, iron, tryptophan, calcium, and fiber.
This particular turkey rub, although it contains mainly dried thyme and rosemary, has the backing of oregano flavors. Although they say oregano taste quite similar to thyme, together, they create quite a unique flavor profile.
Onion powder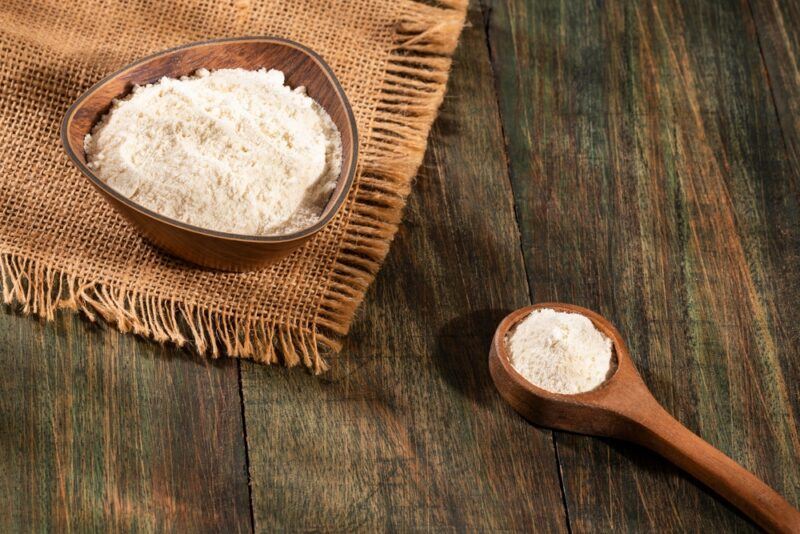 Onion powder is oftentimes paired with garlic powder, and that is especially true when making turkey rubs. It's almost like a packaged deal, if you see one, you see the other, too. And it's not surprising since their flavors really work well together.
Onion has a sharp aroma with a slightly sweet, and sulfur taste. Aside from antioxidants, onion also contains essential vitamins like vitamins B and C, and minerals like calcium, manganese, iron, and potassium.
The herbs in this turkey rub are pleasantly supported by black pepper, brown sugar, garlic, and onion powder. Find out for yourself if this is the winning spice combo that you'll be going to show off this coming Thanksgiving dinner.
Cayenne pepper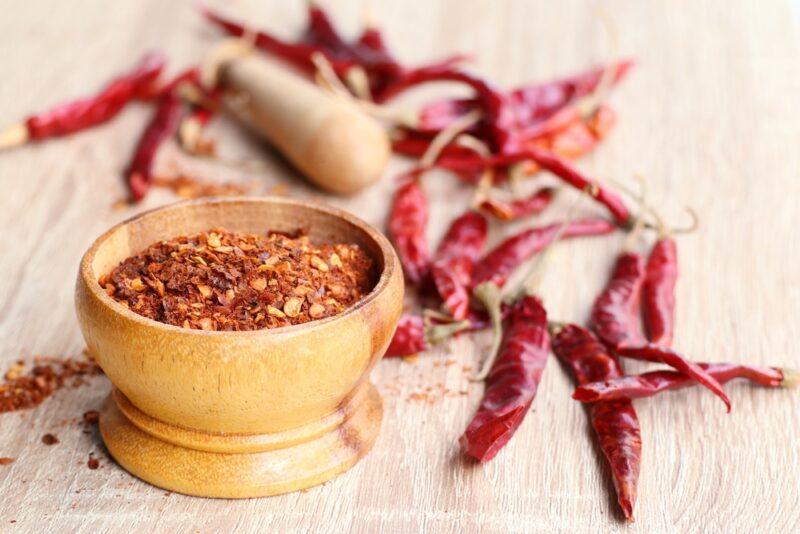 If you're going to make your own Cajun rub, then cayenne pepper is a must! Sure, you can buy readily mix or premix Cajun seasoning but you have got to try making your own as well – trust me, it's super easy!
Cayenne pepper has a very earthy and spicy taste which has a fiery effect on the taste buds. Cayenne of course contains capsaicin. It's also a good source of antioxidants like vitamins C and E. It also contains beta carotene, choline, lutein, zeaxanthin, and cryptoxanthin.
Here's a deep-fried Cajun turkey recipe that ensures the Cajun flavor is well incorporated into the whole turkey. It both has the rub and injection liquid recipes. Not only will you get crispy skin because of the dry rub but you will surely enjoy flavorful meat as well because the Cajun flavors are injected as well.
Related Content