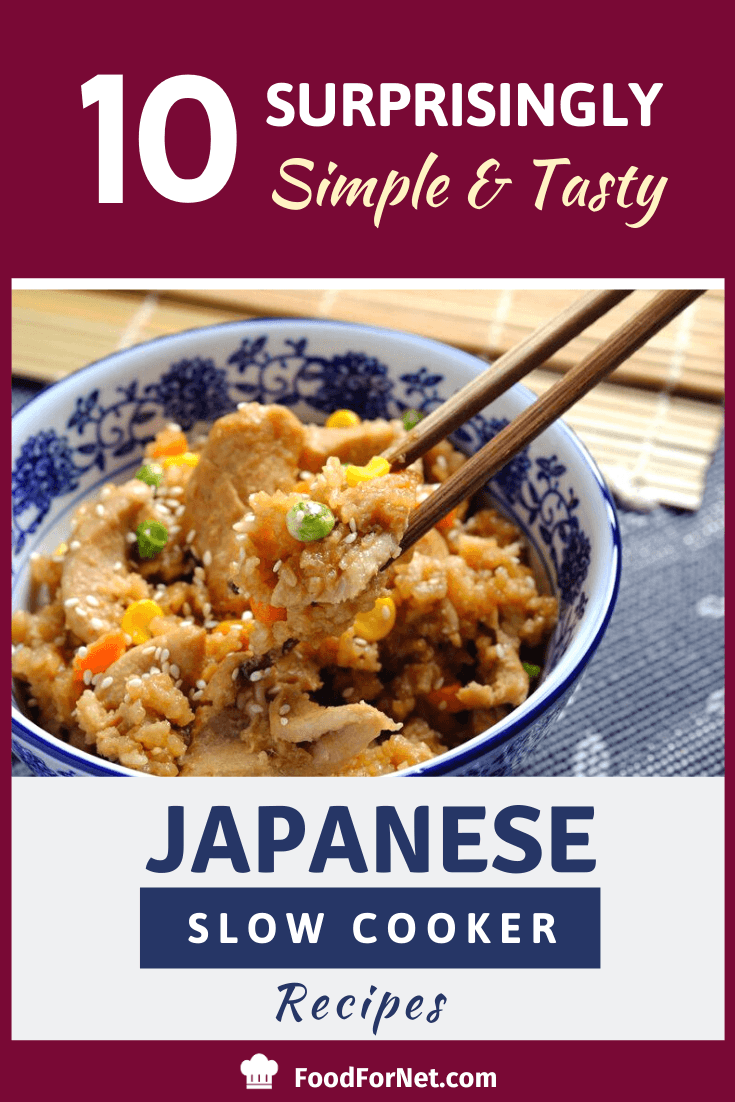 I find that I love most types of food and Japanese cuisine is no exception. There's simply something appealing about eating a wide variety of dishes and experiencing all the flavors that different cultures have to offer.
As with every culture, Japanese food is varied and there are many different dishes and styles out there. Seafood is often used but as is other meat, such as pork, beef and chicken. Likewise, there is no shortage of flavors and methods of preparation.
With this list, we're focusing on ten different Japanese slow cooker recipes. Now, you can't make every Japanese meal in a slow cooker but there are many dishes that do work well this way.
Personally, I find that slow cookers are a great way to try out the food from various cultures, as the process of cooking doesn't end up being labor-intensive. Here are more examples of Asian slow cooker recipes.
Slow cookers are perfect for anybody who has a busy life but still wants to eat healthy and flavorful food each day. Besides, slow cookers do make much better food than many people assume.
Japanese Slow Cooker Recipes

Slow Cooker Miso-Poached Salmon
Slow Cooker Pork Teriyaki Rice
Teriyaki Chicken, Vegetables and Quinoa
Teriyaki Chicken with Rice
Japanese Pork and Ramen Soup
Crockpot Sesame Meatballs
Udon Bowl with Slow Cooker Pork
Slow Cooker Teriyaki Chicken
Japanese Onion Soup
Slow Cooker Asian Meatballs
Slow Cooker Miso-Poached Salmon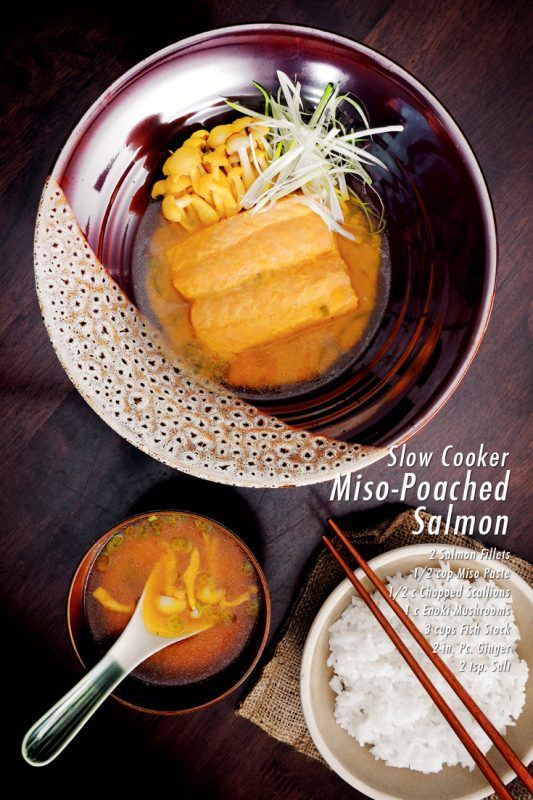 The idea of preparing fish in the slow cooker is relatively unusual and for some people that is reason enough not to try. But, meals like this Slow Cooker Miso-Poached Salmon are powerful examples of how well fish actually works in the slow cooker. In this case, the dish itself is simple, making use of a light and comforting broth that highlights Japanese flavors.
Additionally, the recipe gives you the ability to create perfectly cooked salmon every time and the salmon ends up being infused with flavor. This is hard to achieve any other way and you don't have to worry about charring or burning your salmon either.
Slow Cooker Pork Teriyaki Rice

It may not be obvious from the image but this Slow Cooker Pork Teriyaki Rice is a single pot meal. So, you're actually preparing the entire dish in the slow cooker, rather than just cooking the pork and adding it to rice after the fact. This process means that all of your ingredients take advantage of the flavor components, rather than just the meat.
The style also results in an easy to prepare meal. For example, you don't have to worry about cooking the rice in a separate pot first, which also means there are fewer dishes to worry about.
Teriyaki Chicken, Vegetables and Quinoa

Quinoa has become popular as an alternative grain and it is great for so many dishes. For that matter, quinoa is a valuable option for many situations, regardless of whether you're actively trying to avoid conventional grains or not. This Teriyaki Chicken, Vegetables and Quinoa recipe from chelseasmessyapron.com is one example of how you can use quinoa to create a hearty and healthy meal.
Even better, this is another one-pot meal. So, the quinoa is cooked in your crock pot as well as all the other ingredients. As Chelsea mentions, you can also change the vegetables used in the recipe. For example, you may not like all of the vegetables that she includes. Alternatively, you might simply have a different selection in your house. Either way, the recipe is flexible in that regard, letting you create a different dish each time, if you want to.
Teriyaki Chicken with Rice

As with the previous dish, this recipe from wellplated.com features Teriyaki Chicken. But, that's really where the similarities end. In this case, the recipe uses fewer vegetables and it relies more on traditional flavors. For that matter, the only vegetables present are the ones used for garnishing.
Additionally, the meal is served over rice, quinoa or another type of grain – so that component is prepared separately. Likewise, if you wanted vegetables, you would cook them on their own as well. As a consequence, this isn't a one-pot meal. But, don't let that put you off. The flavors here are fantastic and preparing the different components individually does offer you more flexibility overall.
Japanese Pork and Ramen Soup

Ramen is commonly associated with Japanese cuisine and this Japanese Pork and Ramen Soup is an appealing choice if you are looking for that style of meal. The recipe itself comes from countrycleaver.com and it simple to prepare.
For this dish, the majority of the slow cooker work is associated with cooking the pork. This is done in a flavorful broth, which helps to makes sure the final flavors are rich and that the pork is moist. The other components of the meal are added right at the end, a little before you serve it.
Crockpot Sesame Meatballs

I love the concept of meatballs but I find that they often don't turn out as good as I expect. But, these Crockpot Sesame Meatballs from littlebroken.com are different and they are much more appealing. In particular, cooking meatballs in the slow cooker helps to make sure that they are cooked evenly and are still moist. Doing so involves much less guesswork than conventional cooking methods. Plus, it's much easier to cook a large batch in this way.
At the same time, I love the final flavor with these meatballs. The balance of ingredients means that they would be appealing to just about everybody, including any fussy eaters that you happen to have in your household.
If you want high quality ground beef for these meatballs, I recommend a meat of the month club that can deliver high quality beef to your doorstep!
Udon Bowl with Slow Cooker Pork

The thing I love most about thus Udon Bowl with Slow Cooker Pork is the appearance. The entire dish simply looks so unique, especially if you aren't that familiar with Japanese cuisine. I found the recipe at a site called healthynibblesandbits.com, which is worth checking out for their other meals as well.
As the directions mention, you could make this dish as a noodle bowl (like pictured) or you could use more water while cooking to create something similar to soup. Both approaches would taste similar but one may be more appealing to you than the other.
Slow Cooker Teriyaki Chicken

Teriyaki Chicken may be a common theme with Japanese recipes but that's mostly just because it has universal appeal. This version of the dish comes from gimmesomeoven.com and it is sweetened naturally. As a result, it's perfect for anybody who is trying to avoid refined sugars. I'm also particularly impressed with the way that the meal looks.
And, as is often the case, you don't have to serve it as pictured either. There is no shortage of options for this type of chicken, ranging from the simple to the complex. So, go nuts!
Japanese Onion Soup

This recipe from theskinnyfork.com may not be what you normally imagine when you think Japanese soup or soup in general. But, different isn't always a bad thing. This recipe results in a light and fresh soup, one that would make a perfect entrée or light snack on a cold day. It's also a fun way to eat more mushrooms if you are a fan of them.
Slow Cooker Asian Meatballs

I mentioned meatballs earlier in this list but these Slow Cooker Asian Meatballs from tasteandtellblog.com were too good to ignore. In this case, the overall emphasis is on being an Asian-style recipe but the flavors chosen have enough similarities to Japanese cuisine to include them here.
Personally, I love the combination of texture and flavor that these meatballs use. They also look perfect when served on a bed of rice. However, there are many other ways to dish them up too. For example, I can imagine them on a hoagie bun or even over a bed of noodles. Still, how you serve the meal is ultimately up to you.