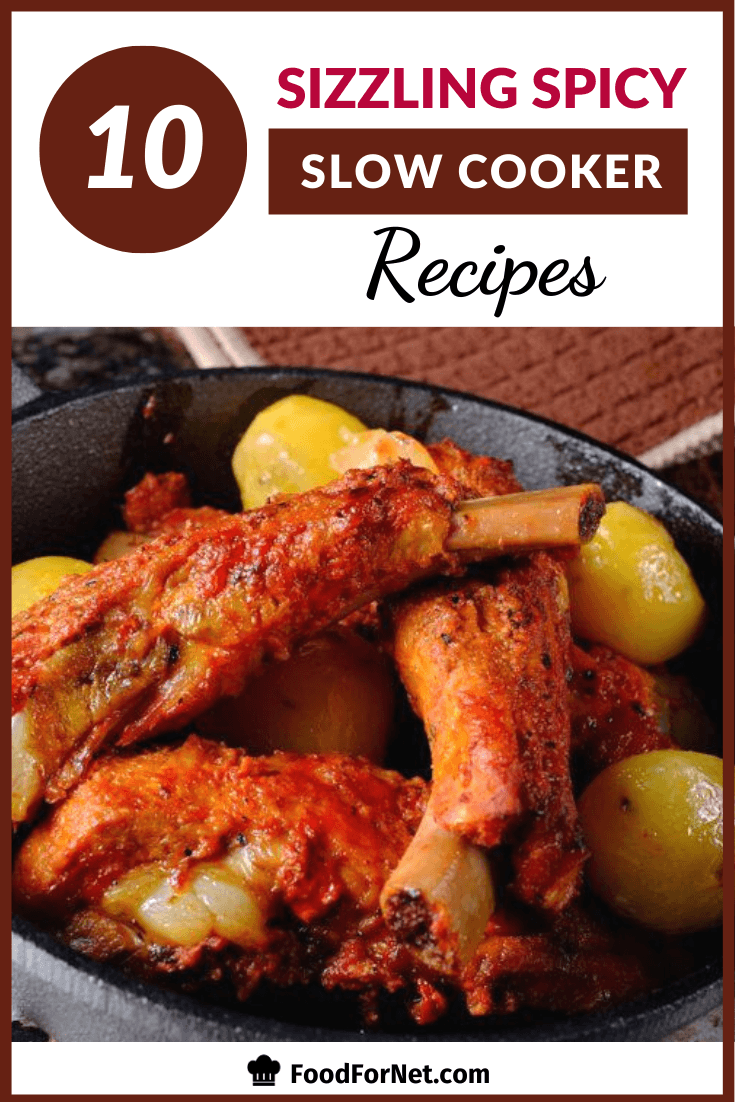 Spicy dishes are a personal favorite of mine, especially if it's cold outside But, even if it's not, there are so many different spicy meals out there, some of which will work well regardless of what the weather is like.
All of the posts in this list are spicy slow cooker recipe options for people who like a little bit of kick with their food. These spicy slow cooker recipes don't contain an insane amount of heat, so the meals can still work for people that don't particularly like spicy food as well. They can also be tuned up to include more heat if you like!
In particular, I tend to focus on meals that have a complexity of flavor and you'll see that pattern across these recipes and this site as a whole. This means that you have multiple flavors and they tend to work together to create a dish that is interesting and simply tastes great.
So, regardless of whether you're a fan of spicy food or not, you may well find some new favorites on this list.
Sizzling Spicy Slow Cooker Recipes
Portuguese Red Pepper Pork Ribs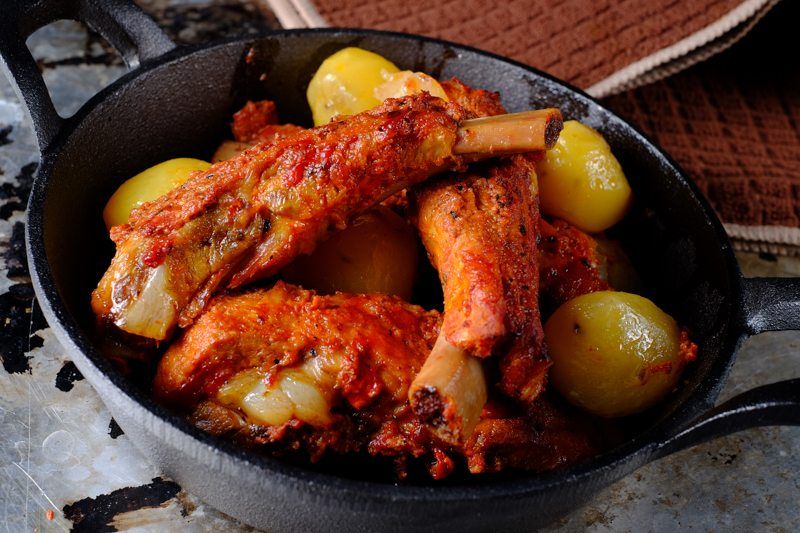 Buffalo Chicken Mac and Cheese w/ Amber Ale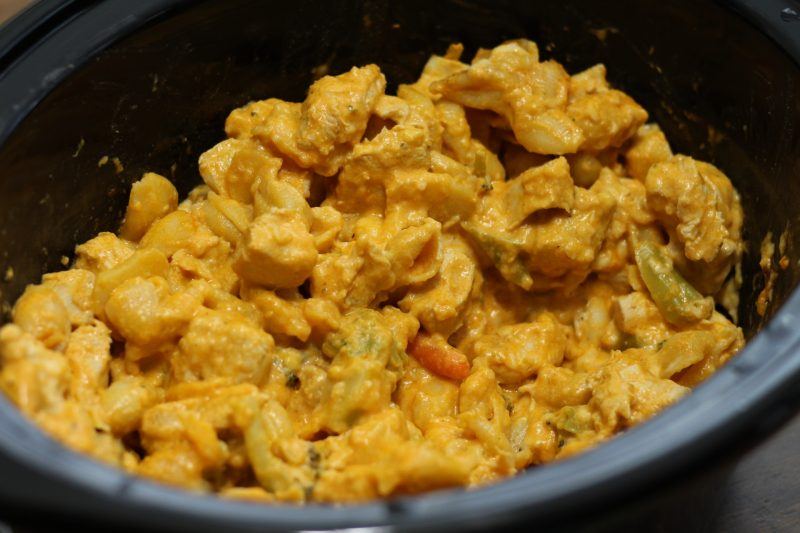 Mac and cheese is the ultimate comfort food but sometimes it can end up seeming a little lacking. This Buffalo Chicken Mac and Cheese is a much heartier alternative that has an extra kick to it as well. In fact, the recipe involves chicken and vegetables, so you're getting a filling dinner from the completed dish.
If you've never tried it before, the flavor combination may sound a bit odd but it's really not. Instead, the ingredients pair perfectly with the traditional mac and cheese flavors, while helping to elevate the dish. Plus, it's an exceptionally easy dish to prepare, making it perfect for game day or a family meal.
Beef Rendang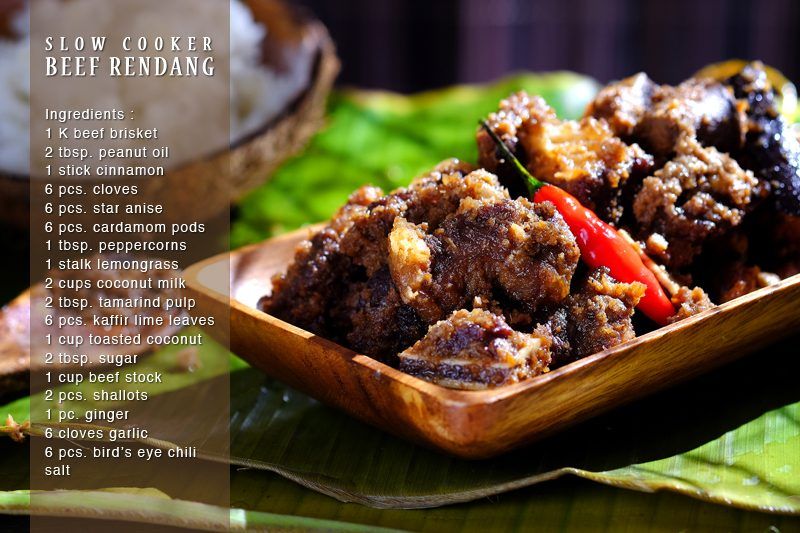 This Beef Rendang is a must-try dish that gets its inspiration from Asian flavors. The combination of ingredients results in a meal that is both complex and rich, which is absolutely perfect for beef. The dish is also appealing because it is so versatile. For example, I sometimes serve it as finger food, while I might also use it in the place of shredded beef for sandwiches or tacos.
The style and flavors also make this a perfect alternative to more conventional beef recipes. Basically, the dish just ends up being much more interesting and that alone is a reason to try it for yourself.
Slow Cooker Mutton Curry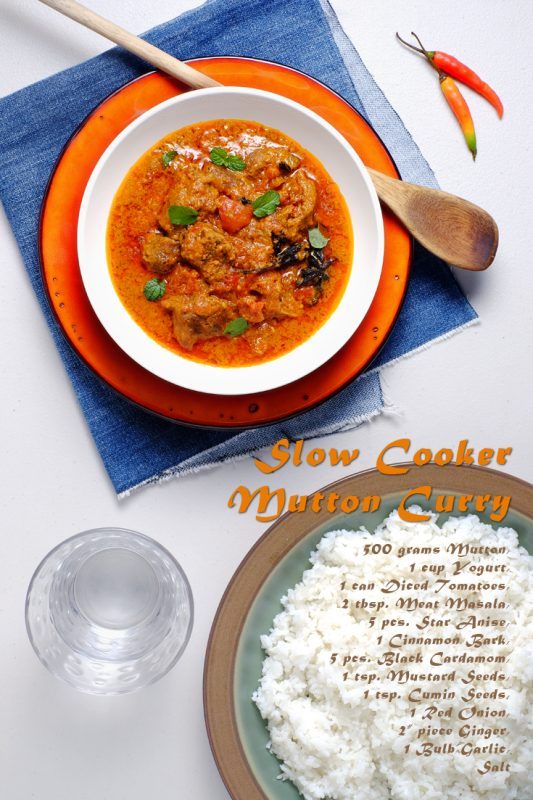 I don't make Indian dishes all that often, mostly because they can be fairly time-consume and require you to pay close attention. But, those issues aren't true for this Slow Cooker Mutton Curry. Instead, the slow cooker adaptation means that you just have to prepare your meal and then it will cook on its own. To me, that's the perfect way to make Indian, especially as the finished dish tastes every bit as good as a traditional preparation.
The recipe isn't restricted to mutton as the meat of choice either. Instead, you can prepare it with whatever meat you want to and the flavors will still work perfectly.
Here are more slow cooker lamb, and Indian slow cooker recipes.
Prawn Laksa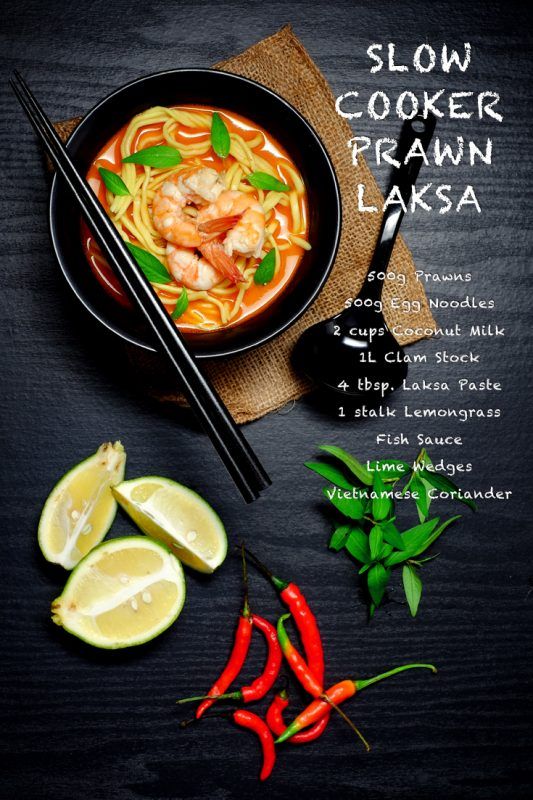 This Prawn Laksa dish is simply a slow cooker variation on a traditional Malaysian dish but the change does work extremely well. At the same time, laksa is also an incredibly popular dish throughout Asia, so it's great to be able to make your own version without an excessive amount of work.
Speaking of work, this is a recipe that lets you vary up the complexity based on your needs. For example, you can simply do a 'one pot' approach, where you throw all the ingredients in the slow cooker and let it go. Alternatively, you can take a few additional steps to bring out extra flavors from the prawns, resulting in a more complex dish overall.
Either option works just fine and in both cases you end up with a stunning dish that is bound to impress.
Slow Cooker Prawns in Crabfat Cream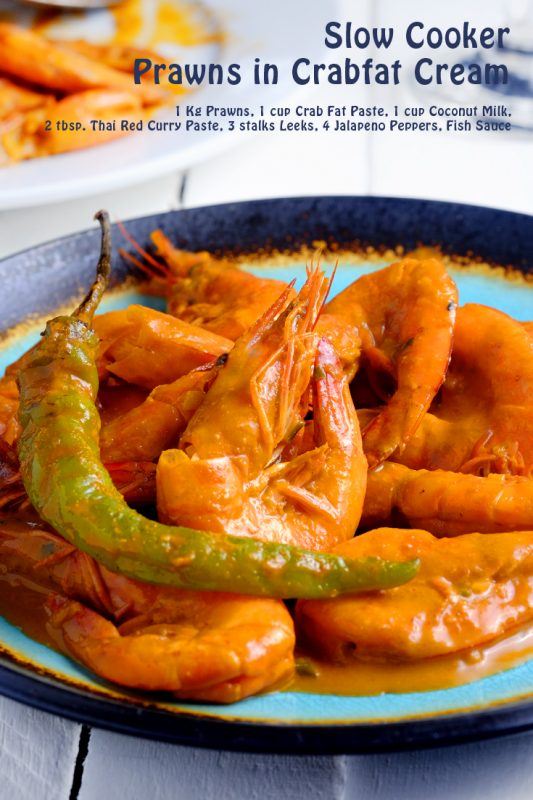 These Prawns in Crabfat Cream are an entirely different approach for cooking and serving prawns. While the laksa was a soup, this dish acts as finger food and would be a good side or an entrée, rather than a full meal. This is also a creamier dish all around. But, it still comes with a surprising complexity of flavor and a significant spicy component.
You can also simply serve the prawns with rice and possibly a side salad to turn them into a meal without much additional work. This is a great example of seafood done right in a crock pot!
Spicy Cashew Chicken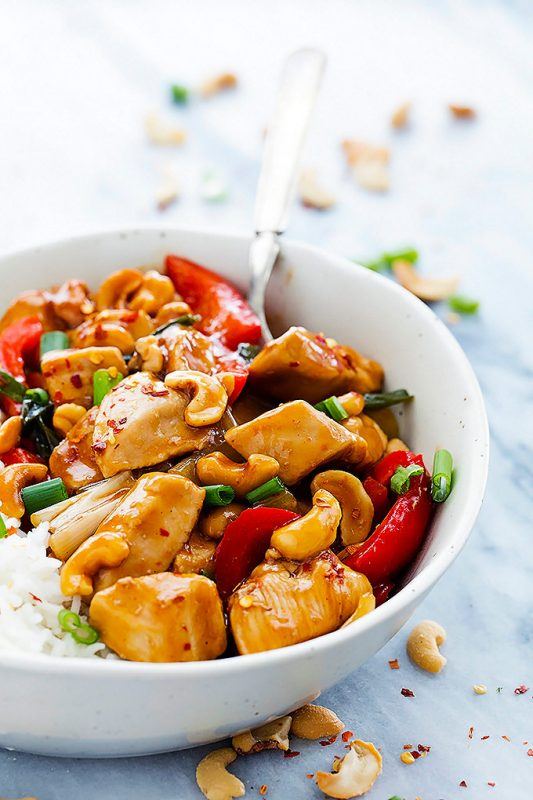 Most of the recipes on this list are original but one of the exceptions is this Spicy Cashew Chicken from lecremedelacrumb.com. I particularly love the colors in the final dish and it's always great when a meal ends up looking so bright and vibrant, especially after it has been slow cooked.
This is also a good meal to try out if you enjoy Asian flavors and if you're looking for something simple. Despite the stunning appearance, the dish is actually fairly easy to create and the prep work is minimal.
Chili Prawns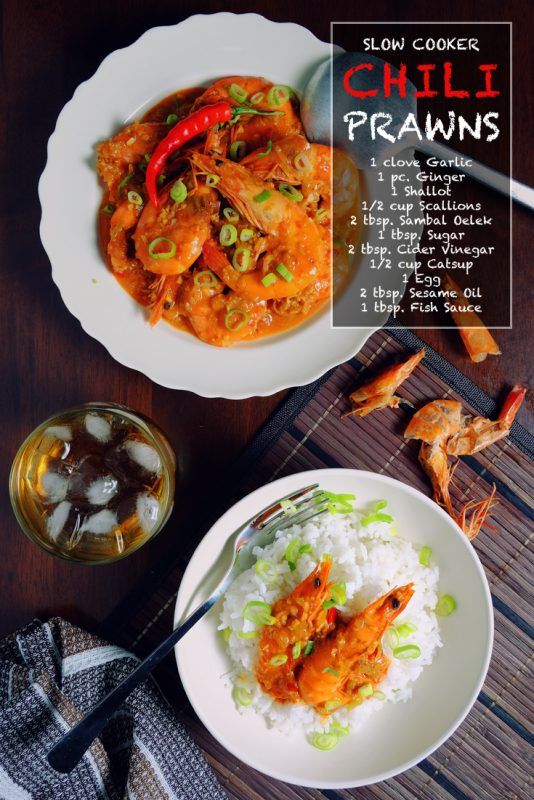 For some reason, I seem to think prawns whenever I'm considering a spicy dish and these Chili Prawns are another example of this pattern. Honestly, there is just something about prawns that means they work exceptionally well with spicy sauces. Plus, recipes like this one are surprisingly easy to prepare.
In this case, the flavors of the dish are inspired by Malaysian cuisine but there is also considerable versatility. For example, you can substitute various ingredients to change the balance of flavor, like using coconut cream to change the style and texture of the dish. I talk about various options in the recipe itself and I'd love to hear your experiences as well.
Slow Cooker Pakgui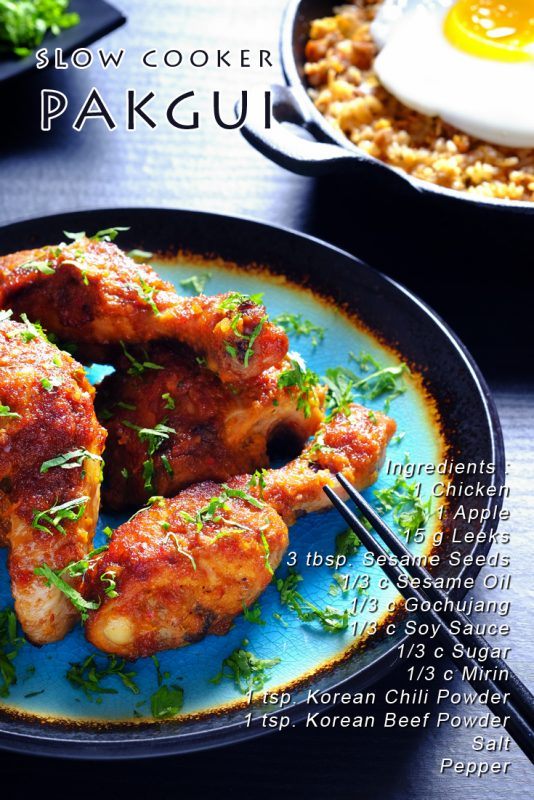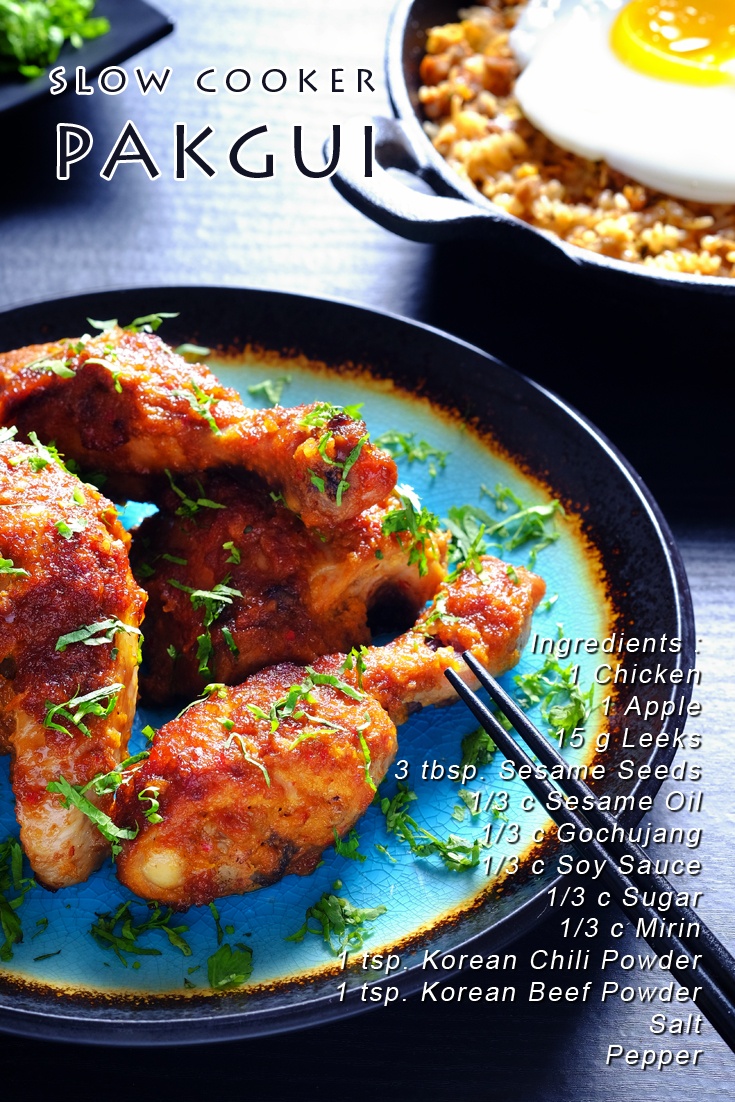 In case you're unfamiliar with it, Pakgui is a traditional Korean bbq chicken dish. Of course, this recipe is a considerable variation, because we're relying on a slow cooker rather than grilling the chicken. But, despite this, the overall flavors of the meal remain remarkably similar.
For that matter, you can finish the meal off in the oven for about 10 minutes (like I did). If you do so, you'll end up with chicken that looks like it has been fried.
Chocolate Chipotle Chili Shredded Beef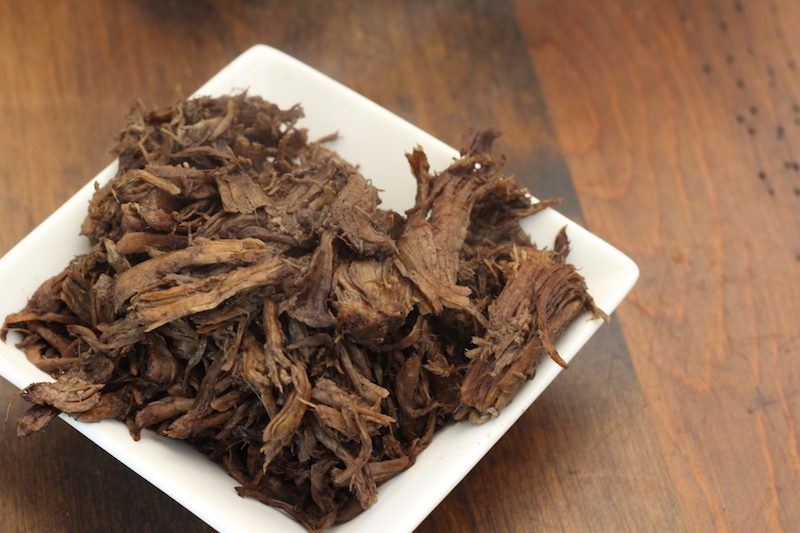 Shredded beef is an exceptionally common slow cooker dish, partly because it is just so simple to prepare. After all, you really don't need anything beyond some liquid and a few ingredients for flavor. With that in mind, this Chocolate Chipotle Chili Shredded Beef tries to spice up the recipes a bit.
The fun thing here is the flavor profile. The idea of the recipe was to highlight a spicy chocolate flavor, something that works exceptionally well with the taste of beef. The end result is perfect and gets that balance of flavor exactly right. So, you can taste the chocolate but you don't end up with something that feels like it should be dessert.
For pork, try these slow cooker Mexican carnitas.
Spicy Taco Potatoes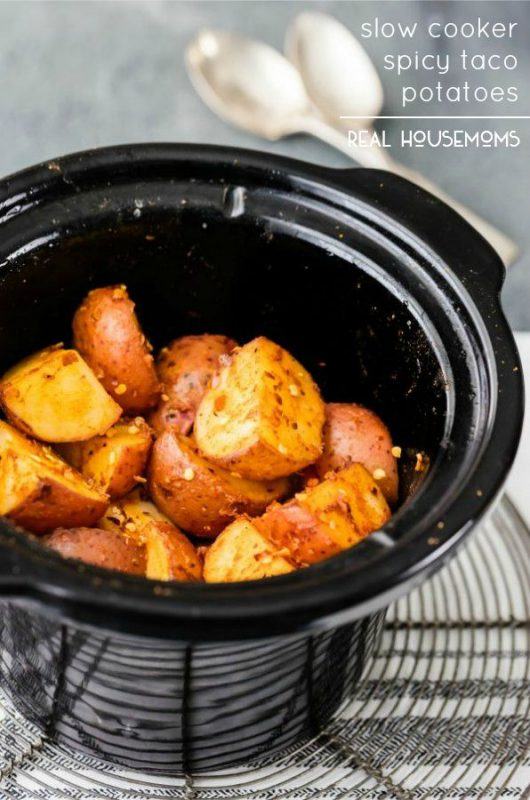 The rest of the recipes on this list have been either the main component of a meal or an entire dinner in their own right. But, these Spicy Taco Potatoes from realhousemoms.com are a little different. In particular, they would be best served as a side dish and they wouldn't be enough for dinner on their own.
That's not necessarily a bad thing though, especially if you planned to cook meat in the oven, rather than the slow cooker. I also particularly love this recipe and it is a brilliant way to make potatoes much more interesting. Because it is a slow cooker meal, the work involved in minimal, which is another reason to try the potatoes out.