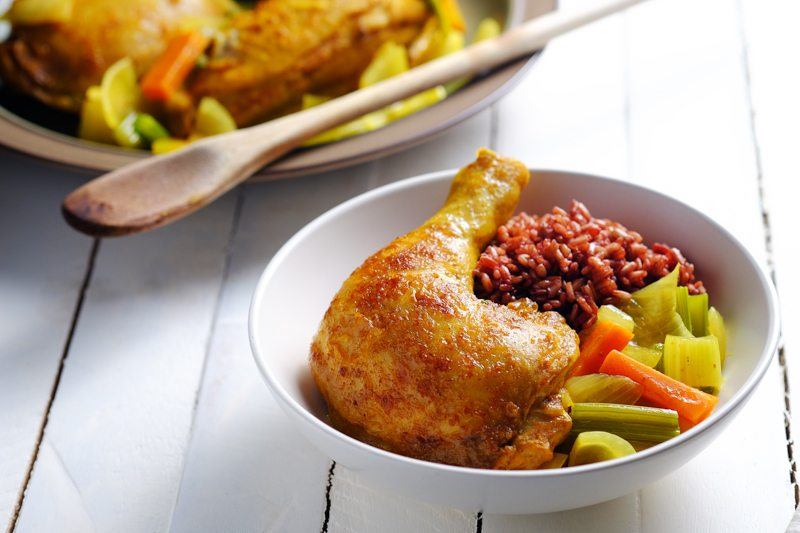 Curry Chardonnay Crockpot Chicken
Speed - 97%
Simplicity - 97%
Tastiness - 100%
The spice of curry powder paired perfectly with the fruity sweetness of the Chardonnay. The chicken came out perfectly moist and flavorful.
Once in a while, I like working on classical French dishes, trying to put some Asian influence in the process. I'm taking the very simple chicken stew in white wine here and spiking its flavors with some Indian curry. Well, it honestly worked. That fruity flavor of the wine perfectly complemented the spice from the curry powder to give a very interesting flavor.
The cooking procedure is really identical to French stews except for the addition of curry to the usual seasoning mix of salt and pepper. Don't skimp on the spice. Let the aroma and flavor of curry shine throughout the dish. As a bonus, you'll end up with chicken that's so brightly yellow because of the turmeric present in the powder.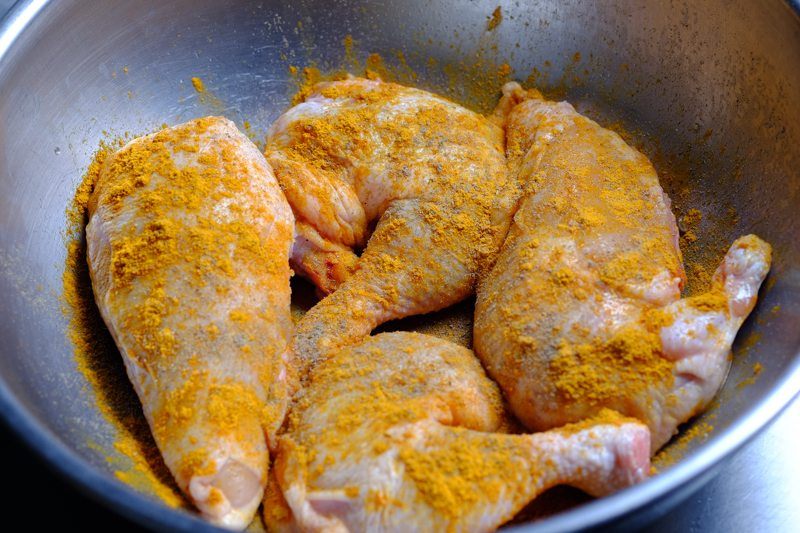 You know what's next. Sear. Always. On top of the color and crust that cooking in the slow cooker can't give, searing creates a seal to lock in all those juices in your meat. Also, by letting those natural sugars caramelize in the pan, you create drippings which would later serve as a deep flavor base for whatever sauce you'll create in the end.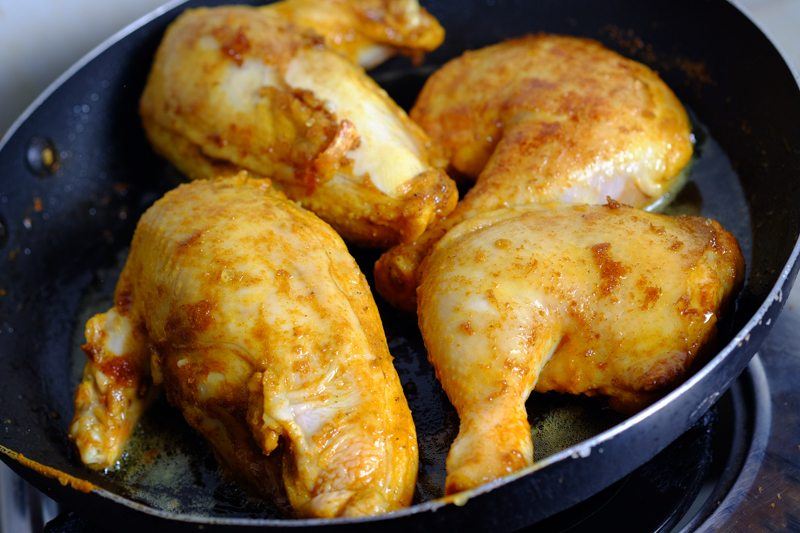 Set the chicken aside once they've browned enough. They don't have to cook through. A wonderful color is a good indicator that you've seared them well. Into the same pan goes in the aromatics. The traditional triad of French cuisine – carrots, onions, celery. They'll add sweetness and body to your sauce especially if you roast them a bit. Just don't let them burn by keeping them moving around the pan.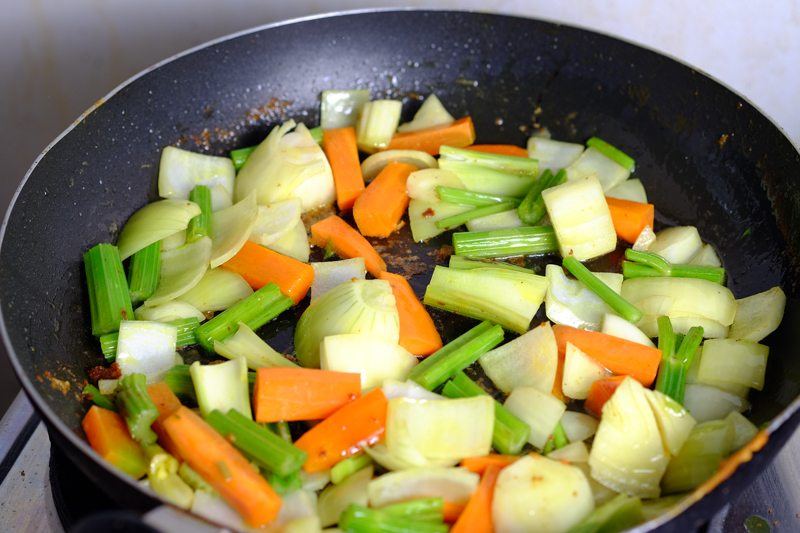 Deglaze your pan. Always do. Use any flavored liquid you like. I used Chardonnay for its clean, fruity flavor. You can go with any wine you like. A simple rule when cooking with wines would be to use only those types that you would actually enjoy drinking. Though completely possible, I'd advise that you stay away from red wines for this recipe simply to preserve the chicken's yellow-curry color.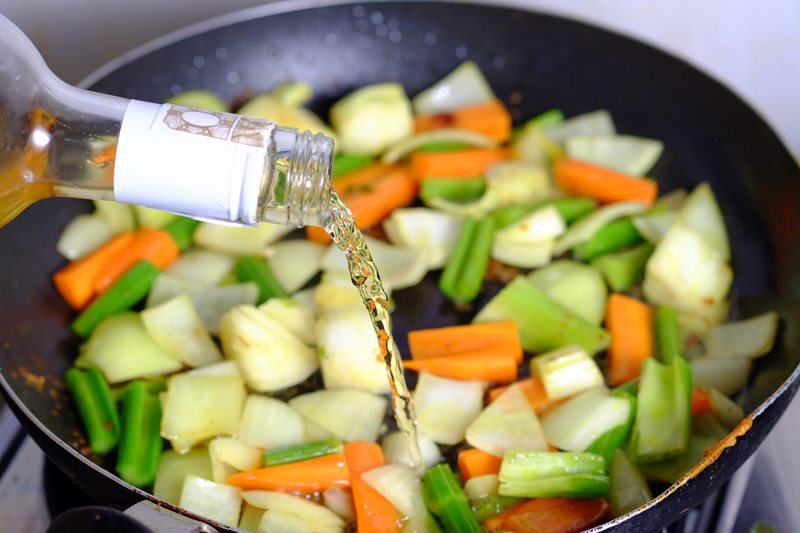 Leave the wine to reduce for about a minute to cut down its acidity. Scrape the pan drippings loose at the same time.
Tip in all the contents of the pan into your crockpot together with the chicken and the stock and you're done. You may add in herbs at this point but I really don't find that necessary. The curry alone would be so aromatic already.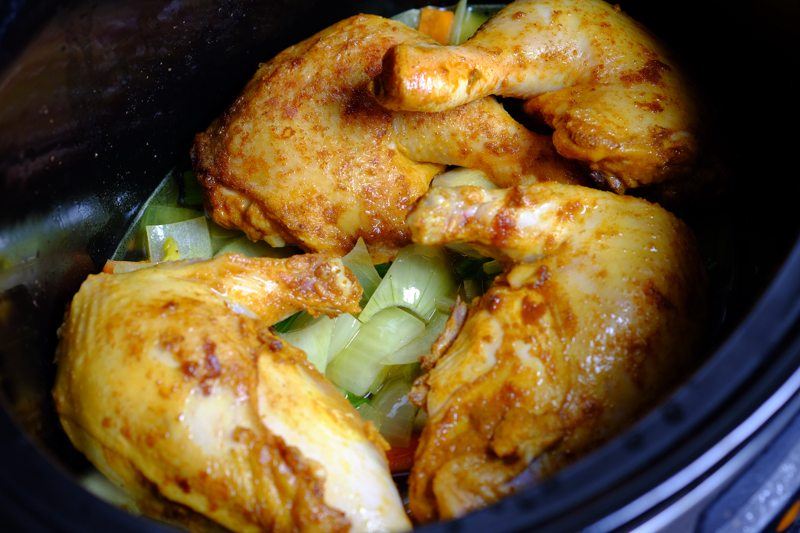 Depending on how you cut your chicken, leave them to cook between 4 and 6 hours on a low setting. A good way to check if the chicken is perfectly-done would be to make a small incision at the joint where the thigh and drumstick meet. A clear liquid should ooze out without any trace of blood. A 165F reading on a meat thermometer would of course be your best bet.
Look at how plump and beautiful that chicken leg is.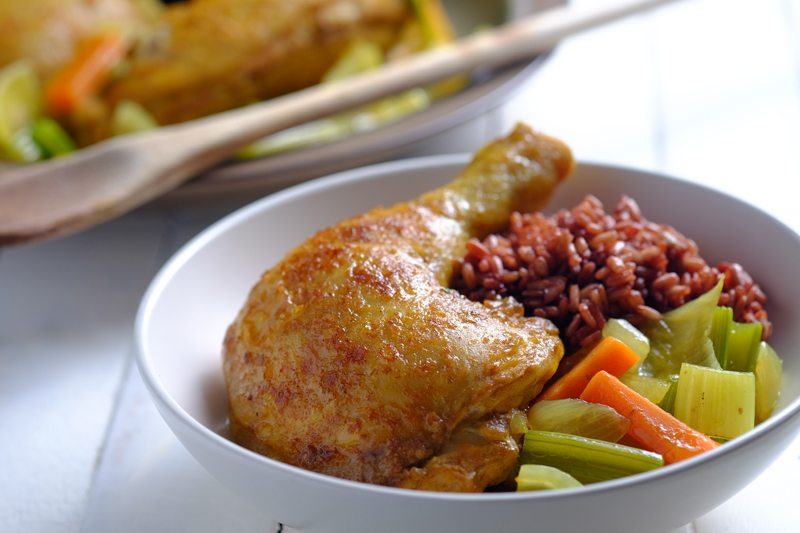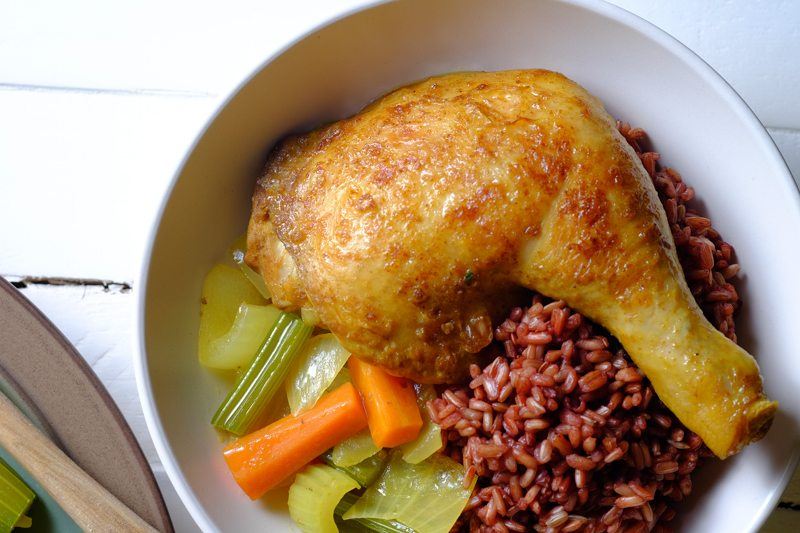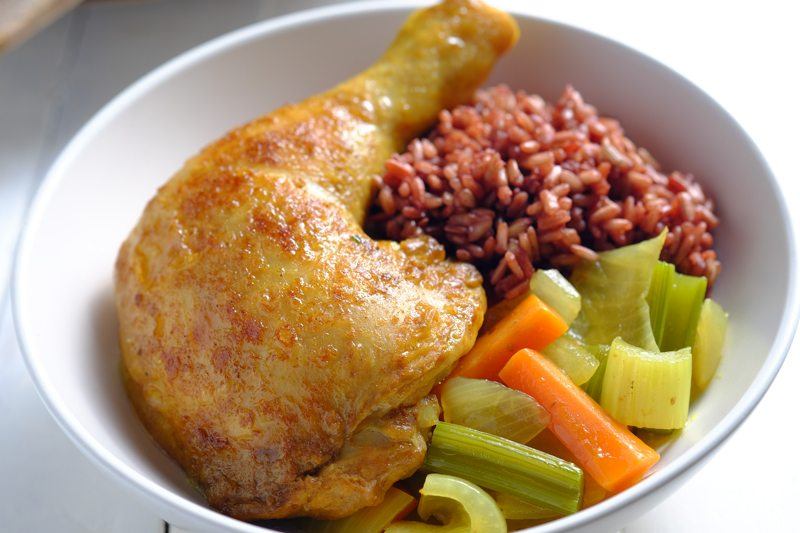 This curry and wine pairing really worked and I'm definitely preparing a similar dish with pork or beef next time. And I'm a hundred percent certain it'll turn out equally delicious.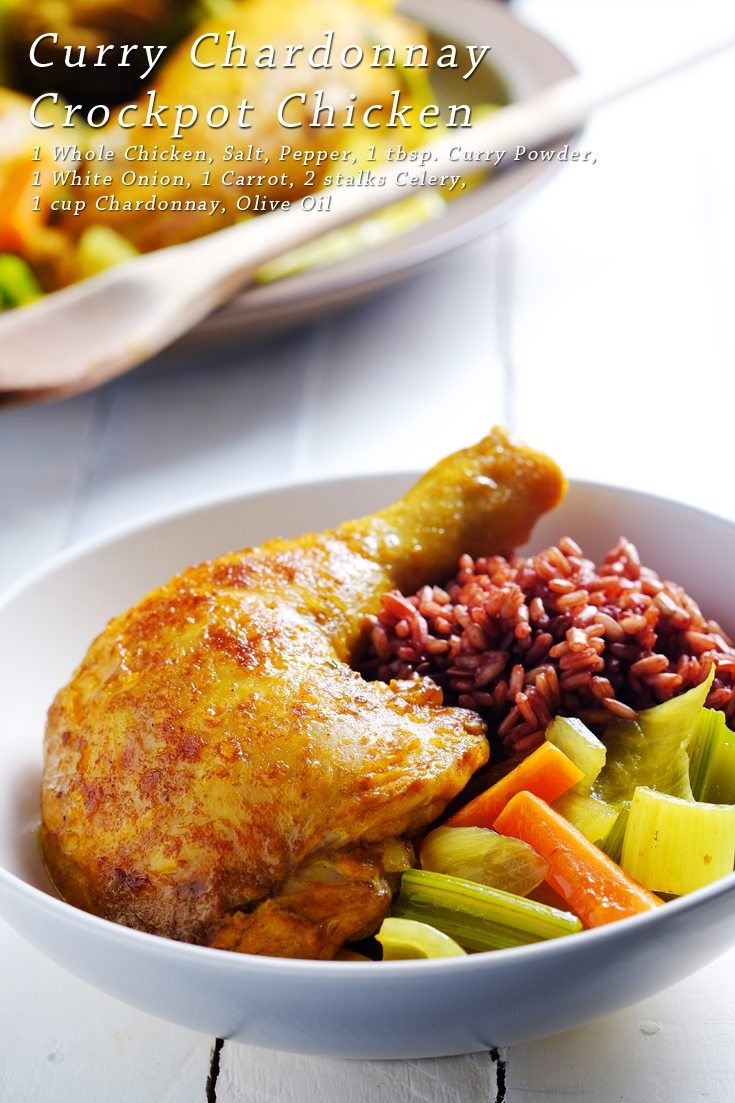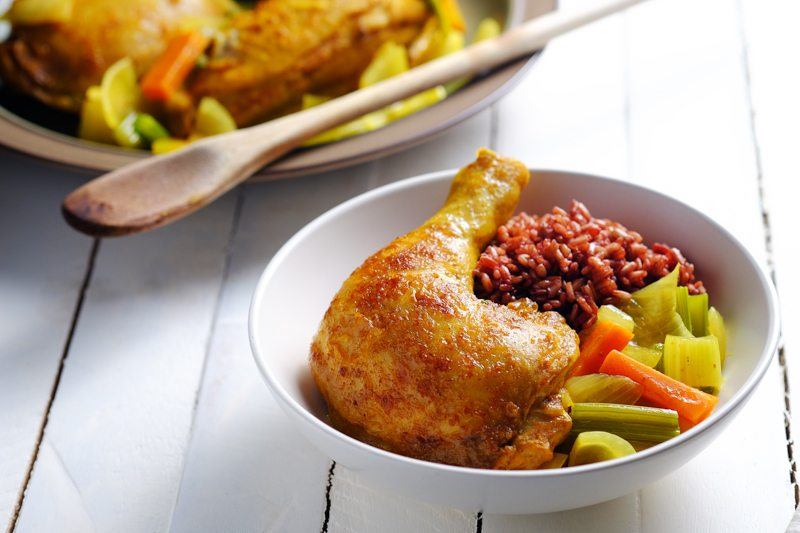 Ingredients
1

Whole

Chicken

cut into pieces

1

Tablespoon

Curry Powder

1

Pieces

White Onion

cut into chunks

1

Piece

Carrot

cut into chunks

2

Stalks

Celery

cut into chunks

1

Cups

Chardonnay

2

Tablespoons

olive oil

Salt

Pepper
Instructions
Season chicken with salt, pepper, and curry powder.

Heat olive oil in a pan.

Sear the chicken pieces. Set aside.

Roast the onions, carrots, and celery.

Pour in the chardonnay.

Transfer to a slow cooker and cook for 4 hours on low.