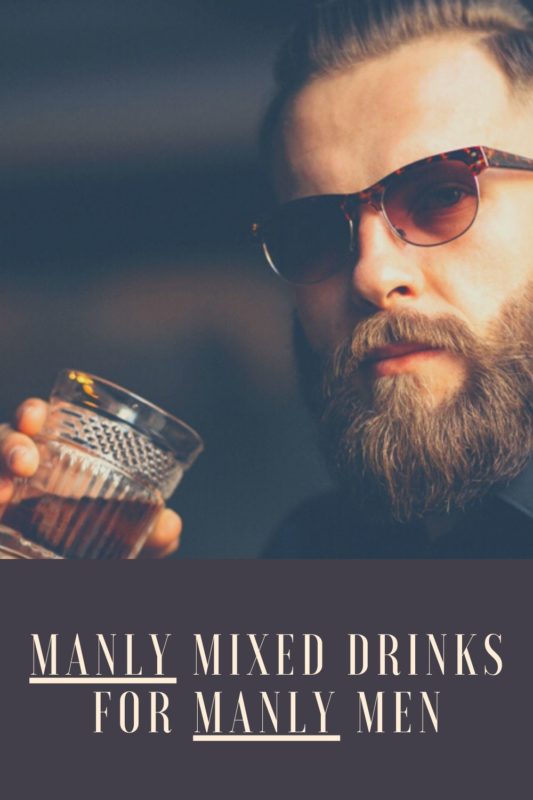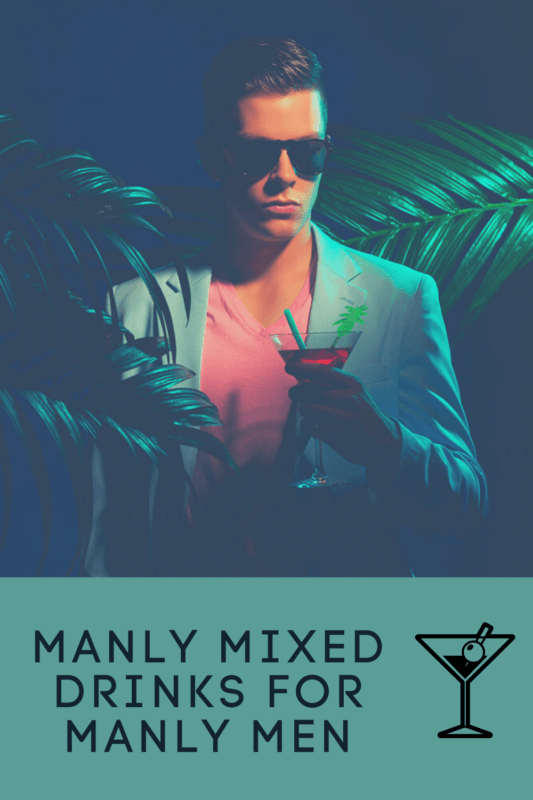 How do you define a "manly man"? Choosing a drink is about so much more than what you like the taste of. What you pick will have a strong impact on how people view you. Like it or not, we live in a world of first impressions and snap judgements. Ordering the wrong thing at the bar can easily make you seem immature, out of touch, or just plain boring. These manly mixed drinks, by contrast, show that you are savvy, confident, and maybe even a little bit manly.
There are a lot of manly drink options out there, including cocktails, that can make you look good in a bar setting. And they'll taste good at the same time. Some of these are well known, like the black Russian, the mojito and the martini, but there may be some on this list that you may have never heard of.
Whether you like whiskey, tequila, or even tropical drinks, I'm sure that everyone can find at least one drink that they like that won't make them look ridiculous.
If you love cocktails, then you'll really dig Flaviar. It's a craft spirits club, where you can order samples of great booze from around the world. I joined for the whiskey, but they also have gin, vodka, brand, tequila, and more. They deliver 1.5oz tasters based on themed packages like craft bourbon, single-malt scotch, spirits from a specific part of the world (Japan, South America), blends from a specific distillery.
There's a bunch of other perks of becoming a member, which you can read about in my full review as a member for 3 months.
Manly Mixed Drinks (With Pictures)
48. Adios Motherfucker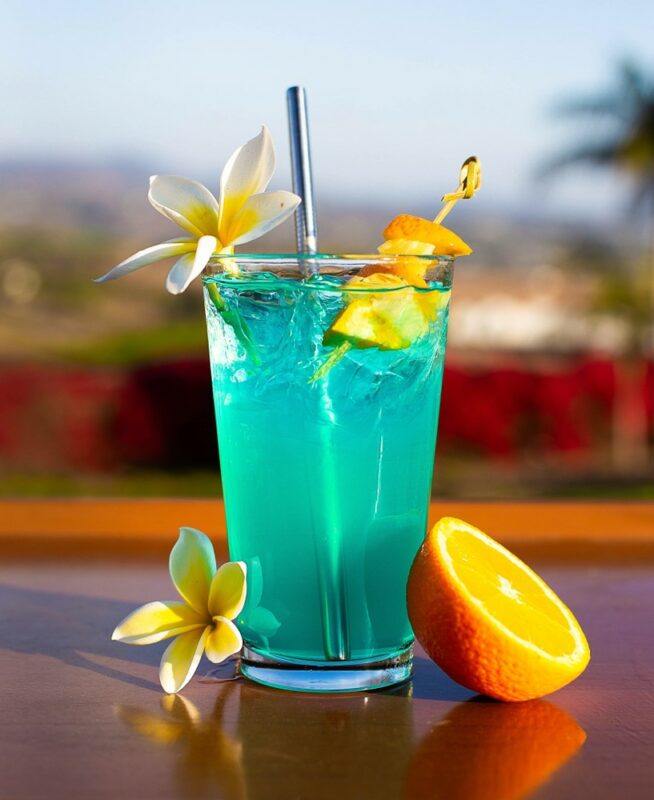 While the adios motherfucker (also called the adios motherf*cker or AMF, if you're being polite) doesn't look all that manly, it certainly has a masculine name. You really need to be confident to walk up to a bartender and order an "Adios motherfucker" without flinching.
The drink itself is a riff on the Long Island Iced Tea, which also makes it very potent. Seriously. There are five types of alcohol in the mix, including vodka, rum, tequila, gin, and blue curacao. The recipe includes sweet and sour mix too, along with Sprite to top it up.
You can use store-bought sweet and sour mix for the drink, but it's much better to make your own. The versions from the store are often high in sugar and additives, so they're not particularly healthy. They don't taste as good as homemade versions either.
47. Liquid Cocaine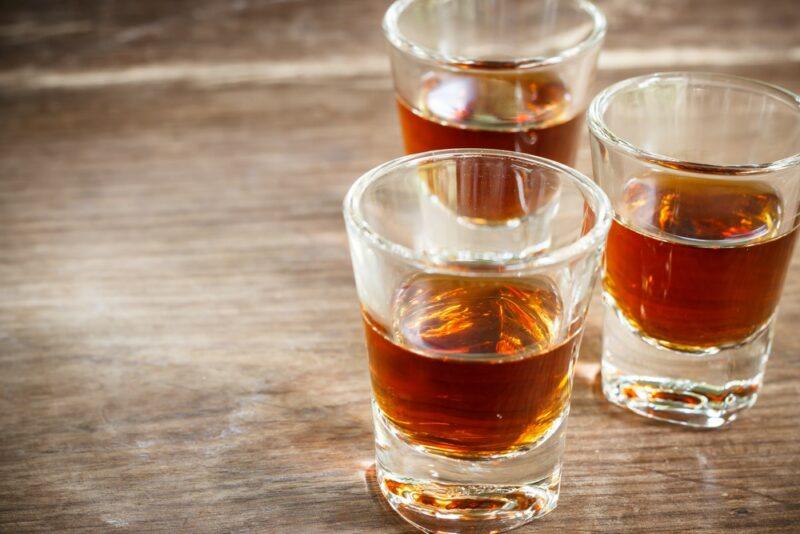 With a name like liquid cocaine, there's little doubt that this is a manly drink. In fact, the name is a popular one and is used for a few different cocktail recipes.
The one we're interested in today combines equal measures of Jägermeister, tequila, and overproof rum. The finished cocktail looks much like a glass of whiskey, so it's certainly manly. You could even serve it as a shot instead.
46. Mind Eraser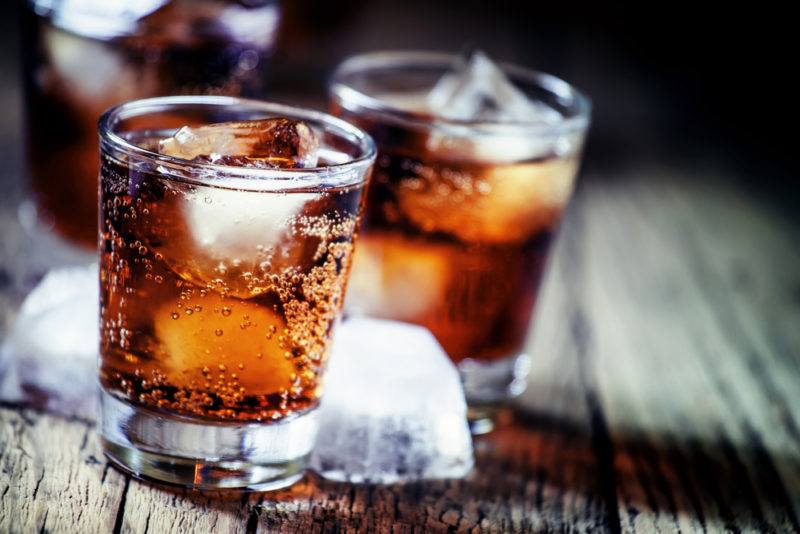 The mind eraser cocktail isn't actually as intense as you might expect. It's mostly a variation on the black Russian, as the main ingredients are vodka, coffee liqueur, and club soda.
While there's nothing particularly exciting about the cocktail, it's still a delicious choice. Plus, every bar should have all the ingredients needed to prepare it.
45. B-52

What could be more manly than a shot named after a famous bomber? This shot also happens to look impressive, with three distinct layers.
Interestingly, it's not a very strong shot – as the three layers are Kahlua, Bailey's Irish Cream, and Grand Marnier. If you're making this at home, you'll need to pour the layers in one at a time over the back of a spoon.
The low alcohol content is actually a good thing. This means you can have a manly shot without getting drunk.
44. Whiskey Mac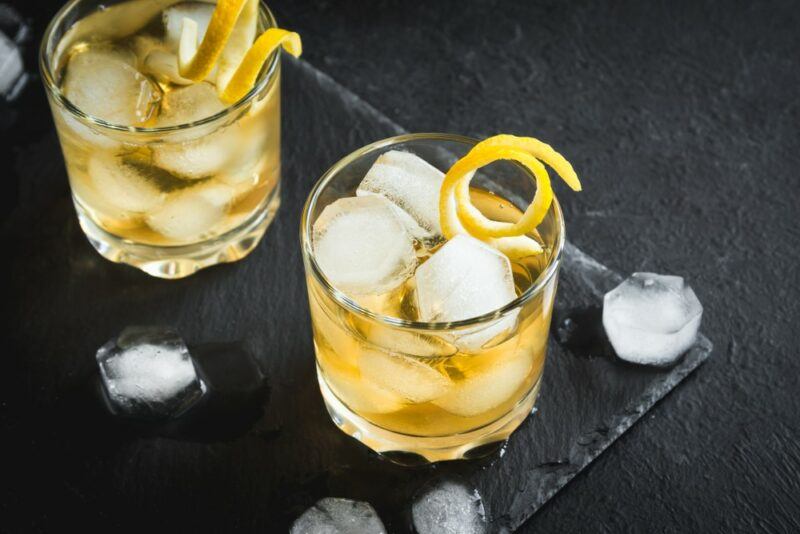 The whiskey mac is a shorthand name for whiskey MacDonald, as Colonel Hector MacDonald first developed the drink back around 1900. It's a very simple two-ingredient cocktail that just relies on whiskey and ginger wine.
Most versions use a blended Scotch, plus Green Stone's Ginger Wine. However, you can use any type of whiskey and any type of ginger wine.
The other question is the ratio of ingredients. Some versions use a 1:1 ratio of Scotch to ginger wine. Others create a stronger drink, such as using 1.5 parts of whiskey to 1 part of ginger wine.
43. Dark 'n Stormy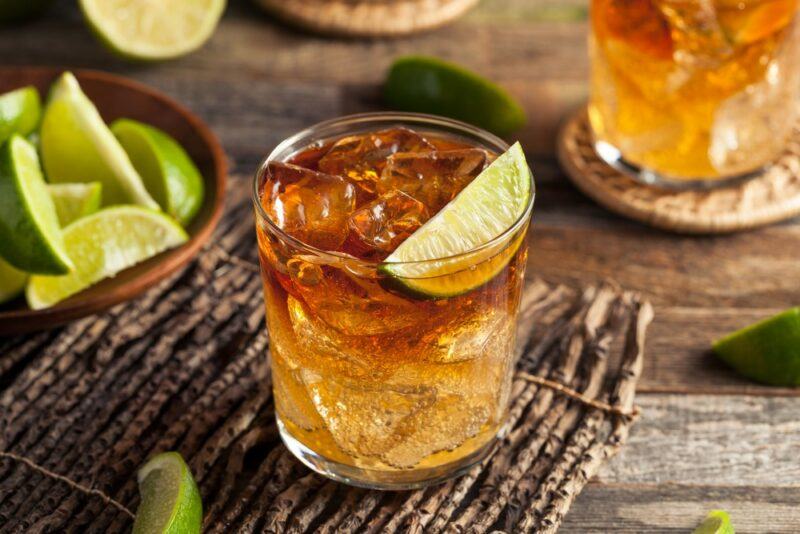 The dark 'n stormy cocktail is interesting, as the name is actually trademarked by Goslings. Because of this, it can only be made using Goslings Black Seal Rum, ginger beer, and lime juice.
As you can see, it's a very simple cocktail. A little like a Moscow mule, really, except that you're using dark rum instead of vodka.
Of course, Goslings Black Seal Rum isn't really essential. You could use a different dark rum (or even a lighter rum). You'd just need to change the drink's name. The rich flavors make this cocktail perfect in the evening or perhaps during a slow afternoon.
42. Blood and Sand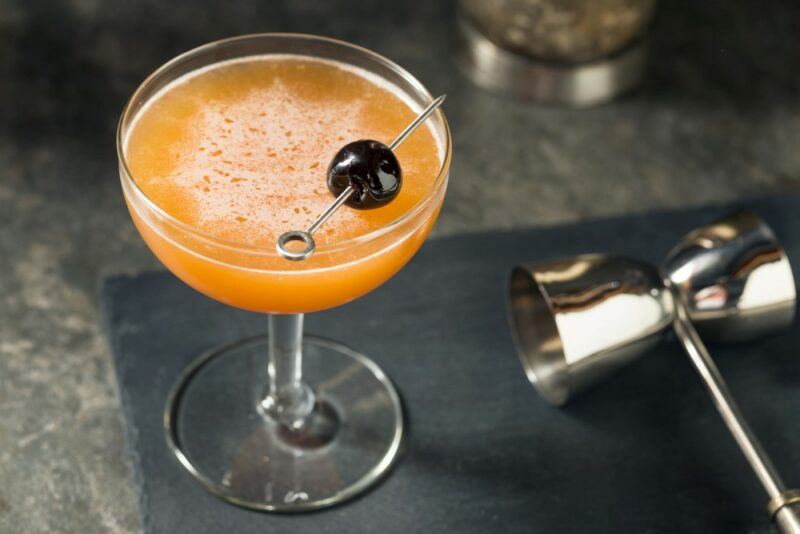 The blood and sand cocktail is a classic and certainly has a manly name. It's a surprisingly sweet cocktail too, as it relies on orange juice and cherry liqueur. Scotch whisky provides a much needed kick and stops the sweetness from getting overwhelming.
As is often the case, there are multiple formulas for the cocktail. Some versions use cherry brandy instead of cherry liqueur, which slightly changes the flavor profile. You'll sometimes see sweet vermouth added to the mix as well.
The Scotch you choose makes a big difference here. Look for one that isn't too peaty, as a strongly peaty Scotch will overpower the other ingredients.
41. An Evening In Mexico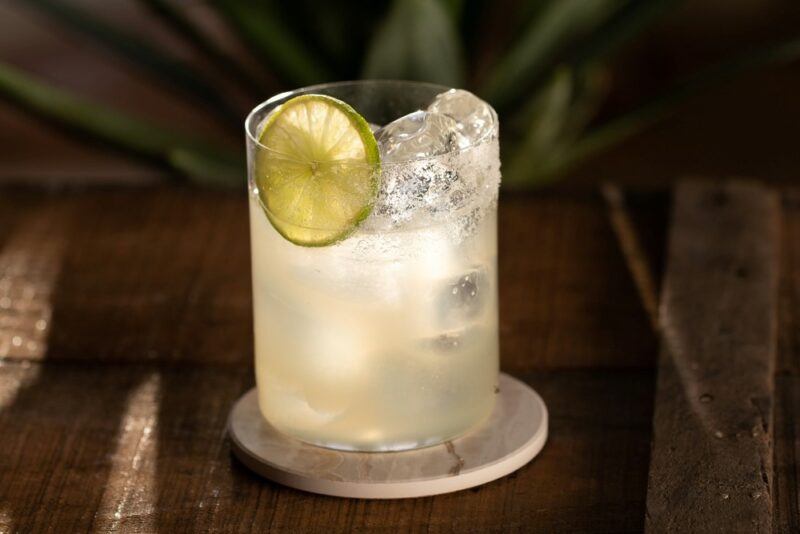 Not surprisingly, an evening in Mexico uses tequila as one of the main ingredients. Not just tequila though, as there's also half an ounce of mezcal, a few dashes of grapefruit bitters and orange bitters.
Finally the cocktail includes two bar spoonfuls of agave that has been infused with orange peels. The agave highlights the agave in the tequila and mezcal, while the orange infusion adds extra flavor.
40. 11th Hour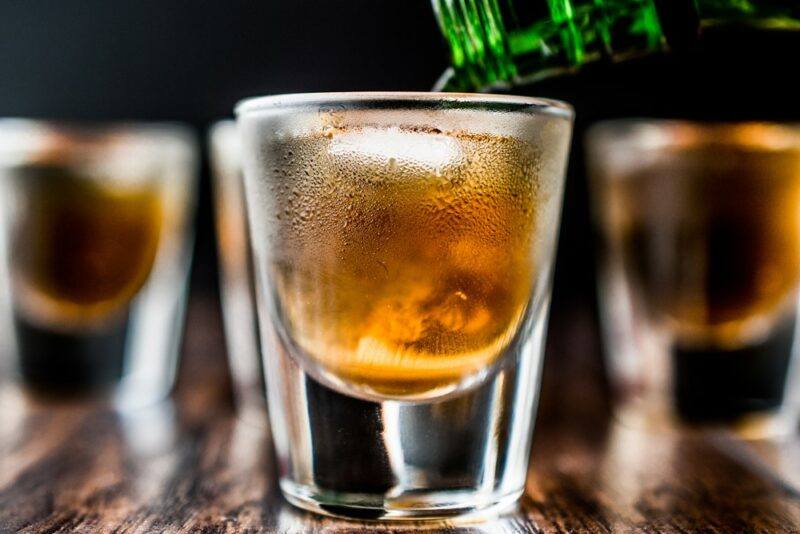 What could be more manly than a high ABV shot that looks like whiskey? That's exactly what you get with the 11th hour shot. We're not kidding about the high alcohol content either, as most of the 11 ingredients are spirits and they're all alcoholic.
There is also Bacardi 151 and Everclear in the mix, which bumps the alcohol content up still further. Bacardi 151 is now discontinued, but you could easily use another type of overproof rum instead.
39. Sidecar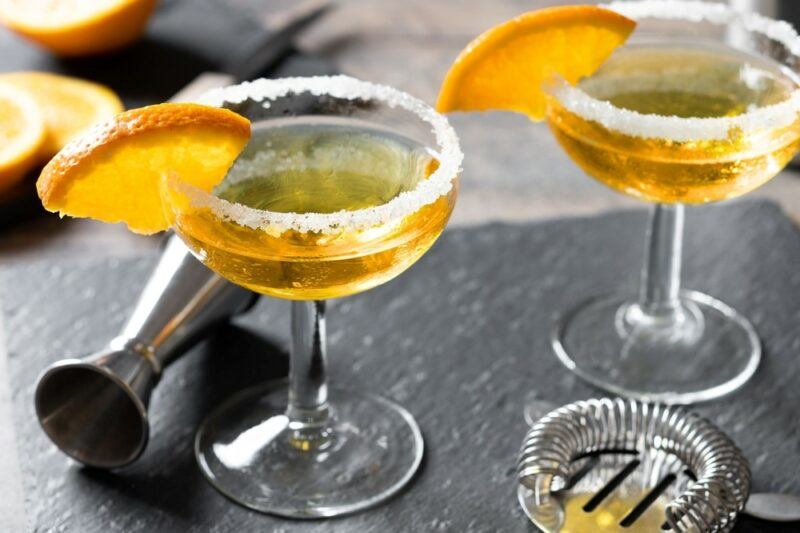 The sidecar is a cocktail with a long history with roots strongly set in New Orleans. Typically served in a glass rimmed with sugar, the sidecar is a well-balanced delight – containing some Spanish curacao and some French cognac.
Over time, the sidecar has evolved and modern sidecars tend to use cognac, Cointreau and lemon juice in a 2:1:1 ratio (more or less). The cocktail is the child of an older, even more classic drink – the brandy crusta, which was one of the earliest cocktails to use citrus or a sugar rim.
38. Manhattan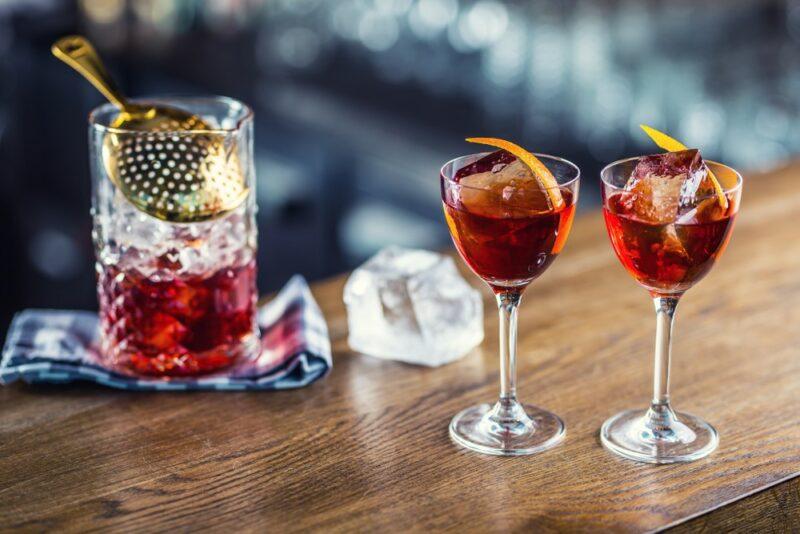 The Manhattan has a strong reputation, and it's one of those drinks that just about everybody has heard of. The drink uses whiskey, sweet red vermouth and bitters along with the traditional maraschino cherry as a garnish.
Rye whiskey is the traditional whiskey choice for the cocktail, but other types are also used, like Canadian whiskey or bourbon. A number of named variants to the cocktail also exist, like the dry Manhattan, which is served with a twist and uses dry vermouth instead of sweet vermouth.
37. White Russian + Black Russian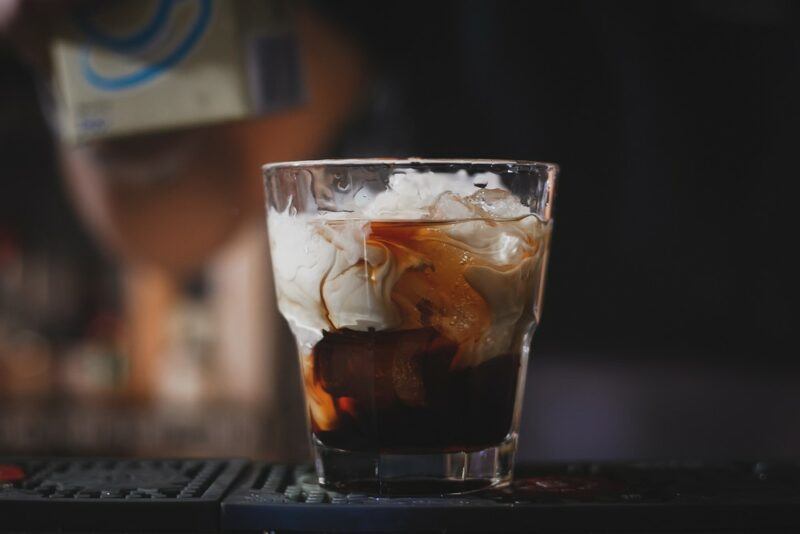 Both black and white Russians are vodka-based drinks. For the black Russian, the International Bartenders Association (IBA) specifies a ratio of five parts vodka to two parts coffee liqueur.
The drink is traditionally served on the rocks. The white Russian is a variation on the drink, where either milk or cream is added as well. Neither drink is actually Russian in origin. Instead, the name is a reference to the use of vodka as the primary spirit.
36. Tom Collins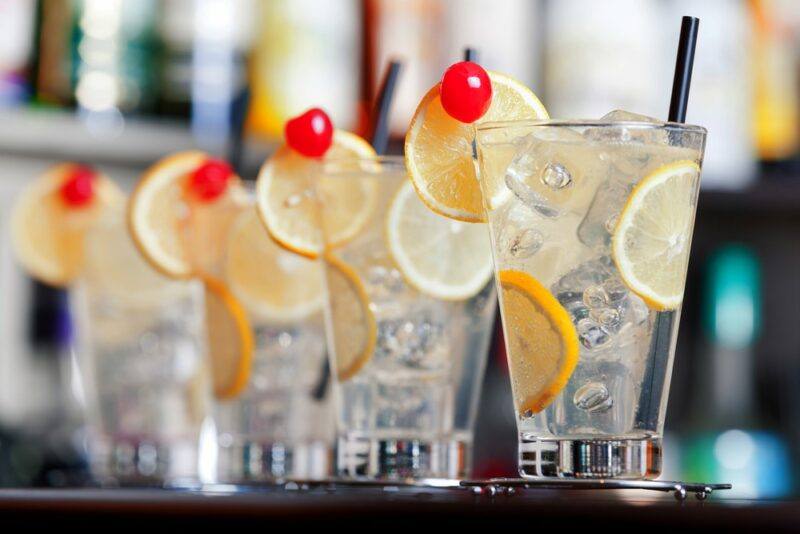 With the Tom Collins, the primary alcohol is gin and the cocktail also includes lemon juice, sugar syrup and carbonated water. It is typically served in a Collins glass and often garnished with a lemon.
The cocktail is especially versatile, with dozens of different variations. Many of these variations simply involve a change in the base alcohol. The brandy Collins is an example of this, which uses brandy, while the Jack Collins uses applejack as the base alcohol.
35. Old Fashioned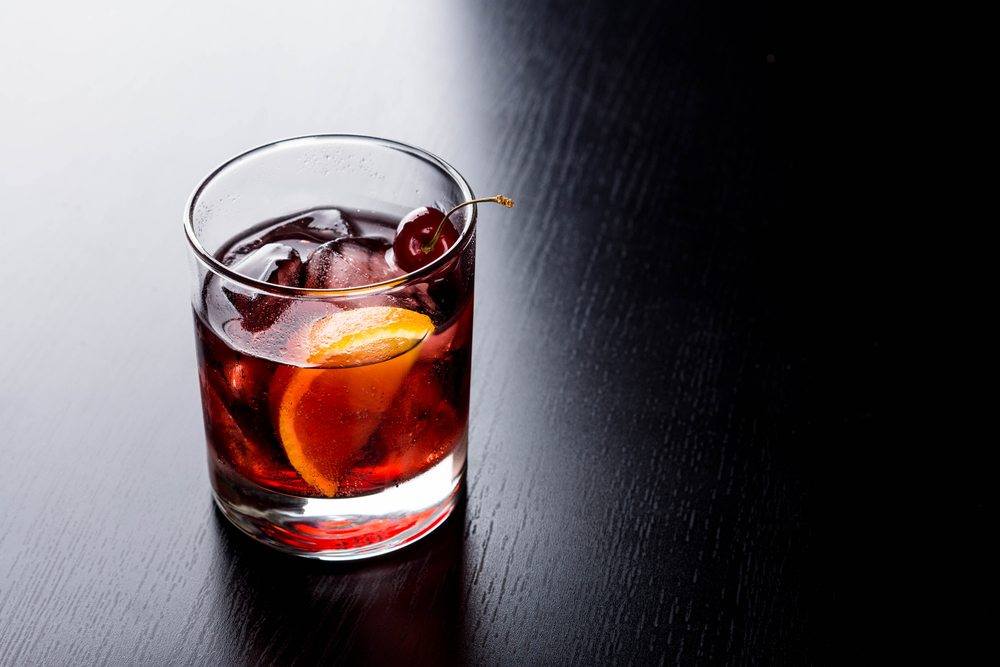 An old fashioned is made with whiskey (typically either bourbon or rye risky), bitters, sugar and a little water, and traditionally served with a twist or an orange slice. It is also Don Draper's favorite cocktail in Mad Men.
That is a testament to its popularities in the 1960s, although the drink had been largely forgotten before the series came out. The old fashioned uses a short, round glass, known as an old fashioned glass. The glass was named for the drink, rather than the other way around – which is a good indication of how popular the drink was.
34. Rum & Coke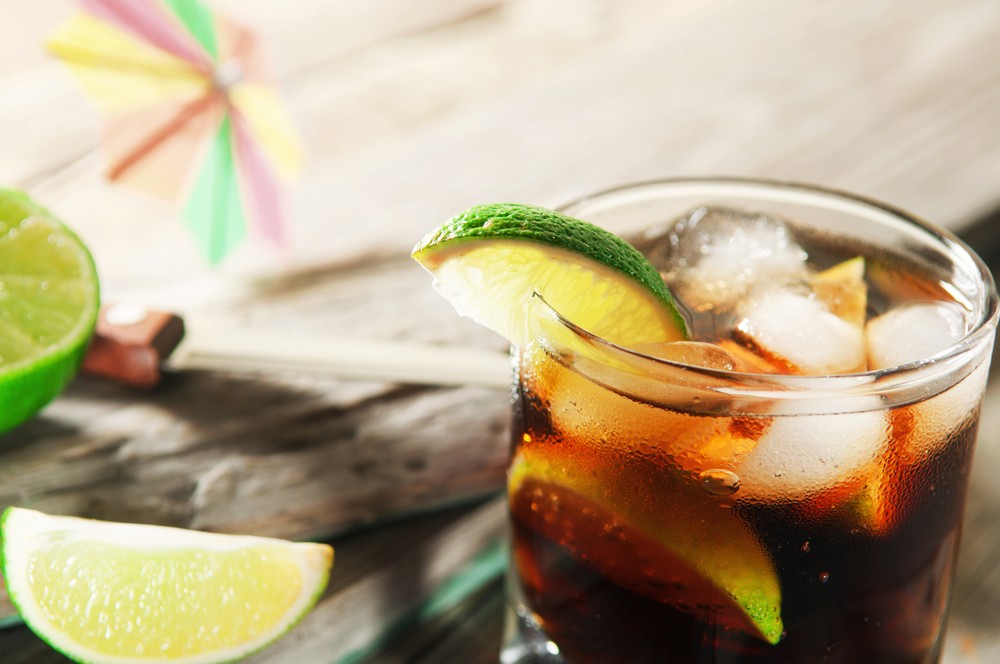 Rum and coke is a great example of a simple mixed drink. It's especially common because the drink relies on only one type of alcohol and many households have cola on hand.
Typically a rum and coke will be served on the rocks, although in casual settings this is often omitted. A variation of this mixed drink is the Cuba libre, which has the distinction of also using lime juice. In many parts of the world, rum and coke is another name for the Cuba libra, and the lime juice is considered an option ingredient.
33. Jack & Coke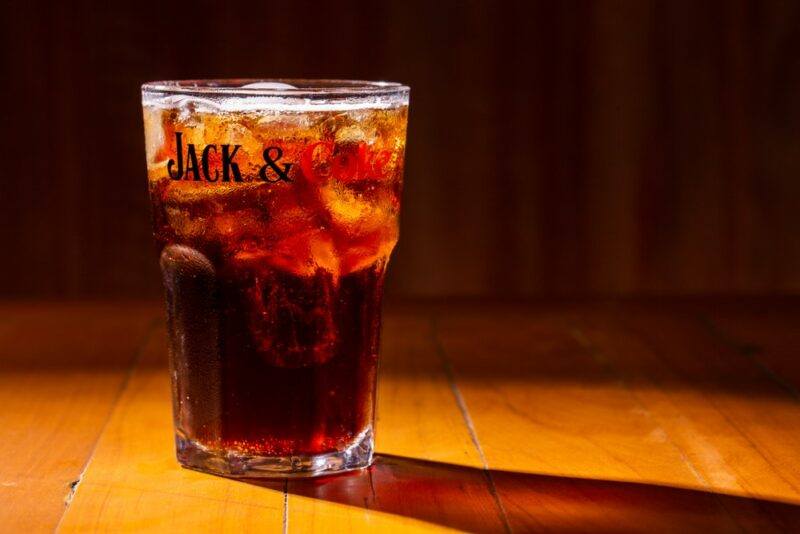 Made with Jack Daniels whiskey and Coca-Cola, a jack and coke has a similar construction to the rum and coke mentioned above. The drink has provided a significant branding opportunity for the companies involved, and the two are often sold in close proximity in stores that sell alcohol.
Jack Daniels has also produced a premixed canned drink that has the same flavors, although cola is used rather than the Coca-Cola specifically.
32. Boilermaker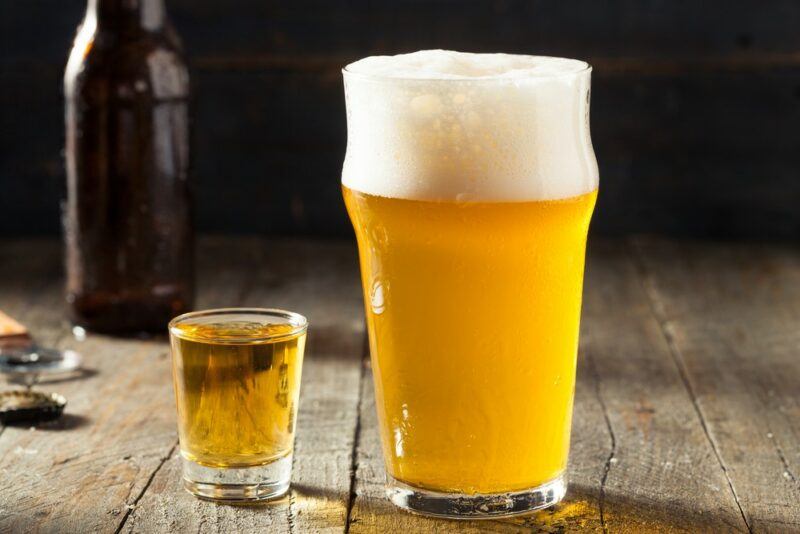 A boilermaker actually refers to two types of drink, both of which involve beer. In the case of the United States, a boilermaker is a shot of whiskey and a glass of beer. These may be mixed or separated.
When separate, the tradition is to drink the liquor as a shot then sip the beer as a chaser. Boilermakers also have considerable history in television and films, partly because when the shot is separate boilermakers are immediately recognizable. In the United Kingdom, the term refers to a mixed drink that is half draught mild and half brown ale.
31. Irish Car Bomb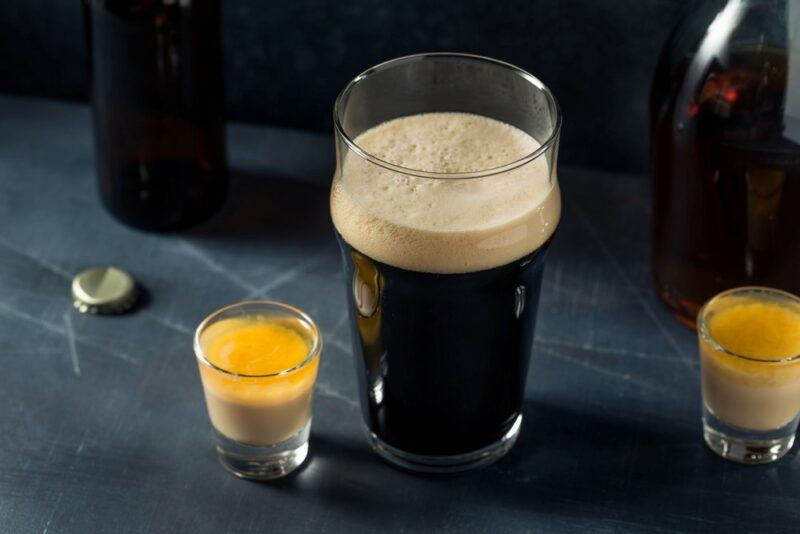 An Irish car bomb is similar to a boilermaker, but with different ingredients. The beer component of the drink is an Irish stout, while the shot is half Irish cream and half Irish whiskey. As with the boilermaker, the shot can be drunk separately or mixed into the beer.
The nature of the components means that once mixed the drink must be consumed quickly, or it will curdle. The name Irish car bomb is somewhat controversial, which makes the drink offensive in some places.
30. Yorsh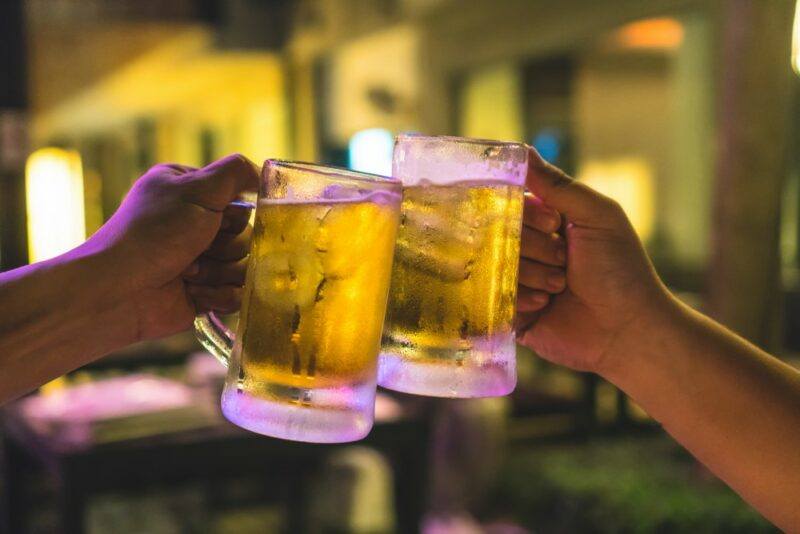 A yorsh is another beer cocktail, and an interesting one. The mixed drink is simply beer mixed in with vodka and the types of beer and vodka used can vary considerably.
Likewise, there is no standard approach for the ratio between beer and vodka, and this tends to vary depending on the desired taste and strength. Because vodka has little flavor of its own, the resulting drink tastes much like the original beer, but it has a much higher amount of alcohol.
29. Gin and Tonic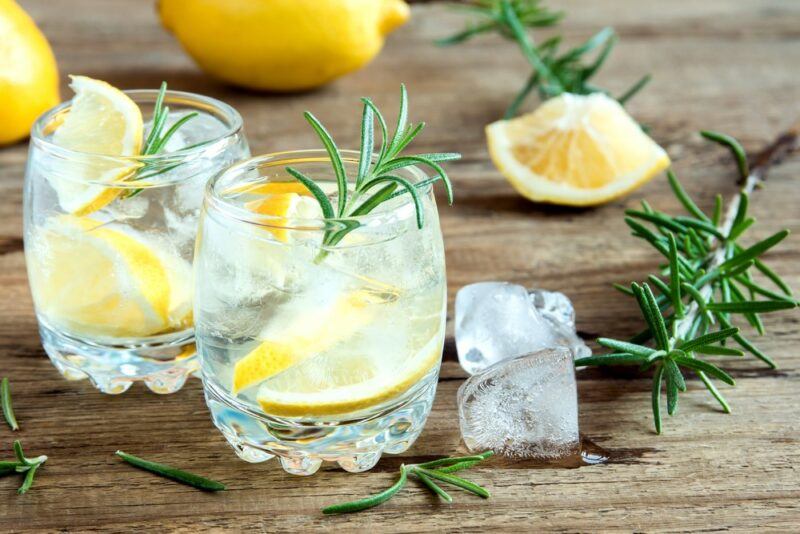 A gin and tonic is a refreshing mixed drink for the summer. It is typically served in a highball glass and is served on ice. The drink just involves a mix of gin and tonic water, based on the preferences of the person making the drink.
In the United States, a common recommendation is to make it yourself using bottled tonic water, as bars tend to use soda out of a tap, which often barely resembles tonic water.
28. Black and Tan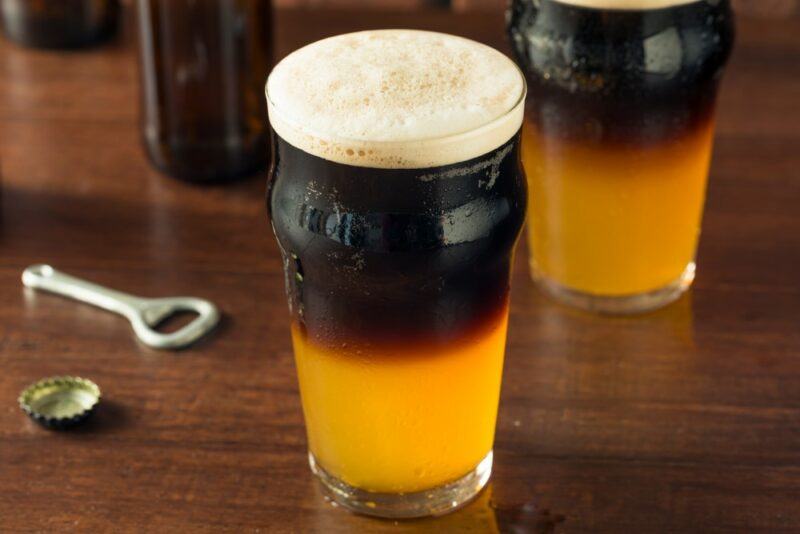 A black and tan is a beer cocktail that involves a blend of dark and pale beer where these are layered in the glass. This is possible because the dark beer has a lower relative density than the bottom beer.
To make the drink, the pale beer needs to be added first and then the dark beer poured slowly on top. The best way to do this is to pour the top layer over an upside down spoon to prevent the layers to mix.
27. Whiskey Sour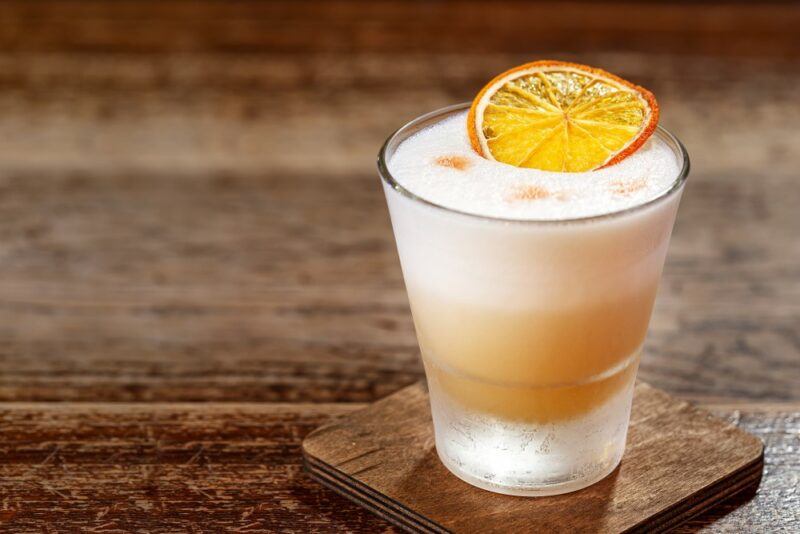 A whiskey sour is a refined drink with a combination of whiskey, lemon juice, and sugar. It is a shaken drink that can be served on the rocks or straight up. The sugar is often provided in the form of syrup, as is the case of many mixed drinks.
The taste ultimately depends on who makes the drink and the combination of ingredients, but they taste a little bit like lemonade and whiskey, and the lemon juice actually tends to make the taste of the whiskey a bit more interesting.
26. Snakebite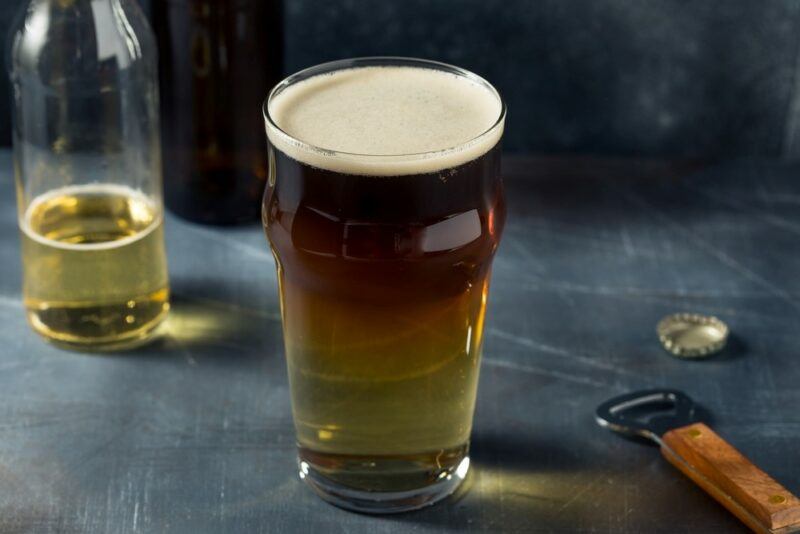 A snakebite is a deceptively simple mixed drink. The drink just involves lager and cider, roughly in equal quantities. The name snakebite is very suitable, because it really does have a bite.
There is a little bit of controversy about the drink, especially in the United Kingdom, where bars may sometimes refuse to sell the drink. The reason for this is that the mix of alcohol can often get people drunk very quickly and it is a frequent choice by people trying to get wasted.
25. Godfather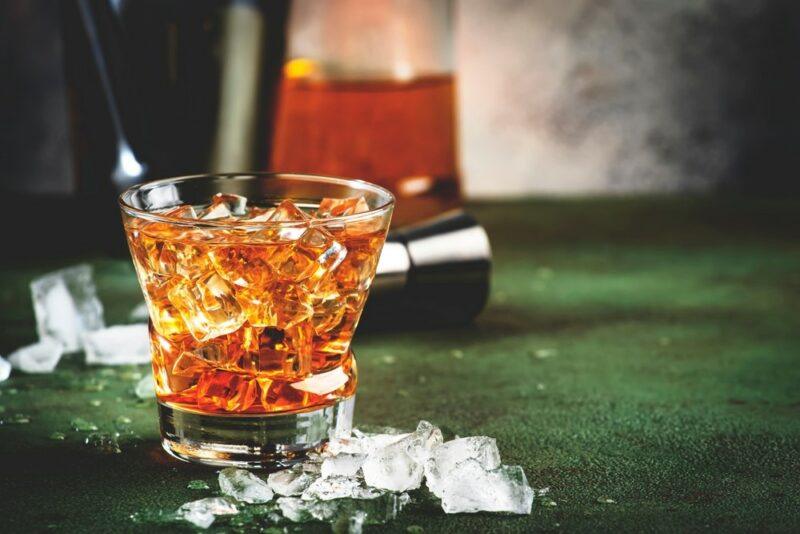 The godfather is simple mixed drink, containing equal parts of amaretto and Scotch whisky. It is served on the rocks in an old fashioned glass (the same glass as the old fashioned drink).
The source of the drink's name is not clear, although it does seem to have a strong reference to the Godfather movies. There is also a godchild variation, which uses brandy instead of scotch. There is also a godmother variation, which replaces the whiskey with vodka.
24. Rusty Nail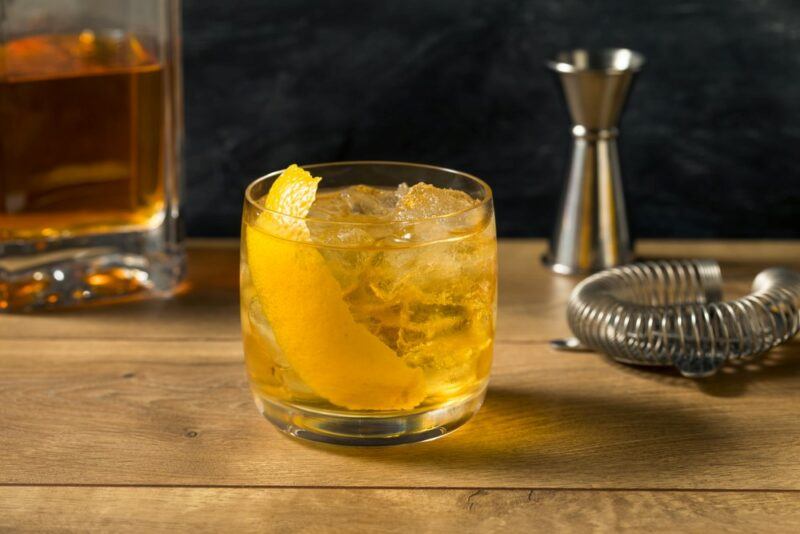 The rusty nail is another example of a two ingredient drink. In this case, the drink uses Scotch whisky and drambuie, in a roughly 2:1 ratio. In some cases, the amount of drambuie is decreased to decrease the overall sweetness of the drink.
Most of the time the drink is served on ice, but it will also sometimes be served neat. Because the drink reliese heavily on Scotch whisky, it is important to avoid cheap Scotches, as they will ruin the drink.
23. Gin St. Clements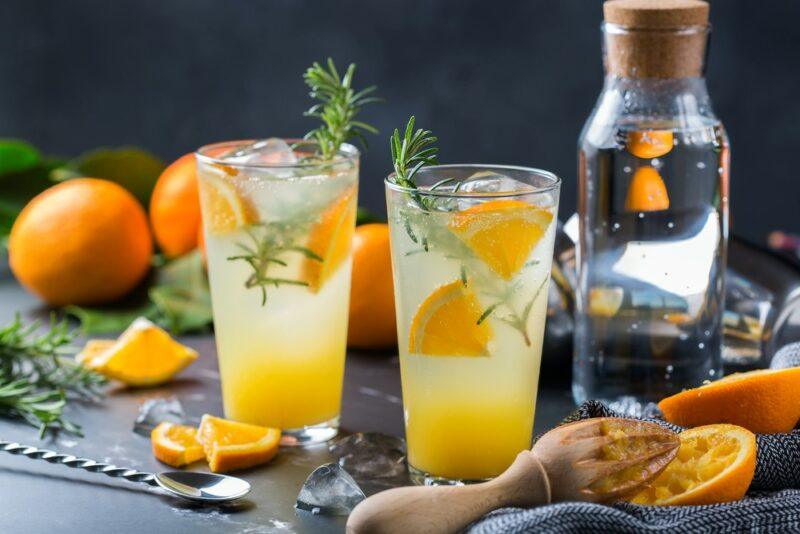 The Gin St. Clements is actually a variation of a non-alcoholic drink, known simply as the St. Clements. That drink involves a combination of orange juice and lemon juice along with tonic water.
The alcoholic version of the drink uses the same ingredients along with the addition of gin. Typically the gin chosen is Beefeater gin, although other types of gin can also be used.
22. Bloody Mary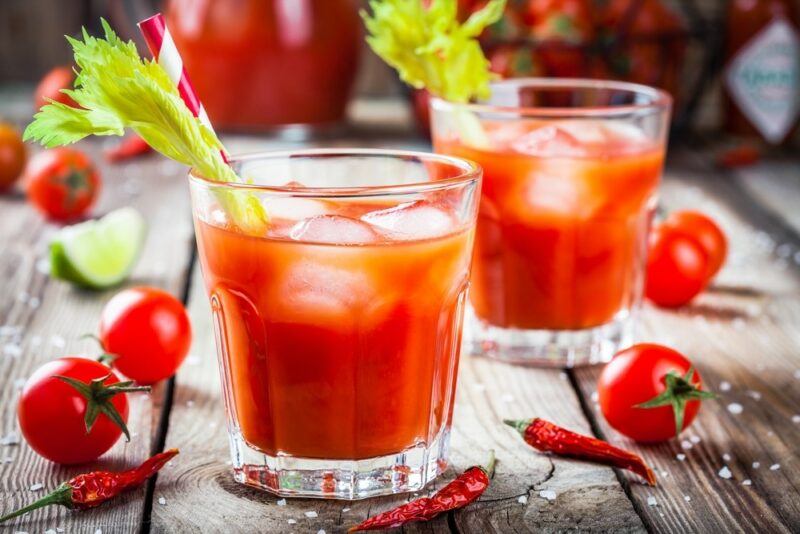 The Bloody Mary is one popular cocktail, but even then it's one that doesn't appeal to everybody. The cocktail itself is a mixture of tomato juice and vodka, served in a highball glass.
However, other flavorings and garnishes are frequently added to the cocktail including (but not limited to), salt, pepper, Tabasco sauce, Worcestershire sauce, cayenne pepper and lemon juice. This makes it an especially complex cocktail and means that the cocktail will vary considerably depending on who prepares it.
And hey, if you're hungry, try these food-inspired cocktails.
21. Mojito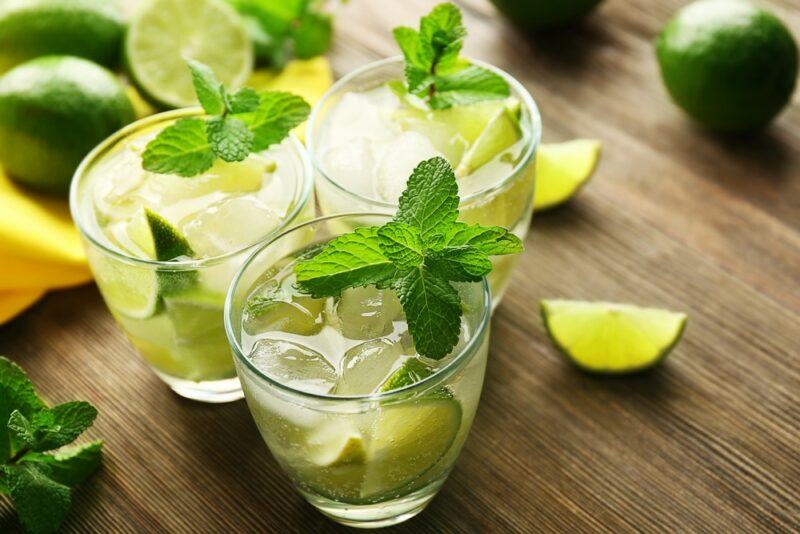 A mojito is a classic cocktail that has origins in Havana. It traditionally involves five ingredients: white run, lime juice, mint leaves, sugar and soda water.
The sweetness of the citrus and the refreshing nature of the mint and the citrus work well against the kick of the rum – although the cocktail typically has a relatively low overall alcohol content. The drink is commonly viewed as a summer drink and has the advantage of looking very visually appealing.
20. Painkiller

(only appropriate on vacation)
The painkiller is a tropical cocktail that that is a twist on the Pina Colada. Like the Pina Colada, the painkiller is a rum cocktail with a strong fruity flavor. In addition to the rum, it also involves the use of pineapple juice, cream of coconut and nutmeg.
The painkiller is actually trademarked by Pusser's Rum and is considered a signature drink for Pusser's. Because of this, the cocktail is exclusively made with Pusser's Rum, rather than any other type of rum.
19. Mint Julep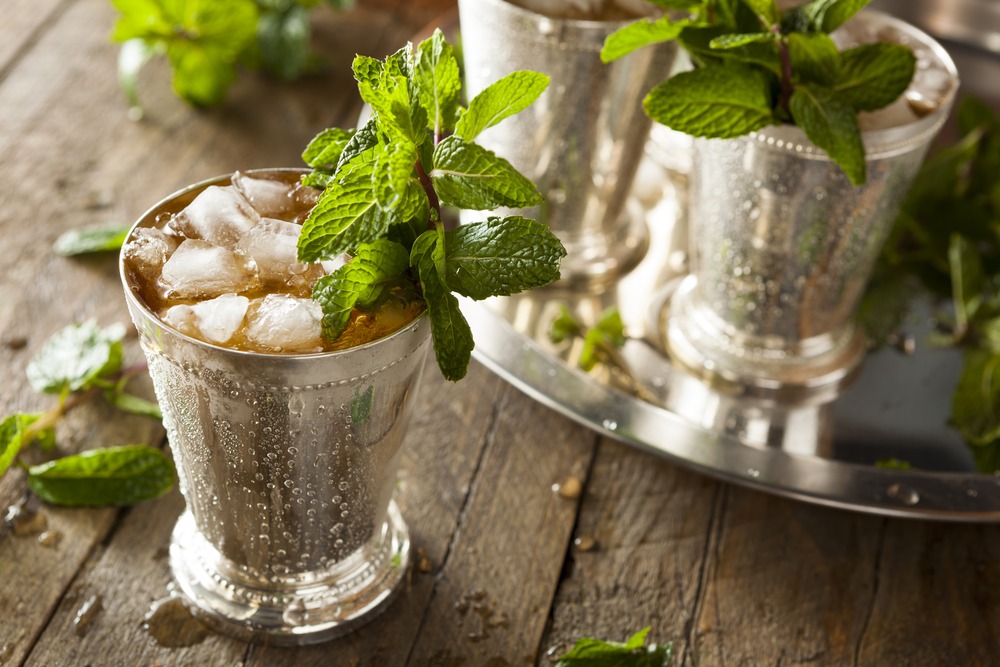 Mint julep is a mixed alcoholic drink that typically involves bourbon whiskey, mint leaves, powdered sugar and some water. There is considerable debate surrounding the way that the cocktail is prepared and the exact approach towards preparation can vary from one bartender to the next.
Mint julep is traditionally served in either pewter or silver. Doing this allows frost to form outside the cup. This practice isn't as common nowadays, but instead the drink is more frequently served in some form of tall glass, like a highball glass or a Collins glass.
18. Sazerac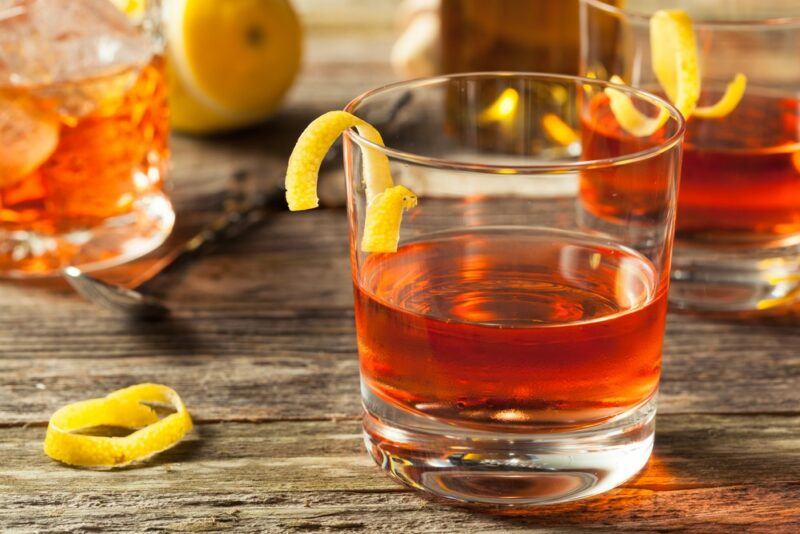 The Sazerac is a cognac cocktail that also uses absinthe, along with a sugar cube and some bitters. The most significant feature of this cocktail is its preparation, which tends to involve the use of two old fashioned glasses that have been chilled.
Although crushed ice is also used as part of the preparation, the final drink is traditionally served straight up and any leftover ice is strained out as part of the preparation for the drink.
17. Absinthe (traditional)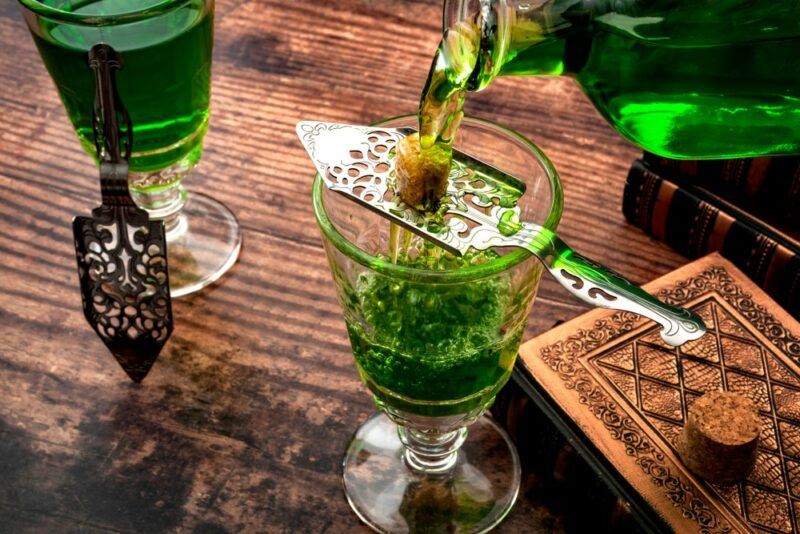 Absinthe is a distilled spirit that is known for its highly alcoholic nature and anise flavoring. Absinthe isn't a cocktail, but it deserves a special mention because of the unique approach to preparing and serving it. A small quantity of absinthe is poured into the glass and then a spoon with holes placed along the top, as the image shows.
Sugar cubes are placed on the spoon and water is poured into the glass. The idea is to pour the water in a way that dissolves the sugar and brings it down into the glass. The technique can take quite some time to get right, especially as absinthe strengths can vary considerably.
16. Whiskey Smash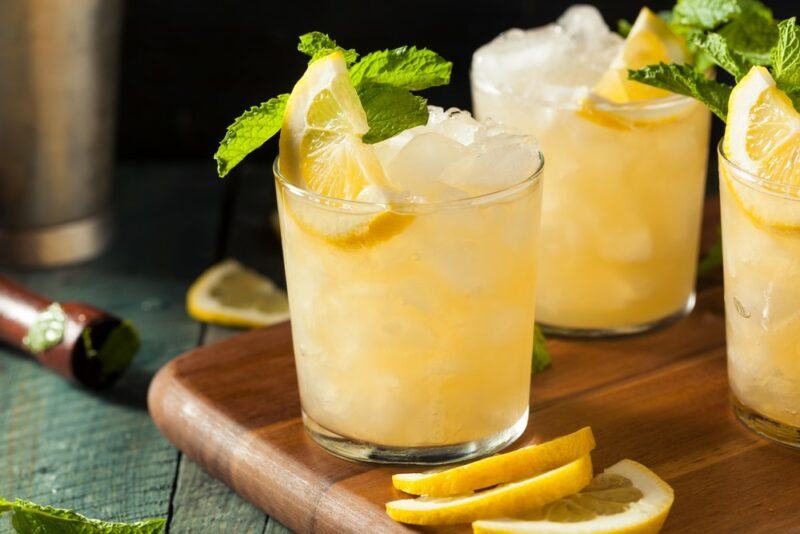 The whiskey smash is one of the older types of cocktails out there, but it is also an unappreciated one. In many ways, the cocktail is a cross between a mint julep and a whiskey sour, containing some elements of each.
One great thing about whiskey sours is that they are an inherently simple recipe, just involving whiskey, mint, simple syrup and lemon. The overall taste of the drink can be tweaked somewhat by changing the type of whiskey used.
15. Steam Roller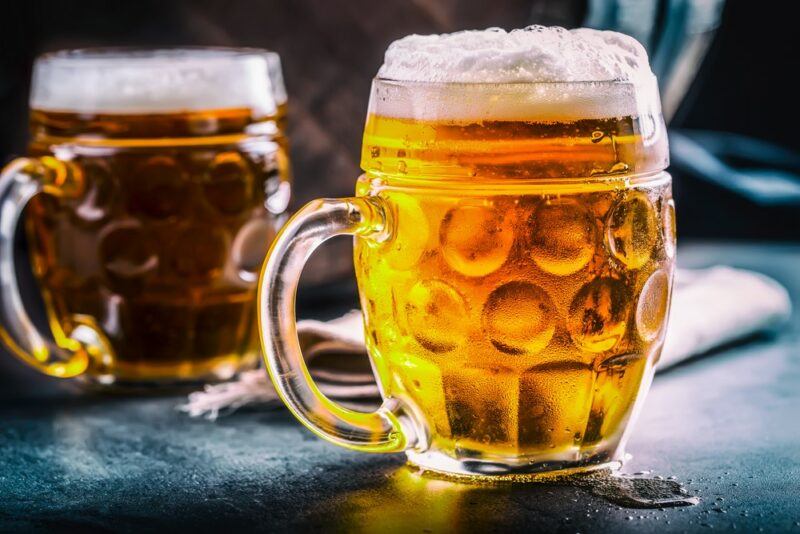 The steam roller is interesting because it is a cocktail that relies on steam beer, which is a type of beer made with lager yeast that does not use refrigeration as part of the process. This creates a full-bodied and appealing beer. The steam roller cocktail uses this type of beer, along with elderflower liqueur, cherry liqueur, whiskey, lemon juice and ice.
14. Stinger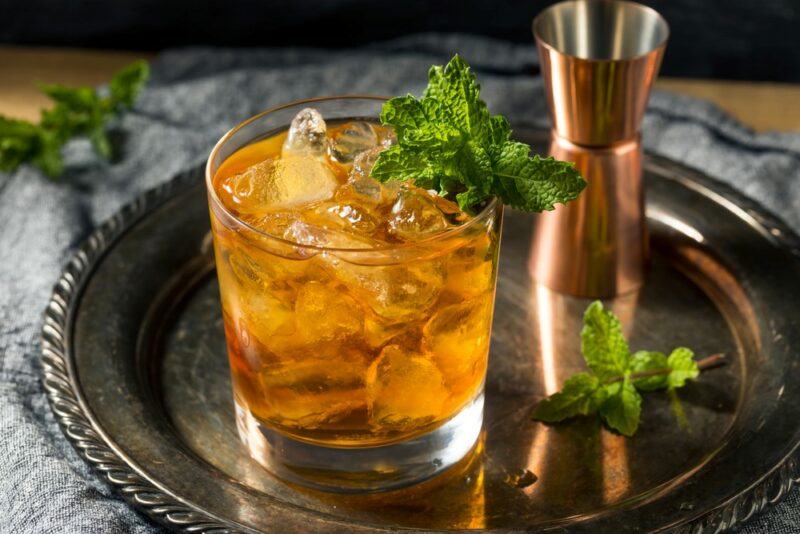 The stinger is a relatively simple cocktail that relies on two ingredients. Its primary alcohol is brandy (most frequently cognac), while the second alcohol used is white crème de menthe.
The drink is compared by mixing in a glass with ice and then straining into a cocktail glass. The use of ice helps to keep the cocktail crisp and refreshing. Because of the mint, the cocktail isn't something that everybody will enjoy. If the mint doesn't sound appealing, then you may not find the cocktail especially appealing either.
13. Scotch & Soda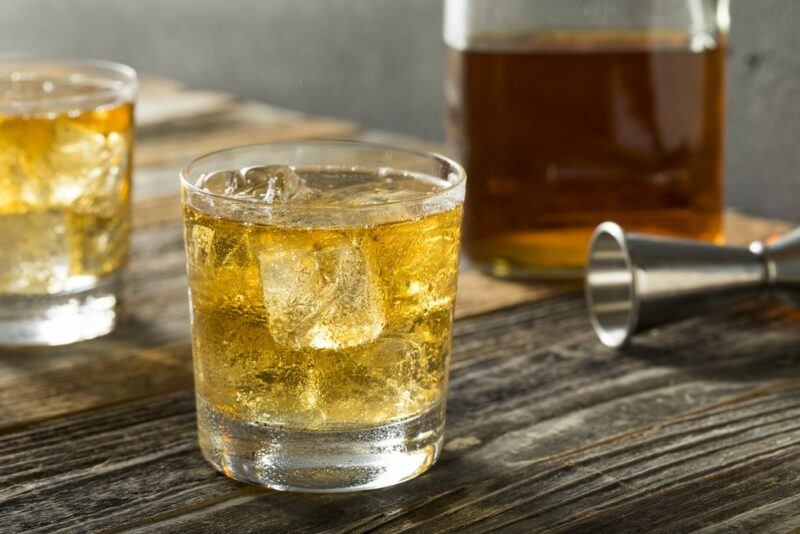 A scotch and soda cocktail is exactly what it sounds like. It is a combination of Scotch whisky and club soda, frequently served on ice. Like other similar drinks, scotch and soda is especially easy to make and doesn't involve any complexities in pouring.
The exact ratio of scotch to soda depends largely on the taste that the users prefers. The chosen type of whiskey can also have some variation on the preferred ratio, as some types of whiskey have a more favorable flavor profile than others.
12. Rob Roy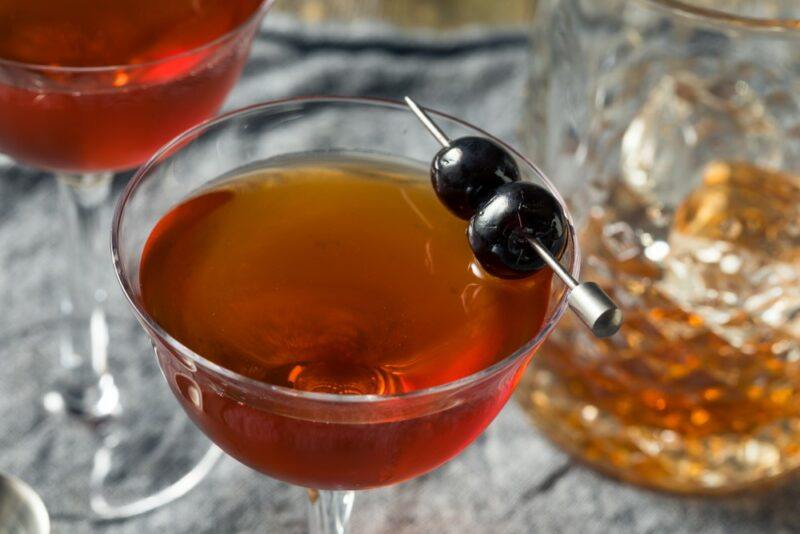 The Rob Roy is a specific type of Manhattan, distinguished by its exclusive use of Scotch whisky. The name of drink was inspired by an opera that was based on the Scottish hero Rob Roy.
Like other Manhattans, the Rob Roy also uses sweet vermouth and bitters. Just like a normal Manhattan, the Rob Roy can be made in a number of variations, including dry, which uses dry vermouth.
11. Kamikaze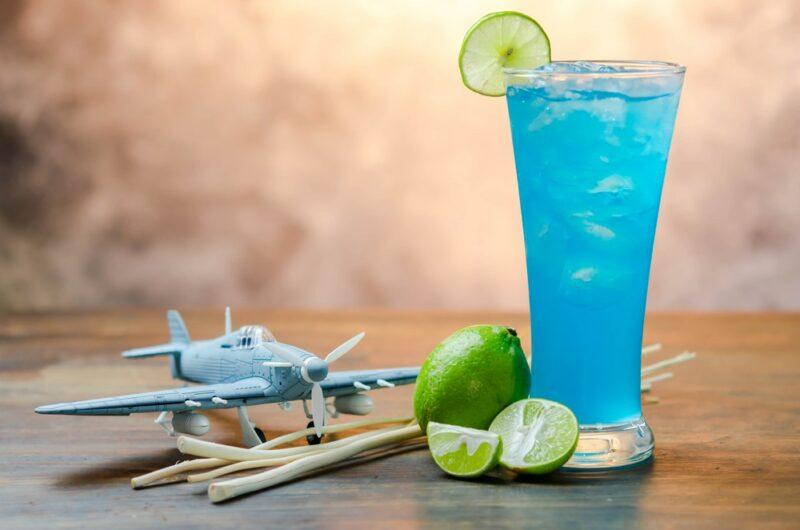 The kamikaze is served both as a drink and as a shot. The drink makes use of vodka, triple sec and lime juice.
The IBA version of the drink specifies equal measures of each of these three components, but many variations do exist, both in terms of the proportion of the ingredients and in the specific ingredients. For example, the blue version is made either by adding in a drop of blue food coloring, or by using blue curacao instead of the triple sec.
10. Hemingway Daiquiri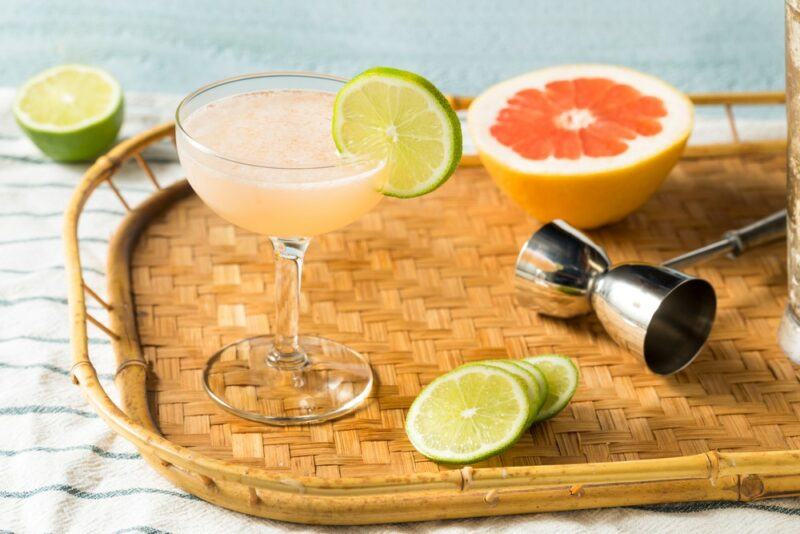 The Hemingway Daiquiri is named for the famous author and is thought to be the drink that Hemingway most commonly consumed. It is also known as an El Papa Doble, but the name Hemingway Daiquiri has now become much more common.
The cocktail makes use of a line rum, maraschino liqueur along with lime and grapefruit juice. Red grapefruit is often preferred because it is more visually appealing, although this isn't necessary. The combination of lime, grapefruit and light rum creates a complex and tart cocktail that doesn't have the same over-the-top sweetness that many cocktails suffer from.
9. Greyhound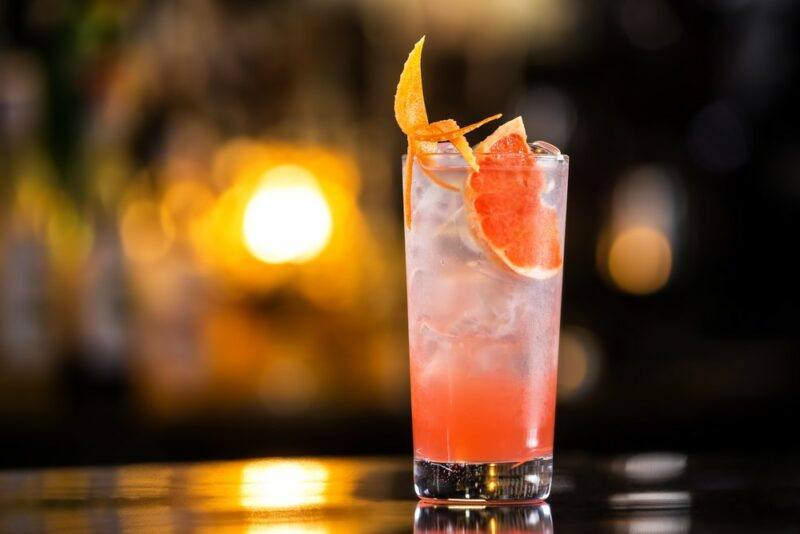 The greyhound is a fairly simple drink – just the combination of grapefruit juice and gin, although vodka is sometimes used instead of gin.
Because of the composition of the drink, the greyhound tends to taste strongly of grapefruit, especially if vodka is used instead of gin. This can make the drink especially unappealing for anyone who doesn't particularly like the taste of grapefruit. This is a great cocktail for the morning as well.
8. Gin Rickey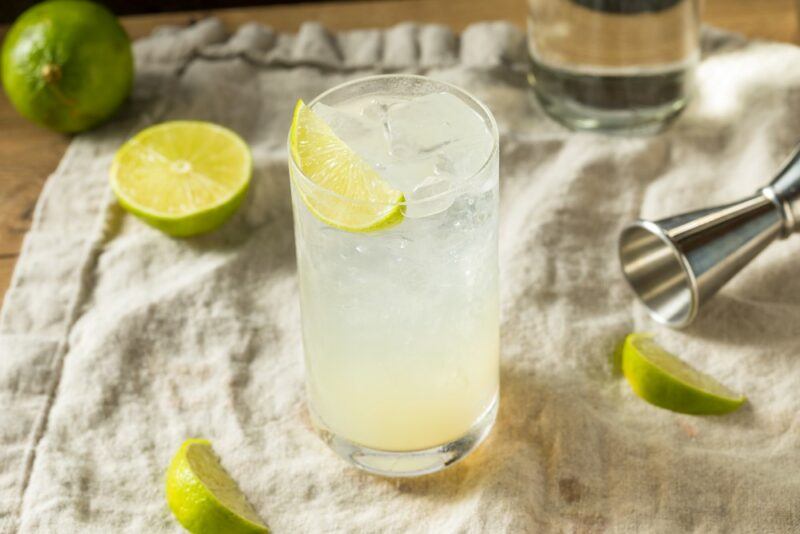 Gin rickey is another refreshing cocktail that takes advantage of the shape taste of lime. This produces a cocktail that is tart and appealing, without being overly sweet.
The cocktail itself is fairly simple, just using gin, the juice from about half of a lime and carbonated water. In many ways, the end result is similar to a gin and tonic, except that the sharpness of the lime replaces the distinct taste of tonic water.
7. Cuban Libre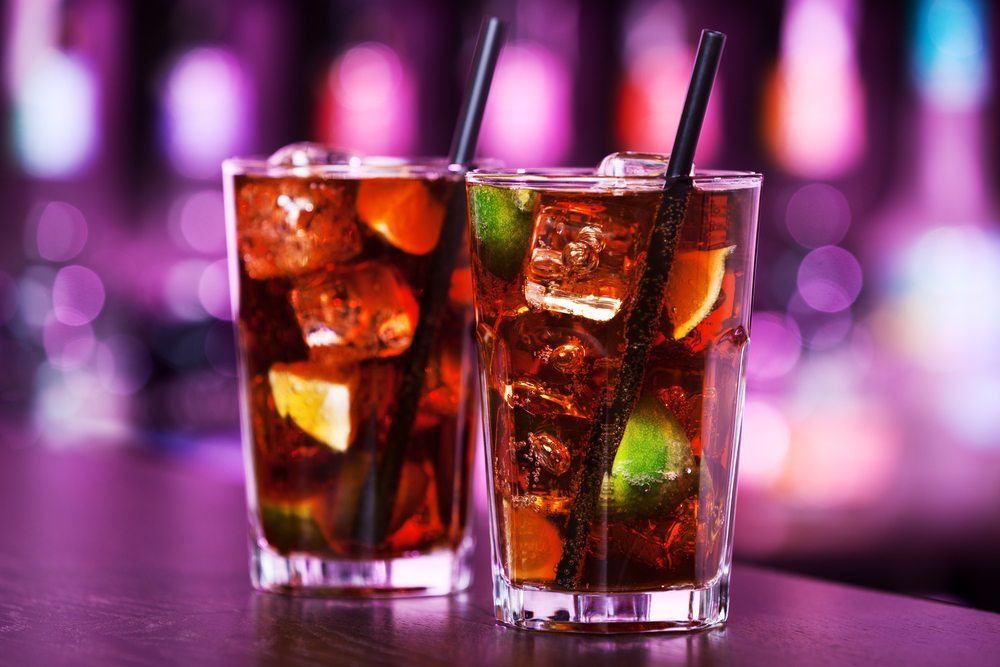 The Cuba libre is a basic cocktail made from rum, lime and cola. As I mentioned previously, this is a variation on a basic rum and coke, and is simply referred to as rum and coke in many parts of the world.
It is a particularly appealing drink because of its simplicity, and the addition of lime helps to make the drink a little more interesting than basic rum and coke.
6. Black Velvet
Black velvet is a bit of an unusual cocktail. It uses a stout along with a sparkling white wine, often champagne. Most of the time, Guinness is the stout of choice for the cocktail, although other stouts can be used.
The different densities of the stout and the wine produces a dual-layer effect, which looks very appealing in a glass. For this reason, a champagne flute is often chosen as glassware to serve the beverage in.
5. El Presidente

El Presidente is a rum cocktail, typically served without ice, although that isn't always the case. The cocktail uses two parts rum, one part dry vermouth, one part dry curacao and a little grenadine.
The color of the drink can vary considerably depending on the specific types of each ingredient used. For example, curacao comes in orange and in blue, whereas rum may be either dark or light.
4. The Little Italy
The Little Italy cocktail is a pretty good example of New York in a glass. The cocktail involves rye whiskey, cynar, and sweet vermouth along with a couple of skewered cherries. The cocktail is fairly simple to make, and involves mixing all of the ingredients together with ice and then straining into the cocktail glass. (start 3:06)
3. Irish Coffee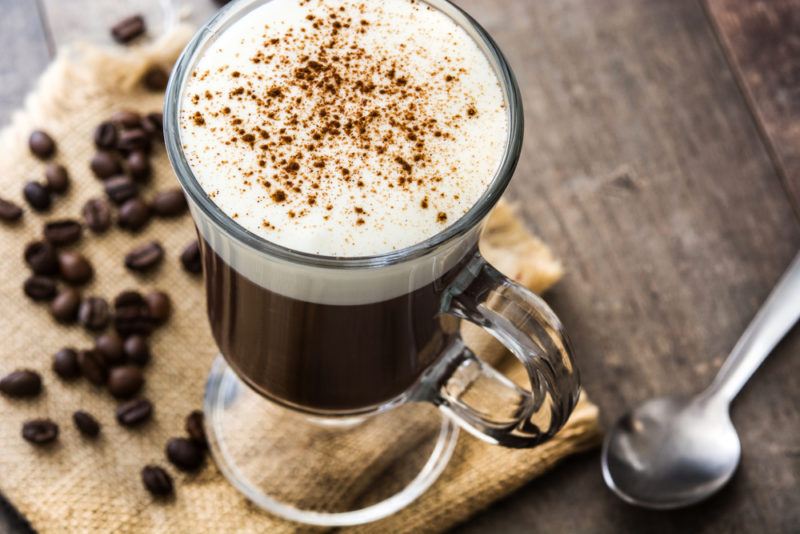 I don't have many hot mixed drinks on this list – largely because they aren't all that common. One particularly good one is Irish coffee. This is a mixture of hot coffee along with cream, brown sugar and most importantly, Irish whiskey.
The drink is especially appealing for coffee lovers, as the flavor of Irish whiskey only enhances the overall taste of the coffee. There are certainly other types of hot coffee cocktails out there, but Irish coffee is one of the most well-known examples.
2. Hot Toddy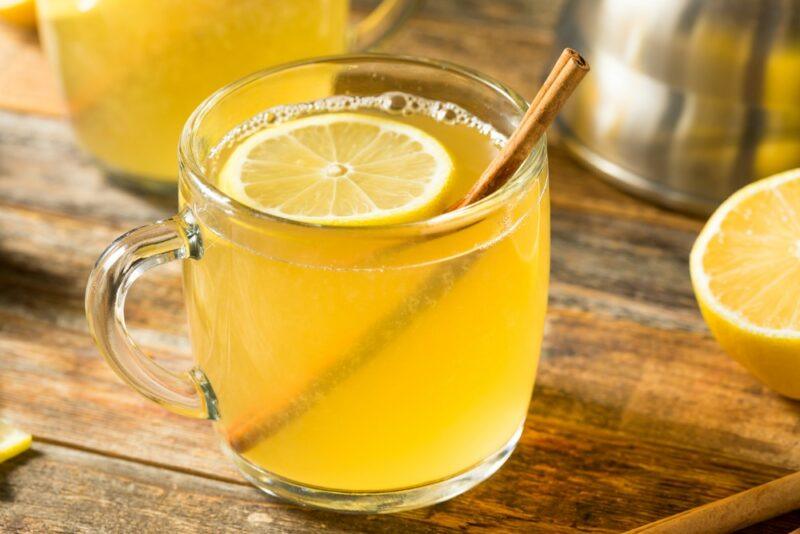 There is no single recipe for a hot toddy. Instead, it is a more general term for hot drinks that include a spirit, boiling water, spices and honey. Some other common ingredients in the drinks include cinnamon, cloves, lemon juice and a lemon slice.
Hot toddies are especially common as ways to treat a cold or to help anyone feeling 'under the weather' in general. Indeed, the cocktail can be quite soothing and the alcoholic aspect numbs some pain and can sometimes make other symptoms seem to matter less.
1. Martini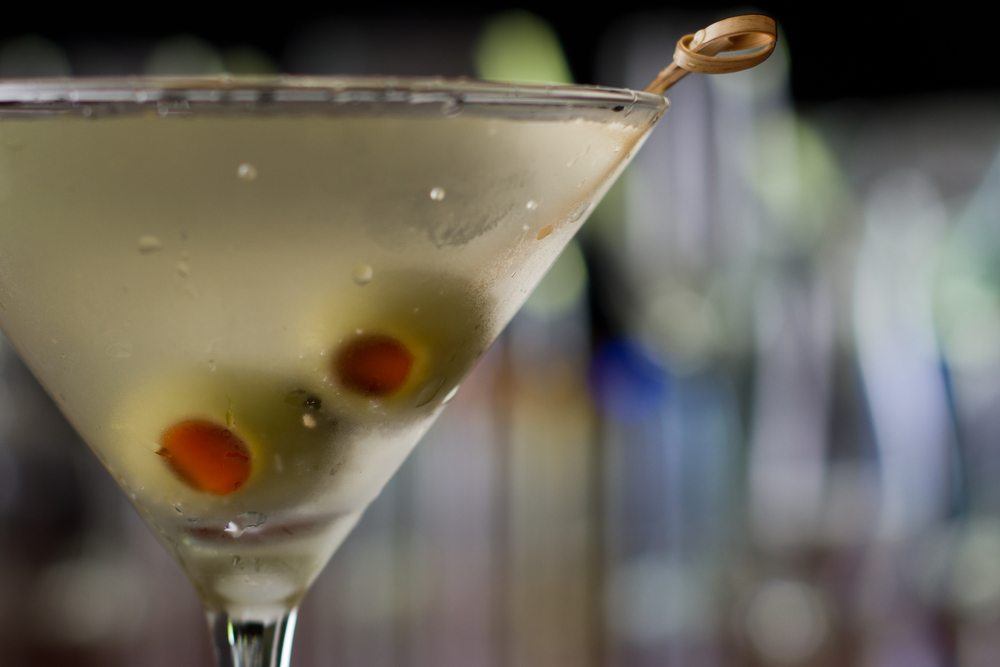 Our final example is the ever-famous martini. At its most basic, a martini is made from gin and vermouth (mostly gin) and it is garnished either with olives or with a twist of lemon.
In modern times, the martini has become increasingly popular, especially because of its use in popular media, such as in the James Bond movies. There are many different variations of the martini, including dry, dirty and perfect.
Tips On How to Order A Drink Like A Man
Some of this video is a bit too…alpha for me, but there are some pretty good tips in here like not hitting on the bartender, and how to tips. Although a $5 tip does seem a bit outrageous!
What Makes A Drink Manly?
Many drinks can be defined in a few ways – depending on who you ask. Often they're dark drinks that are fairly bitter, like many whiskey cocktails. Other drinks are most famous for having a manly name, like the steam roller, snakebite, or Godfather.
Finally there's the strength. Some drinks don't look or taste particularly manly, but they are incredibly strong. This is why it's so easy to get drunk on manly tropical drinks.
Still… when it comes to it, what makes the drink manly is the person drinking it. If you order with confidence, you can have whatever drink you want to.
What Manly Drinks Can You Order At A Bar?
Most of the cocktails on this list can be ordered at the bar, particularly those that are well known. The two-ingredient cocktails are particularly easy, like Jack & coke, rum and coke, and a gin and tonic.
Many classic cocktails, including the old fashioned, whiskey sour, godfather, and rusty nail.
Which Cocktails Are Best To Make At Home?
Two-ingredient and three-ingredient cocktails are the easiest to make at home, especially if your home bar isn't particularly well-stocked.
Unusual and complicated recipes are also worth making at home. For example, few bartenders will be familiar with the 11th hour shot and evening in Mexico cocktail. You could explain to them, but it's much easier to become an expert in your home bar.