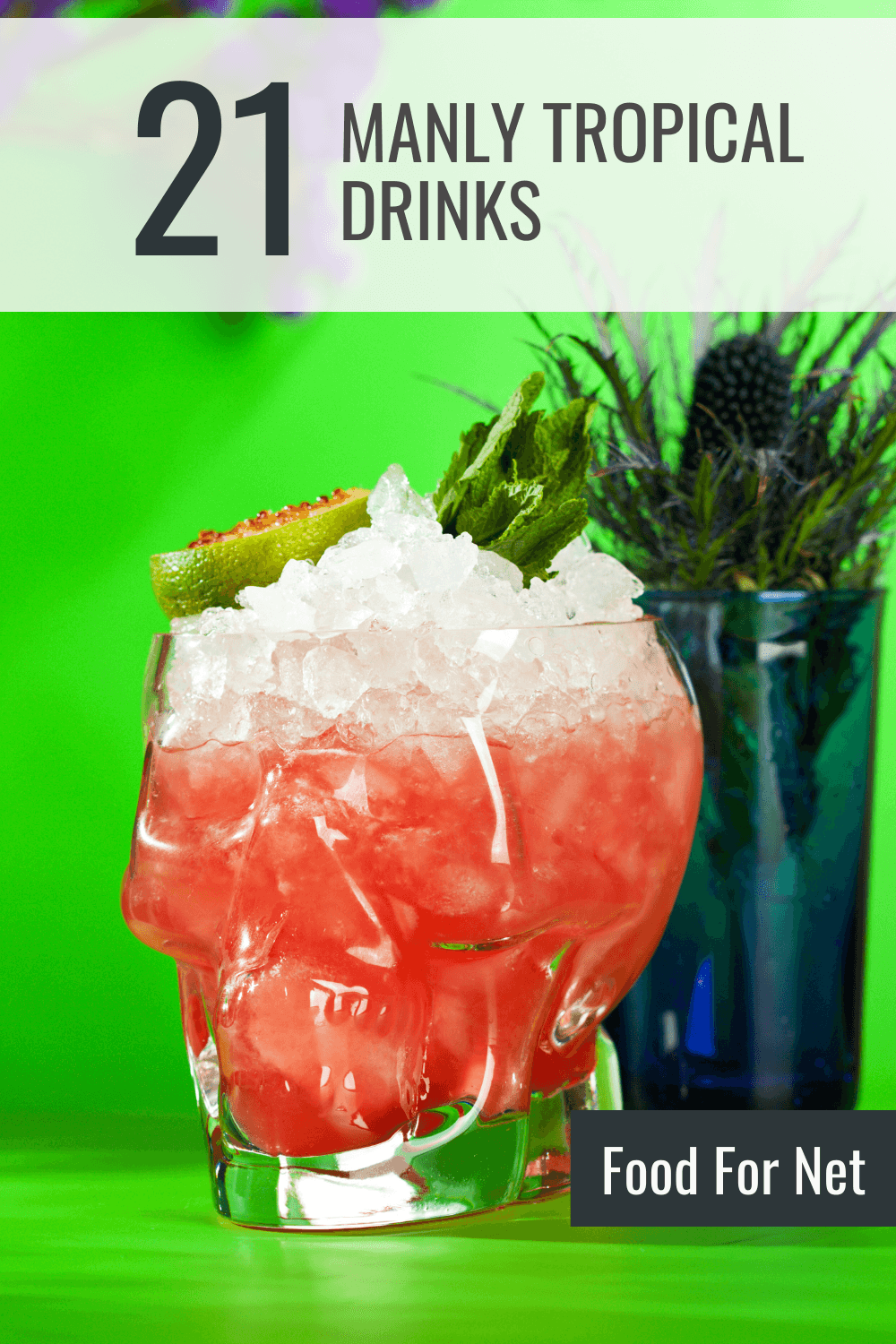 Tropical drinks are normally seen as girly, due to their bright colors and often overbearing sweetness. You might be tempted to stick to beer or a dram of whiskey on your next vacation. That's a shame though, as there are plenty of manly tropical drinks.
These don't have the same dark colors that you often see with manly mixed drinks. Many are still very fruity. Despite this, these cocktails often pack a considerable punch. Seriously. Some are among the strongest mixed drinks that you can order.
Besides, who says that fruity can't be manly? Prove the skeptics wrong with these cocktails. You won't be disappointed. Why not try to order one at a bar?
P.S. While we're talking about manly drinks, how about making a manly birthday cake? After all, cakes can be manly too, you just need to be a little creative.
Manly Tropical Drinks (With Pictures!)
Zombie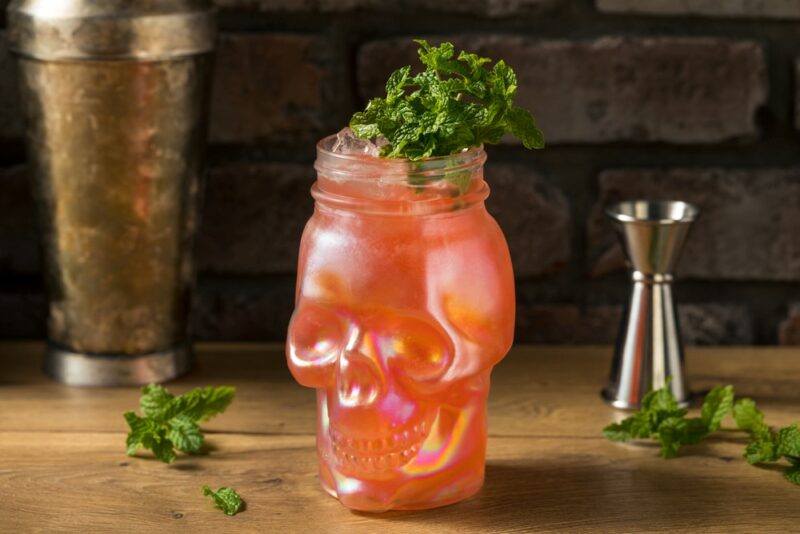 Let's begin our list with a famous cocktail – the zombie. This is a typical tropical drink, often including pineapple, lime, and orange juice. Passionfruit puree sometimes makes an appearance too. So does apricot brandy.
It's often said, though, that a few zombie cocktails will make you feel like a zombie. Even one of them might, as the zombie is incredibly strong.
The strength comes from the use of three different rums, often a white rum, a dark rum, and an overproof rum. The apricot brandy adds to the alcohol content too.
Despite the high strength, the cocktail goes down easily. Perhaps too easily. You can blame the fruit juice for that effect.
Long Island Coquito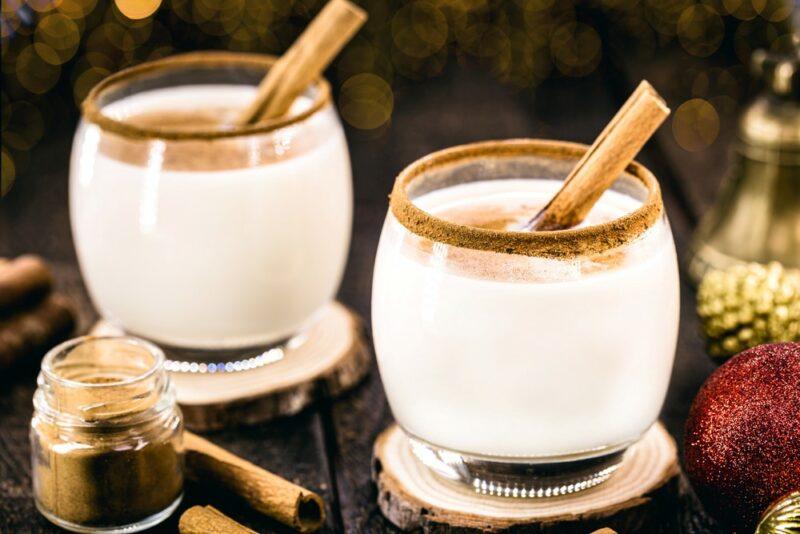 Tropical drinks don't need to be fruity. Why not look for coconut-focused drinks instead, like this one?
The cocktail is inspired by the classic coquito and by the long island iced tea (the name gives that away). So, you've got plenty of creamy ingredients, including both coconut milk and coconut cream.
There's also plenty of booze in the mix. Gin, tequila, coconut rum, and coconut vodka all feature in a 1:1:1:1 ratio. As with the Long Island iced tea, it doesn't sound like this combination should work. Yet, somehow you end up with a delicious drink.
Coconut Margarita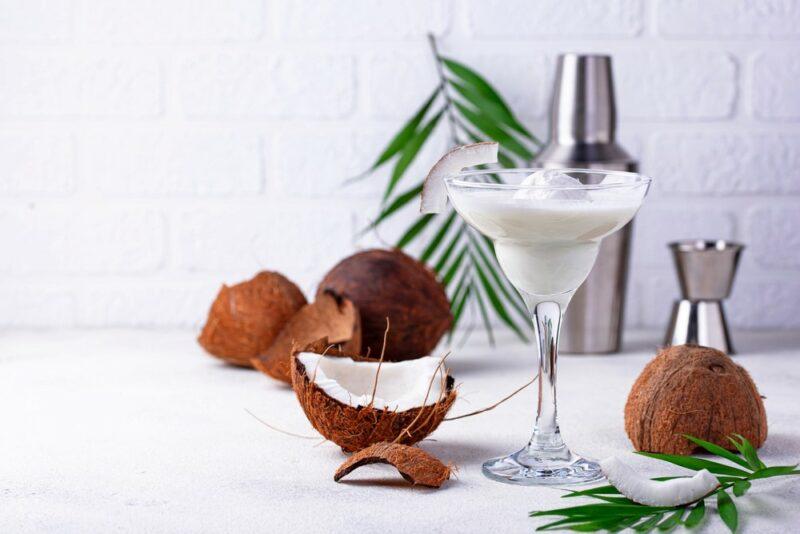 The margarita is a classic tequila cocktail that relies on triple sec, lime juice, and orange liqueur. It's not a particularly tropical drink, unless you make a coconut margarita.
For a coconut margarita, you're generally adding both coconut cream and coconut milk into the mix. These provide creaminess and a rich coconut flavor. Shredded coconut never goes amiss either.
The rest of the ingredients remain much the same, although you can skip the orange liqueur. Adding a tiny bit of salt to the cocktail helps as well. Otherwise, it can end up being too sweet.
Whether this is a manly drink is up for debate. We think it is though, as it is a far cry from all the brightly colored fruity cocktails.
Navy Grog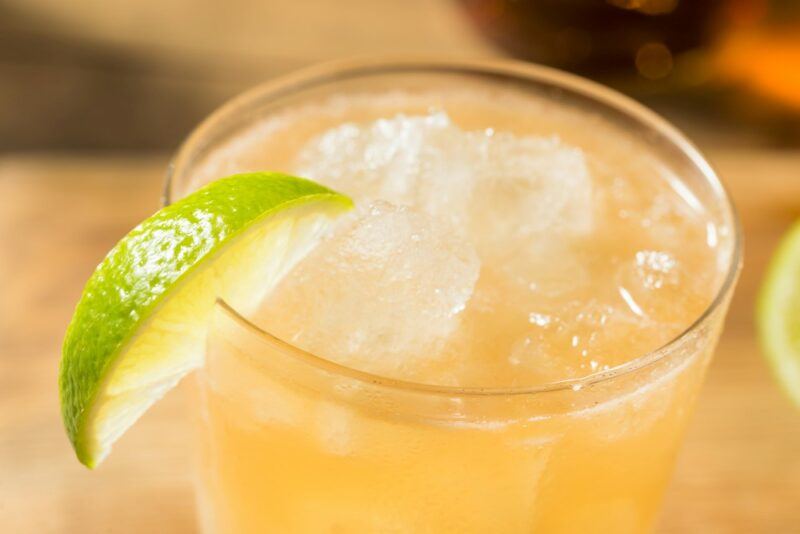 Navy grog isn't as fruity as other tropical cocktails, which might be a good thing. Instead, it's a rum heavy drink that relies on three different rums, plus grapefruit juice and lime juice.
The other ingredients vary a little depending on the recipe, but you'll often see honey syrup and club soda included. Some versions have brown sugar syrup and pimento dram liqueur as well.
Regardless of the recipe, this is always a highly alcoholic drink – especially as there's often one or more overproof rum in the mix.
Ancient Mariner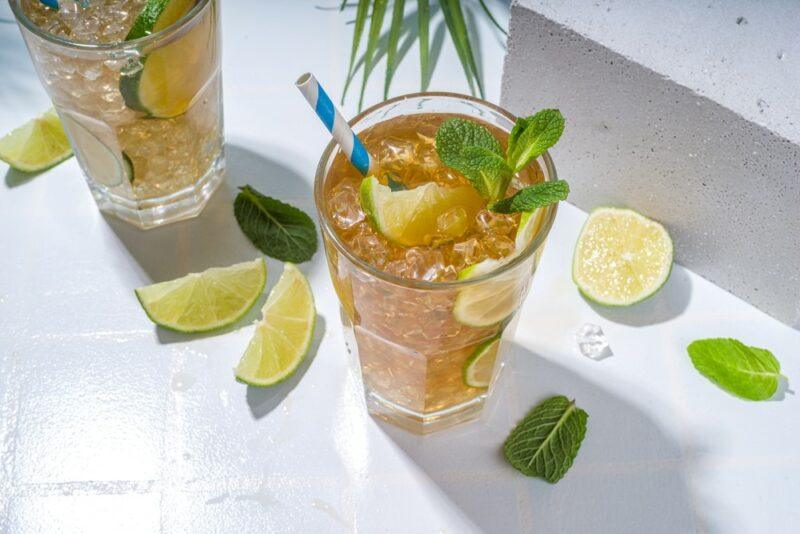 This boozy cocktail is a delicious tropical choice. It combines two types of rum with pimento dram liqueur, lime juice, pink grapefruit juice, and sugar syrup. Aged rum and dark rum are ideal here, as these provide just the right amount of flavor complexity.
The use of grapefruit juice and lime is clever too – giving you a tart and complex drink, rather than an overly sweet one.
Caipirinha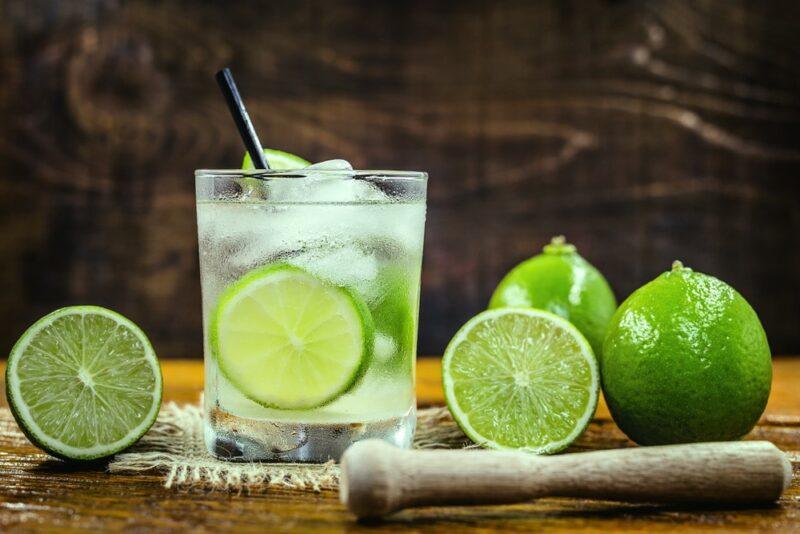 The caipirinha is the perfect tropical drink for lime lovers. It's considered to be Brazil's national drink, which tells you a lot about how popular it is.
The cocktail is simple, just relying on cachaça, sugar, and lime wedges. Cachaça is a distinctive liquor created from sugar cane and found in Brazil.
Cachaça has a unique herbal flavor that provides an almost grassy flavor to the caipirinha. The taste is hard to describe, but is good enough that people turn to this cocktail time and time again.
In fact, the caipirinha is one of the few cocktails that uses cachaça. Yet, this single cocktail is popular enough to drive sales of the spirit. That should tell you a thing or three about the flavor.
Jet Pilot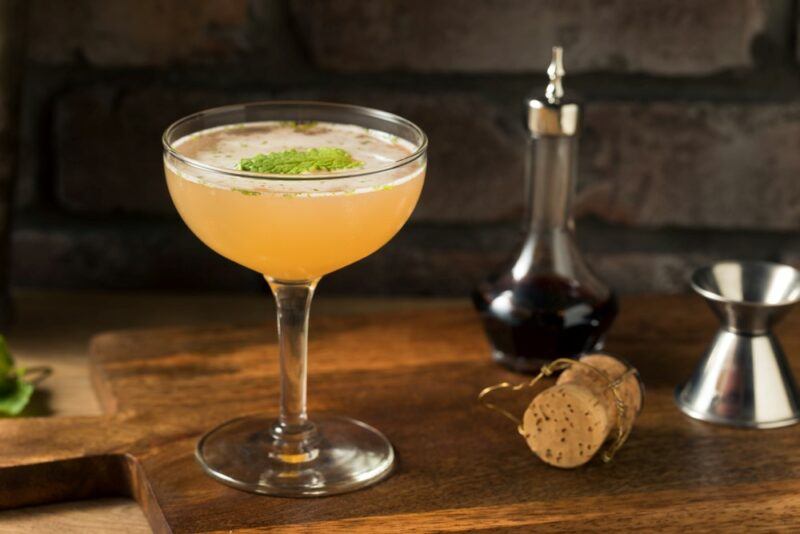 With a name like jet pilot, how could this cocktail not be manly?
It's more impressive than just the name too, as the cocktail uses three types of rum (one of which is overproof). The rums are balanced by a variety of ingredients, including bitters, absinthe, and cinnamon sugar syrup.
The ingredients are all blended at the same time, so that aspect of the cocktail is easy. However, finding all the ingredients is a more complex task, as some are pretty uncommon.
Still, if you have or can find the ingredients, then this delicious cocktail is well-worth trying.
Bahama Mama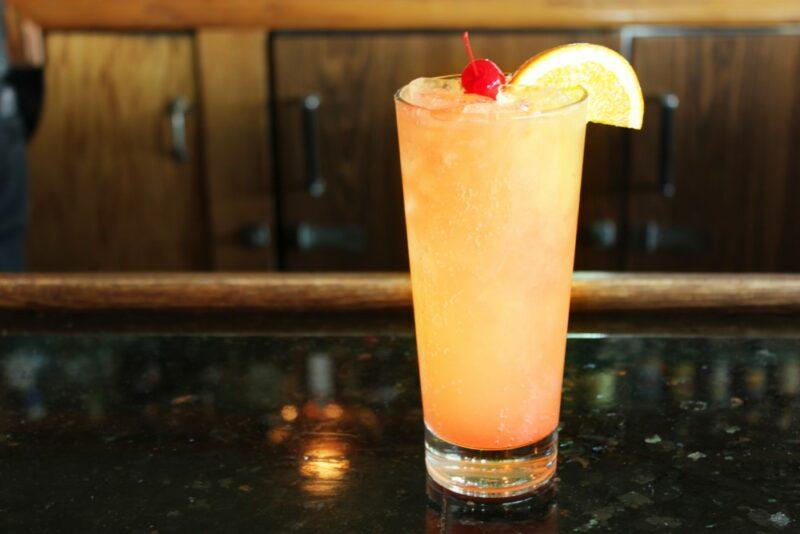 Like many of our other entries, the Bahama mama shines because it's decently boozy and isn't too sweet. It also provides some familiar flavors, as the cocktail combines two types of rum, two coconut liqueurs, pineapple juice, and lemon juice.
As such, the Bahama mama has that classic combination of rum, pineapple, and coconut.
There's one other interesting ingredient – coffee liqueur. This isn't often found in tiki cocktails, yet it balances the other ingredients out surprisingly well.
Jungle Bird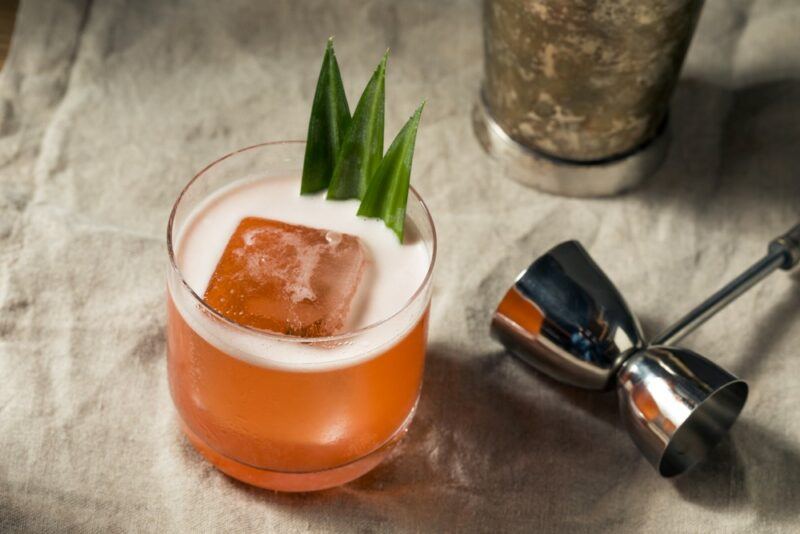 The name of this cocktail is fitting, as it was created at the Kuala Lumpur Hilton, in a bar called the Aviary.
The bright red color comes from Italian red bitter liqueur, which is complemented by dark rum, pineapple juice, lime juice, and sugar syrup. The sugar syrup offsets some of the other ingredients, but you still end up with an intense bittersweet cocktail.
The flavor profile here isn't quite the same as a traditional tiki drink, but that's hardly a bad thing – and there's still enough fruitiness to make the cocktail work well.
Baja Tiki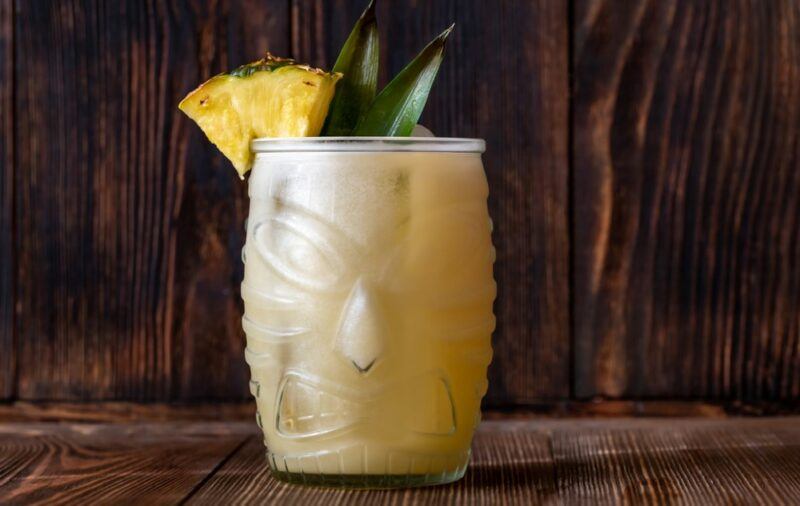 This drink proves that tropical cocktails can still be refreshing and complex. Pineapple juice provides much of the drink's color and flavor, but this is balanced out by lime juice, tequila, rum, triple sec, and a few other ingredients.
The combination of rum and tequila alone makes this perfect as a manly cocktail. Plus, the baja tiki isn't as bright as drinks like the mai tai and the tequila sunrise, which might be appealing.
Drunken Monkey Rum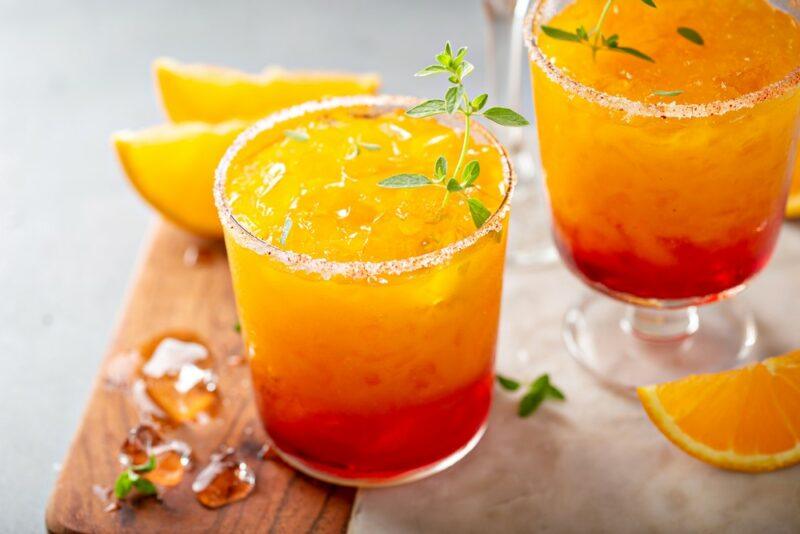 This cocktail was designed as a recreation of a tropical drink that the author enjoyed on a Caribbean cruise.
It is a sweet drink, relying on a decent amount of orange-pineapple juice, while avoiding the lime or lemon juice found in so many tropical cocktails. However, the sweetness also masks the rum, making this an easy cocktail to get drunk on.
While there's nothing very unusual about this cocktail, it is a fun one to try. It would also work well as a tropical drink to serve at a party.
Three Dots And A Dash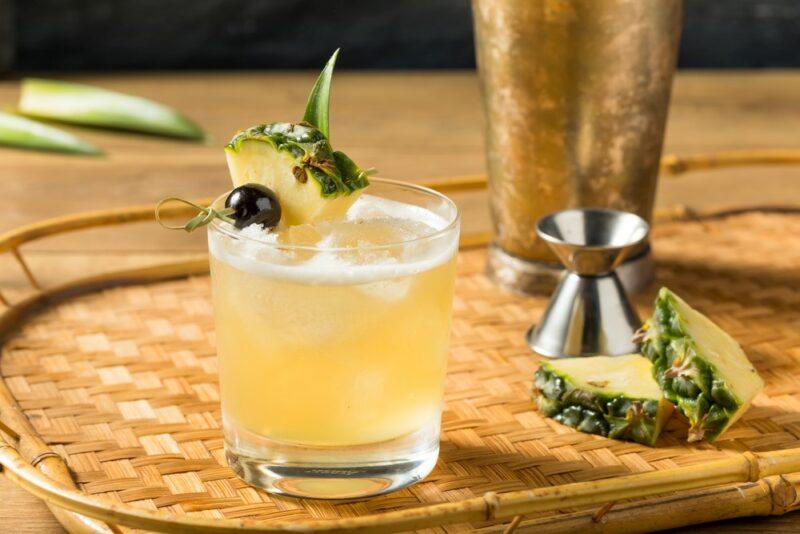 Tropical cocktails are often complex, but three dots and a dash takes the cake. While the recipe varies somewhat, you're often looking at two types of liqueur, lime juice, orange juice, angostura bitters, honey syrup, and two types of rum.
Quite a mouthful, wouldn't you say? Thankfully, the cocktail does actually taste good. The different ingredients balance each other out nicely.
The drink's name makes it extra manly, as it is named for the morse code signal used for victory.
Fog Cutter

The fog cutter is another surprisingly complex drink. It uses aged rum as a base, which imparts a rich flavor. There's also bourbon and gin, each adding to the flavor profile.
Beyond this, there are the fruit juices. Pineapple juice, orange juice, and lime juice all feature – providing a distinctly tropical profile. As if all of this weren't enough, there is also some honey syrup and orgeat syrup.
Despite the number of ingredients, the fog cutter isn't overkill at all. The different flavors complement each other well. You might even come back for a second one.
Hurricane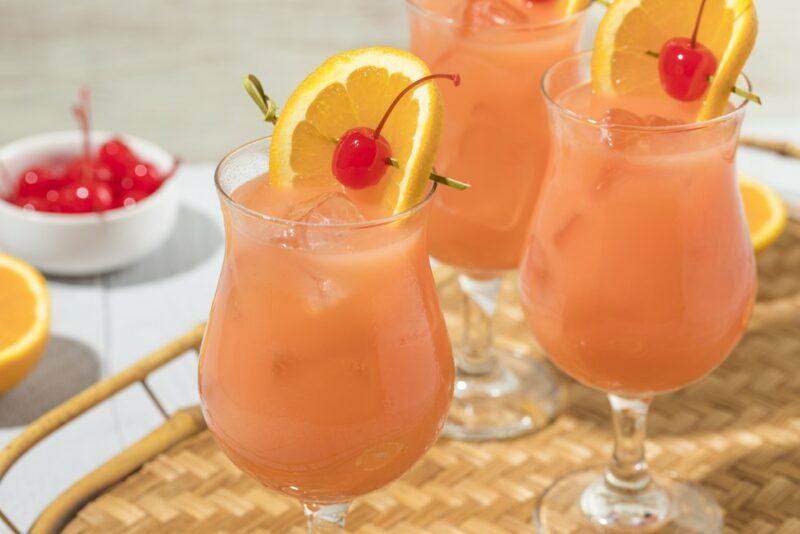 The hurricane isn't a traditionally manly drink, as it's bright and sweet. However, it's also a surprisingly boozy drink, as it contains decent servings of light rum and dark rum.
The other ingredients simply make that rum easier to drink. The hurricane is particularly popular in New Orleans, although you can find it in plenty of other places too.
Drunk In The August Sun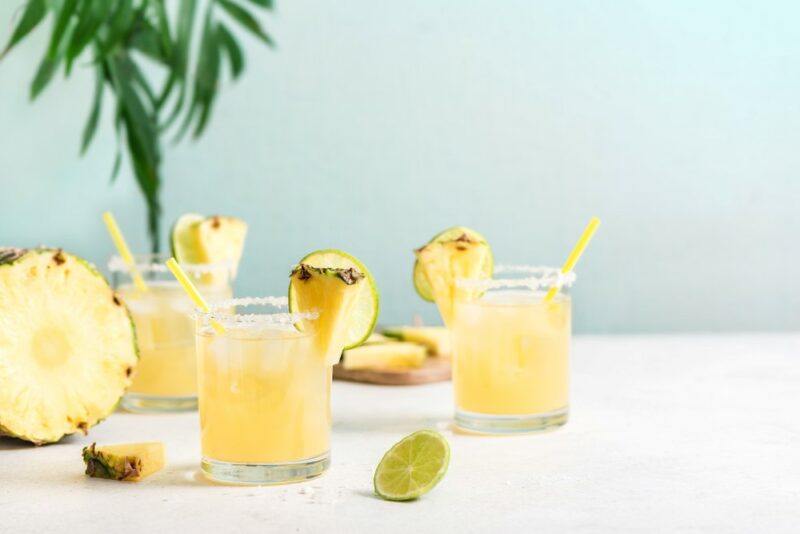 This cocktail looks like a pina colada and even tastes a bit like one, but it's considerably more masculine. Overproof rum and fino sherry are used to help balance the sweetness of the pineapple juice, giving your drink a more complex flavor.
Mai Tai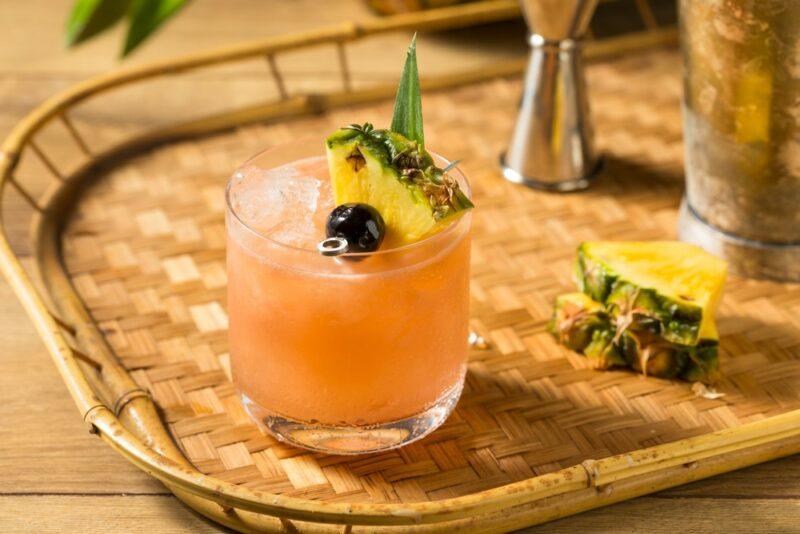 The mai tai looks like a very fruity and sweet cocktail, but that isn't the case at all. Instead, the classic version of the cocktail relies on two or three types of rum, along with triple sec, almond liqueur, and lime juice.
This combination creates a strong drink that's often very tart.
However, you will need to be careful with ordering mai tais, as there are many ways to vary the cocktail. Some recipes use sweet and sour mix, while others add in a surprising amount of fruit juice and/or simple syrup.
Lava Flow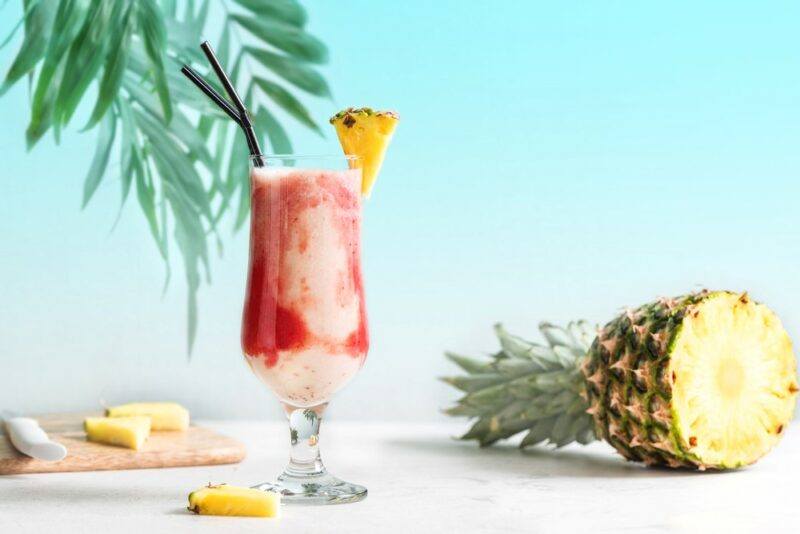 This cocktail is known for its beautiful appearance. Honestly, it really does look like it comes from a volcano.
The drink isn't all that difficult to make either. The first step involves blending light rum, coconut rum, and strawberries together. This is poured into a glass and covered with a mixture of coconut cream, pineapple juice, and banana.
When made well, you have a slushie-like drink that's part cocktail and part milkshake. You could mix ice in there too for a frozen version.
For an even more manly twist, you could try the Miami Vice cocktail. This one combines rum, strawberries, simple syrup, lime juice, and ice for one section, then more rum, coconut cream, pineapple juice, and ice for the second part.
The lime juice provides the drink with some much-needed punch.
Tia Mia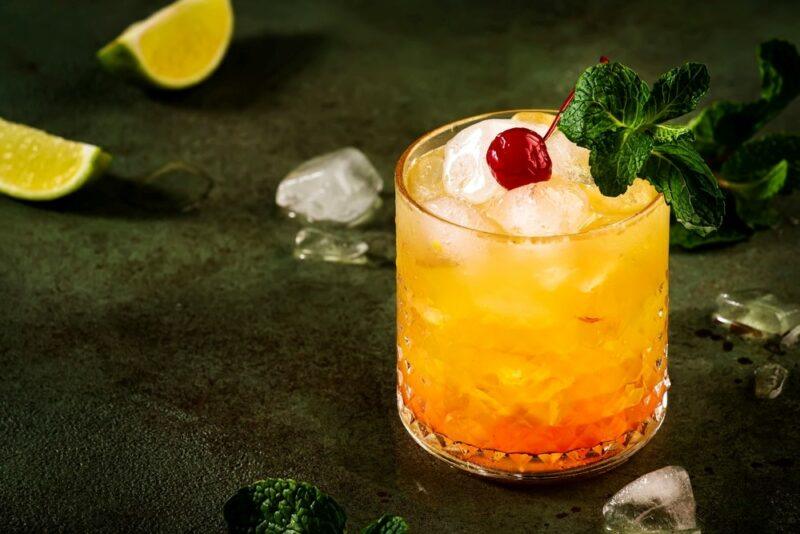 While the classic mai tai tastes fantastic, it can get a little boring. Why not spice things up with a tia mia instead?
This cocktail uses similar ingredients to the mai tai, except that some of the rum is replaced by mezcal. You can even replace the rest of the rum with tequila, to give yourself a Mexican mai tai.
Rum Runner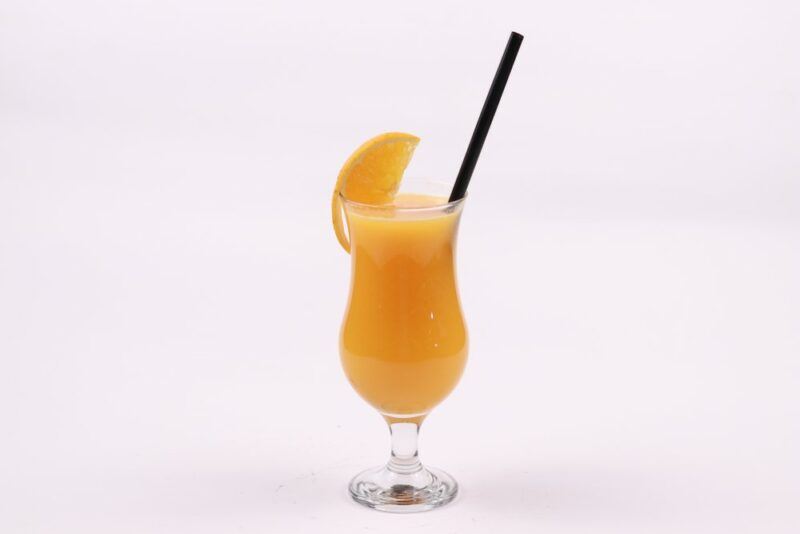 The rum runner is yet another tropical rum cocktail. It's a little cliché, perhaps, but there's something about rum that pairs so well with tropical flavors.
This one brings some interesting ingredients into the mix with a banana liqueur and a blackberry liqueur. The combination of these plus two types of rum gives you a decent amount of alcohol.
The recipe also keeps the mixer levels low, giving you a boozy drink with a fantastic balance of flavors.
Tropical Painkiller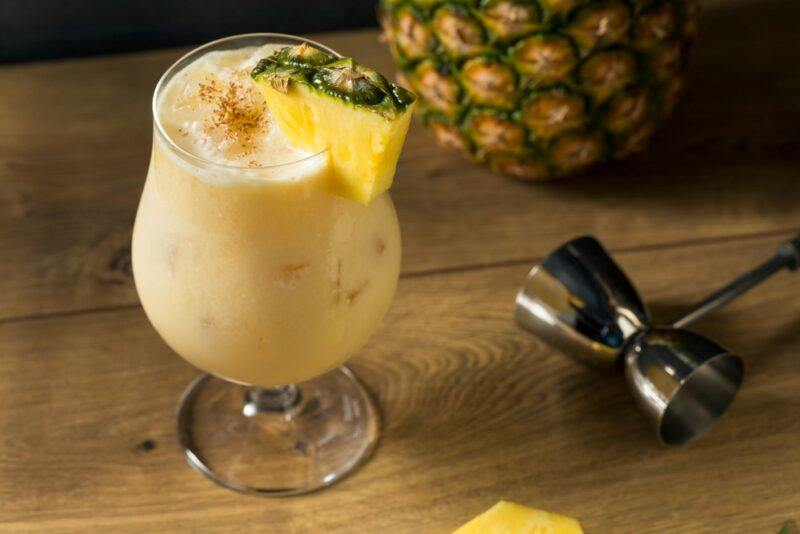 The name painkiller makes this sound like an intense drink. But really, it's just a typical tropical cocktail that combines rum (specifically, Pusser's rum) with pineapple juice, orange juice, and cream of coconut.
The tropical painkiller is similar, except that it uses dark rum and coconut milk rather than cream of coconut. Swapping to coconut milk reduces the drink's richness and allows the rum's flavor to shine through more.
Coconut Mojito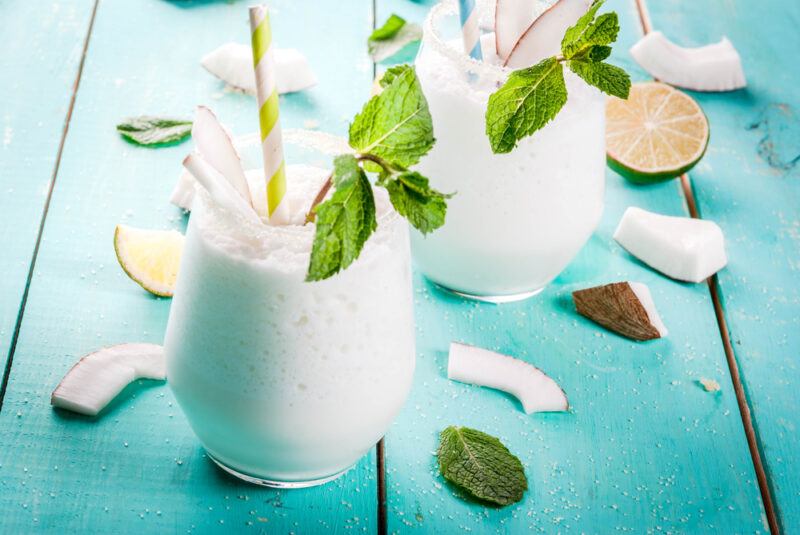 This riff on the classic mojito is the perfect choice if you need something a bit different. It's creamy and rich in coconut, but still features mint and lime.
Most recipes use coconut rum as the spirit of choice, but some add light rum as well, which boosts the alcohol content.