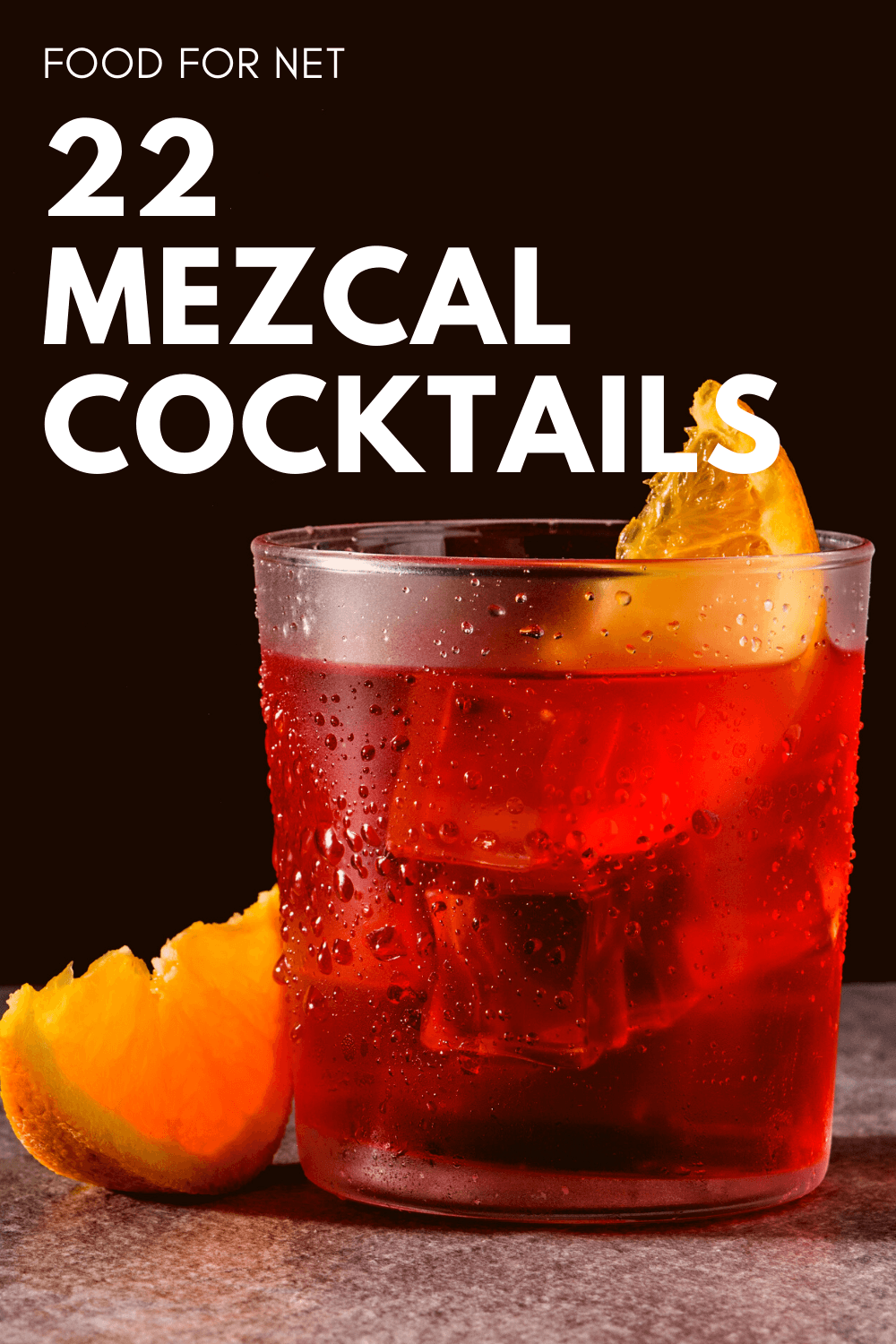 Mezcal is a somewhat unusual spirit. It doesn't have the same widespread reputation as whiskey, vodka, or rum, but nevertheless carries a charm of its own. The most famous example is, of course, tequila. There are other types too, along with various mezcal cocktails.
We're going to highlight a variety of these cocktails in this list, sharing with you details about how the cocktails are made and what they taste like. Many of them are easy to mix in the comfort of your own home.
But first, let's talk a little bit about mezcal. As you may already know, mezcal is a Mexican spirit that is made fromb agave. Tequila is a specific type of mezcal, one that is made using blue agave. Mezcal, on the other hand, is created using any type of agave. More than 30 types of agave can be used, although some are more common than others.
There are distillation differences too. Tequila production involves steaming the agave core in industrial ovens. This is followed by multiple rounds of distillation into copper pots. For mezcal, the agave core is cooked instead and this is often done in earthen pits, followed by clay pot distillation.
Some producers use their own approaches, but the end results are similar.
Mezcal, like tequila, comes in multiple types. For example, joven mezcal is young and unaged, while reposado mezcal has generally been aged for somewhere from two months to a year.
Then there are all the different types of agave. The agave used strongly influences the flavor of the final spirit. This means that any cocktails you make will be notably different depending on the type of mezcal that you use. Some cocktail recipes will specify the type of mezcal to use. In other cases, you'll need to experiment to find flavor combinations that you enjoy.
Because mezcal doesn't have the same long-standing reputation as spirits like whiskey, there aren't all that many classic recipes to rely on. In fact, many of the cocktails in this list are fairly modern inventions. This isn't entirely a bad thing, as modern cocktails and taste pretty amazing.
P.S. Some bottles of mezcal contain the so-called tequila worm. This is actually a moth larva that's entirely edible (but won't give you hallucinations or make you more drunk).
Mezcal Cocktails
Mezcal And Lager
Mezcal Last Word
Mezcal Negroni
Mezcal And Grapefruit Soda
Mezcal And Celery Soda
Mezcal Corpse Reviver #2
El Camino
Mezcal Mule
Smoky Arroyo
Mango Margarita
Mezcalita
Mezcal Manhattan
Smokin' Margarita
Mezcal Sour
Bitters & Smoke
All Jacked Up
Paloma
La Pina
Everything Good
Killer Bee
Arinato
Mezcal Sunset
Mezcal And Lager

Let's start with something simple. This two-ingredient cocktail tastes much better than you might first expect – and you're not ruining your mezcal at all. The combination works because lager is light. It helps to highlight the fruity flavors of the mezcal, without drowning out the complexities of the spirit.
You can also play around with the garnish for this type of drink. A wedge of orange or even grapefruit makes the drink stand out even more.
Mezcal Last Word

This cocktail is a variation on the classic last word cocktail. The last word relies on gin, green chartreuse, lime juice, and maraschino liqueur. The mezcal version is almost exactly the same, except that you're swapping the gin out for mezcal instead.
This is an easy cocktail to make, as you simply use equal measures of each of the four ingredients.
The drink also highlights how mezcal can be used to replace gin in some cocktails. This works because mezcal and gin are both complex spirits that have botanical tones. There are strong differences between gin and mezcal, of course, but many recipes that do work well with gin end up being just as appealing with mezcal.
Mezcal Negroni

Not surprisingly, this cocktail is a twist on the classic negroni. It uses equal parts of mezcal, sweet vermouth, and campari. The three ingredients are briefly stirred together over ice and then strained into a glass.
You can also substitute the sweet vermouth for blanc vermouth. This substitution allows some of the earthy aspects of the mezcal to be more noticeable. The style is perfect if you have a mezcal that you truly enjoy.
Mezcal And Grapefruit Soda

Here's another two-ingredient cocktail for you to try out (it's also a stirred cocktail). This one is similar to the tequila cocktail paloma, except that you're swapping the tequila out for mezcal instead. You're also skipping the lime juice that is normally part of a paloma.
The type of mezcal that you choose here will have a dramatic influence on the flavor of the cocktail. Test out some different approaches, like using a smoky mezcal one time and a herbal mezcal the next. You'll probably find that you enjoy some types of mezcal in this cocktail more than others.
Mezcal And Celery Soda

Celery soda isn't the easiest ingredient to find and you might need to do some hunting before you can get your hands on some. Still, the herbaceous tones of celery soda are ideal with mezcal.
You end up with a strongly savory drink, one that stands out. This is pretty impressive, when you consider that this cocktail only relies on two ingredients. Not surprisingly, the best mezcal will tend to be herbal or strongly savory.
Mezcal Corpse Reviver #2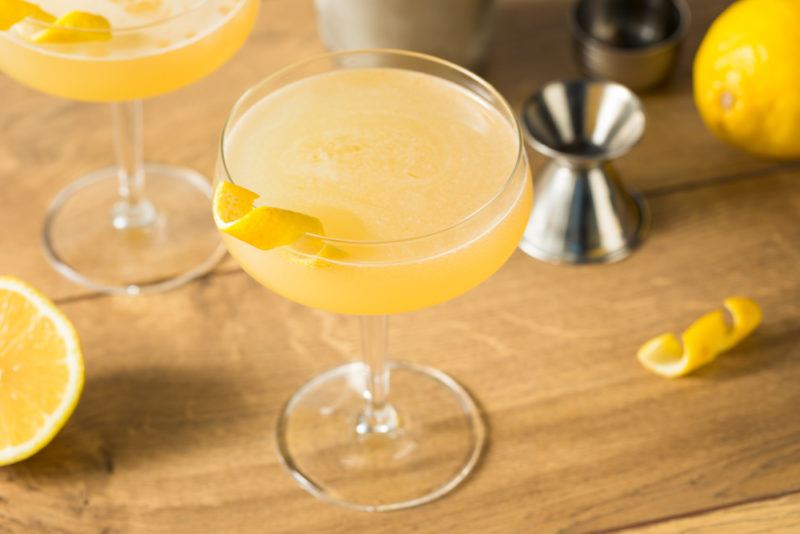 This is another cocktail where you're simply swapping out gin for mezcal. This time the cocktail relies on equal parts of four ingredients – mezcal, lemon juice, Lillet Blanc, and orange liqueur. Cointreau is a common choice for the orange liqueur, but you could use another type of orange liqueur instead if you have one handy.
Oh, and you're going to need a little absinthe for this cocktail too. The absinthe is used to rinse the cocktail glass rather than as an ingredient. Rinsing the glass with absinthe provides a slight absinthe flavor in the finished cocktail, one that isn't overwhelming at all.
El Camino

Ever thought about combining mezcal and whiskey? That's exactly what this manly cocktail does. It relies on equal measures of mezcal and rye whiskey, along with half a measure of Bénédictine and a few dashes of Peychaud's bitters.
The cocktail is a potent one, so it's a drink that you'd end up sipping.
Mezcal Mule

This drink is sometimes called a Mexican mule and the source of the name is easy to see. Just like the other 'mule' cocktails, this one relies on ginger beer as the key ingredient. Combine this with the mezcal and you get a cocktail that has a smoky and spicy flavor profile.
When you're choosing ginger beer, look for spicy versions. Spicy ginger beer helps to elevate this cocktail to an entirely new level.
As for the mezcal, try to avoid any that has dominant fruit flavors, along with any smoky or savory spirits. A mezcal that has herb flavors instead will combine much better with the ginger beer.
Smoky Arroyo

This is a fun cocktail for anyone who loves grapefruit. It uses grapefruit juice and mezcal as the main ingredients. You're also adding in around half an ounce of lime juice and the same as rosemary simple syrup.
The simple syrup is something that you would make at home. It relies on equal parts of water and sugar that are boiled down in a saucepan. Making rosemary simple syrup rather than regular simple syrup is easy, just add in a few rosemary sprigs as the sugar and water mixture is simmering.
Mango Margarita

Here's a refreshing and fruity drink (you might even see a version of this sold at a bar). It gets some inspiration from a margarita, although the recipe has its distinct differences too. This time, the key ingredients are Cointreau and mezcal (in a 1:2 ratio), along with mango and lime juice.
The mango and lime juice are critical parts of this cocktail, as these provide it with vibrancy. Mango and lime is a good choice, as these ingredients balance one another well. Without the lime, for example, the drink could be overbearingly sweet. And, it wouldn't be the same without the sweetness of the mango juice either.
Mezcalita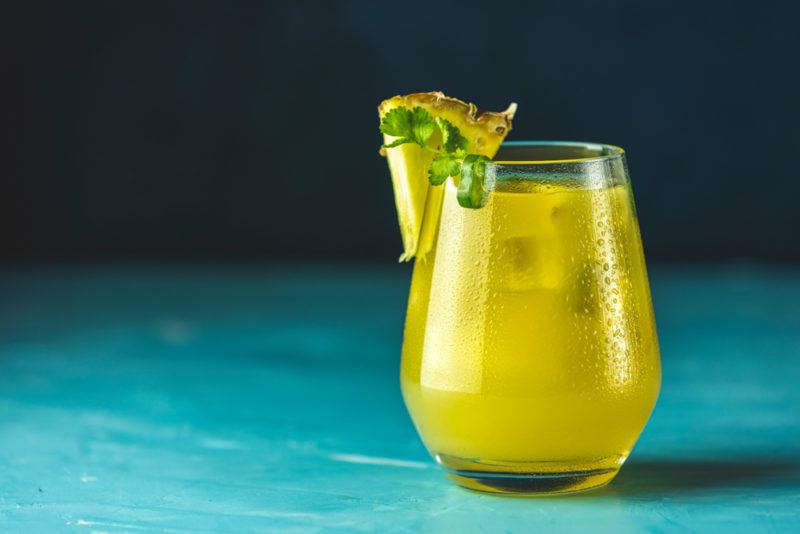 The mezcalita is another cocktail that's similar to a margarita, with its own distinct differences. A key change is that a mezcalita tends to rely on orange flavors, while margaritas mostly focus on limes instead.
There is also a salt rim present. The Mexican salt Tajín is the ideal option, as this has an amazing balance of flavors. Or, if you want something easy for at home, then combining chili powder with salt can work well too.
There's no single official version of this cocktail. But, the cocktail does often rely on orange juice, lime juice, and a mild mezcal. Orange bitters can be added too, which makes the flavors of the cocktail a little more complex.
Some recipes for this cocktail use mezcal as the only liquor, while others add tequila in as well.
Mezcal Manhattan

The Manhattan is a simple yet delicious drink, so hardly surprising that there's a mezcal version of the cocktail too. There are only three ingredients to worry about here – mezcal, sweet vermouth, and a few dashes of angostura bitters.
A good starting point is to use two measures of mezcal for each measure of sweet vermouth. This allows the flavors of the mezcal to dominate the drink, while the other ingredients simply complement the spirit.
Smokin' Margarita

This modern cocktail is interesting for a few reasons. The first is that it relies on tequila and mezcal, rather than one or the other. Tequila is the main spirit of choice and you're only adding a little mezcal in, just enough to create a smoky flavor.
The cocktail also uses black lava salt as a rim for the glass. This isn't a common choice at all. Still, the salt seems to complement the other ingredients nicely. You can skip the salt rim if you like. The cocktail itself will taste the same either way.
The cocktail also uses an egg white. Egg whites are often used in cocktails to provide a creamy texture that you don't get any other way. Don't worry, you can't taste the egg at all. And, if you're worried about getting sick from the egg, you could always buy a carton of pasteurized egg whites.
Mezcal Sour

Most mezcal cocktails are variations on cocktails made for other spirits and the mezcal sour follows that pattern precisely. The drink belongs in the sour family of cocktail, which means that it relies on an egg white to provide texture, along with a sweet-sour balance of flavors.
Once again, there are many versions of the cocktail out there. One relies on amaro Montenegro, which is a distinct aromatic liquor. Other ingredients include lime juice, agave nectar, the mezcal, and an egg white. Another version keeps most of the ingredients the same, but skips the amaro.
Bitters & Smoke

This modern cocktail is a delightful choice if you're looking for something a little more complex. Tequila and mezcal both feature in the recipe, although tequila is the dominant of the two.
The cocktail also includes Cynar, which is a bitter Italian liqueur that has some similarities to amaro. Fernet-Braca is included as well – another Italian liqueur.
With four sources of alcohol and no mixers, bitters & smoke ends up being a potent cocktail. Even so, it isn't an overwhelming drink, as the flavors of the different ingredients balance each other out nicely.
All Jacked Up

This cocktail is both modern and complex. This time there are five different ingredients and they're all alcoholic. The cocktail starts off with equal measures of mezcal and sweet vermouth.
Smaller amounts of apple brandy, Fernet-Branca, and maraschino liqueur are included too. The ingredients are all stirred together with ice and then strained into a glass of ice.
The final cocktail is bold but delicious – a perfect choice if you're wanting something a little unusual.
Paloma

The paloma is a tequila cocktail that works just as well with mezcal as it does with tequila. At its most basic, a paloma just relies on the spirit and grapefruit soda. Some versions use grapefruit juice and club soda instead, which creates a similar balance of flavors.
Lime juice may also be added to the cocktail. This addition helps to make the flavor profile more interesting.
There are other variations out there too, including some that use simple syrup as an extra ingredient and others that use some type of chile to provide a kick. In the end, there's no right or wrong way to make the cocktail. It's simply a matter of finding the ingredient combination that you enjoy the most.
La Pina

The paloma is a simple cocktail. La Pina, on the other hand, is anything but. Mezcal is the only spirit present and the cocktail includes various ingredients to create an unexpected balance of flavors.
The ingredients featured include chile, cilantro leaves, pineapple juice, lime juice, and rich simple syrup. You can find the full recipe on the Epicurious website.
The combination of ingredients leads to a sweet-sour flavor profile, one that contains some interesting herbal and spicy notes as well.
Everything Good

This cocktail could be the perfect party choice, as you can make the entire thing ahead of time. It is similar to a bee's knees cocktail, as honey is a key ingredient, but there are notable differences too.
The first step is to mix the honey with a little boiling water. Once the honey has dissolved, you can allow the mixture to cool and use it in the recipe. Missing this step risks leaving you with a lumpy cocktail.
Aside from the honey and mezcal, the cocktail also uses orange liqueur and chocolate bitters as ingredients. While chocolate bitters is an unusual choice, this type of bitters isn't too difficult to find online these days. The bitters are what make the flavor profile of this cocktail special, so it's worth hunting around for them.
You can find the full recipe for the cocktail here. The recipe includes details about how you can prepare the cocktail in a batch before your event gets started. Or, you know, just keep some prepared cocktails in the freezer for your own enjoyment.
Killer Bee

Here's another cocktail that uses honey as an ingredient. This one is much simpler, as you're just relying on honey, mezcal, and lemon juice. The honey and lemon juice create a delightful sweet-sour contrast, while the mezcal adds an interesting depth of flavor.
To get a smooth cocktail, you'll need to follow the same trick as with the previous cocktail, where you mix honey and hot water together.
Arinato

This cocktail is a lighter drink that has some elegant tones. It is also a complex recipe, as you are relying on six different ingredients. These are combined and stirred together over ice, then strained into a rocks glass.
As well as the mezcal, the cocktail relies on Lillet Blanc, dry vermouth, yellow chartreuse, maraschino liqueur, and Peychaud's bitters. The quantities decrease as you go down the list.
In the end, mezcal makes up roughly half the liquid in the cocktail, while the other ingredients play their part in the other half.
Mezcal Sunset

Let's finish the list with a cocktail that should sound familiar. A mezcal sunset is simply a mezcal version of a tequila sunrise. Both cocktails look amazing in the glass.
However, the spirit you're using isn't the only difference. A mezcal sunset tends to be made using pomegranate juice or pomegranate syrup, rather than grenadine. This switch in ingredients alters the flavor profile of the cocktail in an appealing way.
Sparkling white wine is also used to give the drink a lift and a little fizz.