The idea of cocktails dates back to the 1800s, with the first written recording of the word appearing in a New York newspaper on May 6th, 1806. The history of gin, itself, however, goes back much further. Official credit for the invention often goes to a Dutch physician who used it medicinally in 1550. Though, it's also said that Italian monks were flavoring distilled spirits with juniper back in the 11th century.
Regardless, gin is old. It wasn't until the 1850s that it was popularized in cocktails. During the second half of the 19th century, much of the United States grew quite wealthy as they experienced a boom in oil and gold as well as the impending railroad. People had more money than ever and wanted to spend it, so several casual clubs popped up as a place to congregate. In these bars and pubs, bartenders started mixing alcohol with other things purely for fun and not for medicine, with many featuring the popular imported gin and jenever.
Gin can have any number of botanicals in the recipe, as long as one of them is juniper. Juniper is a staple aroma and flavor and is present in most expressions. That said, the best gin for cocktails is one that offers a range of balanced flavor notes without any that will take over the drink. Juniper is well-loved but you don't always want it dominating every sip.
The Best Gin For Cocktails
1. Beefeater Gin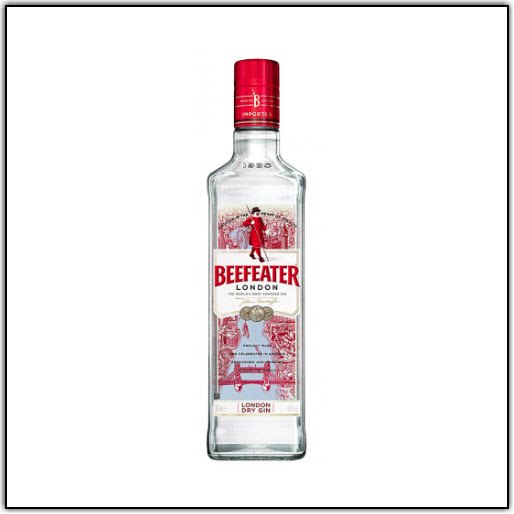 Beefeater Gin originally dates back to the 1820s when a small distillery was opened in Chelsea, London. It was eventually purchased by James Burrough who was a pharmacist and aspiring distiller. He began producing gin in 1876, creating many different brands including Beefeater, which has grown to be one of the most famous brands of gin.
Beefeater gets its name from the Yeomen Warders who have been guarding the Tower of London since 1485. By 1963, Beefeater was accounting for about 75% of all gin imported into the United States.
In 1995, the company appointed Desmond Payne as their Master Distiller. He came with decades of experience already and was named the world's most experienced gin distiller. He tests more than 200 samples of juniper each year to ensure Beefeater maintains its perfect taste and quality.
It's a classic gin with traditional flavors and amazing clarity, making it the perfect, fairly neutral base for any gin cocktail. In addition to juniper, the botanicals used include angelica seeds, almonds, coriander, lemon peel, and Seville orange. The aroma is a simple combination of jumper and citrus zest.
The palate offers citrus with coriander and licorice, followed by juniper and lemon zest towards the end with a warming finish.
2. Hendrick's Gin

Hendrick's founder began his career as a teenager, apprenticing as a cobbler and clerk. He switched gears in 1866 and joined a distillery – but as a bookkeeper. He worked in this role for many years, silently watching and learning. 20 years later, he quit and opened a distillery of his own.
His entire family, including seven sons and two daughters, were involved with the business, which helped it start the journey to the roaring success it is today. The company stayed in the family, and over 100 years later, the founder's great-grandson and successor found and purchased two rare and unique stills.
These stills sat idle for a while until he partnered with Lacie Gracie, a master distiller, and scientist. Together, they set out to create something unique and incredible while finally finding a use for the rare stills. This was the start of Hendrick's Gin.
The expression uses juniper, yarrow, elderflower, orange peel, caraway, angelica root, chamomile, coriander, lemon, orris root, and cubeb berry. This combination of botanicals produces an aroma of rose petals and other floral scents.
The palate is rich with citrus, particularly orange and lemon. This is balanced by mellow cucumber with a dash of coriander and cumin on the finish.
3. Hayman's London Dry Gin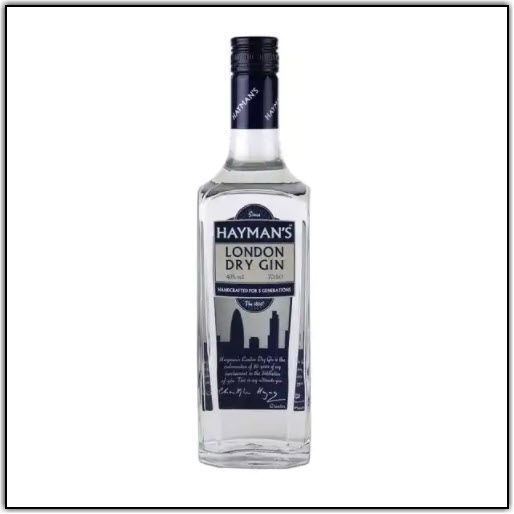 The Hayman's Distillers dates back to the early 19th century and was once part of the portfolio of James Burrough who was also behind the famous Beefeater brand. After that, the brand changed hands several times before settling into a family business.
It wasn't until after the current family took ownership and Christopher Hayman pushed the brand to start producing gin, which was met with great success. Hayman's London Dry Gin features ten botanicals that are steeped for a full 24 hours before distillation. The family is big on tradition, blending elements of their old family recipes with modern innovation to create a clean, classic gin.
The nose starts with juniper followed by coriander, angelica, and a touch of citrus. It's an intense but pleasant aroma. The palate is thick, creamy, and rich with a pepper start that fades into lemony citrus and juniper mid-palate. The finish is rich with juniper and a touch of pumpkin spice and orange zest with a faint hint of sweet licorice right on the end.
4. The Botanist Islay Dry Gin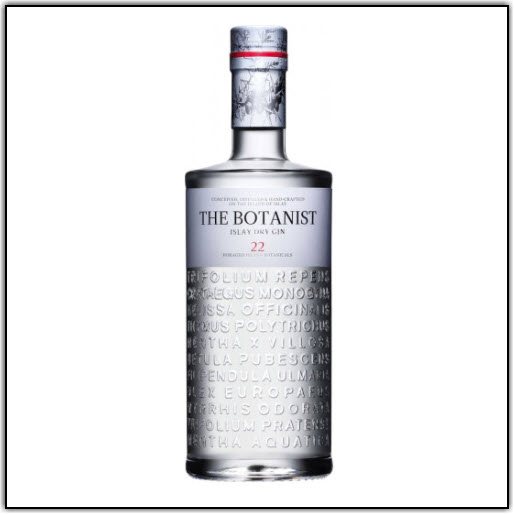 The Botanist Islay Dry Gin is made with an above-average 31 botanicals, making it an excellent choice for cocktails due to its array of flavors. It also made waves as the world's first Islay dry gin and was rated as one of the world's top ten gins.
The Bruichladdich Distillery was founded in 1881 by three brothers who worked together and combined their talents to start the business. The state-of-the-art distillery was ahead of its time with its premium equipment and beautiful courtyard. They actually began with whiskey, which they soon became quite well known for.
It wasn't until 2010 that they released this ground-breaking expression, comprised of many unique botanicals such as bog myrtle leaves, apple mint, red clover flowers, wood sage leaves, mugwort leaves, sweet cicely leaves, hawthorn flowers, and many more. Classics like lemon peel, juniper, cassia, and orris root are also included to give the drink just a touch of "classic" gin.
The nose is rich with many botanicals including apple mint, lemon, honey, orange, pomegranate, and of course – juniper. The palate is mellow at first but quickly opens up to reveal a burst of citrus and many spices leading up to a satisfying finish.
5. Citadelle Reserve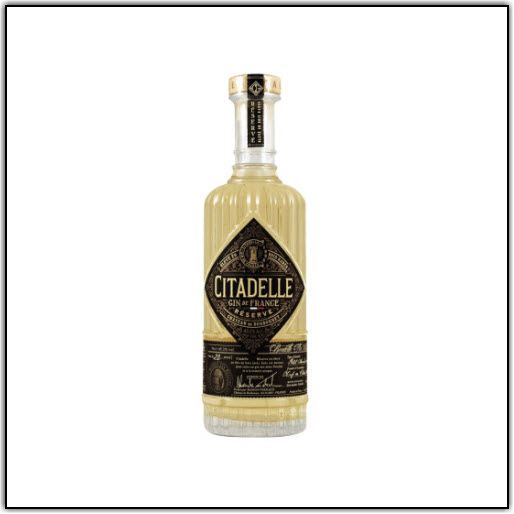 As the world's first solera-aged gin, Citadelle Reserve brings something truly unique to the table. More than 100 years ago, almost all gin was aged in barrels, more out of necessity than anything else. The barrels were used to transport the gin as glass was too fragile and other materials were not yet available.
Citadelle Master Distiller Alexandre Gabriel wanted to create something more reminiscent of old, barrel-aged gin which is why he began experimenting with the aging process. He uses the solera method, which has gin transferred from barrel to barrel as it ages, each step offering a new layer of flavor and complexity.
Citadelle Reserve goes through three casks, American oak, ex-Pineau de Charente, and ex-cognac. The result is a beautiful medley of flavors and a gin with more depth than most of its counterparts.
The aroma features pine, juniper, and citrus with a touch of honey and oak. The palate offers notes of vanilla, caramel, stone fruits, and green grapes. The finish is subtle with ginger, cardamom, and a hint of oak. Classic, versatile flavors like vanilla, citrus, and oak make this gin perfect for balancing and adding flavor to many cocktails.
Classic Gin Botanicals

Many gins like to push the envelope a little and use a combination of obscure, unique botanicals, or go a little crazy and use a ton of different ones. A classic, traditional gin, though, uses a smaller assortment of classic botanicals. While juniper is in every gin, there are several others that are gin staples.
Distillers can still play around with exact combinations and different amounts of each, but the following are the most common botanicals used in gin. Look for these on the label if you want the most traditional experience or a truly classic addition to your cocktail:
Juniper. It's a common botanical with many varieties, and gin is not gin without it.
Coriander. It's the dried seed from the cilantro plant and offers a taste that's spicy, citrusy, and a little nutty.
Angelica. The flower, seed, or root may be used. It offers an earthy, medicinal flavor.
Lemon. In gin, lemon often comes through sweet and zesty and accentuates the citrus flavors of any cocktail.
Orris root. This comes from the iris flower and offers a sweet, floral aroma and an earthy, woody flavor.
Orange. Dried orange peel, specifically, is most common. Different types of oranges can be used to provide bitter, citrus, or sweet flavor notes.
Cassia bark. The cassia tree is a cinnamon relative and closely resembles the flavor of true cinnamon, though it's a little sweeter.
Cardamom. It's a very unique flavor and aroma, with a bit of a medicinal, almost numbing sensation. The aroma and flavor are both quite powerful.
Licorice. The licorice root is often used as it provides a sugary sweet flavor and offers gin a viscous texture when used.
Cinnamon. This is often used to balance out sweeter notes by adding a touch of fiery spice.