When you've got a new life depending on you, getting the right nutrition is essential. But what happens when you get morning sickness and have trouble keeping down nourishing foods?
Not all foods cause morning sickness. In fact, there are some foods that help with nausea during pregnancy. If you're looking for meals that are easy on the stomach, read through the following list of the 12 best foods to eat for morning sickness. There are some ideas for combination dishes to try at the end of this article, too.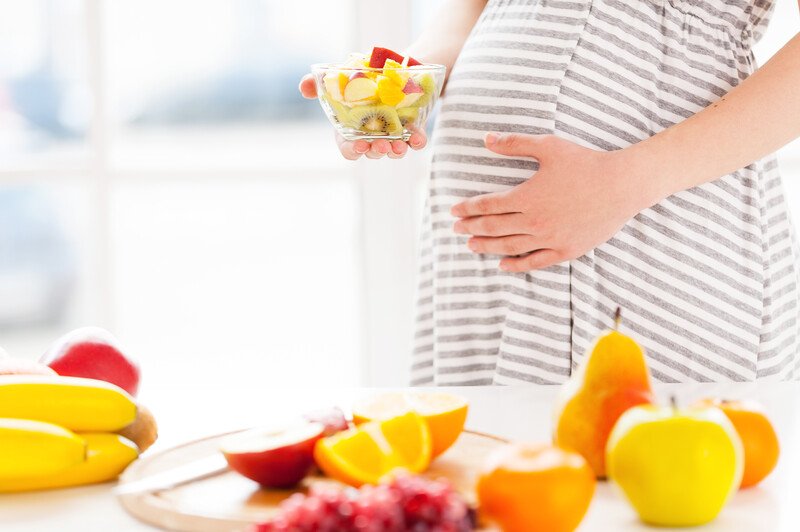 12 Stomach-Soothing Foods For Morning Sickness
Pork
Ginger
Crackers
Peppermint
Poultry
Chicken Soup
Bananas
Potatoes
Jello
Applesauce
Avocados
Carrots
Pork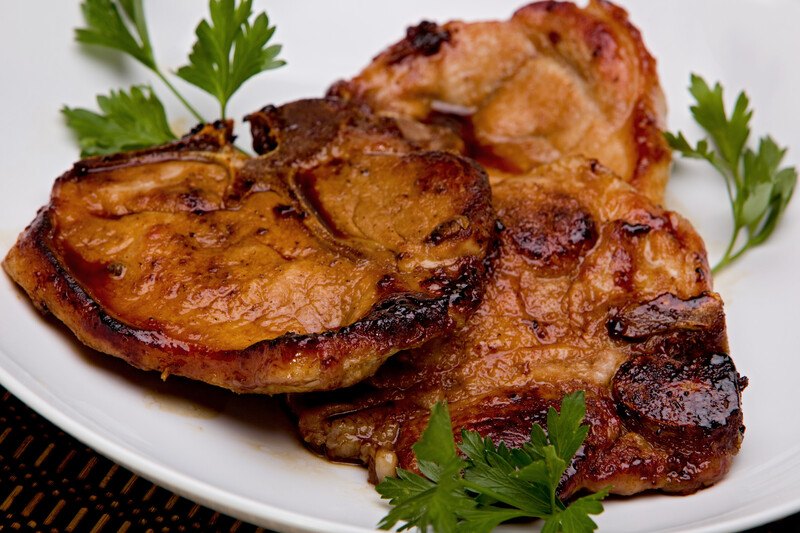 Pork is high in vitamin B6 or pyridoxine. Pyridoxine is a water-soluble vitamin that is necessary for metabolism, blood cells, and synthesizing neurotransmitters. During pregnancy, it's essential for helping the baby's brain develop properly, and it continues to play an important role in brain development after the baby is born.
One of the most interesting things about vitamin B6, though, is that it's known to help keep nausea associated with morning sickness under control. To treat morning sickness with pyridoxine, pregnant women are encouraged to take 10-25 mg of vitamin B6 as a supplement. Eating pork as part of a meal plan that includes other foods high in pyridoxine could help. One slice of ham contains around 2 mg of vitamin B6.
Pork is also relatively high in other B vitamins, such as niacin and thiamine, which are also important for the health and development of the unborn baby.
Ginger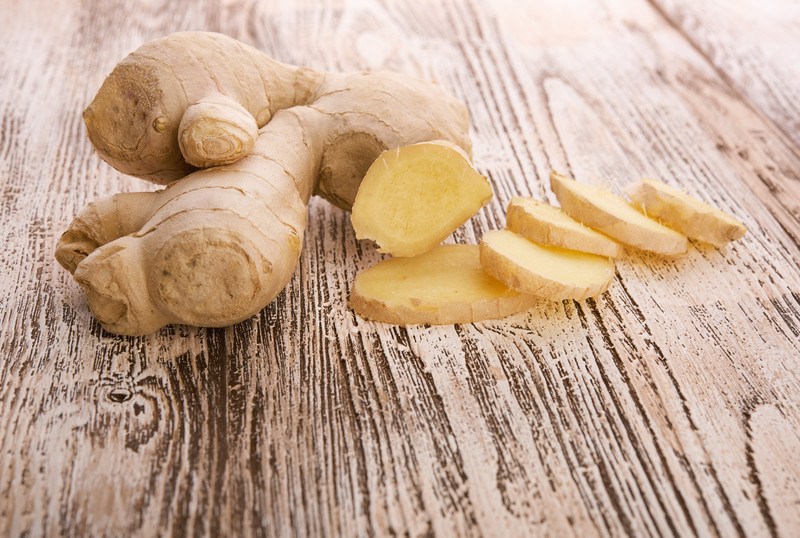 Ginger is an age-old spice and herb that has been used as a natural remedy for many issues. Morning sickness is one of them. Studies have shown that taking 250 mg of ginger four times a day could help with morning sickness. Drinking ginger tea made with around ¼ teaspoon grated ginger in hot water could be effective, too. Pregnant women might need to take ginger for a couple of days before it starts to work.
Beside helping with morning sickness, ginger aids digestion, which could help mothers get the nutrients they need for their developing babies. It's also got strong antioxidant and anti-inflammatory properties.
Crackers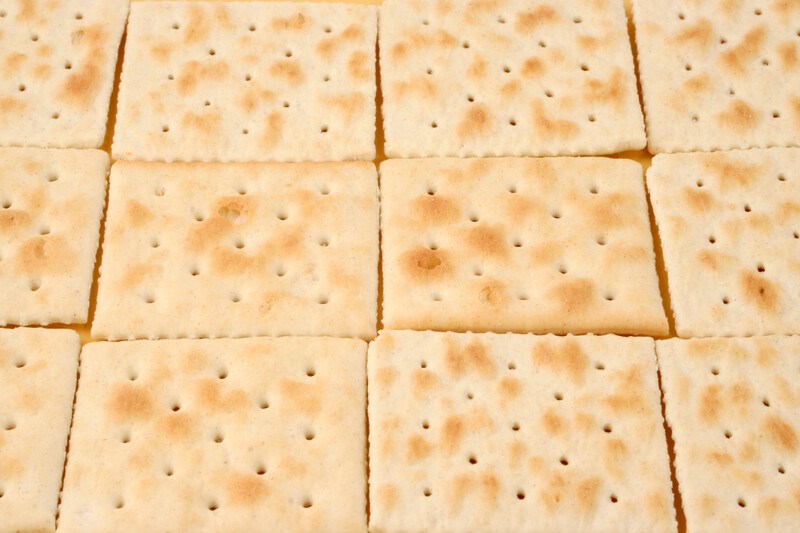 There's a reason why your mother always gave you crackers when you were sick as a child. Crackers are a relatively bland food that's easy to digest. Most of the plain crackers, such as saltines, don't carry strong odors, so they won't set off morning sickness as easily as some other foods do.
They're also an easy way to get something in your stomach right away in the morning. Some sources suggest that nibbling on crackers can help absorb some of the extra stomach acid and keep you full enough that you don't feel too queasy.
One of the best things about crackers is their convenience. They're great as a take-along in purses or the car, or to keep on the counter or nightstand for a quick snack.
Peppermint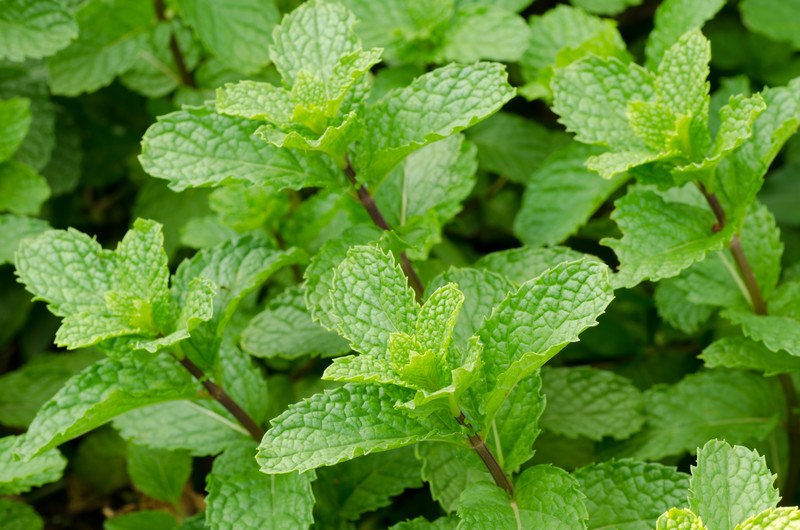 Peppermint is an herb well-known for flavoring candies such as peppermint patties or candy canes. It grows throughout Europe and North America. Like ginger, it has a number of medicinal uses. These include treating depression and anxiety, the common cold, and pain in the muscles and nerves.
Peppermint is also great for digestive disorders, like irritable bowel syndrome, diarrhea, or the stomach flu. This herb can help calm nausea and improve the flow of bile. It also has anti-spasmodic effect on the digestive muscles, which could help soothe abdominal pain.
During pregnancy, women can take peppermint as tea or eat peppermint candies and other peppermint-flavored desserts. They could also chew peppermint gum. Some people might prefer to use peppermint oil as aromatherapy. This could be done using a diffuser or even dabbing peppermint oil on cotton balls placed strategically throughout the home.
Poultry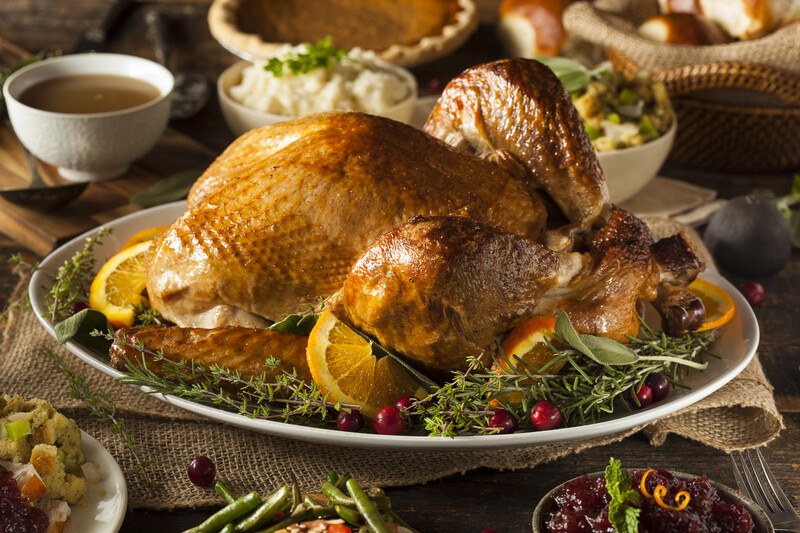 Like pork, both chicken and turkey have relatively high levels of vitamin B6, which could reduce morning sickness in some women. Chicken, turkey, and other poultry products are also high in protein, which is necessary for the developing baby.
There's one caveat, though: the scent of roasting chicken or turkey might be strong enough to set off a bout of morning sickness in some women. This could be avoided by serving up cold food options such as turkey sandwiches, chicken salad made from canned chicken, or cold chicken wings from the local deli.
Chicken Soup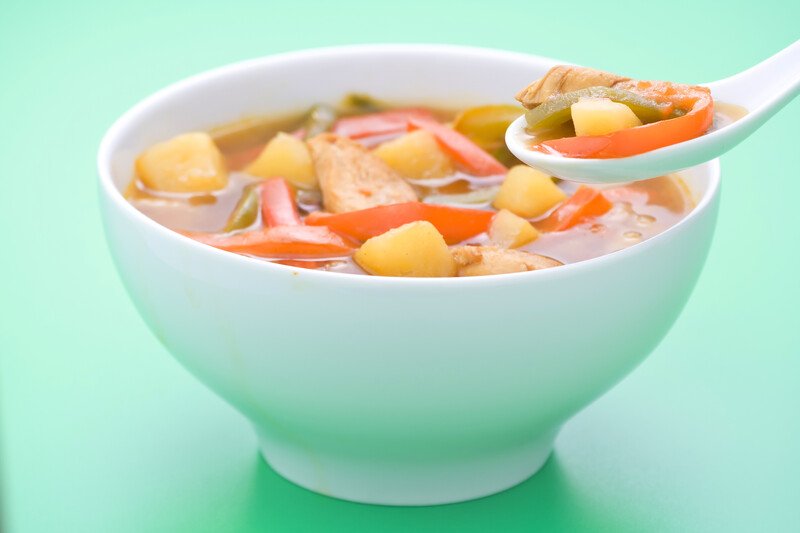 Like crackers, chicken soup is an age-old standby for fighting nausea and vomiting—including the kind that comes with morning sickness. For pregnant women, chicken soup is an easy way to get the protein and vitamin B6 found in chicken without having to eat a lot of meat at one time.
One great thing about chicken soup is that you can add other ingredients to it to help nourish the mother and baby. Many chicken soup recipes call for noodles, potatoes, or rice, which are relatively easy to digest. Vegetables such as carrots and peas can add nutrients, too. The nice thing about chicken soup is that it's relatively easy to prepare, and it can be tailored to the tastes (and food tolerance) of the mother-to-be.
One really great chicken soup recipe to try during pregnancy is Lugaw, a chicken-rice porridge from the Philippines. Besides the chicken, rice, and veggies, this soup contains ginger, which could also be helpful for fighting morning sickness.
Bananas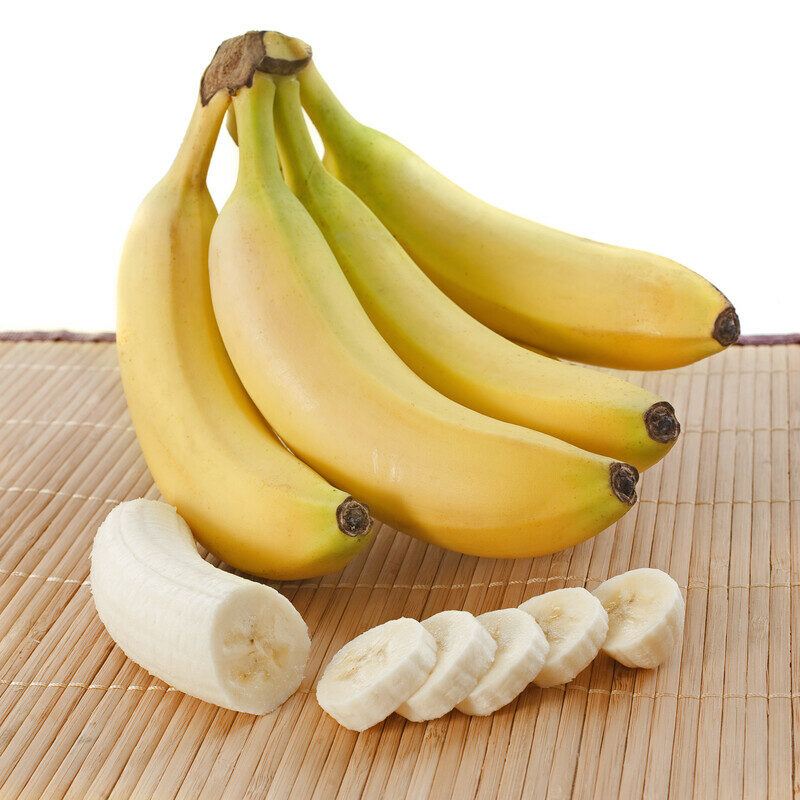 Bananas are high in vitamin B6 and potassium, which could both help alleviate morning sickness. One medium banana contains around 422 mg of potassium and 25% of the recommended daily allowance for vitamin B6. They're also easy to digest, and they're stomach-soothing, too. Bananas are part of the BRAT diet (bananas, rice, applesauce, and toast) which is recommended for stomach flu and other stomach problems.
Besides helping combat morning sickness, eating bananas could help keep blood sugar levels steady, which could be helpful for women at risk for gestational diabetes, and they could help control blood pressure, too. Bananas could help improve digestion overall.
Potatoes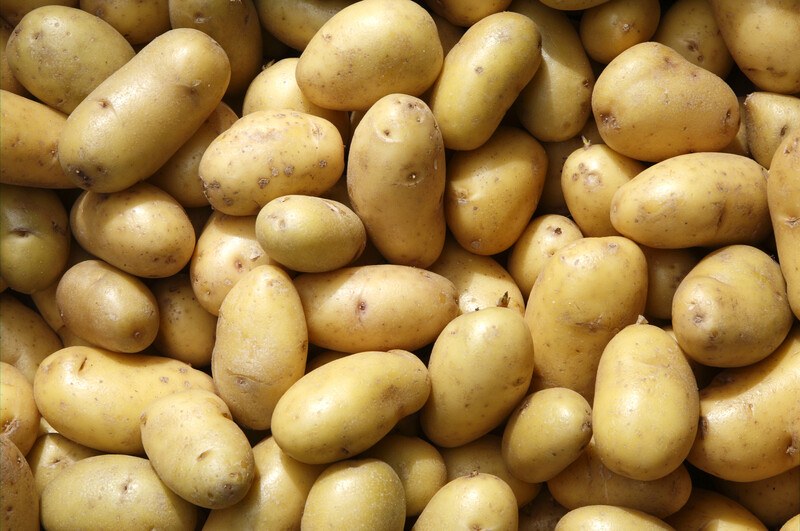 Like bananas, potatoes are relatively high in both potassium and vitamin B6. While they're not part of the BRAT diet, they are a bland food if they're served plain, so they could be helpful for keeping morning sickness under control.
Baked potatoes are high in fiber, which could help relieve both constipation and diarrhea in pregnancy. Potatoes contain other nutrients that could help a growing baby and mother, too. One potato contains significant amounts of vitamin C, calcium, iron, and magnesium, as well as around 4 grams of protein.
One other nice thing about potatoes and pregnancy is they're versatile. They can be served beside veggies or topped with meats, sour cream, and cheeses—depending on how appealing those are to the mother. A plain dish of instant mashed potatoes or a microwaved baked potato could be easy to prepare and eat on the hardest morning-sick days.
Jello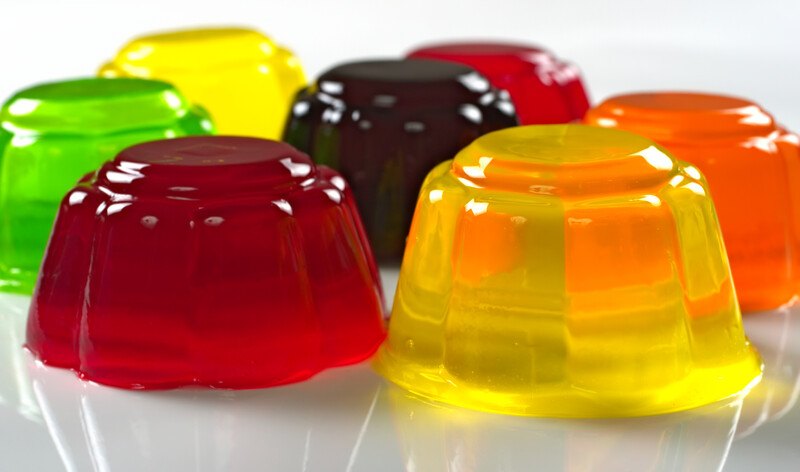 Jello and other gelatin desserts are stand-by foods for morning sickness. Jello is a cold food that's easy on the stomach. Gelatin desserts have refreshing fruity flavors that aren't overpowering. They're easy to swallow, too, and they can help with hydration issues that could arise from vomiting.
Nutritionally, Jello doesn't offer much, but it is high in sugar, so it can boost caloric intake. If you're pregnant and losing weight due to morning sickness, Jello may be able to get you by until you can keep down more nutritious foods.
Applesauce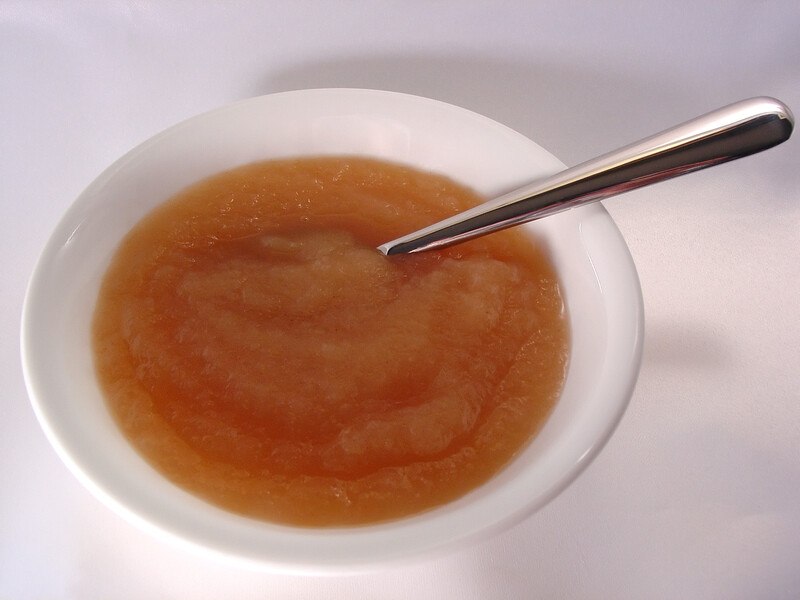 Applesauce is part of the BRAT diet, which focuses on bland foods that are easy to digest and don't cause enormous flare-ups of nausea. Like Jello, applesauce is a soft, cold food that can be swallowed easily. However, it contains more nutrients that gelatin desserts do.
One cup of applesauce contains around 103 calories, as well as soluble fiber that promotes digestive health. It also contains vitamin C, which can be used to build collagen and protein in the growing baby. Other nutrients include potassium, magnesium, calcium, vitamin A, and vitamin B6.
Applesauce tastes great with a dash of cinnamon mixed in. Cinnamon can also help fight nausea, and it can help stabilize blood sugars in women who have gestational diabetes.
Avocados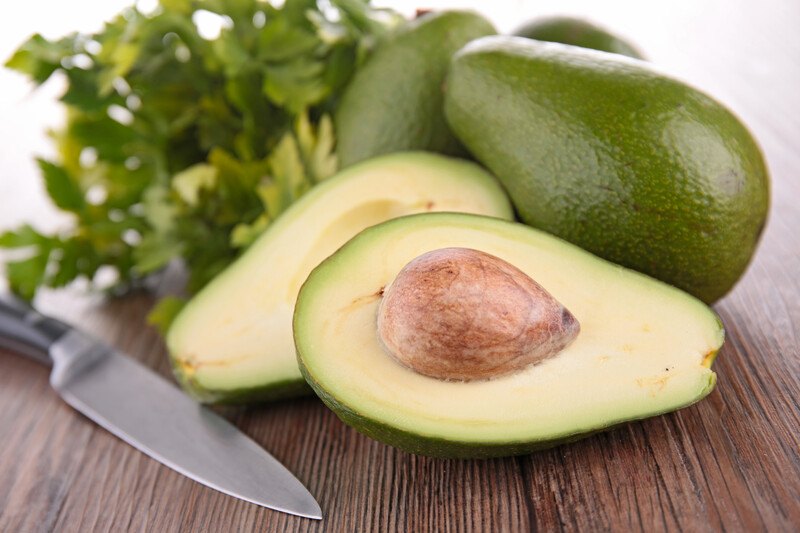 Avocados have a number of nutritional benefits that can help growing babies and their mothers. One is that they're relatively high in vitamin B6, so they can help fight morning sickness. One cup of avocado slices contains around 20% of the daily value for vitamin B6. It's great that there are a variety of ways to eat avocados aside from eating them plainly.
Avocados are also a soft food that can be chewed and swallowed easily, and they're packed with other nutrients that can help a pregnant mother and her baby get the nutrition they need without getting too full. Avocados contain significant amounts of vitamins C and A, as well as minerals like calcium, iron, and magnesium. Avocados are also high in folate, which is necessary for the proper development of the fetus.
Carrots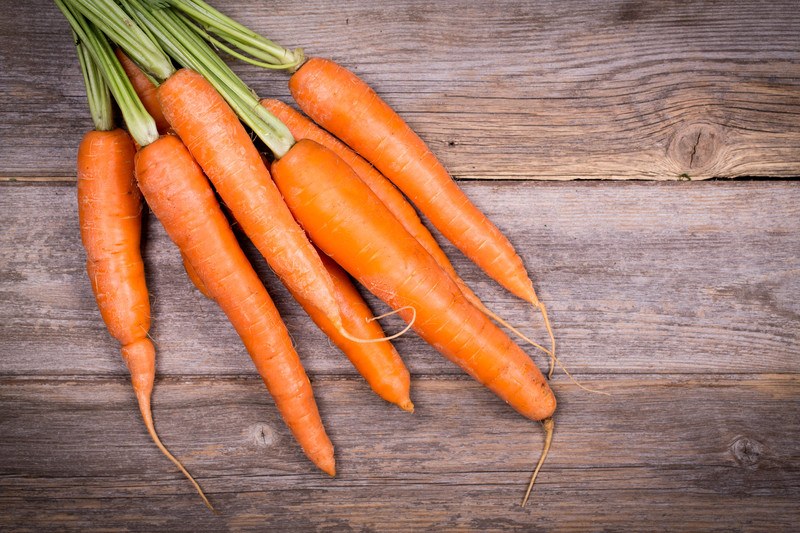 Carrots are a root vegetable known for their orange color and relatively high levels of vitamin A. Besides vitamin A, carrots contain choline, calcium, magnesium, and potassium. They also contain vitamins C, E, and K, and several varieties of B vitamins, including folate and significant amounts of vitamin B6.
One carrot contains 9% of the daily recommended intake for vitamin B6. If they're cooked, they're also a fairly soft food with a mild flavor, so they go down easily while providing the nutrients that pregnant women and their babies need.
One other interesting idea is to try snacking on raw carrot sticks when the nausea sets in. Munching on raw carrots could help to balance hormones like estrogen and stave off morning sickness.
Five Tummy-Friendly Dishes To Try
Even though you've already read through the list of the 12 best foods to eat for morning sickness, you might wonder what meals and snacks could combine these foods for the most impact. Try the five ideas presented below and then try your own combinations!
Potatoes And Avocados
Top a small baked potato or a dish of mashed potatoes with mashed or sliced avocados. This will boost your pyridoxine levels to help take away the nausea, as well as providing plenty of vitamins, minerals, and other nutrients for your growing baby.
Bananas And Milk
Bananas are tummy-soothing, easy-to-digest, and contain vitamin B6 to help control nausea. They pair well with cold milk, which can line your stomach. The milk also provides calcium. For a special dessert, you could go a step further: slice the bananas and mix them in real whipped cream.
Chicken Soup And Crackers
This home-remedy duo provides plenty of soft foods and bland foods with a mild savory flavor. The chicken in the soup provides vitamin B6, too. If you opt for Lugaw over other chicken soup recipes, you'll have that extra kick of ginger to keep morning sickness at bay.
Cinnamon Carrots
This dish can be served warm as a side dish, or cold for snacks or even breakfast. It's easy to make, too: boil a small package of baby carrots until they're tender, and then drain them, mash them, and mix in cinnamon and butter to taste.
Crock Pot Pork With Potatoes And Carrots
For this dish, all you need to do is slow-cook a pork roast. When it's about half cooked, add some chopped potatoes and baby carrots and let it finish cooking. You can serve it as a one-bowl meal, or plate it up. Consider serving applesauce as a dessert.