Hay fever can hit in the early spring, just as the snow melts and the first flowers begin to blossom. It can last through the Autumn when all the harvesting is finished and garden tools are finally packed away.
Pollen is one of the most well-known allergens, but it's not limited to flowers. Some people are also allergic to grasses and trees. Still, others are allergic to pets, wood smoke, and other substances.
Allergic reactions occur when a person's immune system goes overboard. When it notices an allergen in the system, it attacks it as if the allergen was a virus or bacteria. The immune response can cause inflammation, irritation, and symptoms like runny noses, itchy skin, and watery eyes. Over-the-counter drugs can be used to slow the histamine response, but nutrition can help, too.
The best foods for allergies address inflammation and histamine responses naturally, and they can be easily added to everyday meals.
12 Top Foods For Fighting Allergy Symptoms
Peppers
Ginger
Bee Pollen
Citrus Fruit
Probiotic Foods
Turmeric
Tomatoes
Kiwi
Fatty Fish
Onions
Pineapple
Nuts And Seeds
Peppers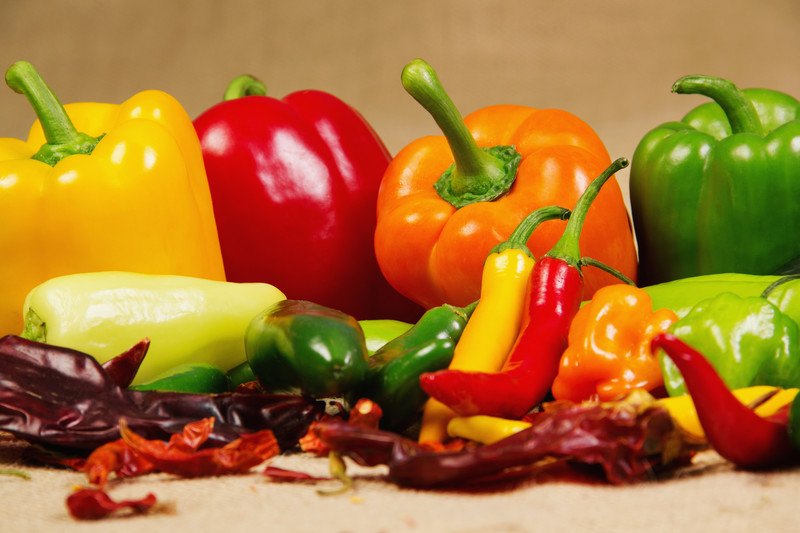 Peppers are part of the nightshade family. They range from mild bell peppers to spicy-hot chile peppers, jalapenos, and cayenne peppers.
People who like eating spicy foods should remember to pick their peppers carefully. Eating the spicier peppers could cause your mouth to burn, your eyes to water, and your nose to run, and that's because these peppers activate histamine release in the body—similar to an allergic response.
Surprisingly, many peppers also contain a natural plant chemical called quercetin, which reduces the histamine response. Banana peppers contain 50.63 mg of quercetin per 100 grams. However, not all peppers have the same amount of quercetin in them, and some only have around 3 mg of quercetin per 100 grams.
Quercetin isn't all that matters, though. Some peppers, including bell peppers, also contain large amounts of vitamin C, which can also act as an antihistamine.
Ginger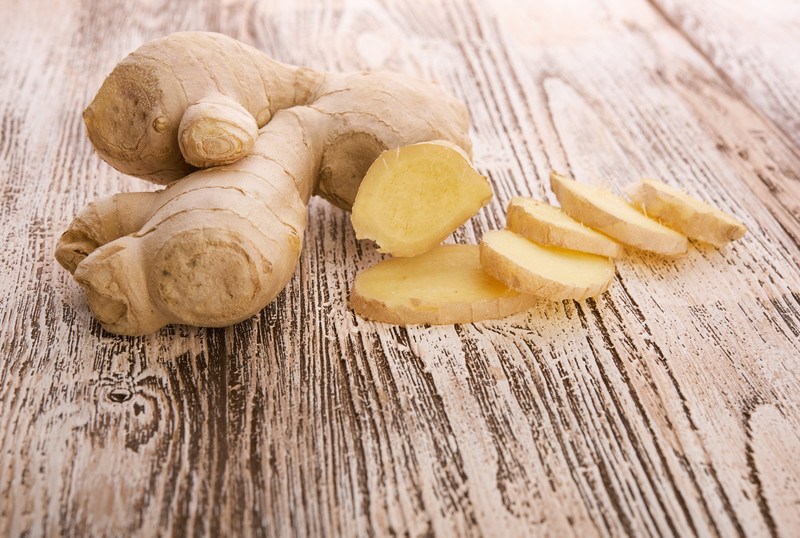 Ginger is a superfood for many reasons. It's well known for boosting the immune system, and its natural oils can help combat oxidative stress. Ginger is also a powerful antioxidant. Historically, it's been used to calm upset stomachs, including morning sickness. It can help lower blood sugar levels, aids in weight loss, aids in treating osteoarthritis, and improves the factors indicating a risk of heart disease.
When it comes to allergies, ginger provides an anti-inflammatory response that's particularly helpful for calming down swelling and irritation in the eyes, throat, and nose.
Ginger is easy to take as tea. A small piece of fresh ginger can be steeped in a mug of hot water for around 5-8 minutes for a hot drink that's both refreshing and soothing. There are actually a lot of healthy drinks with ginger that you can enjoy.
Bee Pollen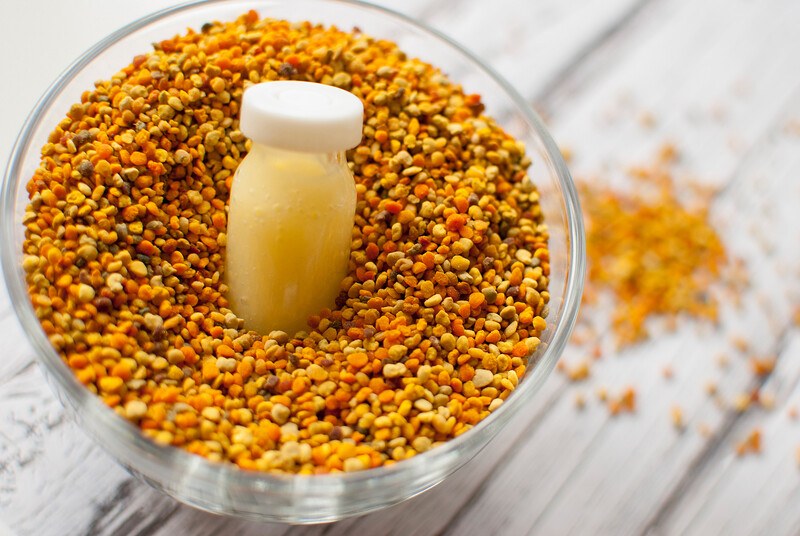 Bee pollen is pollen that's gathered by bees and then bunched into a ball or pellet, so it can be used as food by the hive later. Some people take bee pollen capsules to help build resistance to the pollen, with the hope that they won't suffer from pollen-related seasonal allergies.
There haven't been many scientific studies done on humans taking bee pollen, but some animal studies show that taking bee pollen for seasonal allergies may be effective.
Some people believe that honey could treat seasonal allergies the same way. However, it's impossible to tell what kind of pollen the honey is made from. So far, all success stories have been anecdotal, and scientists doubt whether honey could be safely used to treat allergies.
Citrus Fruit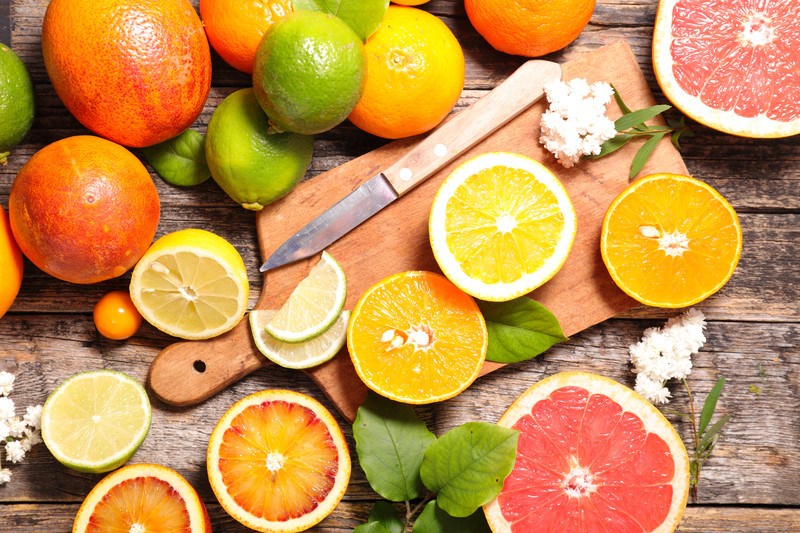 Allergic Rhinitis is the irritation and inflammation of the upper respiratory tract due to seasonal pollens. It's often called hay fever. One of the best natural food remedies for hay fever is a citrus fruit, and there are a number of reasons why.
First, citrus fruit is high in vitamin C, which can act as a natural antihistamine. Lemons, oranges, limes, and grapefruits are great choices. Besides eating the fruit, some people drink the juices, and a few people mix apple cider vinegar with lemon juice in a glass of water.
Some citrus fruits, including oranges, are also high in bioflavonoids that strengthen the capillaries. These bioflavonoids include rutin, tangeretin, hesperidin, and—surprise—quercetin. They're anti-inflammatory as well as having antihistamine effects.
Probiotic Foods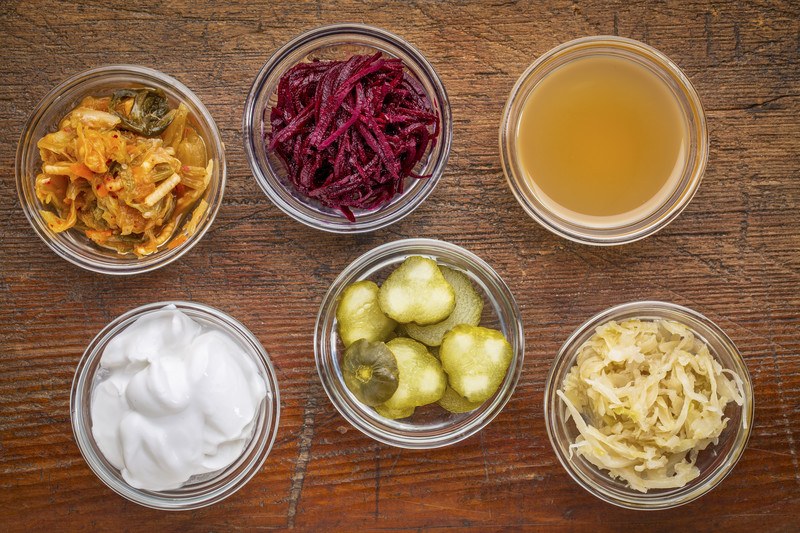 Some research shows that probiotic foods can help alleviate the symptoms of allergic rhinitis. There are a few probiotic strains that do this particularly well, including Lactobacillus GG, Lactobacillus Gasseri, Lactobacillus Acidophilus, and Bifidobacterium Lactis. These good bacteria have an anti-inflammatory effect, both in the gut and throughout the body, and this can help calm the seasonal allergy irritation.
If some of those bacteria strains sound familiar, don't be surprised—you've probably taken them as capsules or read the ingredients on your yogurt container. Yogurt is one of the most widely known probiotic foods, but people struggling with seasonal allergies could also try kefir, kimchi, sauerkraut, miso, and kombucha.
Turmeric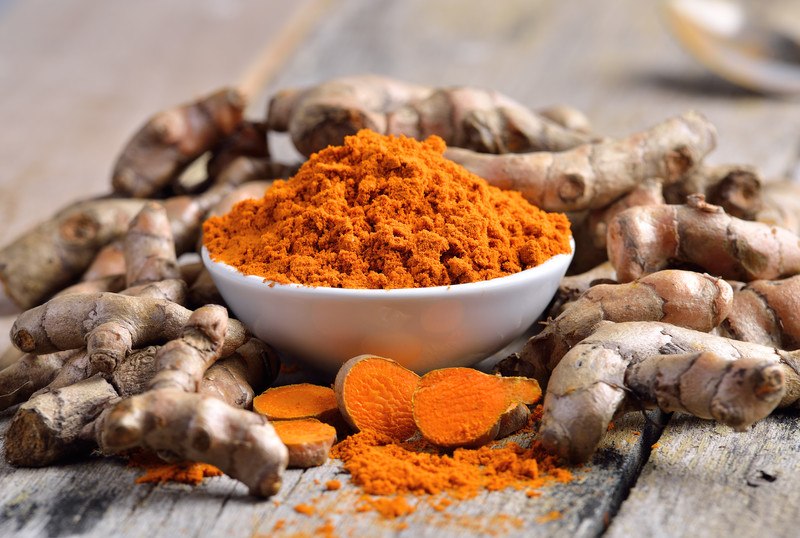 Turmeric is a root from a plant in the ginger family. Until recently, it was best known for giving curry its yellow tint, but recently, its many medicinal properties have taken the stage. It contains some powerful compounds, including curcumin.
Among its medicinal uses, turmeric helps prevent heart disease, Alzheimer's disease, and cancer. It's both antioxidant and anti-inflammatory, and it's been used to successfully treat depression and arthritis.
Turmeric's strong anti-inflammatory effect may be what helps alleviate seasonal allergies the most because it lessens the swelling in the throat and nasal passages. There are many ways to eat turmeric, it can be taken in teas or capsules, or even in foods such as yellow curry. One interesting thing to note is that black pepper increases the bioavailability of turmeric by 2,000 percent.
Tomatoes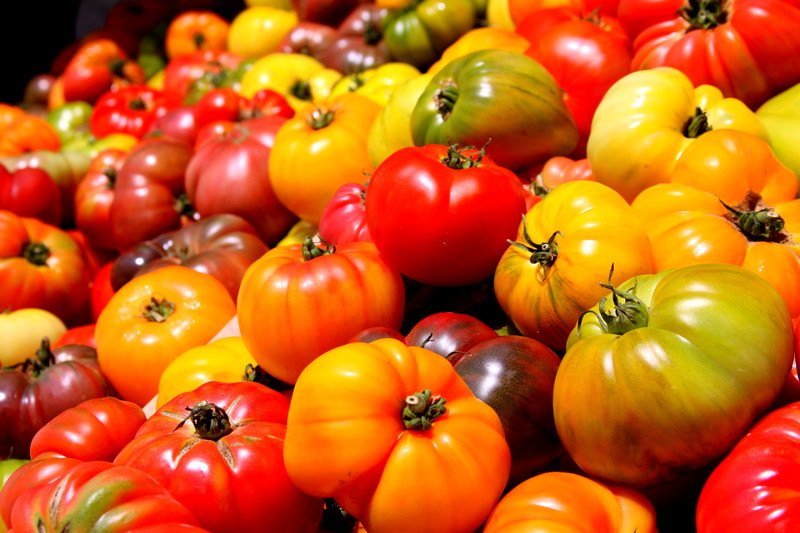 Tomatoes are high in both vitamin C and an antioxidant called lycopene. The natural antihistamine properties of vitamin C work in conjunction with lycopene's antioxidant properties, which has been shown to increase the ability to fight off asthma attacks by 45 percent.
Tomatoes are considered a 'fruity vegetable.' Many other fruity vegetables have also been proven to lessen the risk of childhood asthma. These vegetables include cucumbers, green beans, eggplant, and zucchini.
People who want to try fruity vegetables to help out with their allergies could mix up a fresh tomato-cucumber salad or fry up a blend of zucchini slices and eggplant. Today, you can easily order fresh tomatoes online so you don't have to worry about running out of tomatoes.
Kiwi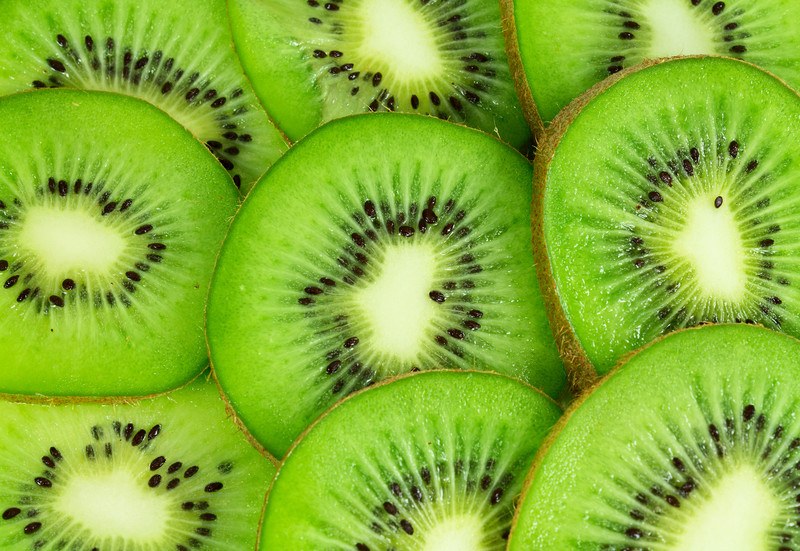 Kiwi is a fuzzy, light brown fruit with a green inner flesh that contains small black seeds. Its flavor mixes well with strawberries and bananas. Like many other fruits, Kiwi is high in vitamin C, so it can help cut back histamines when allergy season starts.
Kiwi fruit is also packed with enzymes that help break down proteins, which can help control inflammation. Eating kiwi could be soothing during allergy season when throats and nasal passages are irritated and inflamed.
One of the best ways to use kiwi during allergy season is in a fresh fruit salad. Mixing it with orange segments, strawberries, raspberries, and banana slices creates a dish that's rich in antioxidants and vitamin C.
Fatty Fish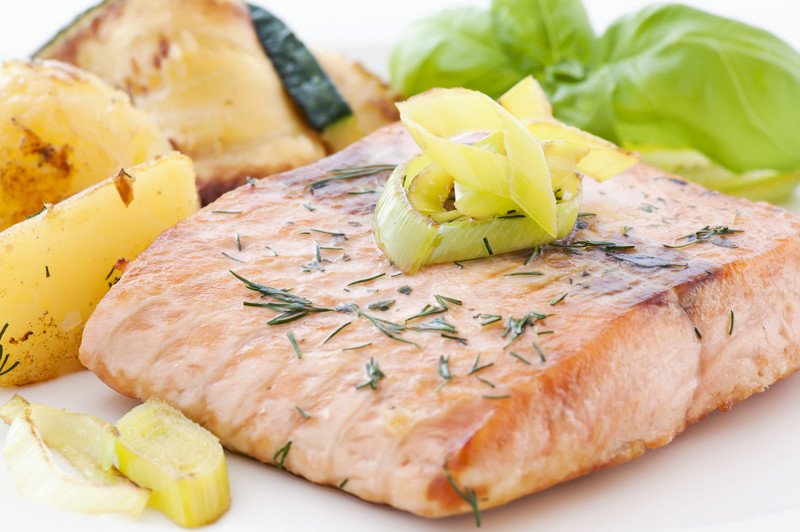 Fatty fish are high in omega-3 fatty acids, which have a number of health benefits. Omega-3 fatty acids are polyunsaturated fatty acids that have been linked to a reduced risk of cardiovascular disease, as well as helping to control diseases such as lupus, eczema, and rheumatoid arthritis. They're also found in cell membranes and may play a part in how the cell membrane receptor sites function.
These fatty acids are essential, because they can't be made in the body and must be obtained through food. Fatty fish such as mackerel, sardines, and salmon are ideal sources of omega-3 fatty acids.
When it comes to fending off seasonal allergies, the omega-3 fatty acids found in fatty fish are important mostly because they bring down inflammation. This alleviates the swelling and irritation in areas like the throat, nasal passages, and eyes.
Onions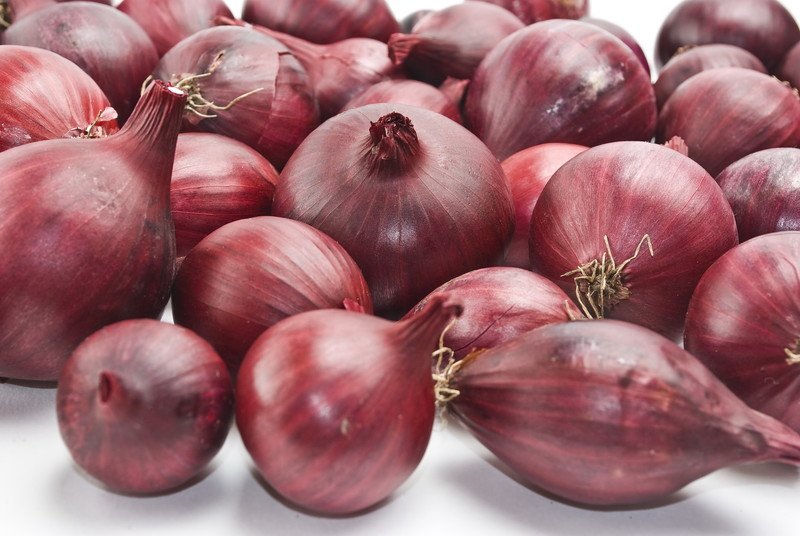 Onions can help improve seasonal allergies in a few different ways. First, they contain compounds called polyphenols, which protect the body against free radicals and improve the immune system. An improved immune system could mean fewer immune system flare-ups when you come in contact with allergens.
Onions also contain quercetin, which acts as a natural antihistamine, so it helps keep symptoms under control. The amount of quercetin varies between onion types. Chartreuse onions have the highest concentration of quercetin compounds, followed by red onions, yellow onions, and white onions.
Onions can be eaten raw on salads or as garnishes on dishes like tacos. They're also great cooked in casseroles, side dishes, and soups. However, cooking onions reduces the amount of quercetin in them.
Pineapple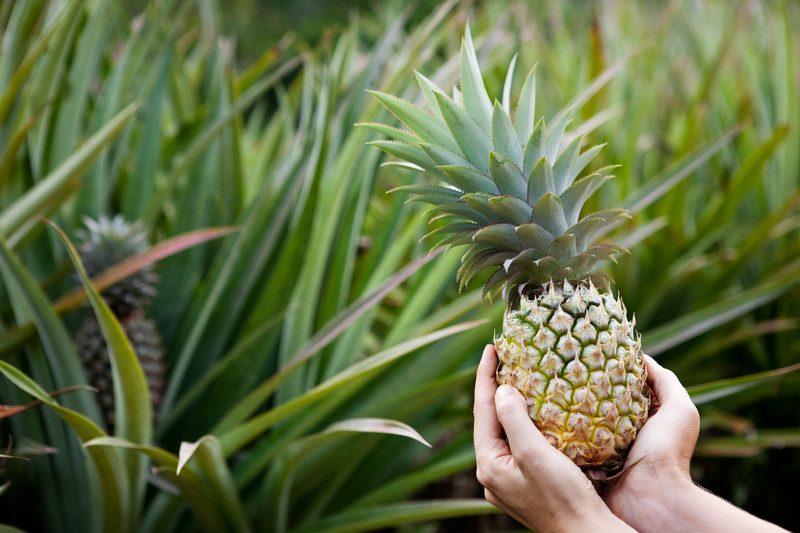 Although it's not a citrus fruit, pineapple is high in vitamin C. It's also high in a compound called bromelain, which reduces inflammation. Bromelain has been found to be particularly helpful in alleviating the symptoms of allergy-induced asthma. The combination of vitamin C and bromelain is a great mixture for fighting swelling, inflammation, and irritation brought on by seasonal allergies.
One thing to note about using pineapple for allergies is that bromelain is broken down when it's cooked. Canned or cooked pineapples won't work as well on seasonal allergy symptoms as fresh pineapple will.
Nuts And Seeds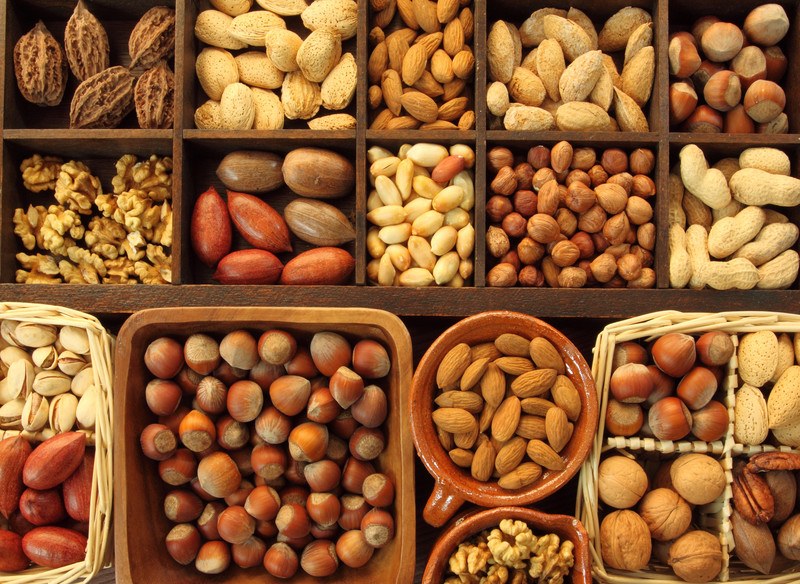 Nuts and seeds can help fight allergy symptoms because of their high magnesium content. Magnesium has been shown to widen bronchioles and keep the smooth muscles in the airway relaxed, so breathing can be easier. It's also associated with a lower risk of asthma and allergies overall.
The recommended daily allowance for magnesium is 310-320 mg for women and 400-420 mg for men. Pumpkin seeds, almonds, cashews, black beans, and edamame are great sources of magnesium, along with leafy green veggies and dark chocolate. One ounce of unshelled pumpkin seeds provides 168 mg of magnesium. An ounce of dark chocolate contains about 50 mg, and an ounce of almonds contains 80 mg. When the sniffles start, a piece of dark chocolate with almonds might be a fun way to fight seasonal allergies.
Three Allergy-Busting Snacks To Try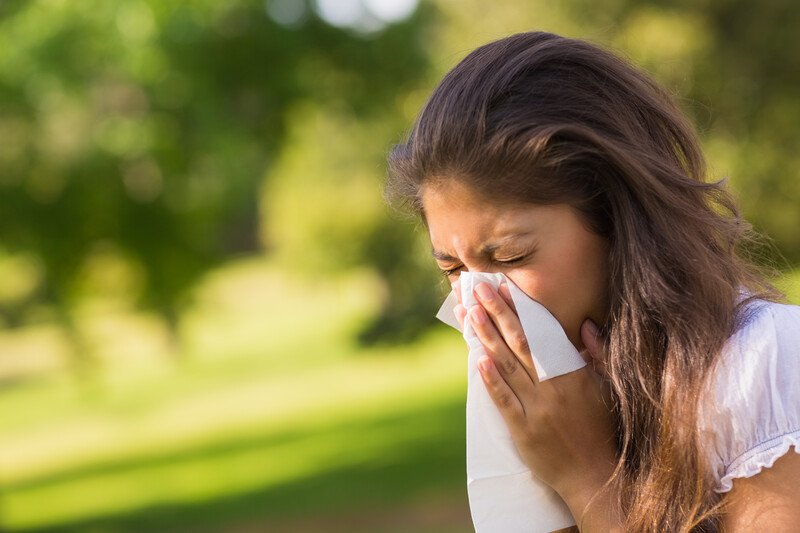 Now that you've read about the best foods for allergies, are you ready to try to mix them into your daily eating plan? It's easy to do, and it can make a fun game when you feel the sniffles starting.
Sweet And Salty Pineapple Dessert
One easy, delicious summer treat is pineapple. You can fancy it up by chunking it up into a dessert bowl and then topping it with chopped nuts and seeds, such as sunflower seeds, slivered almonds, and cashew halves. You can add a sprinkle of dark chocolate chips and a dollop of Greek yogurt for an extra burst of magnesium and a probiotic boost, too.
Veggies And Greek Yogurt Dip
You can make your own Greek yogurt dip by mixing in freshly chopped onions, salt, black pepper, and garlic powder to taste. You might consider a pinch of ground turmeric powder, too. Once you've got it the way you like it, pull out the grape tomatoes and pepper strips.
Refreshing Ginger Summer Tea
If you're more in the mood for a beverage, steep some fresh ginger in 3-4 cups of hot water for around five minutes. Remove the ginger pieces. If you like it sweetened, mix in some honey. Then refrigerate the ginger tea. Later, you can pour it into glasses of ice and serve it with lemon wedges for a cool summer drink.