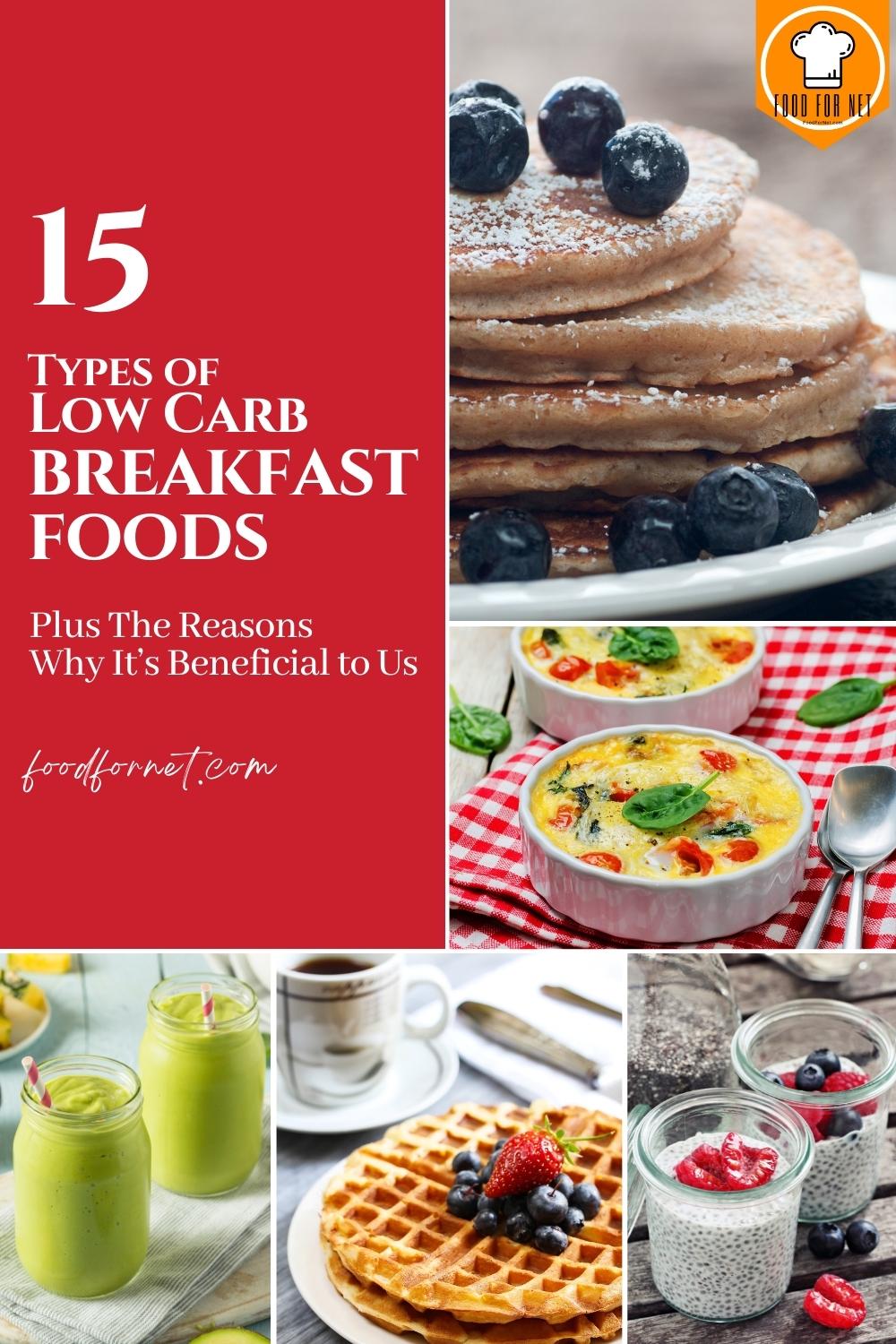 Breakfast they say is the most important meal of the day – it's actually true because it breaks the overnight fasting period. It's your way of replenishing your body with a supply of glucose and other essential nutrients. And while there are some that prefer high protein breakfast or low cholesterol breakfast, there are also those who favored low carb breakfast foods.
Breakfast is important because it's healthy for our body. Surprisingly, a lot of us either missed or intentionally skip breakfast. Perhaps because of time constraints (too busy, always in a rush). Could be too tired as well (would rather sleep in for a few more minutes than prep and eat breakfast). Some others still are just bored of the same old breakfast foods (it simply does not appeal much so why bother, right?).
That said, there are ways to ensure that you don't miss breakfast. For one, try waking up a few minutes earlier than usual. That will give you extra time to have breakfast instead of just rushing straight for the door. You can also try preparing breakfast the night before – say, overnight chia pudding or the likes. If you can, you can try simply packing them up and having them at work instead. It'll help, too, if you have a collection of low carb breakfast ideas that are both delicious and easy to prepare.
Eating low carb breakfast foods can boost weight loss, enhance endurance levels in physical activities, improve blood pressure and cholesterol levels, and manage blood sugar levels. Right off the bat, we can say that low carb breakfast really has positive effects on our body. More about these health benefits, at the end of the article.
With a little creativity and enthusiasm, there are a lot of ways to prepare low carb breakfast foods. You need to put in a little planning and work, of course, but once you're set you will hardly miss a carb-heavy breakfast at all! Here are a few of them to give you ideas and to inspire you to start meal planning. You could even include some of these on a breakfast charcuterie board.
Low Carb Breakfast Foods (With Pictures!)
Blueberry almond pancakes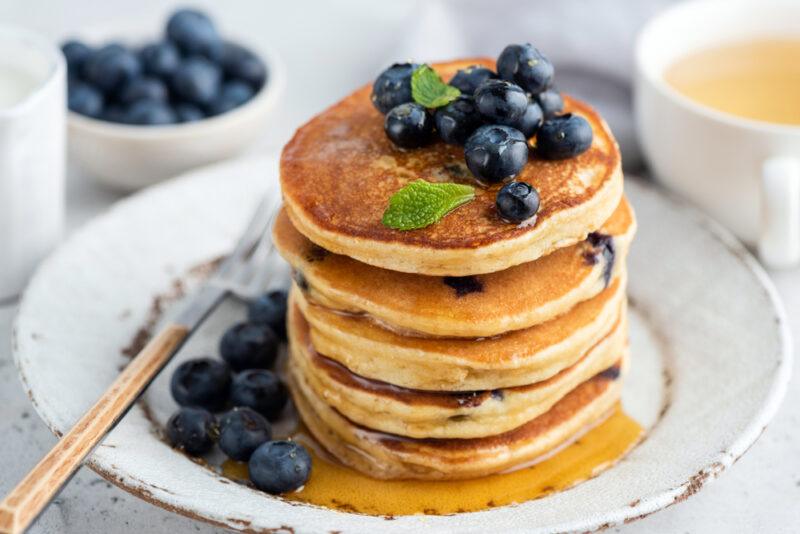 Using a combination of almond and coconut flour will give you healthier and low-carb pancakes. The blueberries' sweetness and slight acidity not only add flavor but also ensure that you're getting a good serving of fruit in the morning.
Almond flour is particularly rich in vitamin E and magnesium. Coconut flour on the other hand is rich in fiber and MCTs. Blueberries in this breakfast dish will provide potassium, folate, vitamin C, vitamin B6, and phytonutrients.
Cheese omelette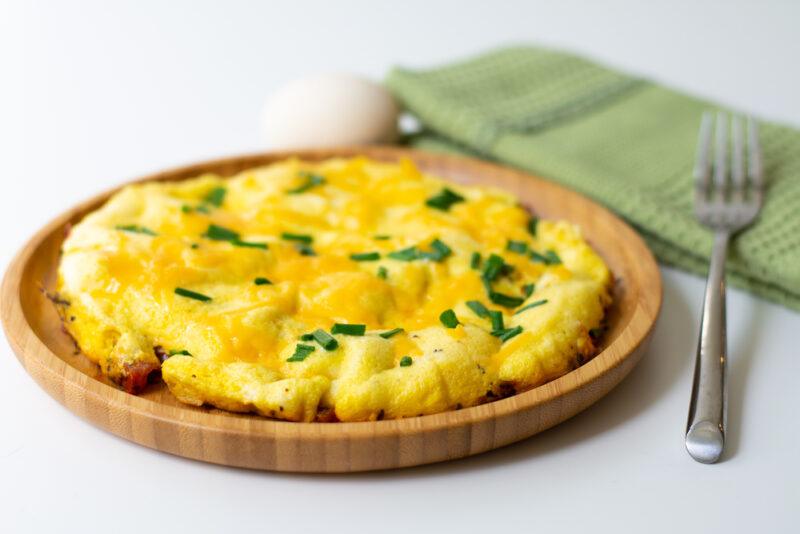 This one is perfect when you have a tight schedule. Simply add shredded cheese to whisked eggs and top it with a handful more before you fold them, and that's it! Breakfast served! If you want, you can throw in one or two herbs to make it more interesting.
Cheese on top of its calcium, fat, and protein content, also has high amounts of vitamin A, vitamin B12, zinc, phosphorus, and riboflavin. Omega 3 fatty acids and vitamin K can also be found in cheese made from milk of 100% grass-fed animals.
Cauliflower hash browns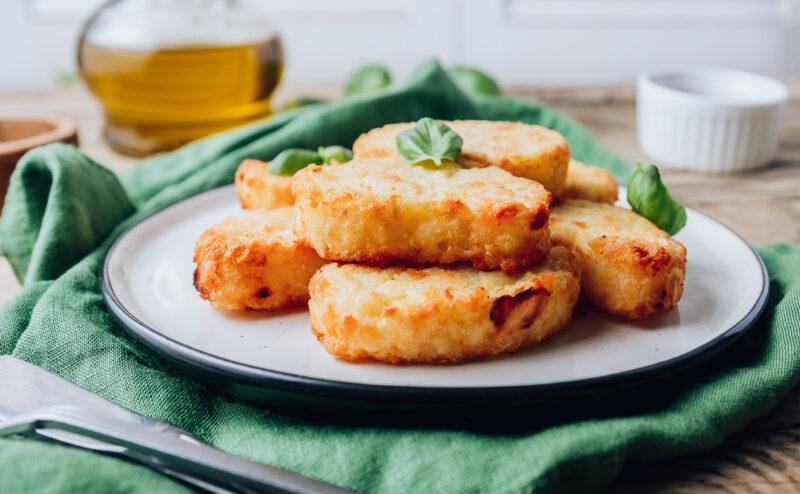 This is absolutely easy especially if you have a food processor (you can of course simply use a grater). Simply mix grated cauliflower with eggs and onion, then season with salt and pepper. Fry using butter, let it cook, and you're pretty much set! Don't be wary about adding some herbs, too!
Cauliflowers are rich in fiber, vitamin C, and vitamin K. It also contains vitamin B6 and smaller amounts of thiamin, niacin, riboflavin, pantothenic acid, calcium, magnesium, potassium, iron, phosphorus, and manganese.
Crustless spinach, mushroom, and feta quiche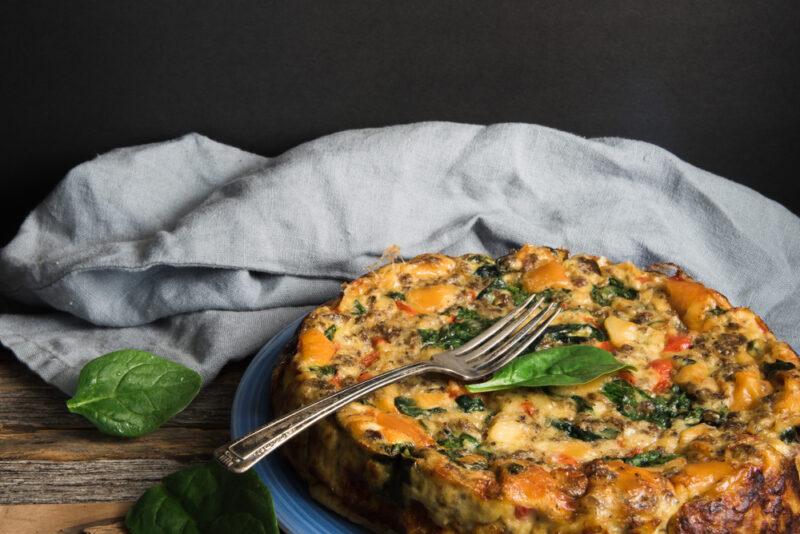 A quiche, sans the crust, because, why not, right? Sautee mushroom and spinach with onion and then add it to the mixture of eggs, feta cheese, and salt and pepper. Bake for about 30 minutes and then you're all set. If you're not into feta cheese, you can add goat cheese, cheddar cheese, Swiss cheese, or gruyere. You can also add a combination of any of these cheeses.
Mushrooms are packed with fiber, protein, and antioxidants. Spinach is an excellent source of fiber as well. It's also rich in iron, folate, potassium, and vitamin A, vitamin C, and vitamin K.
Overnight coconut chia pudding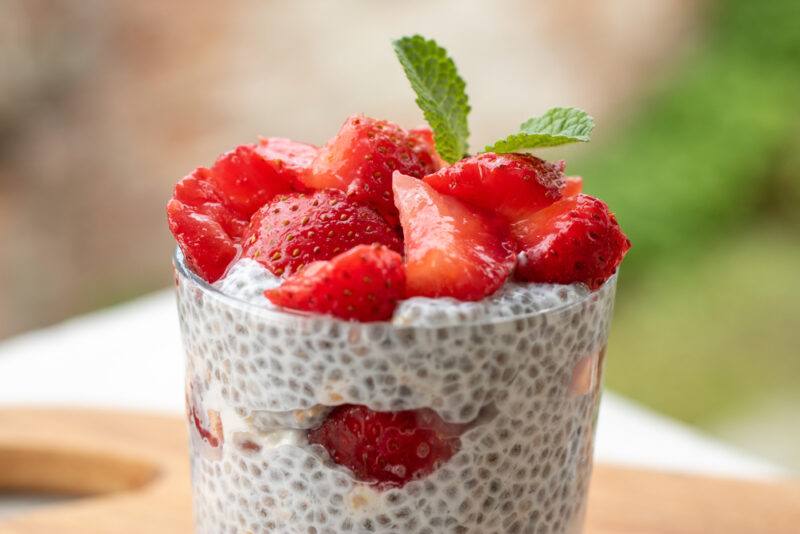 It can't get any simpler than this. Simply mix the coconut milk, chia seeds, and honey and refrigerate it overnight. In the morning, you can top it with diced strawberries or peaches before serving. This is perfect for busy days, you can simply prepare them the night before and you'll be set for the morning.
Chia is an excellent source of omega 3 fatty acids and is also rich in antioxidants. It also contains fiber, iron, and calcium. Coconut milk is a rich source of manganese and an adequate source of phosphorus, iron, and magnesium.
Egg muffins with sausage and peppers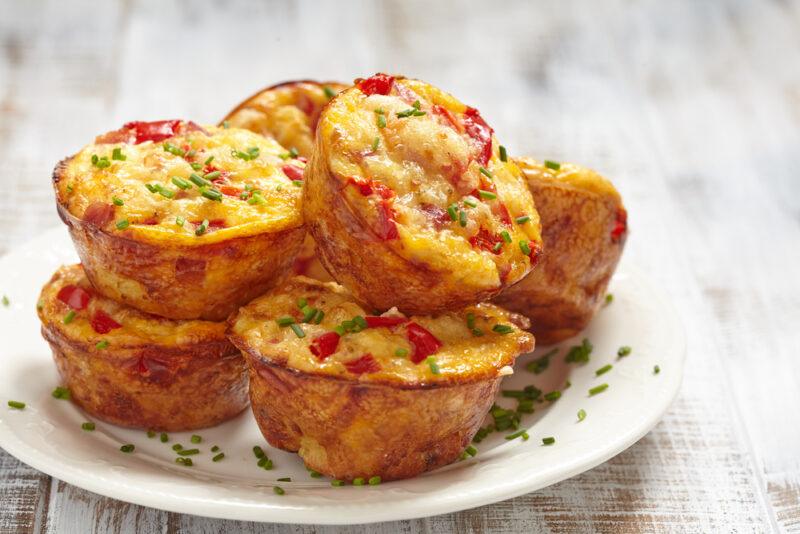 Use bulk pork sausage or if you have the linked ones, simply break the casing to use it. Cook them separately and then add to a mixture of eggs, cheese, and pepper. Simply season with garlic powder and salt and pepper. Scoop them into greased muffin cups and bake for 20-25 minutes.
Aside from the egg, sausage is also a great source of protein. If you can, it will be great if you can make one at home – don't worry it's not that complicated, as long as you nail the sausage seasoning, you're pretty golden. Peppers aside from their fiber, folate, and iron content, are also excellent sources of vitamin A, vitamin C, and potassium.
Coconut porridge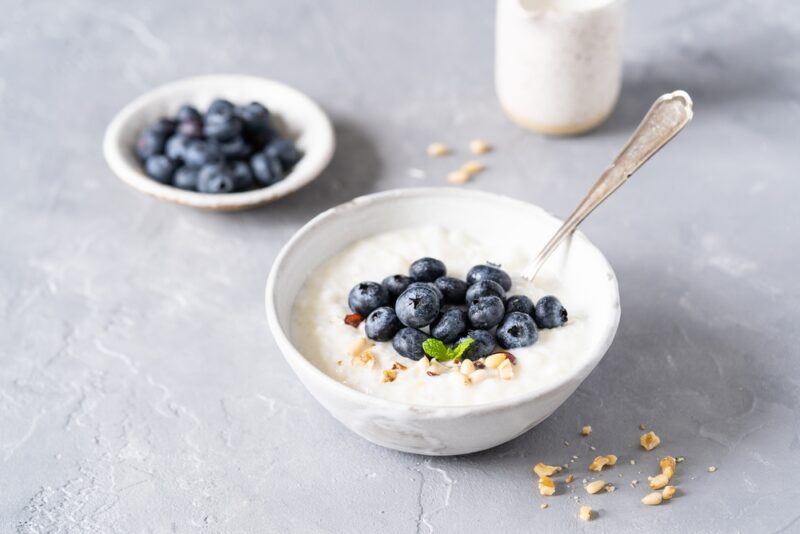 You can top this porridge with fresh or frozen berries for additional flavor and nutrient content. To make the porridge melt butter and coconut milk together then simply whisk in the egg mixture that includes coconut flour and a bit of salt. Combine them until it's creamy and thick. Add a splash of coconut milk or a dollop of cream before serving.
Like we mentioned above coconut milk contains manganese, phosphorus, iron, and magnesium. This creamy and slightly thick dairy substitute is quite a favorite among keto dieters. It is basically the milky substance that you obtained from the pulp of mature coconuts.
Grain-free waffle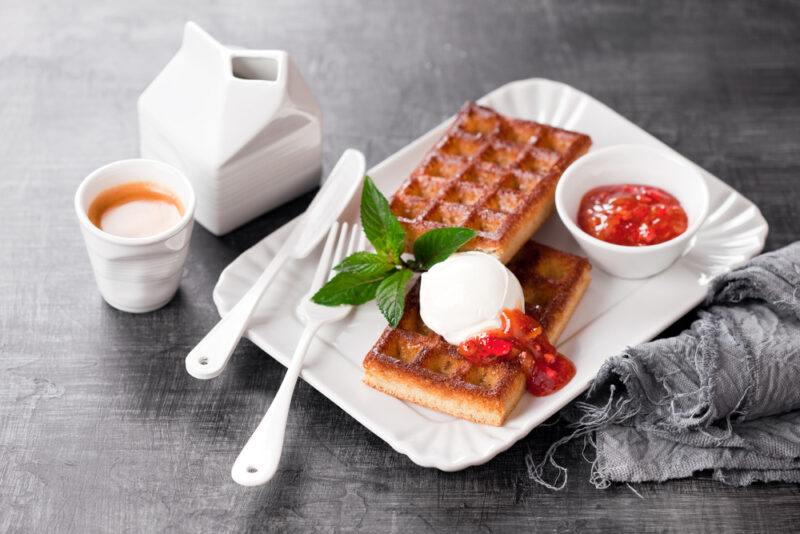 Yes, you can make waffles grain-free. How? Use 3 egg whites, add a couple of tablespoons of coconut flour, a couple of tablespoons of milk, half a teaspoon of baking powder, and sweetener to taste. That's it, you're now ready for your waffle iron.
Coconut flour is gluten-free and a great substitute for flour. It only has 2g of net carbs per serving compared to flour's 23g. Again, coconut flour is rich in fiber and MCTs or medium chain triglyceride – it helps our body make ketones, the energy source for the brain that doesn't have carbs.
Cheesy bacon egg cups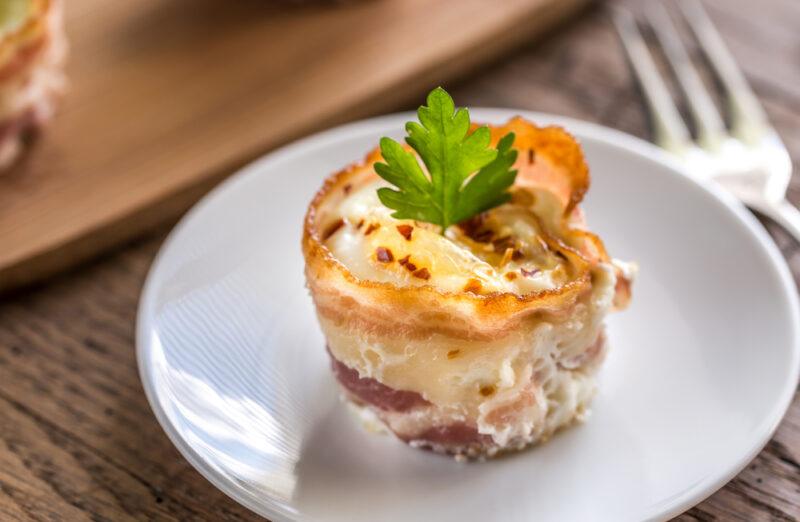 Not only are they quick to make but these cheesy bacon egg cups are surely a great way to start your day. Don't worry, eat sparingly if you're concerned about bacon being a processed food. Having them once in a while is a great way to break the monotony and add some excitement to your morning.
Eggs are not just excellent protein sources, it also contains vitamins A, B12, D, and E. It's a good source of folate, lutein, zeaxanthin, and choline. They're quite versatile as well, with the use of one or two spices, you can already create amazing egg dishes.
Avocado spinach smoothie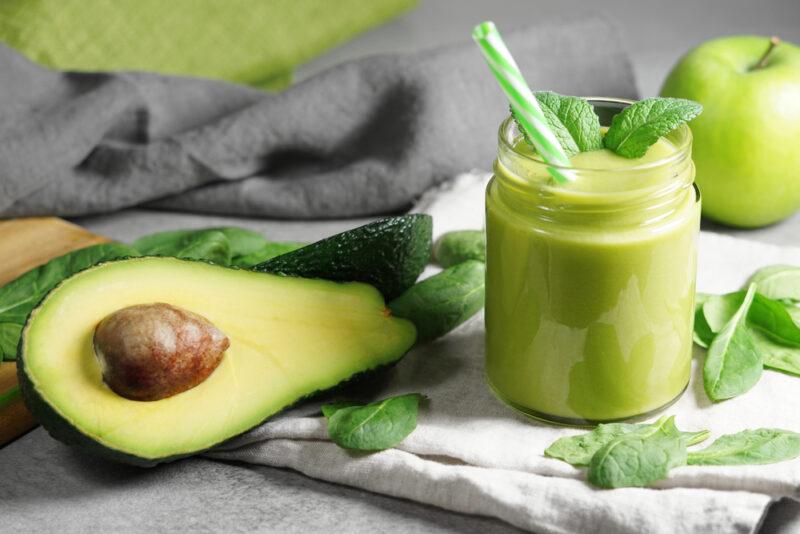 Smoothies are actually great for breakfast and it doesn't have to be laden with high-carb fruits. You can simply opt for the low-carb ones like this avocado and spinach combo for instance. With coconut milk and perhaps a little peanut butter and a squeeze of lime, your breakfast is all ready!
On top of the healthy fats and dietary fiber, avocados are also a great source of folate, magnesium, potassium, B vitamins, and vitamins C, E, and K. Peanut butter is moderately low in carb, you should be fine with one or two tablespoon.
Scrambled eggs with Swish chard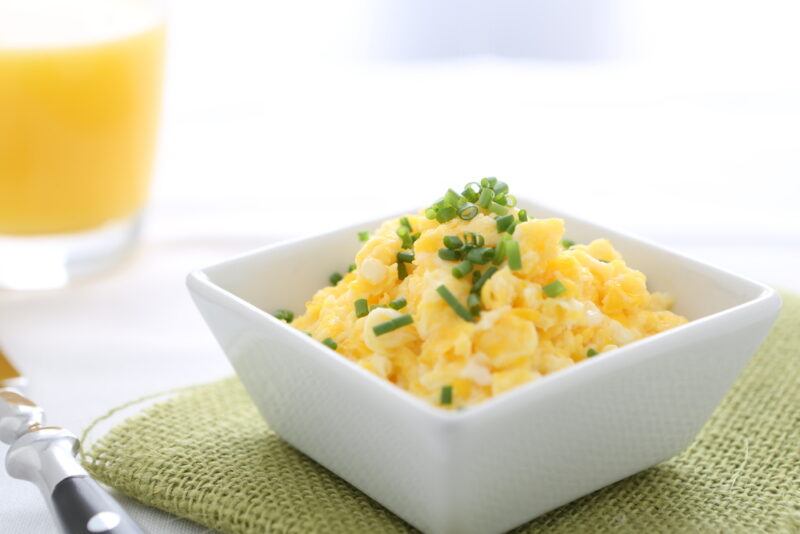 Eggs, particularly scrambled eggs, are classic breakfast choices and it's great that it's low carb, too. Simply saute a cup of finely sliced Swiss chard with onion, then add the eggs. You can add cheese or milk, depending on how you want your scrambled eggs. It's up to you, really.
Swiss chard is an excellent source of vitamins A, C, and K. It's also a good source of magnesium, iron, potassium, and dietary fiber.
Arugula and cherry tomato bowl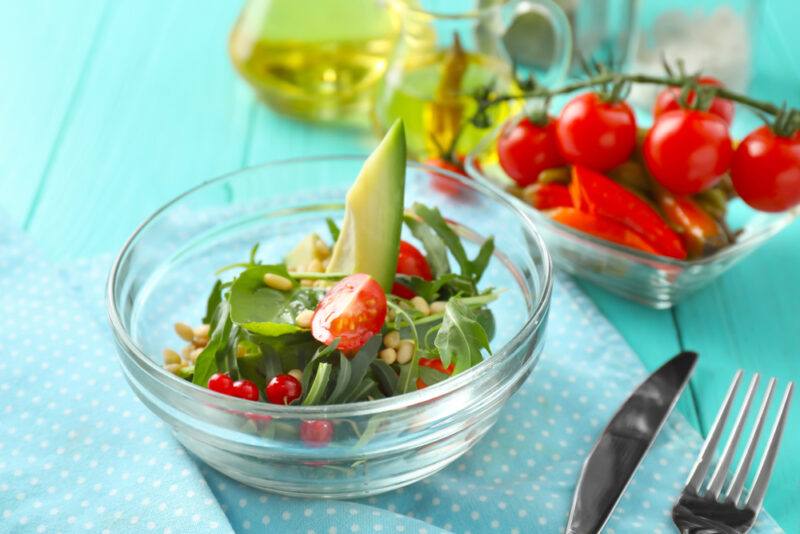 A bowl of sauteed arugula in bacon fats and sliced cherry tomatoes, top with crumbled bacon bits, poached egg, and sliced avocado seasoned with a dash of pepper, sounds delish, right? Well, it is!
Arugula is rich in fiber and phytochemicals while cherry tomato is known for its lycopene content. And of course, the very healthy avocado!
Mushroom and spinach frittata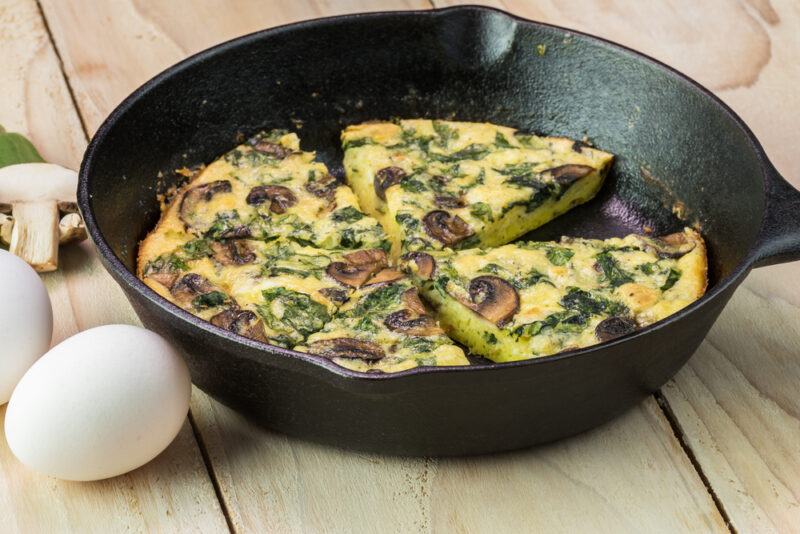 Both of these veggies are low carb so you're in the clear. Simply saute bacon and mushroom in a pan and then transfer them to a baking dish. Spread them out nicely and then top with a mixture of eggs, parmesan cheese, yogurt, thyme, and salt and pepper. Cook on the stovetop and then finish it in the oven.
Mushrooms are rich in fiber, protein, and antioxidants while spinach is rich in vitamins A, C, and K, folate, iron, and potassium.
Black soybean burritos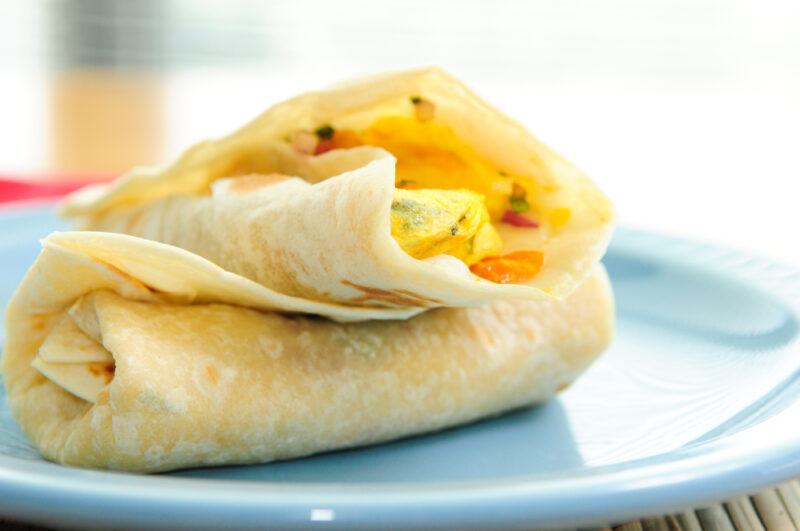 Yes, breakfast burritos! But instead of corn or flour tortillas, use eggs instead. Make your own low-carb 'tortilla' from whisked eggs, milk, and chives, season with salt and pepper. Use nonstick pans and make sure that it's evenly coated with the egg mixture. You'll know it's done if it moves freely when you shake the pan. Simply flip it and then move on to assembling your burrito with with bacon bits, black soybeans, cheddar cheese, avocado, and salsa.
Black soybeans are a great substitute for higher-carb beans like black beans, pinto, and navy beans. Aside from protein, it's also a good source of vitamin K, potassium, iron, magnesium, copper, manganese, and riboflavin.
Zucchini fritters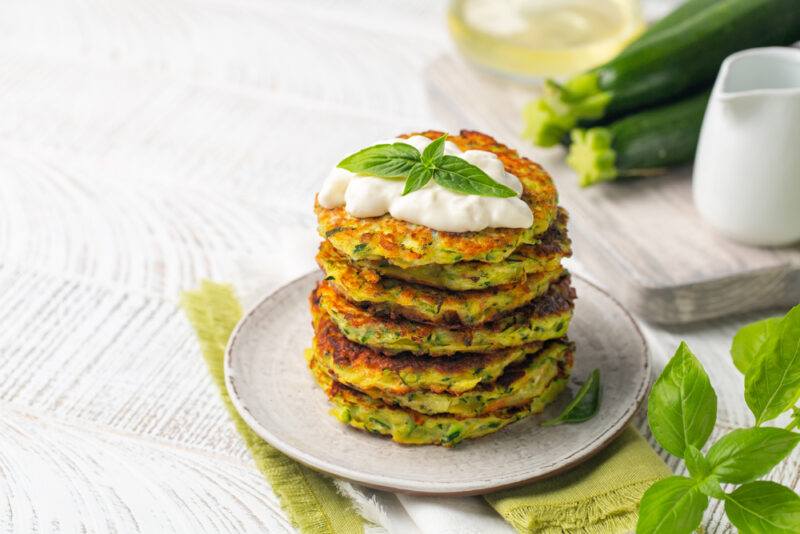 These fritters are not just for breakfast, it can easily turn into healthy lunch or dinner as well. Not only are they quick and easy to make, but they're also quite affordable as well. The grated zucchinis are mixed with parmesan, almond flour, eggs, salt, and pepper. Once they're nicely incorporated you can then continue on to your frying pan!
Zucchini is packed with antioxidants like lutein and zeaxanthin. It's also a great source of folate, potassium, and vitamin A.
Why Low Carb Breakfast?
Boost weight loss
A low carb diet tends to increase metabolism. This means that you burn more calories compared to those who consume high-carb foods. Low carb eaters also feel fuller for longer which means that you eat lesser and not as often either. Both of these, of course, contribute to losing weight.
Enhanced endurance levels
This is particularly noticeable with athletes or those who work out, their performance levels are livelier and endurance are remarkably longer. You don't feel heavy or sluggish when you start the day with a low-carb breakfast, it keeps you well-fueled just right for the activity.
Improve blood pressure and cholesterol
A study shows that a low-carb diet results in significant improvement in blood pressure. The results show reductions in blood pressure and marked improvement in lipid profiles at the same time. These changes happened despite the 20% reduction in anti-hypertensive medications.
Manage blood sugar levels
A low carb breakfast significantly reduces the largest glucose increase of the day. This is sufficient in lowering overall exposure to postprandial hyperglycemia. Having a low-carb, high-fat breakfast meal help people with type 2 diabetes to target large morning glucose increase. Findings also show lower hunger later in the day which also indicates its implications on weight loss as mentioned previously.
Related Content