There's a classic saying that breakfast is the most important meal of the day. It's a hard idea to dispute, as breakfast really does set us up for everything that comes after. The question is, what food do you choose? High protein breakfast foods are one of your best options (they're also exceptional on breakfast charcuterie boards).
The reason is that protein helps to keep you going. It gives you sustainable energy and keeps you satisfied. Plus, the protein helps to keep cravings at bay, so you're not looking for a sugary snack a few hours after breakfast. This is true for kids as well as for adults.
A high protein breakfast could even help with weight loss by reducing your risk of overeating later in the day.
On the other hand, breakfasts that are high in carbs and don't have much protein will give you a fast energy boost that soon wears off, often leaving you with a sugar crash. So, a breakfast of toast and jam won't be nearly as effective as the options on this list.
Delicious High Protein Breakfasts
Eggs
Protein Pancakes
Sausages
Bacon
Huevos Rancheros
Kippers
Overnight Oats
Smoked Salmon
Protein Smoothie
High Protein Cereal
Chia Seed Pudding
Tofu Scramble
A Cottage Cheese Bowl
Oatmeal With Extra Protein
Greek Yogurt
Any Fish Meal
Leftovers
Curry
Quinoa Porridge
Breakfast Burrito
Eggs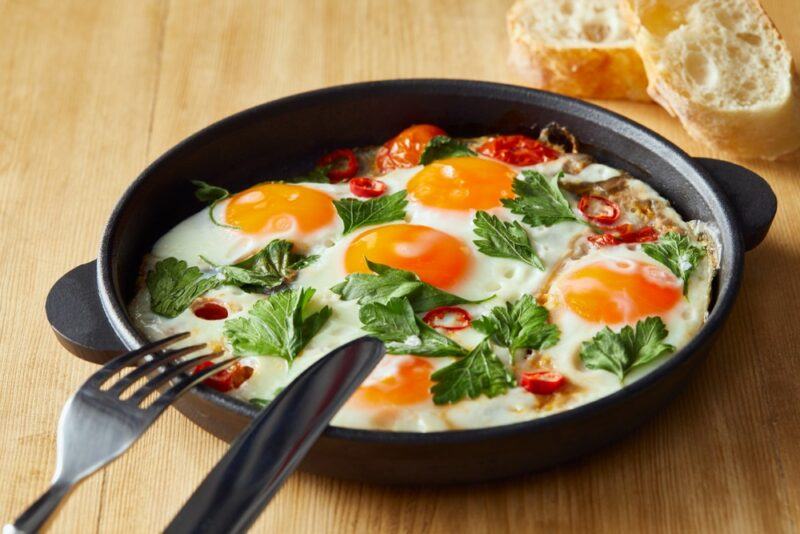 Let's begin the list with the most obvious choice – eggs. Eggs are one of the most classic breakfast foods and it's easy to see why. After all, eggs aren't just packed with protein. They also contain plenty of nutrients, are delicious, and are easy to prepare.
Don't forget that eggs are versatile too. They can be prepared in many ways, like scrambled, poached, hard boiled, or fried. You can also get more complex and include eggs in a recipe, like a frittata or some type of breakfast bake.
The one issue with eggs is their cholesterol levels. You might feel like you need to avoid eggs because of their cholesterol content. Thankfully, this isn't the case. For most people, the cholesterol in eggs doesn't influence blood cholesterol levels at all.
Some people do experience a slight increase in LDL cholesterol when they eat eggs. But, even then, the increases isn't entirely bad, as there's a shift in LDL subtypes that may decrease heart disease risk.
In fact, if you're healthy, eating an egg per day is good for your heart. Isn't that the best news yet?
Protein Pancakes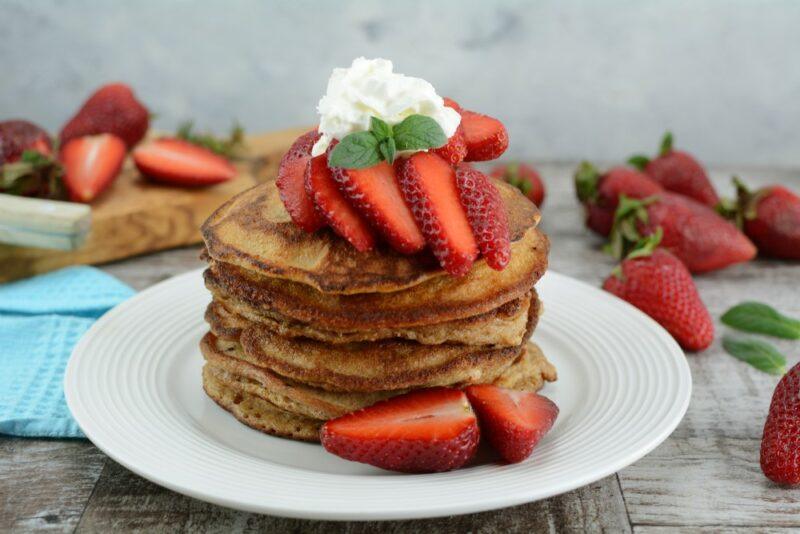 Traditional pancakes are delicious, but they're also loaded with carbs and have little protein. Making protein pancakes is a good way around the problem, as you get to change the macronutrient balance and create a healthier meal.
There are various ways to do this. One involves adding some high protein ingredients to the recipe, like eggs and peanut butter. Doing so changes the flavor and texture of your pancakes, but often in a good way.
Protein powder is another option. This is easier in some senses, as you can find unflavored protein powder without too much effort.
However, it's best to find a recipe that uses protein powder for your first try, as you might need to change other things too, like quantities of liquid ingredients. Simply throwing protein powder in a regular pancake recipe might create unappealing results.
Sausages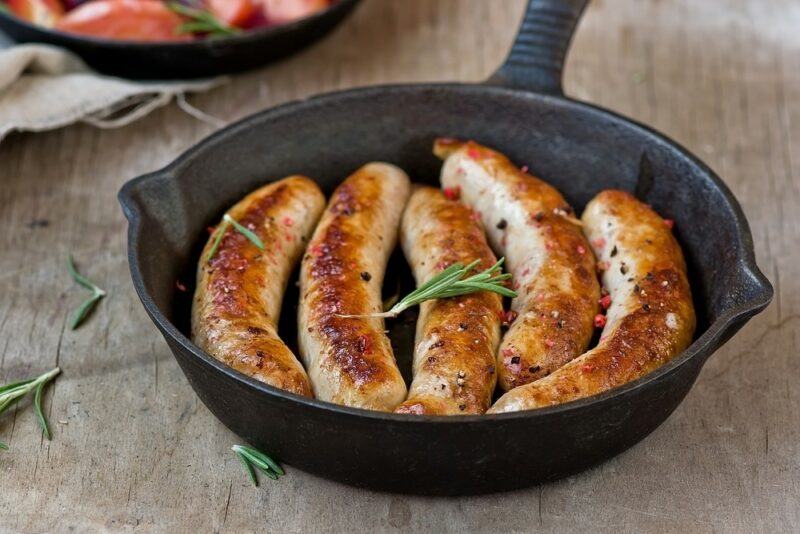 Sausages are another classic breakfast food, often served with eggs, bacon, hash browns, and mushrooms as part of a cooked breakfast. Not surprisingly, that type of breakfast is rich in protein. You get a decent amount of protein eating sausages on their own too.
Of course, sausages have never been known as a healthy food. These days, there is more concern than ever. Not only are sausages high in fat and sodium, but they're also heavily processed.
Studies have also linked processed meat to health problems, including increased risk for cancer and even early death.
These issues aren't just related to the quality of sausages, but the meat itself. This means that buying high-quality sausages with a high meat content isn't likely to help much. Poultry sausages are a better choice, along with ones that have low fat content. Both types should still be decent sources of protein.
Let's not forget about plant-based sausages either. Various companies make vegan products that are designed to look and taste as much like the real thing as possible. These products avoid the serious problems that plague meat-based sausages.
Some will also be high in protein, making them ideal for breakfast. Still, you'll need to check the protein content first, as the protein content can vary dramatically from one product to the next.
Bacon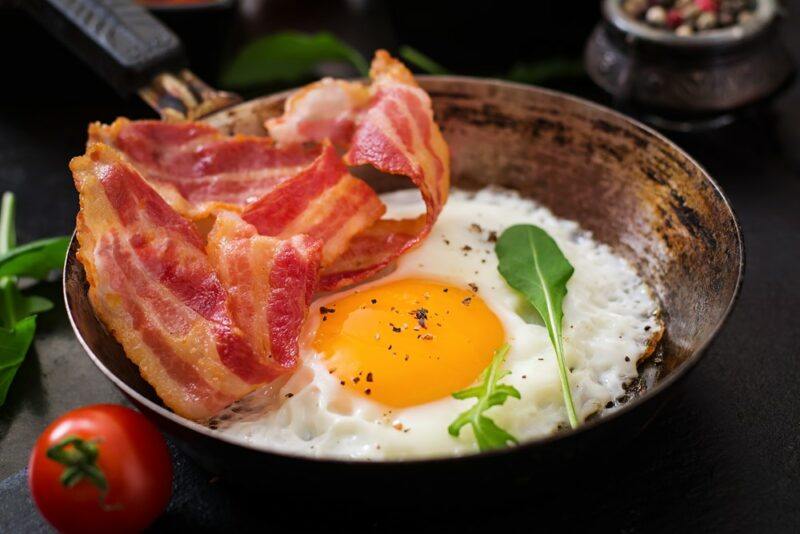 Here's another predictable entry. Bacon feels more like a treat than an everyday breakfast food. Still, it's one that many of us love.
There are plenty of things that you can do with bacon too, including using it as an ingredient in frittatas, omelets, egg cups, and more, or frying it and serving alongside other ingredients.
However, just like sausages, bacon is processed and is associated with cancer risk. Having a little bacon every now and again as a treat might be fine, but it isn't something that you should rely on too often.
Huevos Rancheros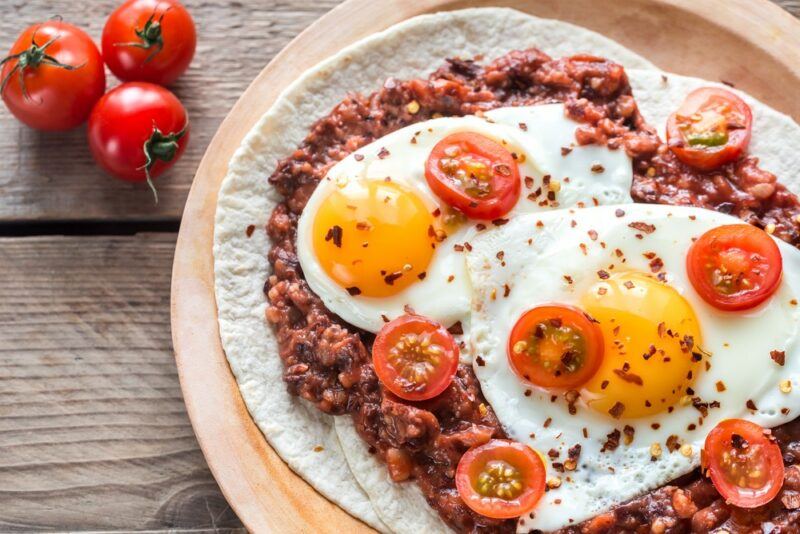 Why stick to the same old thing when you can try a delicious meal like huevos rancheros? This Mexican breakfast can be made in various ways and features fried eggs smothered in salsa and served on a tortilla.
A common version of the meal also includes refried beans as an ingredient. The combination of beans and eggs makes this a satisfying meal, while the salsa adds a vibrant flavor that brings everything together nicely.
Kippers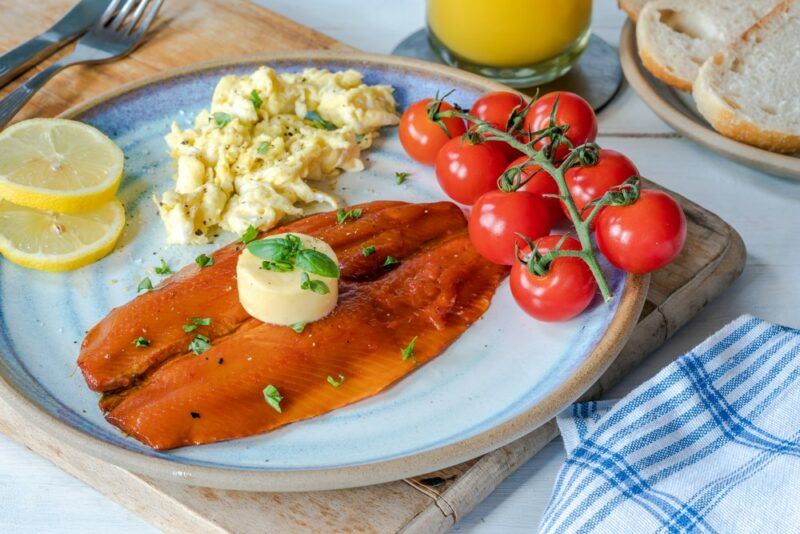 Kippers are a traditional British breakfast. The term refers to a cold-smoked herring that has been split in half. The fish ends with a delicious salty and smoky flavor.
While the popularity of kippers has declined over the years, the breakfast dish is still delicious and nutritious. After all, you're getting plenty of protein and omega-3 fatty acids from the fish. What could be better?
Overnight Oats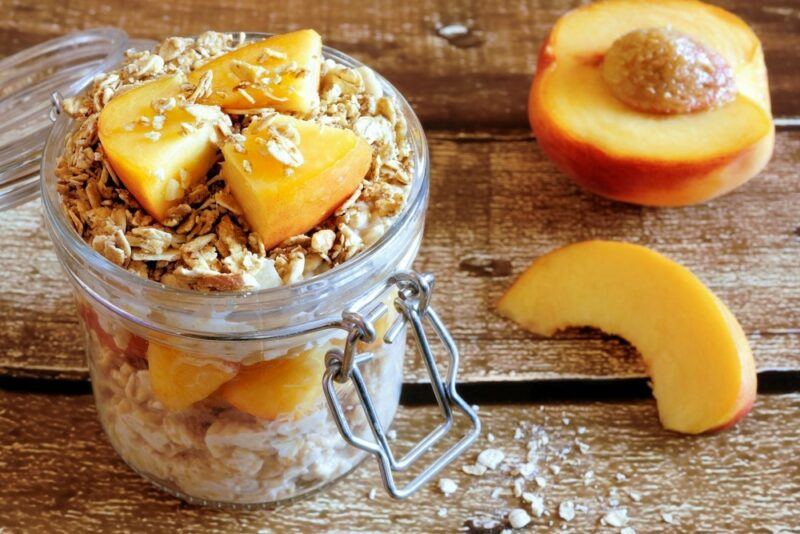 Overnight oats are an interesting alternative to oatmeal. It's made by soaking oats in some type of liquid for at least a few hours, such as milk or plant-based milk. You can include other ingredients for flavor and nutrition too, like chia seeds, cocoa powder, berries, or yogurt.
The biggest advantage is that you can do all the work the night before. So, first thing in the morning when you're tired or short on time, you have a delicious breakfast that's all ready to go.
Any version of overnight oats will give you some protein, as you get protein from the oats. You can increase the protein content further by using nuts or seeds, nut butter, protein powder, or Greek yogurt as ingredients.
Smoked Salmon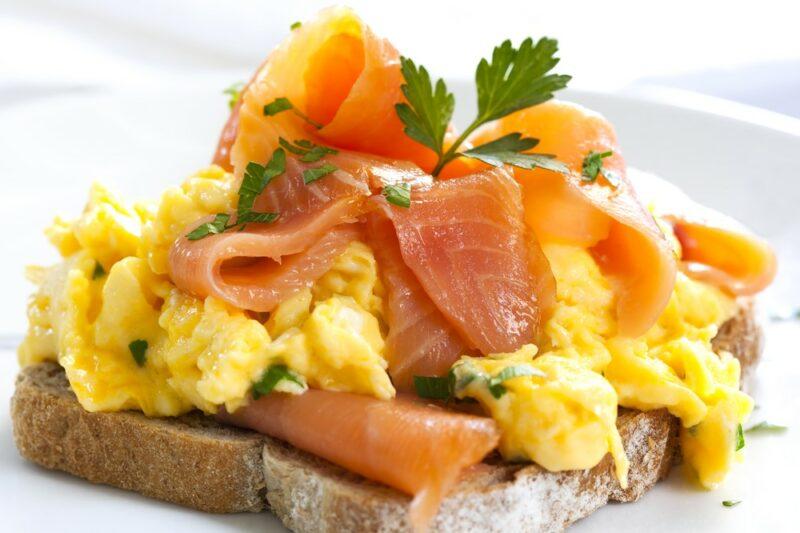 Smoked salmon is a delicious treat, one that also happens to be very good for you. After all, the salmon is a rich source of omega 3 fatty acids. You must have heard how good these are for you. Omega 3s have been associated with longer life, better heart health, and decreased disease risk.
While you'll get the same benefits from cooking a piece of salmon too, smoked salmon requires much less work. It's ready to eat straight out of the packet. That feature could be perfect first thing in the morning.
Smoked salmon also combines well with many classic breakfast ingredients, including eggs and avocados. How about smoked salmon on a bagel with cream cheese?
Protein Smoothie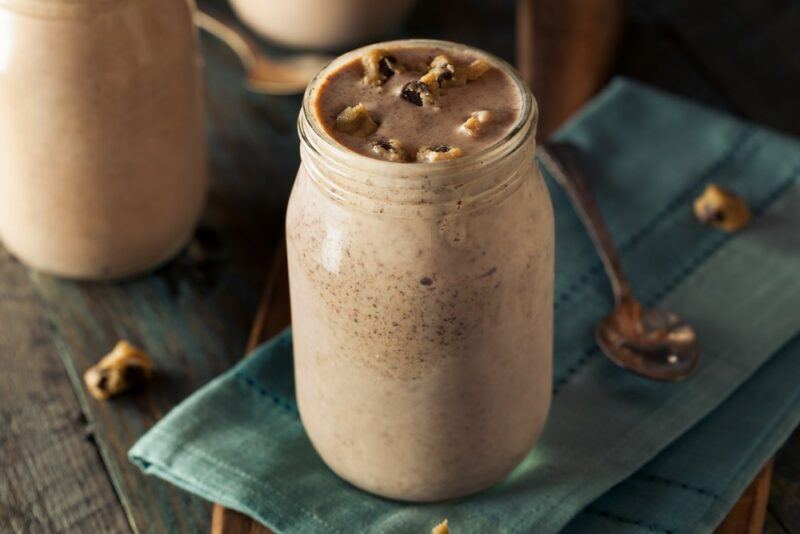 A smoothie might be a type of drink rather than food, but it's far too important to leave off the list. After all, many people drink protein smoothies instead of breakfast each morning.
The simplest option is to just combine protein powder with some type of liquid. You'll get the most protein by using milk, but you might want a plant-based milk or water instead, depending on your nutrition needs.
Or, if you want something more complex, there are countless smoothie add-ins that you can try, including fruit, vegetables, nuts, seeds, spices, and more. Some of these provide you with extra protein. If you use enough protein-containing add-ins then you might not need protein powder at all.
High Protein Cereal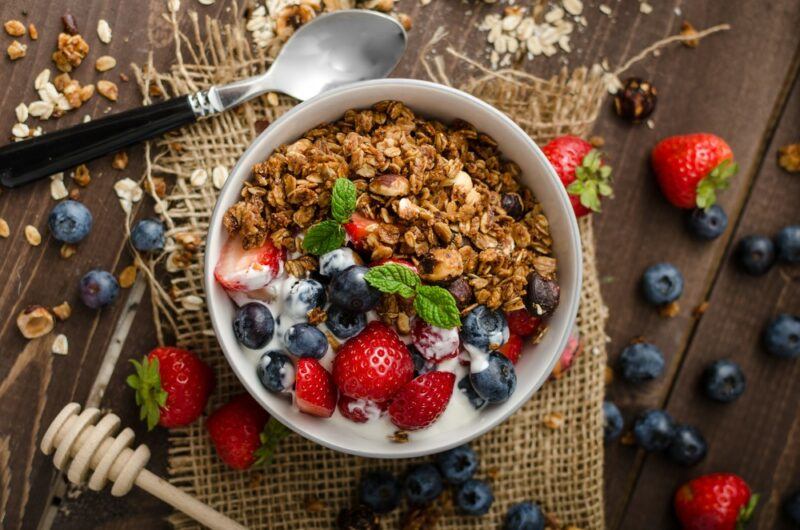 Cereal for breakfast is often a poor choice. It tends to be heavily processed, full of sugar, and contains plenty of additives too. Many brands are low in protein, so having cereal for breakfast can mess with your blood sugar levels.
Thankfully, cereal isn't all the same. There are plenty of good products out there, including some that are relatively low in carbs and contain decent amounts of protein. You can even make your own high protein cereal, which will often use nuts as a key ingredient.
If you're looking for a good product, try one that's designed for keto or paleo dieters. Both diets have a strong focus on whole foods and tend to keep carb intake low. This should make it easier to find high protein products.
Chia Seed Pudding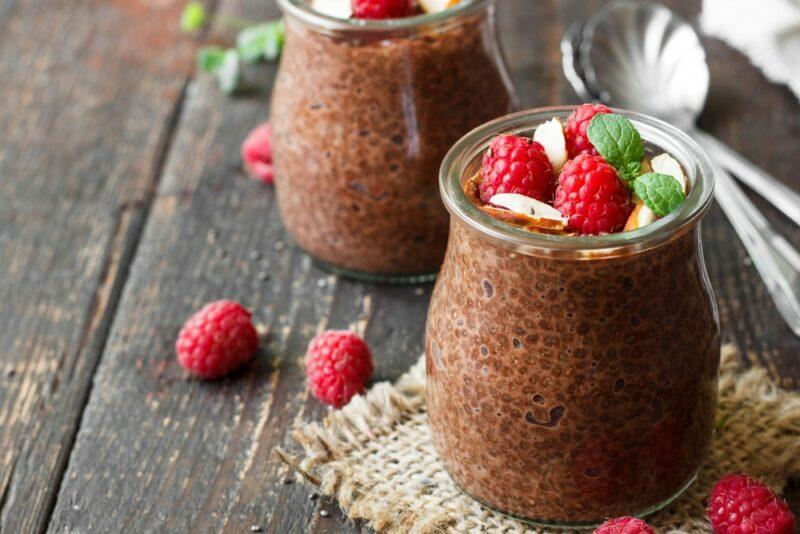 Despite the name, chia seed pudding isn't a type of dessert. Instead, it's a healthy dish that you can have at any time of the day.
You only need two ingredients for chia seed pudding – the seeds themselves and some type of liquid. Soy milk or almond milk are both excellent choices. The pudding gets its texture from the way that chia seeds become gelatinous as they absorb water.
Chia seeds are fantastic sources of fiber and plant-based omega 3 fatty acids, making them a healthy breakfast choice. You get a decent amount of protein from the seeds themselves, but you can amp this up even further by mixing some crushed nuts or protein powder into the pudding.
Tofu Scramble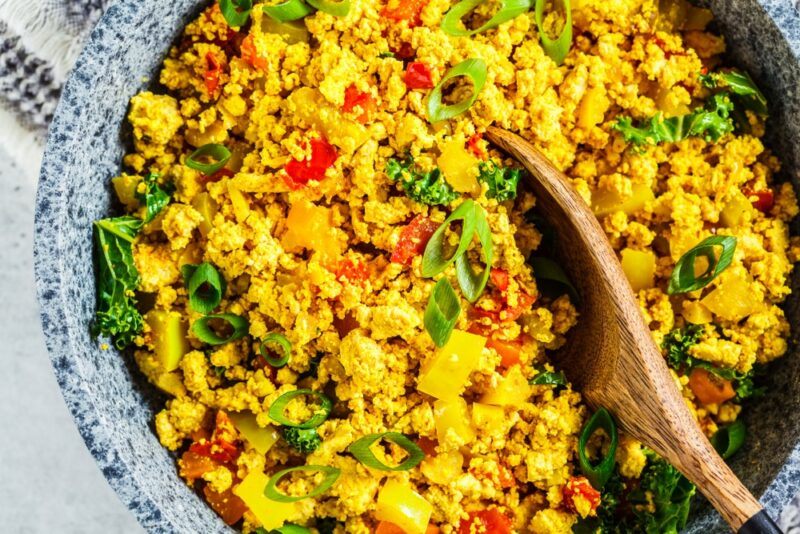 Surprising as it seems, tofu can mimic scrambled eggs well. The meal isn't difficult to prepare either. You simply crumble tofu into a pan and cook it just like you would eggs.
Just be sure to add other ingredients in for flavor, including herbs, spices, and perhaps some vegetables. After all, tofu doesn't have much flavor of its own, so it needs a helping hand.
Tofu is an excellent source of protein, so this type of scramble works well as a breakfast choice. It's not just for vegans either. Even meat eaters can enjoy tofu scramble from time to time.
A Cottage Cheese Bowl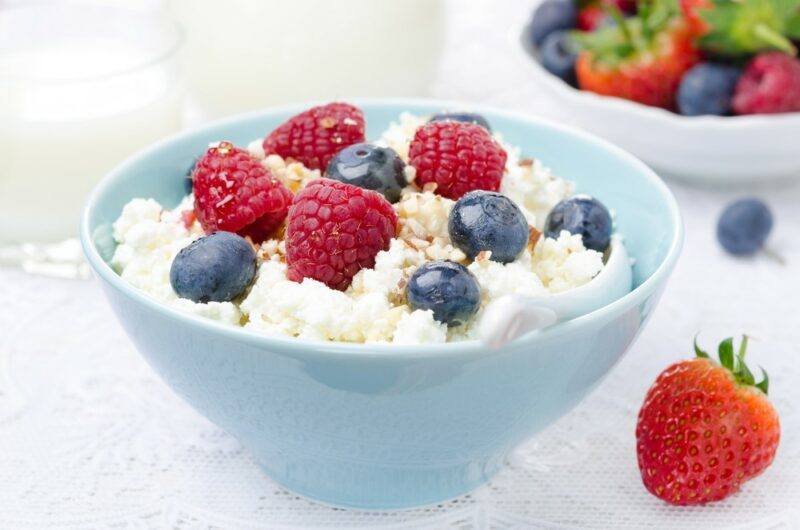 You're probably familiar with using cottage cheese as a source of protein, but what about using it as the base of a meal instead? Doing so gives you something similar to a power bowl, except you're not using grain as the base.
You have plenty of options for delicious toppings too. Savory ingredients can work well here, including sliced bell peppers, cherry tomatoes, and perhaps a sprinkling of seeds. Or, you could try a sweet topping instead, like a handful of fresh berries.
Oatmeal With Extra Protein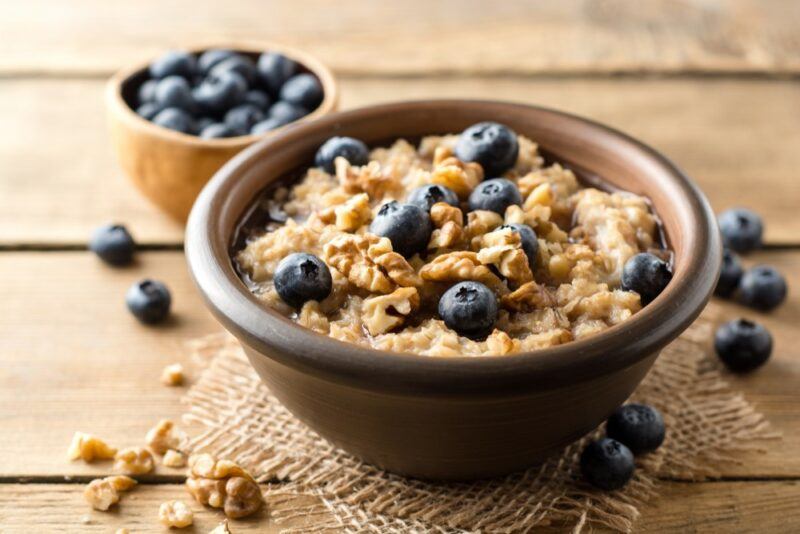 We've already talked about overnight oats. So, it shouldn't be surprising that you can make oatmeal rich in protein too. Adding crushed nuts or nut butter is an easy first step here.
Chia seeds are another good addition, as they don't change the flavor of your oatmeal at all and add plenty of nutrients. Cooking the oatmeal with milk rather than water or plant-based milk helps too, as milk provides you with more protein.
Greek Yogurt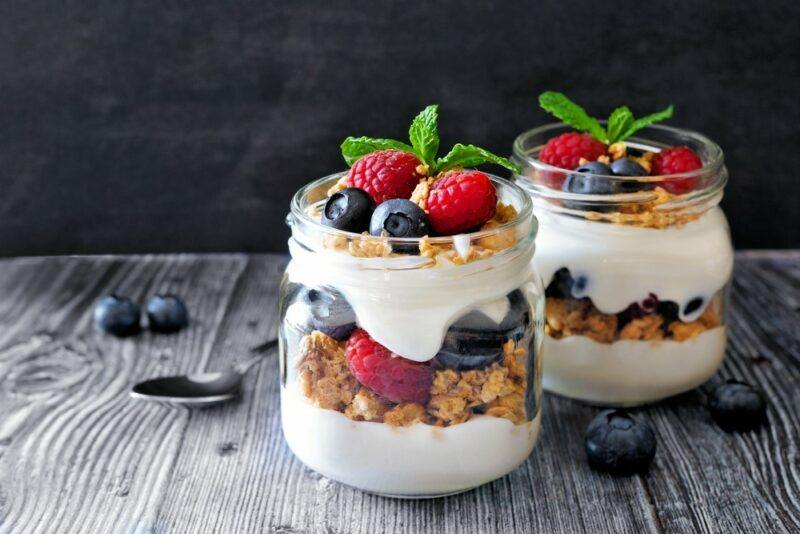 Yogurt is a popular breakfast choice, but if you want the most protein, you need to focus on Greek yogurt. This style of yogurt is strained, which gives it a creamy texture and much more protein than regular yogurt.
While you might have Greek yogurt on its own, many people combine it with other ingredients, like cereal or fresh fruit. A yogurt parfait is a fantastic example. This gives you a fantastic balance of protein, complex carbs, and fiber. However, it's important to rely on fresh fruit and high quality cereal.
A word to the wise: Watch out for Greek-style yogurt. Some of these products use thickeners to give them the texture of Greek yogurt. But, because the yogurt isn't strained, it doesn't have the high protein content that you're looking for.
Any Fish Meal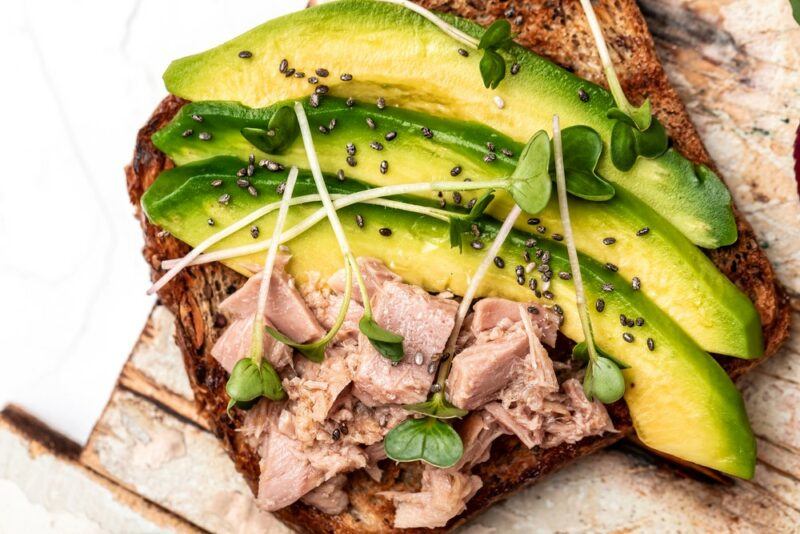 Smoked salmon and kippers are probably the most common breakfasts that rely on fish. Still, they're hardly your only option. Many fish meals taste just as good for breakfast as they do at any other time of the day.
There are even options like poke, which is sometimes served for breakfast in Hawaii.
You're not limited to breakfast dishes anyway. A fish meal that you commonly prepare for lunch or dinner could be just as delicious at breakfast time. Why not experiment?
Leftovers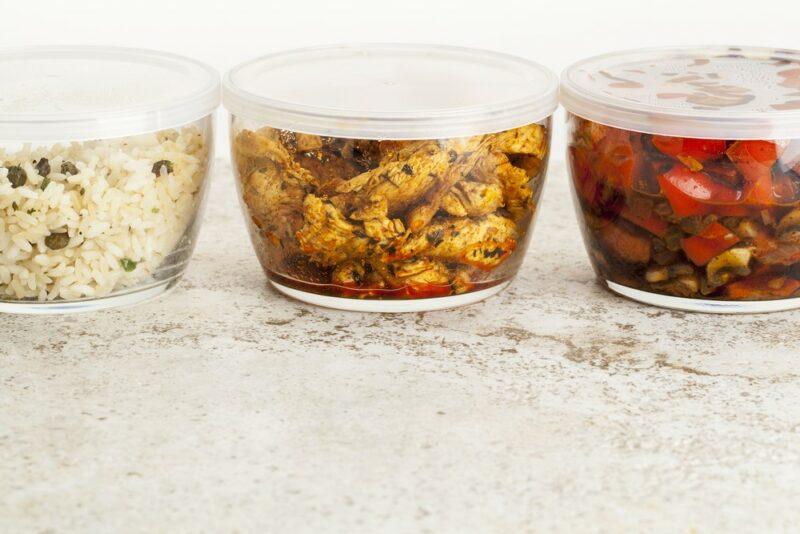 Leftovers are one of the easiest ways to enjoy protein for breakfast. This could be as simple as reheating the dinner you had the night before. Or, you might combine multiple ingredients from different meals, perhaps by frying them all together.
By using leftovers, you can avoid cooking a full meal. You're also using food that might have otherwise been wasted, which is pretty brilliant.
When taking this approach, you might need to suspend ideas about what breakfast should or shouldn't look like. Then again, you've probably already noticed that breakfast can be almost anything.
Curry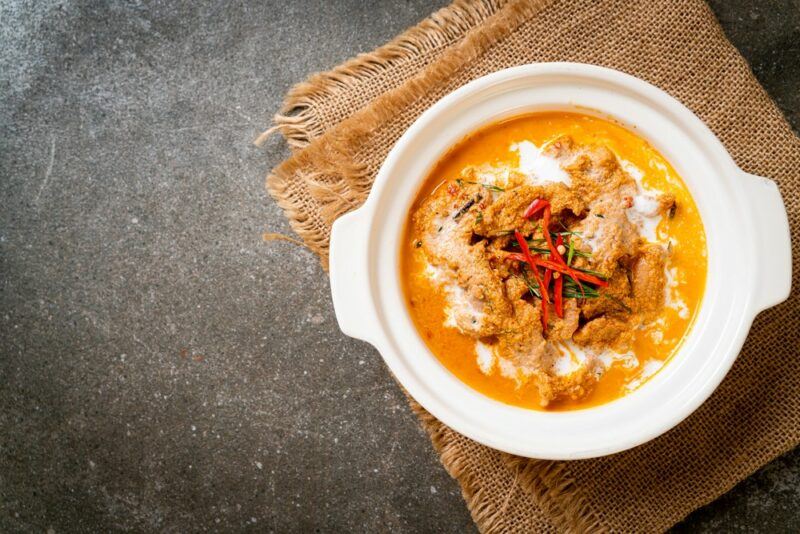 Speaking of unexpected breakfast choices, have you ever had curry for breakfast?
The idea is unusual, but only if you assume that breakfast should be different than other meals of the day. In practice, having curry for breakfast works exceptionally well. You end up with a piping hot meal that's full of protein and is simply delicious.
The main limitation is that this is a meal you'll want to prepare ahead of time. Most of us won't have the time or the energy to cook curry first thing in the morning.
Quinoa Porridge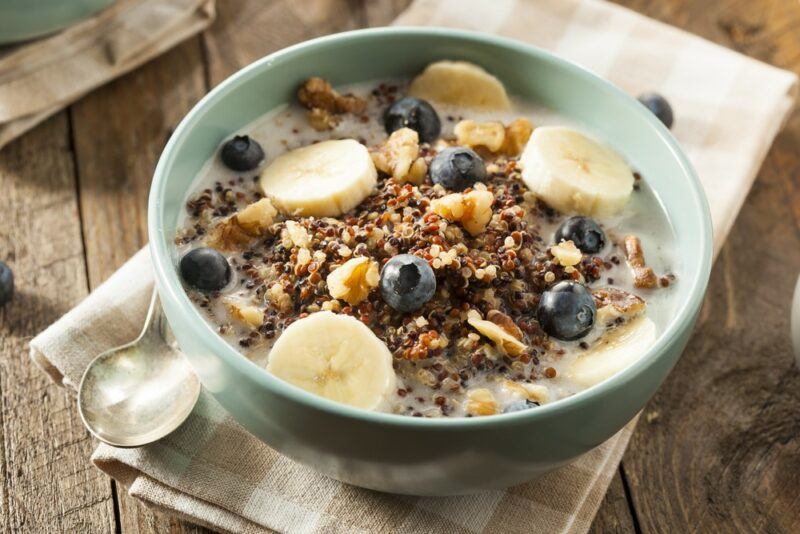 Did you know that you can make a porridge-like dish using quinoa rather than oats? The approach works well, as quinoa is rich in protein and offers plenty of nutrients too.
Besides, having oatmeal for breakfast can get dull and repetitive after a while. Quinoa is a fantastic way to make your meal more interesting without changing too much.
Breakfast Burrito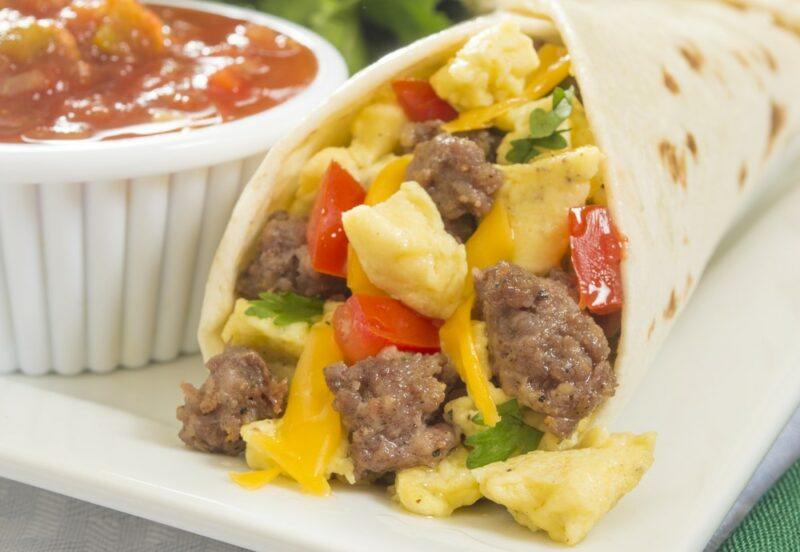 We can't forget the classic breakfast burrito. This meal can be made in countless ways and tends to be delicious no matter what. You don't need to follow a recipe either. Instead, breakfast burritos can be easily tweaked to match your taste, texture, and dietary preferences.
Making a protein-packed version is easy too. You can rely on ingredients like eggs, beans, salmon, sausages, or pork. Even just one or two of these would give you a filling meal. Don't forget the other ingredients too. Breakfast burritos are best when you include some vegetables in the mix. Salsa is another excellent addition. It provides a vibrant flavor that brings the other ingredients together perfectly.