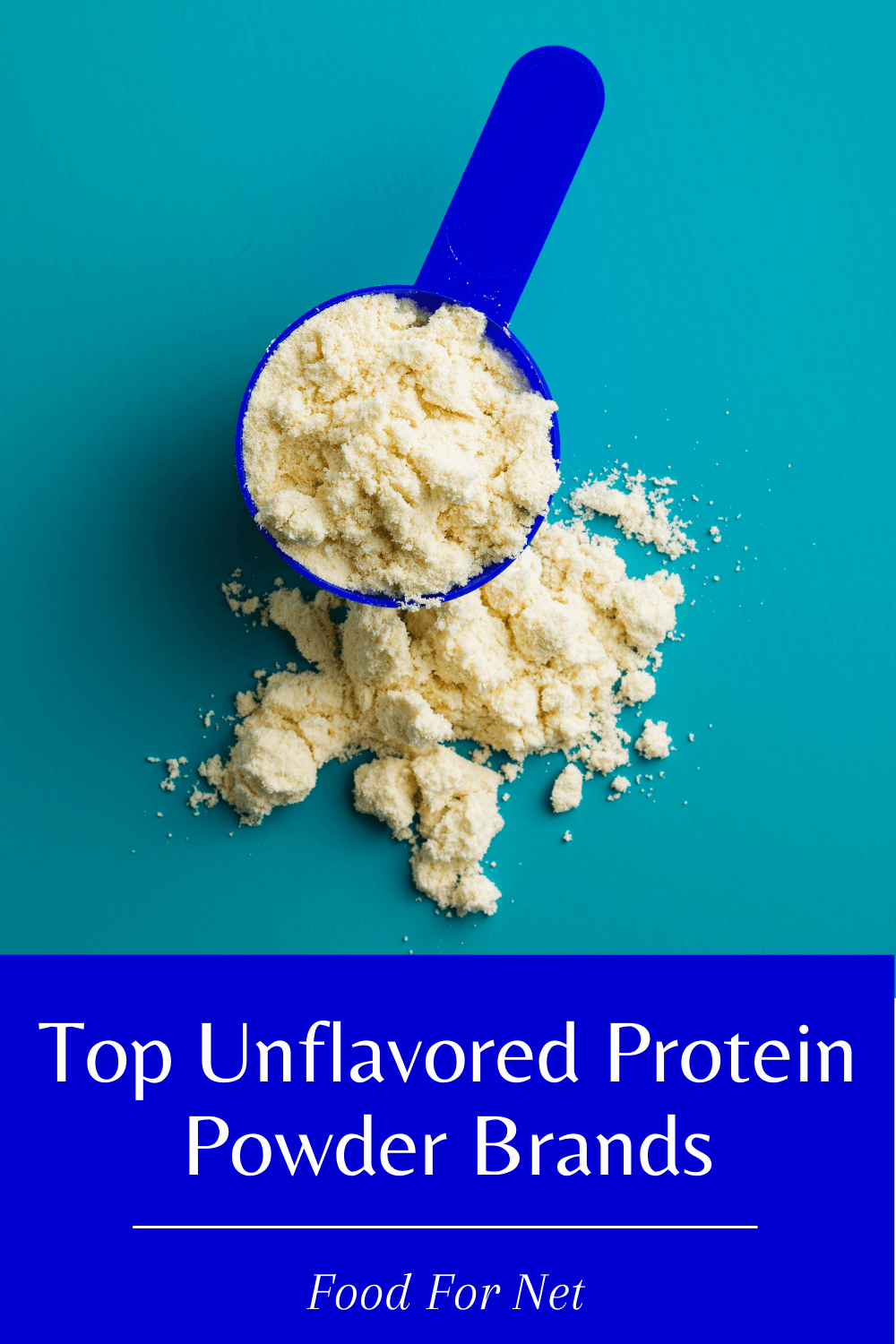 Protein supplements are an amazing tool for not only maintaining your protein intake but other nutrients too. Protein powder can be made from many different things, such as peas, hemp, milk, and more, with each method containing different nutrients of its own. There are even plenty of plant-based options if that's what you prefer. Many protein powders also contain some fiber which is great for weight loss.
Protein powder is also fun in that you can make so many unique and interesting recipes. Smoothies are the most common because they're easy and versatile. You can also use protein powder for baked goods though, or mix it with yogurt or oatmeal for a protein boost in any meal. Flavors like chocolate and vanilla are good for smoothies as they compliment most basic combinations really well.
Then you have some companies coming out with really fun flavors like cinnamon toast, salted caramel, birthday cake, etc. These are often best when mixed with water or milk so you can experience the flavors as they were intended. Sometimes, though, you just need an unflavored protein powder.
Unflavored protein supplements are perhaps the most versatile as you can add them to anything and they won't change or add to the flavor in any way. These are great if you're particular about your smoothie, but they really shine in baked goods where you're after a specific flavor anyway. It's important that an unflavored powder be just as smooth and seamless as the rest though, and these are some of the best ones:
The Best Unflavored Protein Powder Brands
1. Naked Whey Protein Powder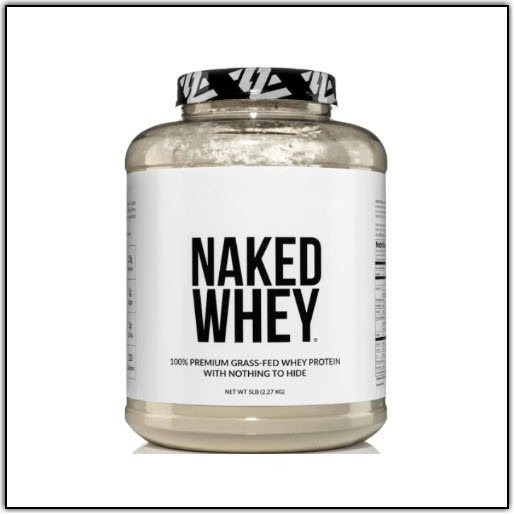 Naked Whey Protein Powder is an all-natural powder with no artificial anything and is sourced from the best cows around. They use only grass-fed cows from California that are grass-fed year-round and are raised without any growth hormones or other nasty treatments to make them grow or produce faster. This ensures not only the quality but the cleanliness of the whey protein.
Each serving is 120 calories with 25 grams of protein and 5.9 grams of branched-chain amino acids. It also only has three grams of carbs which makes it keto-friendly.
If you like the unflavored version, but want to mix it up next time, they do offer chocolate, vanilla, and strawberry flavors – the three most common and sought-after!
Naked has plenty of other supplements for you to choose from, as well, if you're looking to cover other areas of your diet. For gym rats, they've got performance supplements like BCAAs and glutamine, while things like their fiber boost, multivitamins, and greens are perfect for maintaining health and meeting nutrient requirements.
2. Promix Unflavored Whey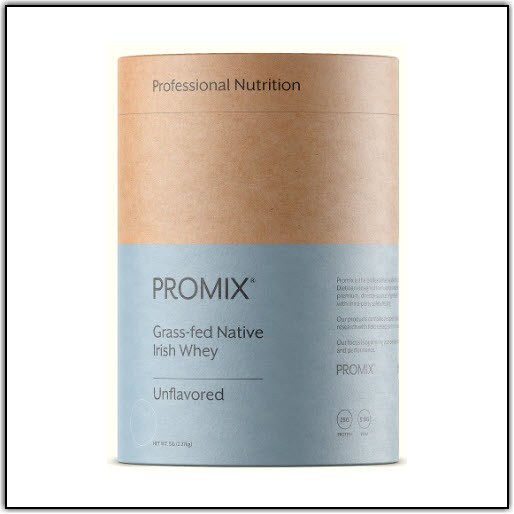 Promix Unflavored Whey is a premium quality unflavored protein powder that's made for building muscle and supporting recovery. Recovery is just as important in muscle building as the actual workout because it's during recovery that muscles actually grow and strengthen.
Here you get 25 grams of protein and 5.9 grams of branched-chain amino acids. The powder has been minimally filtered which preserves nutrients like CLA and omega-3s while offering a light taste and smooth texture.
This smooth and premium formula is available in several classic flavors in addition to the plain and unflavored option, including chocolate, vanilla, peanut butter, and chocolate peanut butter. The unflavored will always be the most versatile and contain the fewest ingredients, but it's nice to have options, especially if you love the texture and quality.
3. Pure Label Nutrition Grass-Fed Whey Protein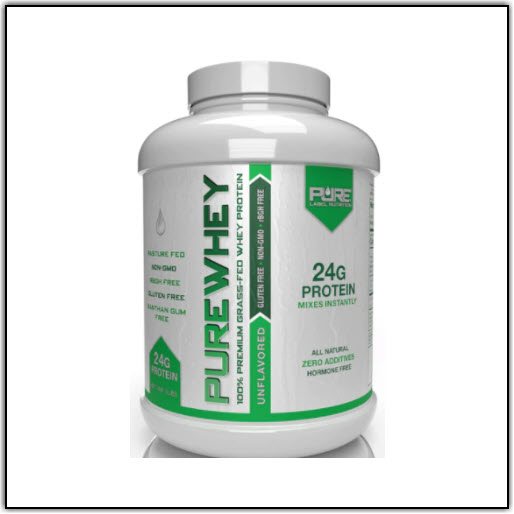 Pure Label Nutrition Grass-Fed Whey Protein is an unflavored protein supplement with many benefits. Not only is it smooth and versatile with no specific taste but it's GMO-free, gluten-free, low-fat, keto-friendly, has no sugar added, and is low on calories!
They promise a light, welcoming texture and no bitter aftertaste. The calorie count is lower than average at 130 calories and it offers 24 grams of pure protein. There are no additives, hormones, or artificial ingredients – only natural why protein concentrate.
Overall, it's a basic protein that's perfect for many things. It's great for a workout supplement, a snack between meals, or even a meal-replacement shake. In addition to this whey protein concentrate, they also have whey isolate, L-arginine supplements, and krill oil.
4. TGS Whey Protein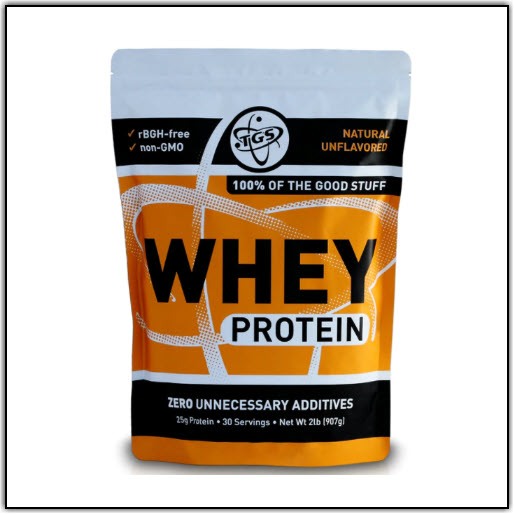 TGS Whey Protein lives up to its name and indeed uses only The Good Stuff! It's a 100 percent natural whey protein powder with no flavor, allowing you to use it for a wide variety of purposes. There are no unnecessary or artificial additives in this formula, which is also free from added sugar, gluten, soy, GMOs, starch, fillers, and preservatives.
It offers 25 grams of protein per serving, 130 calories, two grams of carbs, and an amino acid profile that features branched-chain and essential amino acids.
Whey protein is the perfect type of protein for those who like to work out, lift heavy, and build muscle. That's not all it's good for, though. Many people love TSG unflavored protein powder for its clean ingredients and convenient format. It's great for those with a busy life who want a quick boost of protein and nutrition, and it's super versatile for healthy-eating bakers who want a flavorless protein to replace flour with for their baked goods.
5. Simply Teras Goat Whey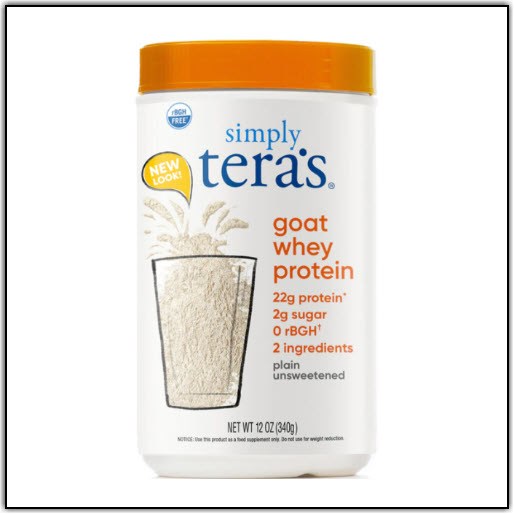 Simply Teras Goat Whey protein does things a little differently, using goat's milk instead of the more common cow's milk.
This goat whey is also free from gluten and soy while offering a fantastic profile of amino acids. It offers sustained energy, support for your muscles, and overall good nutrition. It's perfectly comparable to cow whey protein – and even better for some!
It's also slightly lower in calories than the average whey protein, with just 110 per serving. Each serving also contains 22 grams of protein, only two grams of carbs, two grams of sugar, and one gram of fat – it's among the cleanest formulas out there.
Lastly, the company only uses milk from happy, pasture-raised goats from small and ethical family farms. No synthetic hormones or unhealthy, unnatural diets are fed to the goats.
Baked Protein Goodies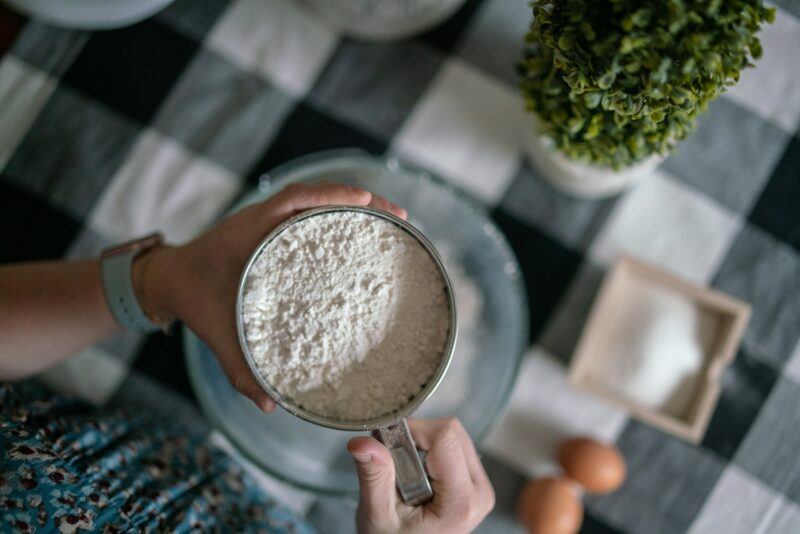 Cookies, muffins, cupcakes, bread, bars, brownies, and more – the list of delicious baked goods is as long as it is sugary! Unfortunately, these popular treats are too often filled with sugar, gluten, preservatives, chemicals, and other things you just don't want to know about.
The good news is that you can solve most of these issues by making them yourself at home. You can simply make healthier versions, but you can also up the protein by swapping out the flour in the recipe for a good-quality protein powder. You can, theoretically, use any powder, but unflavored is best as it won't overwhelm the intended flavor.
You can try this out by adding protein powder to any recipe, but some give you better results than others. Try one of these to get started:
Chocolate Protein Zucchini Muffins
Zucchini bread is a popular thing to make at home because the zucchini makes it nice and sweet. Taking this and adding some chocolate and protein creates some of the tastiest, healthiest chocolate muffins you'll ever try!
The recipe is fairly simple, calling for things like coconut oil, salt, baking powder, and raw cacao in addition to the obvious need for zucchini and protein powder. You can use unflavored protein powder for a more neutral result, or you can try to sweeten it up even more with a chocolate protein powder!
When followed as written the recipe makes about 12 muffins, with each muffin containing about 112 calories.
Easy Protein Mug Cake
Whether you're low on time and need a quick snack, or you're enjoying a lazy Saturday afternoon and don't want to do much, this 60-second protein mug cake is for you!
The ingredients list here is easy, calling for things like baking powder, vanilla extract, egg whites, salt, and nut milk. Vanilla protein powder will give a nice, light flavor here, but you can experiment with whatever you want!
Adding chocolate chips and chocolate protein powder might be fun, or unflavored protein powder would give a more neutral base to work with other ingredients. The options are endless considering how many protein powder flavors are out there. Things like cookies and cream, salted caramel, or cinnamon toast could be really tasty in a recipe like this.
It's beyond easy, too. All you need to do is mix the ingredients together in the right order and stick the mug in the microwave for a single minute. It's a great snack for just you or you could make multiple and feed the whole family!