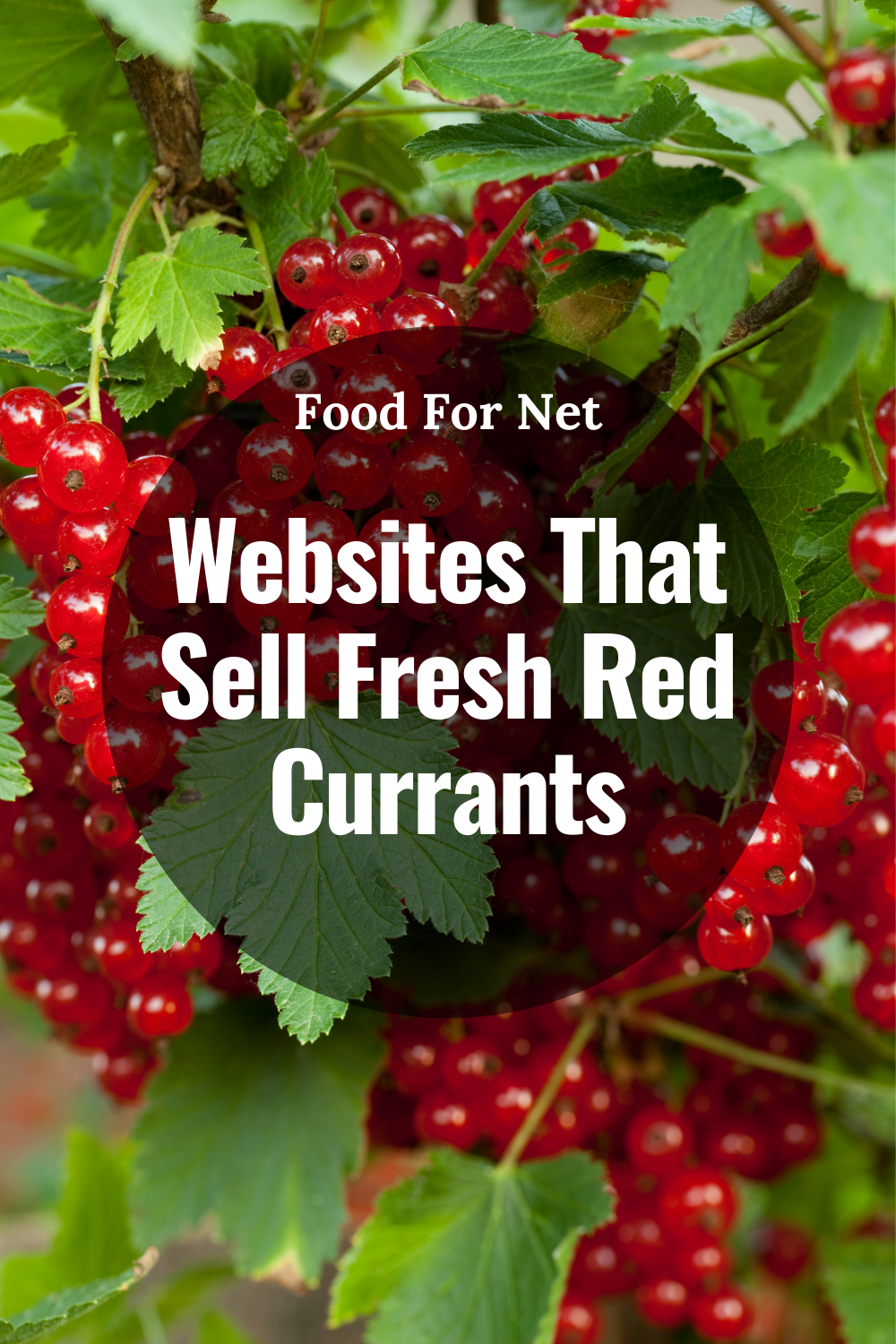 Red currants are a tiny, sweet fruit that can be used for so many things. Despite their versatility, though, they are rather difficult to find. If you do manage to find some, they make a great addition to your regular diet as they contain a large number of nutrients for such a small little berry. If you're struggling to find them locally or in stores, you can buy fresh red currants online, but you do have to be vigilant as they always sell out fast.
Known to many as "superfruits" red currants are very low in both fat and calories while being loaded with fiber, vitamins, minerals, and antioxidants. All of these are essential for overall good health, making a regular dose of red currants a good idea.
In addition to helping fight infection, increase bone strength, and aid in digestive health, red currants are great for the hair and skin. This is due to their high amount of vitamin C which supports healthy collagen production. Collagen is essential to keeping both skin and hair looking healthy, vibrant, and beautiful. Red currants are a natural way to achieve the luscious locks you're after instead of relying on a pill or supplement or other useless hair growth fad.
If you're wondering exactly how you should go about adding this tiny berry to your life, you're in luck! Red currants are used in so many things. You can add them to smoothies yogurt, pancakes, waffles, ice cream, and the like. You can also bake them into muffins, cakes, bread, and more.
What they're known for, however, is their use in preserves. They make excellent jams, jellies, and other sauces. You'll never run out of fun, new ways to use your red currants, and they tend to freeze well if you want to keep some around for the whole year.
Oh, and if you're looking for other good fruit to buy online, there are countless options to choose from, including sour cherries, cranberries, and durian fruit.
Where to Buy Red Currants Online
Melissa's Produce
The Healthy Butcher
Honeyberry USA
1. Melissa's Produce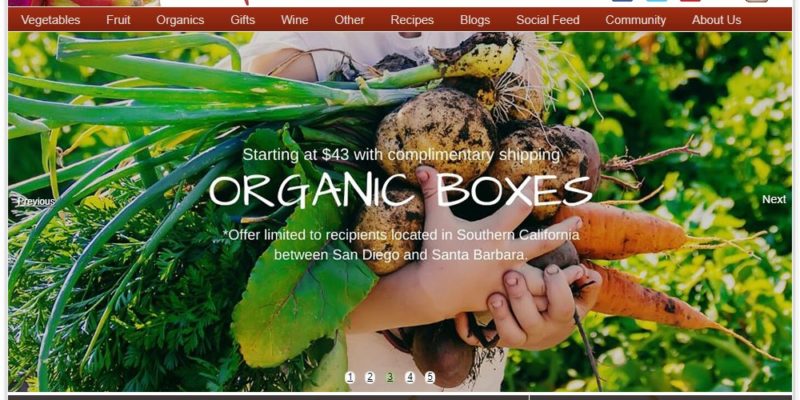 Melissa's Produce began in 1984 and soon grew to be the largest distributor of specialty foods and produce in the United States. The company started small and only sold their specialty fruits and veggies to local retailers, but today they deliver around the world to any customer. They have a huge facility at their headquarters in Las Angeles, equipped to store and process both traditional and organic foods. They are passionate about all kinds of fruits and vegetables, and aim to be your go-to for all things produce.
This goes beyond shipping the actual fruit to you and extends to providing endless information and resources. Their website contains the history and origin of many of their foods as well as health information, recipes, storage tips, and so much more. They want to make your healthy eating experience as tasty and flavorful as possible while also keeping you informed and educated.
They also offer catering and food services to companies hosting large events like sports games. They partner with an amazing community of local, talented chefs and they provide events like these with unmatched service and the most delicious food.
Their selection of currants includes red, black, and white. They advise you to enjoy the currants shortly after purchasing to get the most out of them. They offer a few ideas on the website as well as full recipes.
2. The Healthy Butcher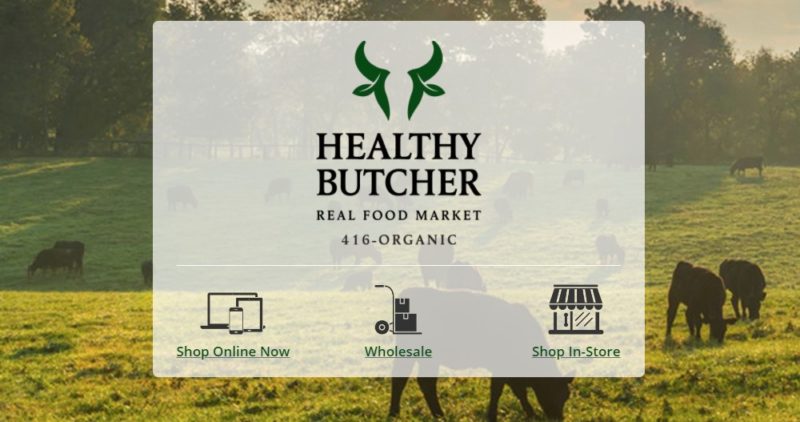 The Healthy Butcher is on a mission to provide healthy, ethical, and sustainable food that is also consistently delicious. In particular, they focus on procuring meat that has been raised and treated humanely, is fed a normal, natural diet in tune with its needs, and is not given any drugs or other unnatural injections. They wish this was normal across the entire meat industry, but it's not.
However, they are dedicated to providing meat and other foods that meet these incredibly high standards. That means you can trust whatever you buy from them, in terms of quality, health, and flavor. They personally visit every farm they source from, ensuring they meet their standards and follow all necessary processes and guidelines.
While meat is their focus, they offer items in many other categories as well. If you were so inclined, you could do your entire grocery shop with The Healthy Butcher. Other offerings include sustainable seafood, organic produce, health supplements, and powders, and their "curated grocery" section. This section includes your everyday grocery shopping items like cheese, bread, coffee, canned food, spices, oatmeal, crackers, and the like.
Among their organic produce is a selection of red currants. Availability is limited but you can add them to your order any time they are in stock. The Healthy Butcher offers several tips for handling and storage once you receive the berries, as well as some suggestions on how to use them. They also stress that the small, tart berries have many uses that originate from cultures all over the world, so your options are vast.
3. Honeyberry USA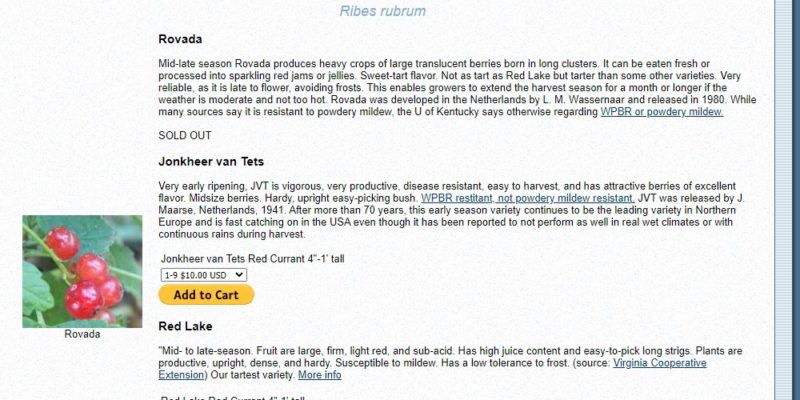 Honeyberry USA began with a passion for honeyberries in particular. These berries are long, skinny blueberries with a flavor that many find very difficult to describe. Some have given up and just say it has a "mystery" flavor, reminding some people of blackberries while others would compare it more to a grape or even kiwi. They're a very interesting fruit that Honeyberry USA believes should be more common as it's quite delicious and has many uses and health benefits – offering even more antioxidants than blueberries.
Honeyberries are also perfect for organic gardening as they are naturally disease and pest resistant. Plants often have around a 50-year lifespan and can be grown in the sun or shade. If you'd like to try the honeyberry but don't know where to start, their website has an entire page dedicated to recipes. These are largely desserts, from pies and milkshakes to cookies and cakes. They even have recipes for honeyberry pancakes and waffles.
While their passion for honeyberries is what got them going, they've since expanded and currently offer a variety of fresh and sometimes rare fruit. Their selection includes arctic raspberry, cherries, cranberries, kiwis, goji berries, seaberries, and a variety of currants and gooseberries. Their selection of currants is perhaps the largest around, containing red, black, pink, and white currants. Within each type of currant, they also have several specific varieties. For example, they have four different kinds of red currants alone.
For each type of currant they have a small blurb of information in case you're interested to learn more. This includes growing and harvesting information, where the currant originally came from, a description of the flavor profile, and more.
Some varieties sell out faster than others so be sure to keep an eye on harvest times and when they go on sale. They ship throughout the United States to both individual and wholesale customers. Individuals can place an order directly on the website with that's currently available. You must get in contact for more information on wholesale purchasing.
Things to Consider When Buying Red Currants Online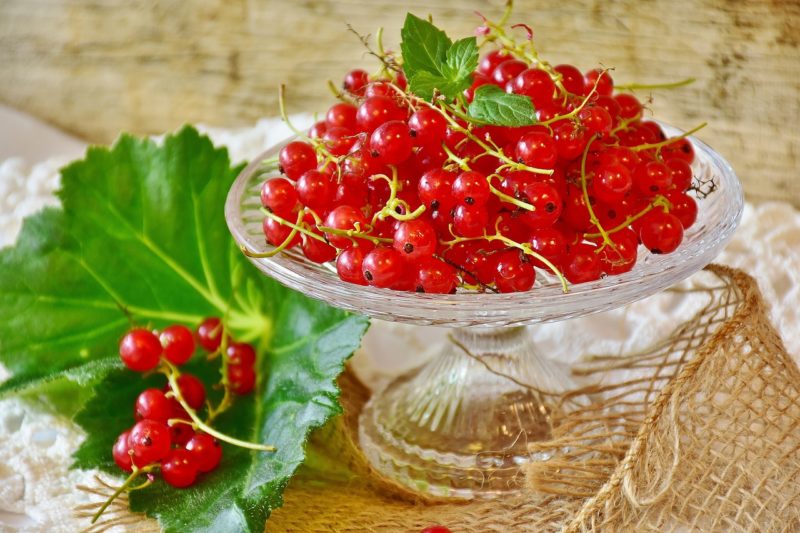 Currants are a great little fruit with so many different options. Given their rarity though, you'll probably have to buy fresh red currants online. While they are not many, the companies that sell red currants online usually deliver nationwide and they have a few different varieties available, so ordering online is not the worst way to go. Before you do make a purchase, though, consider a few things so you can get the most for your money.
The Variety
While red currants may be the most popular and well known, there are several different kinds of currants to choose from. The main varieties are red, black, pink, and white. Even within these variants though are different kinds and a few hybrids. Some farmers like to experiment with mixing kinds. When they get a successful hybrid, they add it to their roster and put it up for sale.
Each kind will have a different flavor and may be better for different things. If you're unsure which one is best for you, perhaps order a variety and do some experimenting of your own!
Availability
Like any fruit or vegetable, the growing season of red currants is limited, and therefore so is the supply of the currants. Unlike the more "common" fruits, however, red currants aren't mass-produced for commercial sale at every grocery store, so your chances of missing out are much higher.
If you're set on a certain type and want to ensure you don't miss it going on sale, see if you can get on an email list that will notify you when they're ready. If this isn't offered, check the harvest dates and keep an eye on the company's website shortly after.
Your Intended Use
Because there are so many things you can do with red currants, it may be a good idea to determine what you're doing before you buy them. Are you making a ton of jam to store away for the whole year? Or, do you just want a smaller amount to make some desserts? If you're not too picky about the type, you can probably order from any store that has them for sale. If you want your jam to taste a certain way, you may have to look a little harder for the exact kind of red currant you're after.