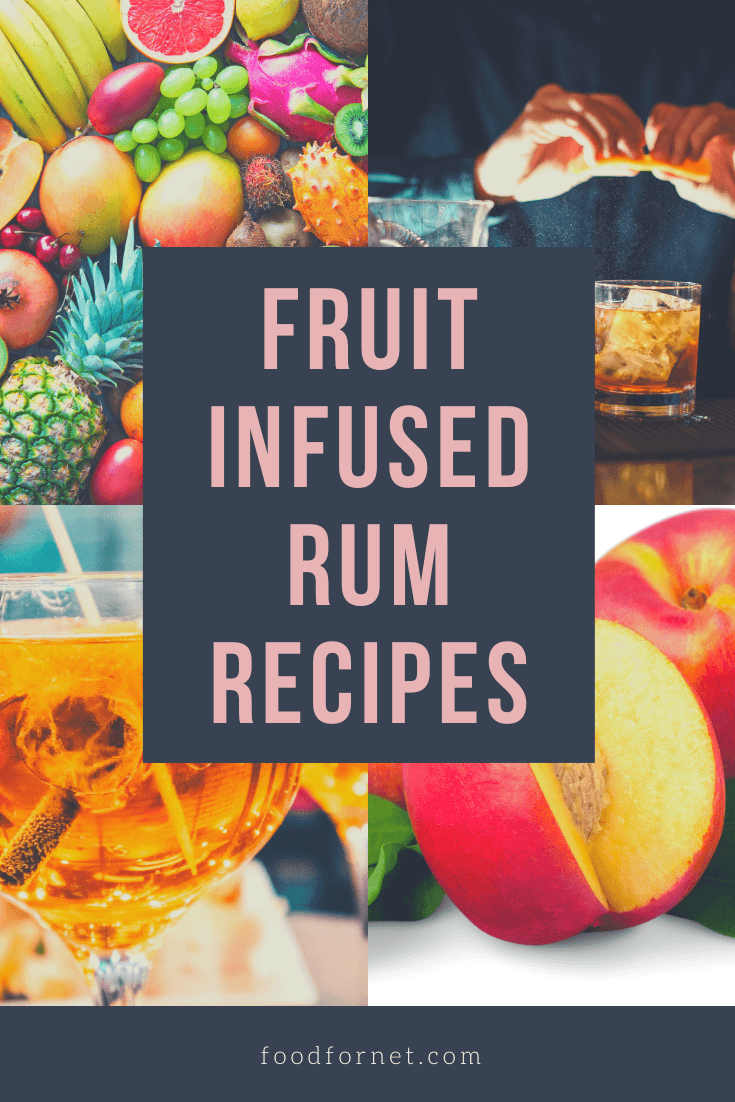 Do you know what's better than good old rum? Other than the obvious answer of "even more rum", there's also the acceptable answer of fruit infused rum recipes. If you've ever tried one before, you know that a shot of fruit infused rum is deceptively sweet, and the alcohol that gets masked by the fruitiness will make you wonder if you've had one too many drinks.
Fruit infused rum can be a great alternative to your usual spirits, and the added sweetness and fruitiness to the spirit makes it great for serving to others. Or if you're like us, you can just have a few sips of it every now and then to perk you up nicely.
The process of making fruit infused rum recipes isn't that hard either – it only requires a few ingredients and a mason jar, with some tools like a knife and sieve. But we're not here to talk about how to make fruit-infused rum in general – we're here to give you ideas instead.
And the great thing about infusing any spirits with fruit, is that you can experiment and try different fruits, according to your own tastes!
So read on to discover some tasty fruit infused rum recipes that are fun to make and even more fun to drink. You'll definitely want to try infusing a jar of your own after this.
Fruit Infused Rum Recipes
Berry Infused White Rum Mojito

Starting off this list is a sweet and berry-filled variety of fruit infused rum. You can even take it a step further and turn your infused rum into a mojito if you're feeling it.
The main ingredient of this particular recipe is obviously the rum, and you'll want a clear rum that's either white or silver, and is at least 80 proof. Since the flavors will be masked by the fruit, you don't have to buy the really pricey stuff – just don't settle for cheap either, or you'll regret it.
Using berries such as blackberries and raspberries, you can then infuse the rum in an airtight glass container. You can even experiment with other berries such as strawberries or blueberries if you prefer those flavors too.
After infusing the rum, you can choose to turn it into a mojito with muddled mint, syrup, and club soda. A few simple additions to the rum can turn it into a delicious cocktail.
Check out the recipe for this special rum right here.
Triple Berry Infused Rum

Another berry-flavored variant of infused rum can be found in this particular recipe. Like the recipe before this one, the infused rum you make from this recipe can be used in cocktails, as well as part of desserts and even smoothies if you want to try something a little different from just the rum by itself.
Just like the first recipe, you'll need some quality white rum, as well as raspberries, blueberries, and blackberries, each of which should weigh in at 6 ounces. You'll also want a sealed container for this recipe. This recipe also recommends you refrigerate the rum after you're done infusing and straining the rum.
To make a simple cocktail out of this infused rum, you just need to make some simple syrup with some heated water and sugar and mix it along with the rum. Then, squeeze in some lemon and throw in some ice cubes, and you've got yourself a triple berry fruit infused rum cocktail.
Make yourself some triple berry rum with this recipe.
Pineapple-Infused Rum

We're not done with berry-based infused rum just yet. "But this is a recipe for pineapple infused rum, is it not?" I hear you ask. Contrary to popular belief, pineapple is neither a pine nor apple – but rather a collection of many different berries that ended up growing into one huge collection of fruit. So yes, this is technically still a berry-based infused rum recipe.
According to the website where the recipe's posted, making infused rum yourself saves you the risk of having gluten in your drink, as some people have speculated that infused rum may contain some amounts of gluten. You'll be on the safe side if you decide to make your own with this recipe.
The website also has a link to their special pineapple mojito, which is paired with their other recipe of mint-infused simple syrup. If you really want to pull all the stops and make some divine mojitos for you or your friends, this particular recipe should help you out a lot.
Infuse some pineapple in your rum, and even use them in a mojito by following the guides on this website.
Pineapple-Ginger Infused Rum

Sweetness and fruitiness aren't the only things that make fruit infused rum so good. You can add some herbs and spices alongside your favorite fruits to add an extra twist to the drink. And while that might not be the best idea for beginners and people who'd just rather have pure fruit, it's still worth a shot (no pun intended).
One example of mixing up your favorite fruit infused rum is found in this pineapple-ginger infused rum recipe. It takes the same pineapple rum recipe we just covered and adds in a unique twist to it. The flavor will surprise you, so be prepared when you first take a sip.
The recipe requires you to refrigerate the rum during the infusion process and after a couple of weeks of shaking you can then keep the rum for up to 2 months in an airtight container for you to enjoy and sip on whenever you feel like it.
Learn about this recipe here.
Ginger Citrus Infused Rum

Here's another fruit infused rum that uses ginger to add a peppery and spicy taste to your rum. Instead of pineapple, though, we're using citrus fruits as the natural sweetener. It uses different citrus fruits to provide a variety of flavors, utilizing orange, lemon, and lime. You only need one piece of each and make sure they're washed and sliced before you continue.
Accompanied with a 1-inch piece of ginger, this recipe is only good for 2 cups of rum, though you can definitely scale this recipe up if you plan on making more for others instead.
Shake every day. The recipe also recommends that you sample the flavor every other day, and add more citrus or ginger depending on your own judgment after sampling. A week of infusion should be enough to have the rum ready to drink.
Get your daily dosage of Vitamin C and alcohol at the same time with this recipe.
Grapefruit Infused Rum

Now that we've tackled some of the more exotic recipes of fruit infused rum, let's go back to some of the milder recipes on the Internet. One such recipe is the grapefruit infused rum recipe, which uses that special sweetness found in grapefruit as an addition to your favorite white rum.
This particular recipe uses 750 ml of white rum as well as a single pink grapefruit in the infusion process. You can use the pulp itself for the infusion process alone, or you can add the skin (or "zest" as it's also known as) for additional flavor. Keep in mind that you'll need to get rid of any pith, the white tissue lining the zest before you add the zest into the rum for infusion.
Add some grapefruit to your rum with this recipe.
Sous Vide Pineapple-Infused Rum

We've got a third pineapple infused rum recipe on this list, but this one's a little different from the former two. Instead of using white or silver rum like the other recipes, this one requires some dark rum instead – 750 ml of it to be exact. That alone should make the rum completely different from the other pineapple rums showcased earlier.
But that's not all. This recipe also uses a cup of granulated sugar, to make the whole thing even sweeter. The only drawback to this recipe is that it requires an Anova Sous Vide Precision Cooker to do the sous vide infusion process.
If you do have one, though, not only will you get a bottle of pineapple-infused rum, you'll also end up with some rum-infused pineapple, which can be used in many different dishes.
Get that precision cooker running again with this recipe.
Blueberry-Infused Rum

Our final fruit infused rum on this list is another berry-based one, and it utilizes the humble but sweet blueberry. You only need 2 cups of white rum and half a cup of blueberries to make yourself a batch of this flavored rum.
What's nice about this recipe, in particular, is the fact that you don't need to infuse it over the course of one or two weeks before consumption. You only need to shake the entire thing in an airtight container a few times before leaving it at room temperature overnight. It should be ready to drink in the morning.
Learn more about the recipe here.
---
Making your own fruit infused rum at home can be both fun and rewarding. It's not that difficult to do, and you get to customize the flavors based on your own personal preference. Hopefully, these recipes gave you inspiration in making your own batches in the near future.