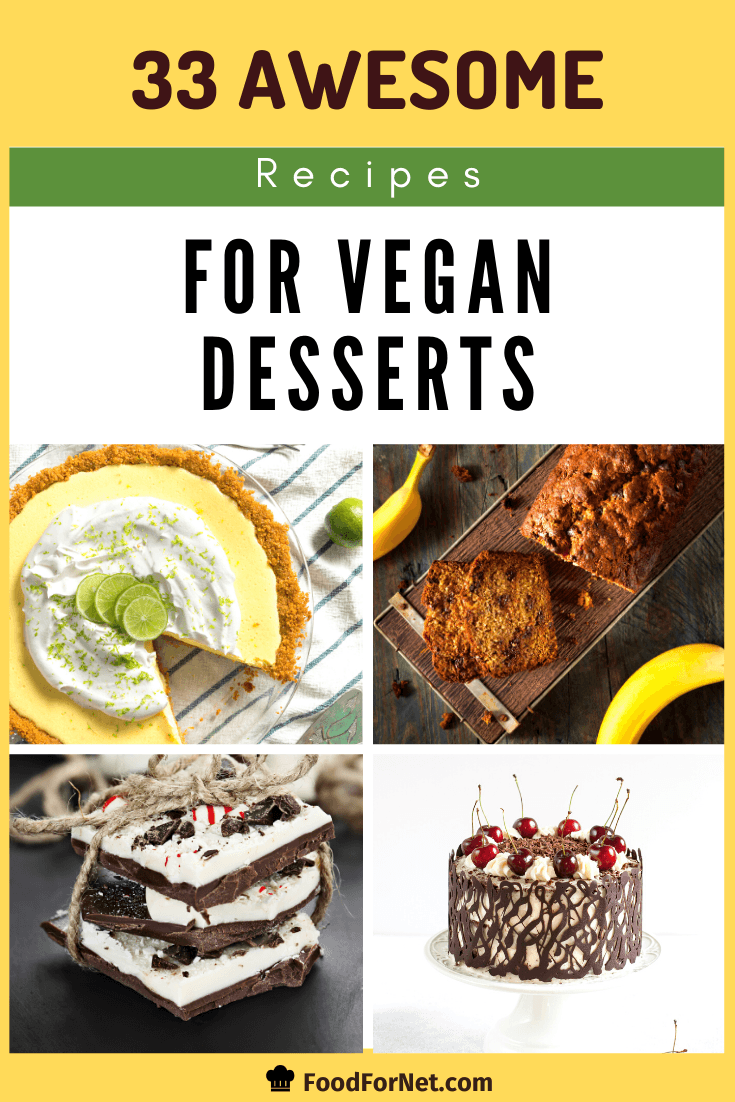 Desserts are a wonderful invention. When you go vegan, unfortunately, your world of dessert options immediately shrink. People are creative though, and there are plenty of vegan dessert recipes to be found online.
I've been doing roundup posts of recipes from food bloggers for a while now and I've found that regardless of the topic, you can find dozens (if not hundreds) of different recipes that perfectly match what you're looking for.
When it comes to dietary restrictions, like being vegan, food bloggers are particularly amazing. Time and time again I've found recipes on sites that perfectly mimic traditional foods, but the recipe might be gluten-free, raw, vegan or paleo. That flexibility is fantastic and it means you can find recipes to suit your preferences regardless of what those preferences are.
With this list, I've focused on vegan dessert recipes from across the internet. I haven't focused on a single type of dessert but instead, I've tried to include as much variation as possible. Realistically, we're all pretty different in what we like for our desserts, so having a range of options to choose from makes the most sense.
Vegan Desserts Recipes
Black Forest Cake
This cake recipe comes from thesethingsilove.com and I personally think it looks fantastic. The creator of the recipe calls it a relaxed layer cake, which means that the cake does have layers but they aren't as rigid and artificial as the layers you might find from cakes at the grocery store.
The end result is a cake that looks a little bit gooey and a little bit messy. Honestly though, the whole appearance of the cake is pretty appealing. Most people wouldn't even realize that the recipe is vegan.
Lemon Shortbread
If you're looking for a dessert option that is less decadent than cake, you could try this shortbread from thevietvegan.com. The recipe is essentially a variation on traditional vegan shortbread, with the main change being the addition of lemon flavoring.
This is actually a pretty appealing way to make shortbread because sometimes shortbread can seem a little bit sweet or even a little bland. The addition of lemon helps to counter both of these issues and you still end up with cookies that are easy to make.
Chocolate Chip Banana Bread
I found this recipe for chocolate chip banana bread at peacefuldumpling.com and I find that I love the idea and the recipe itself. Banana bread does always make a great snack or dessert, especially as it doesn't tend to be as sweet as many other options for dessert.
The overall recipe here is a lot of fun, especially as it is fairly simple to make. I also love the way that you can choose to make either one large loaf or two smaller ones. One of the commenters also noted that you could take the same recipe and turn it into muffins.
Homemade Peppermint Patties
I've always had a soft spot for peppermint patties and they're a great choice for dessert or simply as an ending to a heavy meal. That's probably why I love this recipe from blommi.com so much. Additionally, the recipe itself is easy to follow, so this is something that you could make regardless of your skill level.
The decoration on the patties also looks pretty cool, especially the snowflake on top. But, of course, you could just skip the snowflake if it feels like too much work.
Mini Matcha Cheesecakes
These mini cheesecakes, from veganheaven.org, do look a little bit different than traditional cheesecakes but the flavors these have to offer are still pretty appealing.
If you haven't tried vegan cheesecakes before, then I would suggest giving them a go before you judge. The combination of ingredients actually works really well and you end up with a dessert that has a lot of the same creamy texture that you find in cheesecakes.
Vanilla Strawberry Rhubarb Crisp
Strawberry and rhubarb recipes always seem to work well, because you have an appealing combination of sweetness and tartness. This particular recipe comes from ambitiouskitchen.com and it's a lighter version of many traditional crisp recipes.
Strawberry Banana Pop Tarts
Now, you might consider pop tarts a dessert or a snack but either way you look at it, they are a heavily processed piece of food that you probably shouldn't be eating.
However, these pop tarts from feastingonfruit.com are a completely different story. Not only do they use healthier ingredients but they also offer much more filling and better pastry than pop tarts from the store. Plus, they both gluten free and vegan.
Strawberry Banana Cake
Here is another vegan cake option, this time using the flavors of strawberry and banana (sounds good to me). The recipe comes from averiecooks.com and it certainly does look appealing.
If you find a good recipe for vegan cake (or dessert in general), then people eating it won't even realize that their dessert is vegan. That does seem to be the case here and the finished product even looks like something you might find in a café.
Chocolate Peanut Butter Cup Fudge
Fudge is another sweet treat that you might miss if you're a vegan, so here's a great fudge recipe that can get you back in the game.
The recipe comes from mydarlingvegan.com and that site is a great place for vegan recipes in general. Personally, I love the layering effect on this fudge and I think pieces of the fudge would make a perfect gift for vegans and non-vegans alike.
Raspberry Lemon Mini Cheesecakes
I gave one example of a mini cheesecake recipe earlier, but here's another one. This time, the recipe comes from pureella.com. The recipe actually manages to meet a whole range of diet types all at once, because it is raw, vegan, sugar-free and gluten free.
However, I find that I'm more interested in the overall appearance of the baby cheesecakes because they do look pretty great. I imagine these would be a fun option to serve at parties, as long as you didn't find that you eat too many of them yourself.
Strawberry Lime Mango Crisp
This recipe, from ohsheglows.com, brings together flavors from three fruit, strawberries, lime and mango. The lime here offers a tart taste that would contrast the sweetness of the strawberries and mango very well.
The nature of the recipe means that the dish is easy to prepare and would serve a number of people. Options like this always work particularly well when you have people over unexpectedly or when you have extra fruit that you want to use up.
Raw Key Lime Pie
This recipe, from picklesnhoney.com, is another one that uses lime, although this time the lime is the star ingredient. As desserts go, key lime pie is a fun option and it's especially popular among people who don't like desserts that are overly sweet. The recipe is also easy to use and doesn't require specialized ingredients.
Vegan Snickerdoodles
I found this snickerdoodles recipe at mycalforniaroots.com and I loved just how easy they were to make. The author also pointed out a fun fact: vegan cookies are a great option if you're inclined to eat cookie dough – because you don't have to worry about getting food poisoning.
However, if we're honest, I suspect that means that some people would never end up with any actual cookies at the end of the process. So, whether you plan on eating the cookies or the cookie dough, this recipe is a fun one to make.
Here are more vegan candy bar recipes to try out as well.
Ultimate Vegan Chocolate Cake
When it comes to cake, chocolate always manages to top my list and that seems to be true for a lot of people. So, I was pretty pleased to find this cake recipe over at itdoesnttastelikechicken.com.
Visually, this cake looks exactly like a non-vegan cake, so the creator has done an absolutely amazing job with the recipe. Another cool thing about this recipe is that the directions are pretty similar to a non-vegan cake. So, it would be a good introduction to vegan baking in general and an especially easy recipe if you're already familiar with making vegan food.
Strawberry Chia Tarts
The fun thing about this recipe is really the sheer amount of flavors that are involved, most of which come from fruit. This means that the tarts themselves would really be a taste explosion and they do also look absolutely brilliant on the plate.
The recipe for the tarts comes from thisrawsomelife.com and it comes in three parts, the crust, the filling and the fruit topping. Realistically, you could actually top the tarts with any fruit that you wanted but the author's choice of bananas and kiwis does seem to work especially well in terms of both flavor and color.
No Bake Peanut Butter Cup Cheesecakes
Vegan cheesecakes seem to be one of the most common types of vegan dessert recipes because I kept running into different variations when I was looking for additions to this list. In this case, the recipe came from minimalistbaker.com and the recipe itself only contains nine ingredients.
Like most vegan cheesecakes, it is much simpler to make this recipe than it would be to make a regular cheesecake. Nevertheless, despite the name, some baking is required. Specifically, the bases for the cake need to be baked, but only for five minutes.
Sticky Toffee Pumpkin Pudding
The flavor combination for this recipe, from radiantrachels.com, is a little bit unusual. Sticky toffee pudding itself is fairly commonplace, but the creators of this recipe choose to add in a pumpkin flavor to the mix.
Personally, I think that combination would work really well. If nothing else, it's a flavor combination that just sounds like Thanksgiving and winter, although you could really have it during any season that you wanted to.
Chocolate Berry Tart
I swear food bloggers have a gift for making food look sensational in images, like in this recipe from bakerita.com. The tart itself ends up looking like something out of a magazine. I would say that it looks too good to eat, but honestly, I don't think that is true of any food, especially not when the recipe contains chocolate and berries.
All-in-all, this recipe would be perfect for any chocoholic. It would even work if you switched out the toppings for other fresh fruit, depending on what was available when you were making it.
Avocado Chocolate Mousse
Making vegan versions of recipes is often about substitutions, as this recipe from chocolatecoveredkatie.com shows. Often, this approach requires using ingredients that you wouldn't otherwise to create creamy textures and sweet tastes.
In this case, the recipe uses avocado as a key ingredient to create the texture of the mousse. It's a clever approach, because the chocolate drowns out the avocado flavor, so most people wouldn't even be able to tell that it was an ingredient.
Pumpkin Bliss Balls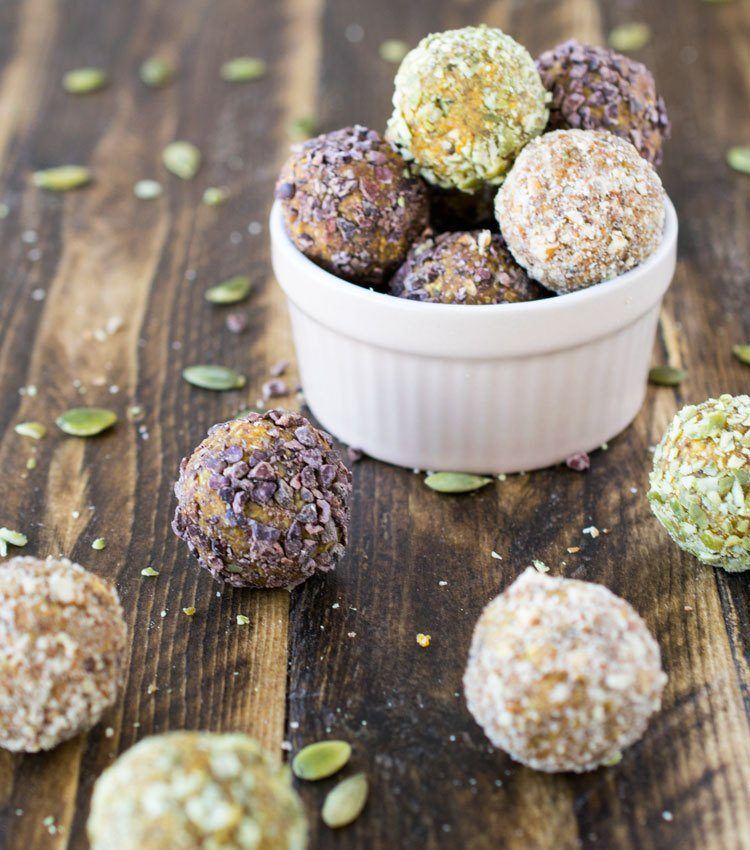 Bliss balls have become pretty popular, both as a snack and as a form of dessert. After all, they do offer a boost of energy and they are often pretty tasty at the same time.
This particular recipe for bliss balls comes from rawrevive.com and the balls are pretty healthy and use natural ingredients. One fun thing about the recipe is that the author offers three different alternatives that you could use to coat them. This gives you a few options for your bliss balls. For example, you have the choice of using the same topping for all of the balls or mixing it up.
Coconut Lemon Baked Donuts
Donuts are another example of a very processed treat that can be made much healthier. This alternative recipe for donuts comes from ohmyveggies.com.
You will need a donut tray to make them, but honestly, those aren't too hard to come by and the idea of making healthier versions of donuts is pretty appealing. I love the way these donuts end up looking and the choice of coconut and lemon as flavors also seems to work exceptionally well.
Magic Chocolate Coconut Bliss Balls
I found this recipe for bliss balls at theendlessmeal.com and they are quite different than the previous bliss balls recipe that I shared.
The interesting thing about these bliss balls is that they only use five different ingredients, which also means that they end up with a fairly uniform texture. These little bliss balls are certainly a sweet treat, so you wouldn't want too many of them. Still, the same can be said for most types of desserts.
Carrot Cake Cupcakes
I've mentioned a few different types of cakes so far in this list, but of course, you can also make vegan cupcakes. These carrot cake cupcakes from simpleveganblog.com are one such recipe that I found during my digging.
Now, I'm a big fan of carrot cake anyway and carrot cake muffins are even better because they're basically a portable version of a carrot cake. One fun thing about this recipe is that a few different substitutions are suggested. These let you tweak the recipe based on your own preferences for texture and ingredients.
Mini Blueberry Cheesecakes
This recipe for mini cheesecakes came from dietitiandebbie.com and they are a fun recipe for anyone who likes cheesecakes or blueberries. I love the way the layers for the little cheesecakes are so clearly defined in the image and this really makes them stand out. Plus, I think this is another recipe that even non-vegans would enjoy.
Cookie Dough Stuffed Peanut Butter Bites
This recipe is a little bit on the unusual side and also has an unwieldy title. I thought about shortening it, but if I did that the title wouldn't highlight the unique aspect of these bites, the stuffing.
Essentially, the recipe is for balls of vegan cookie dough that are stuffed with peanut butter. At the same time, the bites also manage to be pretty healthy, averaging at only 65 calories per individual ball. The recipe comes from foodfaithfitness.com and you can check it out over there if you're considering making these little bites for yourself.
French Silk Pie
Chocolate pie is certainly another good choice for anyone out there that loves chocolate. The dish itself is a classic in many ways, but the recipe at detoxinista.com is a vegan recreation that uses natural ingredients and aims to produce a healthier dessert overall.
This recipe also has the advantage of using a non-bake crust. Doing so makes the whole process faster and means that you can avoid turning the oven on.
3-Ingredient Flourless Brownies
I'm always a fan of simple recipes, like this one from thebigmansworld.com. Sometimes it feels like recipes get too complex, require too many ingredients and take too much time.
It's nice to step back and find a recipe like this one that is easy to make. Plus, all of the ingredients are pretty common, so there's a good chance that you already have everything you need to make the brownies.
Peanut Butter Chocolate Cupcakes
This cupcake recipe comes from kblog.lunchboxbunch.com and there are actually two different versions of the recipe offered on the site. One version is for chocolate cupcakes with peanut butter frosting while the other version is for peanut butter cupcakes with chocolate frosting.
So, you could make whichever version you find most appealing or you could even make both, if you're feeling particularly adventurous.
Pistachio Cheesecake
I know I've already given quite a few examples of cheesecakes and mini cheesecakes, but this recipe from sweetlyraw.com is one more that I just had to share.
With this recipe, it's the flavor that fascinates me the most. Pistachio and matcha isn't an especially common flavor combination and you don't often find either of those two flavors in a cheesecake. Still, the finished product does look appealing and this would be a good choice if you were wanting to serve something that was just a little bit unusual.
Sticky Toffee Pudding
This recipe, from lazycatkitchen.com, is simply a vegan version of a very traditional recipe, but that just makes the recipe all that much more appealing. In fact, I can think of a lot of people who would be big fans of this particular recipe.
I'm also pretty impressed by the ingredient choice in the recipe. The creator did a good job of creating a vegan version of the recipe that still maintains the flavor profile that you would expect from a sticky toffee pudding.
This would go perfect with some vegan ice cream too!
Amaretto Chocolate Mousse Pie
Like many people, I'm a bit of a sucker for chocolate, so I particularly love the look of this chocolate pie from wholesomechow.blogspot.com. The pie is another example of a dessert that is both vegan and gluten free, so the whole thing is suitable for pretty much any audience.
The recipe is also a bit of fun because it contains some amaretto liquor. That addition would certainly help to give the pie a unique flavor of its own, particularly as liquor isn't an especially common edition in chocolate pie recipes.
Pumpkin Gingerbread Spice Muffins
This recipe comes from thefullhelping.com and I find that the flavors strongly remind me of fall and winter. But, of course, these muffins aren't really limited to one specific time of the year.
Instead, these are muffins that you could make (and eat) whenever you felt like it. I think they would make a particularly appealing dessert if you want something that isn't excessively sweet. Of course, they could also act as a sweet start to the morning if you like muffins for breakfast.
Coconut Cream Fruit Tarts
This final example of a vegan dessert comes from sweetphi.com and the entire recipe is very natural. Dessert options like this one are a lot of fun because they end up looking very appealing visually and tend to taste as good as they look.
The creator of the recipe designed them for Valentines day, and the choice of strawberries and raspberries does make that choice seem pretty natural. But, berries can really be a good option for other times of the year as well. Plus, you could always use the tart recipe and substitute for different fruits, depending on what you had on hand at the time.