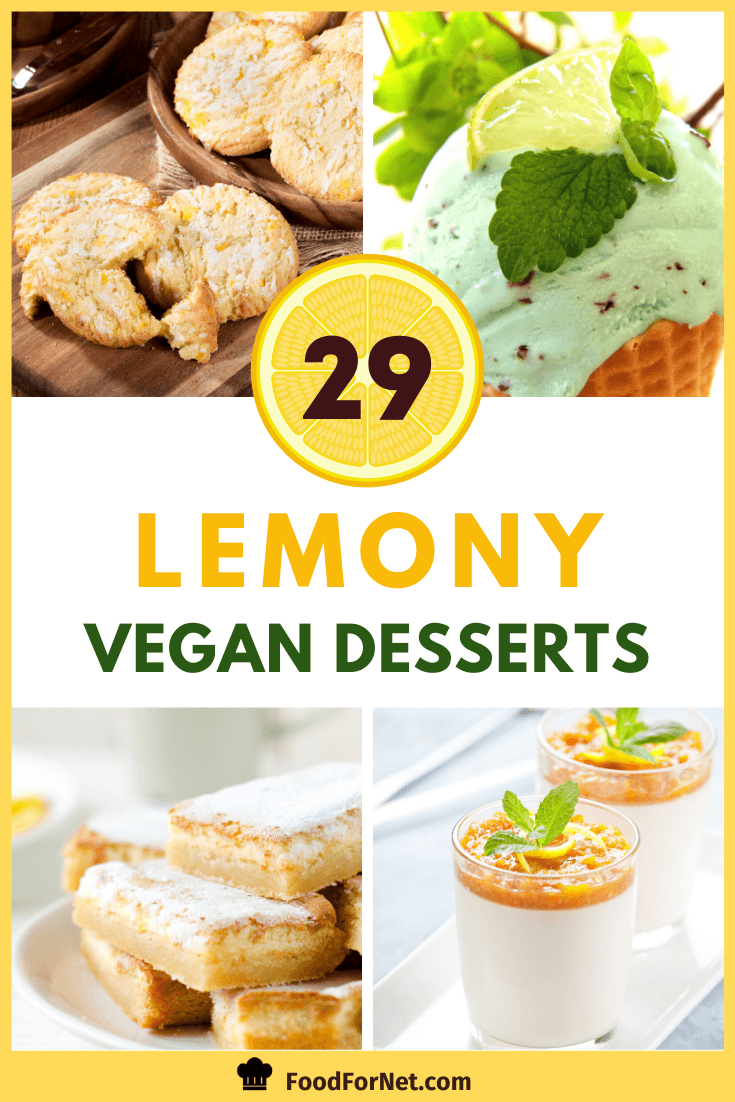 When it comes to dessert, we all have our favorite flavors. Chocolate often ends up at the top of the list but there are other equally appealing options. Among these options is lemon, and here we've got a list of a bunch of vegan lemon desserts you can make at home.
Why lemon? Lemon ends up working particularly well because it offers a tart and tangy flavor that contrasts well with the traditional sweetness of desserts. Often, lemon also serves to make a dessert refreshing. That makes a lemon dessert the perfect end to the day, especially in warm weather where a refreshing dessert is particularly appealing.
Thankfully, there are a ton of different options out there for using lemon in desserts. In fact, there are probably hundreds of different types of recipes available and that doesn't even count all of the different variations on each of those recipes. But, what about vegans? After all, if you're on a vegan diet, there are some limitations on the ingredients that you can use in your food.
Despite this, food bloggers have developed a wide range of dessert recipes with lemon that are a perfect fit for vegans. In fact, you could serve them to non-vegans too and in most cases your guests wouldn't even know the difference.
With this list, I'm highlighting some of my favorite vegan lemon dessert recipes from across the internet. Some of these are from dedicated vegan food blogs but others are from blogs that just focus on good food.
Lemony Vegan Desserts
PS. If you like lemon, you'll dig these vegan fruit crisp recipes.
Lemon Cupcakes with Blackberry Frosting
When it comes to desserts and sweet treats, cupcakes are always a popular option. After all, they are fairly easy to make and even store well for later. Most of the time, you tend to see chocolate muffins or something equally sweet, but this recipe from theprettybee.com offers a different choice.
Both the lemon and the blackberry flavors in the cupcakes are fairly light, so the cupcakes would end up being less sweet and intense than most other options. Personally, I think that approach would be great if you wanted something simple or if you just aren't that keep on excessively sweet desserts.
Lemon Coconut Chia Energy Balls
Energy balls have become pretty popular as a way to get a kick of energy, without having to rely on caffeine or sugar. Because of that, their energy will tend to last longer and they are also a good way to satisfy hunger between meals. This energy ball recipe comes from thehealthymaven.com and it's actually a very easy recipe to prepare.
The energy balls are an especially good choice because they don't use any artificial ingredients and the lemon flavor helps to balance the sweetness of the recipe. All-in-all, they would be a good snack for adults and kids alike.
Lemon Panna Cotta
Panna cotta can often be impressive as a dessert but it also happens to be pretty easy to prepare. That's even true for this vegan version, which comes from savorylotus.com. Panna cotta tends to have a creamy and rich taste, and that makes the lemon from this recipe a perfect natural complement. Besides, the end result does look extremely pretty on the plate too.
The original recipe you see on her website is not vegan, but it was suggested to switch out the gelatin for agar agar in the comment section, so I included it here in my list.
Chocolate Lemon Cheesecake
There are a ton of different vegan cheesecake recipes out there, but I do love this one from minimalistbaker.com because of its combination of flavors, especially the use of white chocolate. Now, you find chocolate as a flavor in recipes fairly often.
However, in most of those cases, it is milk or dark chocolate that is used. The decision to pair lemon with white chocolate certainly makes this recipe unusual and that alone suggests that the cheesecakes are worth trying out.
Lemon Crazy and Wacky Cake
With this recipe, which comes from sweetlittlebluebird.com, it really was the name of the cake that first got my attention. After all, how many recipes have you seen with the words crazy and wacky in the name? However, those phrases do make sense because we always assume that cakes are going to use dairy ingredients but that's not the case here.
Cakes like this are a great choice for vegans but they are also a good choice if you just don't have the ingredients for a normal cake.
Chocolate Dipped Candied Lemon Rounds
This vegan dessert recipe is certainly different than most other desserts but that simply serves to make it more interesting and appealing. The recipe comes from peasandpeonies.com and it also has the advantage of being pretty appealing visually.
Now, admittedly, the idea of eating chocolate-dipped lemon rounds doesn't sound especially appealing. But, this recipe candies the lemon, so you end up with a combination of sweet and tart flavors. The approach actually works out much better than you might expect. Nevertheless, I suspect this is one recipe that you really do have to try before you can know whether you like it.
Lemon Lavender Shortbread Cookies
To the uninitiated, the idea of including lavender as a flavor might seem a little strange but it isn't actually as uncommon as you might expect. Lavender adds a subtle, yet appealing, flavor into food, which is a key reason why it is used. But, the subtle nature of lavender is also a disadvantage, as many other flavors would overwhelm it.
That's why the combination of lemon and lavender in these cookies, from unconventionalbaker.com, works so well. Those two flavors complement one another well without the risk that one will drown the other one out.
Lemon Poppy Seed Bundt Cake
This cake recipe comes from holycowvegan.net and it's another example of the fact that vegan cakes do not have to be boring. In many cases, you will actually find that a vegan cake tastes as good, if not better, than a similar recipe that isn't vegan. I also really love the way that this cake looks visually, especially with the lemon zest.
Raw Lemon Meltaway Balls
These little treats come from thehealthyfamilyandhome.com and they are certainly a good option for dessert. You can also vary these up a bit, as the creator includes two different ways to make them as well as a couple of different coatings. Because the recipe uses whole ingredients the meltaway balls are much healthier than lemon desserts that you would find in the grocery store.
Nevertheless, you still want to be careful with them. After all, regardless of the types of ingredients, a dessert is still extra calories and it would be far too easy to eat too many of these little lemon balls.
Soft Chewy Lemon Cookies
Cookies really do make a great dessert option and they tend to work exceptionally well for snacks as well. This recipe for lemon cookies comes from averiecooks.com and it's a fun one to try if you are a fan of cookies.
Personally, I imagine that opinions of these cookies will vary depending on your preferences. After all, some people like their cookies soft and chewy (myself included), while other people only like ones that are crunchy. But, regardless of whether you like crunchy or chewy cookies, these ones do sound like they would taste amazing.
Lemon Basil Ice Cream
I love the idea of vegan ice cream. After all, why should vegans miss out on just how good ice cream is? I found this particular version of vegan ice cream over at fragrantvanilla.com and I think my favorite thing about it is the flavor, followed by just how cool the coloring for the ice cream looks.
Now, it is pretty unusual to include an herb like basil in an ice cream recipe but the creator of this one promises that the approach works really well. The basil would certainly help to create a more complex and refreshing flavor. That alone would make the treat perfect for a summers day.
Lemon Bars
Perhaps the best thing about this recipe is that it really shows how vegans don't have to miss out when it comes to desserts. Realistically, there are just so many options out there to make vegan versions of desserts that taste close to the original. To be honest, I suspect recipes like this one might even taste better than many non-vegan lemon bars that you might find.
All of the information for the recipe can be found at namelymarly.com if you're interested in giving this one a try and seeing what it tastes like. I personally think the finished bars would be quite popular at parties, partly because they look so good visually.
Lemon Cupcakes with Lemon Buttercream Frosting
Cupcake recipes often make use of two contrasting flavors, one for the cupcakes themselves and the other for the frosting. That's not the case here though.
Instead, these cupcakes, from happyhealthymama.com, take full advantage of the flavor of lemon, using it in both parts of the recipe. That approach is an appealing one if you love lemon and honestly, you don't need any other flavors to make the cupcakes taste amazing.
Lemon Sugar Cookies
My biggest complaint about sugar cookies is that they often end up tasting rather plain, especially if you buy them from the store or follow a basic recipe. So, I was particularly taken with this recipe for sugar cookies, which comes from acalculatedwhisk.com. The recipe uses many of the traditional approaches that you find with sugar cookies but it also includes the tart flavor from lemon, which helps to make them that much more interesting. It seems like the lemon would also help to fight some of the excessive sweetness that is present in some sugar cookie recipes.
Lemon Cloud Cheesecake
As is the case with any vegan cheesecake, this recipe isn't technically a cheesecake. After all, it doesn't contain some of the signature ingredients and would end up having a slightly different texture. However, if you can find a good recipe for vegan cheesecake, then the end result really can be amazing. This particular version of a vegan cheesecake comes from chocolatecoveredkatie.com and it fits in with this list because of the lemon flavor.
I also find that the cheesecake is particularly interesting as it looks more like a traditional cheesecake than most similar recipes that I've seen. That aspect would be very relevant if you were planning to serve the dessert at a party or something similar. After all, vegan desserts don't have the best reputation among people who aren't vegans.
Lemon Meringue Cupcakes
These cupcakes are a bit of fun and they are a great way to surprise guests. Unlike most cupcake recipes, there are three components to the finished product.
Two of those parts should be obvious, which are the cupcakes themselves and their frosting. However, the muffins also have a filling, which is lemon curd. That filling would make these muffins amazing because lemon curd is such a great sharp taste. That flavor would be the perfect contrast to how traditionally sweet cupcakes normally are.
You can find all of the information you need to make the cupcakes over at wallflowergirl.co.uk.
Lemon and Chia Seed Biscotti
As desserts go, biscotti is a little bit unusual. It's something that you sometimes see served with tea or coffee, but it's one of those desserts that some people have and others avoid. Personally, I find biscotti very appealing.
Essentially, biscotti is a form of cookie but it differs considerably in the taste and the texture that it offers. This recipe, from mayihavethatrecipe.com, is a great option if you want to give biscotti a try for yourself. Plus, the decision to include lemon and chia seeds in the recipe is pretty appealing.
Lemon Coconut Cloud Cake
I found this recipe over at lifemadefull.com and it's another great example of how vegan cakes can end up looking, and tasting, great. With this cake, you've got the key flavors of lemon and of coconut.
Those two flavors tend to work together really well and would complement the cake nicely. More than anything, I imagine those flavors would make the cake a perfect option for a spring or summer day when you're looking for something that is a bit refreshing.
Lemon Coconut Ice Cream
Making homemade ice cream can be a surprisingly simple task, especially if you are following a recipe like this one from mywholefoodlife.com. The recipe includes just four ingredients, most of which you probably already have.
Now, this is a recipe that relies on an ice cream maker. However, the creator notes that you could just make the recipe and turn it into popsicles if you don't have an ice cream maker. To be honest, I think the popsicle approach might end up tasting even better than making the recipe as ice cream.
Lemon Donuts with Lemon Glaze
Mmm… donuts. Okay, I'd admit that I'm a little bit of a fiend for donuts, so this recipe looks especially appealing to me. In reality, you could call these little desserts either mini donuts or mini bundt cakes, but either way, they would taste great.
Visually the donuts/cakes look pretty fun too, especially with the lemon glaze on top. The only downside is that they don't quite look like donuts but that won't affect their taste.
You can check out the ingredients and the instructions for the recipe over at infinebalance.com.
Lemon 'Cream' Cake
Layer cakes like this one can be fun and there's certainly no need to avoid cakes like this just because you are vegan. The recipe for the dessert comes from goodiegodmother.com and the cake is another recipe that would be suitable for non-vegans as well as vegans.
In fact, it's pretty much impossible to tell that the cake is vegan by looking at it, so you could get away with not telling people if you wanted to.
Lemon Crinkle Cookies
The recipe for these cookies comes from mydarlingvegan.com, which is always a good place to find vegan recipes for any occasion. The cookies themselves are a good combination of sweet and sour, as any good lemon-containing recipe should be.
They are also chewy cookies, which will probably make them more appealing to some people than to others. But, regardless of your preference for cookies, these ones are certainly worth trying. If nothing else, their flavor would be very appealing and somewhat refreshing.
Lemon Meringue Pie
At first glance, lemon meringue pie doesn't seem like it could possibly be a vegan recipe but this one certainly is. The recipe for the pie comes from thepancakeprincess.com and you can also make it in a shallower pan to create a tart.
Either way, the finished product ends up looking really good. This type of recipe is certainly worth trying, even if you haven't tried a meringue pie before. There are a number of different steps but the creator of the recipe explains each one well, making the recipe easy to follow, regardless of your skill level.
Lemon Vanilla Brown Rice Pudding
Rice pudding is one of those recipes that you either love or hate, and I've met plenty of people that fall into each of those camps. But, if you do enjoy rice pudding, then this recipe from edibleperspective.com is certainly one to try.
The choice of lemon and vanilla would work well as flavors and would help to make the rice pudding a little bit more unusual than many other similar recipes. As with most rice pudding recipes, this is also one that you can serve chilled or warm.
No Churn Lemon-Mint Ice Cream
Here's another example of vegan ice cream and this time the recipe uses a combination of lemon and mint flavors. The flavor combination might not be exceptionally common but the end result would certainly be a refreshing and almost savory dessert.
After all, both lemon and mint have a sharpness to them. You can find all the information needed to create this recipe at lovemefeedme.net and don't worry, the ice cream is exceptionally easy to make and doesn't need any special equipment.
Lemon Bars with a Shortbread Crust
Lemon bars are one of the most classic examples of using lemon in a dessert recipe but that doesn't mean the bars have to be boring. This recipe, from heartofabaker.com, is one example of lemon bars that are just a little bit different.
In this case, the recipe has a shortbread crust which would work really well with the texture of the lemon bars. Additionally, there is one unusual ingredient in the recipe but you'll have to check it out for yourself to find out what that is.
Honey Lemon Ginger Cake
The combination of honey, lemon and ginger are something you would often find in a hot drink to fight a cold, rather than in a cake. But, this recipe from halalhomecooking.com manages to take advantage of those flavors effectively to create a cake that looks wonderful. It would probably smell just as good as it looks.
Now, a cake like this probably wouldn't be as helpful for a cold as a hot drink would be, but that's not really the point. Instead, the cake is simply a sweet treat with a familiar flavor.
Lemon Olive Oil Cake
While we're on the topic of cakes, here's another one. This time, the recipe comes from culinaryhill.com and just like all the other recipes on the list it is vegan and uses lemon as a key flavor. But, this cake is still quite interesting because it has a focus on olive oil.
For this recipe, olive oil acts as a significant ingredient and also contributes to the overall flavor of the cake. This cake would actually be a good way to get olive oil in your diet a bit more, which may be particularly relevant given all the discussion that has surrounded olive oil and potential health benefits.
Lavender and Lemon Cheesecake
This recipe was hosted at thisrawsomeveganlife.com and it's another example of lemon and lavender flavors. I'll admit, I still find the idea of using lavender in desserts a little bit strange but if you're going to use lavender, lemon does seem like it would be a natural complement.
While the recipe might not technically be a cheesecake, it still makes for an appealing dessert in its own right. The cheesecake is also made using a raw recipe, so it is extremely easy to create with no cooking required.
Besides, you have to admit that it looks simply amazing on the plate.
And don't forget to check out our own recipe: Lemon Olive Oil Tart with Basil and Gin Granita, although it's not vegan!