Protein is essential for health. It plays a crucial role in muscle development and how our body functions. The most potent protein sources tend to come from animals, which can mean that vegans struggle to get enough protein in their diet. Thankfully, there are protein rich vegan foods that you can rely on.
So, in this list, we're taking a close look at vegan protein options and how they compare to each other. Some are better sources of protein than others, but even the less powerful sources can add a little protein to your diet each day.
Before we dive into the list, let's talk a little more about protein. Many of us will already get enough protein to avoid deficiency, but increasing protein intake still has advantages.
There are often health benefits to an increased protein intake and putting on muscle can become easier. High-protein diets can also help with weight loss, as you end up feeling more satisfied and are less likely to crave unhealthy food.
Too much protein can be a problem too. So, as always, you should pay attention to the cues your body gives you. Doing so is crucial with protein, as protein needs can vary dramatically. Athletic people tend to need more protein than those who move less, while women need less protein once they have reached menopause.
Protein Rich Vegan Food Choices
Oats
Nuts
Seeds
Trail Mix
Sprouted Bread
Hemp Seeds
Chia Seeds
Quinoa
Lentils
Tofu
Edamame
Tempeh
Soy Milk
Chickpeas
Nutritional Yeast
Broccoli
Dark Leafy Greens
Mushrooms
Seitan
Mycoprotein
Most Types Of Beans
Spelt
Teff
Amaranth
Spirulina
Potatoes
Green Peas
Wild Rice
Oats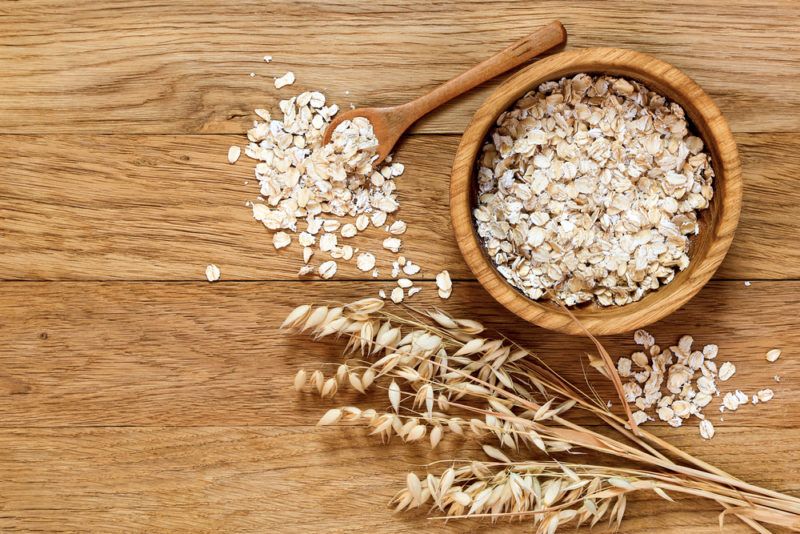 Oats are a classic way to add protein to your diet and they remain popular. Their protein content is one reason why oatmeal remains such a popular breakfast choice. You can also turn to overnight oats, which is a meal prep approach that allows you to do most of your prep work the night before.
Oats are also versatile. Their mild flavor makes them perfect for a variety of sweet and savory recipes.
On their own, oats are even gluten free. However, if you're very sensitive to gluten, you'll need to be careful about the brand that you choose. Oats are generally processed using the same facilities as gluten-containing grains, which can contaminate the oats.
Thankfully, if a company focuses on avoiding contamination, they'll typically talk about this in their marketing. Some will even say that they don't use the same facilities as gluten-containing grains, which is the ideal situation.
Nuts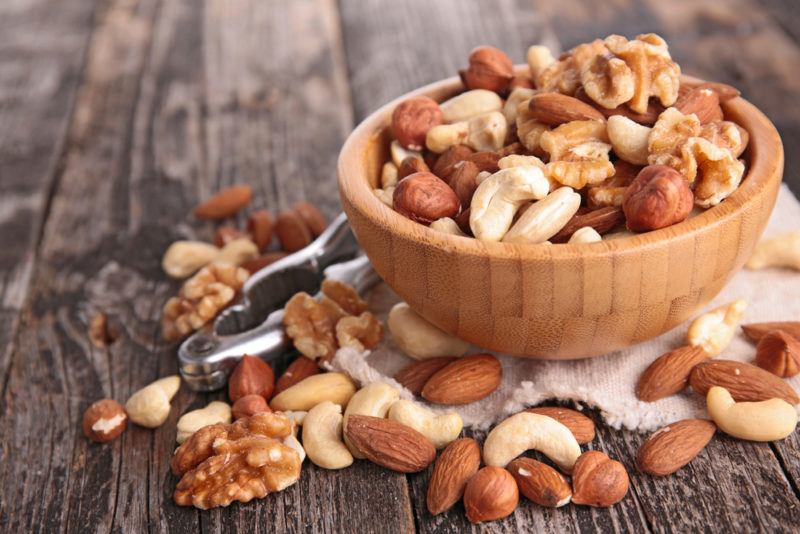 Nuts are an excellent source of protein, especially for vegans. A one-ounce serving of nuts will provide between 8% and 18% of your daily protein intake, depending on the type of nut.
Nuts have other advantages too. They're an easy snack to enjoy, especially as they are portable and delicious. The combination of protein and healthy fats also means that nuts tend to be filling.
While they're technically legumes, peanuts have more protein than any type of nut. In a one-ounce serving, you get around 7.3 grams of protein.
Almonds are the next highest source of protein, offering 6 grams of protein for the same serving size. Almonds provide plenty of other nutrients. They're often considered the most nutritious type of nut, so they're the perfect choice for increasing your protein intake.
Seeds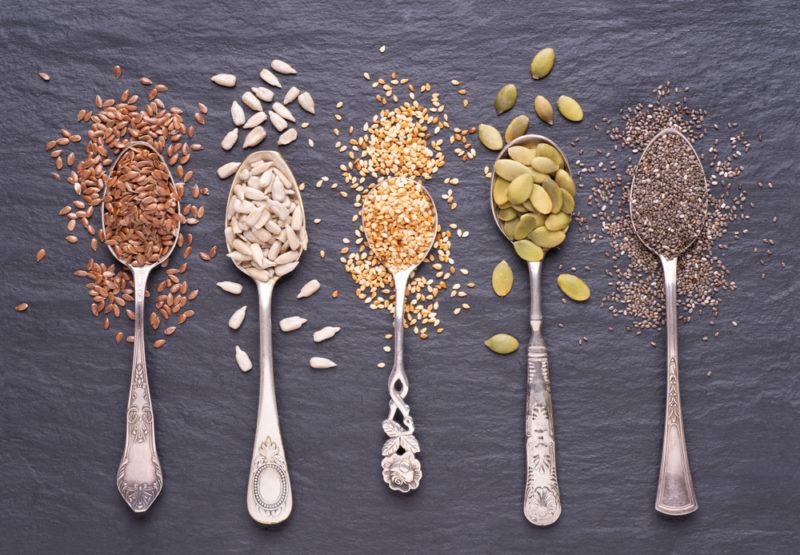 Seeds are another compelling choice. Just like nuts, they are easy snacks that give you plenty of different nutrients. Some seeds contain even more protein than nuts, which makes them especially appealing.
The single best choice for protein is hemp seeds. We'll talk about these in a minute. While hemp seeds are appealing and nutritious, they're not as easy to snack on as many other types of seeds.
Pumpkin seeds are the next best choice for protein, offering around 8.5 grams of protein per ounce. Sunflower seeds are popular for snacking too. These have much less protein, with just 5.5 grams of protein for the same serving size.
Trail Mix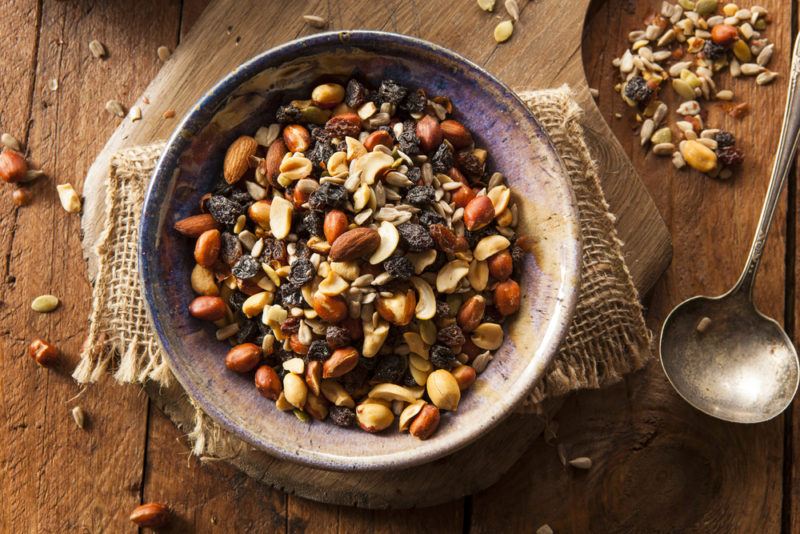 The significance of nuts and seeds means that trail mix makes a particularly convenient source of protein. With trail mix, you're getting a variety of nuts and seeds at the same time, giving you many nutrients.
If you are going to rely on trail mix, it's best to prepare it yourself. Some trail mixes won't be vegan-friendly, as they may include chocolate or yogurt-covered ingredients.
Other trail mixes include a large amount of dried fruit. While dried fruit has some benefits, it is also a concentrated source of sugar. When you make trail mix yourself, you can skip the dried fruit altogether or use a better ratio of dried fruit to other ingredients.
Sprouted Bread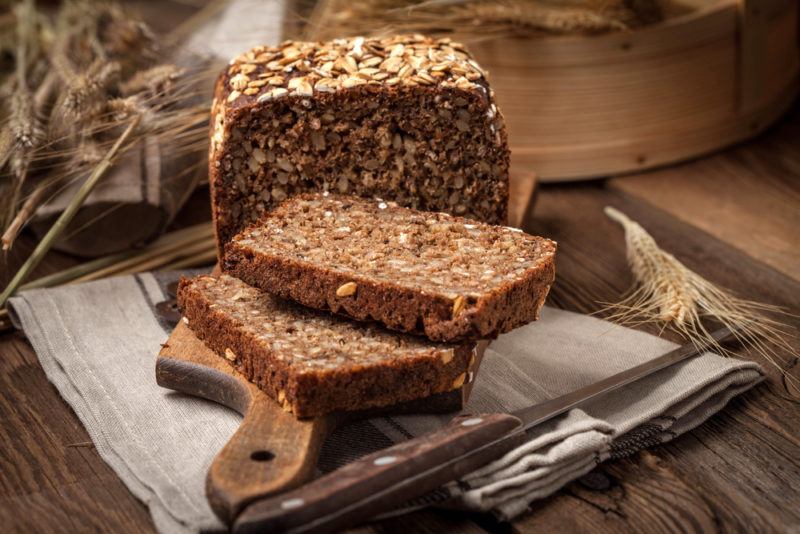 Sprouted bread is often promoted as a healthier alternative to regular bread. It largely relies on legumes and sprouted grains, rather than using processed white flour.
The bread ends up being higher in nutrients than most other types of bread. The reliance on sprouted grains and legumes also means that the protein content is higher.
You will, however, need to pay attention to brands and recipes. Sprouted bread is often vegan-friendly, especially as it is designed to be healthy. However, some products might use less appealing ingredients, such as honey.
Ezekiel bread is the most famous example of sprouted bread. The brand has become incredibly popular for its flavor and nutritional benefits. You can even find Ezekiel bread in some grocery stores.
Hemp Seeds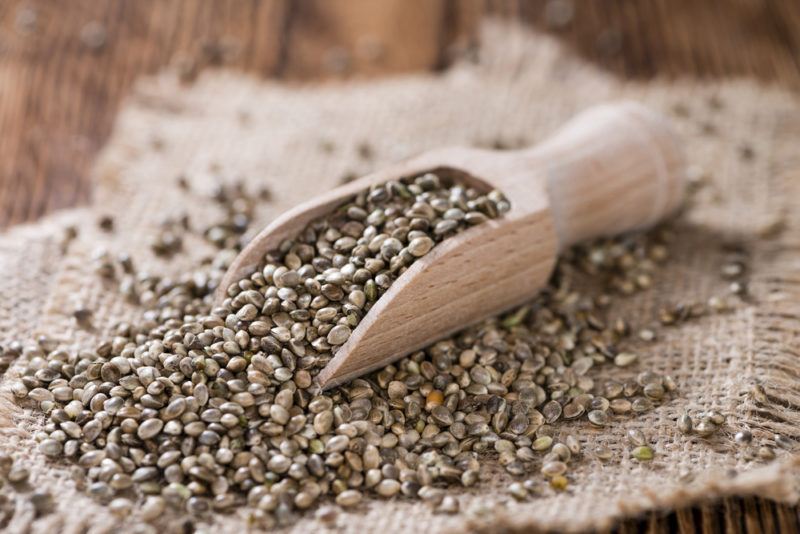 Hemp comes from the plant Cannabis sativa, but it doesn't have any psychoactive effects. This is because hemp just contains trace amounts of THC.
The lack of THC doesn't stop hemp from being trendy. Indeed, the non-psychoactive compounds in cannabis may offer health benefits, an potential that has made hemp very popular indeed.
The protein level is also notable, with an ounce of hemp seeds offering around 10 grams of protein. This protein is easy to digest. You're even getting a desirable ratio of omega-3 to omega-6 fatty acids and a decent amount of amino acids.
When used whole, hemp seeds add a distinctive crunch to your meal, along with a slightly nutty flavor. You can also find hemp hearts. These are essentially shelled hemp seeds, where the outer shell has been removed.
Getting rid of the hemp seed shell makes hemp hearts softer and easier to use. You can simply sprinkle them on top of food.
Chia Seeds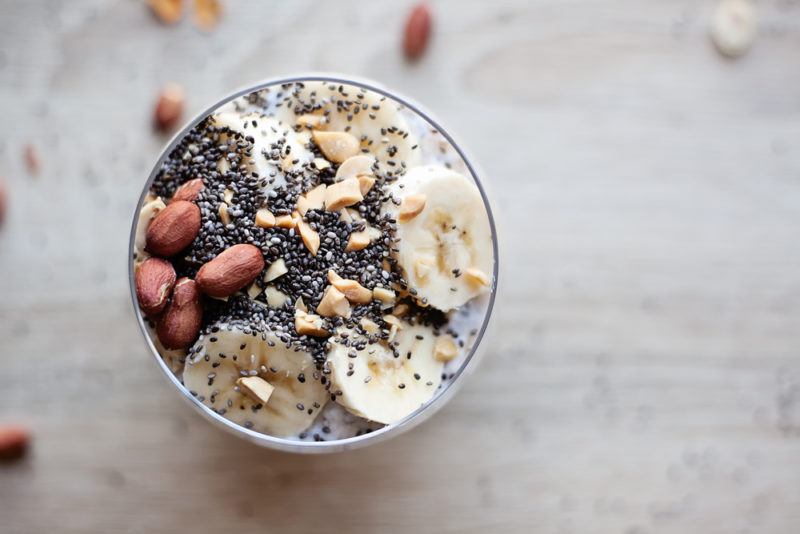 Chia seeds are another seed type that deserves a special mention. Just like with hemp seeds, you won't normally snack on chia seeds directly. Instead, these seeds are most commonly sprinkled on top of dishes or mixed in as an ingredient.
The seeds have many advantages. They're small and relatively flavorless, which means that they can be added to dishes without having much impact on flavor. Plus, the seeds are packed with omega-3 fatty acids, protein, and fiber.
You end up with around 2 grams of protein in each tablespoon of the seeds. While this might not seem like much protein, it is a decent amount for the small size o the seeds.
Chia seeds also have an unusual property. They become gelatinous with soaked in liquid. Chia pudding is a common way to take advantage of this feature and the dish does end up with an unusual texture.
The same is true for drinks that use chia seeds. These drinks end up being powerful as a source of protein, but some people find the gelatinous nature of the seeds a little off-putting.
Quinoa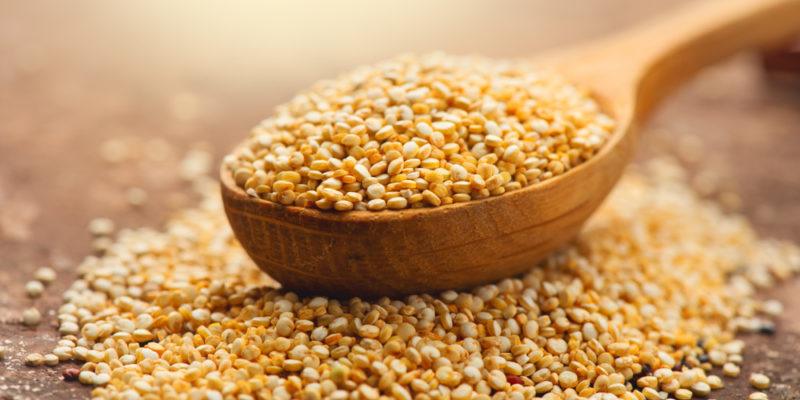 Quinoa is often called a pseudocereal, as it is a seed that is generally prepared and eaten as a grain. It is also considered a superfood due to its robust nutrient profile.
In particular, quinoa is higher in protein than most grains. This makes it a satisfying addition to meals. You can easily use it instead of rice in a meal or use it to create a quinoa salad. Quinoa is delicious even when cooked and served on its own, as it has a slightly nutty flavor and an appealing crunch.
Quinoa is also entirely gluten free. This is another reason that many people are choosing quinoa over more conventional options.
Lentils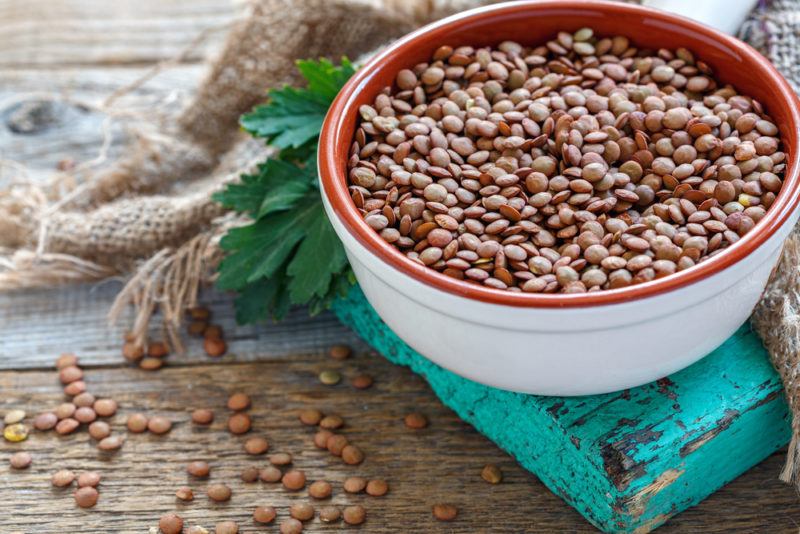 We can't talk about protein without highlighting the humble lentil. Lentils have traditionally been added to soups to give the dish a little more body. These days, we're starting to realize that lentils are more powerful than we previously assumed.
Their protein content is one reason. A cup of cooked lentils gives you around 18 grams of protein. Don't worry if a full cup of lentils sounds like too much, you still get a respectable amount of protein from half a cup or even less.
The fiber content is decent too, which is good news for your digestion. The combination of fiber and protein means that lentils tend to be filling.
You're not limited to using lentils in soups either. There are countless different ways to use lentils, including traditional and creative approaches. Lentils can also be included in many meals to add bulk and extra nutrients.
Tofu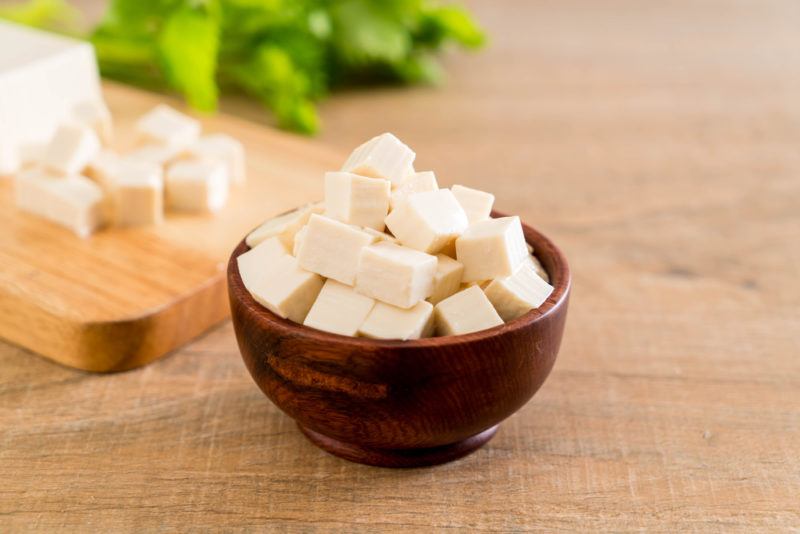 Tofu is an exceptionally common vegan source of protein. You'll often see it used as a meat replacement, partly because tofu takes on the flavors of the other ingredients in the meal.
In fact, tofu doesn't have much flavor of its own. This feature is perfect for cooking, as you have full control over how your finished meal tastes.
Tofu is made from soy milk. This is coagulated and then pressed to create blocks of varying textures.
Tofu isn't for everyone. Some people heavily rely on tofu and use it regularly, others cannot stand it as an ingredient. Learning how to cook it well can help, but even then, you might simply not like tofu.
The way that tofu relies on soybeans makes it somewhat controversial. While soybeans are often thought to be healthy, some people are concerned about the levels of phytoestrogens. Soy is also a legume, which is a group of foods that many people eat regularly and others avoid.
You'll need to decide for yourself whether soy is a healthy addition to your diet.
Edamame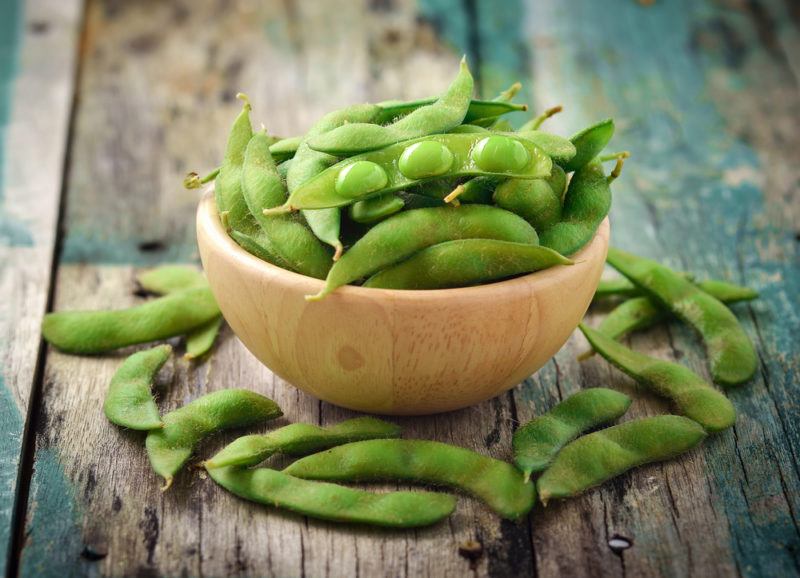 Edamame is an almost effortless Japanese appetizer, where you're basically just boiling soybeans. You can serve the edamame as-is or add on salt or some spices.
Regardless, the dish is easy to prepare. You can also start off with fresh or frozen soybeans, depending on what is available in your area.
Edamame is also easy to eat, which is another bonus. Many people enjoy snacking on edamame. Doing so can be an easy way to boost your protein intake on the go.
Tempeh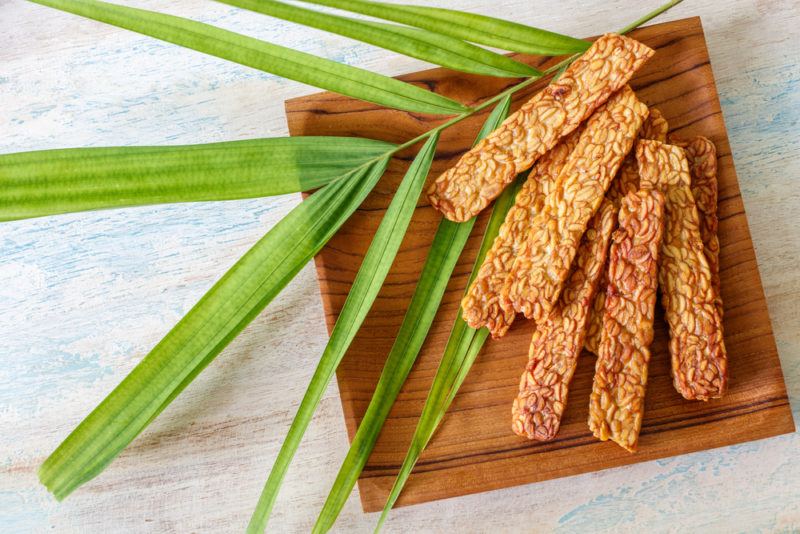 Tempeh is an interesting alternative to tofu but is made from soybeans rather than soy milk. The soybeans are fermented and then compacted. You end up with a dense cake that can be used as an ingredient, but the texture is very different than tofu.
Because tempeh is fermented, it can be a great source of probiotics. It is also higher in protein than tofu and contains more fiber as well.
Tempeh also has a distinct nutty flavor. This works very well with some dishes.
Soy Milk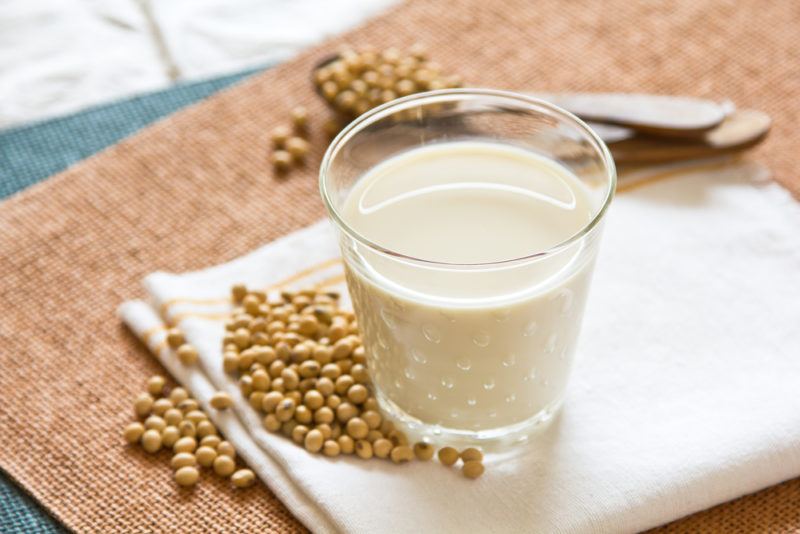 As the name suggests, soy milk is made from soybeans, which naturally makes it a good source of protein. While you're not getting as much protein as with some other soy-based products, you are still getting more than with almond milk or water.
One estimate suggests that you'll get around 7 grams of protein in a cup of soy milk. If the milk is fortified, you may also get vitamin B12, which is essential on a vegan diet.
Of course, the real power of soy milk is how you use it. This plant-based milk can be used as a substitute for dairy milk in many recipes. Using it in smoothies is a particularly good choice for protein, as you can add in other ingredients too, like nuts and even protein powder.
Chickpeas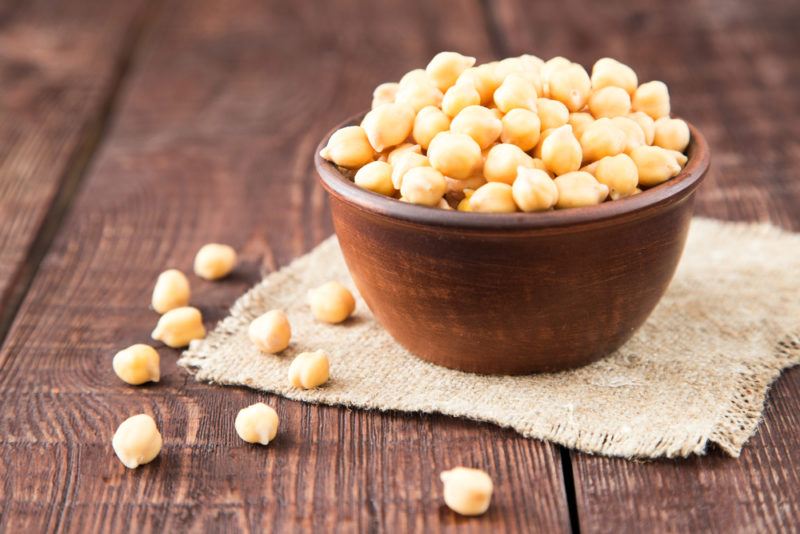 Chickpeas offer many advantages. These legumes are nutritionally dense, offering a decent amount of iron, fiber, protein, and various minerals. Chickpeas even contain a notable amount of key amino acids, some of which people may be lacking in their diets.
Chickpeas are generally cooked, or at least sprouted, before using. The processes improve protein digestibility, which also making chickpeas easier to enjoy.
There are many ways to use chickpeas, with hummus being one of the most famous examples (chickpeas are the main ingredient in hummus). Roasting and seasoning chickpeas is another approach.
This idea has become popular, as chickpeas end up being a satisfying high protein snack. They're also relatively low in fat compared to nuts, which can make them a more appealing snack for people trying to lose weight.
Nutritional Yeast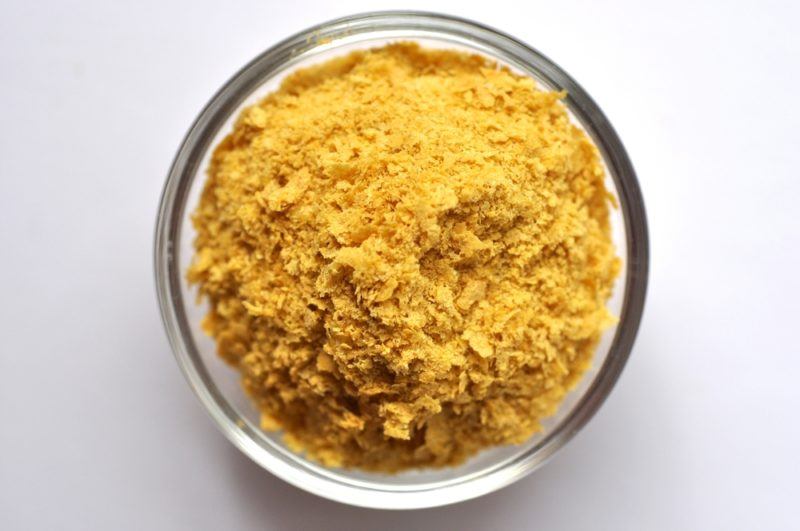 Nutritional yeast is a type of deactivated yeast. It is typically sold as either yellow flakes or yellow powder, and has a cheesy flavor. It is often sprinkled on top of meals, such as pasta dishes. It can also be mixed into dishes. For example, recipes for scrambled tofu sometimes use nutritional yeast.
A 28-gram serving of nutritional yeast contains roughly 14 grams of protein. This makes the yeast a potent protein source.
You won't typically be using much nutritional yeast at a time, which limits how much protein you get from the yeast. Still, if nothing else, nutritional yeast is an easy way to add a little protein into a meal.
The cheesy flavor is important for vegans, as the yeast is a vegan-friendly way of adding cheese flavor to a meal.
Broccoli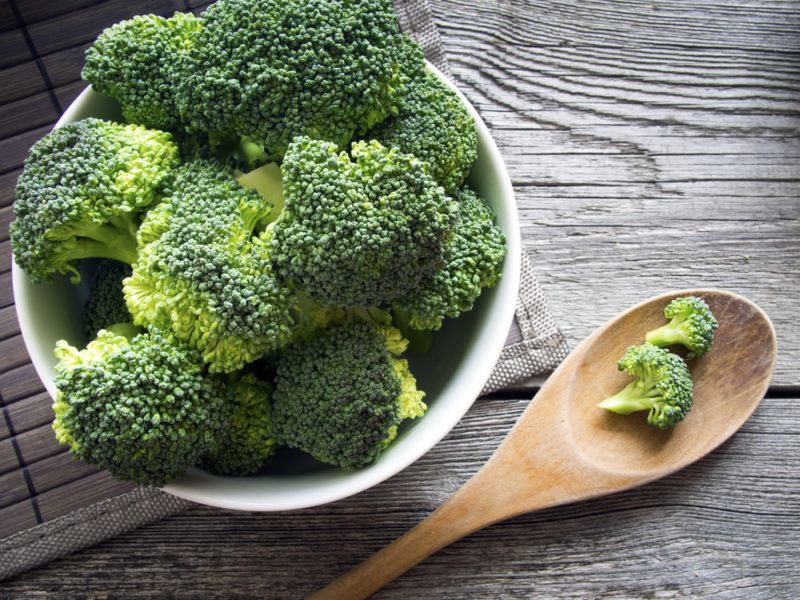 It's true that a serving of broccoli isn't an amazing source of protein. But, calorie-for-calorie, broccoli is higher in protein than most other vegetables.
The vegetable's low calorie content also makes it an easy way to increase protein intake, even if you're trying to watch your calories. In contrast, other protein sources are often higher in calories, making them more difficult to fit them into your diet.
Dark Leafy Greens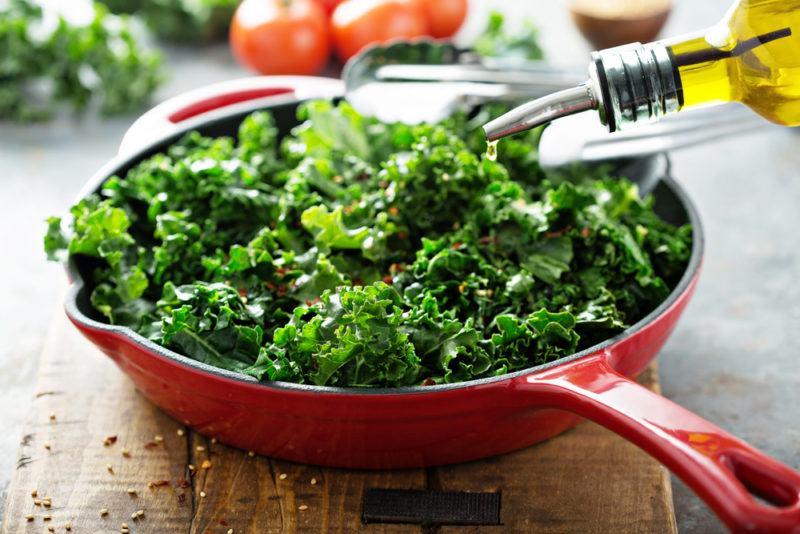 Like broccoli, dark leafy greens don't contain a large amount of protein. For example, you only get around 2 grams of protein for an entire cup of kale.
Even so, these greens are a low calorie way to increase protein intake. After all, many of the protein sources on this list are fairly high in calories. Relying on too many high calorie foods in your diet could be a problem, especially if you are trying to lose weight.
Mushrooms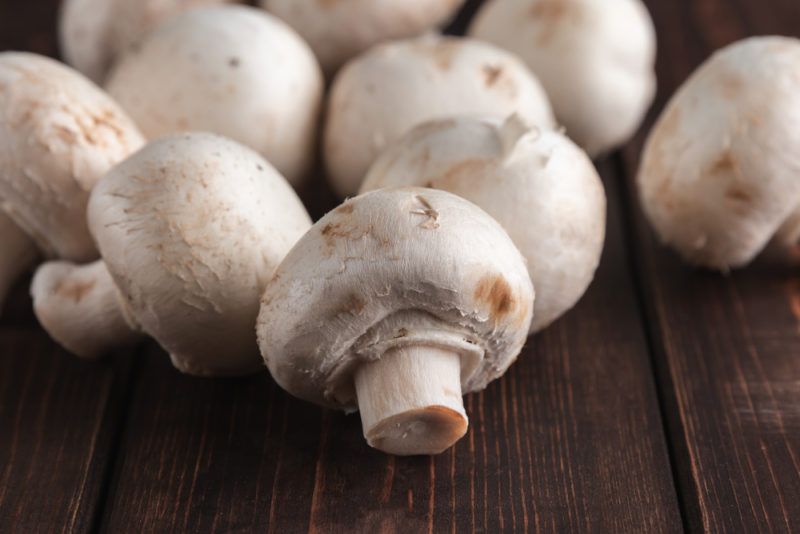 Mushrooms follow the same trend as the previous two entries. This time, you get around 3 grams of protein for 5 medium mushrooms. Once again, the advantage is the ratio of protein to calories.
Of course, the protein content will vary depending on the type of mushroom that you choose. While white mushrooms may seem common, they are surprisingly nutritious and even offer vitamin C. Their protein density is higher than most other types of fungi.
Other appealing protein choices include oyster mushrooms and morel mushrooms. Shiitake mushrooms, which are often promoted as a source of health benefits, still contain protein but have a lower protein density than the mushroom types we've already mentioned.
Seitan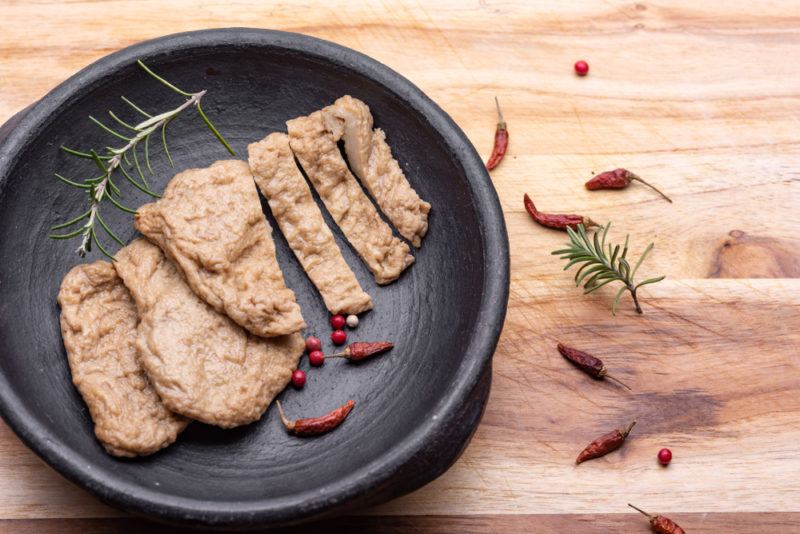 Seitan is a type of protein extracted from gluten. It is sometimes called wheat gluten or perhaps wheat meat.
You won't normally find seitan sold on its own. Instead, it is used to create meat alternatives. You'll often find these chilled in grocery stores or health food stores.
Seitan has two key advantages. The first is that it is high in protein. It contains roughly 25 grams of protein per 100 grams, which is impressive.
The second is that, when they're cooked, seitan meat alternatives end up having a similar texture and appearance to regular meat. This is unusual for a meat alternative.
Mycoprotein

Mycoprotein is another option commonly found in meat substitutes, particularly in chicken alternatives. As the name suggests, mycoprotein is made from fungus, which could be a problem for anyone with a mushroom allergy.
Still, if you're not allergic to mushrooms, mycoprotein can be a good source of protein. You're often getting close to 13 grams of protein in a half cup serving.
Because mycoprotein is generally found in pre-prepared products, you'll need to pay close attention to labels. Mycoprotein meat substitutes sometimes use egg as an ingredient, so they end up being only vegetarian-friendly rather than vegan-friendly.
Thankfully, this isn't always the case. There are vegan mycoprotein products too. Many will be marketed as being vegan-friendly, which should make them easy to spot.
Most Types Of Beans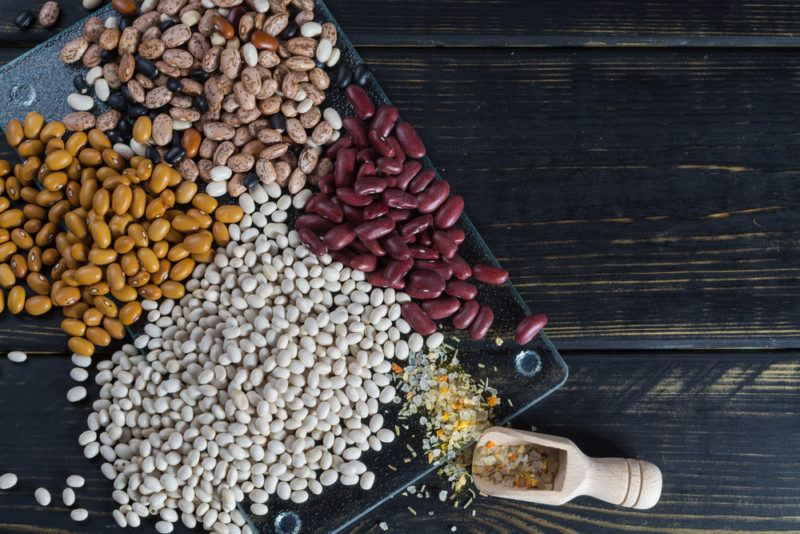 Like chickpeas, beans are a type of legume. They're also powerful as a source of protein, with each cooked cup of beans offering around 15 grams of protein.
The nutritional profile varies depending on the type of bean that you choose, but they are all good sources of healthy nutrients. Key compounds include iron, folate, potassium, and magnesium.
Beans are a plant-based source of protein, so they also offer various plant-based compounds. Such compounds can influence health in many ways and often act as antioxidants.
Because the nutrients are different from one type of bean to the next, it's best to include a selection of beans in your diet. This gives you access to the widest range of nutrients and helps promote the best health outcomes.
On a side note, beans and rice are often used together as a vegan protein source. Rice isn't especially high in protein, but it does contain some amino acids that aren't that frequent in beans. Combining the two foods means that you end up with a complete source of protein.
Spelt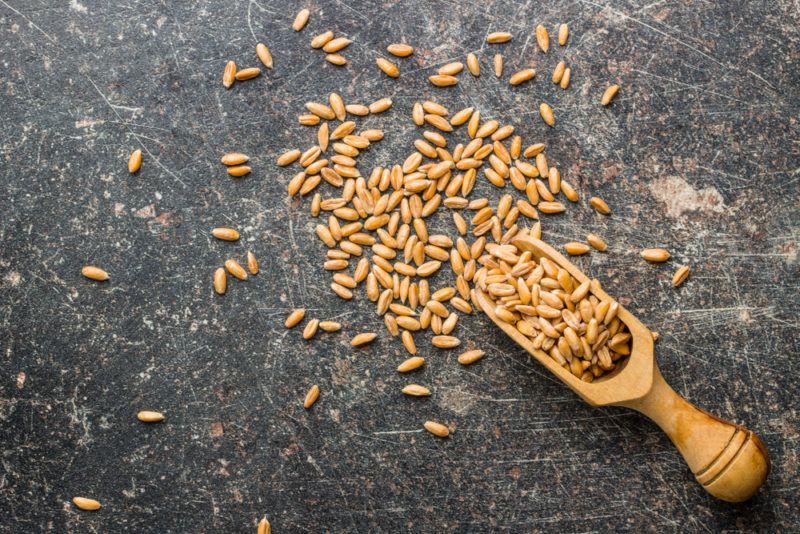 Spelt is sometimes called an ancient grain. The term refers to pseudocereals and grains that have been relatively unchanged over time. In contrast, grains like wheat and corn have been through considerable selective breeding and
There are many ancient grains to choose from and ancient grains are often a decent source of protein, fiber and some nutrients. However, spelt is a particularly good for protein, offering between 10 and 11 grams of protein per cooked cup of the grain.
Spelt is also relatively easy to find, at least compared to most other ancient grains. This makes it an attractive way to add protein to your diet.
Teff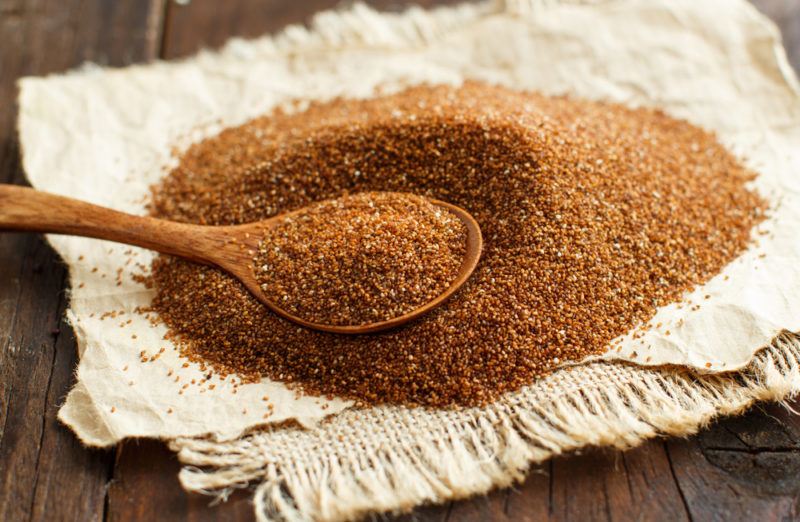 Teff is another type of ancient grain. Spelt and teff have a similar amount of protein and many of the same nutrients.
A key difference is that teff comes from a type of annual grass. It isn't related to wheat at all, so teff is a gluten free source of protein. Spelt, on the other hand, is related to wheat and does contain gluten.
Both types of ancient grain are versatile. You can use them in a similar way to regular grains, which includes using the grains in baking and in meals like risotto. There are many recipes out there to get you started and many food bloggers focus on unusual and nutritious ingredients.
Amaranth

Amaranth is another type of ancient grain and the last one that we'll feature on this list. When cooked, a cup of this grain gives you around 9 grams of protein. This makes it less powerful than teff and spelt, but the difference isn't dramatic.
Technically speaking, amaranth is a seed rather than a grain. The seed contains many nutrients and also ends up being entirely gluten free.
The seed is a little more difficult to use than quinoa, as it doesn't end up fluffy once it has been boiled. Thankfully, there are many delicious amaranth recipes out there.
Some people use amaranth as a breakfast cereal. This style works well, as cooked amaranth has a similar consistency to cereal. The grain even has some sweetness to offer.
Spirulina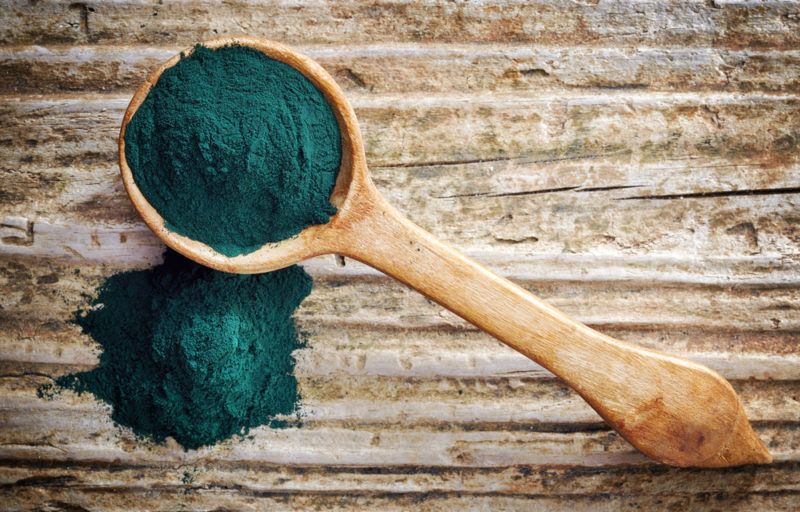 You've probably heard of spirulina by now. This nutrient-rich superfood is known for potential health benefits – and happens to be around 60% to 70% protein. Spirulina comes from a type of kelp, so it is vegan-friendly. Just make sure that you pay attention to the ingredients label, as some brands may add in non-vegan ingredients.
Spirulina is an easy way to increase protein intake, as you can simply add a tablespoon or two to a smoothie or juice. Plus, the protein in spirulina is easily digested.
Spirulina is also allergen-friendly, while many other vegan sources of protein contain soy or gluten. Because of this, spirulina can be enjoyed by anyone without concern.
The main limitation is that you might want to start slow. Despite the many benefits of spirulina, the supplement does have an unusual flavor. This can take a little time to get used to.
Potatoes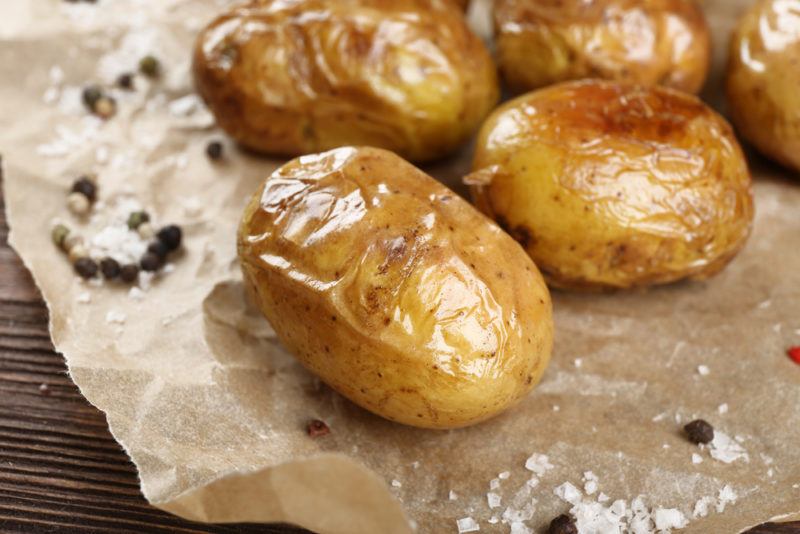 Potatoes often get a bad rap because they are starchy and high in carbs. Yet, they're also surprisingly nutritious, offering many nutrients including protein. If you eat the skin as well, then a large baked potato will give you around 8 grams of protein.
This protein content is decent, especially as you'll often combine a baked potato with other protein-packed ingredients.
Green Peas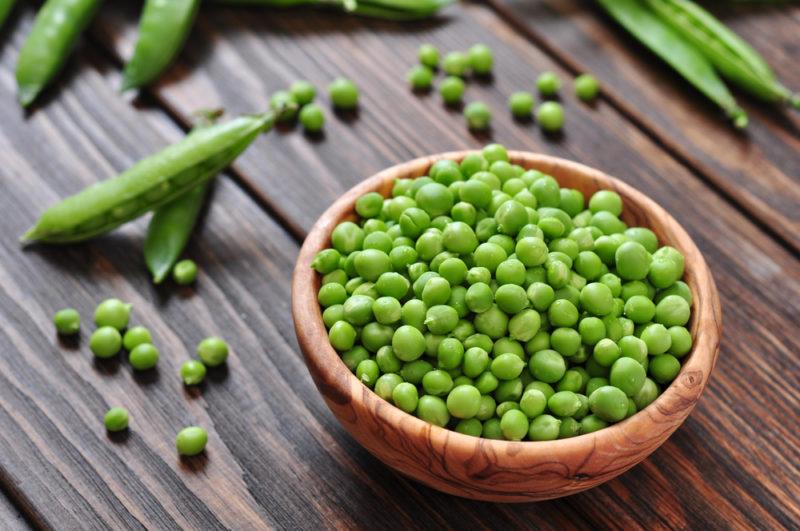 Cooked green peas are another way to get your protein, especially as they are so easy to find. A cup of the cooked peas will provide roughly 9 grams of protein.
This protein content is pretty good really. After all, green peas tend to be inexpensive. They work well in many recipes too, giving you plenty of ways to use them.
As with other plant-based options, there are many other nutrients present in green peas, along with plant-based compounds.
Wild Rice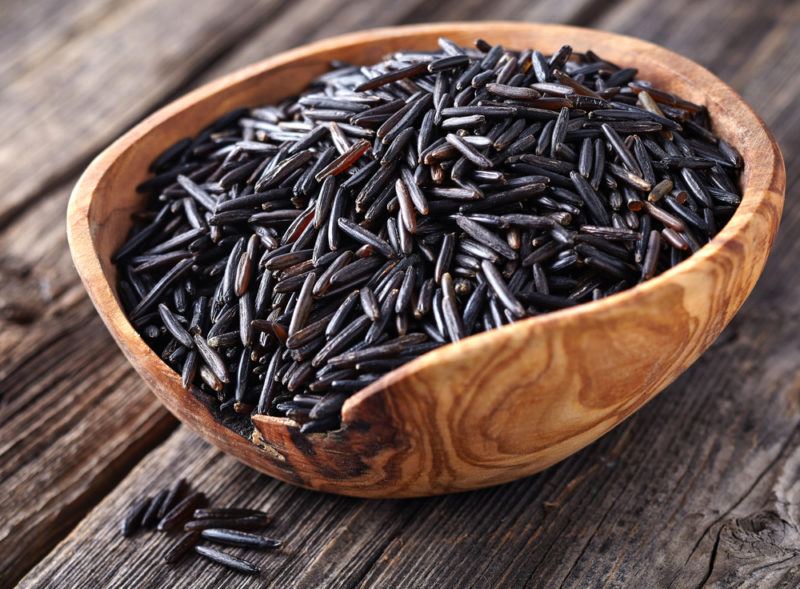 While rice doesn't usually make its way onto lists of protein-based foods, wild rice is an exception. One notable feature is that the bran isn't removed from wild rice. This difference means that wild rice ends up containing more nutrients than other varieties of rice.
In fact, you're getting around 7 grams of protein from a cup of cooked wild rice. This is still less than many of other protein rich foods, but it isn't a bad amount of protein either.
Besides, many of us eat rice regularly. Simply swapping regular rice for wild rice is an easy way to increase protein intake. There is, however, one limitation. Arsenic can accumulate in the bran of rice, especially if the crop is grown in a polluted area.
Eating a small amount of the compound won't harm you, but you do need to be careful. Washing the rice well first can make a large difference to the arsenic content, making wild rice a safer choice.