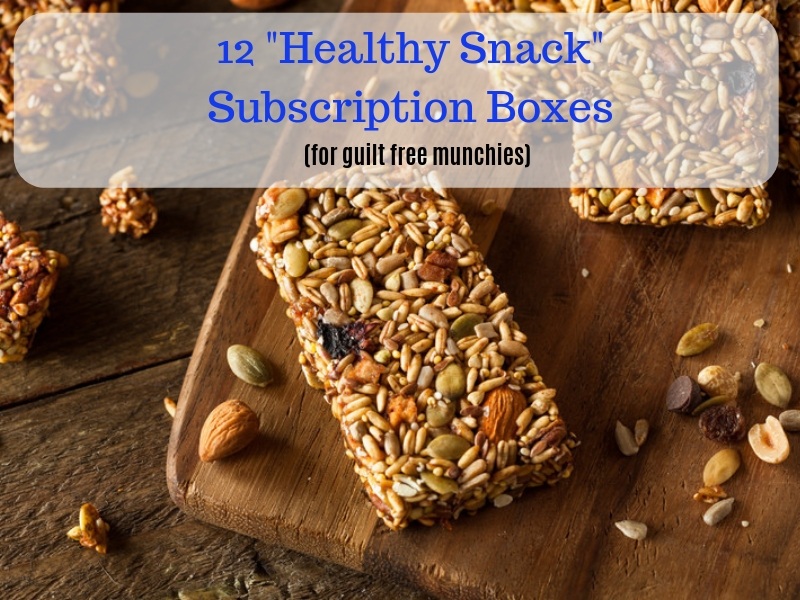 Staying healthy isn't always easy, especially when there are so many tempting snacks out there. Subscription box services help provide a solution, offering a selection of snacks that hit the spot, without compromising your health.
In this list, we're taking a look at a wide range of different healthy snack subscription boxes. The term is a broad one, of course. People are vastly different in how they define healthy. To get around this, the list is roughly broken into categories, based on the overall style of the box.
Some are specifically designed for health or for weight loss, while others focus on a single diet type, like gluten free, vegan or paleo. You'll also find snacks that are low in calories and avoid artificial ingredients. Regardless of how you define healthy, you're certain to find some subscriptions that are perfect for you.
Subscription boxes are a fun and convenient way of getting your favorite healthy treats delivered straight to your door. You can find new snacks you love or get favorites regularly. Some subscriptions even allow you to receive the precise items that you want on a recurring basis, for maximum convenience.
Subscription boxes can be a great option for someone adhering to a healthy diet as they can offer a great mix of snacks, random helpful products and well-earned treats. They also help you access snacks that you would have never found locally.
Over the course of this article, we are going to have a look at some of the very best healthy subscriptions boxes on the market. There's great variety when it comes to healthy subscription boxes, so have a look through the list and see if there's any you may be interested in!
"Healthy Snack" Subscription Boxes
Healthy Surprise Snack Boxes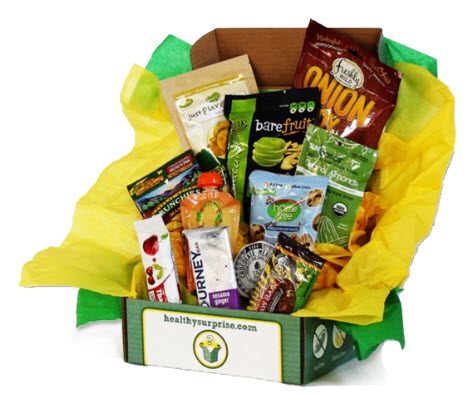 Options like these Healthy Surprise Snack Boxes are perfect if you want to eat healthy snacks. The boxes contain a variety of sweet and savory products. Some will be high in calories, others won't be. The health advantages come from the ingredients chosen. In particular, vegan products tend to rely on more beneficial ingredients than non-vegan products. Vegan versions are often less processed too.
There's another advantage in this case, as the snacks are all gluten free too. This reduces the chance of any adverse reactions, making for better (and healthier!) snacking all around.
The brand has 2 different vegan snack boxes for you to try. They both get fantastic reviews. The first is their Classic Gift Box. It contains 15 different snacks and costs $49.99 as a one-time order (or $42.49 per box on subscription). The second option is their Big Box Gift. This is a more comprehensive snack box and contains 21 different items. The box costs $74.99 as a one-time order or $63.74 on subscription.
Tubby's Taste Vegan Dessert for Everyone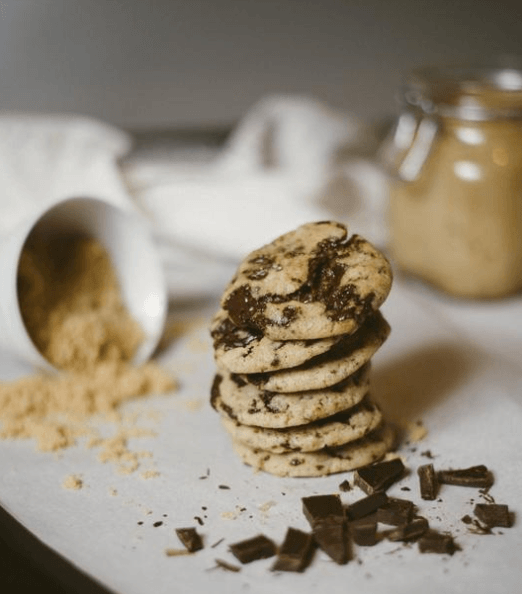 As a vegan, cookies may be one of the hardest things to walk by in the grocery store. But with Tubby's Taste Vegan Dessert for Everyone, this doesn't need to be an issue!
When you sign up, each month you will receive 1 dozen freshly baked vegan cookies shipped directly to your home monthly. You're not going to be getting the same thing month-after-month either because they rotate flavors on a monthly basis.
A subscription box from Tubby's costs $23.99 every month, meaning you'll be kept in vegan cookies on a rolling basis.
Unfortunately for those outside the United States, Tubby's doesn't deliver worldwide, but if you are based in the USA, you're in luck – you could be gnawing on vegan, dairy-free and, most importantly, delicious cookies in no time!
Louisville Vegan Jerky Of The Month Club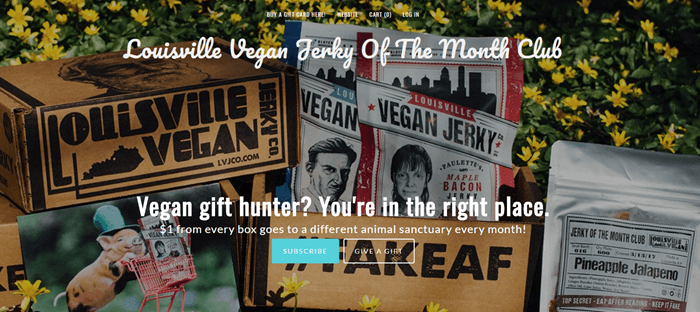 Two questions – are you vegan and do you love jerky? If you answered yes to either or both of these questions, then you're going to be very interested in this offering from Lousiville Vegan Jerky of the Month Club.
Claiming to be "The Best Damn Vegan Jerky in the World", this subscription box is perfect for jerky lovers. Vegans may find it hard to find jerky at all, but this box delivers it straight to your door each month!
The contents of the box are 3 bags of Louisville Vegan Jerky – 1 bag of which has a secret flavor! There's also a Louisville postcard. All products are guaranteed to be vegan, gluten free and non-GMO.
A box from Louisville cost $19.99 per month and is usually shipped on the third Thursday of each month!
BareTerre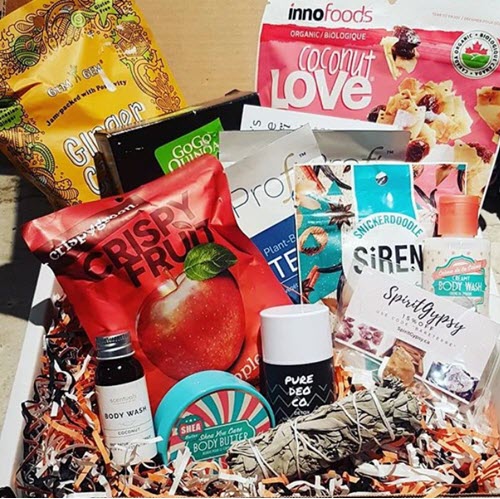 Bare Terre is an environmental focused subscription service that ships from Canada across the globe. There are 2 boxes to choose from. The Beauty & Wellness Bare Box contains various paraben-free and fragrance-free body products. While that's an interesting choice, we're interested in the second option, which is their Snack Attack Box.
The Snack Attack Box contains between 5 and 10 vegan cruelty-free products. The selection includes various snacks, along with items like protein powder and drinks. It's best to order the boxes ahead of time, as they quickly sell out.
There is also a Spirit Box. This offers some beauty products, along with various snacks. The regular size contains 10 to 15 products, while the Big Spirit Box has 15 to 20 items. In both cases, you're getting a combination of full-sized products and samples.
Bare Terre set out to offer their patrons the best experience possible through their boxes, but also to introduce them to new products that they may not come across otherwise.
Snak Pack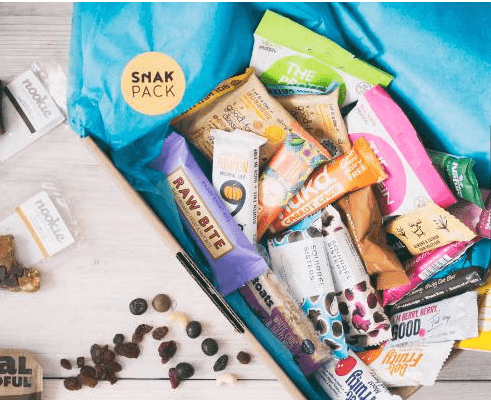 Unfortunately for some, this delicious subscription box is only delivered within the United Kingdom. Snak Pack is a fortnightly or monthly subscription box packed with "good-for-you" foods.
The snacks and treats contained within are perfect for a little snack at the office or a treat to unwind after a long day. Best of all, the ingredients are perfect for vegans – all contents of the box are vegan, as well as gluten free.
There are 3 options available when it comes to choosing a box with Snak Pack. There is the Muncher – which contains 10 premium snacks and costs £15 per month, there is the Feaster – which contains 15 snacks per month and costs £22.99, and there is the Deluxe option – which also contains 15 snacks, but gets delivered twice per month, and costs £28.99.
If you order a monthly pack it is dispatched in your direction in the closing days of the month (25th-27th), so you should have it at your door by month's end. If you choose a twice per option, it'll be shipped off on the 9th and 23rd of each month. Snak Pack subscription boxes are a perfect recurring gift for a health-conscious friend or family member.
All Around Vegan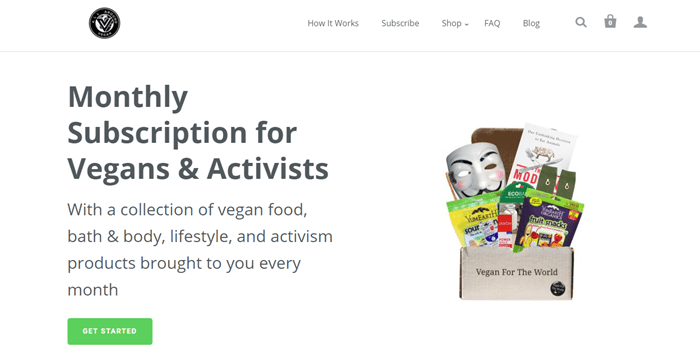 This box from All Around Vegan isn't purely a vegan snack box. It contains a selection of different products, including snacks, lifestyle items, bath & body products and activism items. Even so, you're often getting a few healthy vegan snacks in the mix, making the box well worth trying out.
The box style does have some advantages. It means that you're not going to get overwhelmed with snacks. The various other items help to keep things interesting. This is also the only box with an activism component. You might use those products to tell other people more about your lifestyle.
Animal Place's Snack Club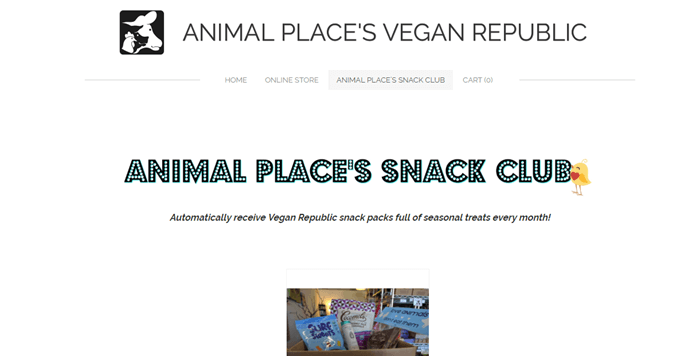 The Vegan Republic is responsible for this Animal Place's Snack Club. While the site is smaller and less well-known than many of the others on this list, this isn't always a bad thing. Companies like this often manage to find products that larger ones do not.
The contents of the box vary depending on the month and the time of the year. This means that you'll be getting different types of snacks in summer versus winter, which is a pretty cool idea. The snacks are all vegan, so you don't have to worry about any concerning ingredients.
VeganCuts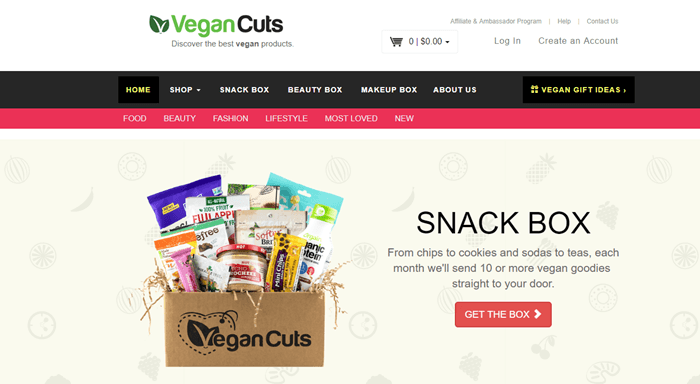 VeganCuts offers 3 different boxes to choose from: a Snack Box, a Beauty Box and a Makeup Box. We're just going to focus on their Snack Box, but you can check out their site for details on the other snacks boxes that they have to offer.
The Snack Box contains at least 10 different vegan snacks each month. These can include cookies and chips, along with some beverages, such as soda or tea. Most (but all) of the snacks are gluten free, which is an added bonus.
Still, as VeganCuts points out, some of the items are healthy, while others are treats. As with any snack box, you'll need to choose what you eat based on your dietary needs.
If you're paying month-to-month, the box costs $22.95 per month. This drops down to $20 per box if you're paying for 6 months at a time or $18.50 per box for a full year's subscription.
Paleo Snack Boxes
Paleo Pax

The paleo diet is an appealing way to eat, offering many potential health benefits. Even if you're not following the diet, snack boxes like Paleo Pax can be both tasty and healthy. After all, the diet avoids many problematic ingredients found in modern food, including artificial additives and refined sugars.
The box from Paleo Pax is a comprehensive example. The current version of the box costs $49 per month and contains 18 different high-quality paleo snacks. Many of these snacks come from well-known paleo brands, although there may be some new surprises in the mix too. The box typically contains 2 flavors of each included snack.
Health benefits aren't the only reason for considering Paleo Pax. The company also focuses on affordable snacks. They buy the items for their boxes in bulk, passing the savings onto you. This means that the box works out cheaper than if you tried to buy all of the items yourself.
Paleo By Maileo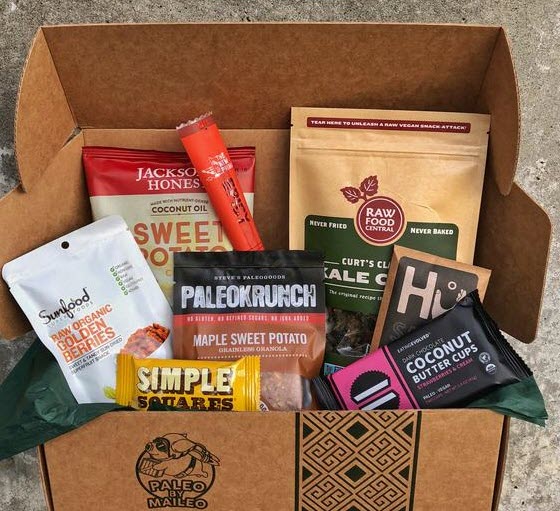 This simple subscription box is an easy way to get more paleo snacks.
The brand Paleo by Maileo does exactly what the name suggests. Their site provides a curated list of many different paleo snacks that you can order individually. They also have Paleo Subscription Boxes. These cost $39 per box if you pay month-to-month and either $38 or $37 per box if you pay for a longer period.
Each box contains between 5 and 8 different paleo snacks. That mightn't sound like much, but many of these are full size, providing you with a decent amount of food. Items can come in many styles, including sweet and savory snacks, along with ingredients for cooking and occasionally a personal care item.
Healthy Surprise Paleo Box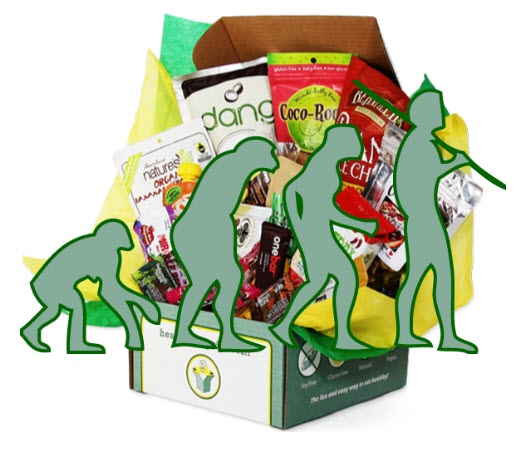 If you want a lot of paleo snacks, this Healthy Surprise Paleo Box is hard to beat. The box comes with 17 different snacks and maintains a strong focus on quality. You can expect to see items like sweets, drinks, veggies, chips, nuts, proteins and some exotic treats.
The box costs $74.99 if you want to order it just once (perhaps as a gift). You save 15% if you order on subscription, making the box $63.74 per month. While the price for the box is high, you won't be disappointed. If nothing else, the snacks will last you for a long time.
Paleo Bakehouse

This paleo company focuses on baked items rather than commercial snacks.
Paleo Bakehouse takes a different approach than most, offering a selection of homemade baked paleo products, including cookies and donuts. These should still be considered treats and need to be consumed in moderation.
Thankfully, they're also much healthier than conventional baking. After all, the company does rely on real ingredients. The baking is also free from dairy, grains, gluten and refined sugar.
The subscription program provides you with a box of 12 different baked items for $24.99 per month. There will always be 4 types included in the box, with 3 products of each type. For example, the December box includes 3 ginger spice donuts, 3 peppermint fudge cookies, 3 chocolate chip cookies and 3 snowflake cookies.
Paleo Family Snack Box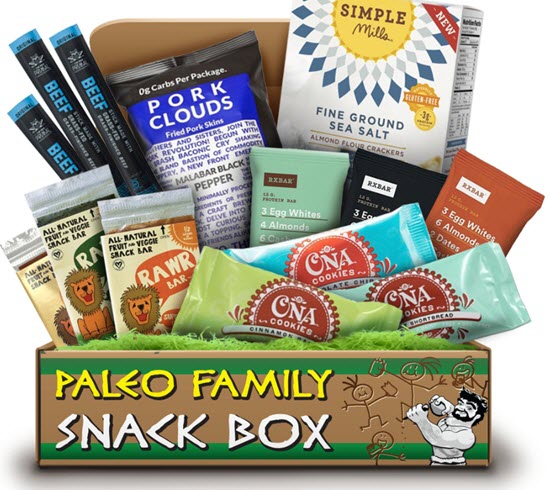 The Paleo Family Snack Box comes from the company One Stop Paleo Shop and it's an interesting box to try. One of the biggest differences is the selection of items. Most snack boxes aim for a variety of products. If items are repeated, you normally only find 2 versions of each product.
This isn't the case here. Instead, the box contains relatively few types of product and often has 3 versions of each item. These are normally different flavors, but there's still much less variety than normal.
The style is very effective for families. It means that you can give each child the same type of product, rather than having to divide up the box unfairly. In the cases where there is just one item of a given type, the package is large enough to share.
If you buy a box on its own, then you're paying $38 for around 14 snacks. The box costs $36.10 on subscription, saving you around 5%.
SnackNation Paleo-Inspired Box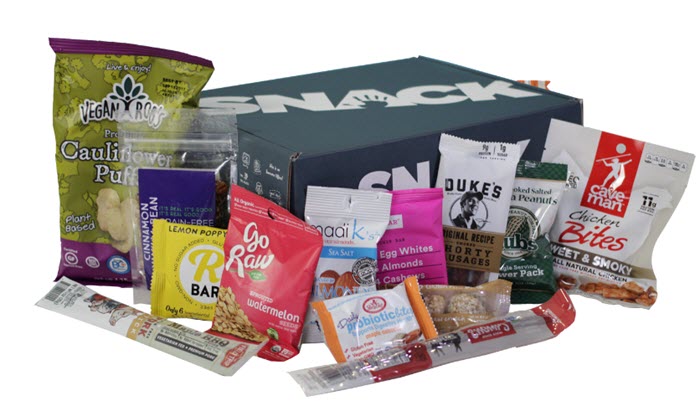 This product is listed as a Paleo-Inspired Box, which may mean that the included items aren't as strictly paleo as the other paleo subscriptions on the list. Even if that's the case, you're still presented with a selection of healthy snacks that are high in protein and healthy fats. Possible snacks include jerky, veggie, fruit, nut mixes and paleo sweets. Most of the items are savory which helps promote health too.
SnackNation provides more details about variety than normal. From month-to-month, at least half of the products in the box will rotate. So, you'll get some of the same products from one month to the next, along with plenty of new ones to try.
The box contains 15 snacks and costs $29.99 each month. You save between 5% and 15% if you order for longer periods at a time.
Primal Snack Box


Primal Snack Box is one of the few companies to offer paleo snacks in the UK. This aspect alone makes it a good service to check out. As the paleo focus suggests, all of the boxes are free from refined sugar, dairy, soy, gluten and grains. This means that the items are healthy snacks, regardless of your diet.
There are 3 themed subscription boxes to choose from: The Savannah, The Forest and Barrecore Box. While the site does have images for each box, it's not entirely clear what the differences between them are. The price varies depending on the box and duration, but you're often looking at around £19.99 per box.
You can also find a set of smaller explorer boxes. These follow a similar style to the themed boxes, except that they cost £9.99 per box and are smaller. They can be purchased as a one-off order or through subscription. The explorer boxes are a powerful way to try out what the company has to offer. They're even small enough to fit through your mailbox.
LOLJerky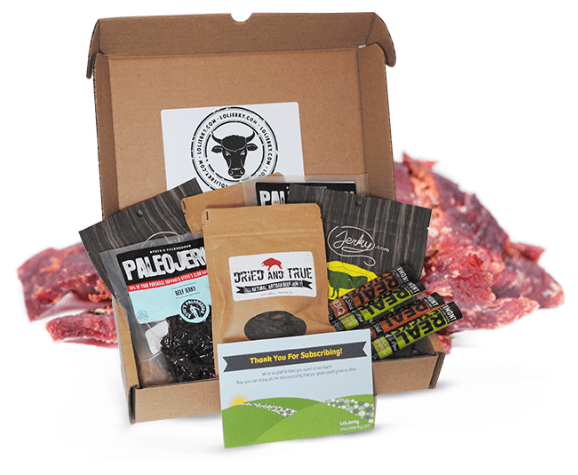 LOLJerky offers American made jerky that is also entirely natural. There is a strong focus on gourmet jerky, including products that you won't find elsewhere. Flavors vary from month-to-month, so you'll never get bored with the selection.
The club also provides multiple sizes for you to choose from. You can receive 1, 2, 3 or 6 bags of jerky each month. These subscriptions start at $9.95, $18.95, $24.95 and $39.95, respectively. LOLJerky also mentions that the smaller 3 subscriptions will sometimes include extra samples – giving you more than you paid for.
Keto Snacks
My Keto Snack Box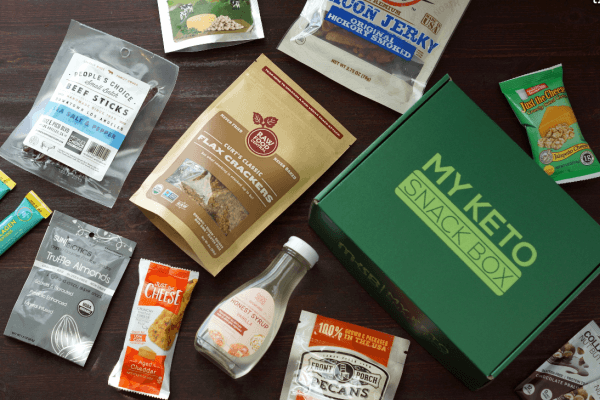 All of the items in My Keto Snack Box contain no more than 5 grams of net carbs per serving. They're also specifically chosen to meet your needs on a keto diet – so nothing is left up to chance.
The box costs $38 per month. It contains 8 to 11 snacks each month. You may find a few extra snacks from time-to-time, just to keep things interesting. Some of the included snacks are specifically developed for low carb and keto diets, while others are naturally low in carbs (like macadamia nuts).
The snack box is sent out on the 7th of each month and the subscription is renewed on the 21st, regardless of when you order. So, if you order just after the 7th, you'll be waiting almost a month before you get your box. The company also ships internationally, allowing you to enjoy it from anywhere in the world.
Keto Krate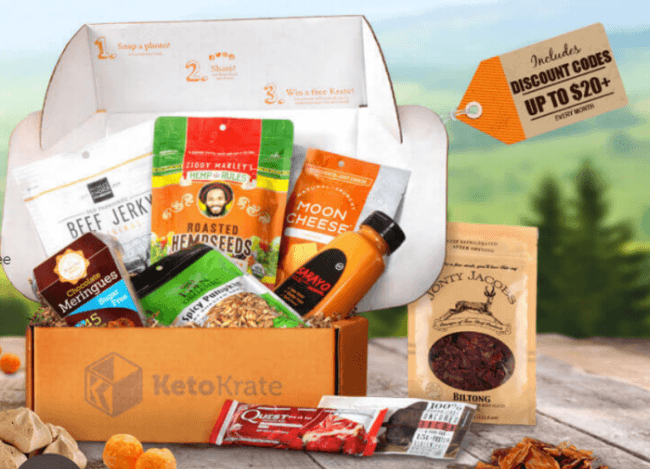 Of all the keto boxes out there, Keto Krate is certainly the most popular. You'll often see the box reviewed on keto and food blogs, where reviewers tend to be excited about the snacks on offer.
You can sign up for either of 2 subscriptions. The main option is called Muncher, which costs $39.99 each month. With this version, you get 8 or more snacks each month. Keto Krate estimates that these will be worth $40 to $45 each month. The other version, Nibbler, is an entry-level box. It contains 4 (or more) snacks and costs $19.99 each month.
Both subscriptions also give you access to the Keto Krate Members Club. This club provides you with discount codes, success stories and recipes to make the keto diet easier. There are also discount codes in your box each month. These areas make the keto diet less expensive and can help you access more snacks locally.
KetoCan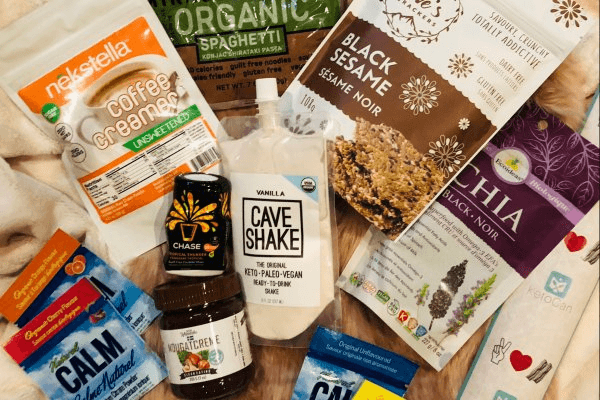 KetoCan is a less well-known club. It's based in Canada and aims to provide snacks from Canada. This approach is useful if you want a different selection of snacks, or for anyone who lives in Canada. While some of the other keto boxes do ship to Canada, they tend to charge an additional shipping fee to do so.
The monthly subscription from KetoCan costs $46 CAD each month. It's an ongoing subscription, so you simply cancel the subscription when you don't want to get the box anymore.
KetoCan doesn't specify how many net carbs each snack contains, but the products should all be keto-compliant. The boxes also focus on new products each month. This is the perfect way to keep your keto diet interesting. You'll also find some snacks that you wouldn't have even known about otherwise.
Onnit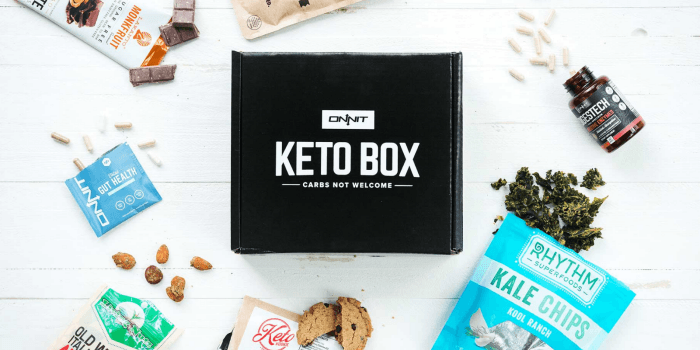 Onnit is a major player in the health industry, selling a wide variety of health, brain and workout support products. This includes various supplements and food. Their keto box takes advantage of the company's knowledge in the field to offer an appealing collection of products.
Unlike most keto boxes, this one doesn't just include snacks. There are various supplements as well. These can make it easier to stay in ketosis and optimize your health. The box itself costs $55.95 per month. You save 15% on the total if you order on subscription rather than just buying for a single month.
Surprisingly, Onnit doesn't offer much information about how they are defining keto. This is always a problem because people vary in the number of carbs per day that they're aiming for. There are also no details about how many snacks and supplements that you get per box.
Keto Delivered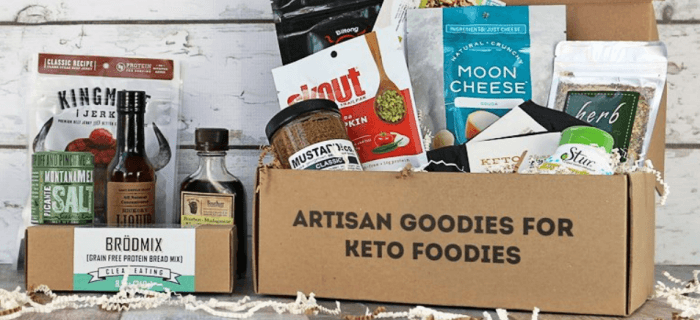 If you're tired of getting the same types of keto snacks in every box, try out this option from Keto Delivered. The biggest difference is that Keto Delivered focuses on artisan products. By doing so, they provide snacks from small producers, ones that other brands simply don't find.
A monthly subscription to Keto Delivered costs $39.99, with free shipping. For that price, you receive 5 to 7 different keto products. The total value is always at least $40. This means that you're never paying more than the products are worth. You'll also be getting items that you simply can't find in your local area.
There's just one odd thing – what you actually receive. Keto Delivered mentions that all of their items are gluten free and that some may be paleo too. This is fantastic, but there are no details about the carb content. It's a strange detail to exclude and many subscribers would want to know. Still, the box does aim to be keto compliant, so all of the snacks should be perfect for your needs.
The Keto Box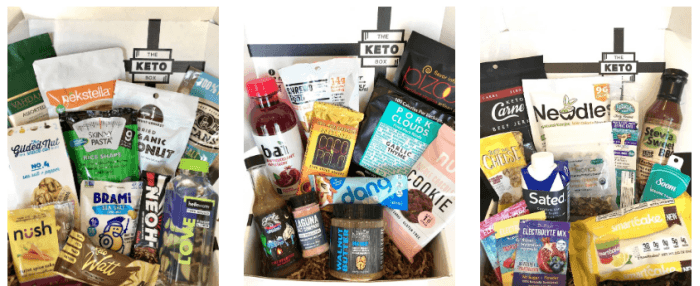 The Keto Box sounds like just another typical keto subscription box. In a sense, that's true, but there are also some distinct advantages for this one. A key aspect is that the company is responsive. They ask customers for feedback about what worked well in the box, then use this for guidance for what future boxes should contain.
There are plenty of details on the site, including images of previous boxes. This style allows you to see the types of items that you can expect, before you pay for anything.
Subscribing to the box costs $40 a month. There are no plans. You simply sign up and then cancel when you no longer want to be a member. Your monthly box will normally contain between 8 and 11 snacks, occasionally more. Some coupons are included too, which give you discounts on items that you buy in person.
Powerful Keto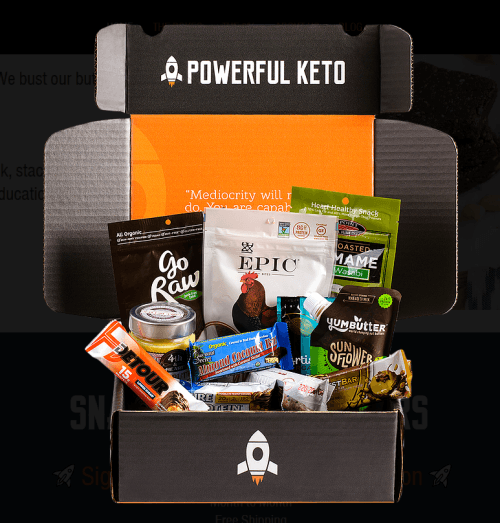 While most keto boxes simply focus on the general population, Powerful Keto targets male keto dieters. The difference is mostly in their marketing, although the company does say that they avoid 'foofoo food'. I imagine that means that you're not going to get unsatisfying snacks. However, the company doesn't elaborate on what that term means in practice, so the differences in products aren't clear.
The subscription costs $40 a month. That's similar to many of the other keto boxes. This time, you're getting 6 to 10 food items each month. Powerful Keto aims for snacks that are high in fat/protein, while being low in carbs/sugar. The high protein aspect is particularly interesting, as most other keto boxes aim for moderate protein instead.
You can order the box on a month-to-month subscription or prepay. Paying for 6 or 12 months at a time gives you a discount on the monthly price, so that approach might be worth considering.
Not Pie Keto Subscription Box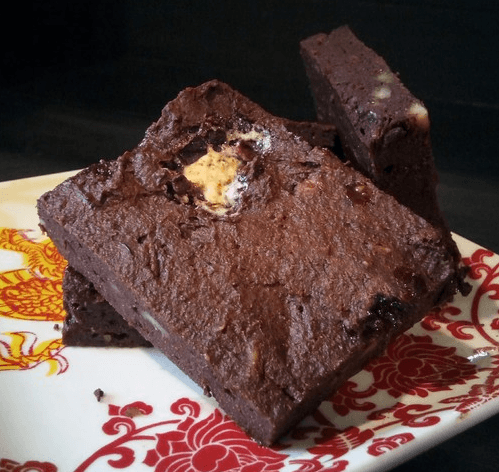 Here's a good subscription if you want healthier baking.
Calling the Not Pie Keto Subscription Box healthy probably isn't the right phrasing. It's more accurate to say that this subscription box is healthier than most other types of baking. The basic idea is that you're getting baking that uses keto ingredients, a sugar alternative (not sugar alcohol), grain free flours, healthy fats and organic eggs.
The end result is much lower in carbs than regular baking and better for your health overall. You'll still need to pay attention to your intake, but having there's no need to avoid sweets entirely, even when you're following a healthy diet.
The subscription program itself is much simpler than other options. Your only option is to sign up for a 3-month subscription, for $95. You'll always receive keto brownies during the first month and chocolate chunk cookies in the second month. The final month provides a surprise treat. The company chooses this based on what they're currently working on.
Not Pie makes the treats sound fantastic and the company does make amazing cupcakes. Even so, details about the keto subscription are limited. It isn't clear how many items you are sent each month and only a single image of the desserts is provided.
Clean, Natural And Similar Styles
Try The World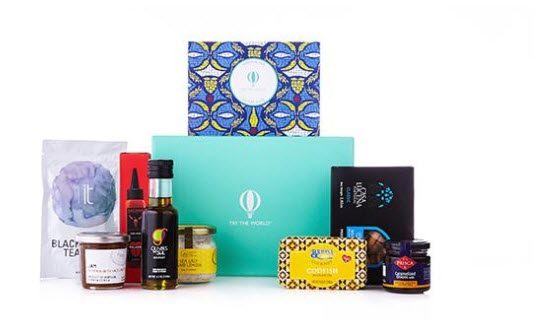 As the name suggests, Try the World has a global focus. The site actually offers 2 different boxes, but in this list, we're focusing on their Snacks Box. This one contains 6 snacks, which will always come from 6 different countries. There is a combination of sweet and savory snacks, giving you plenty of variation.
The snacks are healthy and all-natural. Try the World also focuses on small-scale products, so you know that your money is going to people who have worked hard for it.
UrthBox


Urthbox provides members with full-size healthy snacks. You don't have to worry about receiving tiny samplers or anything like that. The boxes can include many different types of products, including cookies, dried meats, super foods, granola and much more.
Urthbox also has strict guidelines about the manufacturing standards, calorie content and ingredients of any product that they include. Those approaches mean you can be certain about the health benefits of the various snacks.
There is also plenty of choices. Urthbox offers a Classic Box, along with gluten free, vegan or diet options. You can also choose from 4 different sizes. The smallest costs $19.99 per month and contains 6 (or more) snacks. The largest costs $49.99 and includes at least 25 snacks each month.
Little Life Box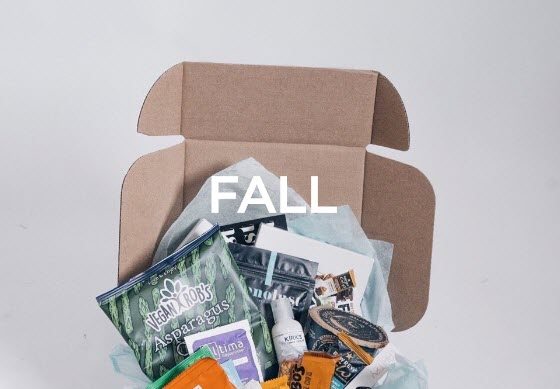 The Little Life Box works well if you're interested in more than just snacks. As well as snack items, it contains various lifestyle products and skincare items. Examples from previous boxes include nail polish, lip stain and electrolyte powder. Snacks have included cookies, asparagus rice chips, protein bars and muffins.
There are 2 different box options. The Classic version contains 8 to 12 different products. Some of these are samples, while others are full-size items. The Deluxe version has the same types of items, although the samples are considered deluxe. You also receive 10 to 14 items in the box,
The subscription approach is a little unusual. There is a seasonal subscription, which ships out every quarter. On this subscription, the Classic version costs $25 per quarter, while the Deluxe version costs $45 per quarter.
The other alternative is a yearly box. This still provides a box every quarter, but you're pre-paying for them. It costs $90 per year for the classic version and $170 per year for the Deluxe.
Graze


Graze doesn't follow the common approaches that you see in snack boxes. Instead, the subscription provides you with 8 small plastic containers of snacks within your box. The company has more than 100 different types of snacks that can be included. Which ones you receive are based on the taste selections that you specify.
The snacks in question aren't prepackaged products from popular companies. Instead, they're combinations that Graze itself puts together. This leads to some very interesting snacks, like Mexican Style Smoked Cheese, Caramel Apple and Sweet Memphis Barbecue.
Your first box will always be half price, costing you just $6.99. After that, you're paying $13.99 per box. Unlike most companies, the subscription is weekly, rather than monthly. Thankfully, there are other options, so you can get the box less often if you want to. You can also order individual snacks from Graze. This is especially useful if you find some in your box that you particularly enjoy.
RawBox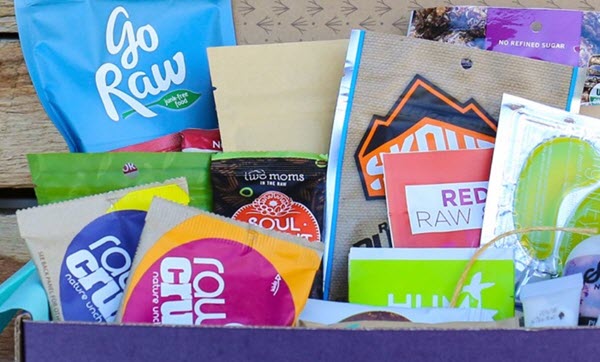 RawBox has a simple goal, to deliver healthy products and raw snacks straight to you. The box mostly contains snacks, although you'll often find a household or beauty item (or 2) included in the mix as well.
All of the items are plant-based. They're also free from soy, wheat, gluten and refined sugar. While there is a raw focus, some of the items in the box aren't 100% raw. This isn't a problem if you are simply focusing on health. However, it might be a deal-breaker for anyone on a raw foods diet.
The subscription starts at $39.95 per box, with a slight discount if you pre-pay for 4 or 6 months. For this price, you're getting 10 to 12 snacks. Unusually, the boxes are delivered every 2 months, rather than every month.
Lifebox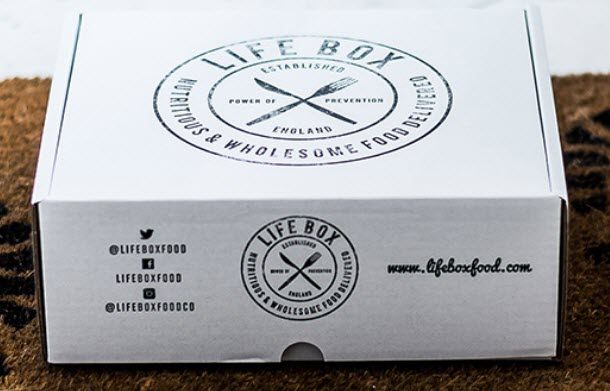 While Lifebox is based in the UK, the boxes can be shipped to the United States and other locations. It is a particularly interesting subscription, as there are a strong focus on quality products. The company also aims to ensure that you're always paying less per box than the products are worth.
There are 2 different boxes that you can choose from, the Lifebox Classic and the Lifebox Energy. Lifebox Classic costs £22.95 per month and offers various bonuses for longer subscriptions. The box includes wellness products, drinks and healthy snacks. All of the included snacks are vegan-friendly, gluten free and dairy free.
The Lifebox Energy subscription costs £22.95 per month as well. The selection includes various protein bars and related items, along with other healthy products. While many of the items are likely to be the same between the box types, there should be some distinct differences too. Both styles are fantastic ways to find new healthy snacks to enjoy.
HealthyMe Living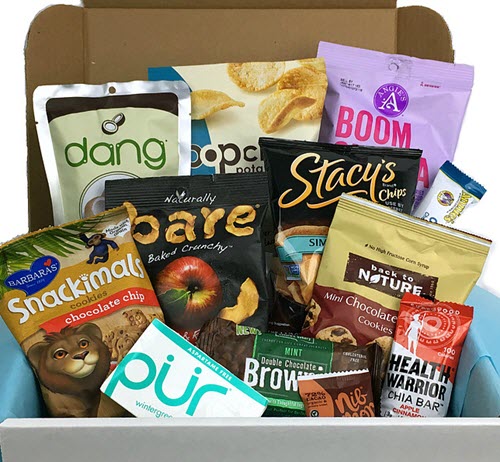 With a name like HealthyMe Living, it's no surprise that this company is a powerful choice for healthy snacks. Each box from the company contains 7 to 10 individual snacks. The items chosen are all natural or organic, while being free from trans fats, artificial ingredients and high fructose corn syrup.
While more brands are being added to the lineup regularly, this subscription doesn't focus on unusual products. You're likely to recognize many of the brands, such as Annie's and Back to Nature. The style isn't a bad thing, as you'll often pay less than if you purchased the items individually. Still, it's something to be aware of.
Pricing for the box is simple. It costs $29.99 per month for month-to-month memberships. A 3-month subscription will cost you $86.97, a 6-month will cost you $167.94 and a 1-year will cost $299.99. This means that you do pay less per month with the longer subscriptions.
Picky Bars

The box strategy from Picky Bars is a little different than normal. Instead of signing up for a curated box, you get to choose the individual products that are included in your box. This can then be shipped out every 1, 2 or 3 months. Each product is priced individually. You also receive a discount of up to 30% on the order total, based on the total cost of your box.
Picky Bars offers 2 types of products to choose from. The first is a selection of real food bars, including examples like Chia and Catch Me, Cookie Doughpness, Moroccan Your World and Smooth Caffeinator. The other type is oats. These come in pouches or cups and include products like Can't Beet Chocolate.
The brand also has a strong health focus. All of the items are free from soy, gluten and dairy. The oat products are also USDA certified organic and vegan. This subscription could be perfect if you want to be sure that you like the snacks you receive each month.
Love With Food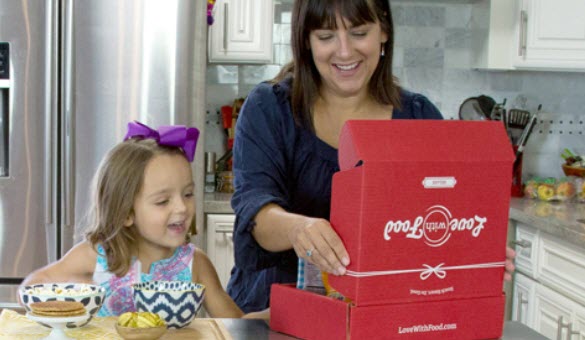 Love with Food is another company that strongly focuses on product quality. Their snacks are either all-natural or organic. They also avoid controversial ingredients like hydrogenated oils, trans fats, artificial flavorings and high fructose corn syrup. Love with Food also donates meals for each box that you purchase. This is another reason to try them out.
There are 3 different boxes to choose from. The first is their Tasting Box. It contains 7 or more snacks and can only be shipped within the United States. You pay between $7.99 and $9.99 per box, depending on your plan.
The next option is their Deluxe Box. This one can be shipped locally or internationally. It contains 15 or more snacks and costs from $16.50 to $19.95. Finally, there is the Gluten Free Box. This costs between $19.99 and $24.99. It contains 10 or more snacks, which are all gluten free.
Gluten Free Subscription Boxes
American Gluten Free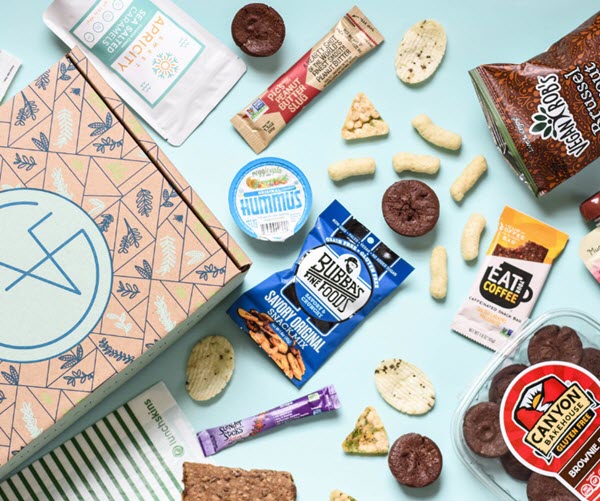 Perfect for at home or on-the-go snacking, the contents of a subscription box from American Gluten Free will keep you gnawing away on tasty snacks for as long as you can keep your hands off them!
The including snacks aren't only gluten free, they're also simply good for you. This includes an emphasis on healthy and wholesome ingredients. The boxes are also free from dairy, making them perfect for people with allergies.
That being said, the boxes do contain some sweet treats, which the company calls Guilty Pleasures. While eating too many at a time wouldn't be healthy, the snacks still focus on whole ingredients. They're much better than what you would find at the grocery store.
There are loads of box options. There's the Kids Club Box, which costs $24.95 and contains snacks perfect for little ones. There's the Snack Box, which costs $24.95 and has a huge variety of sweet and salty snacks to keep you energized. There's the Pantry Box, which costs $28.95 and has lots of ingredients to cook with and some snacks as well. Finally, there's the Vegan Box, that provides high-quality vegan snacks and costs $24.95.
The service proudly exclaims that you can cancel anytime, without cancellation charges or hassle. You can also handily skip a box and continue the next month, so you will have the ability to be selective with your boxes without being too far away from some delicious vegan treats at any time.
Gluten Free Cookie And Brownie Club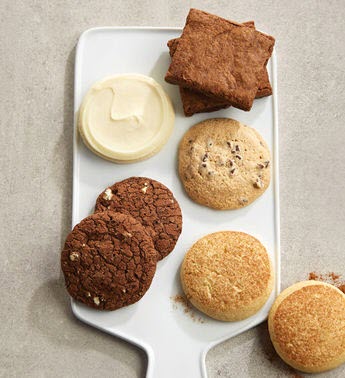 Including something like this Gluten Free Cookie and Brownie Club on a healthy snacks list might seem a little odd – but healthy is a relative term anyway. The products from this club are perfect if you want your sweet treats to be as healthy as possible. As the name suggests, the subscription offers gluten free cookies and brownies that are certain to be popular.
The club is also a little unusual. Unlike most other options, you're not getting a different selection of products each month. Instead, the subscription will always provide you with 4 fudge brownies, 2 buttercream cookies, 2 brownie walnut cookies, 2 snickerdoodle cookies and 2 chocolate chip cookies.
The lack of variety is a little frustrating, but it isn't all bad. At least there is little risk of unexpected and unappealing surprises.
Tasterie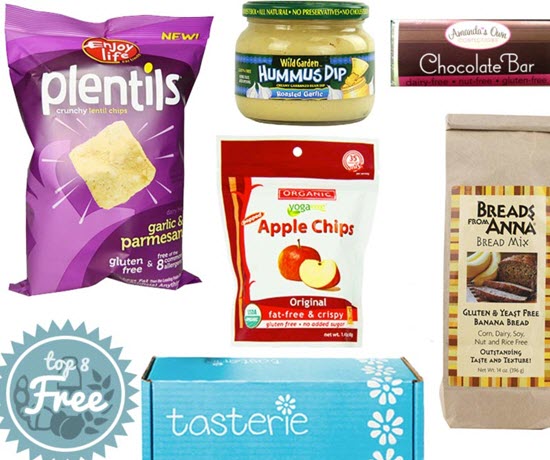 Tasterie isn't your regular gluten free company. They focus on a variety of different allergens, including the 8 most common. As part of this, they have 4 individual subscription boxes, 3 of which are gluten free. The gluten free options are the Gluten Free & Dairy Free Tasterie Box, Gluten Free Tasterie Box and Top 8 Allergen Free Tasterie Box.
Each of the boxes starts at $32.95 per month and contains 5-6 individual snacks. There is also a one-time box on offer that is designed to teach you how to get started with an allergen free diet.
Sleek Treat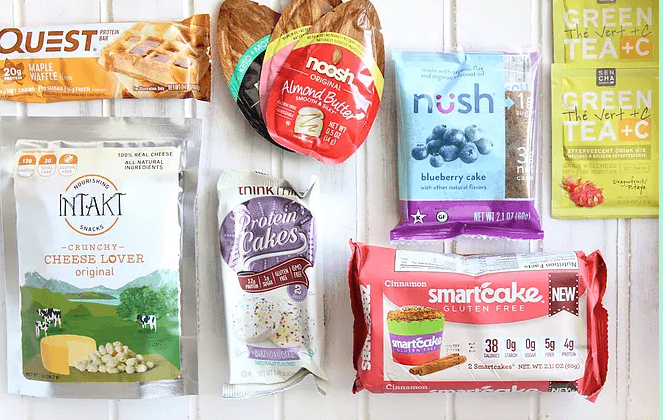 If you want healthy sweets, Sleek Treat is a good company to consider. Their subscription box provides a selection of treats that are low carb, natural, gluten free and suitable for diabetics. This is possible because the products rely on sugar alternatives. Boxes like this are powerful for anyone trying to cut down sugar intake, without making themselves unhappy in the process.
Sleek Treat offers 2 main boxes that you can consider. Their Sleek Treat Mini is almost like an introduction. It just contains 3 to 5 treats, in a small printed bag. The subscription starts at just $14.99, so there's little risk in trying it out.
The other option is the Sleek Treat Signature Monthly Subscription. This is a box and contains between 7 and 9 different treats. The subscription starts at $34.99. You can also pay $5 more to get the box cold shipped to you. The cold shipping helps make sure that none of the treats get impacted by heat during travel.
Focused On Weight Loss Or Body Composition
CoreGains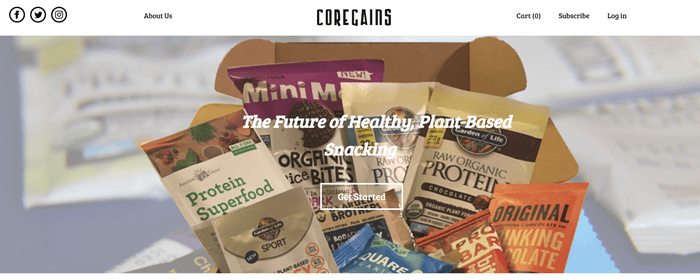 Healthy and plant-based, CoreGains is a subscription box that will get the trendiest snacks to your door each month. There are 3 key product types included: plant-based supplements, vegan protein bars and healthy natural snacks. This combination is perfect for people who exercise regularly and need extra energy.
The contents of the box are richly varied – protein bars, pumpkin seeds, chocolate, chips – and so much more. They're great options for nibbling away at during the day and will keep you feeling fresh.
CoreGains boxes cost $19.99 per month and ship on the 4th day of each month, so be sure to get your orders in before the last day of a month to guarantee you receive your protein-packed, plant-based snacks in the latest batch!
BarHopperBox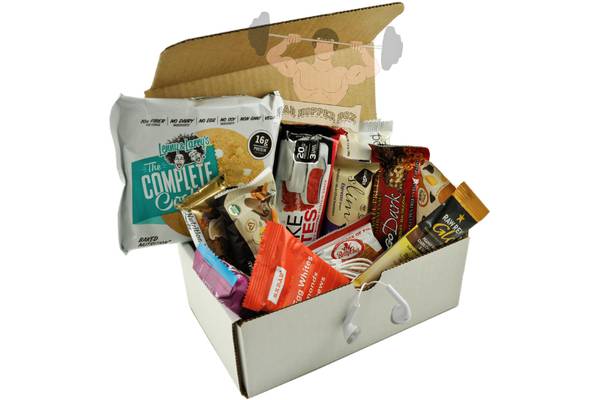 The BarHopperBox is another option, one that focuses on protein bars and protein cookies. This makes it very relevant to weight loss or for anyone wanting to increase their muscle mass.
12 full-size and completely delicious snacks are shipped to your door each month, all of which are healthy, low in sugar and contain non-GMO protein. One of the coolest things about this box is that each month, it also ships with a pair of Samsung headphones – you can never have too many pairs of headphones!
There are a number of great options available – there's the Vegan Variety Pack, which costs $35.99 and naturally has vegan-specific snacks.
Then there's the Chocolate Lover's Variety Pack at the same price, which is great for chocoholics! The third $35.99 option is the site's best seller – the editors pick. This box has no restrictions and is the best of both worlds.
The final option, and one that's really different, is the BarHopperTeam box – this box is perfect for an office environment that's health-conscious, because it includes enough snacks (and headphones) for 10 people. This box costs $269.99, and for that price, you'll be getting an astounding 144 delicious snacks and 10 pairs of Samsung headphones.
Clean.Fit Box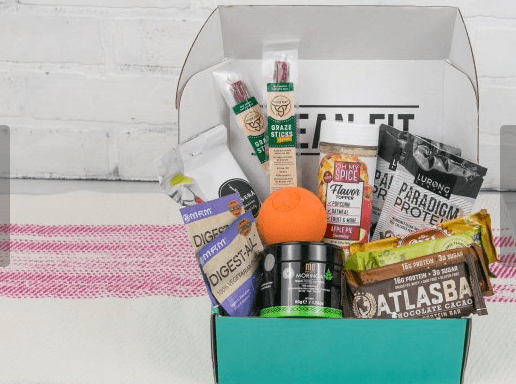 As the name suggests, the Clean.Fit Box focuses on providing natural and clean snacks, ones that help to promote physical fitness. As part of this, all of the snacks avoid GMOs and artificial ingredients. There are 3 styles of products included: Snacks, superfoods and supplements.
The size of the items vary. Some of the products are full-sized, like a jar of protein peanut butter or a bag of mushroom jerky. Others are much smaller, like a single protein bite. Even with the size differences, you're getting a decent amount of snacks for the price.
There are 2 different versions of the box. The Regular Subscription has 6 to 8 items in it every week. It starts at $34.95 per month. You can save as much as 15% if you subscribe for a longer term.
The other option is SuperSnacker, which contains 15 or more products. This one starts at $59.95, with the same discount potential. One other thing to mention is that the boxes do often contain double ups of items. This isn't bad if you love the products in question, but could be frustrating if you want to try many new snacks.
BroteinBox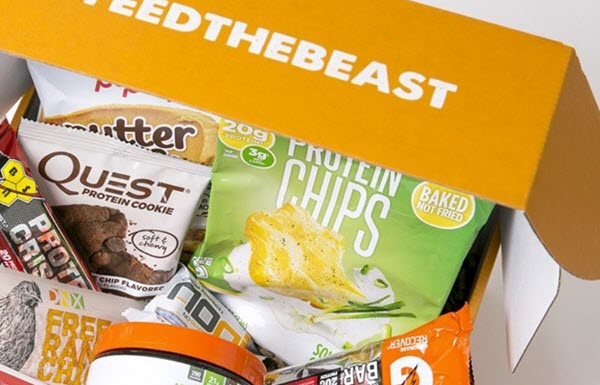 If you're trying to lose weight or get fit, the BroteinBox could be an ideal health choice. All of the chosen snacks are high in protein. They include items like jerky, protein cookies and protein bars.
The snacks do change from one month to the next, but don't expect any amazing new products. Many of the included snacks are common, ones that you might even find at a local store. This isn't a bad thing, as BroteinBox buys them in bulk. Their discount is passed onto you, so you end up paying less for the snacks than you would any other way.
The box itself contains 10 to 13 different snacks for $39.99 per month. The monthly cost might seem a little steep, but you are getting a decent amount of snacks for that price. There's even an office plan, which costs $199.99 per month. That one has enough snacks to feed 10 or more people – a seriously impressive feat.
Other Healthy Snack Boxes
SnackSack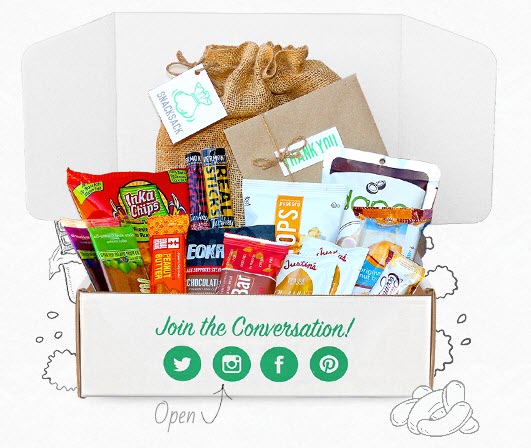 Whether you want to find new snacks or just vary up your tastes, SnackSack offers a terrific subscription box service at a good price that will ensure you are not stuck for diet-friendly snacks, with them being delivered straight to your door!
With seasonal themes and flavors, these boxes are a great way to find new snacks that you'll love. SnackSack offers 3 different options – there's Classic, Vegan and Gluten Free. The Classic costs $22.95 per month, the Gluten Free costs $24.95 and the Vegan costs $24.95 as well.
They all come packed to the brim with delicious snacks. There is a strong emphasis on junk-free snacks. This means that the company avoids artificial ingredients. Many of their snacks have labels like USDA organic, fair-trade or certified vegan. The company aims for creative snacks too, so you're not just getting the same old thing each month.
Get your orders in before the middle of the month as SnackSack usually ships just prior to the third week of the month!
Num-Nums Munch Box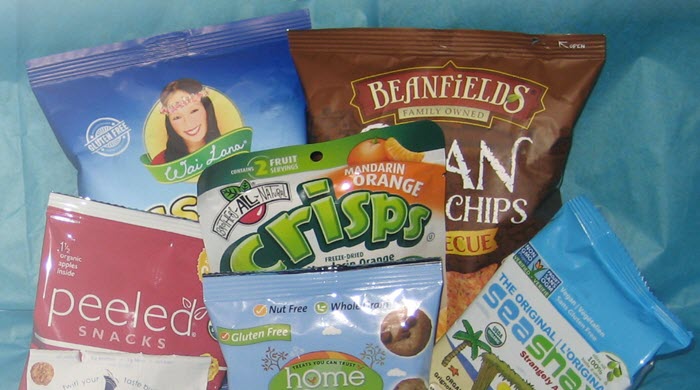 The fantastically titled Num-Nums Munch Box offers plenty of variety and taste for those looking for diet-friendly, healthy food. Just because of your diet or allergy you should be restricted from having tasty snacks!
The company sets out to provide a fantastic subscription box for people with food allergies and dietary restrictions to have access to safe – and convenient – delicious food and snacks.
There are 3 boxes available: there is The Mini Box, which contains 5 snack items and costs $8.99 per month, The Single Box, that contains somewhere between 10-12 snacks per month and starts at $19.99, then there's The Double Box, which provides 2 of each snack provided (for a total of 20-24 snacks) and starts at $39.99.
Num-Nums also donates a portion of the proceeds they make from their subscription boxes towards food allergy research organizations, so you're helping contribute to a great cause by signing up.
Gatherer's Granola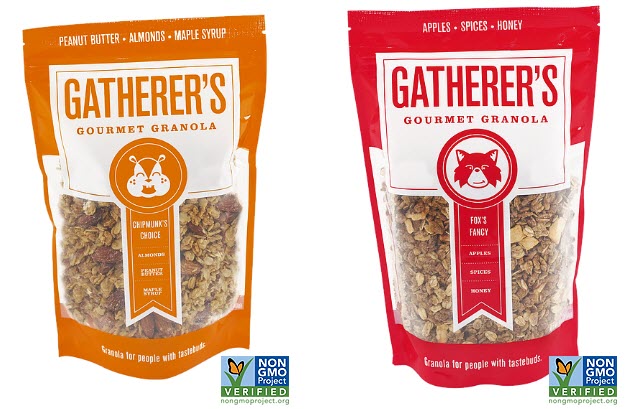 Gatherer's Granola ensures tasty, healthy granola is delivered directly to your home. Gatherer's Granola is made by hand with care in Schenectady, New York, and is an ideal healthy snack – it's light and tasty.
Mix-and-match to your heart's content, so you will be able to get the treats you love – or be able to give a fantastic, thoughtful gift to friends and family.
There are 3 handy subscription offers that offer savings over ordering individual bags. There's the option of 4 bags per month, which comes at $19.99 – a saving of 10% on individual bags.
The second option is that of 8 bags per month. This ships at $36.99 per month and is a saving of 20%. The final offering is 12 bags every month, which costs $53.99 a month and is a saving of 20% overall. If you, your family and/or your friends love granola, this may be the most cost-effective option!
All of the granola that is delivered to you can be specified if you wish. This gives you the chance to tailor the treats that are coming your way.
The Really Good Box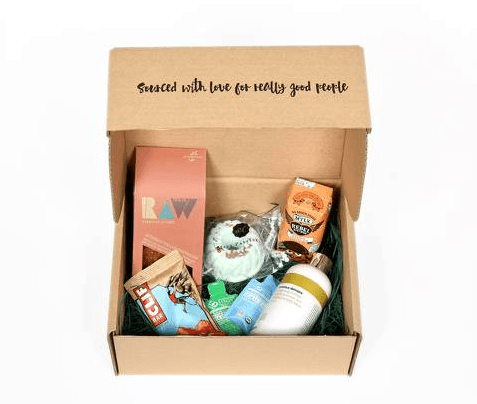 The Really Good Box does a terrific job of describing itself through its name – it's really good!
The subscription box ships worldwide from the United Kingdom. It bills itself as "a subscription box for the ethical consumer", and that's exactly what it is – all of the contents of the box are cruelty-free, vegan, gluten free, fair-trade and organic – it's all good.
Each month, for the price of £20, you will receive a box curated specifically for you – and while it does include vegan snacks and food, it also includes cosmetic products and just some general fun items. The style means that you'll always look forward to seeing the package in the mail.
The Really Good Box ships in the last week of the month, so get your orders in prior to then to start receiving the goodies right away.
Snakku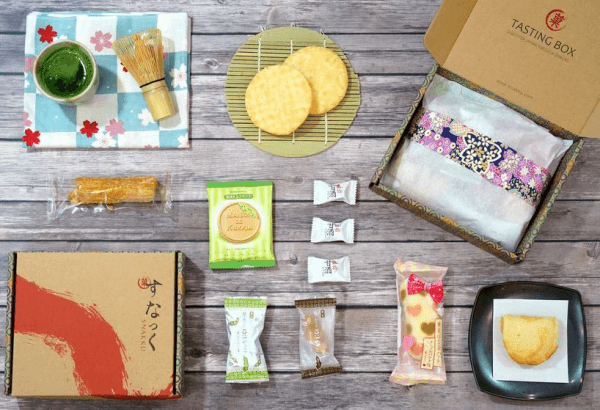 You might be surprised to see a box like Snakku on this list. The subscription provides authentic Japanese snacks and doesn't have an especially strong focus on health. Even so, the box does contain plenty of healthy snacks.
The main reason is that it focuses on snacks from Japan. Many of these are small-batch products or snacks from a specific region. This angle leads to much healthier snacks than those that are mass produced.
Carnivore Club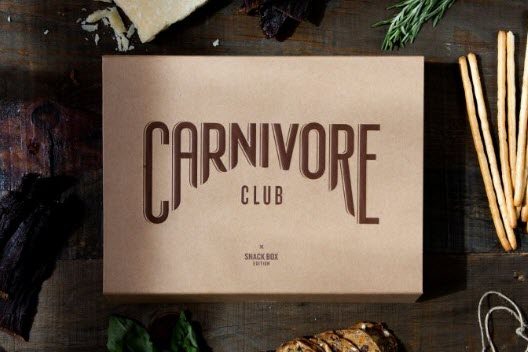 Meat isn't often included on a list of healthy snacks, but why not? The Carnivore Club offers artisanal cured meats from various different producers. The style means that you're getting snacks with few additives that offer an amazing flavor experience.
The club has 2 different boxes to choose from. The first is their Snack Box. It has 4 to 6 items in it, with a focus on meat snacks. It costs $24.99 per month. The other is the Classic Box. This one costs $39.99 per month. It still contains 4 to 6 items, but this time the products are cured meat.
You're likely to larger items in the Classic Box, given the style of products. Still, the products from either club would work well as a gift.
Gusto di Roma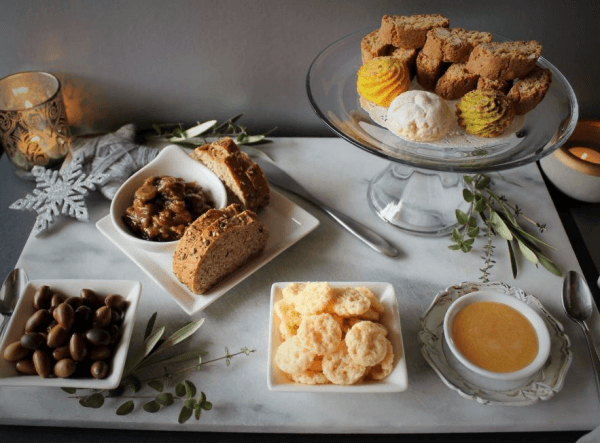 Some of the best healthy foods don't come from the United States. Instead, they're items produced in other countries, such as the foods that Gusto di Roma offers. This subscription box focuses on ready-to-eat Italian items, like salami, olives and crackers. Some of the treats can even be combined to make them even better.
The idea is fantastic in so many ways. You're getting the chance to try snacks from a different country, ones that you'd never find locally. Many will be artisan-crafted, so you're getting higher quality snacks with more appealing ingredients.
The subscription is more expensive than normal, costing $59.99 per box. Still, you are getting high-quality items, making the subscription worth the price you pay. There is also a bonus item on your 3rd and 6th month.
Made In France Box


The Made in France Box is one of the best ways to get French food every month. It is an artisan-focused subscription box that is created in France itself. The style means that you typically receive small batch products, ones from independent producers who use their time and energy to create something amazing.
The artisan angle alone helps to make these products healthy. After all, artisans tend to take pride in their work. Many avoid using artificial techniques and limit the amount of processing. The items themselves tend to be healthy, giving you another reason for trying the box out.
Subscription to the box costs €35 each month, plus shipping. The monthly box provides you with 8 different items from various regions throughout France. While there is a slight discount if you pre-order the boxes, this is small enough that it isn't significant.
Jerky Snob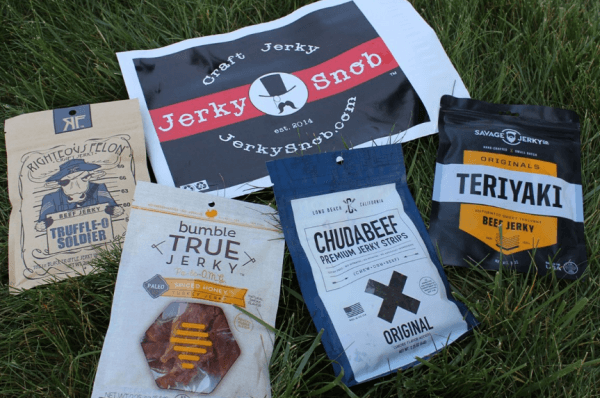 Jerky isn't just a popular snack, it's a healthy one too. After all, high-quality jerky tends to rely on natural ingredients and isn't highly processed. The trick is to choose the right company. Jerky Snob is one such option. Their subscription only features jerky that is free from high fructose corn syrup, nitrates, nitrites and MSG.
Jerky Snob also features jerky from many different producers. This provides you with a wide variety of flavors and styles. These are also products that you cannot find in a local grocery store, which is another reason to give the subscription a try.
You can choose the subscription based on how much jerky you want. Choosing 2 bags per month costs $15/shipment, 4 bags per month is $27/shipment and 8 bags per month is $54/shipment.
Sugar Smart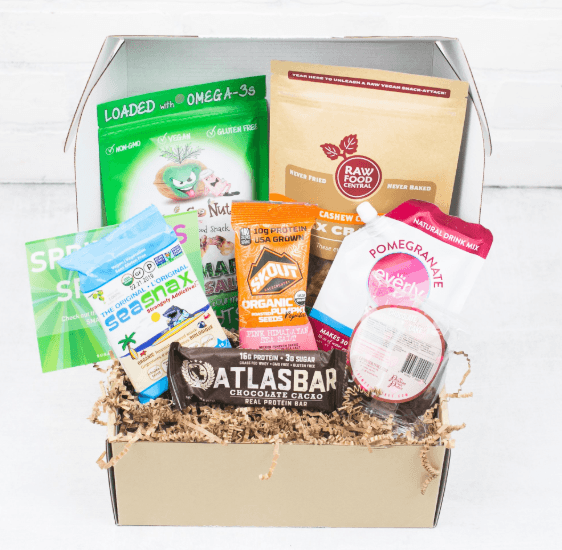 Sugar Smart offers easy and healthy snacks for diabetics. All of the snacks are low in sugar (less than 5 grams per serving). They're low in carbs too. The style makes them much healthier than the typical sugar laden and heavily processed snacks that you often find.
As the company points out, the boxes can be a great way to work out which snacks you enjoy. The focus on low sugar (rather than no sugar) is also interesting. It means that you're still getting a sweet treat and that the brands don't rely on alternative sweeteners. The choice would be appealing for many situations.
There are 2 different boxes to choose from with the company. The first is the Sugar Smart Box Mini. It contains 5 to 7 snacks, for a monthly fee of $29.95. The other is the Sugar Smart Box Subscription, which has 8 or more snacks. This subscription costs $39.95 per month.
The larger subscription doesn't just offer an extra snack or two. It also gives you access to a Facebook group. This group is led by a Registered Dietitian. As such, it offers you extra support that you wouldn't get otherwise.
Stick In A Box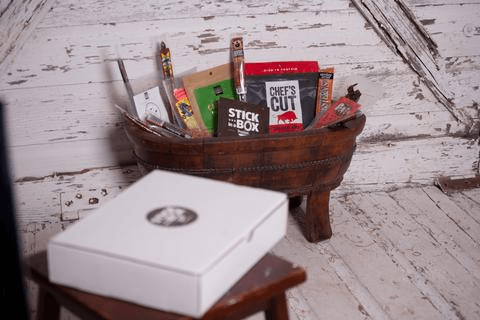 There are plenty of jerky clubs out there, but this one from Stick in a Box is especially interesting if you want snacks. This is because the subscription doesn't just focus on bags of jerky. The monthly box contains between 6 and 8 different meat products each month, including jerky bags and meat sticks.
This style makes the box much more interesting. It also means that you might experience more unusual flavors and styles along the way.
There are multiple subscription approaches to check out. The smallest is the Lite Knight plan. This one provides a partial box each month, for $15 in total. There is also a Gladiator box. This is full-sized for $35 each month. Both are charged on a month-to-month basis.
Alternatively, you can pre-pay for a 6-month or a 12-month box. These average out to $30 per month and $25 per month, respectively.
Black Mountains Smokery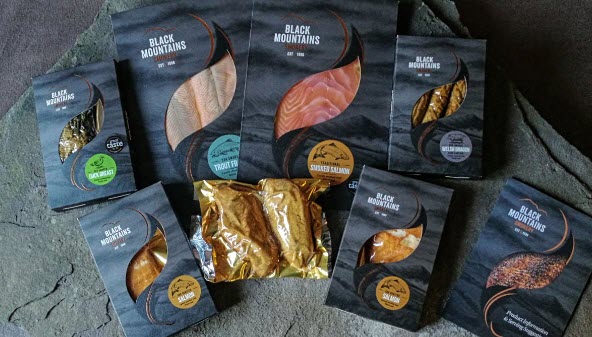 Smoked meat and smoked fish are always good snacking choices. They're not featured in many subscription programs, but Black Mountains Smokery has multiple versions for you to choose from.
Their subscriptions can be broken down into 3 groups: Smoked Fish, Smoked Meats and Smoked Meats & Fish. There are 2 versions for each. The Gold subscriptions cost £320 per year and are sent out every month. The Silver subscriptions cost £180 yearly and are sent out every 2 months.
With the Smoked Fish box, you'll receive smoked trout fillets, smoked mackerel fillets, smoked salmon and oak roasted salmon. The Smoked Meat box provides smoked duck, smoked chicken, sliced ham and smoked Welsh dragon sausages. The Smoked Meats & Fish version alternates between the Smoked Meat and the Smoked Fish box.
This style does mean you're getting the same meats on a regular basis, but you won't be disappointed. All of the items are high-quality and would taste amazing. The main limitation is shipping. The program is best suited for people in the UK and the boxes cannot be shipped internationally.
I hope you enjoyed this list of healthy snack subscription boxes and have potentially seen one or two you may be interested in for yourself or as a gift for somebody else. The boxes show that there are many healthy snacks out there, regardless of the diet type that you're on.
With subscription boxes, you can have them delivered straight to your door, taking the hassle out of seeking out your favorite snacks and foods and also helping you discover new ones!
Related Content