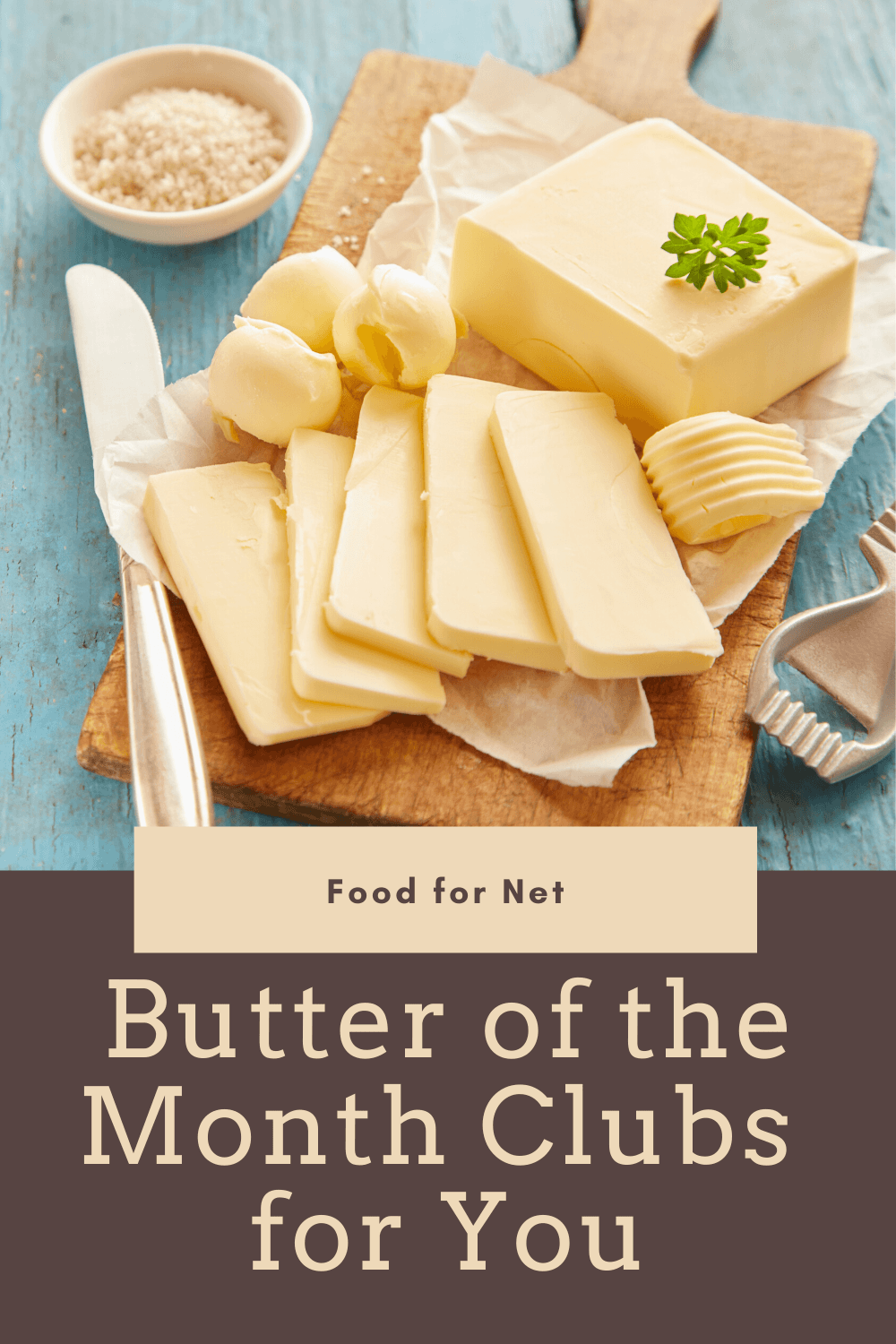 For butter enthusiasts tasting new variations is always a treat. However, with so many kinds of butter available globally, it is hard to know where to start. Thankfully, there are a few butter of the month clubs that deliver right to your door, allowing you to enjoy a variety of artisanal small-batch butters without ever leaving the comfort of your home.
But first, what let's talk about butter itself. The history of butter dates back to ancient times and is found in the histories of multiple cultures. In ancient Rome, they once used butter medicinally for soothing coughs or topically for joint pain.
And in ancient India, they used ghee as an offering to honor Lord Krishna. Ghee is also called clarified butter, which is a butter with the water removed.
Butter even made an appearance in the bible and has a history with the Catholic church. Before the 1600s, Catholics were to abstain from consuming butter during Lent. However, those wealthy enough paid the church so they could consume butter during that time.
Paying the Catholic church during Lent became so common that in Northern France, they were able to build the Cathedral's Tour de Beurr, the tower of butter, all from the tithes paid to consume this delicious golden treat.
In some cultures, butter was used as a form of currency. In Norway, the king requested a bucket of butter as an annual tax. And in Ireland, there was a Butter Exchange to aid in regulating trade.
While butter does not hold the same significance it once did, it still has an essential role in the culinary world. Over the years, butter has evolved from ancient times to now include:
Salted
Unsalted
Flavored
European Style and European
Whipped
Clarified or Ghee
Artisinal
Goat

Butter of the Month Clubs
Food52
Barn & Butter
Big Spoon Roasters
Butter Gift Box
Food52

Food52 started in 2010 as a website to bring food lovers and home chefs together to share insights and recipes. The name of the company Food52 is based on the 52 weeks in a year.
Over the next three years, as the website became more popular, they decided to add an online store. The store carries a variety of hard to find artisanal foods, home goods, and crafts. You will find things like:
Cookware
Home Decor
Dinnerware
Gifts
Appliances
Though their company has significantly expanded, they are still a place for foodies to go to exchange culinary ideas and recipes.
Food52's butter of the month club is a quarterly subscription that introduces your taste buds to Banner Butter. The Banner Butter Company is located in Georgia and offers grass-fed cultured cream butter in various flavors.
The quarterly membership costs $224 + $11 for shipping. There are 4 shipments of butter, and each delivery includes 4 butter rounds (5 ounces each) of varying flavors.
Packed in dry ice in an insulated carton, the butter ships via express, ensuring the butter arrives in premium condition. After you receive your delivery, you can store the butter in the fridge for 6 weeks or in the freezer for 12 months.
Some of the varieties included in the subscription are:
Unsalted
Sea salt
Red Pepper Mash
Cinnamon, Cardamon, and Ginger
Roasted Garlic, Basil, and Parsley
Balsamic Fig
Dark Chocolate
Barn & Butter

Barn & Butter, founded by Lisa Stalvey-Coady, is a California based company that specializes in transforming the relationship people have with food. Barn and Butter started at the local farmers market offering organic artisan crafted dairy products.
However, as time went on, and Lisa began to realize there was a significant lack of knowledge regarding the importance and impact that farm-fresh foods have on one's health. Today, in a world full of convenience foods, there is a critical loss of nutrition in our food, which is what Lisa is trying to change.
Lisa's goal is to bring people together with healthy, sustainable foods and educate them on the positive impact farm-fresh foods have on our health.
Although Barn & Butter has grown since its humble beginnings, it can still be found at local California farmer's markets. But if you don't live in California and still want to enjoy Barn & Butter's delicious organic dairy products, you can always order from their online store.
Barn & Butter also offers cheese and whey protein powder. However, the star of their company is butter. The butter box subscription comes in a variety of options:
1 pound salted or unsalted
2 pounds salted or unsalted
1 pound of each salted and unsalted
12 pounds salted and unsalted
The butter box starts at $18 a month which includes shipping. There's no contract associated with this subscription, so you can cancel anytime. Each box includes fun facts on butter, recipes, and updates about the farm.
Barn & Butter also offers a few varieties of ghee:
Plain Ghee
Vanilla Infused Ghee
Ethiopian Spiced Ghee
Italian Herb Ghee
Big Spoon Roasters

This is not your traditional dairy butter of the month club – it is a nut butter club. Nut butter is considered a butter due to its fat content.
Big Spoon Roasters, located in Durham, North Carolina, makes handcrafted nut butter using only premium ingredients. Founders, Mark and Megan started making nut butter at home as a hobby but soon realized its marketing potential.
The nut butters are available in 3-ounce or 13-ounce jars and come in a wide variety of flavors:
Fiji Ginger Almond Butter with Sea Salt
Maple Cinnamon Peanut & Pecan Butter with Sea Salt
Chai Spice Almond & Peanut Butter with Sea Salt
Toasted Coconut Almond Butter with Sea Salt
Hot Mamba Peanut Butter with Chiles & Sea Salt
Wag Butter – For Dogs
The various nut butters are available for purchase individually, in variety packs, or as a subscription. There are four monthly choices:
Roasters Choice – 1 jar of Roaster's Choice nut butter for $15.95/month
PB&J of the Month – 1 jar of jam and 1 jar of peanut butter explicitly selected to pair with the jam for $29/month
AB&J of the Month – Same as above but includes almond butter instead of peanut butter for $29/month
Your Choice Nut Butter Subscription – You choose the flavor, and 1 jar of your choice is sent every month, starting at $14.95/month
Each of the subscriptions is available for different durations, depending on which club you choose.
Butter Gift Box
Nordic Creamery

Nordic Creamery, located in Westby, Wisconsin, started as a family farm back in 1917. The Bekkum family still runs the farm and now owns and operates the Nordic Creamery.
Over the last 13 years, Nordic Creamery has won several awards for the cheese and butter, some of the awards include:
World Championship Gold Award, Best in Class for their Garlic and Basil Butter
US Championship Gold Award, Best in Class for their Cultured Butter
US Championship Gold Award, Best in Class for their Cinnamon Sugar Butter
Nordic Creamery has 2 retail stores in Wisconsin. However, if you aren't close to one of their shops, their online store carries a variety of cheese, butter, and gift boxes.
Their Butter Lovers Box is a delicious gift option to send to the butter enthusiast in your life. The box includes:
12-ounce Harvest Butter       
8-ounce Garlic and Basil Butter               
8-ounce Cinnamon and Sugar Butter
8-ounce Maple Syrup Butter
8-ounce Pepper Butter
8-ounce Cultured Butter
Depending on your location, free shipping is available for orders over $25.