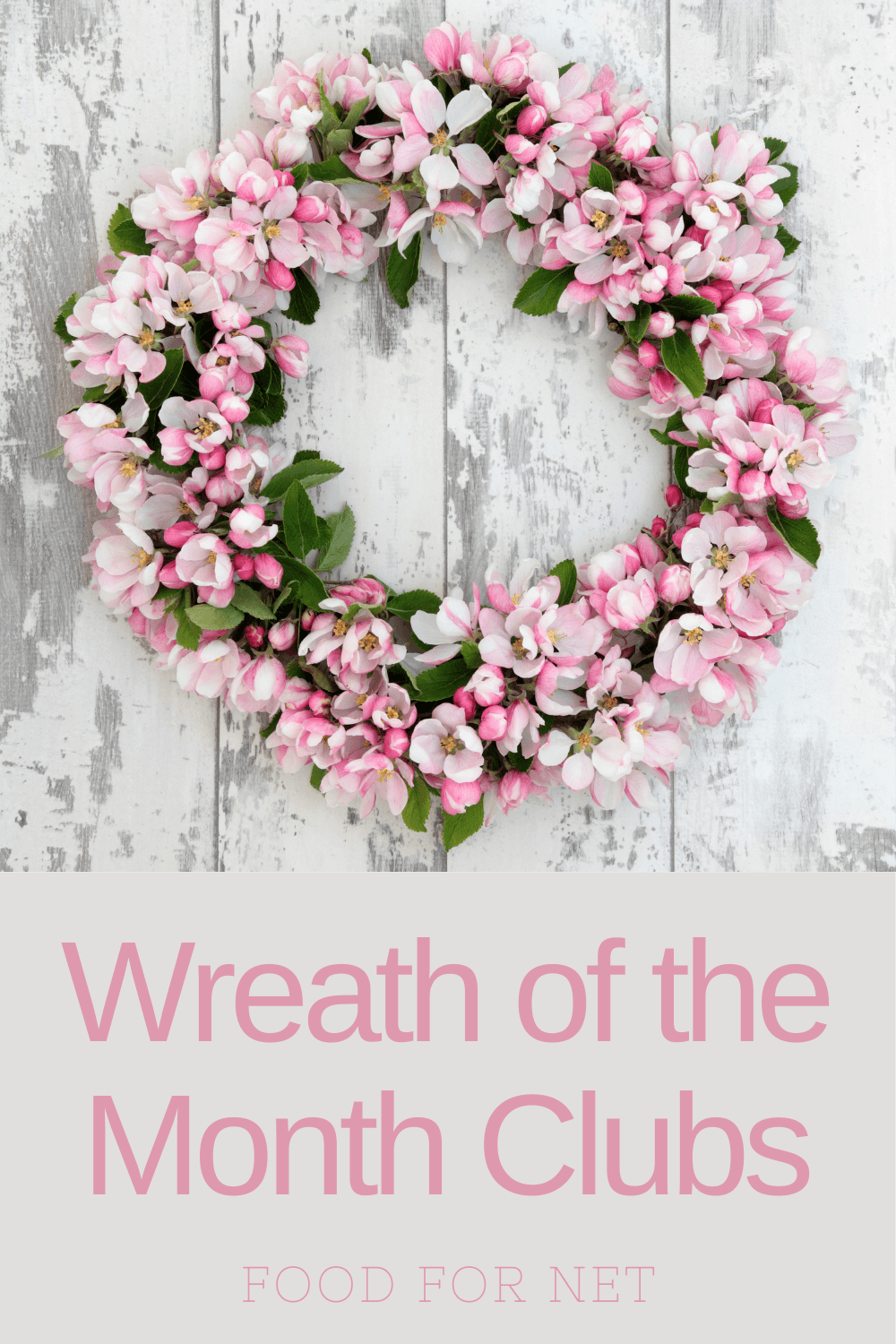 Wreaths have been around since ancient times and have been part of a variety of cultures. Now there are even wreath of the month clubs and we mostly hang wreaths in our home or use them as part of a display. In Ancient Egypt, wreaths were often made from flowers and leaves in the form of chaplets, which were handcrafted to be worn on the head.
In Ancient Greece and Rome, they made wreaths from olive, pine, laurels, palm, or celery. These wreaths were worn for a variety of reasons, such as:
Social status
Occupation
Rank
Achievements
Winners of the Olympic Games
But wreaths were not only used for adornment; they were also hung on doors. Lovers once hung them on each other's doors as a sign of affection.
Wreaths also played a vital role in Christianity, which is the one we are most familiar with seeing. The Advent Wreath is a symbol of immortality and celebrated "persevering" through winter. Though the wreath has changed throughout the years, the Christmas wreath is most frequently associated with "Christian Immortality."
Today most wreaths are used to decorate homes, both indoors and outdoors. Wreaths are seen throughout the year and can be hand-crafted with various materials like ribbons, flowers, twigs, greenery, accents, and more. There are no rules about what colors or materials can be used to make a wreath, only that it is a circle.
Wreath of the month clubs come in a variety of options from month-to-month to quarterly. Also, there are wreath of the month kits so that crafters can create wreaths from the comfort of their home. Wreath kit clubs are perfect for beginners and experienced crafters (who might also enjoy a craft club for themselves or their kids).
But if you aren't a DIY-er, no worries, you can sign up for a wreath of the month club that delivers fully assembled wreaths.

Wreath of the Month Clubs
Flower Fix

FlowerFix is the sister company to FiftyFlowers, founded by Liza Roeser in 2003. FiftyFlowers is a full-service floral shop, whereas FlowerFix focuses on subscriptions and other specialty services.
FlowerFix was inspired by the desire to contact their clients, especially after significant events like weddings. All of the flowers are farm fresh and hand-cut. The wreaths and bouquets are hand-crafted with care by FlowerFix professionals and are available for free delivery on weekdays.
In addition to subscriptions, FlowerFix offers DIY Flower classes so people can learn how to arrange flowers like a pro. There are a few different classes available, including one for fresh wreaths. After selecting your DIY kit, you can sign up for your preferred online class time.
And for those who love flowers but aren't sure about a monthly commitment, FlowerFix has Text Offers. Text Offers send photos of weekly flower deals, simply reply "Yes" when you find a bouquet you want and it will automatically ship to your door.
There are 7 flower subscriptions to choose from, 3 of which are prepaid flower bouquet options, and the other 4 are:
DIY Flower Box
Flower Arrangements
Premium Rose
Monthly Wreath
The monthly wreath subscription costs $76.49 per month, 15% less than a one-time purchase. The wreaths are all handmade with fresh flowers. The flowers and greenery are chosen based on season to ensure the freshest options.
Southern Charm Wreaths

Southern Charm Wreaths, owned by Julie Siomacco, is a unique wreath company. Ms. Siomacco first started making wreaths to decorate her home and front door. When people started asking to buy Siomacco's wreaths right off her front door, she changed her hobby into a business.
Southern Charm Wreaths has more than 100 finished wreaths available for sale, but that is not what they specialize in. Southern Charm Wreaths is as much a school as it is an online wreath store. Siomacco offers a variety of classes, including how to make a wreath and how to start and run a successful wreath company.
There is a variety of wreath making classes, from blog instructions to DIY videos. But for those who are looking for instructor-led classes, Southern Charm Wreaths offers that too. Plus, Siomacco hosts wreath retreats that teach wreath making in person over the weekend.
In addition to the many classes, there is also a Wreath Making of the Month Club. The club is available in a variety of durations and frequencies:
Monthly for $27 per month
Every 3 months for $25.66 per month
Every 6 months for $24.33 per month
Every 12 months for $22.91 per month
When you sign up for the wreath of the month club you will receive:
Unlimited access to every training video
New video each month
Facebook live broadcasts
One-on-one coaching
Supply list including how to choose supplies and where to find them
Each of the different wreaths included in the club is based on the season and uses the latest techniques.
White Bayou Wreaths and Supply

White Bayou Wreaths and Supply is located in Lafayette, Louisiana. White Bayou sells everything anyone would ever need to make wreaths, such as ribbons, attachments, floral, picks, spays, bases, tools, and supplies.
Besides the many wreath making supplies, White Bayou offers a design class group called Beneath the Bayou. Beneath the Bayou is an online class with a minimum of 2 weekly live classes members can attend.
White Bayou also has 3 subscription box options. The most common is their Monthly Ribbon and Wreath subscription box kit for $110 per month. Those who sign up for the box will receive:
6 coordinating ribbons ranging from 1.5 inches to 4-inch width
Full deco mesh wreath kit
Various wreath supplies, such as greenery, florals, spays, signs, and more
Each wreath subscription box has a theme, often corresponding with the season. The Monthly Ribbon and Wreath box contains everything needed to complete one wreath.
In addition to their Ribbon and Wreath Box, they also have:
Wreath Monthly Box for $65 per month – Same as above minus the ribbons
Ribbon Monthly Box for $50 per month
The subscription boxes are available to be shipped globally; the prices above are for those within 48 states.
Wreaths Unlimited

Wreaths Unlimited, founded in 1999, was one of the pioneer companies to start selling silk flowers online. Wreaths Unlimited carries more than 100 different finished wreaths, made from dried flowers, twigs, silk flowers, and dried flowers.
In addition to their wreaths, swags are also available for each of the different seasons. They offer several different styles, and like the wreaths are made up of a variety of materials.
Plus, if you are looking for a specific style or color of a wreath, swags, or arrangements, Wreaths Unlimited has a custom department. The custom group has numerous swaths, design ideas, flowers, and sizes for you to choose from.
Wreaths Unlimited has a quarterly wreath club. The wreath club is a flexible club that allows subscribers to choose the class of flowers used standard, deluxe, or premium.
After deciding the quality of flowers for the wreaths, you can select from the different themes, including:
Spring
Summer
Fall
Winter
Valentine's Day
Easter
May Day
Mother's Day
Thanksgiving
Christmas
The wreath clubs cost between $300 and $400; the prices vary based on the type of flowers. Shipping is $14.95 for the first wreath.
1-800-Flowers.com

1-800-Flowers.com was founded in 1976 when Jim McCann bought his first flower shop. It did not take long before McCann opened more stores, which later became known as 1-800-Flowers. 1-800-Flowers then evolved into 1-800-Flowers.com with the advent of the internet.
It wasn't just the name of the company that evolved, but the company as a whole. As the gift industry grew, 1-800-Flowers.com grew with it, adding more products such as wine, keepsakes, gourmet treats, and fruit. Today, 1-800-Flowers.com is a leader in the gift industry, which is how they have been able to partner with other top specialty companies like:
Harry and David
Shari's Berries
Simply Chocolate
Cheryl's Cookies
Wolferman's Bakery
Fruit Bouquets
Stockyards
Besides the many premium unique gifts available, 1-800-Flowers.com also has a Wreath of the Season club. The wreath of the season sends a new seasonal wreath every 3 months.
All of the wreaths are perfect for indoor or outdoor use, and the life of the wreath can be extended if sprayed with hairspray. Each month costs $59.98.