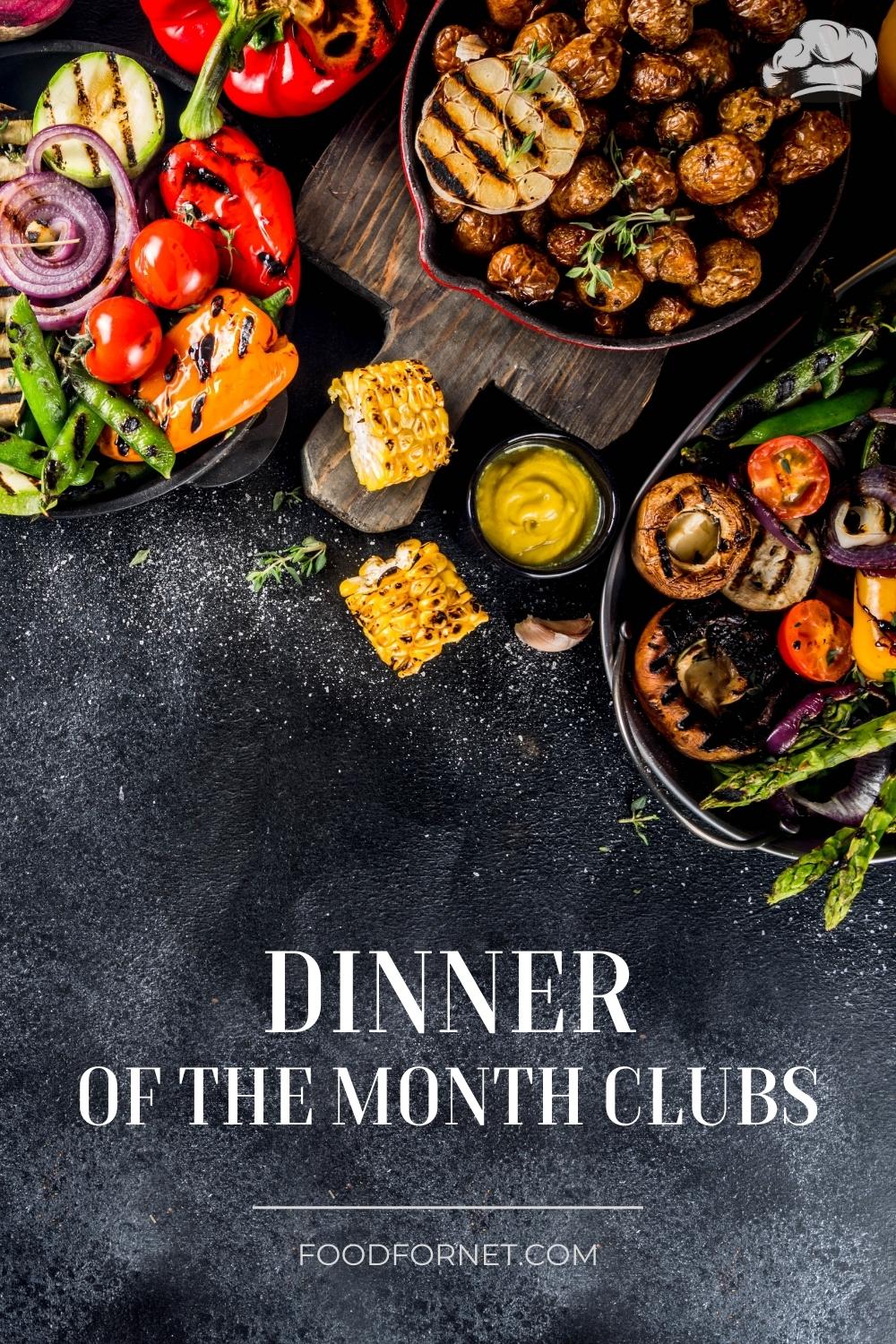 Meal subscription boxes are becoming more popular every day. There are an endless number of options available and include every specialty diet. But for those who don't like cooking or just want a night off from food prep and clean-up duty, there is dinner of the month clubs.
Most monthly dinner subscriptions are meals cooked by professional chefs that only need to be reheated and enjoyed. They are perfect for busy families and make the ideal gift for a loved one. The meals that do not come fully cooked require only minimal preparation, such as boiling pasta.
Dinner of the month clubs ranges in pricing from less than $40 per month to $75+ per month. Most of the dinner subscriptions are set for two servings and include the main course, sides, and sometimes a dessert or appetizer. I'm currently recommending Amazing Clubs Dinner of the Month Club!
For those looking to give this as a gift, it makes a wonderful housewarming present, a new parent gift, or as a thank you to the chef in your home. Whatever the reason or occasion, the recipient of this thoughtful gift will absolutely love it, and think of your generosity every month their dinner arrives.

Dinner of the Month Clubs
This list focuses on "dinner clubs", but don't forget that you can also get meals delivered via meal kits, or pre-made meals as well.
Amazing Clubs Dinner of the Month Clubs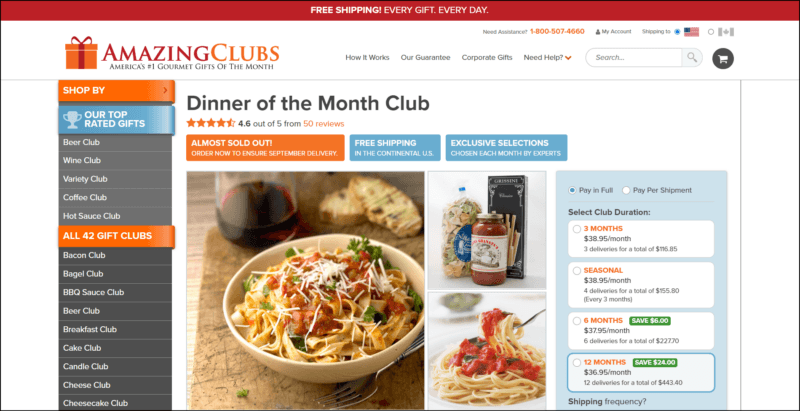 Amazing Clubs, founded in 2003, is one of the leading gifts of the month clubs in the US. They offer more than 40 different club options with various durations and price ranges.
Additionally, they provide a wide range of gifts and not just food, though food clubs are in the majority. Some of the other clubs they offer are beer, cheesecakes, dog treats, ice cream, lobster, movies, and teddy bears.
Plus, they offer 2 different dinners of the month clubs. The Amazing Clubs dinners are not pre-cooked, but only require minimal preparation.
The first one, the Dinner Club, features monthly Italian dinners put together by top chefs, restaurants, and specialty food purveyors from around the world. This club starts at $36.95 per month.
Each month the lucky recipient will receive a dinner that serves 2-4 people depending on their appetite. The meals include pasta with the accompanying sauce, and surprise gourmet treats like an appetizer, dessert, or dipping oil.
The second dinner club option is their Dinner and a Movie Club. It is almost exactly like the Dinner of the Month club and includes one pasta and accompanying sauce enough to serve 2-4 people.
In addition to dinner, it also consists of a movie gift card for Redbox and gourmet popcorn. The Dinner and a Movie club start at $37.95 per month.
Both clubs also have a monthly letter that includes information about that month's dinner choice. The clubs come in 4 duration options, 3, 6, or 12 months, and seasonal, which includes 4 dinners, with a dinner shipped every 3 months.
Send a Meal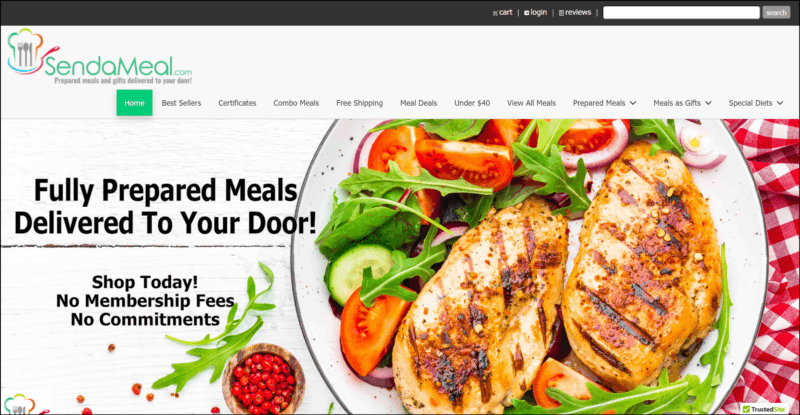 Send a Meal, founded in 2004 by Debby and Shea, initially opened in Austin, Texas, but later moved its headquarters to Colorado. Send a Meal's goal is to provide delicious and healthy meals to people all over the country.
In its more than 15 years of business, Send a Meal has expanded outside of Colorado and now has multiple facilities across the nation.
Send a Meal offers a variety of meal options, including:
Special Diets (such as vegan, diabetic, gluten-free, vegetarian, and keto-friendly)
Under $40
Gifts
Just Meat
Soups
Appetizers
Desserts
Sides
Meals for One
The meals range in the number of servings from 1 to 10. Meals are available as a single purchase or can be set up for monthly meal deliveries.
Their Meal of the Month club runs for 12 months for $1,188.95, which includes shipping.
All meals are prepared ahead, then frozen except for steaks, and only need to be reheated in either the microwave or conventional oven. Some meals, including steaks, require the steak to be cooked at home, to ensure maximum flavor and preferred doneness.
The Meal of the Month includes a main course and sides, and dessert is available at an additional cost of $199.95. The meals include four servings but are packaged to be easily split in half, creating two nights' worth of dinners. Some examples of the meals include:
Lasagna with vegetables
Steak with potatoes and green beans
Stuffed sole, vegetable medley, and green beans
BBQ chicken, mashed potatoes, and vegetable
Winter pot Roast with vegetables
Gourmet Grocery Online Dinner of the Month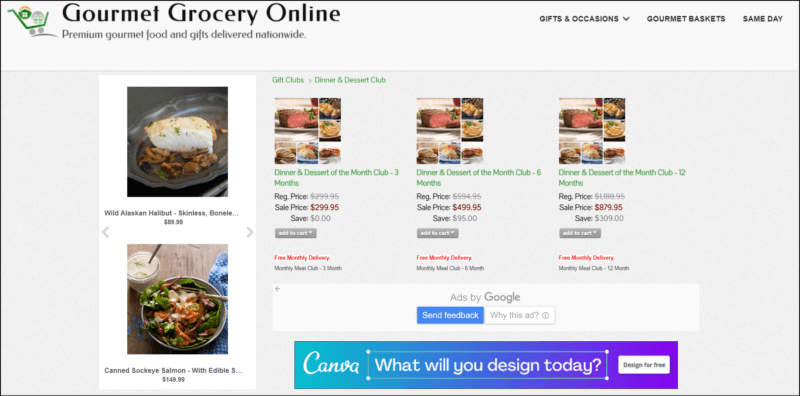 Gourmet Grocery Online specializes in gourmet food gifts for every occasion or life event. They have a unique and creative selection of gifts such as:
Get Well Soon Medicine Cabinet
Inspirations Sympathy Basket
Mrs. Fields® Ultimate Bright 'n' Sunny Cookie Basket
Little Monkey Baby Gift
In addition to their standard gift baskets, they do offer several same-day delivery baskets that include items like gourmet foods, fresh fruit, and wine.
Gourmet Grocery Online is partnered with Send a Meal and offers a similar meal program with a few differences. Gourmet Grocery Online has 3 dinners of the month club options:
3 Months for $299.95
6 Months for $499.95
12 Months for $879.95
The prices listed above include shipping. Also, with Gourmet Grocery, each meal consists of 4 servings, plus dessert. The servings are packaged for 2, so you can always store 2 dinners for a later time. All meals are shipped frozen and can be reheated at your convenience.
Pig of the Month's BBQ of the Month Club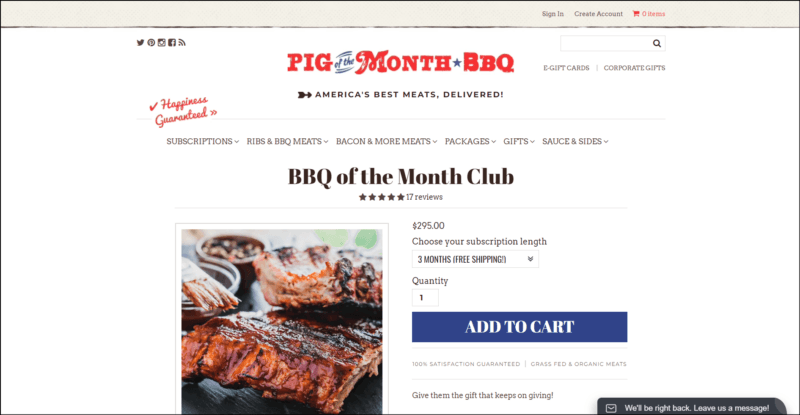 Pig of the Month, founded by Lea Richards, is located in Dayton, Ohio. Finding the best BBQ places wherever the Richards family went was one of their family traditions when traveling.
So when the family heard of a famous BBQ place that shipped dinners, they were thrilled and placed their order for their Father's Day feast. With great anticipation, the family dove into a rib dinner only to be met with disappointment.
Though their dinner plans were a flop, what came out of the encounter was the Pig of the Month. Richards believed she could create a much better dining experience for families like hers, who enjoyed excellent BBQ. And from that moment on, Lea worked hard to make that a reality.
Today Pig of the Month is a nationally recognized BBQ company that has been featured on Good Morning America, Rachel, Today, In Style, and the Martha Stewart Show.
The Pig of the Month Club offers a BBQ of the Month Club. Each month you receive a well-prepared BBQ meal, though not all are dinners. Some of the months feature breakfast or just an assortment of meat.
However, many meals include sides, and some even have dessert. Some of the meals in the subscription include:
2 racks of Memphis ribs with a bottle of Memphis sauce, a pound of applewood smoked bacon, and bacon studded caramels for dessert
A mix of pulled meats, including pulled pork and pulled chicken, comes with sauce and buns.
2 pounds of bacon, a jar of Pig of the Month Bloody Mary Mix, a pound of maple breakfast patties, and bacon cornbread mix
Food by Lish Monthly Dinner Club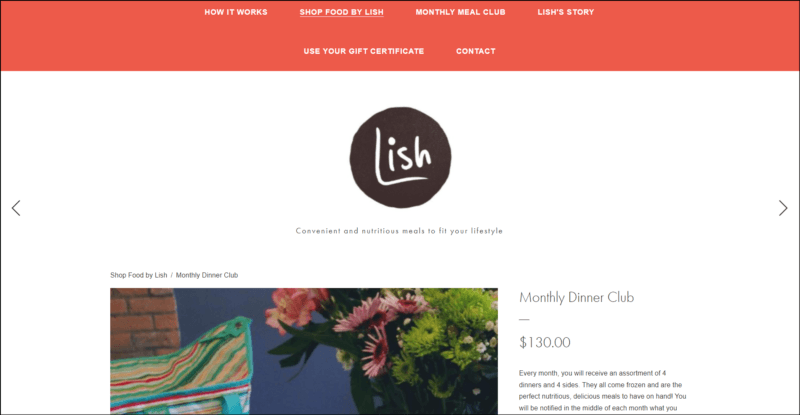 Food by Lish is dedicated to providing meals that are not only delicious and convenient to have but are also cost-effective and environmentally friendly. All of their food is 100% handmade with the best of ingredients, and Lish or Alicia Luck made sure that every meal meets her standards.
Lish is a Registered Dietician and a certified foodie at heart. Evident by every menu she developed, her food taste incredible with the use of health-conscious ingredients. Her combined knowledge in the health care industry and the kitchen give way to creating meals that are delicious, nutritious, and convenient.
Her Monthly Meal Club cost $130 – that is a package of four pre-made meals each month. These are four large meals that can easily feed 4 to 6 people. Each month they will email you the list of meals that you will receive the next month. They will deliver the meals right to you after coordinating the delivery time and day.
Sample meals include:
Healthified Marry Me Chicken over Rice
Creamy Beef and Mac with Spring Peas
Cajun Chicken and Bell Pepper Penne
Barbecue Pork, Roasted Parm Potao, & Seasonal Veg Blend
Loaded Chicken and Potato Casserole
You can simply reach out to them if you have any specific dietary needs or if you want to skip a month or swap one of the meals for a pasta dish.
igourmet Pasta Dinner Subscription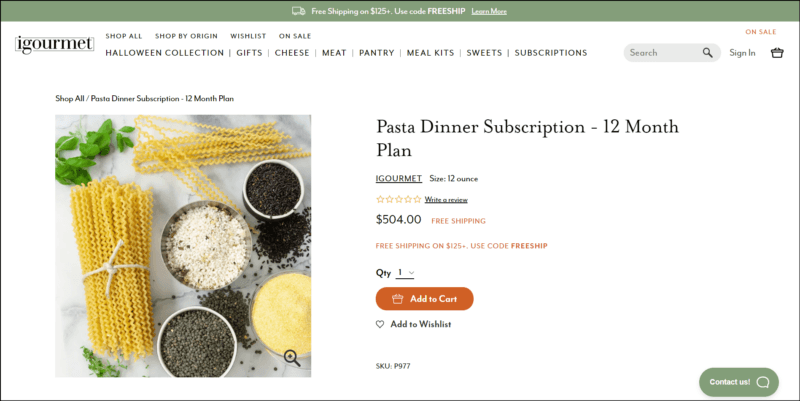 igourmet was launched in 1997 and has since been providing specialty food finds to customers. Their longstanding relationships with the best food producers coupled with their delivery expertise made igourmet.com one of your go-to websites when looking for gourmet foods. From cheeses, meat, pantry essentials, sweets, and many more.
This wide selection of high-quality specialty foods is from mid-sized artisan food producers from everywhere. They even have the 'Taste of the World Gifts' which showcase different selections of specialty foods from a particular part of the world – from Italian Luxuries Gift Box to A Little Bit of Germany Gift Box to Dutch Classic Gift Crate.
igourmet also has different gourmet monthly subscriptions that are available in 3, 6, or 12-month plans. Their Pasta Dinner Subscription Box, in particular, costs $33 per month for 3 months, $43 per month for 6 months, and $42 per month for 12 months.
This pasta dinner is good for four people. It includes a pack of pasta, a jar of sauce, and a sprinkle of cheese. This can be easily transformed into a gourmet meal in as little as 10 minutes.
Upon subscription, they'll send you a digital boarding pass which you can forward as a gift to friends or families. Your first box will be shipped immediately within 1 to 3 business days while succeding boxes will be sent out every 20th to 23rd day of the month.
PickNic's Catering Dinner of the Month Club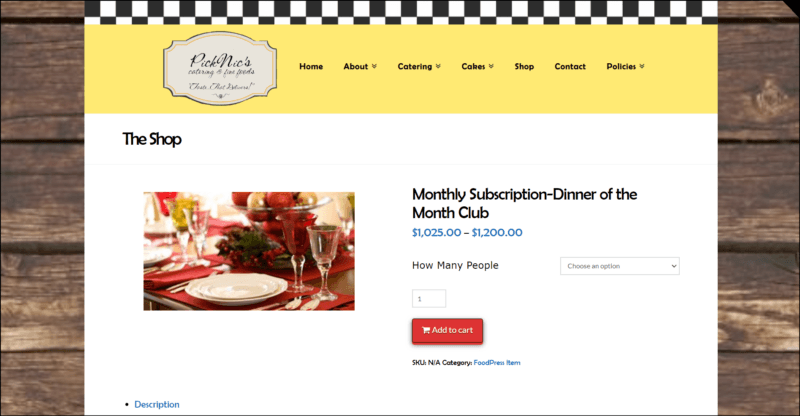 We have already featured PickNic's Catering and Fine Foods in our list of monthly dessert clubs. The company is owned and managed by Nicola Lawson, Red-Seal Journeyman Pastry Chef. Apart from desserts and wedding cakes they also basically offer affordable and delectable foods for any occasion (breakfast or luncheon, staff parties, conventions, weddings).
Nicola is a recognized leader in the Saskatoon business community and was the Women Entrepreneurs of Saskatchewan Member Of The Year recipient. She has been nominated as well for different business awards including the Saskatoon Chamber of Commerce SABEX Awards, and the YWCA Women Of Distinction Award.
Their Dinner of the Month Club is available in a monthly or bi-monthly subscription.
Monthly Subscription-Dinner of the Month Club cost $1,025 for 2 people or $1,200 for 4 people
Bi-Monthly Subscription-Dinner of the Month Club cost $550 for 2 people or $650 for 4 people
Each month, or every second month, club members will receive (but are not limited to) appetizers, bread, salad, soup, entree, and dessert.
Flying Noodle Dinner Of The Month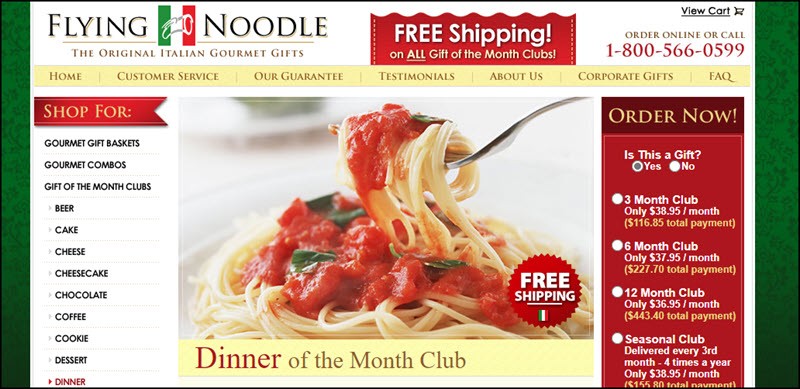 Flying Noodle is similar to Amazing Clubs and also focuses on gourmet Italian meals. This means you'll always get some type of pasta and associated sauce, plus an extra item. The added item might be an appetizer, dessert, or something else. It varies, making each month different and interesting.
The subscription costs between $36.95 and $38.95 per month, based on your membership. There isn't a month-to-month membership though. You need to sign up for at least three months.
Dinner Gift Ideas
Omaha Steaks

Omaha Steaks was founded in 1917 by a father and son duo, B.A. and Lester Simon. The Simon family had fled Latvia, to escape religious persecution, and came to the US. The family eventually made their way to Omaha, where they set up their meat business.
The original name of the company was Table Supply Meat Company because the first building they used had a sign that read Table Supply Company.
It was thanks to the railroad that Omaha steaks received recognition. Their steaks were served to guests traveling on the train. By 1952 they were offering a catalog and shipping their meats all over the country. Finally, in 1966 they re-branded to Omaha Steaks.
Today the family company is still going strong and is now run by fifth-generation Simons, Bruce, and Todd.
Omaha Steaks offers much more than steaks; they also carry things such as seafood, lamb, poultry, sides, desserts, and wine. One of the popular items they offer is their meals.
There is an abundance to choose from; however, their Choose 5 makes a very generous gift. Choose 5 is $99.99, and you get to pick the 5 meals included in this box. Examples of some of the meals offered in this plan are:
Slow Cooker Meal: Pork, Peppers, & Beans with Rice
Skillet Meal: Sweet Honey Shrimp
Beef Shepherd's Pie
Chicken Fettuccine Alfredo
However, they offer numerous other meal plans too, including single servings, kits, and one-step meals.
Harry and David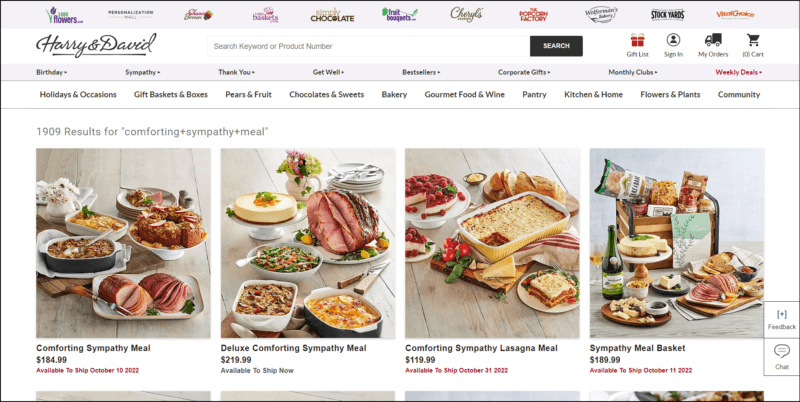 The Harry and David company has been around for years, perfecting their top-of-the-line gift selection. The Harry and David company has hundreds of fantastic gourmet gift options, from towers to the food of the month clubs.
You can purchase gifts online or from one of their many gourmet stores. If you choose a Harry and David gift for a loved one, you are sure to bring a smile to their face.
Among the hundreds of choices, Harry and David offer several different dinner gift options, like:
Comforting Sympathy Meal – Sliced honey glazed ham, sliced turkey breast, scalloped potatoes, artichoke, mushroom, and bacon frittata, and lemon poppy seed coffee cake.
Maine Shore Seafood Bake – Includes 4 types of seasoned shellfish and corn
Lobster or Beef Pot Pie – 2 lb pot pie that needs to be popped into the oven before serving