Frozen meals make an ideal go-to choice for food when you're sick, tired, or don't have much in the house. The idea is particularly relevant now, as panic buying means that the supermarket shelves are sometimes lacking key items. Thankfully, you can get freezer meals delivered from a variety of companies.
Lack of supply isn't the only reason for doing so either. Many delivery companies offer much better food than you can get at a local store. They'll often cater to a variety of different dietary needs too, such as offering low calorie or diabetic friendly meals.
Besides, these companies will deliver straight to your door. How fantastic is that?
In this post, we'll talk about some of our favorite frozen meal delivery services, including details about what they have to offer. We'll also highlight ways that you can make delicious and healthy freezer meals yourself – without any stress.
Getting Freezer Meals Delivered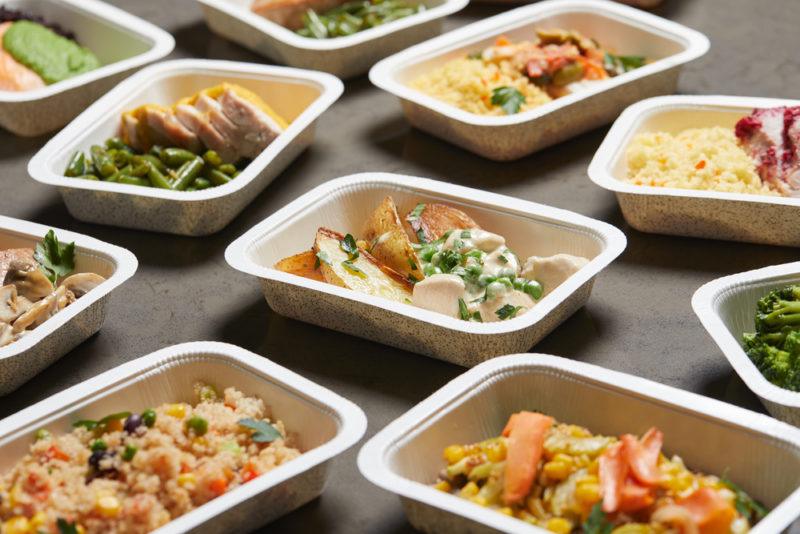 Countless companies that will deliver food to you. Some of them deliver piping hot food from a restaurant, while others may deliver chilled food from a local company.
While you could simply order a chilled meal and freeze it, why not buy frozen meals to begin with? Doing so is often cheaper than getting a fresh meal. You can also be certain that the food is going to reheat well.
Home Bistro
Home Bistro has been successfully delivering meals to customers since 1999, which is impressive indeed. The company has a decent selection of meals that you can choose from.
These can be purchased individually or as part of a collection. For example, the Heart Healthy collection costs $159.99 and contains ten meals, while the Mediterranean collection also contains 10 meals and costs $184.99.
There are also lunch SUPERBowls. These are bowl-based meals that contain a variety of delicious ingredients and are easy to eat. The SUPERBowls and meal packs can be purchased on subscription too. You save 5% by doing so.
Magic Kitchen
In many senses, Magic Kitchen is a service for seniors and offers $10 off for seniors who order $80 or more in food. The service also caters for more dietary needs than normal. This includes the following sections: Diabetic friendly, portion controlled, dialysis friendly, renal diet, dairy free, gluten free, senior diet, low sodium… and more!
The company doesn't offer a weekly rotating menu. Instead, meals are ordered individually from Magic Kitchen's large selection. The meals can be filtered by dietary need, course, and various other factors.
There is also an a la carte menu, where you are ordering parts of a meal, rather than an entire dish. For example, one a la carte dish is sliced beef brisket, while a similar complete meal would include veggies and a source of carbs too.
Meals can also be ordered in packages or as gifts. This style is perfect if there is someone in your family that you're worried about. Just be aware that Magic Kitchen has more out of stock meals than normal right now.
Muscle Meals 2Go
Muscle Meals 2Go could be perfect if you feel that frozen meals aren't normally satisfying enough. This issue won't happen with Muscle Meals 2Go at all.
Their standard meals contain six ounces of protein, six ounces of carbs and six ounces of fat, which is already more than many other companies. You can upgrade your meal to contain nine ounces of protein instead.
The company operates through meal plans, with a Lean plan for weight loss, a Maintain plan for staying fit, and a Gain plan for muscle gain. Keto and vegan versions are also available. In each case, you can specify any dietary restrictions and protein preferences. You can add breakfasts and snacks too.
The biggest limitation is that Muscle Meals 2Go doesn't give you any choice about the meals that you'll be getting. A menu sample is provided when you sign up, but this may be subject to change. It doesn't even contain images for all the dishes.
Beetnik Meals
Beetnik is an organic food company that operates out of Texas. The company focuses on creating high-quality organic ready made meals that are shipped out frozen.
Beetnik doesn't have a weekly menu either. Instead, they have a selection of 11 different frozen meals that they ship out. Some of these are even sold in stores.
The meals are all $7.99. There are also packets of organic meatballs (beef or chicken) that you can order for $9.99 each. You can get a slight discount by ordering value packs or watching out for specials.
Ice Age Meals
Ice Age Meals follows a similar style as Beetnik, except that Ice Age Meals focuses on paleo food. The service has become quite impressive, as there are more than 30 different meals to choose from.
To order, you need to buy a box of six, 14, 24, or 48 meals. The cost per meal decreases as your box size.
The meals are honestly pretty impressive, with plenty of different flavors and styles. It's nice to see a frozen meal company that doesn't just stick to the basics. This is also one of the few frozen meal companies that supports specialized diets (there are even some keto meals in the mix).
If you are a paleo dieter, be aware that some of the meals do contain rice. These are clearly labeled. While rice is an unusual choice on a paleo diet, the company seems to intentionally rely on it.
Other Companies To Consider
There are many other such services out there too. We highlighted 50 different services in our post on the topic. We also talked about their differences and what you can expect from each.
Just be aware that some of the services ship their meals out fresh, while others freeze them first. Companies don't always make their approaches clear, so you might need to contact customer service to find out what you can expect.
Of course, you will generally be able to freeze any food that you order without too many problems.
Best Foods To Freeze (Which Still Taste Good)

Red Meat, Fish, and Poultry
Most types of meat will freeze without any problems at all, especially if it is raw. Raw meat can be simply defrosted and cooked as normal. Defrosting in the fridge is the best approach, as this prevents rapid changes in temperature.
Some experts say that the quality of meat changes after you freeze it, so frozen meat will never taste quite as good as fresh meat. Still, this pattern is the same for almost anything you freeze. Some decrease in quality is to be expected.
Nuts and Seeds
Here's an unexpected one. Nuts and seeds actually freeze well. They're almost the same after freezing as they were before.
Freezing them can also be useful, as the fat content of nuts and seeds means that they can become rancid if left at room temperature for too long. Nuts and seeds are also easy additions to dinners – helping to add in an extra boost of protein.
Cooked Rice And Pasta
Rice and pasta are both controversial choices to freeze. It's easy to end up with crumbly rice or soggy pasta, neither of which is appealing. Yet, pasta and rice are both common ingredients in meals, so being able to freeze them just makes sense.
One trick is to undercook your pasta and rice. For pasta, aim for al dente, where the pasta isn't completely soft. Many people enjoy al dente pasta anyway, making this a perfect target for cases where you are going to eat the meal fresh and then freeze leftovers.
Undercooking means that your pasta and rice ends up being pretty much perfect once you reheat it, rather than being overcooked. It's also best to freeze pasta on its own, rather than with any type of dressing or sauce, as this prevents the pasta from absorbing too much liquid.
When reheating rice, you can also add in a tablespoon or two of water. This extra moisture helps to create a better outcome.
Most Fruit
Fruit tends to freeze and thaw just fine. The most important trick is to portion out what you're freezing, as you don't want to be defrosting a large bag of fruit.
Just be aware that the texture of your fruit may change after freezing. This is especially true for fruits that are high in water content, like oranges and grapes. This texture change means that you can't defrost many fruits and eat them as-is.
Still, if you're going to make a smoothie, then frozen fruit is perfect. The texture change doesn't matter at all.
You can also eat some fruits while they are still frozen, especially in the summer months. Grapes and watermelon are popular examples.
Berries survive the freezing and thawing process particularly well. This gives you the chance to enjoy berries off-season. Frozen berries can even be used in some recipes as-is, without the need to thaw them first.
Soups and Stews
Soups and stews are classic choices for freezing. They already rely on a large amount of liquid, so there aren't any ingredients that could go soggy.
The main exception is if your soup or stew relies on dairy, as dairy can behave strangely when it is thawed and reheated. You can sometimes get around the issue by thawing your food slowly and stirring it often.
A more effective technique is to freeze your meal before you use much dairy in it. In particular, dairy is often added towards the end of the cooking process, like when you use cream to make a dish creamier.
You could easily stop cooking before that point and freeze the meal. When it is time to enjoy your dinner, you'll need to heat it and finish off the last steps. Doing so can make your meal taste so much better, without adding much time to the meal making process.
You're not limited to soups or stews that you make yourself either. Store-bought versions can easily be frozen as well. Simply let your leftovers cool, pour them into a freezer safe container and you're good to go.
Sauces
In a similar way, most sauces freeze well. This includes ones that you make yourself and any that you purchase.
Using freezer bags works really well here, as you can lay the bag flat in the freezer. This means that the sauce takes up hardly any space. It's also much easier to use partly frozen sauce from a bag than from a rigid container.
Just be wary of sauces that contain eggs or cream (like hollandaise sauce). Some of these may freeze and thaw well, but others won't.
Bread
Bread tends to freeze well, especially if it is sliced. You can often just take a few slices of bread out of the freezer at a time, rather than thawing the whole loaf.
It's even possible to quickly thaw pieces of bread. I've seen some toasters with a specific setting for frozen bread. You could use a toaster oven to heat up the bread too.
Meal Prepping Approaches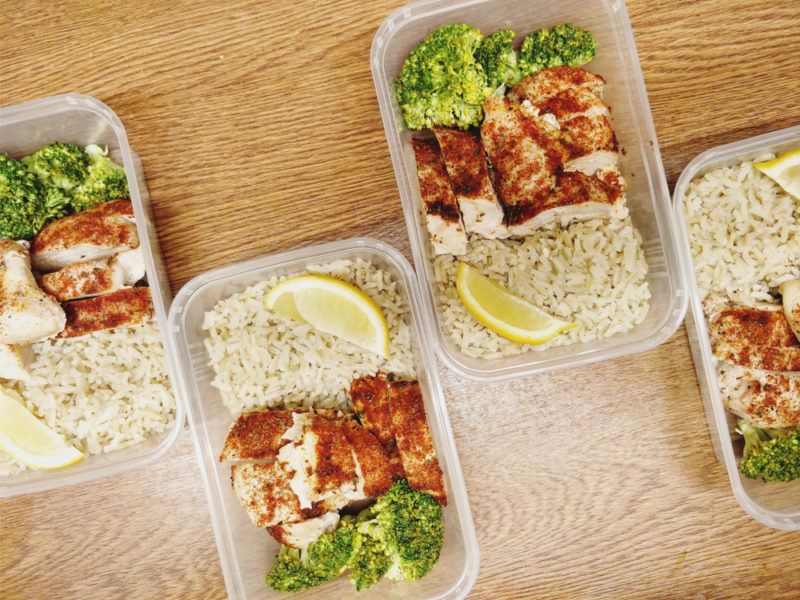 Meal prepping is easily the most powerful way to stock up your fridge and your freezer. The idea simply refers to preparing some of your meals ahead of time.
Meal preppers often set aside a chunk of time to do most of their cooking for the week. Doing this makes mealtimes very easy, even if you're feeding multiple people.
If you plan to freeze some (or all) of the meals that you make, you'll need to keep this in mind when you're planning your meal prep. Some dishes will freeze much better than others.
For that matter, planning is one of the key aspects of meal prepping. You need to think carefully about the food you'll be preparing. This is especially important if you're likely to use some of the same ingredients for more than one meal.
The site Good Housekeeping offers a fantastic introduction to meal pepping. Their article provides details about products that you can use, apps for planning, foods to meal prep with and some recipes for you to try.
There's also an interesting article on Tasty, that talks about key things to consider before you start meal prepping. Some of the points the article makes would be easy to miss if you haven't meal prepped before.