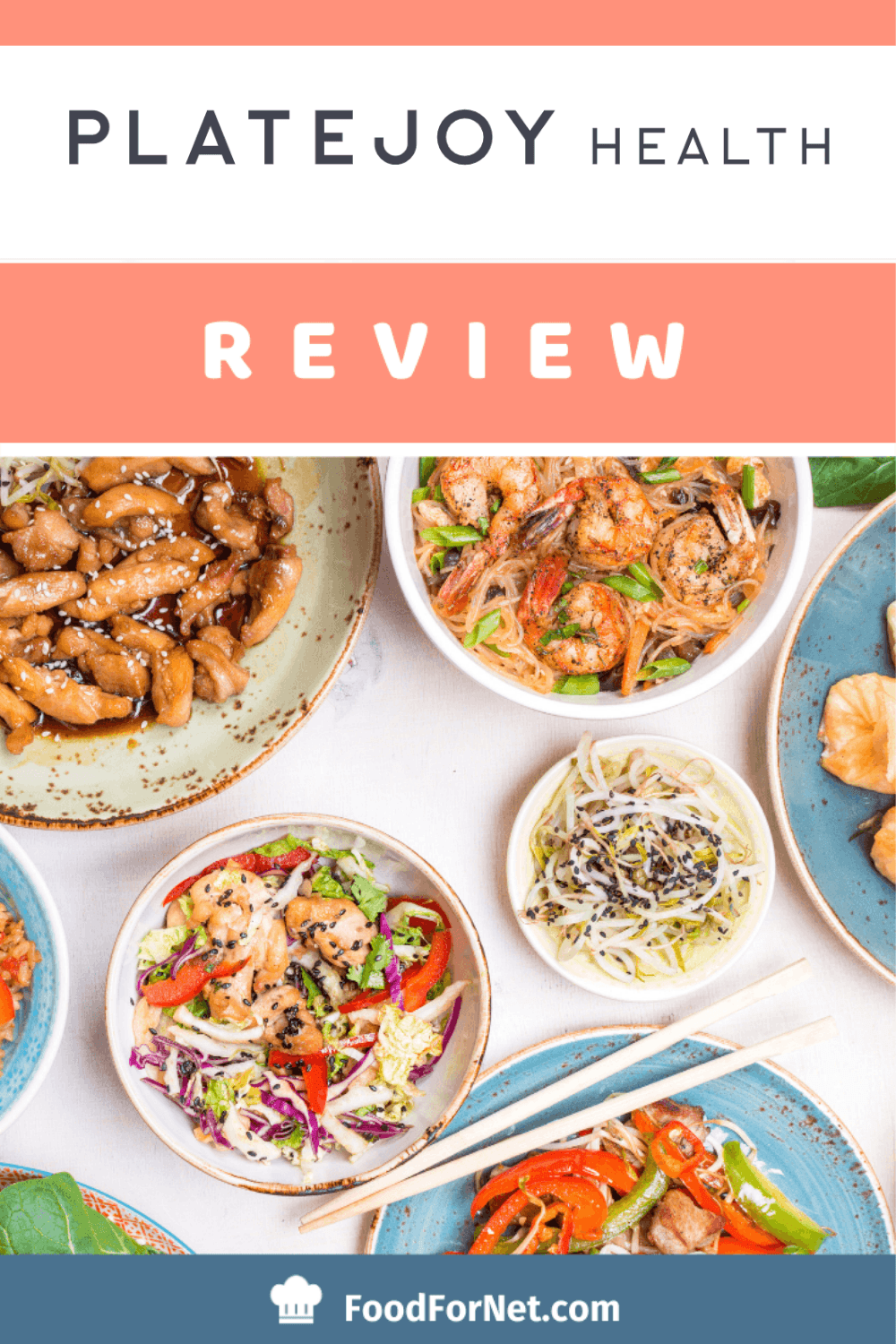 Platejoy Review
Deliciousness - 97%
Pricing - 100%
Easy To Prepare - 100%
Variety - 100%
Food Allergen Options - 100%
99
%
Save Time & Get Healthy!
What Platejoy offers is really unique in a market flooded with meal delivery services. By planning the meals for you and allowing you to purchase meals locally with Instacart, you save on shipping costs, PLUS, get more than just the standard three meals a week. They offer a huge range of speciality diet plans and allow you the freedom to cook exactly what you want, without the restrictions of the typical meal kit delivery company. I was really impressed with Platejoy!
Food Allergen Options? Yes

paleo, vegan, keto, low carb, omnivore, gluten-free, vegetarian, carnivore, dairy free, peanut free, weight loss, diabetic friendly, other food allergies

Styles of Cooking

kid friendly, clean eating, batch cooking, slow cooker,

Cost Per Meal: Varies based on your shopping habits
Wine Option? Yes, varies based on location (through Total Wine)
Originally, I thought Platejoy was just another meal kit delivery service, but it turns out that they offer something quite unique. In fact, I prefer this type of service to the typical meal kit programs for a couple of reasons, which I'll get into later in the comparison section.
What you get from Platejoy is a custom meal plan, which, ordinarily, I wouldn't even try out. It sounds boring. Why would I pay for someone to create recipes for me when I can get them for free online?
However, the system they set up with Instacart, plus the fact that they offer so many different meals in one area, tailored to every specific type of diet and health goal, makes them a service worth taking a look at.
Ordering Platejoy
There are three options when you get started with Platejoy. I'll be reviewing the Custom Meal Plan option. The other options are for weight loss and pre-diabetic meal planning. Those come with more services like online coaching, videos lessons, and even some products included like a scale and Fitbit. You could also choose the weight loss option or combine weight loss as a goal for your meal planning too, so keep that in mind!


Platejoy comes with a 10 day free trial, when is plenty of time to get in one or two orders to test them out. After that, their pricing is still very affordable at about $8-$9 per month. That doesn't include the Instacart pricing though! Instacart costs $6-$8 for each shipment, plus driver tip (optional), or you can pay $149 for the year and get free shipping. If you end up signing on long term for Platejoy, it makes sense to have weekly groceries delivered for free with a $149 yearly fee. That breaks down to about $3 per shipment if you get fresh groceries every week.
So, total per month you'd be paying $11+ for meal planning and grocery shipping. That's pretty darn cheap.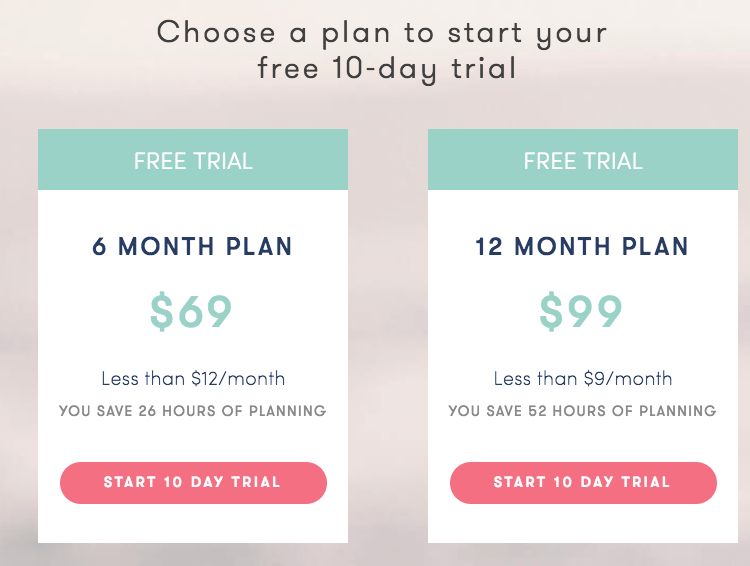 I love cooking, but I hate planning for meals. Yes, there are thousands of ideas on Pinterest. There are more recipes online than I could ever make in 10 lifetimes. But finding reasonable recipes to make during the week, then adding all the ingredients to a grocery list and actually doing the shopping can eat up at least a couple hour per week. Am I that busy that I can't spend a few hours grocery shopping? No.
But I could do some pretty awesome stuff with that extra time. I'm a big fan of outsourcing, as I've learned running a blog and outsourcing tasks like writing content, creating graphics, etc. I like to treat my life like a business. Hire someone to do the stuff you don't like, and learn to do the stuff you do like very well.
What Meal Plats Does Platejoy Offer?
Thee's a bunch. Here's the full list: Paleo Vegetarian Gluten Free Low Carb Weight Loss Kid-Friendly Clean Eating No Red Meat Food Allergies Pre-Diabetes Quick & Easy Batch Cooking Slow Cooker Meals Peanut Free


I eat pretty much everything, so I feel kind of left out whenever options for all these unique diets come up. Lucky for me, I'm been trying out the ketogenic diet lately (yes, I'm in ketosis right now), and they offer a keto plan (low carb)!
Signing Up To PlateJoy
Signing up for this service was a bit of a process. They ask a ton of questions. It took a few minutes to get through the questionnaire, which, in internet time, is pretty long. This is just to find out meal preferences though, so you'll benefit from how accurately you answer these questions. Here are some from the survey below. I tailored my preferences for keto weight loss, and noted that I have plenty of time for cooking both dinner and lunch.
I also said that I wanted meal plans for breakfast, lunch, and dinner. I work from home, so have lots of time. I also enjoy cooking! Offering breakfast and lunch in addition to dinner plans is not something that other meal kit services offer, though some do offer lunch options (this one does too)!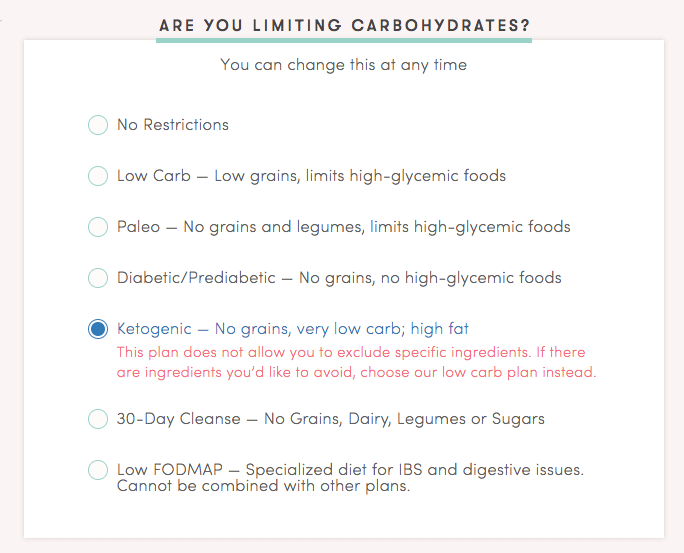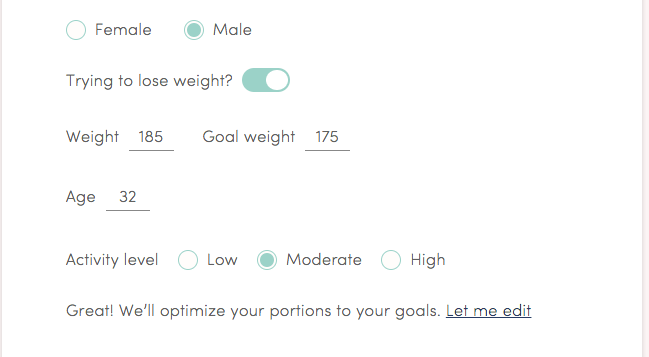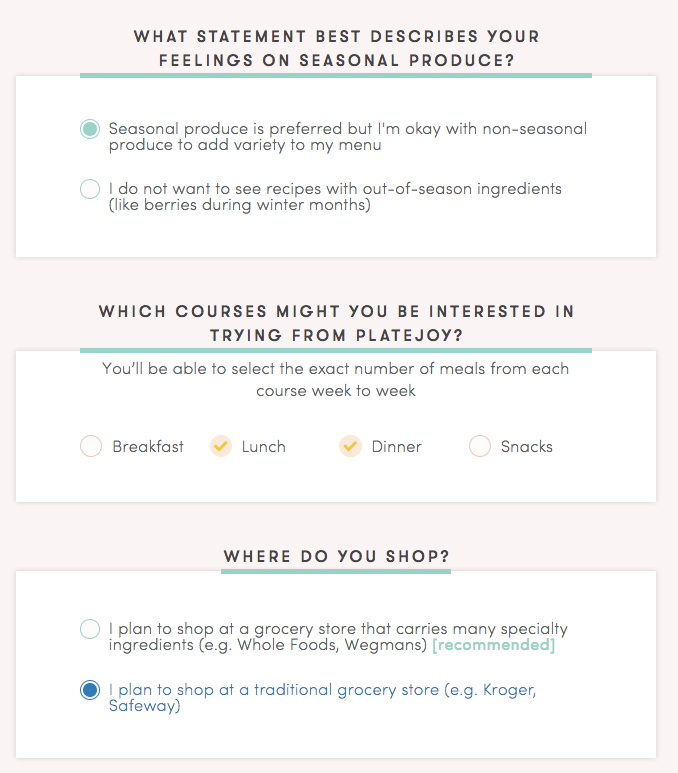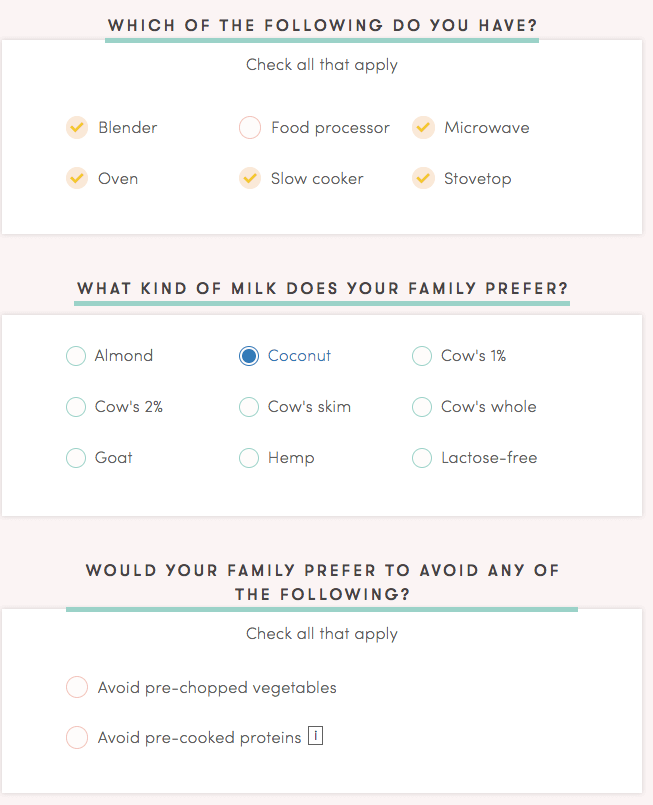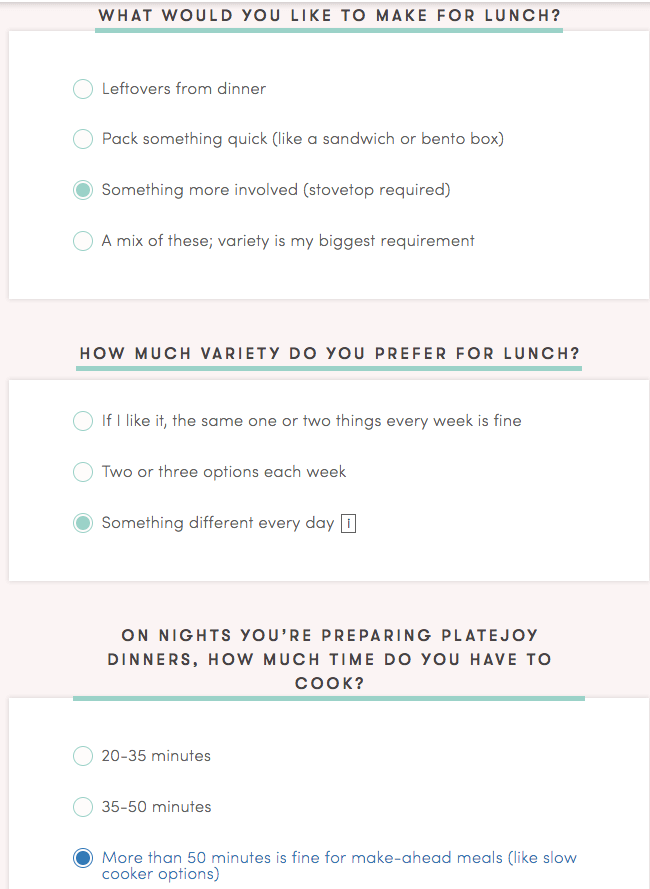 Once you're done with that, you get to pick your meals. Here are just two example meals from the keto plan: Smoked trout and celery root remoulade, as well as tomato and basil omelette with balsamic side salad. I've got a screenshot below in the cooking area with even more examples of breakfast and dinner you can preview.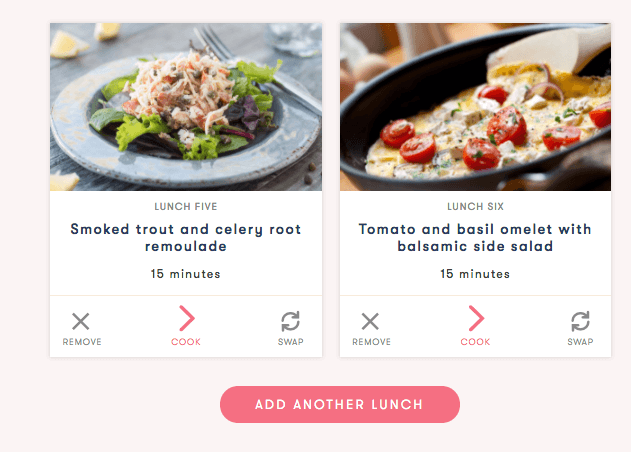 After you pick your meals, it's time to head over to Instacart and do your shopping.
Shipping & Packaging from Platejoy
I was very hesitant to sign up for online grocery shopping. I was convinced it would be expensive and not worth it. I was surprised that it was a lot cheaper than expected. It only costs $6 per delivery (2 hour window), plus a driver tip.
You can also pay the yearly fee and get free shipping for orders over $35, which would be every single order for me! We eat a lot in this household, so a grocery trip is rarely under $100.
The cool thing about Platejoy and Instacart working together is that all your ingredients are added to your shopping list automatically! That means you don't have to go back and forth, adding each little item to fill your cart.
Instead, you can just delete the items you have on hand. In my case, you can see some avocados below. I'm not going to pay $2.29 for an avocado so I deleted it. I can get the for $1 at the local grocery store and also happened to have some on hand.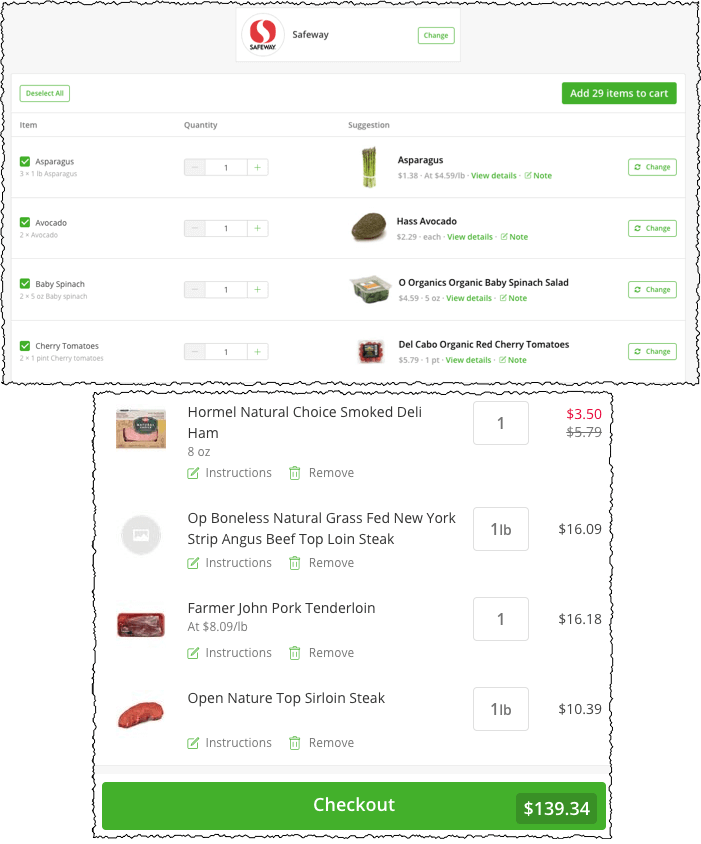 The example of the avocado is one potential issue with Instacart, in that you can't really price shop, and many of the stores that are implementing online shopping are the more expensive ones like Wholefoods. The Safeway near me is reasonable, but Raley's is cheaper, so my grocery bill will go up, potentially canceling out dollar-amount price savings (still saves me time though)

Cooking with Platejoy
Making meals with Platejoy was more fun than usual. Actually, so far, they are one of my favorite meal kit services because their keto plan featured my two favorite types of food: meat and vegetables! OK, that's the point of keto, but I was pretty excited to see steak a couple times last week roll through my weeknight recipe.
Plus, instead of those recipe cards that I end up throwing away anyway, I just made the recipes from the app. Less waste!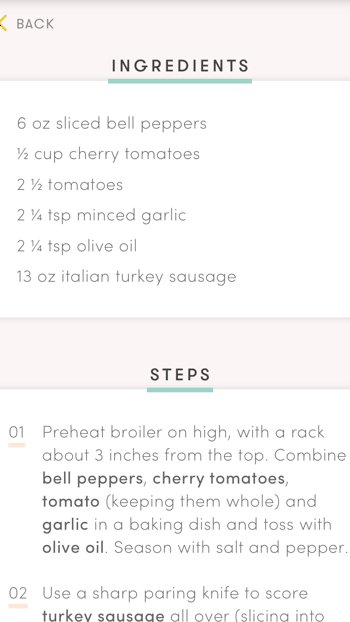 I did have a little trouble figuring out how to sync up which recipes I had already made, and which ones were next in the queue. This may be a user error on my part, or a UX issue for the app. I'm not sure.
Meal #1: Bistro Steak Salad with Horseradish Dressing
Meal #2: Rosemary Pork Tenderloin with Grape and Spinach Salad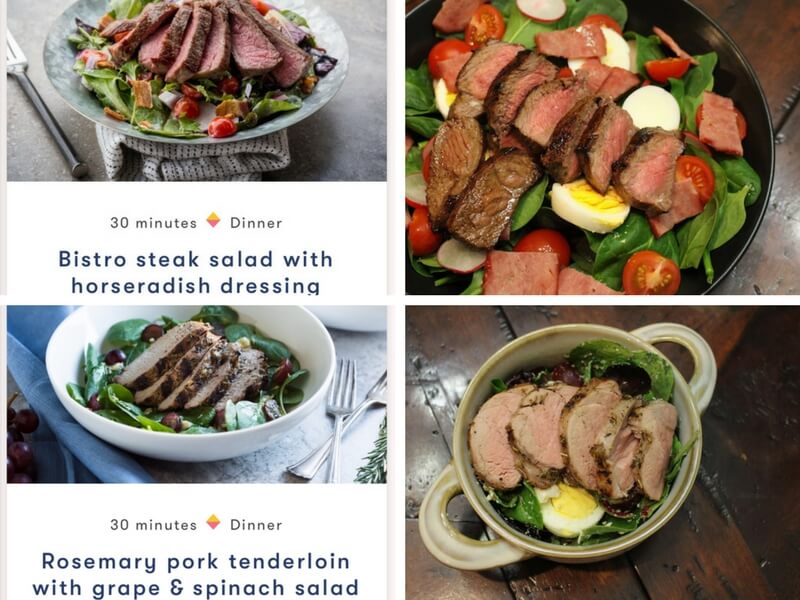 I didn't like the brand of horseradish they had at Safeway so I just put a vinaigrette, then for the pork salad I added a hardboiled egg.
Meal #3: Roasted Italian Turkey Sausage with Tomatoes and Peppers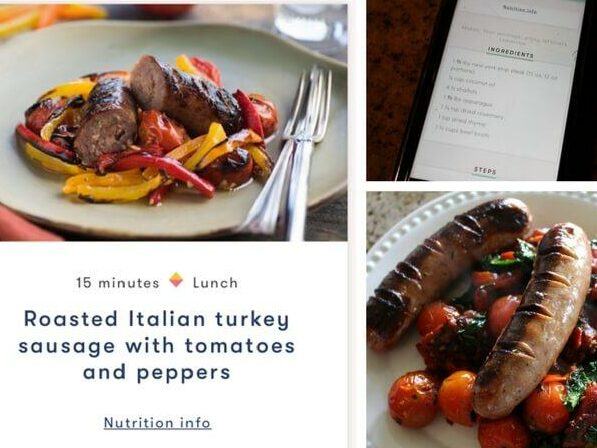 Meal #4: Strip Steak with Caramelized shallots and Asparagus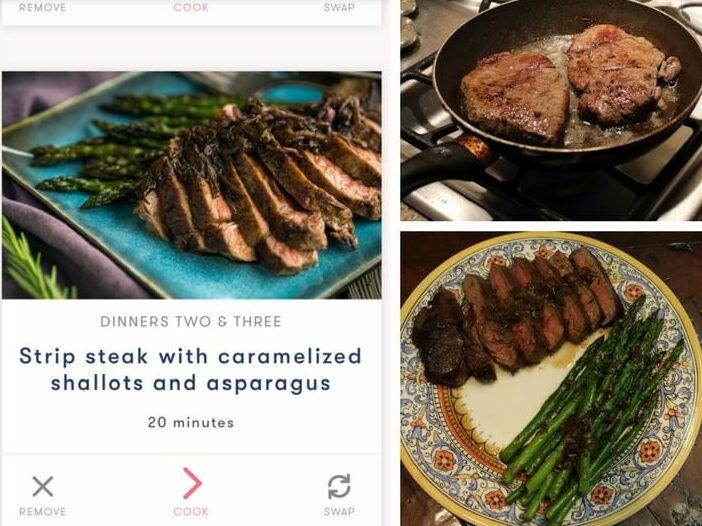 There's also a "personal chef" feature within the app where you can supposedly ask questions, but I didn't test this out.
Canceling Platejoy
When you sign up for Platejoy you get a whole 10 free day trial. Canceling before the first billing date was easy. In fact, they even sent me a courtesy email to remind me that my billing date was coming up. This is a whole lot more than most companies will do.
Personally, I think a lot of "free trial" services rely on you forgetting about billing to land that first payment. Even though Platejoy is a service that I would seriously consider using for longer than a trial period (for my personal cooking, not just business), I have a lot of other meal kit services that I want to try out for the blog so I canceled for now.
However, they are #1 on my list to revisit as soon as I have some free time to cook outside of the scope of this blog!
Comparing Platejoy To Other Meal Kit Services
What Platejoy offers compared to other meal kit services is simply one of a kind. This is going to fit perfectly with many people from both camps in the "meal delivery" service industry.
Platejoy offers you the versatility of ordering whatever groceries you want through Instacart, so you can get items at local prices. You can also shop in bulk if that's an option near you (Costco was on my list), which means you can do your entire weekly shopping online if need be.
At the same time, you get the convenience of meal kit delivery services that create recipes for you. Instead of spending a couple hours every month organizing and scheduling recipes, you can just flip through the app and pick what looks tasty. Just check out some of the amazing selections from the keto recipes for one week.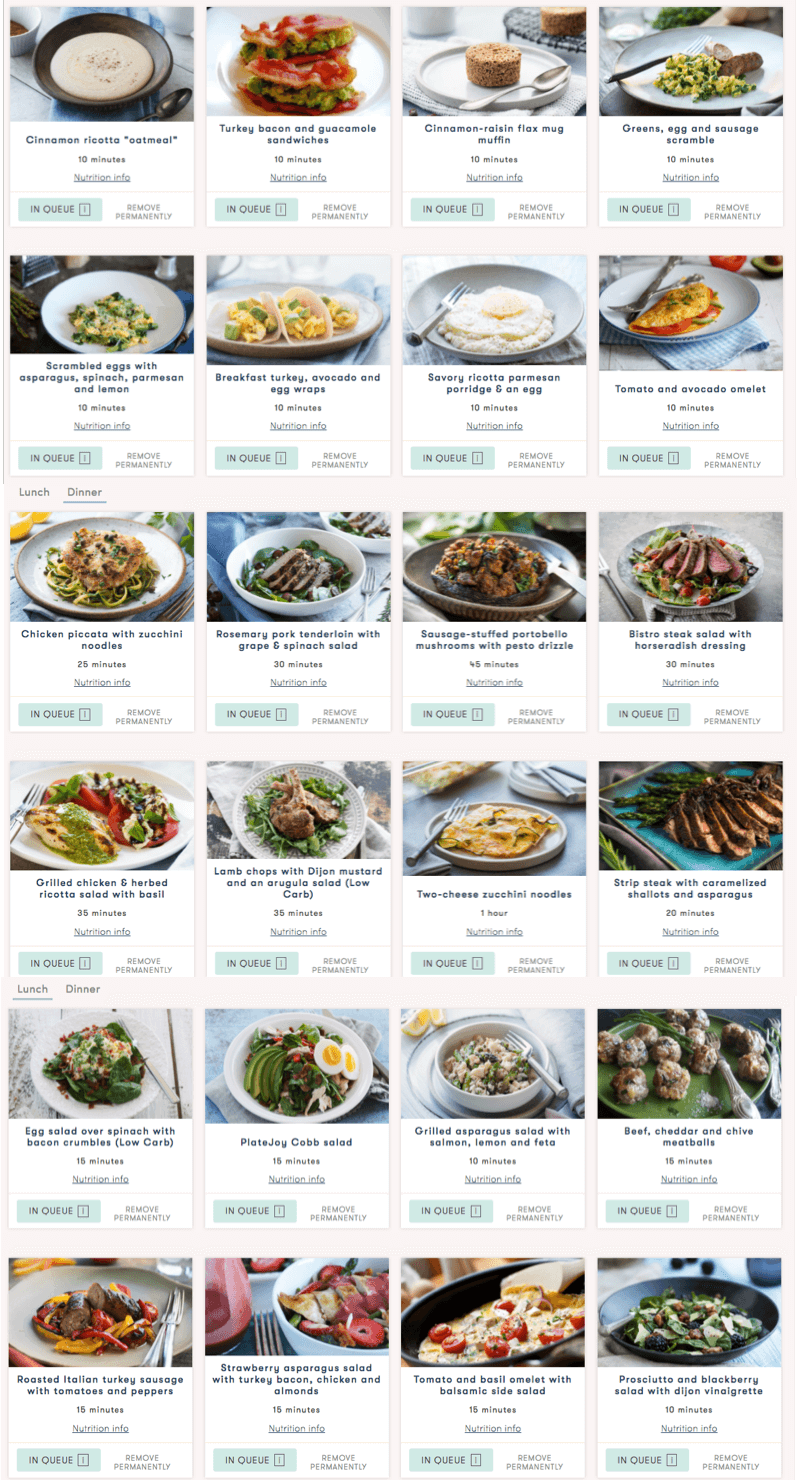 All you do is load up the recipes to the app, pick out your groceries, and breakfast/lunch/dinner rolls around, everything is pretty much organized.
In other words, you get the cheapness of doing your own food shopping, plus the convenience of having someone prep recipes and groceries for the week.
Usually I try to be pretty objective for these reviews on Food For Net, but I'm pretty excited about Platejoy and what they offer. As far as I know, no other company is offering a service like this yet.
That being said, I had no idea this is what Platejoy offered when I signed up. I thought it was something like Blue Apron meal kits where they send you a box with the recipe cards and ingredients. If you'd like to stick with a more traditional meal kit service like that, I do have some favorites to recommend.
My overall favorite in terms of flavor and variety was Sun Basket. They had the best meals, hands down. Another one I really liked was Green Chef, and if you like standard American fare without all the crazy diet options Martha Stewart has a meal kit worth trying.