Nut allergies aren't just frustrating, they can also be dangerous. The allergy is also common and can affect adults as well as children. As a result, it's critical to avoid any foods that contain nuts. Meal kit services for nut allergies are one good way to add some variety to your daily cooking routines, but still stay safe and healthy!
These companies provide you with all of the ingredients needed to prepare meals for your family, along with recipes to follow. This style works exceptionally well, as you also get the chance to experiment in the kitchen and perhaps learn some new skills. You could also prepare many of the recipes in the future by simply buying the ingredients yourself.
There are some amazing brands out there like Blue Apron or Sun Basket. However, most don't cater towards nut allergies, so you still run some risk of not being able to eat a meal, or accidentally consuming something you shouldn't.
The meal kits in this list are all good places to start your nut-free culinary adventure. Just be aware that most of them don't use allergen-free facilities. This means that there is still some risk of cross-contamination. While the risk is low, anyone with a life-threatening nut allergy should focus only on companies with certified nut free facilities.
Got a dairy allergy as well? Check out our dairy-free meal kits.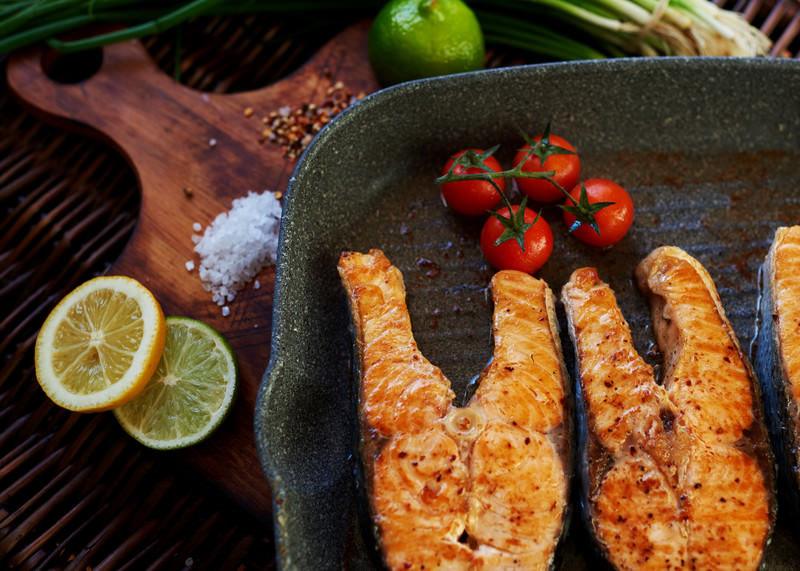 Meal Kits For Nut Allergies
Home Chef
Hello Fresh
Terra's Kitchen
One Potato
Gobble
Hungry Root
Daily Harvest
Platejoy
Home Chef

If you want plenty of variety and the ability to select your own meals, Home Chef is a good service to consider. It follows the standard meal kit style, where you are choosing meals from a rotating menu each week. In this case, there are around 15 different meals to choose from. That's more variety than most other services.
The meals cost $9.95 per serving. Most weeks have at least 1 exception to that rule, like a Steakhouse Filet with Herb Butter, which cost $19.95 per serving. I've tried the service myself and can confirm that the dinners do taste as good as they look.
When it comes to allergens, like nuts, there is no specific menu to choose. The company does give you a questionnaire about dietary preferences, but they are just asking which ingredients you want to avoid. It's not clear what this looks like in practice.
Thankfully, you do have the ability to choose your meals (for up to 5 weeks in advance). Individual meals are labeled with any allergens they contain. This makes it easy to only select the meals that will work for you.
Hello Fresh


Hello Fresh is one of the big names in the meal kit field. They offer 3 different plans to choose from: The Classic Plan can serve 2 or 4 people, providing 2, 3 or 4 recipes each week. The Family Plan serves 4 people, with 2 or 3 recipes per week and the Veggie Plan serves 2 or 4 people, with 3 recipes each week.
The prices range from $6.99 per serving to $9.99 per serving (plus shipping), depending on which plan you choose. Each of the plans has a separate menu that you can choose recipes from. The Classic Plan has the most variety, often offering around 15 distinct recipes. It was also the plan I used when trying out the company.
There are no allergen-friendly or nut free meal plans for Hello Fresh. Instead, the company uses tags to highlight whether meals are nut free. If you're on the ClassicPlan, there are plenty of nut free options available. The other plans have fewer recipes per week. Even so, you should be able to find some nut free meals.
Hello Fresh mentions that most of their ingredients remain sealed in their packages as they progress through the Hello Fresh facility. This helps to lower any risk of contamination.
Terra's Kitchen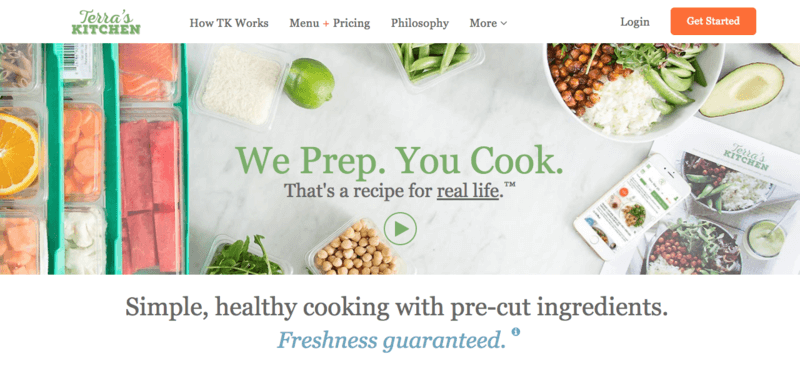 Meal kit companies often follow the same general styles. Terra's Kitchen does too, but there are some distinct differences that make it stand out. The first is the eco friendly nature. Terra's Kitchen avoids many common packaging challenges by using are usable storage container for the ingredients. When I ordered from the service, the container was fairly beat up, but still did its job perfectly.
Another unusual aspect is the recipes. Most companies use a rotating menu, where you have new recipes to choose from each week. Terra's Kitchen does change some recipes over time, but their menu is larger and more static than other companies. You simply choose which meals you want each week. The recipes are priced individually. You can even see the recipe, nutritional information and other details before ordering.
The idea is perfect for anyone with allergies, as there will always be some meals that you can eat. Terra's Kitchen also allows you to filter recipes by eating style, cooking time, ingredients and allergens. This makes it easy to find recipes that fit all of your needs.
One Potato

Unlike many other meal kit companies, One Potato was developed with kids and families in mind. Because of this, the various meals are all designed for the palates of whole families and can be prepared in 30 minutes or less. You'll often find that your kids can get involved in the meal prep process as well.
There are 5 different plans to choose from. These all provide 2 or 3 meals per week. The difference is simply how many people they serve. The prices range from $7.32 to $12.95 per serving. The main difference between plans is simply the number of servings that each plan provides.
This company has a greater nut free focus than many others. You're able to select any diet restrictions as part of the signup process and ensure that none of your meals contain nuts. Once again, One Potato does process nuts at their facility, so some cross-contamination might occur.
Gobble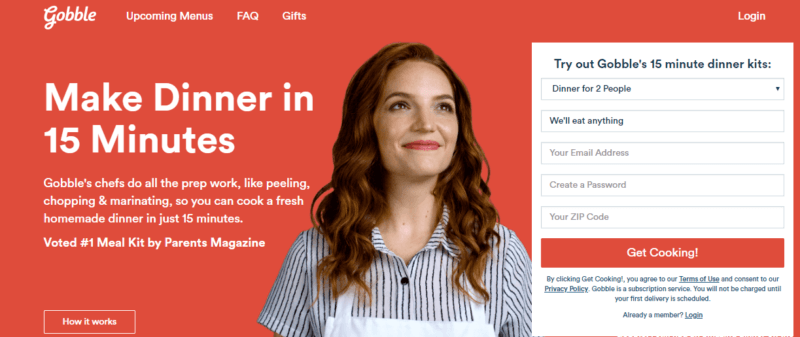 Gobble isn't the most creative meal kit service out there, but the company excels when it comes to speed of preparation. Meals from Gobble can normally be prepared in 15 minutes, often just using a single pan. This is possible because the company does some of the prep work for you, like marinating and chopping ingredients.
I've also tried out the company myself. While the meals on offer aren't as creative as from other meal kit services, they are easy to prepare and do taste good.
Gobble doesn't have a specific nut free plan. They don't even guarantee that there will be nut free meals each week. However, any allergens present (including nuts) are clearly labeled. This makes it easy to avoid nuts and pick the meals that work best for you. For that matter, nuts aren't a common inclusion in the recipes from Gobble, so you should have a decent amount of meals to choose between.
Hungry Root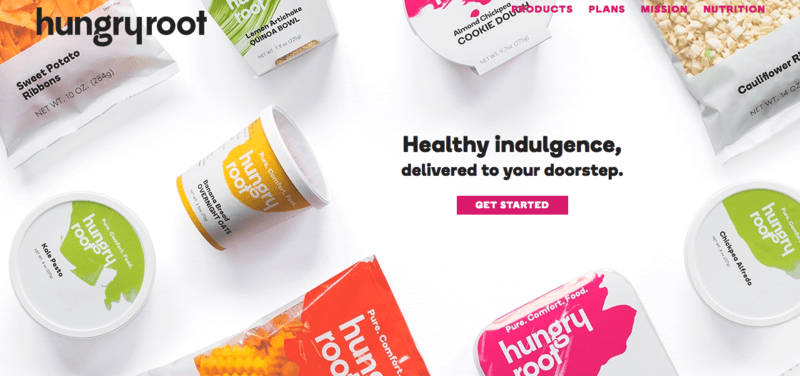 You won't see the typical meals with Hungry Root ingredients. The company focuses on packages of ingredients that have already been partially prepared, such as zucchini noodles, kale pesto and similar items. You often just end up with 3 packets to combine and heat, typically a bag of vegetables, a packet of sauce and a plant-based protein.
The style isn't a bad thing. It provides you with meals that are extremely healthy, which also require barely any work on your part. The dishes also receive positive reviews, you know that they will taste good.
The site for Hungry Root gives you the ability to filter meals by various parameters, including whether or not they contain nuts. This makes it easy to pick the meals you want. Hungry Root also uses a relatively static menu. A menu like that means less variety, but does allow you to find favorites that you can order time and time again.
Daily Harvest


If you're looking for something different, what about Daily Harvest? Instead of providing recipes and ingredients for meals, the company offers a selection of superfood-based cups. These come frozen. When you're ready to eat, you just add in a suitable liquid base, then blend, heat or soak, depending on what you'reworking with.
The approach isn't as odd as it sounds, as the types of dishes are also unusual and interesting. You are able to choose between smoothies, harvest bowls, oat bowls, chia bowls, soups and lattes. Each style has multiple flavors to offer, like a Cacao + Avocado Smoothie or a Kale + Lemongrass Harvest Bowl.
While Daily Harvest doesn't have a nut free plan, you can simply select recipes that don't include nuts. There is even a filter on the menu that shows you precisely which recipes don't contain nuts. Just be aware that DailyHarvest doesn't have a nut free facility. There will always be some risk of contamination, making Daily Harvest best avoided if you have a life-threatening nut allergy.
Platejoy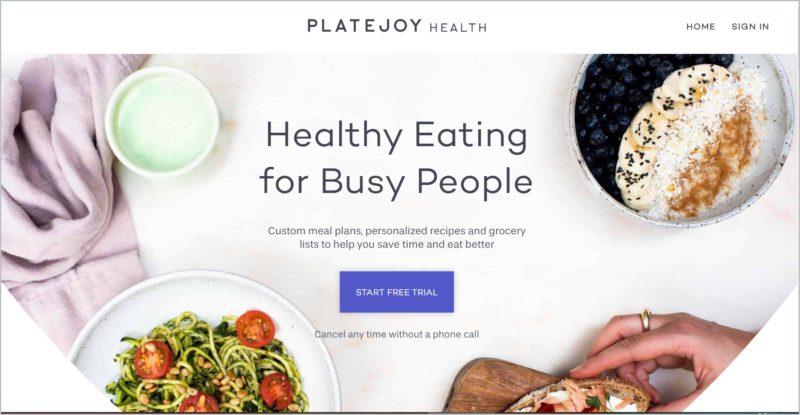 Platejoy can be summarized as a meal planning service. It provides you with the recipes that you need to make meals, along with a shopping list and an overall meal plan. The difference is that you're not getting a box of prepped ingredients each week. There is the option of getting ingredients delivered through Instacart, which is what I did when I tried out the service for myself. Even then, the approach isn't quite the same as a meal kit.
Flexibility is the biggest advantage that Platejoy has to offer. Because Platejoy isn't providing the ingredients, they're able to offer many more recipes and increased ability to customize. Platejoy even uses an algorithm with 50 data points to create meal plans. You're then able to customize the meal plan as you need to, which includes adding in favorite recipes of your own.
The style is immensely powerful, especially for people with nut allergies. With a regular meal kit company, you have little control over the individual ingredients. While many companies do provide nut free meals, there is normally some risk of cross-contamination. With Platejoy, you get to choose the specific ingredients yourself. You can focus on reliable brands, particularly those with nut free facilities.