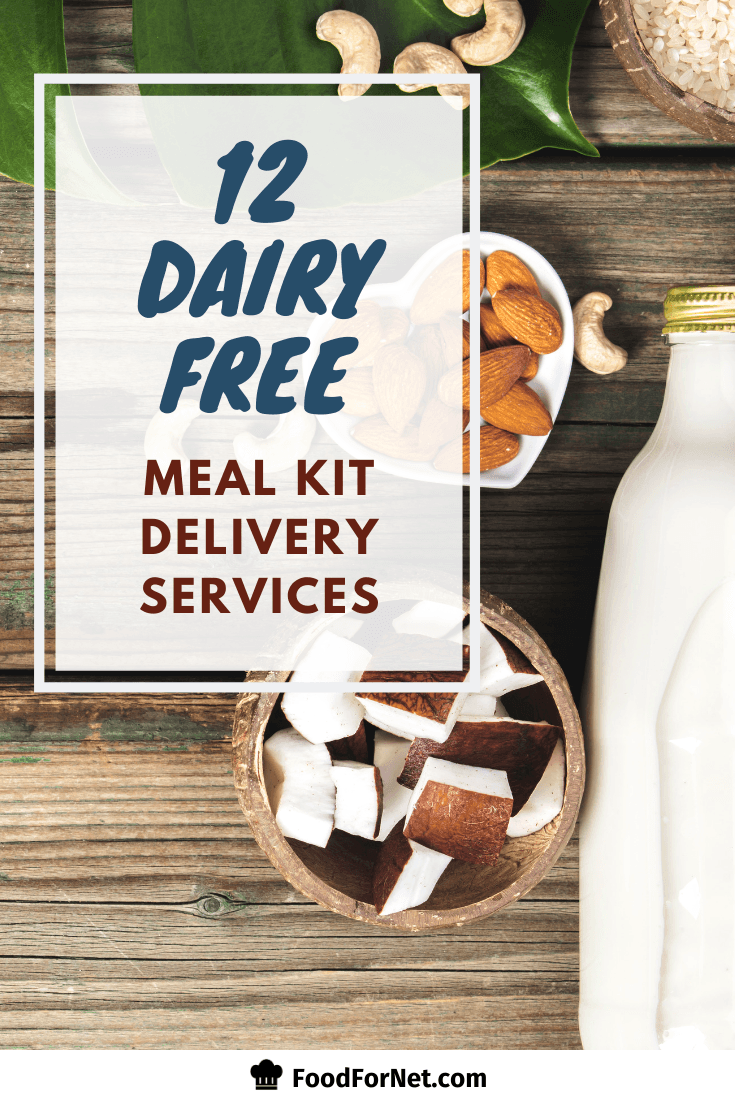 Even if you love cooking, preparing delicious dairy free meals can be a real chore sometimes – especially if you have a family or a busy work schedule. Buying, washing, cutting, cooking, and cleaning can take an hour or more per day. On top of that, you'll hope that whatever you make turns out as good as it looks on Pinterest.
Dairy free meal kits make the hustle of modern life a little less busy, by delivering fresh ingredients to your doorstep. There are many types of meal kits out there, including keto and gluten free, but today I found as many dairy free versions as I could find. Sometimes, it's not obvious from the home page of these services that they actually offer a dairy free option!
Of the options below, my #1 favorite is Sunbasket. They have two dairy free options: Paleo and "Lean & Clean". The lean meal kits have lean meats and is aimed at weight loss. I prefer paleo, because I'm not afraid of healthy fats!
Meal kit services let you become a pro chef in your kitchen with the help of prepped ingredients and easy-to-follow recipe cards. Though there seem to be fewer meal kit services with a large selection of dairy free options, many meal kit services have at least some meals to choose from each week. Plus, some will have customization options, such as requests to not include certain foods, or to select your specific meals each week.
Here are eight meal kit services that offer a selection of dairy free dishes. You might also find some crossover with our paleo list. Plus, here are a bunch of dairy free prepared meals you can have delivered to your home (no cooking necessary).
This cuts down on kitchen time even more! They would definitely be worth checking out, and at least trying for a week or two if this type of service interests you. Remember that you don't have to cook meals from scratch every night of the week, lol. You can take the night off a few days a week and give yourself more time for hobbies, work, and family.
Dairy Free Meal Kits
Sunbasket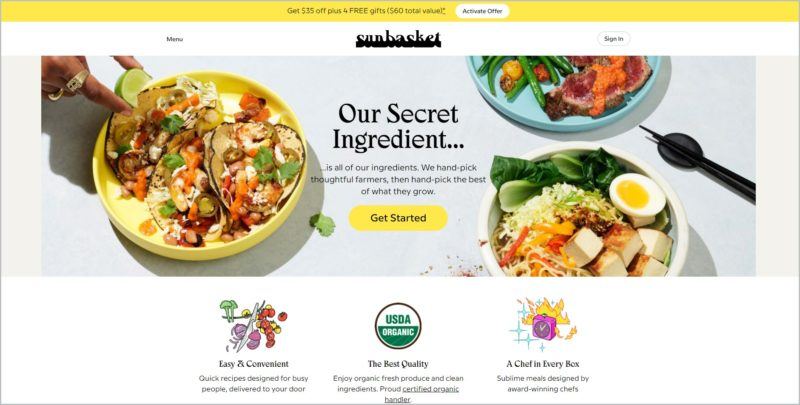 Located in San Francisco, Sunbasket is a meal kit delivery service that offers easy-to-prepare, healthy, organic, and sustainable ingredients. The service provides a range of different meal plans you can choose, including some that are focused on weight loss. Some of these are also dairy-free, particularly the paleo meal plan and the Lean & Clean option. There is also a vegan plan.
These various Sunbasket plans ($45 off link) all work well and offer various recipes for you to choose from. This gives you plenty of flexibility and the ability to decide based on your own preferences.
Some of the examples of their paleo-based dairy-free options include the Korean Rice Cakes with Ground Pork, Shiitake Mushrooms served with Black-eyed Pea Tostadas with Togarashi Cabbage and Watercress Salad. Please check out my full review of the service to learn more about what you can expect and what the meals actually taste like.
You get your meals delivered to your doorstep packed in a cooler filled with dry ice. Sunbasket's home delivery price per serving is $11.99, and the Family meal is $9.99 per serving. You must order at least three meals on the minimum from the meal kit service.
Sunbasket provides a wide range of options to suit people with different food preferences. They do not cover all the states in the U.S. because they strive to make sure they deliver only the freshest of ingredients.
If they feel that a particular state is too far from their facility, they do not ship to such locations. Also, it's one of the many companies that give back to the community, and they donate any leftover food to local food banks.
HelloFresh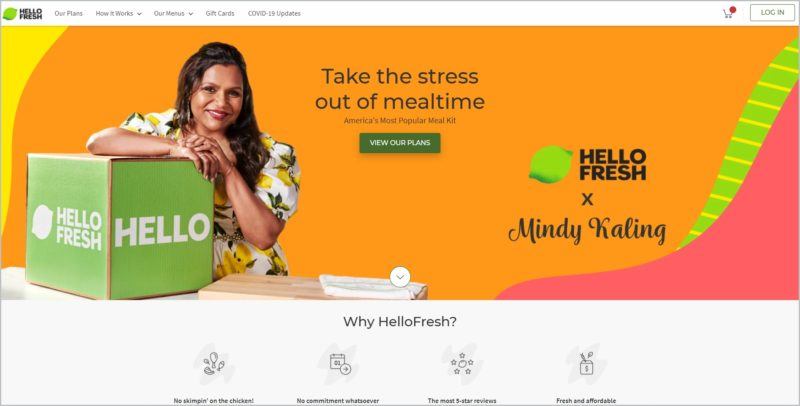 HelloFresh is another meal kit delivery service offering easy-to-prepare delicious meals. As the name suggests, the focus is on fresh food, including seasonal ingredients. This is perfect for people who can't get to farmer's markets or who don't have much time.
There is no pre-set number of deliveries you can make with this service, and you can cancel your subscription any time you like. You only need to give a few days' notice.
Your meal box arrives at a date of your choice with the ingredients packed according to use. The kit comes with a placard containing meal preparation instructions and photos of what the end product should look like.
HelloFresh offers some dairy free options, and they have a page on their website listing dairy replacements for all their recipes. You can have a look at the page to figure out how to work in dairy-free options to your meals. This approach is actually appealing, as it gives you many more options for which meals you can choose.
They have an app for both iOS and Android which makes it easier to place orders and contact them. If you have shipping issues or issues with your recipe, the app is a great help.
HelloFresh offers three weekly plans. The Classic option goes for $9.99 per serving. It contains the most extensive varieties of meats, seasonal produce, and seafood. You can order for two and four people. Another good option for non-dairy products is the Veggie plan. It also goes for $9.99 per serving and serves either two, three or four people.
Green Chef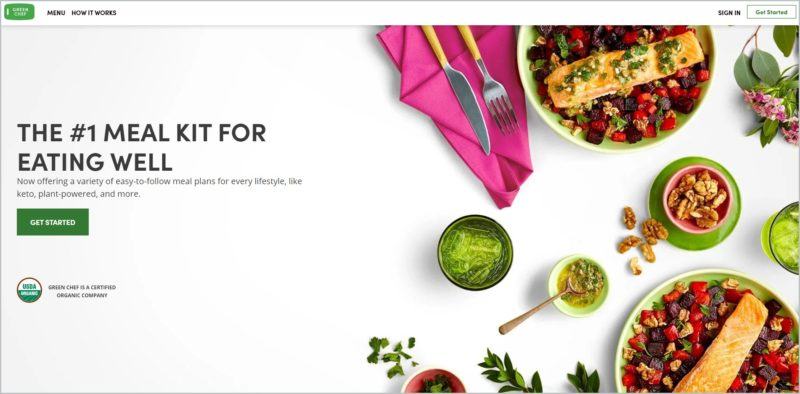 Since 2014, Green Chef has delivered organic prepped ingredients across the US except for Washington, Alaska, and Hawaii. They were the first USDA certified natural food delivery service, with 95% of their meals incorporating organic ingredients. You can access weekly menus online, which makes it easy to change things around and try different foods. They are the most expensive meal service in the US. Even so, the price may be worth it if you want organic ingredients.
Green Chef has a paleo plan that offers fulfilling meals for anyone following the dairy free lifestyle. The meals do not contain any dairy products or gluten. This is slightly odd, as you can have dairy on keto. But, the plan is perfect if you've been interested in a keto diet but need to avoid dairy as well. You can also try out the paleo plan, which doesn't include dairy either.
Green Chef will deliver to your doorstep when you want it. The meal kit service is flexible too and you can place your order any day and also get it shipped to you on any day.
You do not have to make any commitments to their service: therefore, you can skip weeks as you please. It takes about 30 minutes to create your meal since all of the ingredients are pre-prepped and pre-measured. Their meals come with ready-to-eat sauces and cost you an average of $14.99 per plate for two people.
This is another service that I've tried out myself as well. You can check out my full review to see details about my experiences – including what I liked and what I hated about the company.
Marley Spoon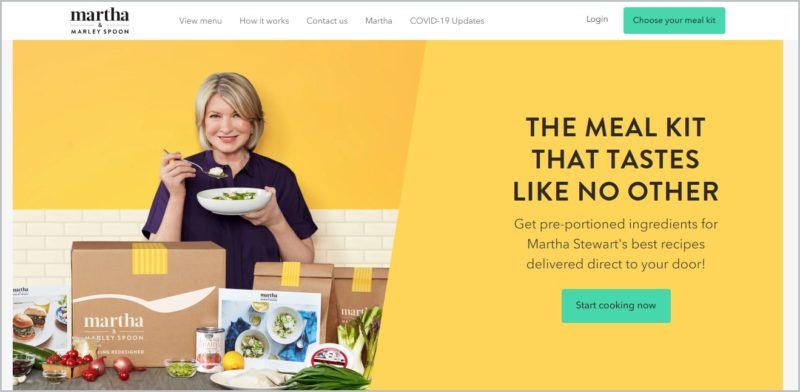 Marley Spoon is a dinner-only meal kit service that is available in a number of different countries including the United States. In the United States, the service is sometimes called Martha & Marley Spoon, because Martha Stewart plays a role in the company and in designing the recipes you receive.
The ingredients used aren't organic but there is a strong emphasis on freshness and quality. This includes choosing healthy protein sources, like grass-fed beef and antibiotic-free chicken. As with all companies, the precise ingredients used are likely to vary depending on what is available.
Marley Spoon offers two different plans that you can order from. The first is for two people. You can either order two meals (for $48.00), three meals (for $61.50), or four (for $76.00). The ingredients are delivered at once, so you get to choose what nights you want to eat on. The plan can actually work for people living alone too, as you could eat the leftovers the following day.
The other plan is for a family, typically three to four people. This one costs $76.00 for two meals, $106.80 for three meals, and $139.20 for four meals.
Regardless of the plan, you get to choose the individual meals each week. These are based on the current menu and there are often around ten meals to select from. The meals are tagged with different criteria, such as gluten-free, vegetarian, dairy-free, customer favorite, and healthy. Full details about each are available on the site, including the cooking instructions.
But, if you're strictly dairy-free, the selection may be too limited. Of the ten meals on the site at the time of writing, only four were dairy-free. That's not many, especially if you want three or four meals each week.
Gobble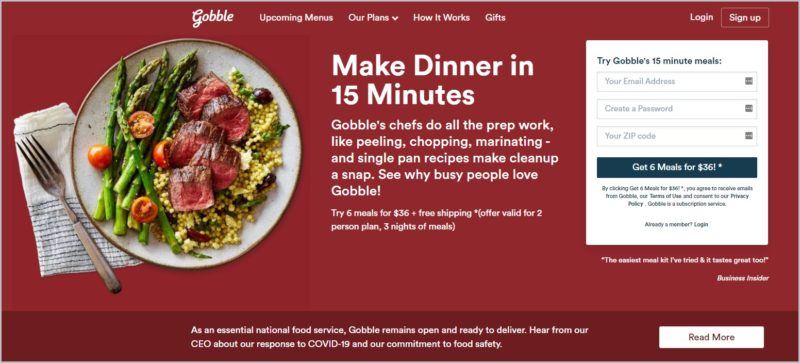 The overall approach Gobble takes is similar to many other companies. But, the service also has some unusual features. The site boasts that you can prepare all of the meals in just a single pan, within 15 minutes or less. That's completely true. I noticed that when cooking the meals for my Gobble review.
To do this, Gobble provides more prepared ingredients than other services. For example, many of the recipes come with sauce packets that you simply open and add in. Rice and noodles tend to be pre-cooked as well.
Whether this is good or not depends on your preferences. Personally, I didn't like the style. I prefer spending more time actually making sauces. But, the meals tasted good for 15 minutes of work. If you're very busy or don't like cooking, Gobble might be the perfect choice.
As for the dairy free aspect, there is no dairy free menu or anything like that. Instead, Gobble allows you to choose your meals weekly. Some of these will be dairy free and all allergens are clearly labeled. As the company points out, you can also just exclude any dairy containing ingredients, although that isn't ideal.
Because Gobble doesn't focus on dairy free, they don't offer any guarantees about how many dairy free meals they will have. It's likely that there will be at least one or two every week but there is no way to be certain.
As for ordering, Gobble offers two plans, one for two people and the other for four people. In each case, you get three full meals per week. The meals average between $11.95 and $13.95 per serving, which is similar to other companies. You can also add servings and other items if you want to.
PlateJoy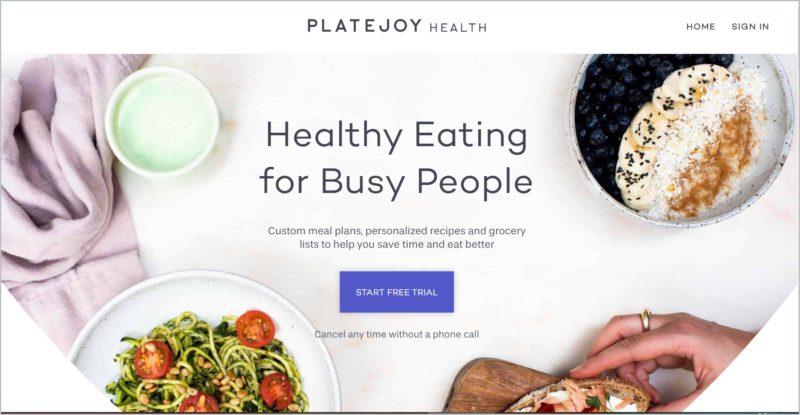 PlateJoy isn't a meal kit service in the traditional sense of the word. Instead, it is best defined as a meal planning service (you can check out my full review here). The idea is that PlateJoy will help you to figure out your meals, find new inspiration and get the ingredients that you need effectively.
With PlateJoy, you get a customized meal plan, in this case, a Paleo-based one, which of course means dairy free. The difference is that you don't get ingredients shipped out to you. Instead, you're provided with a grocery list that you can follow yourself. PlateJoy also pairs with Instacart and you can get your ingredients delivered that way.
So, why bother? Well, PlateJoy is pretty cheap for what you get. You're often paying around $8 or $9 a month for the meal planning service, which is pretty amazing. Instacart is an additional cost but the delivery fees aren't too bad, even if you plan to get groceries delivered from them each week.
The biggest advantage is flexibility. PlateJoy is able to cater for many more diet types than a traditional meal kit service ever could. This includes plans for slow cooker meals, batch cooking and much more. There are also various diet types in the list, which includes dairy free diets. You even get to choose other areas, like which types of milk you use and what equipment you have in the home.
The end result is a service that is much more flexible and is very easy to use. It's not quite as convenient as a full meal kit company, especially if you end up shopping for the ingredients yourself. Still, for some families, the balance may be perfect.
Home Chef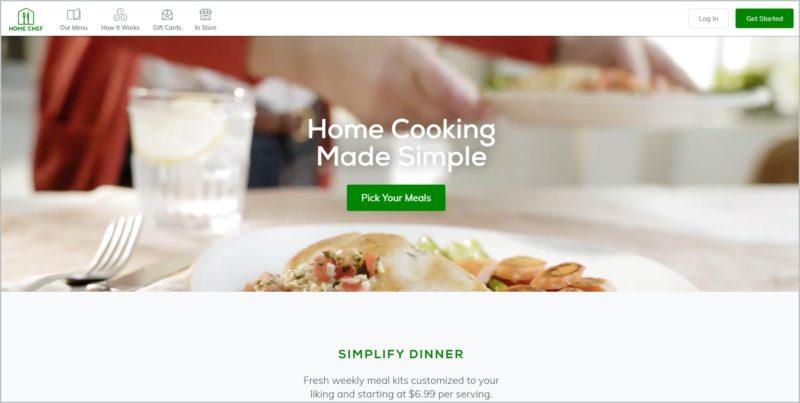 Home Chef is a relatively new entry into the meal kit delivery field and it does have some great advantages. When I tried it myself, I was impressed with the variety of food and how easy the meals were to prepare. There is also a good combination of conventional meals and more unusual recipes.
The weekly menu is always available on the site, along with all the preparation instructions. This lets you see exactly what you're getting before you sign up. Meals cost $9.95 per serving, although there is a $45 minimum weekly order.
A key aspect of Home Chef is your Taste Profile. This allows you to specify food preferences, along with any allergens. The company states that they will avoid those ingredients in your meals. However, doing so will limit the number of potential meals.
There is also the risk of cross-contamination. Home Chef mentions that their facilities do use dairy and other allergens. They also avoid using terms like dairy free or gluten-free on their site. This could be a problem for anyone highly sensitive to dairy.
At a personal level, Home Chef isn't my first choice. I'm particularly fond of unusual flavors and meals. Home Chef did have decent variety but I have seen better options out there. Still, this is a personal preference. I imagine that many people would love the meals that Home Chef has to offer.
Purple Carrot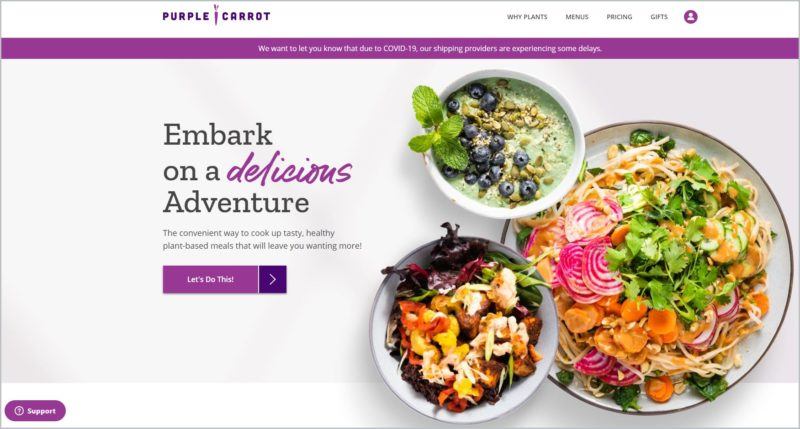 Purple Carrot is a food delivery service that enables you to cook plant-based meals at home and has a strong vegetarian and vegan focus. This aspect means the meals tend to be dairy free, while also being a powerful source of nutrients.
The company also has a strong focus on making sure people perform optimally, even on a vegan diet. As a result, the meals are often more protein-based and nutrient-dense than other vegan recipes. The meals are also gluten free, with limited sugar and soy content. They also avoid processed ingredients. With Purple Carrot, you get food that is good for you and good for the planet!
Purple Carrot ships the ingredients with easy-to-follow steps showing you how to make the meals. These are suitable even if you're a complete beginner in the kitchen. Signing up at Purple Carrot is a quick process. They just have three plans, so you select which one you prefer.
The downside of this is that you do not get as many choices as you would from other meal services. On the upside, the quality of their ingredients is what you would get from the farmer's market.
The meal kit service offers a two-person plan that serves three different meals per week at $72. For $80, you can order two meals for four which is better value compared to the two-person plan.
Their third option, which is also their newest, is a high-performance plan. For $78 per week, two people can get three high-performance meals. Few other prepped ingredients services offer plant-based meals for people with very active lifestyles.
Hungryroot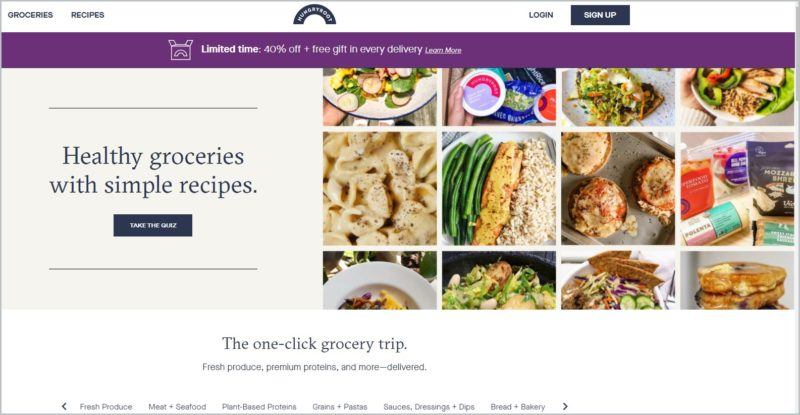 Hungryroot is not exactly a 'meal kit service,' it's more of a personalized grocery service that helps you eat healthy easily by bringing the ingredients and the accompanying recipes to your doorsteps. By answering a series of questions, they will learn more about your specific health goals, how many people you are feeding, and any dietary needs you may have – dairy-free, soy-free, vegan, vegetarian, pescatarian, gluten-free, tree nut-free, peanut-free, egg-free, or shellfish-free.
They have a team of food sourcing and personalization experts that works to ensure you're getting the most nutritious options available. They make sure that all the food they carry is free of partially hydrogenated oils, high-fructose corn syrup, artificial sweeteners, artificial preservatives, and artificial colors.
They will then create a grocery plan and fill your cart with suggested groceries along with chef-designed recipes that fit your needs. You can of course take their suggestions or choose from over 100 top-rated products.
The meal plan size will vary depending on how many breakfast, lunches, dinners, snacks, and sweets you want them to cover for the week. The most basic meal plan starts at $59.94 that includes three, 2-serving meals. If you have a family to feed, the 4-serving recipes for plan will be perfect. They have a very flexible plan, too – you can skip, pause, or cancel your next delivery.
If you don't have a lot of time to spend planning your meal and grocery shopping, Hungryroot is perfect for you. You can leave the planning to them, wait for your deliveries, restock your fridge, and simply enjoy cooking and dining.
There is no delivery fee for plan sizes that are over $70, however, a fee of $6.99 for plan sizes that are less than $70 is charged weekly. Hungryroot's shipping materials are recyclable, the box, food protector, and paper cooler can be recycled with your cardboard and paper materials. The Enviro Ice on the other hand can be used for plant food when diluted in water.