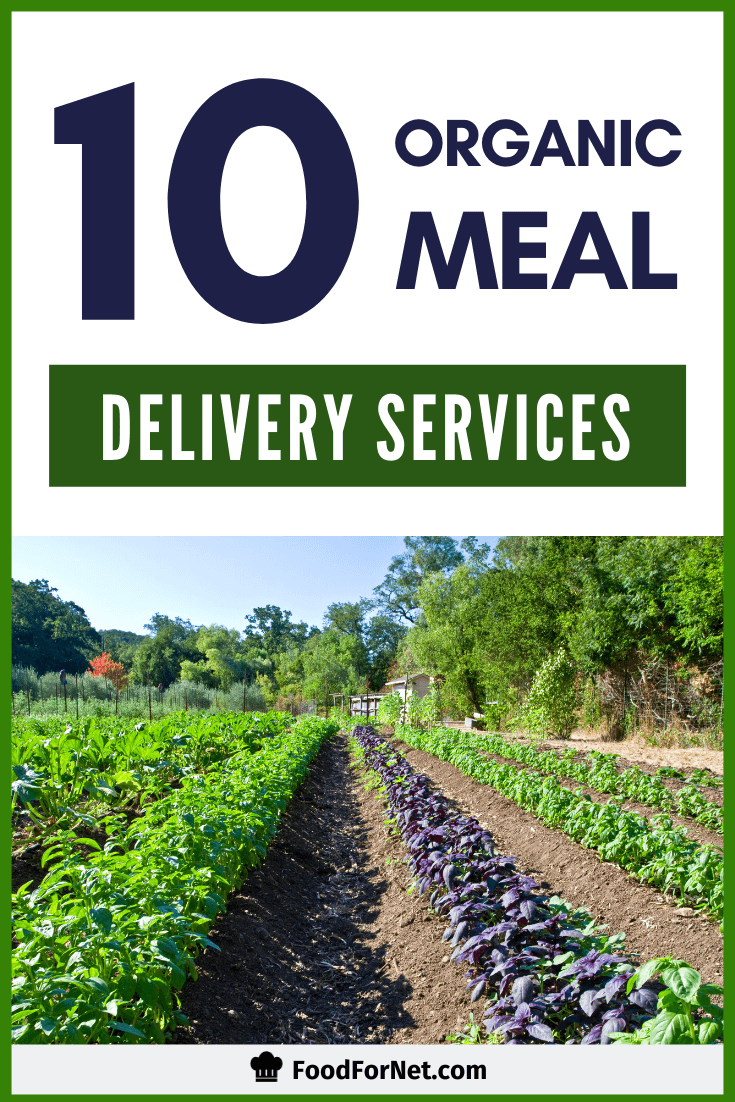 Meal kit services deliver prepped fresh ingredient to your doorstep, and are revolutionizing the way America cooks. Organic meal kits do just that, but with a focus on organic ingredients.
If you like to cook but find that you don't have enough time to do everything else related to the process, then you will love these food delivery services. Everyone wants to eat healthy meals prepared using organic ingredients. However, finding them in the grocery store aisles isn't always easy.
PLUS, you end up paying a premium at the grocery store for organic! That will be the case anywhere, including with these meals, but price-wise, eating organic makes more sense with a meal kit. Sure, if you want to shop the off-brand, mass-produced, Monsanto, GMO foods, then by comparison, meal kit services are quite expensive.
Luckily, there are tons of services to choose from that offer organic ingredients. These are just the ones I could find that made it obvious they organic-focused, but I'm sure there's more. Want to add some to the list? Leave a comment below and we'll check them out.
From the options below, my top choice is definitely Sunbasket. They have TONS of options for specialty diets, but mostly I was interested in the actual flavor of the meals. I just really enjoyed the variety, and the meals were fun to cook too!
There's a wide variety of styles of meals and options for delivery between these companies. Some send you a set meal plan, while others allow you to choose. Price varies too. This list will update over time as we find more services and complete individual reviews.
Organic Meal Kits
There's one more thing to mention before we get started. These companies all focus on organic but most will have some non-organic ingredients. The main reason is organic certification doesn't exist for every type of ingredient out there.
Many companies also find that consistently sourcing organic ingredients isn't practical. So, they try to strike the best balance that they can. Thankfully, the companies are generally open about their limitations and offer details about how strongly they emphasize organic foods.
Green Chef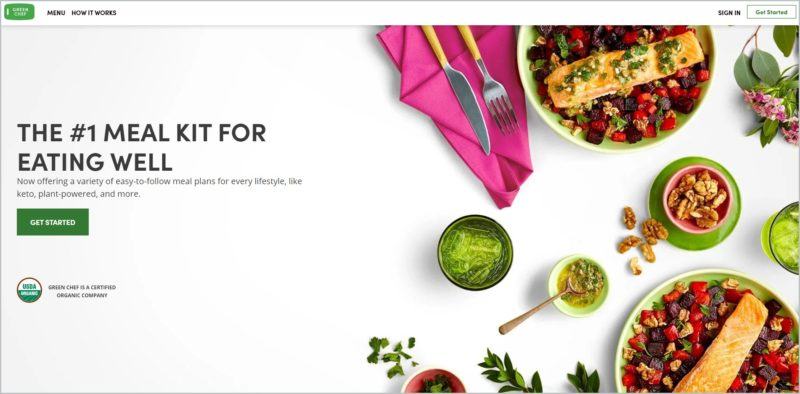 Green Chef has a strong focus on organic meals and ingredients, along with sustainability. It is one of the few companies that try to be entirely organic. Many others choose organic ingredients first but will go with non-organic if organic is impractical or too expensive.
They operate through a weekly meal kit subscription service, and ship to all of the continental U.S. except for some parts of Louisiana. The company is one that I've tried myself and you can read my full review for more details. While the company isn't my favorite out there and does have some limitations, it is still very appealing, especially as an organic option.
There are also many options for customization. For example, their two-person plans can fall into one of seven menus: Omnivore, Carnivore, Gluten-Free, Vegan, Vegetarian, Paleo and Keto. These start at $10.49 per meal, although the exact price depends on the plan chosen. There is also a four-person plan that offers Omnivore and Carnivore meals.
This one starts at $11.99 per meal. Regardless of the plan you choose, you can deselect meals that you don't want. This helps make sure you get meals that you actually want. There is also an exhaustive ingredients list provided with each recipe, along with labels that highlight any possible allergens.
You can choose an appropriate day for delivery, from Wednesday to Friday. You can also cancel your subscription any time or skip any week if you don't like the meal selections.
Even though it is a little pricey, 'Green Chef' lives up to its name. One of the nuisances of food delivery services is the packaging. Not only does Green Chef use green packaging, but they also have a page on their website dedicated to recycling and re-use of their packaging material. That is the best thing about them outside of their fresh and easy to prepare meals. It almost makes up for the high meal prices and extra shipping charges of $9.99.
Sunbasket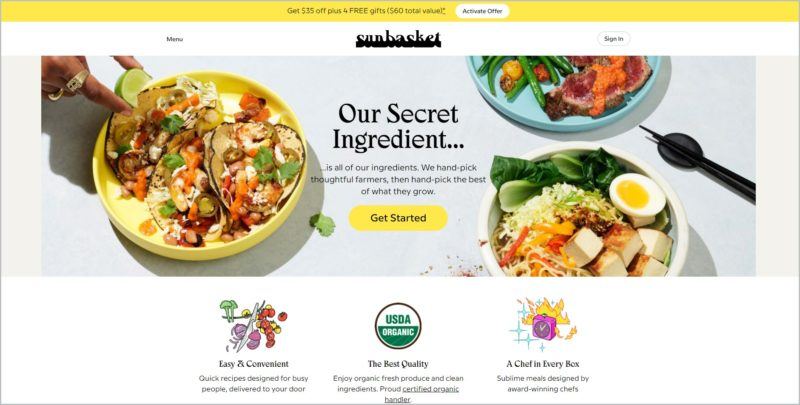 Sunbasket is another weekly subscription program with an organic focus. Overall, Sunbasket considers itself to be a partly organic meal kit service. As much as it is possible, they try to include natural ingredients in their recipes. When that is not workable, they source their ingredients responsibly. It means they deliver hormone-free meats and sustainably sourced seafood.
Their meals are usually between 500 and 800 calories per serving. This makes them good for weight loss and for anyone who just wants to stay healthy. They also provide for many dietary preferences. This includes offering gluten-free, paleo and vegetarian meals, along with a range of others. You can also filter meals on the site if you have specific allergies or ingredient preferences.
I've personally tried out this meal kit service and was pleased with most of the meals. You can find more details in my full review but the company is a good choice. It also has an easy-to-use customer service system, which is always a bonus.
Sunbasket offers many ingredients to choose and experiment with. The only downside is that their recipes are not as easy to follow for a new chef. You can, of course, get around this by searching the web for more precise instructions. The kits also come with pre-made sauces and spice mixes that make for unique flavors and taste. These are mostly good, although I did notice that some were less impressive than others. Of course, this will always happen to some degree, as everyone varies in their taste preferences.
The company is not as expansive as some others and currently serves more than 45 states within the U.S. At present, they do not deliver to Hawaii, Alaska, New Mexico or Montana. They also just deliver on Monday through to Wednesdays, based on location. However, you're getting the ingredients for a full week at a time, so the small delivery period is not a major problem.
HelloFresh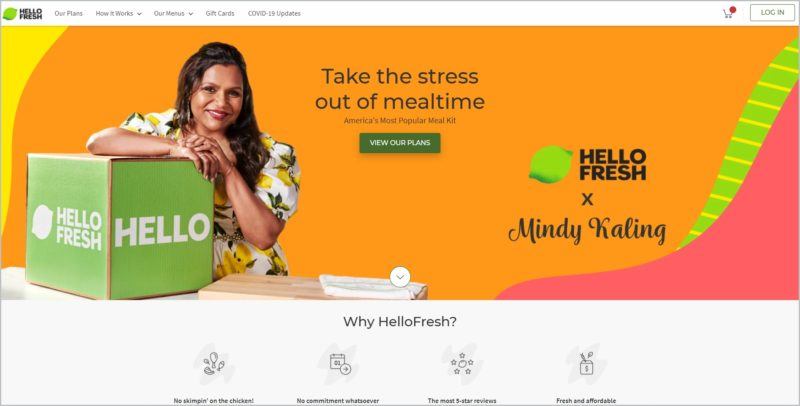 Not surprisingly, HelloFresh has a strong emphasis on fresh and healthy ingredients. Most of their ingredients are also organic. Those that are not; they source from sustainable farms. The meal kit comes with recipe cards including detailed, step-by-step instructions for cooking.
That way, you can explore using different types of foods when cooking. The meals service ships your order in a Styrofoam box with ice packs for refrigeration. They sort their produce by meal-type and group them in color-coded bags for clarity.
I've also tried HelloFresh myself, so you can check out my review for more details. I'll admit that it isn't the most amazing company out there and there were others that I prefer. But, everyone has different needs and there are many attractive aspects to HelloFresh.
This is also a flexible company and allows you to customize your meal preferences. If for example, you want to eat less than 600 calories or no seafood, all you need to do is, select that option. You also get to leave the options open if you are more interested in trying out new things. Likewise, you can change ingredients or pause delivery at any point, as long as you do it prior to 11:59 pm the day before your scheduled delivery.
You can also choose which day of the week your box is delivered. Finally, there is a mobile app that gives you more flexibility again, allowing you to access your account on-the-go.
You get three different menu choices with HelloFresh: Classic, Vegetarian, and Family. These plans serve between two and four people, depending on what you select. The main difference between them is the specific meals focused on.
You can choose three, four or five weekly meals with your orders. The Veggie and the Classic options cost $9.99 per serving while the family plan goes for $8.74 per serving. They also ship for free to many parts of the continental US. You can even choose the specific recipes you want once you have ordered a plan.
If you want to pause delivery or change your ingredients, you have to do so by 11:59 pm before the scheduled delivery day. It can be an inconvenience, but the food delivery service eases it by offering a mobile app that you can access on-the-go.
Purple Carrot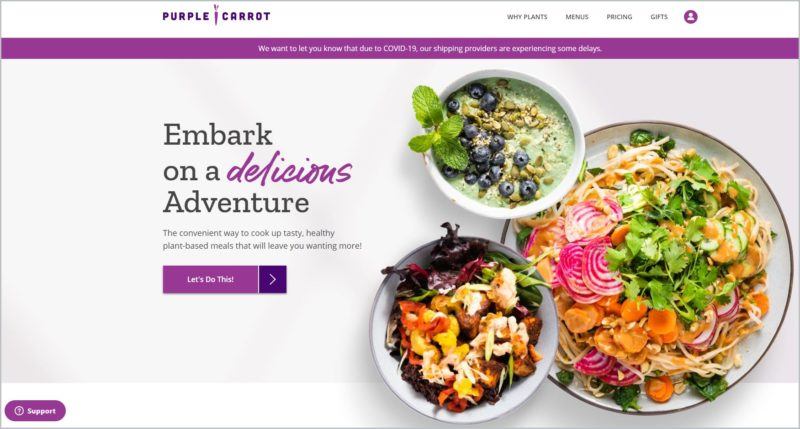 Purple Carrot's Mark Bittman has long been a proponent of ethically sourced, environment-friendly food. The meal kit service borrows from his firm beliefs about how we should eat. Their meals do not include any meat substitutes used by other vegan food delivery services. Instead, there is an emphasis on high-quality and natural meals.
Purple Carrot has three meal plans. They have a plan offering three meals per week $72.00 (serves one or two people) and another offering two meals per week at $80.00 (enough for three to four people).
They also have a high-performance meal plan at $78.00 weekly (serves one to two people) that provides three meals per week as well. The high-performance plan focuses on having a higher-than-normal protein content, which should make the meals more satisfying.
The service offers flexibility as well, and you choose to skip a week or unsubscribe anytime. All the food comes in recyclable packaging, which is appealing if you're concerned about the environment. Each meal arrives in labeled plastic bags with a two-sided recipe card included.
The recipe card describes the meal and provides guidelines on how to prepare it. Pictures on the placard give you an idea of how the end product should look like. Their ingredients are GMO-free and mostly organic, in a similar way to the other options on this list.
By focusing only on plant-based food, Purple Carrot is able to offer more creative vegetarian and vegan meals than many other companies. However, some people find that the recipes are complex and require more work than other companies. This is great if you want to learn new skills in the kitchen. But, it mightn't be so good if you just want fast and easy meals.
Munchery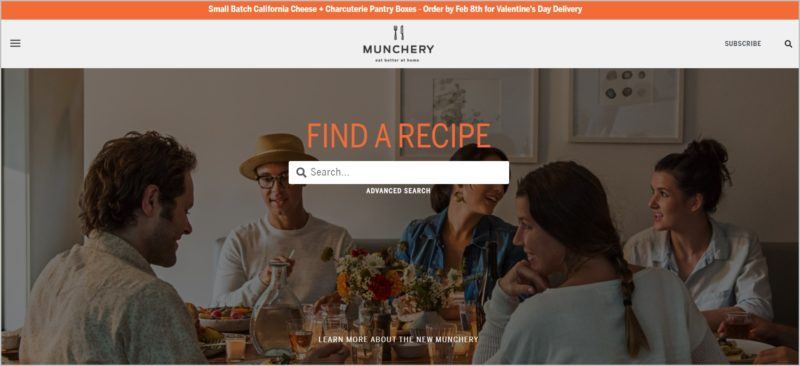 Munchery is unusual in that it offers both chef-crafted prepared meals and meal kits. The company also has a different focus than most of the others on this list. They don't specifically emphasize organic food. Instead, they aim for sustainable and locally-sourced ingredients, ones that often come from local farmers.
These farmers specialize in having organic and seasonal produce. Munchery also relies on antibiotic-free meats and wild-caught fish, whenever possible.
However, these are all areas of emphasis, not guarantees. As such, many of the meals won't be organic. The service doesn't account for dietary requirements either, so it is a poor choice if you want gluten-free meals, for example. Instead, you'd want to turn to another service on this list for those.
More than anything, Munchery is targeted at people with simple needs. For example, it's perfect for people with no food allergies. It also works well if you want seasonal and sustainable ingredients but isn't concerned if every single ingredient is organic. The meals are also fast to prepare, often taking 15 minutes or less to create. Another service that does this is Gobble but they're not focused on organic ingredients.
Another downside is the selection. This has been somewhat limited in the past. You need to become a member to order from this service. In fact, you have to sign up to even see their food options in the first place. Munchery also only serves 15 states. If you live in a state they don't currently service, the site will only show sample meal options rather than providing full details.
There is one main meal kit option from Munchery, which involves ordering three meals each week. This works out to around $11.66 per meal and you get to choose which meals you get.
Blue Apron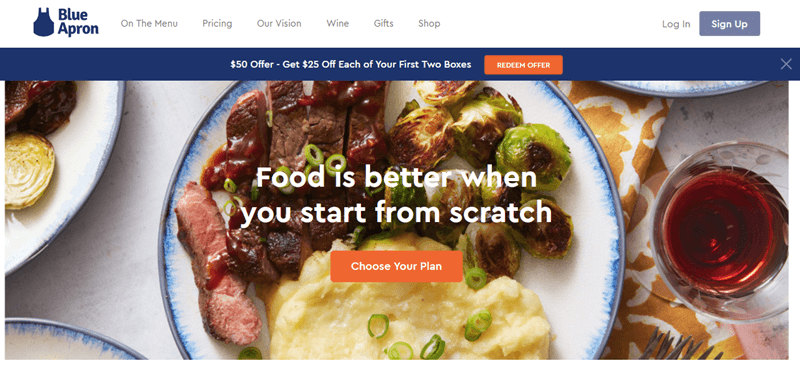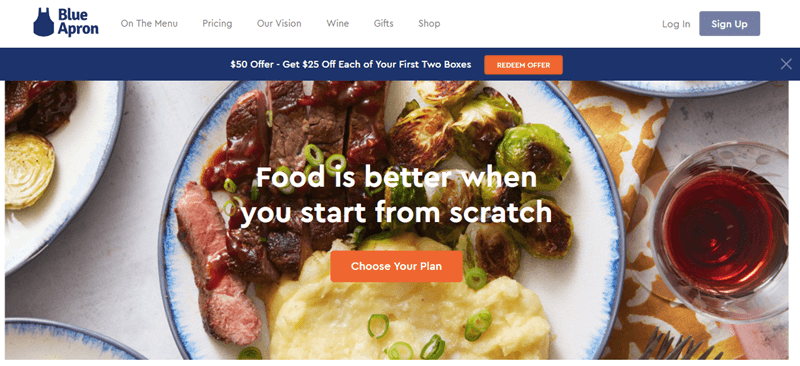 Blue Apron is one of the most well-known meal kit services, mostly because it was one of the first. It is also inexpensive and offers an appealing range of meals. According to their statement here, they work closely with local farmers and do their best to deliver food that's part of a sustainable ecosystem, such as using fish recommended by Seafood Watch.
This style is similar to most other items on this list. This means that all of the ingredients won't be organic but many of them will be.
I actually used the service for several months before starting this website! You can read my full review for more details on the experience. Their meal delivery system is very straightforward, and they offer a good selection of meals each week. Plus, they are one of the only ones to have their wine game on point. Some other services are thinking about adding a wine option but haven't gotten there yet.
The main limitation is that their meals aren't as creative as they could be. That's fine if you're just starting out. But, it can get a little boring when you've been using the service for months. They seem to be working to improve this area, so the meals may get more interesting over time. If nothing else, Blue Apron is a solid choice and the meals are consistently good.
One Potato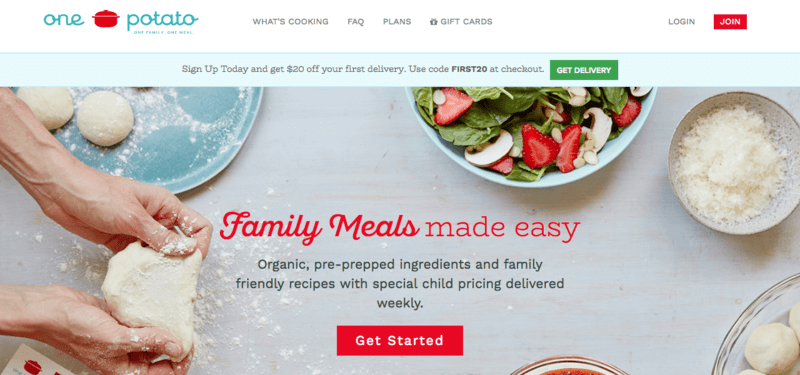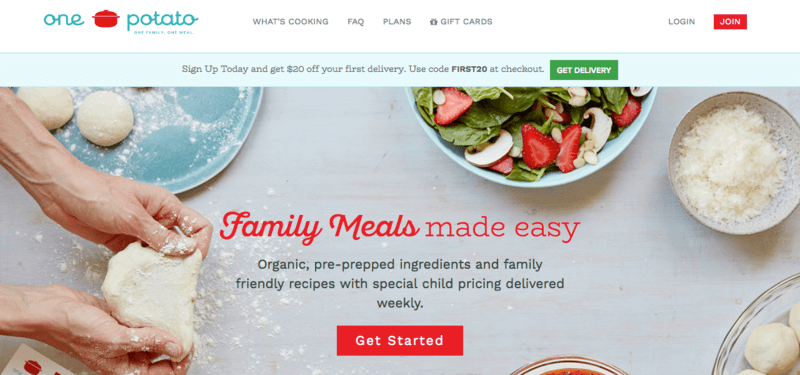 For family-friendly and organic meals, One Potato will sure deliver it straight to your door week after week. They understand that families would of course want to eat organic, wholesome, and delicious home-cooked meals – but with time constraints and the fact that it can get really challenging, One Potato makes it easy, affordable, and reliable with their meal kits.
In the 'box' you'll have family-friendly recipes that are from the trusted family food brand Weelicious and a James Beard award-winning chef, organic and non-GMO seasonal ingredients that are sourced from the country's top farms, pre-chopped, and pre-measured ingredients, and a free gourmet organic cookie dough.
Their meal plans are customizable by dietary preferences, vegetarian and gluten-free, and your family's size. They send alternatives to foods that contain nuts and gluten. Although you have to take note that One Potato is not a nut-free or gluten-free facility.
One can simply signup, tell them the size of your family, pick a plan, and wait for their deliveries. Kid-sized proportions and pricing are available. You can also skip or cancel anytime, so no commitment whatsoever, their plan is quite flexible.
One Potato's cost per serving starts at $7.32. Their meal plan starts at $51.80 and includes 2 servings for 2 meals a week. That's two dinners with main and side dishes, condiments and dressing, and your choice of cookie dough that's good for 2 adults, or 1 adult and 1-2 small children.