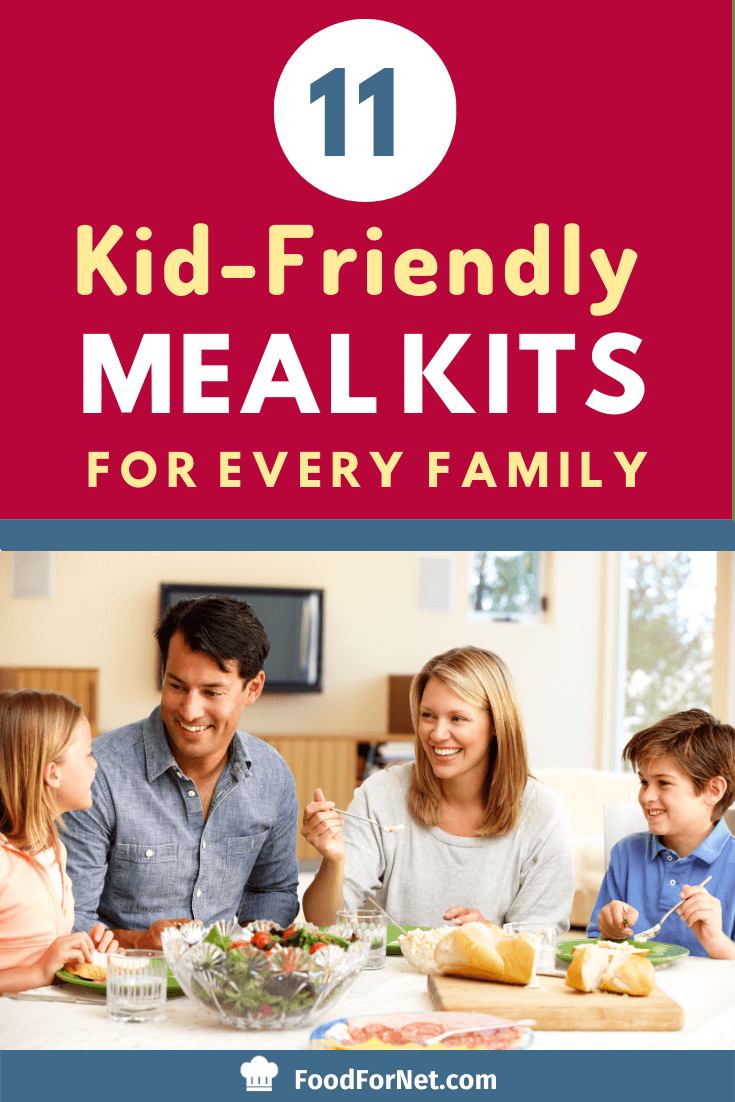 Meal kits are a fantastic time-saver for busy families, and kid friendly meal kits means that you can actually do a meal kit at home without all the weird, exotic ingredients. They take much of the stress out of meals, including the time needed to plan what you're eating and shop for the ingredients.
The trick to meal kits is to find meals that your family is actually going to eat. This can be particularly challenging with kids, as many are picky about the food that they like. To make matters worse, some meal kits focus on unusual or elaborate meals.
Thankfully, there are plenty of kid friendly meal kits out there. Looking at the options in this list, my personal favorite is Sunbasket in terms of flavor. However, I know kids are picky, so if you have young ones, the flavors of Green Chef might be more familiar. Both are running discounts for first-time customers.
Many of these kids have family meal plans, so you can feed two parents and one or two kids. Many of the meals are developed with the whole family in mind, so they won't get too crazy with spices or ingredients. This means that they'll be healthy and interesting enough for the adults to enjoy while ensuring that the kids gobble them up too.
In this list, we're taking a look at some of the best meal kits that suit kids. We're not just listing the kits either. We're also highlighting the strengths of each one and what you can expect when ordering. For even more options, check out our list of family-sized meal kits.
Kid Friendly Meal Kits
Gobble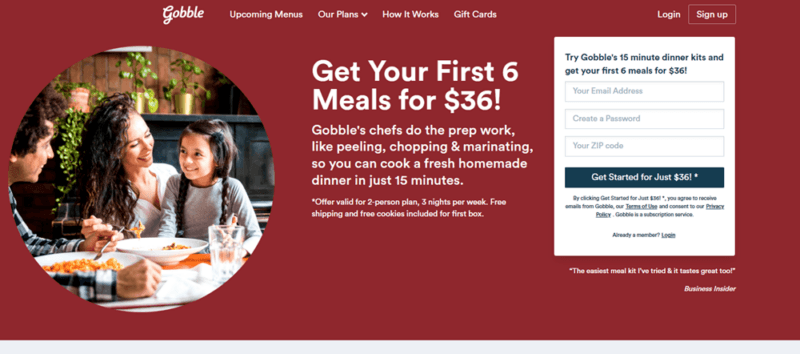 Gobble is strongly focused on speed. The service has much simpler meals than other companies, partly because the sauces are made for you. This means that most meals simply involve combining various ingredients in a pot or pan. The style won't suit anyone who wants to gain more skills in the kitchen or those who like complex meals.
Still, fast meals are a fantastic way to feed kids at the end of a busy day. I've tried out the company myself and I can honestly say that the meals are pretty good for how simple they are. I prefer more interesting dishes myself, but it's easy to see why Gobble is popular.
The service does also use a kid friendly tag on some of their meals. This makes it easy to find the recipes that kids are bound to love. Of course, every child is different, so it might take some trial and error to find the best meals for your family.
HelloFresh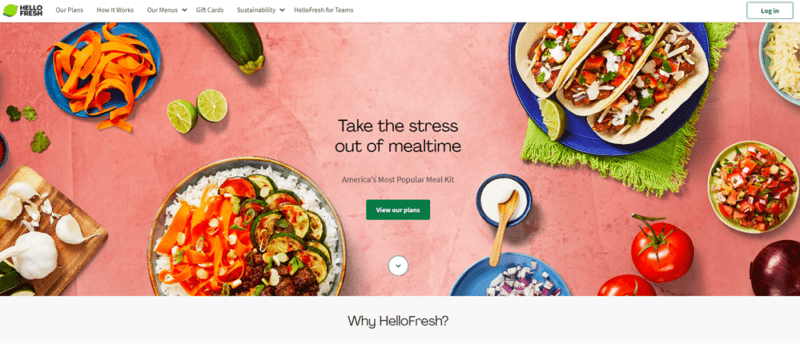 HelloFresh promotes itself as America's Most Popular Meal Kit. I'm not sure if that is true, but the brand is prevalent. I've tried the meal kit myself and it's not one that worked well for me. The biggest issue was that the meals are on the bland side. They're also not very complex.
That being said, the service is inexpensive and the recipes are easy to make. The parts that I didn't like may be a good thing if you have kids. After all, children are often picky eaters, especially when it comes to new flavors or styles of food.
HelloFresh currently has six plans to choose from, but these don't provide separate menus. Instead, the plan (or plans) you choose simply influence which meals HelloFresh shows you first. You actually have access to their full menu of 30+ meals each week, regardless of the plan you choose.
The plans include Family Friendly, Fit & Wholesome, Quick & Easy, Pescatarian, Meat & Veggies, and Veggie. So, if you choose Family Friendly and Quick & Easy, you'd first see the meals that are easy to prepare and that kids are likely to eat. Examples of their dishes include Creamy Dill Chicken and Sriracha Lime Cheeseburgers.
The price is influenced by the number of meals and people each week. In particular, two meals per week for two people costs $12.49 per serving, while six meals for four people drops down to $8.99 per serving.
Dinnerly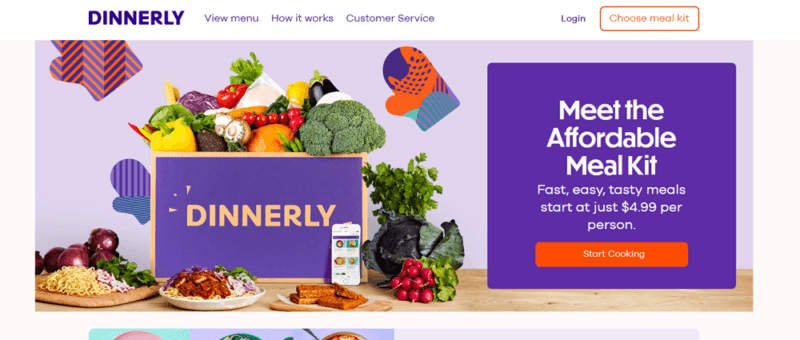 Dinnerly has two main selling points for families. The first is the price. Dinnerly can cost around $5 per serving (plus $8.99 shipping per order), although the price varies depending on the size of your order.
Dinnerly now allows you to customize your plan. You can order for either two or four people, then choose from two to six meals each week. For the four-person plan, this gives you a total of between $69.11 and $131.75. This might sound like a lot of money, but $131 is a good price for 24 portions of food.
The other selling point is the meals. Dinnerly focuses on recipes that are fast and easy to make. There are many kid friendly meals in the mix, including options like Crispy Fried Chicken Tenders and BBQ Cheeseburger. While the meals aren't as impressive or unusual as from some other companies, they're perfect if you have kids.
That being said, there are some disadvantages. Dinnerly keeps prices low by focusing on simple recipes. They also just provide digital recipes. This means that you need to log into the app to follow the recipes, something I noticed when I tried Dinnerly myself. That's not a huge issue, but it is still something to think about.
Green Chef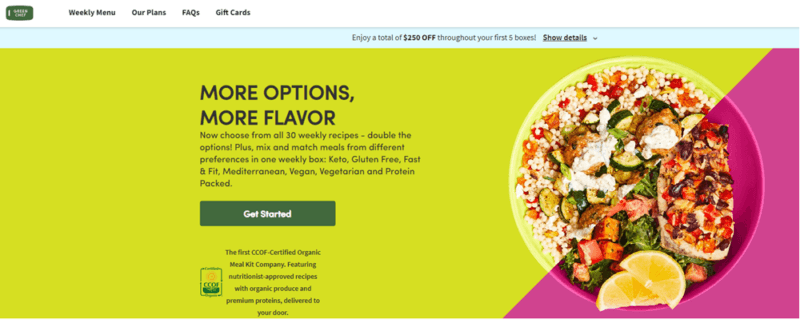 Green Chef is one of the few companies that rely on organic and sustainably harvested ingredients. I've tried the service myself and found that their meals taste great. They also have a decent selection of plan types, including diet-specific options.
You start by selecting preferences. These include protein packed, keto, vegetarian, vegan, fast & fit, Mediterranean, and gluten free. You then choose how many people you are feeding (two, four, or six) and the number of meals per week (two, three, or four). The price per serving ranges from $11.99 to $13.49, depending on the number of servings in your plan.
There are more than 30 meals to choose from each week, although some of these may not be suitable for six-person plans. There are plenty of kid friendly meals to choose from, including Monterey Jack Smothered Chicken, Chicken with Creamy Bacon Sauce, and Enchilada-Spiced Turkey Bowls.
It shouldn't be too hard to find at least a few meals each week that your kids will love. And, if these dinners aren't enough, you can also add breakfast, brunches, and lunches to the subscription.
Sunbasket


With Sunbasket, you're getting high-quality organic ingredients and sustainably sourced meat. When you sign up, you can choose between a two-person or a four-person plan, with two, three, four, or five recipes each week.
During the signup process, you can choose the diet you follow (if any) and the types of meals you prefer. You then get to pick out which meals you want from their weekly menu. There are even some pre-prepared meals on the list, although these only serve one person. Being able to choose your meals makes it easy to find kid friendly choices, like tacos and pasta.
The price is higher than some other meal kit companies but isn't unreasonable for organic food. I even tried the company myself and found them to be one of the better meal kit options.
Sunbasket did also include steps in their recipes to help kids cook, along with activities for kids. However, this may not be the case these days, as they don't have a specific family box anymore. They also no longer mention activities or recipes for kids on their site. Still, even without those extra activities, the subscription is certainly worth trying.
Home Chef


Home Chef is another interesting company to consider. The service has a good balance, managing to create recipes that feel special, without being overly complex. They also offer the ability to customize your plan and to highlight your specific dietary preferences.
The types of meals offered would be particularly relevant for families. For example, there are meals like Mesquite Chicken with Loaded Potato Wedges, which are sure to be a hit with kids. There are also more than 10 meals to choose from each week, including some that don't require cooking.
There is also plenty of size variation. You can choose anywhere from two meals for two people per week, up to six meals for six people per week.
A final feature to consider is planning. Home Chef determines its menus five weeks before they are sent. You're able to make your decisions about meals then. This style is very appealing. It's much better than finding out what you're going to eat on the week that the kit is sent out.
Blue Apron


Blue Apron was the service that started the current meal kit trend and they remain a popular choice. In fact, I've been a member of the service several times. One of their biggest advantages is consistency. The meals can get a little boring at times (although, they do seem to be improving their menu), but at least you know they'll always be decent.
The service is often chosen for families, as they have a Family Plan that costs from $7.99 per serving (for 4 recipes per week) to $9.49 per serving (for 2 recipes per week). This gives a range of $85.91 to $137.83 (including shipping). That might sound like a lot of money, but it's reasonable for a meal kit service, especially when you're feeding 4 people.
With Blue Apron, you can get around 70 meal options per week, although many of these are only for 2 people rather than 4. These include various flavors and styles, but many will be suitable for kids. Examples include Beef Bolognese with Cheesy Garlic Bread and Italian Meatloaf. With only 5 meals to choose from, Blue Apron might not be the best choice if you have picky eaters in the family. If you don't, it could be perfect.
Martha & Marley Spoon


It's hard to go past Martha & Marley Spoon when you're looking at meals for kids. The main reason is simply that the recipes focus on comfort food, along with variations on traditional American classics. This includes meals like Chicken Schnitzel & Potatoes, along with Garlic-Herb Pork Tenderloin.
I noticed this pattern when I tried the service myself. I tend to prefer exotic flavors, so the meals weren't as interesting as I would have hoped for, but the style would be perfect for kids. Some meals are even tagged as kid friendly, making it easy to find the best ones for your family.
There is also a family plan with this company, so you can get enough food for 3 or 4 people. This plan allows you to choose up to 6 meals per week, depending on what works for you.
PlateJoy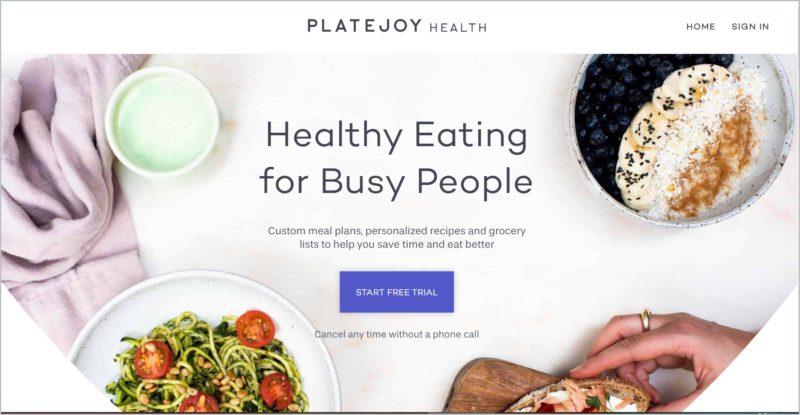 PlateJoy breaks the mold, as it isn't your traditional meal kit service. Instead, the service focuses on meal planning. With it, you can make customized meal plans that are much more specific than anything other companies provide. You're even able to select options like the kind of milk your family uses, the tools in your kitchen, and the amount of time you have to prepare meals.
The style is perfect for families with kids, as you can be certain that everyone will love the meals you choose. Other meal kit companies have a limited number of potential recipes per week. As mall selection can be an issue if you have selective eaters in the family or if some people have food allergies.
PlateJoy also gives you different options for ingredients. You can save money and do all the grocery shopping yourself at the local store. If you take this approach, PlateJoy basically makes meal planning easier and faster. Alternatively, you can use Instacart, which is associated with PlateJoy.
With Instacart, you can have your ingredients delivered to your door. They're not prepped as they would be with other services, but the style is still convenient. I've tried PlateJoy myself and did enjoy many aspects. While the service won't suit every family, it's nice to see another option in the meal kit field.
Hungry Root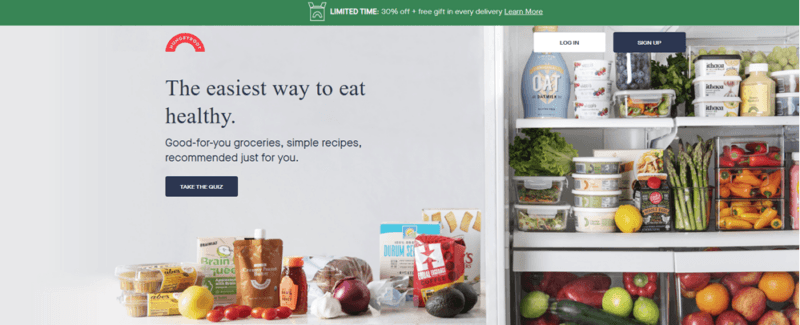 Hungry Root isn't a traditional meal kit service at all. Instead, it functions more as a meal planning service, combined with grocery delivery. This approach means that you still get recipes and the ingredients you need to prepare them, but nothing is pre-prepared or portioned out for you.
The difference in style means that Hungry Root may require a little more work than a regular meal kit. However, there's much more room for flexibility. As a result, you get a greater variety of meals with Hungry Root than with almost any other service.
The company uses a quiz to customize the recipes it suggests for you, including plenty of meals that are easy and fast to prepare. You can go with Hungry Root's recommendations or completely tweak the box to match your preferences.
Hungry Root boxes start at $65 per delivery, although the price can vary notably depending on what you're ordering. Delivery costs $6.99 if your box costs less than $70 and is free for any orders over $70.
EveryPlate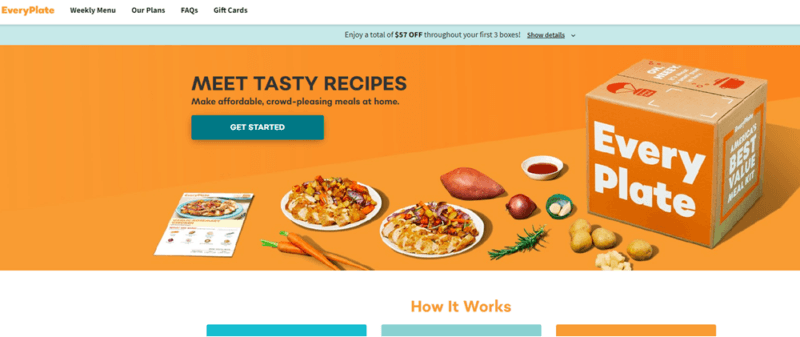 EveryPlate is one of the cheapest meal kits and can get as low as $4.99 per serving. It's also an excellent option for families, as the meals are fast and easy to prepare.
The weekly menu comes with 26 different meals, giving you enough options to suit most palates. Many of these meals will be a hit with kids, including burgers, chicken sandwiches, and pineapple pork bowls. If you have a large family, you might even serve an adult-focused meal and a kid friendly one on the same night.
If you're following their four-person plan, then a three meal per week subscription costs $71.88. Alternatively, you pay $87.84 for four meals, $99.80 for five meals, and $119.76 for six.
The meals provided are relatively simple, but that's how EveryPlate keeps the price down. Besides, if you're short on time or dealing with picky kids – simple dinners may be perfect.
Meal Delivery For Kids
Meal kits aren't your only option. Some companies ship out fully cooked meals instead, ones that you just need to heat up.
Such subscriptions can be incredibly helpful. They're perfect for days when you don't have time to cook or when you want to make a complex dinner that a picky child simply refuses to eat.
Most meal delivery services are designed for adults. Some even follow specific styles, like services for weight loss, bodybuilding, or for keto dieters. Thankfully, there are some kid-focused ones too, including the following.
Tiny Organics

Tiny Organics specifically focuses on pre-prepared meals for toddlers. The meals are carefully designed to be nutritionally balanced, with flavors that kids are likely to love.
More than that, the meals help to introduce toddlers to new textures and ingredients. Such dishes reduce the risk that your kids end up being picky eaters.
Some examples of their meals include Coconut Curry (with butternut squash, carrots, peas, and red lentils), Michelle My Broccoli Belle (with sweet potatoes, red bell peppers, and broccoli), and Baby Burrito Bowl (with pinto beans, corn, tomato, and scallions). A subscription starts at $4.66 per meal, with prices varying depending on the specific plan.
Nurture Life

Then there's Nurture Life. This company includes meals for both toddlers and kids. Their finger food meals are designed to help toddlers learn how to self feed, while the larger meals help to provide kids with much more variety.
Some of their meals include White Mac & Cheese, Chicken Taco Pockets, Super Veggie Gnocchi, and Alfredo Bow Ties. There's even a section on the site that helps you tailor a box for picky eaters.
The prices start at $7.49 for kids meals, $6.49 for finger foods, $3.75 for superfood smoothies, and $7.49 for snacks. The meals are relatively simple, so they wouldn't work well for adults. Still, for young kids, they could be perfect.
Little Spoon

Little Spoon follows a similar pattern as Nurture Life. Their selection includes baby foods, early finger foods, toddler meals, meals for kids, and smoothies. The meals and finger foods in their selection start at $5.83 per plate, while the smoothies and baby food are closer to $3 instead.
The meals are relatively simple, like Whole Wheat Penne and Kale Turkey Meatballs or Spinach and Cheese Ravioli. As such, they might not be enough for older kids – and certainly wouldn't work for teenagers. Still, if you have kids under five or kids who are very picky, the meals from Little Spoon are certainly worth considering.