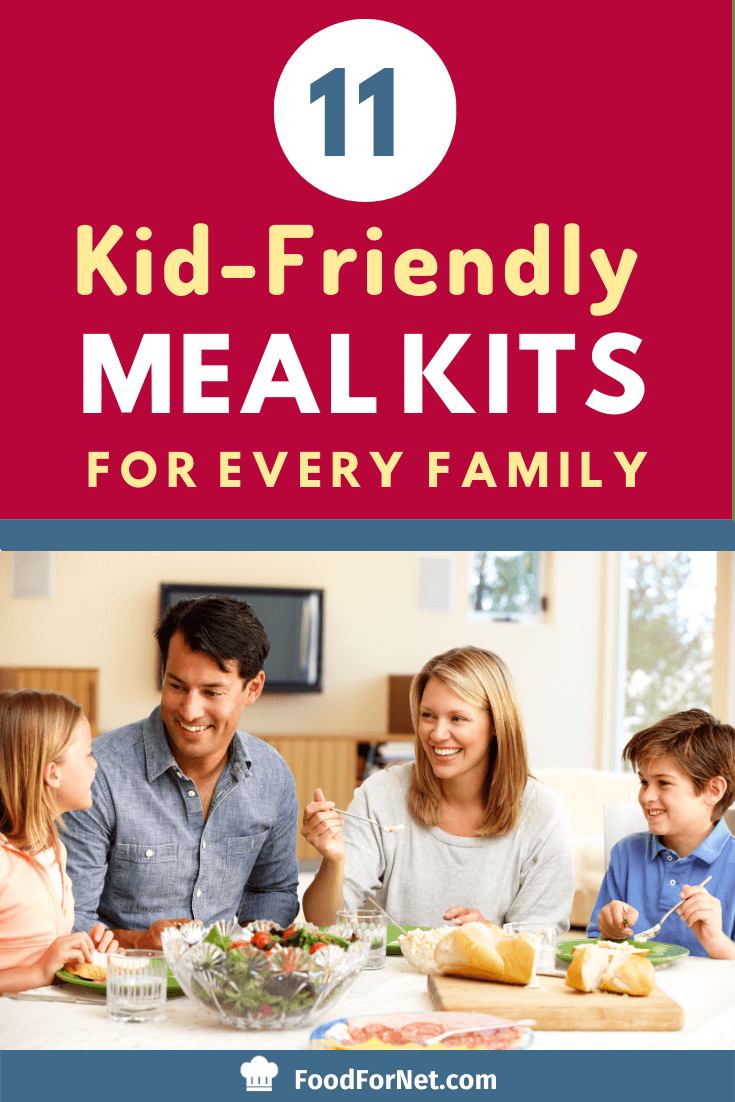 Meal kits are a fantastic time-saver for busy families. They take much of the stress out of meals, including the time needed to plan what you're eating and shop for the ingredients. The trick is to find meals that your family is actually going to eat. This can be particularly challenging with kids, as many are picky about the food that they like. To make matters worse, some meal kits focus on unusual or elaborate meals.
Thankfully, there are plenty of kid-friendly meal kits out there. Looking at the options in this list, my personal favorite is Sunbasket in terms of flavor. However, I know kids are picky, so if you have young ones, the flavors of Green Chef might be more familiar. Both are running discounts for first-time customers.
Many of these kids have family meal plans, so you can feed two parents and one or two kids. Many of the meals are developed with the whole family in mind, so they won't get too crazy with spices or ingredients. This means that they'll be healthy and interesting enough for the adults to enjoy while ensuring that the kids gobble them up too.
In this list, we're taking a look at some of the best meal kits that suit kids. We're not just listing the kits either. We're also highlighting the strengths of each one and what you can expect when ordering. For even more options, check out our list of family-sized meal kits.
Kid-Friendly Meal Kits
Gobble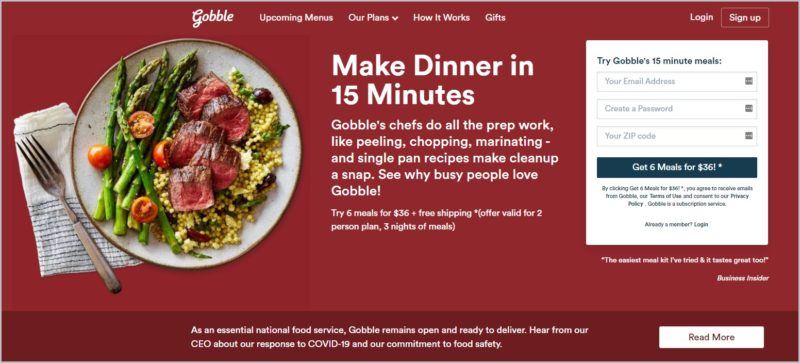 Gobble is strongly focused on speed. The service has much simpler meals than other companies, partly because the sauces are made for you. This means that most meals simply involve combining various ingredients in a pot or pan. The style won't suit anyone who wants to gain more skills in the kitchen or those who like complex meals.
Still, fast meals are a fantastic way to feed kids at the end of a busy day. I've tried out the company myself and I can honestly say that the meals are pretty good for how simple they are. I prefer more interesting dishes myself, but it's easy to see why Gobble is popular.
The service does also use a kid-friendly tag on some of their meals. This makes it easy to find the recipes that kids are bound to love. Of course, every child is different, so it might take some trial and error to find the best meals for your family.
HelloFresh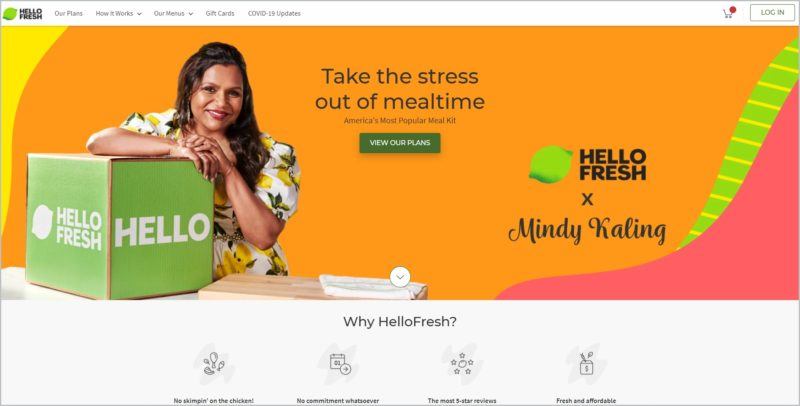 HelloFresh (DISCOUNT LINK) promotes itself as America's Most Popular Meal Kit. I'm not sure if that is true, but the brand is prevalent. I've tried the meal kit myself and it's not one that worked well for me. The biggest issue was that the meals are on the bland side. They're also not very complex.
That being said, the service is inexpensive and the recipes are easy to make. The parts that I didn't like may be a good thing if you have kids. After all, children are often picky eaters, especially when it comes to new flavors or styles of food.
HelloFresh offers 3 menus to choose from, a Classic Plan, Veggie Plan, and FamilyPlan. The family plan contains larger servings and focuses on the idea that the whole family will eat the same meal. There are only 6 recipes to choose from most weeks, but many of them would be suitable for kids. Examples include Creamy Dill Chicken and Sriracha Lime Cheeseburgers.
Dinnerly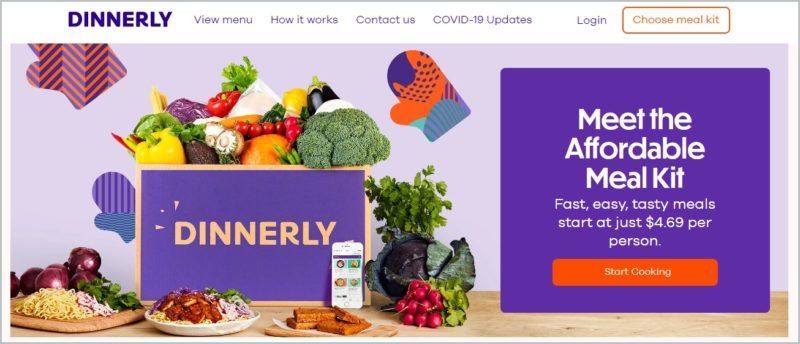 Dinnerly has 2 main selling points for families. The first is the price. Dinnerly costs around $5 per serving (plus $8.99 shipping per order). This means that you can get a Family Box for around $69. That box contains 3 recipes with 4 portions each. That's a decent amount of food for a low price.
The other selling point is the meals. Dinnerly only offers 6 meals to choose from each week, but they're all fast and easy to make. There are many kid-friendly meals in the mix, including options like Crispy Fried Chicken Tenders and BBQ Cheeseburger. While the meals aren't as impressive or unusual as from some other companies, they're perfect if you have kids.
That being said, there are some disadvantages. Dinnerly keeps prices low by focusing on simple recipes. They also just provide digital recipes. This means that you need to log into the app to follow the recipes, something I noticed when I tried Dinnerly myself. That's not a huge issue, but it is still something to think about.
Green Chef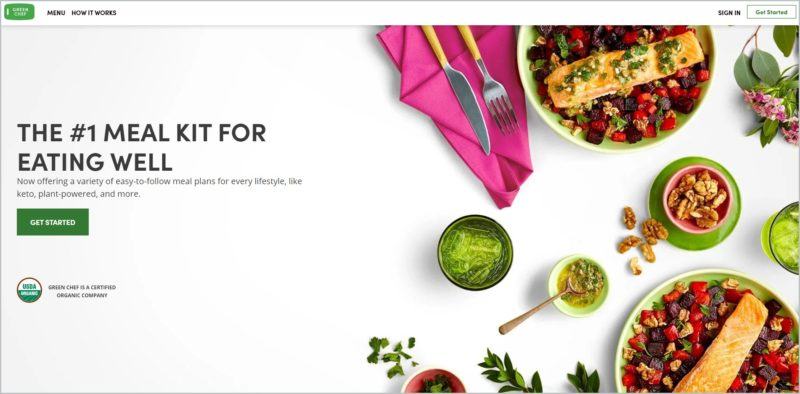 Green Chef (DISCOUNT LINK) is one of the few companies that rely on organic and sustainably harvested ingredients. I've tried the service myself and found that their meals taste great. They also have a decent selection of plan types, including diet-specific options.
Unfortunately, the selection is less extensive for their family plans. Each of these plans provides 2 recipes a week (4 servings per recipe). The recipes are carefully chosen so that they can be eaten by kids and adults alike. The first plan is Family Omnivore, which includes vegetarian, meat, and seafood dinners. The other is Family Carnivore. This one skips the vegetarian dinners, so each dinner will have meat or fish.
With Green Chef, each week's menu only contains 2 items. For example, the Family Omnivore Plan offered Arroz Con Pollo and Southwest Pizzas one week, while the Carnivore offered Arroz Con Pollo and Sausage & Mustard Potatoes. This style means that you have no ability to choose your meals. That could be a problem, especially if your kids don't like all types of food.
Sunbasket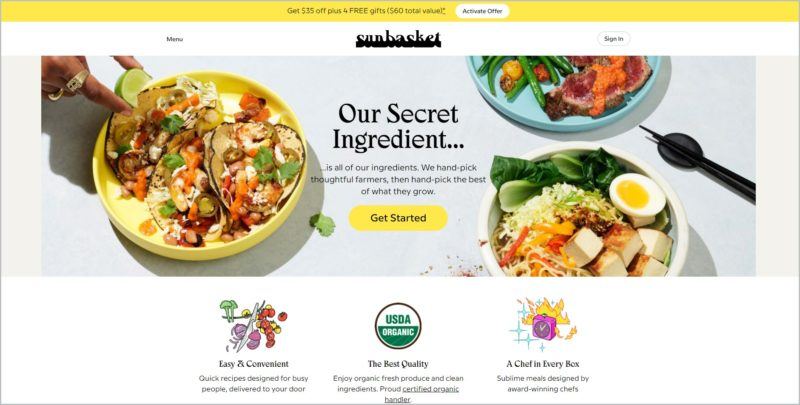 With Sunbasket (DISCOUNT LINK), you're getting high-quality organic ingredients and sustainably sourced meat. There is also a family meal plan. This can contain 2, 3, or 4 recipes, with 4 servings of each for $10.99per serving. The price is higher than some other meal kit companies but isn't unreasonable for organic food.
There are 2 versions of the family plan: Chef's Choice and Vegetarian. The Chef's Choice option is especially interesting. The downside is that you don't get to choose your own meals, this is done for you. Even so, there is a strong focus on meals that are kid-friendly, including options like tacos and pasta.
More importantly, Sunbasket includes steps in these recipes that kids can do. There are even activities for kids in the box. This is something that other meal kits simply don't provide. I haven't tried the family menu for Sunbasket, but I did try the regular version and thought that it was one of the better meal kit companies.
Home Chef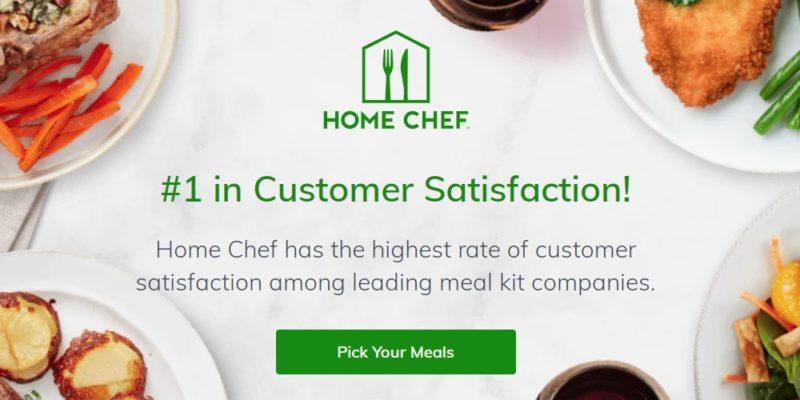 Home Chef is another interesting company to consider. The service has a good balance, managing to create recipes that feel special, without being overly complex. They also offer the ability to customize your plan and to highlight your specific dietary preferences.
The types of meals offered would be particularly relevant for families. For example, there are meals like Mesquite Chicken with Loaded Potato Wedges, which are sure to be a hit with kids. There are also more than 10 meals to choose from each week, including some that don't require cooking.
A final feature to consider is planning. Home Chef determines its menus 5 weeks before they are sent. You're able to make your decisions about meals then. This style is very appealing. It's much better than finding out what you're going to eat on the week that the kit is sent out.
Blue Apron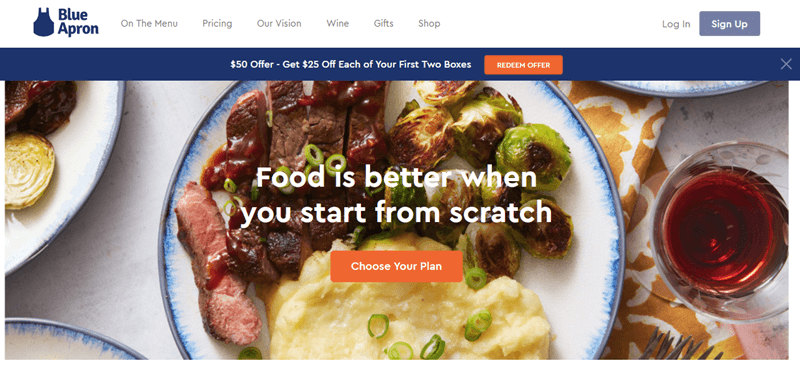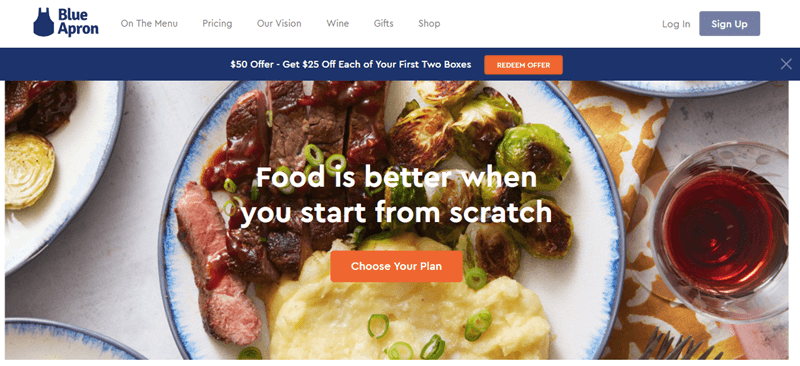 Blue Apron was the service that started the current meal kit trend and they remain a popular choice. In fact, I've been a member of the service several times. One of their biggest advantages is consistency. The meals can get a little boring at times (although, they do seem to be improving their menu), but at least you know they'll always be decent.
The service is often chosen for families, as they have a Family Plan that costs from $7.49 per serving (for 4 recipes per week) to $8.99 per serving (for 2 recipes per week). This gives a range of $71.92 to $119.84. That might sound like a lot of money, but it's reasonable for a meal kit service, especially when you're feeding 4 people.
With Blue Apron, you're normally getting around 5 meals to choose from per week. These include various flavors and styles, but many will be suitable for kids. Examples include Beef Bolognese with Cheesy Garlic Bread and Italian Meatloaf. With only 5 meals to choose from, Blue Apron might not be the best choice if you have picky eaters in the family. If you don't, it could be perfect.
Martha & Marley Spoon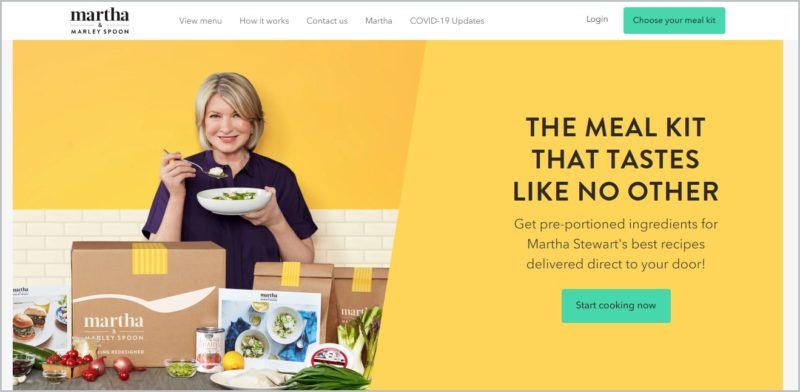 It's hard to go past Martha & Marley Spoon when you're looking at meals for kids. The main reason is simply that the recipes focus on comfort food, along with variations on traditional American classics. This includes meals like Chicken Schnitzel & Potatoes, along with Garlic-Herb Pork Tenderloin.
I noticed this pattern when I tried the service myself. I tend to prefer exotic flavors, so the meals weren't as interesting as I would have hoped for, but the style would be perfect for kids. Some meals are even tagged as kid-friendly, making it easy to find the best ones for your family.
There is also a family plan with this company, so you can get enough food for 3 or 4 people. This plan allows you to choose 2, 3 or 4 meals per week, depending on what works for you.
PlateJoy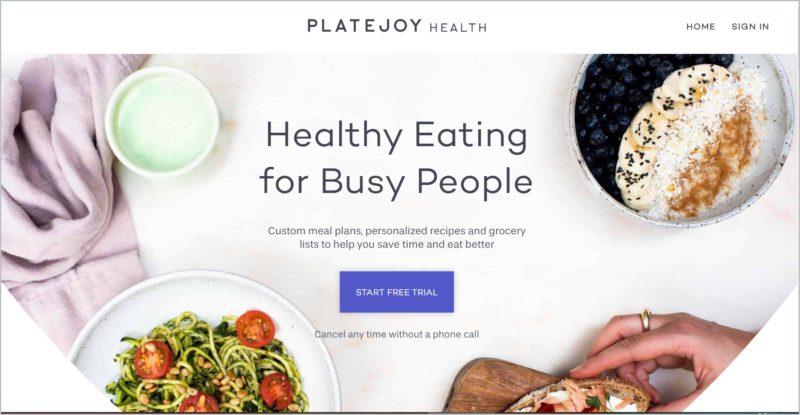 PlateJoy breaks the mold, as it isn't your traditional meal kit service. Instead, the service focuses on meal planning. With it, you can make customized meal plans that are much more specific than anything other companies provide. You're even able to select options like the kind of milk your family uses, the tools in your kitchen, and the amount of time you have to prepare meals.
The style is perfect for families with kids, as you can be certain that everyone will love the meals you choose. Other meal kit companies have a limited number of potential recipes per week. As mall selection can be an issue if you have selective eaters in the family or if some people have food allergies.
PlateJoy also gives you different options for ingredients. You can save money and do all the grocery shopping yourself at the local store. If you take this approach, PlateJoy basically makes meal planning easier and faster. Alternatively, you can use Instacart, which is associated with PlateJoy.
With Instacart, you can have your ingredients delivered to your door. They're not prepped as they would be with other services, but the style is still convenient. I've tried PlateJoy myself and did enjoy many aspects. While the service won't suit every family, it's nice to see another option in the meal kit field.
Munchery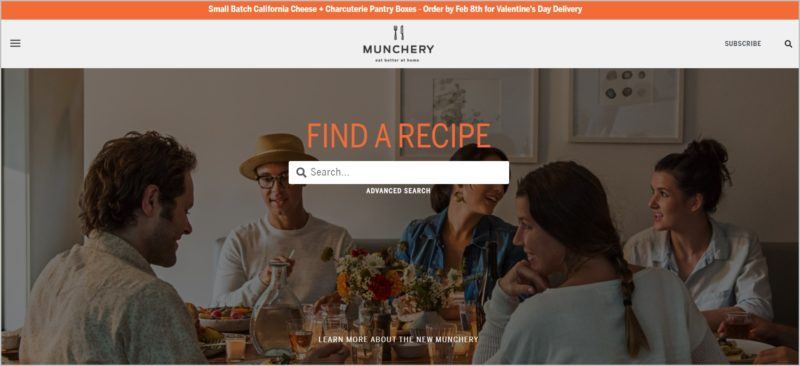 Munchery doesn't specifically cater to kids with their meal kits, but the company can still be a good choice. A key advantage, as I've learned from experience, is the time involved. Most of the meals from Munchery can be prepared in 15 minutes or less. They often use few pots, making the process simpler still.
To do this, Munchery relies on pre-made sauces. You don't get the same fresh flavor that you would when cooking the meal from the beginning yourself, but the style is much better than a premade meal. I did find that there were too many sauce-based meals when I tried the company. Still, the style could be perfect for kids.
The meal selection is also useful for families with kids. There is a decent range to choose from. Some of the meals may be too complex for kids, while others are simpler and are similar to old favorites. You might even find that the creaminess of many recipes helps to get kids to try the meals out.
One Potato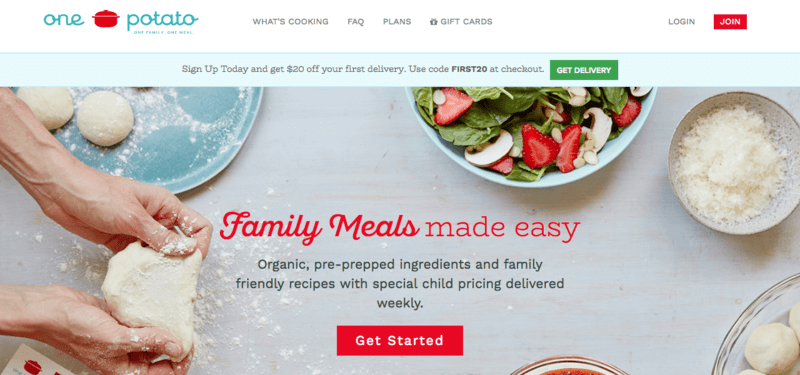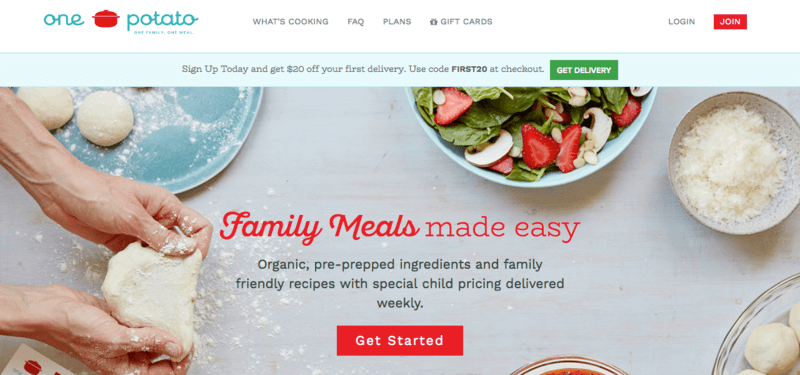 One Potato is one of the few meal kit companies that strongly focuses on kids. They follow the idea of making healthy meals that the whole family will eat. The company also uses organic ingredients, so you can be sure that your family is getting the best of the best.
The family focus isn't just limited to the overall theme of the company. One Kit ensures that the recipes are all kid-friendly. Many of them are traditional, while others focus on effectively introducing your kids to new flavors. There is even a Family Favorites section, so you know there will always be some popular options on the menu.
Another aspect is the plans you can choose from. There are 5 different sizes, starting at the company's Two Potato Plan and going up to a Six Potato Plan. As the names suggest, these plans are designed for different numbers of people. The description provides you with details about the family size. Each of the plans can provide 2 or 3 recipes per week.
Like many meal kit companies, OnePotato uses a rotating menu. This changes seasonally and can include some interesting meals. The main limitation is the selection.
You'll often find 5 seasonal recipes to choose from, which might include a vegetarian and non-vegetarian version of the same recipe. There are also 3 Family Favorite recipes that stay consistent each week. This isn't a lot of variation, especially if you're ordering 3 meals per week.
Yumble


Yumble is another service that is all about the kids. Each box even comes with a selection of activities for kids, to give them something enjoyable to while you're heating up the food and getting it on the table.
There are 3 meal plans to choose from 6 meals per week for $7.99 per meal, 8 meals per week for $6.99 per meal, or 16 meals per week for $5.99 per meal.
Once you've chosen the plan, you then select from the weekly menu. The menu is decent, with around 28 different options. Some are simple and familiar, like turkey sausage and eggs, while others are more adventurous, like Asian fusion quinoa and meatballs.
While this is called a weekly menu, it's not clear how often the menu items change. So, you might end up with the same choices for multiple weeks. Thankfully, with 28 or so meals to choose from, there should be enough variation to keep most families satisfied.
Tags are used to show you whether meals are gluten-free, milk-free, soy-free, egg-free, or vegetarian. You can filter by these tags too – making it easy to find the right meals for your family.
Or, if you want to make things easier, you can choose the Top Rated box, which already contains the most popular meals.