Lately, there seem to be meal services available to cater to everyone's special needs. If you're focused on losing weight, you can find a meal delivery service that will send you portioned and calorie-controlled ready-to-eat dishes. If you want to eat paleo, there are plenty of delivery services as well.
The same applies to bodybuilding; if your ultimate goal is to bulk up or shred, you can find a bodybuilding meal delivery service that will help you reach these goals.
Having prepared meals delivered to your door helps with bodybuilding in two ways. One, it makes eating a lot easier. No longer do you have to meal prep for weeks in advance, or eat the same thing over and over again out of convenience. You don't have to rely on your cooking to have delicious, healthy meals, that will feed your muscles and cut back on fat.
The other benefit is portion control. This means you won't overeat, and you won't under-eat. Both can be damaging to your gains! Eat too much, and suddenly your 8% body fat goes to 13%, and you look "fluffy" (albeit fit). If you don't eat enough, all those hours in the gym can go to waste, leaving you looking fit, but not "big". Set your goals, and eat accordingly!
These 16 meal delivery services specifically deliver food for bodybuilding or are well-suited to the idea. I'm always searching for more, so if you know of one, even if you've only read about it and haven't tried it yet, leave a comment and I'll add it to my list. Let's crowdsource it!
Our favorites so far:
Trifecta (paleo, clean, vegan + a la carte option)
MealPro (fast delivery)
Factor 75 (Keto, Paleo, Dairy Free)
The other options on this list are great, but they are not targeted to bodybuilders, or even athletes.
Obviously, you can get great muscle-building nutrition of any meal service if you know what you're doing, but the options above cater towards high performance athletes, so they get a special spot on the list!

Top Bodybuilding Meal Delivery Companies
Trifecta

Trifecta's meal delivery service offers various styles of food to choose from, including classic, vegan, clean eating, and paleo. Their meals are 100 % organic, including fish and vegetable dishes – suitable for people who want to 'buff up' through a combination of balanced calories, proteins, carbohydrates, sodium and saturated fats.
Unique vacuum packaging ensures that food stays fresh for up to two weeks and can last over six months with proper storage. The company offers free shipping to your home or gym regardless of geographic location.
Trifecta lets you specify any known food allergies. This makes it easy to ensure your food is soy free or gluten-free if those are your requirements. You can order anywhere from five to 14 meals per week, depending on the nature of exercise that you do and the level of convenience that you want.
For example, athletes who spend most of their time out on the track field may want multiple prepared meals per day, giving them ample time to concentrate on keeping fit.
Their pricing is friendly ranging from $110.99 for seven entrees and no breakfasts to $310.99 per week for 14 entrees and seven breakfasts.
The company delivers throughout the U.S., including the states of Alaska and Hawaii. Shipping is bi-weekly and free on all meal plans, making Trifecta stand out from its competitors. Each package is color coded so that you spend minimal time sorting your meals. For instance, blue represents breakfast; green represents lunch while orange is for dinner. Delivery is in trays, ice packs, and a cardboard box which are all biodegradable.
Muscle Meals 2 Go

The most interesting aspect of Muscle Meals 2 Go is the meal plans. They offer three main options: Lean, Gain, and Maintain. The Lean plan is focused on weight loss and provides lean meals.
Gain is best if you want to develop your muscles further. This one contains similar meals to the lean version, just with extra protein. Then there's Maintain, which is somewhere in the middle. These options should work well, letting you choose the amount of food you want based on your needs at the time.
When I tried there was a keto plan. Not surprisingly, this one focuses on the keto diet which can be used to help you get lean, lose fat, increase energy, or just reduce your carb intake to be healthier. This plan has changed considerably since I tried it (as has Muscle Meals 2 Go itself), but the subscription is still very appealing.
Regardless of the style you choose, Muscle Meals 2 Go provides a good balance of nutrients, including vegetables, carbs, and protein. The amount and distribution of nutrients vary across the plans, as it should. However, there is no focus on dietary needs or even ingredient quality.
As such, you won't find organic or sustainable ingredients here. Likewise, the dishes aren't gluten-free, dairy-free, or anything similar, although you can make requests if you need to avoid specific ingredients. You do have control over the meals for most plans (all except keto), so you choose the meals that match your needs.
The Lean plan costs $129 for 10 meals, $208.05 for 18 meals, and $264.10 for 24 meals. The Maintain plan costs $135, $233, and $305 for the same number of meals. The Gain plan is more expensive again, costing $159, $284, and $378. Finally, the keto plan costs $130, $229, and $299.
The company isn't perfect, not by any means, but it is a fairly inexpensive option with a variety of meals to choose from.
MealPro

MealPro is specifically focused on workout meals, making them an excellent choice for bodybuilding. Their workout meals offer at least 35 grams of protein per meal, with a portion size that's often around 22 oz. You can even specify extra protein and/or no carb portion (with double vegetables instead).
The company also tries to vary the sources of protein, including different types of fish and meat. However, there aren't many details about how the ingredients are sourced. Instead, the company just says they use natural ingredients, which is a pretty meaningless term.
Rather than having specific meal plans, MealPro allows you to build a meal box of either 18 or 20 meals. The total price of the box varies depending on the specific meals. For example, Beef Bolognese costs $12.59, while Atlantic Salmon costs $18.99 instead.
You can see the protein, calorie, and carb details for each of the meals, making it easy to find the best meals for your macro targets.
MealPro uses recyclable and bio-degradable packages, so they're environmentally friendly. The company delivers everywhere in the US, one to three times per week depending on your location. The process of payment is simple and they accept payment methods such as Mastercard, Visa, and Discover.
Factor 75

Factor 75 is well-known for creating high-quality meals and only using the best ingredients. This includes an emphasis on grass-fed and pastured meats, along with organic produce. All of their meals are free from gluten, soy, and artificial sweeteners as well. Here's my review of their keto meals.
These aspects mean that you're getting healthy nutrient-dense food, which is perfect for your gym efforts. The company is also good for anyone on a keto, paleo, or dairy free diet. All meals are tagged to indicate whether it falls into any (or all) of those three categories.
Full nutritional data is provided, along with an ingredients list for every meal. There are also some details about why the meal was designed that way, along with potential benefits. The meals are often high in protein and are nutritionally balanced.
The company uses a weekly menu, which typically contains around 35 meals. between 15 and 20 meals. You select from these based on your plan. The menu changes weekly, so there is plenty of variety to choose from. The average calorie content is between 400 and 750 calories – and you can easily see what to expect before you order (which is helpful, as there's plenty of variation between the meals).
When signing up you can choose to receive 6, 8, 10, 12, 14, or 16 meals each week, with prices ranging from $80.94 to $197.82 per box. This averages between $13.49 and $10.99 per meal.
The meals are more expensive than some other options but the pricing is reasonable for organic and sustainable meals. The company ships to anywhere in the United States and the shipping fee is based on your location. This can be up to $45, although areas close to the company get free delivery.
Paleo Power Meals

Paleo Power Meals was created by a CrossFit member, with the goal of promoting weight loss and performance. This aspect alone makes the service a good choice for bodybuilders.
Most of the meals are also high in protein, much more so than other brands. For example, the Classic Grilled Chicken Chopped Cobb Salad contains 31 grams of protein per serving. That's pretty impressive for a salad.
This is also another company that focuses on quality. As such, they heavily rely on grass-fed and pasture-raised protein sources. The company even provides details about their protein sources. Yet, despite this, there is little information about whether the other ingredients are organic. There is a good chance that this is the case – but the lack of information isn't appealing if you want organic food.
There are no set meal plans with this service. Instead, you order meals individually. This offers extra flexibility and lets you choose the meals that suit you best. You're not just limited to dinner either. Instead, there are some breakfast, lunch, and side dishes as well. The prices range depending on what you choose. For example, dinners are often between $12.95 and $14.95, while the other options are less expensive.
The service offers bulk menu items as well, which range from around $12 to $17. These are simply a serving of various foods, such as grilled chicken, grass-fed ground beef, or riced broccoli and carrots. You often get a pound of the food in question, but some of the servings are a little different. These menu items offer a great way to bulk out your meals and get any extra macronutrients that you need.
All of the meals come fresh and can be frozen (although this isn't recommended). You do pay shipping as well, unless you order more than $75 worth of food at a time. There are also various rules regarding canceling an order, so make sure you read the terms and conditions carefully.
Eatology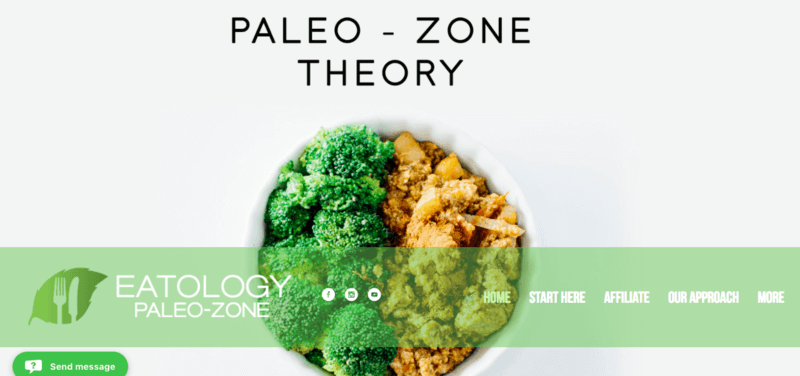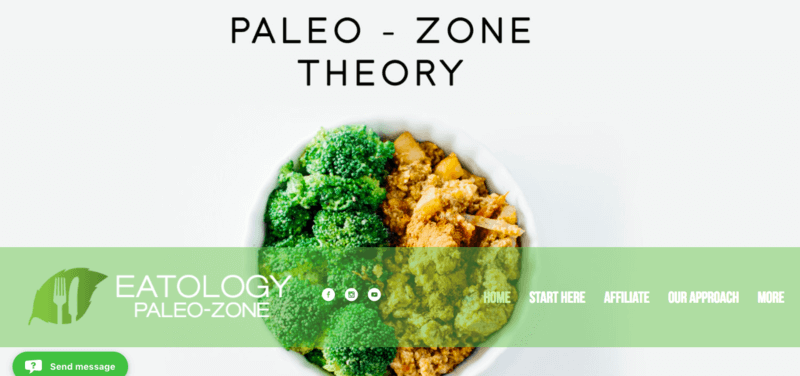 Another interesting option is Eatology. This is a clean eating company, although they don't rely on organic ingredients or on grass-fed meat. Instead, they simply refer to food as natural. The company does focus on paleo meals as well, which should mean more protein per meal than other styles.
I'm highlighting this one because the meals come in two sizes – medium and large. The smaller seems fairly similar to what other companies offer, while the larger meal provides more protein. For example, the medium version of the Brazilian Chipotle Burrito Bowl offers 14 grams of protein per serving, while the large has 21 grams instead.
The size isn't as large as some of the other companies on this list but it's still a step up from the entrée-sized meals that are often shipped out. The medium meals cost $12.50 each, while the large ones cost $14.50 instead. Surprisingly, the same pricing structure applies if you're buying them individually or in bulk. But, if you set up a recurring order, you save 20% on the total cost.
The site leaves a lot to be desired visually. There aren't even any photographs of the food and navigation is more confusing than it should be.
Even so, the company is popular and reviews suggest that the food tastes good and ships well. Some of the descriptions do also sound great, although unfortunately only some of the meals have images.
Top Chef Meals

The biggest advantage of Top Chef Meals is flexibility. You're not stuck with a predetermined meal plan that you may or may not like.
Instead, you get to choose the individual meals, including the main component and the sides that go with it. Some meals don't allow you to choose the sides, simply because they're an all-in-one style – like Lobster Mac & Cheese. Nutritional information is also provided and you can add extra protein to most meals.
The style makes it easy to adjust meals to fit whatever macros you're aiming for. It's also simple to get high protein meals, a style that many services don't offer. The meals are also fairly inexpensive and well-reviewed, which is always good news. In particular, most meals are under $15 and some are closer to $10 instead.
The main limitation is the ingredients. There is no emphasis on organic or sustainable ingredients. So, you won't find grass-fed steak in their ingredients selection, for example.
This is a pity – but honestly, it's not surprising. If you want low-priced meals, they're not going to be organic and sustainably sourced too.
Fresh n' Lean

Fresh n' Lean is mostly promoted as a weight loss company but it is also useful for gaining muscle. The main reason is that they offer a variety of interesting plans, including Paleo and Protein +. The Protein + plan ranges from $10.32 per meal to $15.49 per meal depending on the number of days (five or seven) and the meals you choose (breakfast, lunch, and/or dinner).
There is a new menu each month and you're able to select the meals that you want. For the Protein + plan, these average around 500 calories per serving with 36 grams of protein. However, the exact macros vary from meal to meal.
The company relies on natural and organic ingredients for all of the meals, which includes an emphasis on sustainable protein. You can also ask for some ingredients to be omitted, up to three ingredients per plan. The plans all use weekly rotating menus.
One other thing to mention is seasoning. Fresh n' Lean uses a 'season to taste' approach and doesn't apply many seasonings to the meals themselves. This prevents the meals from being too intense for anyone with a sensitive palate. So, if you enjoy a bit more flavor with your meals, you'll need to add additional seasonings yourself.
NutriFit

NutriFit offers many different styles of diet, including one tailored for "optimal athletic performance". This does include a focus on body composition and on muscle building. That focus should make it very relevant for bodybuilders and anything else in the fitness community.
The idea is that you sign up for their Premium plan, which you can then customize so that it meets your needs. The plan allows for up to 2,800 calories per day and you can specify any ingredients that you want to be excluded. NutriFit states that you can have other requirements as well, although it's not clear what these are.
On a Premium plan, NutriFit chooses your meals for you. You have the option of going with those menus or choosing from a list of alternatives. This gives you some control over what you get – although it's not clear how many alternatives you have to select from.
The plan costs $33.95 for dinner (plus a soup/salad and dessert/snack), $18.95 for just breakfast, or $22.95 for just lunch. Or, you can combine different meals, culminating at $63.95 for all meals.
Aside from the price (which is pretty high), the main issue is the lack of details. Even if you go all the way through to purchasing the plan, NutriFit offers vague information about what you're actually getting. It's considered a sports nutrition plan but there is no information about the nutrient distribution or what the meals are going to be. That's pretty concerning, especially as you're likely to have specific needs.
Sunfare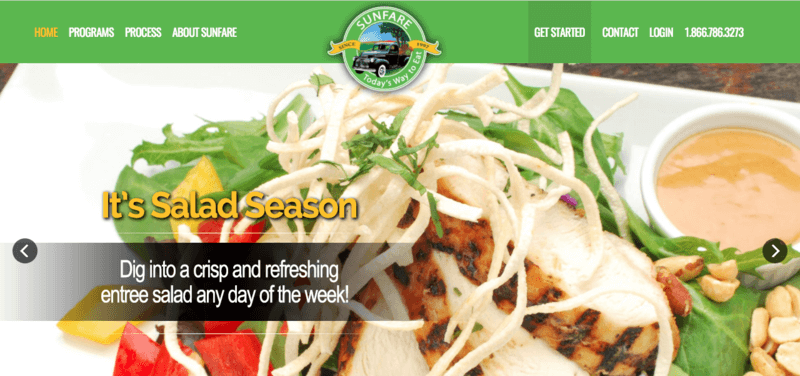 Sunfare offers five different plans to choose from and these are suitable for different needs and situations. For example, one plan is perfect for families, while another works well for weight loss. The most interesting one for bodybuilders and athletes is the Fit Fuel plan. As the name suggests, this focuses on providing plenty of energy and nutrients to match your needs.
This plan is less customizable than some of the other Sunfare plans, but focuses on natural ingredients and contains six ounces of protein per meal. There are more than 25 meal choices on the menu, so you'll always have interesting food to focus on.
Sunfare is a little unusual, as they offer a different menu each day, while most companies focus on weekly menus instead. Sunfare gives you a few default options for each day, but you can switch these out to some of their other meals.
The next thing to talk about is the plans. SunFare offers 20-day plans and 28-day plans, which both cost $43.30 per day for breakfast, lunch, and dinner, or $36.20 for lunch and dinner. There's also a delivery fee of $4.99 per day, which quickly increases the price.
Alternatively, you can order meals a la carte. Here, breakfast costs $9.40, lunch costs $19.90, and dinner costs $19.90, plus the same $4.99 per day delivery charge. There's also a $24.95 per day minimum order. On other thing – the a la carte plans automatically roll over from week to week unless you cancel them.
While the food from Sunfare looks appealing, their prices are high and none of their plans allow you to just order dinner. Even their a la carte plan has a minimum order size, so you need to order extra items to top up your order. Being able to order breakfast and lunch is a nice feature, but being forced to order at least one of these is frustrating.
The end result is that Sunfare is only good value if you're getting many meals frequently.
Sunbasket


We often talk about Sunbasket as an eco-friendly meal kit service, but that's not all they do. Sunbasket is also one of the few companies to offer both meal kits and fully prepared meals. Their Fresh & Ready meals come in a variety of styles and can be heated in as little as four minutes.
The meals start at $9.99 per serving and include dishes like Chorizo and Sweet Potato Scramble, Turkey Bolognese Over Spaghetti, and a Spicy Southwest Beef and Sweet Potato Skillet. They're all delicious and there's plenty of variety.
The style works well for bodybuilders as Sunbasket offers various meal types, including protein plus, paleo, and vegetarian dishes. As such, it should be fairly easy to find a meal that matches your macro targets. You might even branch into the company's meal kits from time to time.
Eat Clean

Eat Clean focuses on healthy meals, ones that are nutritionally balanced and happen to taste exceptional as well. Perhaps the most impressive feature is that there are more than 500 individual meals available. This should mean that there are some meals for every possible set of needs.
The meals fall into four distinct styles: traditional, plant-based, paleo, and keto. Paleo would be the most relevant for most bodybuilders, but your needs might vary. As for plans, you can order 6, 10, 12, or 14 meals per week, with prices ranging from $11.58 to $8.60 per meal.
While the nutritional profile varies from meal to meal, you're often looking at more than 30 grams of protein and some carbs in each meal. Some even get up to 40 grams of protein or above. This should make them satisfying.
FlexPro

FlexPro focuses on healthy meals for athletes, trainers, bodybuilders, and others who are highly active. Examples of their meals include like Buffalo Chicken Mac, Cowboy Stew, Mexican Breakfast Skillet, and Balsamic Steak Tips.
The meals aren't amazing for protein, often ranging between 25 grams and 30 grams each. However, that's just for regular meals. You can also order large meals, which are higher in calories and more satisfying.
There are three plans to choose from: The Lifestyle Box (15 meals per week), The All-In Box (18 meals per week), and The Champion Box (21 meals per week). If you're ordering regular meals, these boxes cost $142.99, $162.99, and $178.49, respectively. If you focus on large ones instead, the prices shift to $172.99, $198.99, and $221.49.
FlexPro also offers power treats. These include peanut butter treats with 7 net grams of carbs and 7 grams of protein, plus cake bites with 7 net grams of carbs, plus 10 grams of protein. These could be a great way to boost your protein intake and are healthier than many regular desserts.
Methodology

Methodology is easily the most impressive prepared food company on the market, offering very healthy meals that are free from refined sugar, dairy, and gluten. The meals aren't cheap though. They start at $18 and some cost as much as $28.
Still, there are plenty of interesting meals on the menu, including Tempeh Chorizo Taco Salad Bowl, Sardinian Grandma's Vegan Minestrone Soup, and Butterfly Pea Coconut Rice. The nutritional profile varies considerably between meals, so you'd need to choose carefully.
The other interesting thing is serving sizes. Standard Methodology meals only come in at between 300 and 450 calories, but there are large meals too, which are typically between 600 and 1,000 calories instead.
Unfortunately, Methodology only delivers to Southern California and the San Francisco Bay Area. People living elsewhere will need to choose a different service.
Territory

Finally, we have Territory Foods. This company focuses on making delicious and nutritious meals, ones that rely on responsibly sourced ingredients. The animal proteins they use were all raised without hormones or antibiotics, while the seafood is obtained sustainably, leading to an environmentally friendly company.
The meals also exclude common inflammation-causing ingredients, particularly refined sugars, dairy products, and gluten, not to mention preservatives and artificial colors. Despite this, there's plenty of variation and delicious ingredients.
Territory offers an impressive collection of 35+ meals each week, with macro details for each one. You can scroll through their entire menu or use their tags to highlight the most suitable meals for your needs.
For bodybuilders, the most useful tag may be performance. These meals all contain at least 25 grams of lean protein for muscle development, plus 40 grams of complex carbs for energy. Many of the meals are much higher in protein too, like 40 or even 50 grams of protein.
You might choose to check out the meals in other categories too, particularly paleo. After all, the best meals will be influenced by your macro targets and overall goals.