For anyone trying to get the most out of their workouts, pre workout drinks and supplements sound like an excellent idea. The products promise to give you the energy you need to power through your workout. They could even increase your strength and muscle gain in the process.
With so many products on the market, how do you find the best pre workout drink? What should a pre workout drink contain anyway and how are they helpful?
In this post, we're taking a close look at the idea of these drinks and will then show you some of the best products that are currently on the market. The topic does require close examination, as there are plenty of potential ingredients in these drinks, including caffeine, creatine, and beta-alanine.
As we do so, remember that people have diverse needs. The best pre workout drink for you could be quite different than the best option for someone else. For example, anyone trying to build muscle fast is likely to need more protein and calories before their workout than someone focused on weight loss.
How To Find The Best Pre Workout Drinks
What Are Pre Workout Drinks?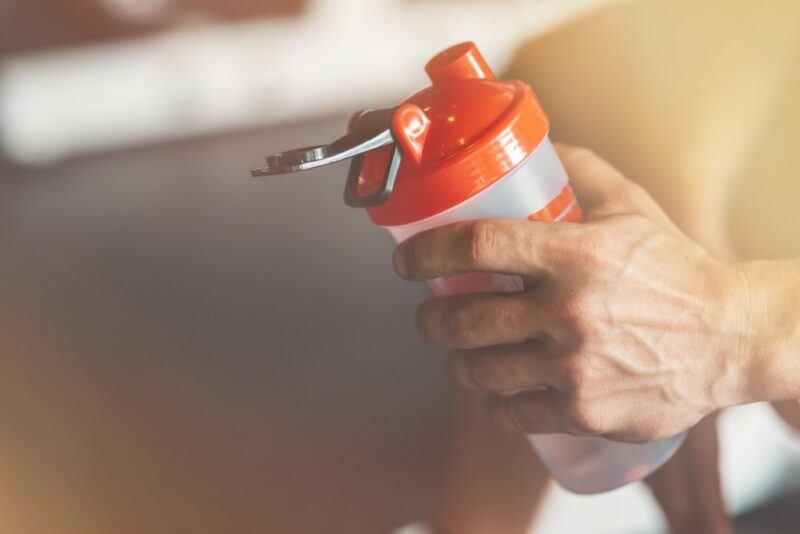 Pre workout drinks come in two forms. Some are already prepared, so you can just open them and drink them immediately. Others are in the form of a powder that you mix with water. Either way, companies try to make the process as fast and easy as possible.
The drinks are designed to improve athletic performance and energy, but they do this in different ways. This is why the ingredients used can vary dramatically from one brand to the next.
Some of the most common ingredients include the following:
Creatine. Creatine is a common sports supplement, one that's been well-researched and linked to increases in strength and exercise performance. While it's usually taken as a supplement on its own, you'll sometimes see it in pre workout drinks too.
Amino acids. Amino acids are the building blocks of protein, which should make them directly relevant to muscle development. However, amino acids aren't that relevant if you're getting enough of them in your diet.
BCAAs (branched chain amino acids). BCAAs are a specific type of amino acid and may be particularly powerful for muscle development.
Beta-alanine. This amino acid is important for muscle endurance, which is why you'll often see it featured in workout drinks and supplements.
Carbohydrates. Some drinks contain extra carbs to give you a fast boost of energy.
B vitamins. These vitamins are often included because they might boost your energy levels. While B vitamins do play a role in energy metabolism, they'll only increase your energy if you're not getting enough of them already.
Caffeine. Caffeine is an obvious way to give you an energy boost. It's well-known as a stimulant and has been linked to better exercise performance.
Some type of sweetener. Sweeteners are common ways to make the pre workout drink taste okay. Most brands avoid sugar and use either a natural or an artificial sweetener. These ingredients all have their issues, so it's best to find a brand that keeps sweetener use to a minimum.
The Best Pre Workout Drinks On The Market
Pre-Kaged Sport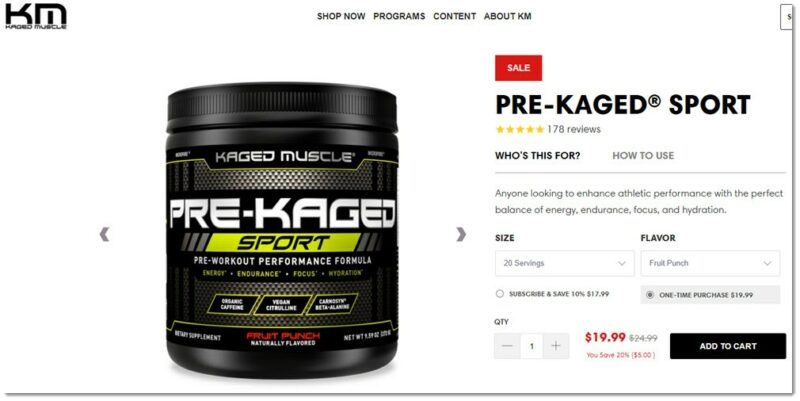 This sports drink comes from the brand Kaged Muscle and often features on 'best of' lists. Like many products, it's a powder that you mix with water before drinking it. There are three flavors to choose from: Fruit Punch, Glacier Grape, and Mango Lime.
Key ingredients include l-citrulline, beta-alanine, and betaine, along with the electrolytes magnesium and sodium. Other ingredients are used to provide energy, including caffeine, l-tyrosine, taurine, vitamin B6, and vitamin B12.
There's little sugar to worry about, as the supplement uses sucralose and steviol for sweeteners instead.
Benefits: Plenty of useful ingredients, low sugar, and the company is up-front about all the ingredients. The powder is a popular choice that receives good reviews.
Problems: Sucralose is an artificial sweetener that's been linked to some health problems. This could be an issue if you drink Pre-Kaged Sport regularly.
Pre-Kaged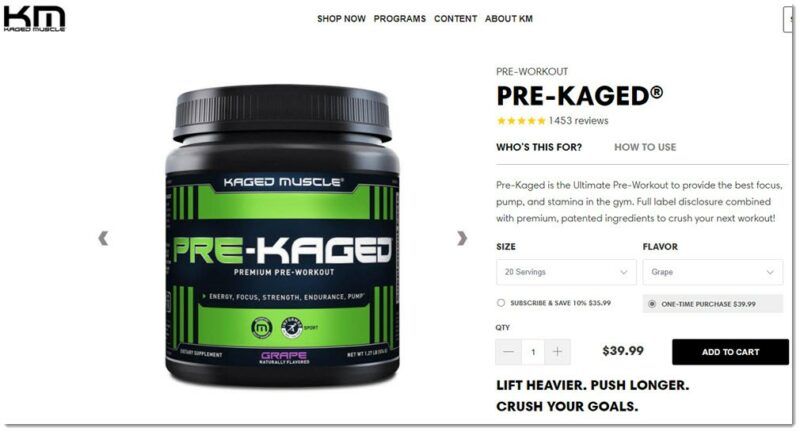 This is a second product from the Kaged Muscle brand. While the first focused on promoting energy, focus, and endurance, this one is designed for stamina and muscle strength in the gym. So, it uses a different set of ingredients.
There are plenty of flavors for this version, including Grape, Cherry Bomb, Pink Lemonade, and Orange Crush.
Some of the main ingredients include betaine, beta-alanine, l-valine, l-leucine, and creatine. There are the same energy-giving additions as well, like vitamin B6 and B12, caffeine, and taurine. An interesting addition is an ORAC blend, which consists of high antioxidant ingredients.
Like many products, Pre-Kaged uses proprietary formulas. This makes it more difficult to know exactly what you're consuming.
Benefits: This version is more popular than Pre-Kaged Workout and is often reviewed well. It has been tested by third parties and is completely free of any banned substances.
Problems: The long ingredients list and use of proprietary formulas means that there are many unknowns with this product.
C4 Energy Still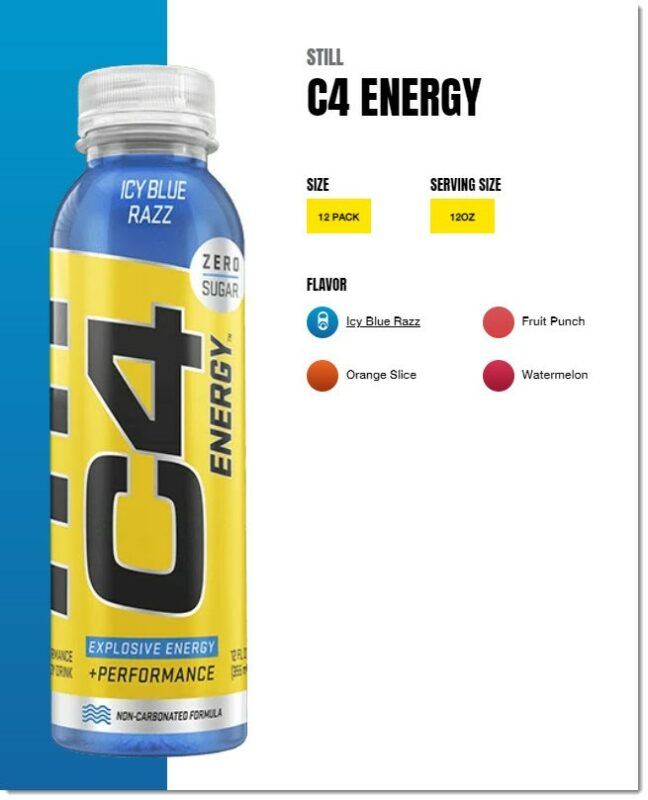 The C4 brand producers a variety of sports supplements – and their C4 Energy Still is particularly interesting. This is a premixed product, so you don't need to worry about powder and a shaker. You simply uncap the bottle and drink, perfect when you're in a hurry. As the name suggests, this isn't a sparkling drink, making it different than most other energy drinks.
While the balance of ingredients is a little different than normal, you are still getting caffeine, beta-alanine, citrulline, betaine, and n-acetyl-l-tyrosine.
Once again, there's no sugar. Sucralose is used to provide sweetness instead.
Benefits: You get a ready-to-use drink that offers most of the same benefits as a powdered option. Plus, you may find C4 energy in vending machines, which is ideal if you're a little disorganized.
Problems: Buying premixed drinks is always more expensive than buying powder and mixing the drink yourself. You have more waste to deal with too.
The Pre-Workout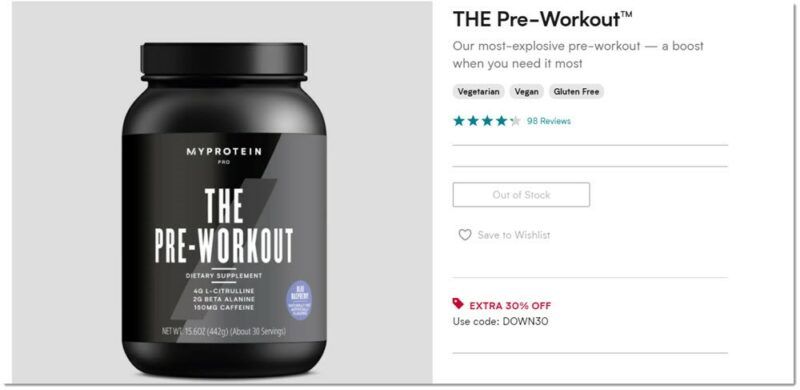 My Protein takes the bold approach of calling their product The Pre-Workout, which showcases their confidence if nothing else.
Ingredients include beta-alanine, betaine, l-citrulline, creatine, n-acetyl-l-tyrosine, theacrine, and B vitamins. Their site lists the potential benefits of each addition, in case users need clarification.
There's caffeine included too – a whopping 150 mg per serving.
Benefits: Plenty of desirable ingredients are included, so the supplement should be powerful for workouts.
Problems: The high caffeine content could be too much for some people and lead to an energy crash. Artificial ingredients are used, including dyes, artificial sweeteners, and artificial flavors.
Transparent Labs PreSeries BULK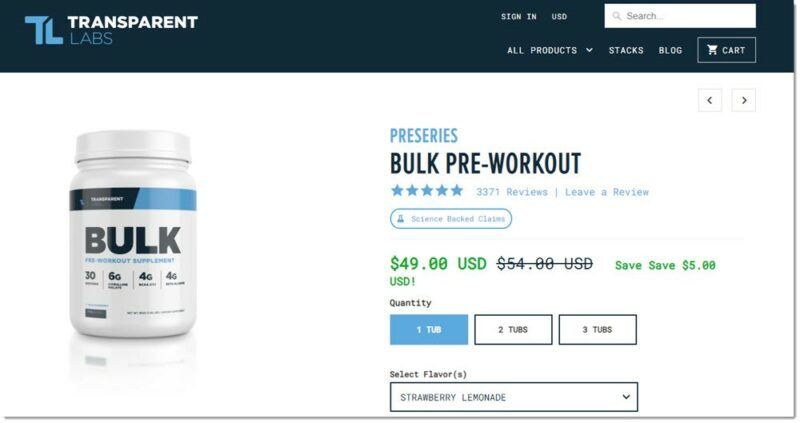 As the name suggests, Transparent Labs focuses on being up-front about their products and their ingredients. As part of this, they include certificates of analysis and transparency, which provide customers with more confidence.
Their PreSeries BULK supplement is designed for athletes looking to significantly increase their muscle mass. This time, the main ingredients include l-tyrosine, l-theanine, theobromine, BCAAs, citrulline malate, beta-alanine, and betaine. Some electrolytes and B vitamins are included as well.
Interestingly, there's no creatine, which is unusual for a muscle building product. The company explains that the lack of creatine was intentional, as the supplement also contains caffeine. That caffeine can negate the effects of creatine.
Transparent Labs does have other products to choose from, in case their PreSeries BULK isn't the right choice for you. PreSeries LEAN, for example, aims to promote fat loss and thyroid health, while PreSeries STIM-FREE skips the stimulants and does include creatine.
Benefits: The company avoids artificial ingredients and doesn't even add coloring agents. Stevia is used as the sweetener. The supplement is also vegan-friendly.
Problems: Some reviews suggest that the flavor isn't great, while others say that the effects aren't as strong as they could be. Those reviewers are in the minority, but show that the product mightn't be perfect for everyone.
Pre Lab Pro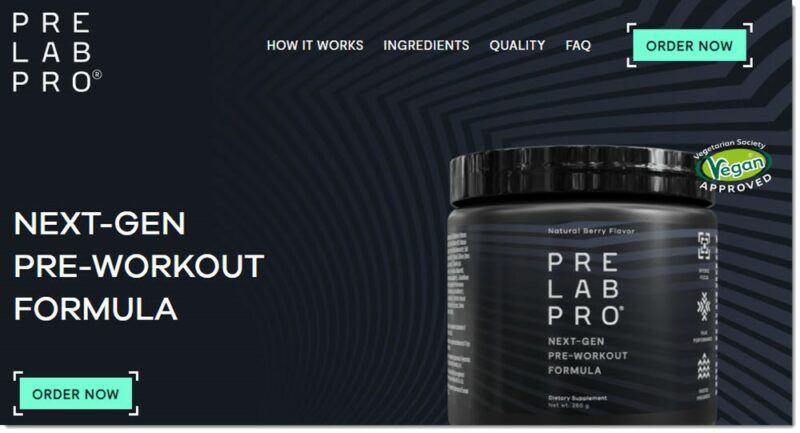 Pre Lab Pro is specifically designed as a pre workout supplement. It's also unusual, as the company just appears to offer a single product, rather than multiple options.
The drink works like many of the others, where you mix a scoop into water to give you a flavored drink. The supplement includes classic additions like l-theanine, l-tyrosine, l-glutathione, along with the B vitamins and electrolytes.
However, the ingredients list is shorter than normal and some popular additions aren't included. For example, there's no creatine or BCAAs.
Benefits: Only natural sweeteners are used and the short ingredients list decreases the risk of any problems. The company also avoids controversial ingredients, like artificial flavors, synthetic additives, soy, GMOs, and gluten.
Problems: The shorter than normal ingredients list means fewer potential benefits. This is an online-only product that isn't sold in regular stores.
Powher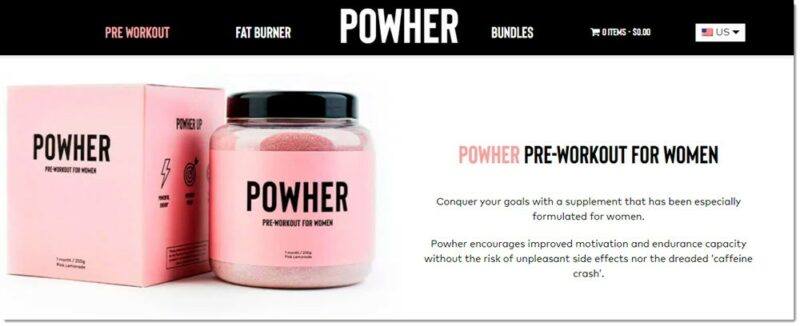 Unlike most supplements, Powher is specifically designed for women. The company offers three different supplements, which all rely on high-quality ingredients.
Rather than loading the supplement with caffeine, Powher includes a little natural caffeine, coupled with a caffeine enhancer. This combination should give you an energy boost from the caffeine, without the energy crash that often follows.
Other ingredients include l-lysine, l-citrulline, beta-alanine, and taurine.
The ingredients list is shorter than most other pre workout supplements. This means a decreased potential for benefits, but less chance of harm as well. There are also some unusual herbs in the mix, like Terminalia arjuna and Alpinia galanga.
Benefits: The product is low in stimulants, so it shouldn't cause jitters or energy spikes in the way that other pre workout supplements often do. The company is also very up-front about their ingredients and the benefits of each.
Problems: There's only one flavor and the product isn't as well-reviewed as many others. You're also missing out on some of the popular ingredients, which could reduce the potential benefits.
Evolution Nutrition ENGN Shred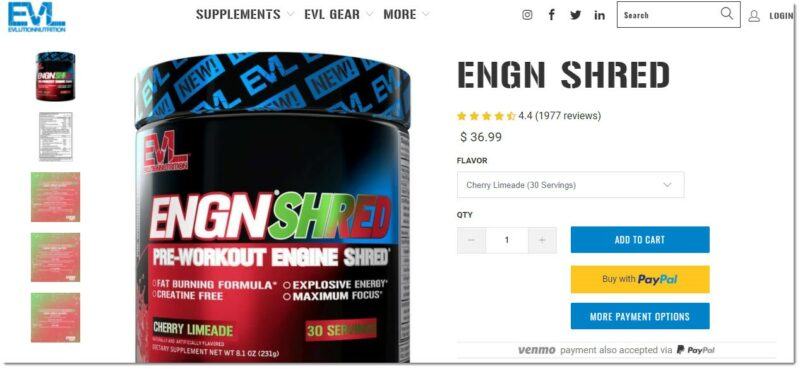 ENGN Shred comes from Evlution Nutrition. It isn't as clean and natural as some of the other items in this list (as it relies on sucralose, artificial flavors, and dyes).
The supplement does, however, include most of the ingredients that you'd expect, such as betaine, linoleic acid, caffeine, l-tyrosine, and beta-alanine. There are some less common ingredients too, including herb extracts to help with metabolism.
This is also an incredibly popular supplement, one that's well-known and gets good reviews. Some of the popularity may come from how the supplement is inexpensive and can be found in many stores.
Benefits: Less expensive than many other pre workout supplements and is easy to find.
Problems: The artificial ingredients could be a reason to avoid this product or to only use it every so often.
Should You Use Pre Workout Drinks?
Workout drinks and supplements aren't as powerful as they seem. While the ingredients may improve exercise performance, the evidence is often minimal. Even if there are benefits, they might not apply to you.
There are other issues too.
The drinks are highly processed, even the ones that rely on natural ingredients. Some use artificial ingredients too, which is another area of concern.
The American supplement industry isn't well-regulated. It's difficult, if not impossible, to be confident that the product label truly describes what the supplement contains.
The drinks tend to be expensive. This might be okay if they lived up to their claims, but there's little evidence that they do.
You can get the same nutrients from whole foods. Even just having a banana, a handful of nuts, and some coffee would give you most of what you get from a pre workout drink – for a fraction of the price.
You might not need the drinks anyway. If you already have enough energy to complete your workouts well, then adding more isn't helpful at all. You could even end up gaining weight from the extra calories.
The most important thing is to think about what you need.
Do you manage your workout well without having a pre workout drink? If so, you can probably skip it. If you find that you're flagging part way through, then perhaps a drink is a good idea.
Pre workout drinks are also quite different than each other. Some focus more heavily on protein and amino acids, while others focus on boosting your energy. Look for one that matches your needs.
Pay attention to the calorie content and the ingredients they use too. This is particularly true if you plan to have a drink before most workouts, as there are more chances for the negative effects to add up.