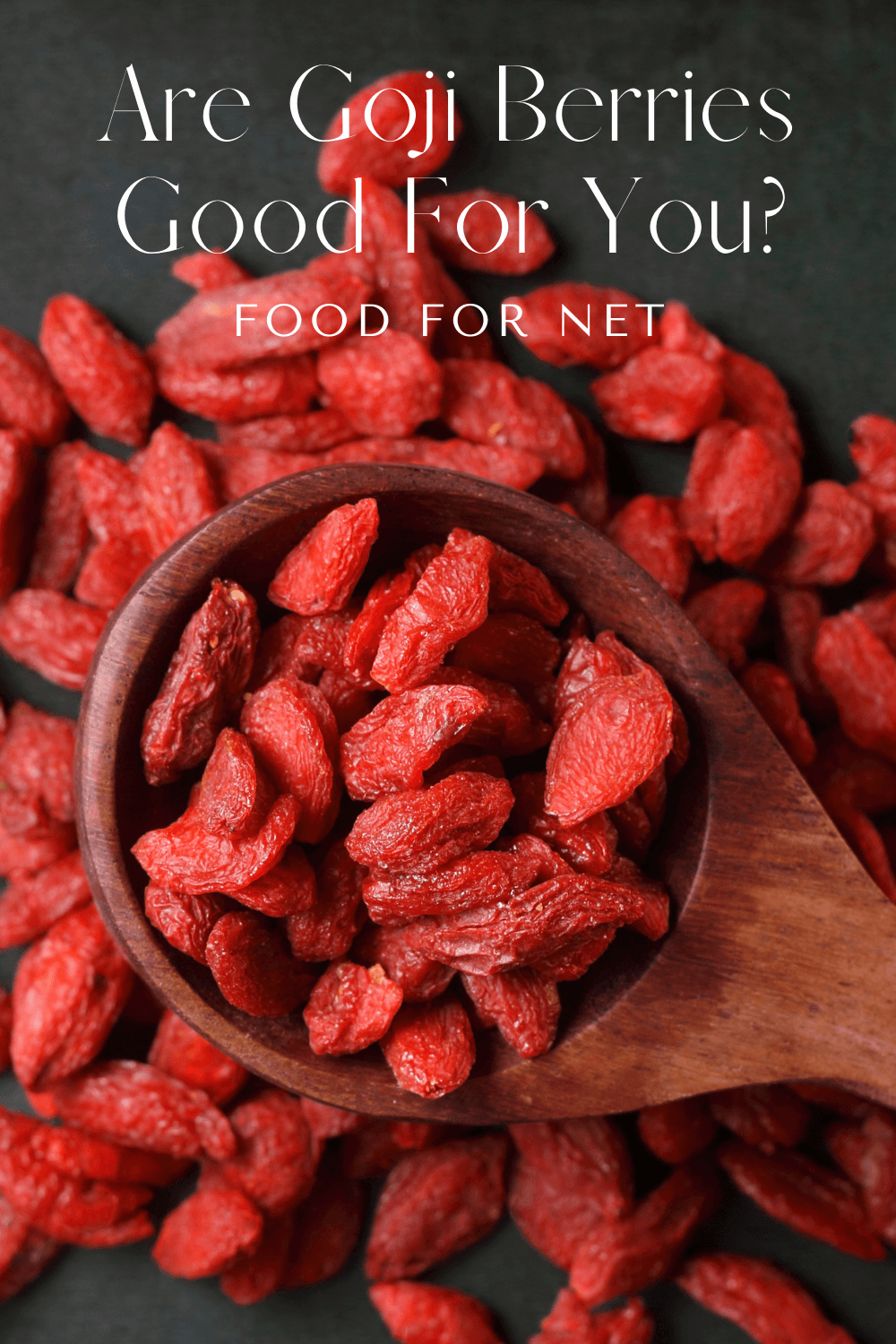 Once obscure and unknown, goji berries have now become incredibly popular as a superfood, but are goji berries good for you? They are thought to boost your health in all types of ways. For example, they may support your immune system, stabilize blood sugar, protect your eyes, and do much more beyond that.
These potential benefits aren't just wild claims, either. Many research studies have looked into the tiny berries, supporting some of the potential benefits. There may be even more benefits that the research simply hasn't uncovered yet.
Still, we must ask, are goji berries good for you? After all, the proposed benefits aren't unique to goji berries and don't tell us all we need to know about the little fruits.
Are Goji Berries Good For You?
What Are Goji Berries?
Benefits Of Goji Berries?
How Goji Berries Could Be Harmful
Can Goji Berries Help You To Lose Weight?
Are Goji Berries Better Than Other Berries?
Can You Buy Fresh Goji Berries In The United States?
Final Thoughts
What Are Goji Berries?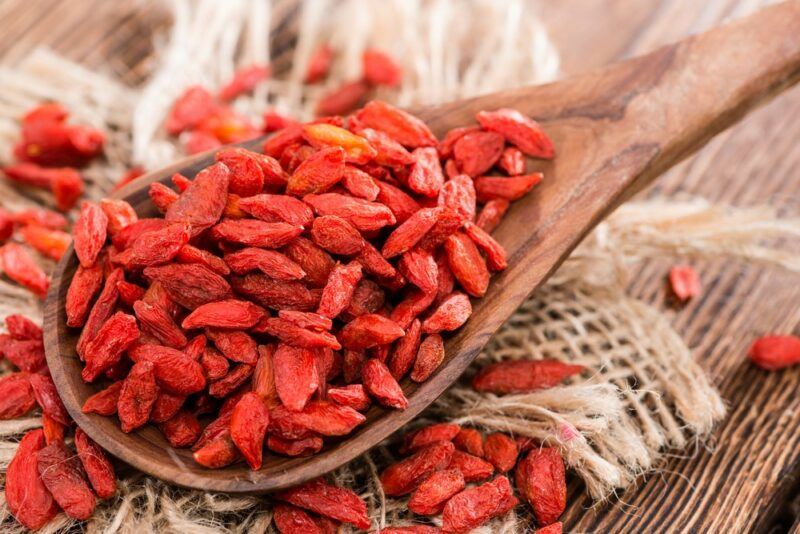 Goji berries are also known as wolfberries. They have bright orange-red coloring and grow on a native Chinese shrub. The berries have a long history in Chinese medicine, often eaten in an attempt to lengthen life. Western society is just catching up when it comes to these special berries.
Goji berries can be eaten fresh, just like other fruits, but they're often sold as dried berries instead. Dried goji berries have a much longer shelf life than the fresh version and are easier to transport.
You might find other versions too, like goji berry powder. The powder is exceptionally easy to use, as you can simply mix it into your smoothies or sprinkle it on top of cereal. Just make sure you're getting pure goji berries, rather than a product that's heavy in additives.
Benefits Of Goji Berries
They Contain Some Nutrients
Goji berries do offer some nutrients, including vitamin A, vitamin C, iron, and even some calcium. Nutrients like these are always important, as they're what keep our bodies functioning well.
The iron is particularly interesting here, as it is used to produce hemoglobin, which is essential for transporting oxygen throughout your body. Iron is also needed for various parts of our growth and for creating some hormones.
Plus, iron deficiency is still surprisingly common, even in the United States. Rather than relying on iron supplements, why not get the iron you need from your food instead? A serving of goji berries provides a little over 10% of your daily iron needs. That's pretty impressive for such a tiny berry.
Surprisingly Protein Dense
While fruit is never an amazing source of protein, goji berries do contain more of the macronutrient than most other fruits, with an ounce serving giving you a full 4 grams of protein.
This is decent, given that the same serving only contains 99 calories.
Protein is vital, as our bodies use it to create the proteins that we need to function every day. Getting enough protein is essential for our muscle development, our skin, our immune system, and countless other areas.
Goji berries don't get you anywhere close to the protein you need per day, of course, but they still help.
Provide You With Fiber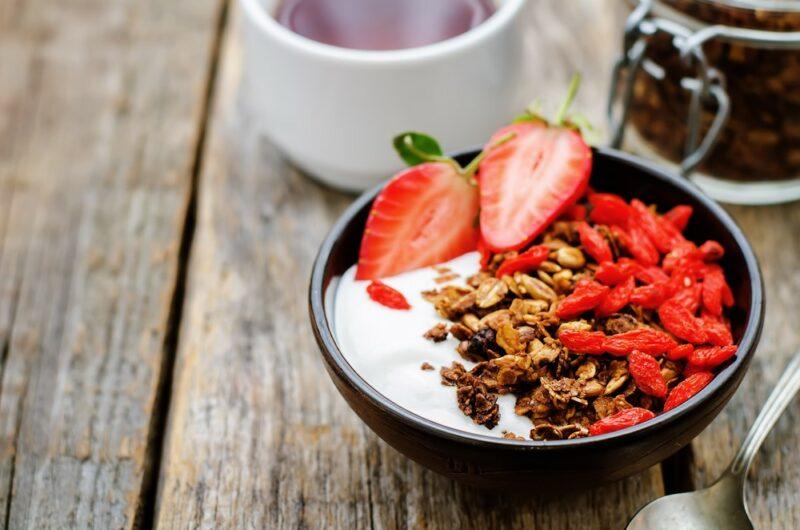 Let's not forget about the fiber, either. Fiber is crucial for your digestive system, keeping your bowel movements regular and acting as food for your gut bacteria
While fiber is easily found in fruits, vegetables, legumes, and whole grains, many of us still don't get enough of it. Goji berries are an easy way to boost your fiber intake, as you get close to 4 grams of fiber per ounce.
Plus, you can simply scatter the dried berries on top of a meal, use them in a smoothie, or eat them as is. What could be simpler?
Could Improve Your Immune System
Goji berries are most famous as a source of antioxidants. These plant-based compounds are always important, as they reduce the risk of harmful oxidation, supporting your health in the process.
This effect is powerful, as high levels of oxidation could damage your cells and even your DNA, leading to no end of issues. An antioxidant rich diet helps to reduce the risk of such damage. Goji berries aren't the only source of antioxidants out there, but they are a particularly good one.
Among other effects, antioxidants can help with your immune system, making your body better at fighting infections and protecting itself.
The vitamin C and vitamin A in goji berries are also relevant to your immune system. Even the protein plays a role, as insufficient protein intake can compromise your immune system, making it less effective.
Could Have Anti-Aging Effects
Antioxidants are often thought to decrease cellular aging, potentially leading to fewer premature age-related effects in humans.
We don't know a lot here, as studies are limited, and most have been conducted in animals or test tubes rather than humans. Even so, the idea is powerful and is a good reason to get more antioxidants into your diet.
May Be Good For Your Heart
Early research suggests that the berries help decrease triglycerides and total cholesterol levels. Triglycerides and cholesterol are both risk factors for heart disease, so lowering these may make heart disease less likely.
Because there are relatively few studies and they've focused on goji berry extract, we don't know whether goji berries themselves have the same impact on your heart disease risk. However, the extract and berries do both contain antioxidants, so it's reasonable to assume that at least some of the effects carry across.
The Antioxidants Offer Other Benefits Too
We've already talked about some antioxidant-related benefits, but there's still plenty to say about antioxidants. Goji berries are notable here because their antioxidant content is high. They also contain some potent types of antioxidants, including carotenoids and lycopene.
Remember too that we're still learning about antioxidants and coming to understand them more. They may have many more benefits to health than we're currently aware of.
Goji berries also contain an exciting group of antioxidants, known as Lycium barbarum polysaccharides. Studies into goji berries have often focused on these, suggesting that they may offer extra health benefits.
The berries themselves aren't the only place to find these antioxidants. Some studies have focused on goji berry drink instead, finding that it does increase people's antioxidant levels.
Provides Energy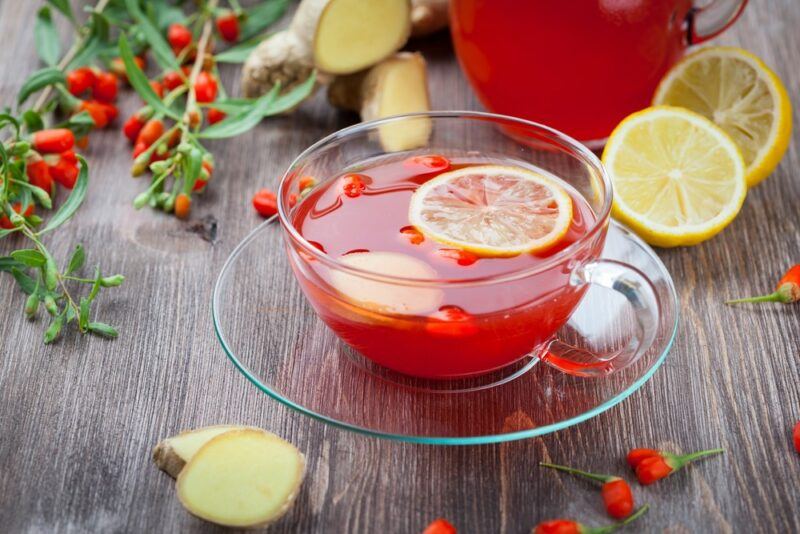 Many people report feeling energized after consuming goji berry extract or juice. This effect doesn't seem to be just due to the sugar in the juice either. Some of the plant-based compounds may play a role too.
Related effects have been seen as well, including improvements to mood and sleep, along with lower levels of stress.
How Goji Berries Could Be Harmful
Goji berries don't come with many problems. The most significant is how they may interact with some medications, including blood thinners, blood pressure medications, and medications for diabetes.
If you're taking any of these medications, it's best to talk to your doctor about goji berries before taking them regularly. Your doctor should be able to tell you whether goji berries are a good idea and, if so, what the best amounts are.
This might seem silly, as we're just talking about berries. Here's the thing, though, the compounds in food do affect our bodies. Most of these effects are positive, but not all of them and sometimes there are interactions between foods and medications.
As such, it's always important to check. Don't just assume that something is good for you simply because it is natural.
Don't Forget Their Sugar Content
Like most fruits, goji berries contain sugar. Now, sugar from fruit isn't nearly as bad as the added sugar that you find in processed foods, but it can still be a problem.
In fact, even if your sugar primarily comes from fresh fruit, too much of it can still increase inflammation and raise your risk of type 2 diabetes.
Dried fruits are a particular problem, as they're a concentrated source of sugar. For example, an ounce of dried goji berries gives you around 13 grams of sugar, which is a decent amount.
The sugar content doesn't mean you need to avoid goji berries entirely. Instead, it's a reminder to keep an eye on your portion sizes. You might also need to cut down your sugar intake elsewhere so that you can enjoy goji berries without a problem.
They're Not Keto Friendly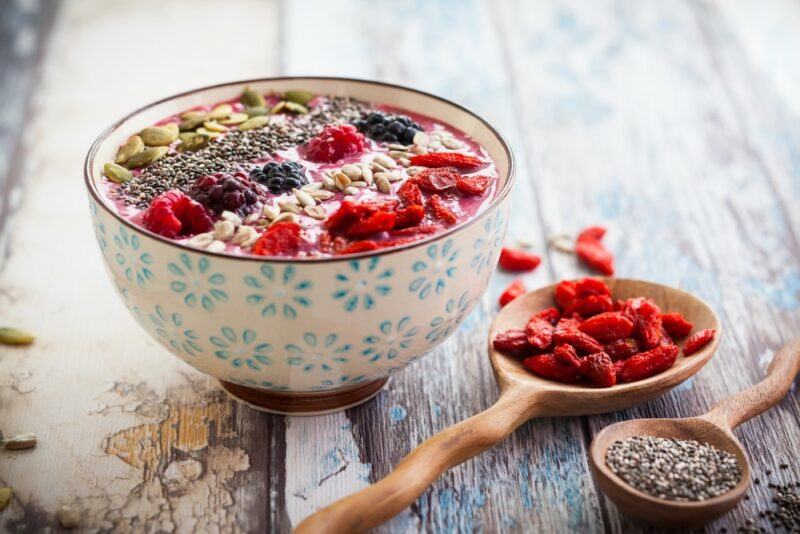 The sugar and carb content of dried goji berries is high, even for a type of fruit. You're getting a whopping 22 grams of carbs in an ounce and less than 4 grams of those carbs come from fiber. Even a tiny serving size will be too much on a keto diet. You're better off focusing on fresh keto friendly berries, like blackberries and strawberries. These provide you with plenty of antioxidants and are much lower in carbs than dried goji berries.
The Risk Of Contamination
There's also the risk of goji berry contamination, particularly from industrial pollution. Part of the problem is that dried goji berries and goji berry powder generally comes from China and China isn't known for rigorously following regulations.
The best way around the issue is to choose your suppliers carefully. Look for companies that have reliable processes and plenty of oversight. Some may even submit their products to third-party testing to ensure that there's no contamination.
Try to dig around when you're doing this, as some companies buy the berries from Chinese suppliers and simply repackage them – trusting the claims that the supplier makes about quality. The best products are the ones where the company selling them is directly involved in quality control.
Can Goji Berries Help You To Lose Weight?
Goji berries are sometimes seen as a weight loss food. One reason is the fiber and protein that they contain. Both of these macronutrients help you to feel full for longer, an effect that may decrease your calorie consumption.
The fiber can also help to decrease the blood sugar impact of the berries, meaning that they shouldn't spike your blood sugar.
Such effects are helpful, but they're not the whole story. Dried goji berries are still high in sugar, while their levels of protein and fiber aren't that amazing. Why not turn to a high protein or high fiber snack that's lower in sugar? Nuts, for example, are much more filling than goji berries ever will be.
Could the berries help you lose weight? To a degree, yes, but not more than many other snacks.
Are Goji Berries Better Than Other Berries?
There's a simple answer here – we don't know. Studies often just focus on what happens when you add particular fruit to your diet.
For example, we know that goji berries may improve sleep or that blackberries may support your brain health, but we don't know how the berries compare for either effect. Still, it's likely that many of the health benefits are similar.
After all, most types of fruit are rich in antioxidants and other plant-based compounds, while also providing fiber. You'd expect some of the benefits to overlap.
Common berries like strawberries, raspberries, and blackberries have some advantages though, as they're easy to find, are often inexpensive, and can be enjoyed fresh. There may even be more benefits from fresh berries than dried goji berries. Who knows?
Can You Buy Fresh Goji Berries In The United States?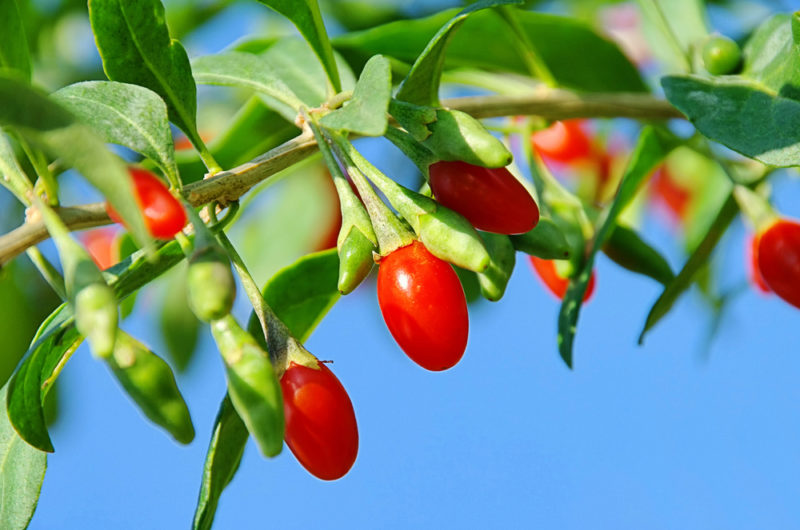 Most goji berries are sourced from China. The fresh berries wouldn't survive transport well, so they tend to be dried before being shipped out.
Thankfully, goji berries can be grown in the United States. Some of these berries are dried and then sold, while others may be sold fresh instead.
Fresh goji berries are quite different than dried ones. Their texture is similar to that of a small tomato. The extra liquid means that the flavor and sugariness of the berries are much more diluted.
While the fresh berries take some getting used to, many people love them. They may also be much healthier than dried goji berries, as you're getting less sugar per serving. Plus, the fresh berries are less processed than the dried ones, so they should retain more nutrients and antioxidants.
Final Thoughts
Goji berries do have many benefits. You could easily include them in your diet daily and might see improvements to your heart health, immune system, and other areas.
Even so, it's important to be realistic. Foods tend to have cumulative and gradual effects on your health. They don't dramatically change things overnight. And, most of the benefits of goji berries apply to other types of fruit as well, particularly berries.
Frequently Asked Questions
What Do Goji Berries Taste Like?
Fresh goji berries aren't incredibly appealing, as they're fairly bland, with a slight bitter aftertaste. However, the berries still work well in many recipes.
Dried goji berries have a more concentrated flavor. It's a little like a sour cherry or cranberry, with a slight herbal flavor. You end up with a fairly tart berry, with a touch of sweetness.
Where Do Goji Berries Grow?
Goji berries generally grow in China and this is where most commercial production takes place. They don't survive transport to the United States well, which is why you often find them dried instead.
However, the berries can be grown in the United States. This makes it possible to find fresh goji berries locally. You can even grow them at home, if you live in the right hardiness zones.
Are Goji Berries Nightshades?
Yes, goji berries fall within the nightshade family, along with peppers, potatoes, gooseberries, and tomatoes.
How Many Goji Berries Should I Eat A Day?
Despite their benefits, it's certainly possible to overdo it with goji berries. Doing so could lead to some side effects, including diarrhea and an upset stomach. The berries could also lower your blood sugar and blood pressure too far.
However, recommendations vary for how many goji berries you should eat. If you're focusing on dried goji berries, then no more than 20 to 30 grams at a time is wise. For fresh berries, you might go up to 150 grams.
The amount will be influenced by your diet and lifestyle too. For example, if you're inactive and already eat plenty of fruit, keeping your goji berry intake low will help you avoid overdoing it with sugar. But, if your sugar intake is currently low, you could easily consume more goji berries.
Is There A Cancer Warning For Goji Berries?
There is a Prop 65 warning for some goji berries because of the lead levels in the berries. While the berries aren't exceptionally high in lead, there is enough in some products to push them over the Prop 65 threshold.
However, the Prop 65 warning doesn't mean you need to avoid goji berries entirely. It's simply in place to help Californians to make more informed decisions about their diets.
If you're concerned about this aspect of goji berries, look for ones grown in the United States, rather than China. Locally grown goji berries should be lower in lead and can be a safer option.