Antioxidants have caught the public eye as a way to improve health and perhaps even lower disease risk. These powerful compounds help to protect your cells from free radical damage, decreasing the level of oxidative stress in your body. But, don't rush out to look for antioxidant supplements just yet. Research shows that you'll get better outcomes from relying on antioxidant rich foods in your diet.
Whole natural foods are the source of many important vitamins, minerals, plant-based compounds, and other nutrients. Supplements might be able to give you a higher dose of some of these compounds, but a supplement can never replicate the variety that is found in natural foods. The same principle applies when you need energy. Sure, you can get a shot of energy from caffeine, but it's quite a different feeling from getting natural energy from foods.
And, while we're on the topic, always remember that variety is key. There are many types of antioxidants out there and they have different functions in your body.
The best health outcomes won't come from choosing a couple of particularly significant antioxidant rich foods. Instead, you'll get the most benefits by including a selection of different such foods in your diet. This gives you the widest range of plant-based compounds.
Before we get started, there's one more thing to mention – comparing the antioxidant capability of foods is difficult. Multiple tests and assays that can be used, like the ORAC assay. However, each approach yields different results and such assays don't fully represent how the antioxidant will behave in the body.
Finally, the antioxidant content of food will vary depending on how it is produced and prepared, the variety that is used, and even the growing conditions. Such patterns mean that you can't focus just on the 'best' foods for antioxidants. Instead, you really need to keep your options open and try new foods as you go.
Antioxidant Rich Foods
Dark Chocolate
Cocoa Powder
Coffee
Blueberries
Cranberries
Other Berries
Pomegranates
Goji Berries
Acai Powder
Grapes
Raisins
Dark Greens
Broccoli
Red Beans
Other Beans
Tomatoes
Artichoke Hearts
Barley
Pecans
Walnuts
Other Nuts And Seeds
Potatoes
Bee Pollen
Cloves
Cinnamon
Other Spices
Dark Chocolate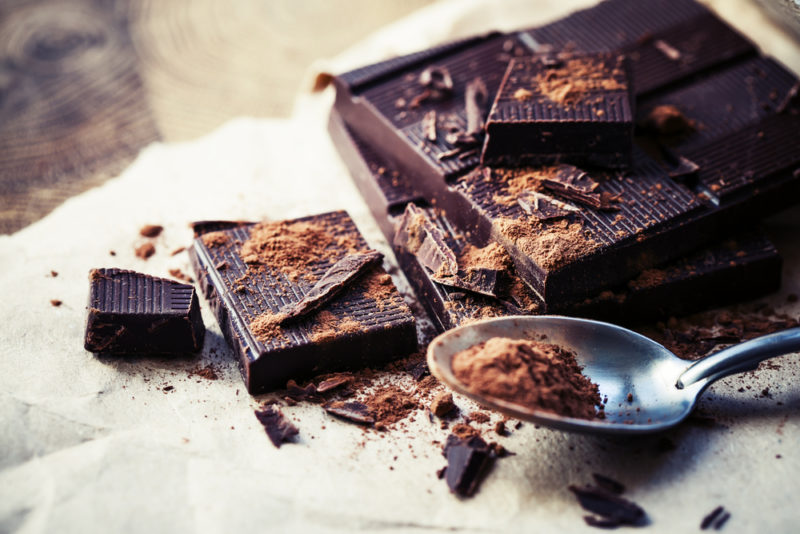 Can you think of a better way to start off this list? Chocolate is no longer considered just a sweet treat. We now know that it contains many important plant-based compounds, including antioxidants. Even more importantly, the antioxidant content of dark chocolate is high, with some measures finding more antioxidants in dark chocolate than in other powerhouses like blueberries.
Of course, we are specifically talking about dark chocolate here. You won't see the same benefits from sugar-laden milk chocolate.
The antioxidants in dark chocolate come from cocoa itself. As such, you'll see the most benefits from chocolate with a high cocoa percentage. You should be aiming for at least 75% cocoa, but 80% or 85% is better.
Cacao nibs are a related option to try. These nibs are made from cocoa beans that have been crushed, fermented, and dried. They have the characteristic flavor of chocolate, but tend to be more bitter. While the nibs might not taste as pleasant as chocolate, they are a concentrated source of the compounds from cocoa.
They can be easily used too, such as scattered on top of cereal or a smoothie, or even as an ingredient in a salad.
Cocoa Powder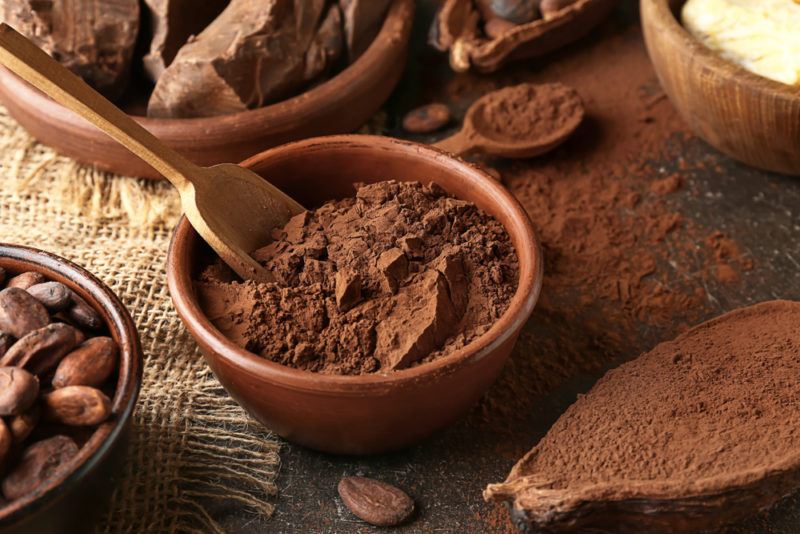 You can also find the same compounds through cocoa as well. Cocoa can easily be included in hot drinks or baking, so it's a more flexible way to access the antioxidants.
Once again, you'll need to be careful about the specific product that you choose. Look for a brand that only relies on cocoa as an ingredient, rather than one that adds in various sweeteners and other ingredients. Products marketed as unsweetened baking cocoa are often a good place to start.
Coffee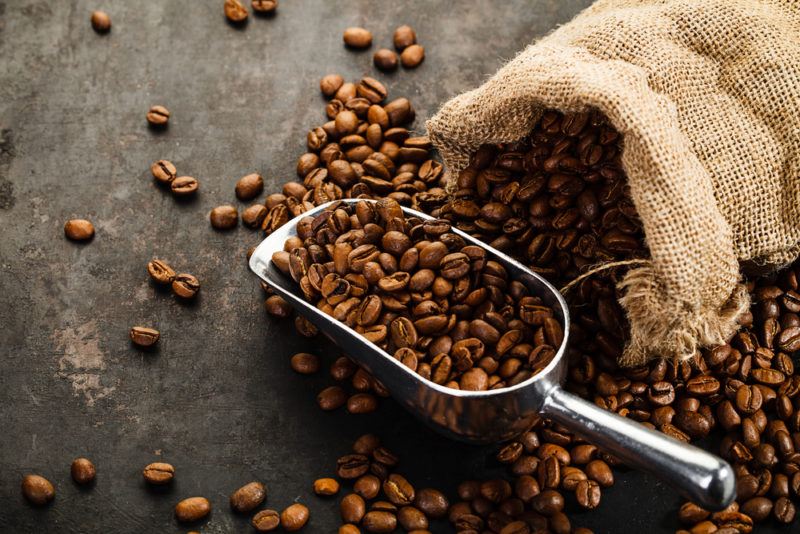 Coffee might be a drink, but it's too important to skip. The reason is that coffee is the main source of antioxidants for many people.
This pattern doesn't make coffee the most powerful source of antioxidants, not by a long shot. Other entries on this list offer more antioxidants per serving. Still, as a society, we do consume a lot of coffee. Many of us are drinking at least two or three cups a day, if not more.
Coffee is even more notable for people with poor diets. People in that situation might not be getting many antioxidants from other sources.
While coffee has been linked to some health benefits, using it as your main source of antioxidants isn't a good plan. Too much caffeine can do more harm than good. Besides, the other antioxidant rich foods on this list contain important compounds and are worth eating regularly.
Blueberries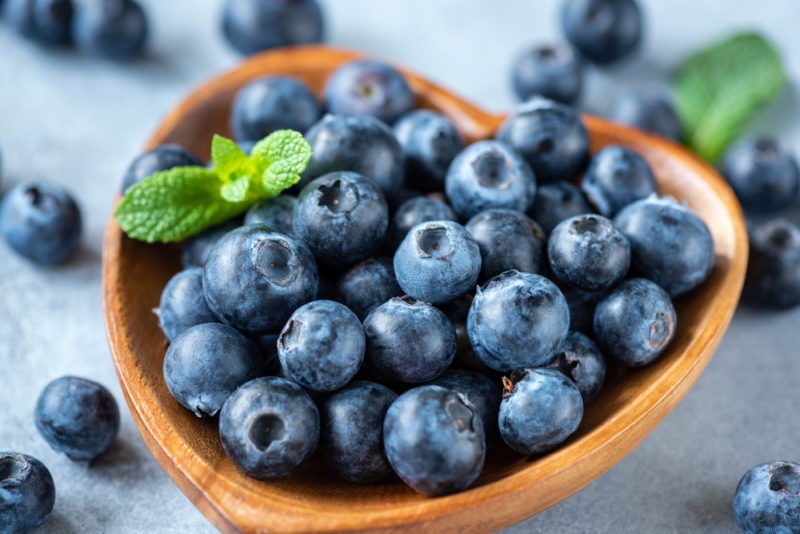 Blueberries often come near the top of the list for antioxidants. This isn't surprising either, as the delicious berries contain more antioxidants than many other sources. They're especially well-known for their ability to reduce inflammation.
Many of the antioxidants in blueberries are anthocyanins. Anthocyanins are a type of pigment molecule and they're responsible for the deep blue-purple color that you see in blueberries.
On a side note, the antioxidant level in blueberries does vary depending on where they are sourced from. There may be changes from one crop to another too.
Still, in general, you'll get more antioxidants from wild blueberries that you have harvested or found at a farmer's market, rather than cultivated blueberries from the store. This is great news for foragers. But, if you don't have access to wild blueberries, cultivated ones will do just fine.
Cranberries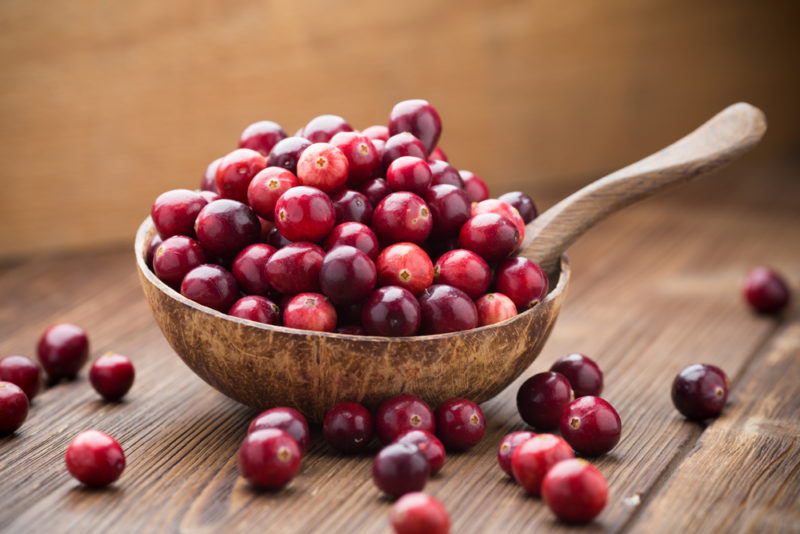 Cranberries are another good choice. They don't contain as many antioxidants as blueberries, but they do come close. The red coloring of the berries also means that you're getting some different antioxidants with cranberries than you do when eating blueberries.
Finding fresh cranberries to eat isn't as easy as finding blueberries, and cranberries aren't as easy to snack on either (they're quite tart!). However, you can find cranberry juice, which offers a more concentrated source of the antioxidants.
If you do this, look for juice that has as little added sugar as possible. Also pay attention to the percentage of cranberry juice in the final product. Some brands use a decent amount of cranberry juice, while others use hardly any at all.
Other Berries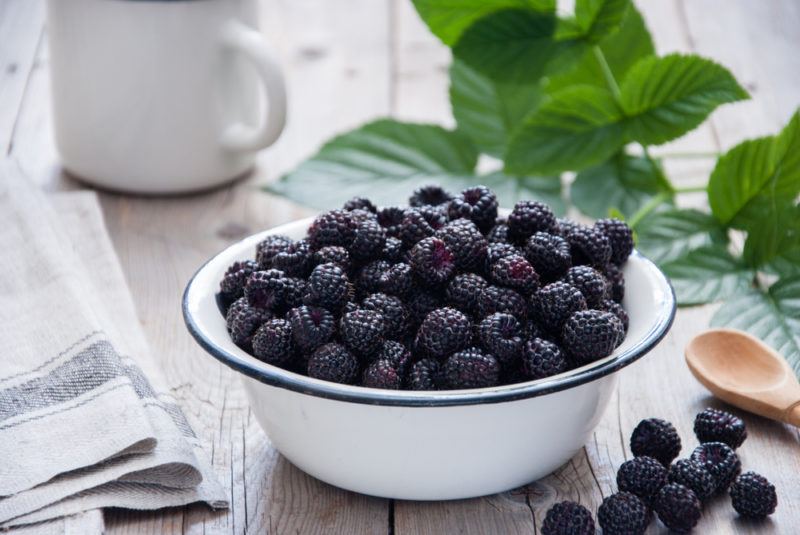 You can get antioxidants from any type of berry. In fact, just including mixed berries in your diet is an easy way to get plenty of antioxidants.
Blackberries and raspberries are both good choices too, which shouldn't be surprising, given their strong coloring. You're not limited to conventional berries either. More obscure berries can offer a decent amount of antioxidants too, which includes berries that you forage for.
For example, black raspberries and marionberries are both powerful choices for antioxidants.
Pomegranates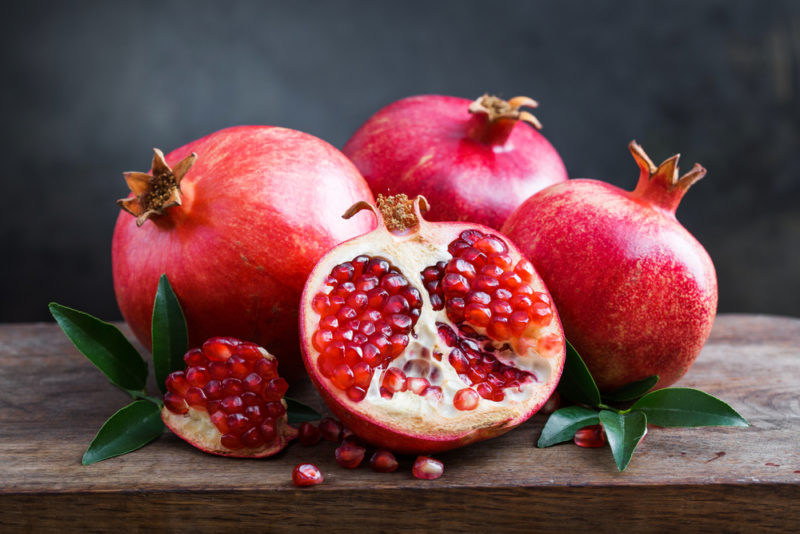 Pomegranates are another important fruit to consider. They were once an obscure choice, but you can now easily find them in local grocery stores.
Pomegranates are very unusual, as they contain seeds that are enclosed in tiny sacs of juice. The structure is known as a pomegranate aril. Eating an aril will give you a pleasant burst of sweet-tart juice in your mouth.
The arils can be scattered on top of meals or included in salads too. Getting the arils out of the pomegranate without too much mess does take a bit of practice. But, once you get the hang of it, the process isn't too difficult at all.
You can also find pomegranate juice in local stores. Pom Wonderful is one well-known brand. The juice is an easy way to get the antioxidants from the fruit. Just watch out for the sugar content.
Goji Berries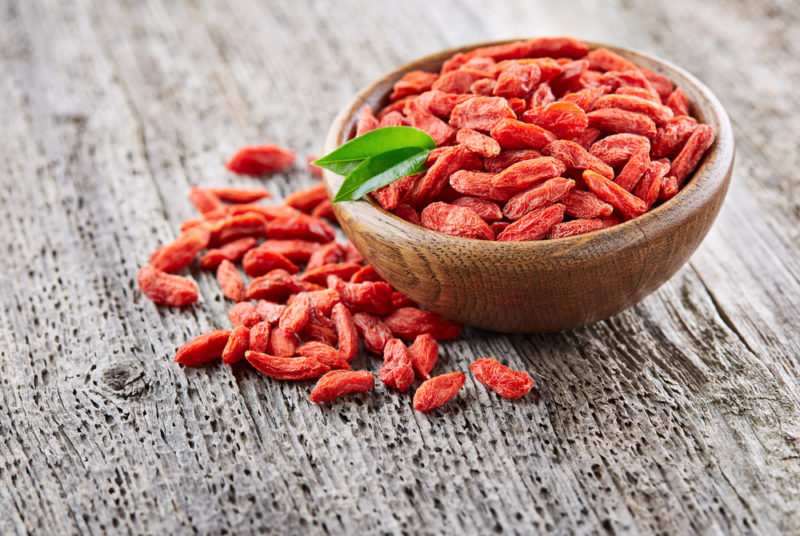 While we're on the topic, it's worth talking about one relatively obscure choice – goji berries. This fruit has a long history in traditional Chinese medicine.
Goji berries are often sold dried and you can eat them like that. They are orange-red in color and have an appealing sweet tangy flavor.
In fact, the dried nature of the berries makes them perfect as a snack. They end up being less messy than fresh berries and they last longer too. You can also mix goji berries in with some meals or salads, or perhaps scatter them over the top.
The berries are also slightly unusual, as they contain a decent amount of protein (roughly four grams of protein in a 28 gram serving). This makes them more satisfying than other berries.
Acai Powder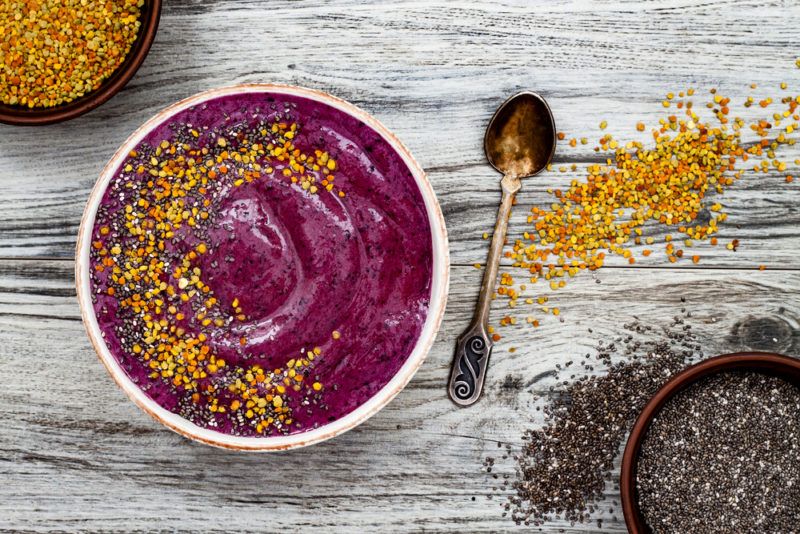 Acai is another once unheard of fruit that has now become exceptionally popular. Acai berries come from a tree in the South African rainforest. The berries look a lot like grapes, but only around 20% of the fruit is flesh. The rest of the space is taken up with the seed.
The berries spoil fast and have a long way to travel, so you're not likely to find fresh acai berries locally. Instead, you'll often find frozen acai puree or acai powder. Either approach provides you with the flavors and antioxidants from the berries.
Making a smoothie with acai powder or puree is a very common approach. However, you do need to pay a little attention to the sugar content of your smoothie, as acai berries are a concentrated source of sugar on their own.
Grapes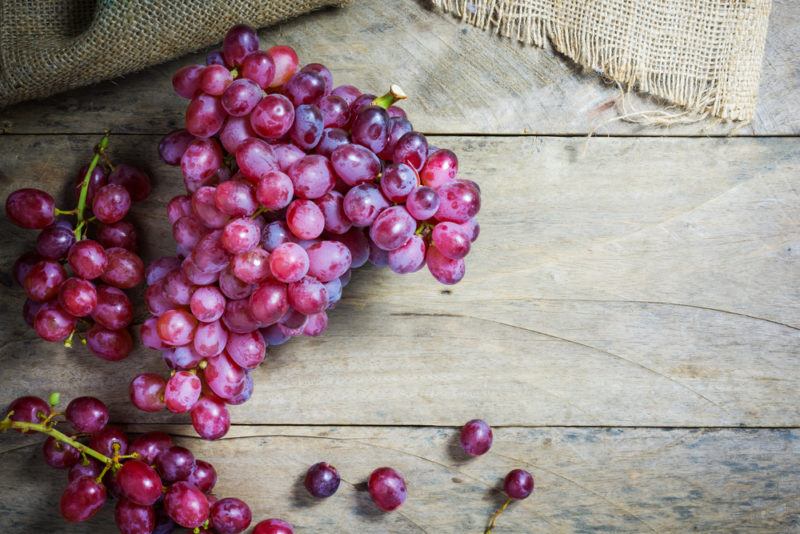 While grapes aren't as powerful as some of the other antioxidant sources on this list, they shouldn't be overlooked. For one thing, they tend to be cheaper than berries and you can find them at most times of the year.
Not surprisingly, the antioxidant content varies depending on the type of grape that you choose. Red and black grapes tend to have higher amounts of antioxidants than green grapes, but even then there are considerable differences.
Raisins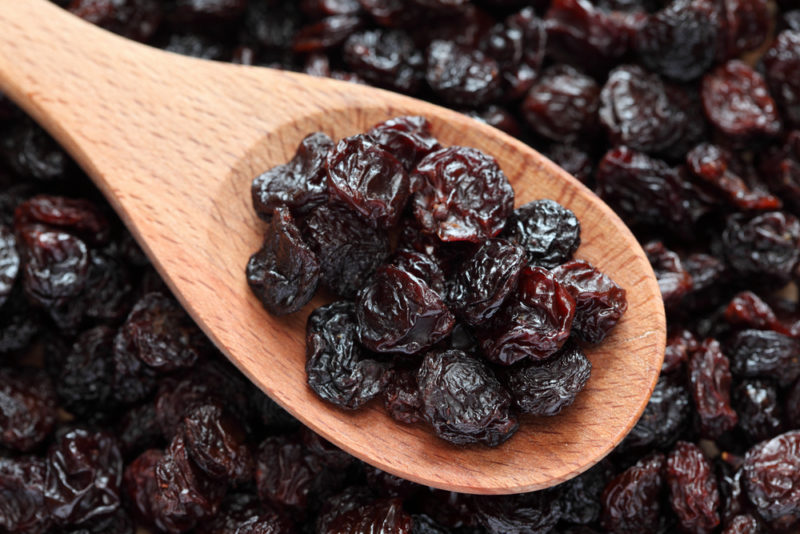 If you want a fast boost of antioxidants, raisins are an easy choice. After all, raisins are simply dried grapes, so you're getting a more concentrated source of antioxidants.
One test shows that raisins have roughly three times the antioxidant effect of grapes, when you compare them ounce-for-ounce. Of course, a serving of raisins has more sugar than a serving of grapes too, so you need to be wary with your portion sizes.
Even with the higher sugar content, raisins can still be useful. They last much longer than grapes and you can easily just throw a handful of raisins on a salad or even just eat them as-is.
Dark Greens

Antioxidants aren't just limited to vibrant fruits like berries and oranges. Dark green vegetables contain a surprising number of antioxidants too. The antioxidant kaempferol is one example. This antioxidant may play a role in fighting cancer and helps to dilate blood vessels too.
Spinach remains one of the most popular choices in this field, partly because it is familiar and fairly inexpensive. Most of us already know many recipes that rely on spinach.
Kale has become popular too and was thought of as the next big superfood for quite some time. While the buzz around kale has decreased somewhat, the vegetable is still a good source of nutrients.
There are many other dark green vegetables if you want to vary your intake more, such as Swiss chard and even broccoli. Even lettuce can offer some useful compounds, even though this vegetable often isn't as powerful as some of the other choices from this list.
Broccoli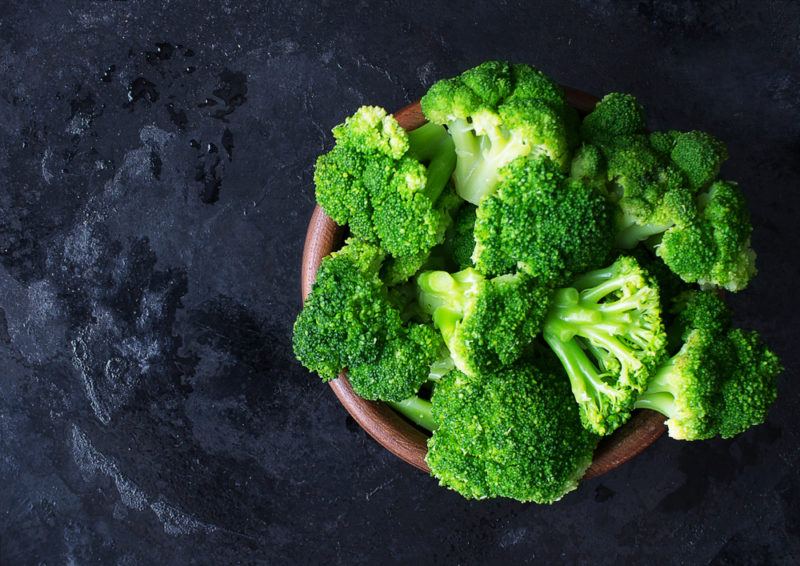 While broccoli falls into the category of dark greens, the vegetable is also important enough to have its own entry. Not only is broccoli a good source of nutrients, but the vegetable is also high in compounds called phenolics. Phenolics help plants to respond to oxidative stress and may have similar roles in humans too.
Other interesting antioxidants in broccoli include zeaxanthin, lutein, and beta-carotene, which are all carotenoids.
The biggest problem with broccoli is that it's easy to overlook. The vegetable is a classic mealtime choice and can seem pretty boring. It's easy to pass over broccoli in favor of more trendy vegetables or superfoods. Yet with so many important compounds, broccoli has truly earned its place at the dinner table.
Red Beans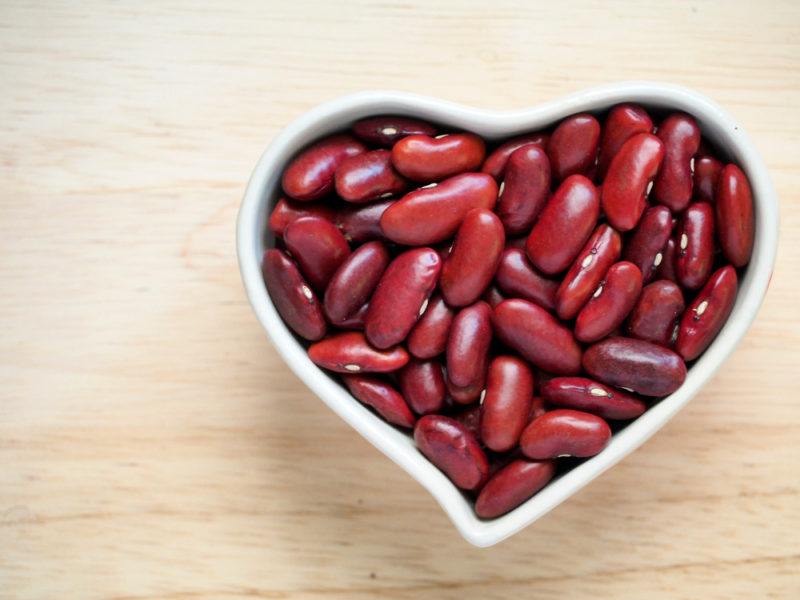 It's easy to assume that fruits and vegetables are the only good sources of antioxidants, but legumes can be surprisingly powerful too. Red beans top this list, as half a cup of dried red beans might contain as many antioxidants as a full cup of blueberries.
While legumes and berries do contain different antioxidants, the significance of legumes can't be denied. Besides, legumes have other advantages too, as they're a good source of fiber and protein.
Small red beans are thought to be the best choice for antioxidants, but red kidney beans are almost as good.
Beans can sometimes cause digestive discomfort, which may impact your ability to enjoy them. However, you can soak the beans beforehand to improve your ability to digest them. You may also find that any side effects decrease after you've been eating the beans for a while.
Other Beans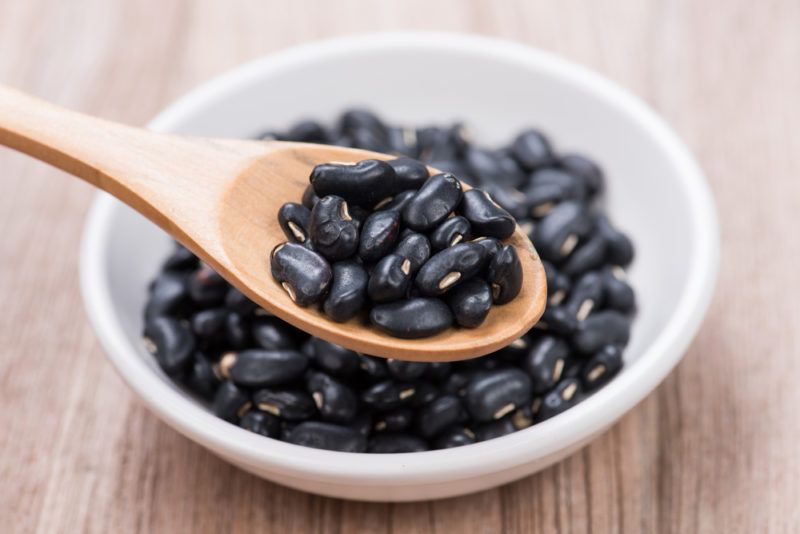 Red beans aren't the only beans that offer antioxidants. Most types of beans will contain some antioxidants, along with a host of other plant-based compounds.
When you're looking for beans, ones that have strong colors will often be the best choice for antioxidants. This pattern is true for most fruits and vegetables. After all, pigment molecules are a key type of antioxidant and these molecules offer many other benefits as well.
Tomatoes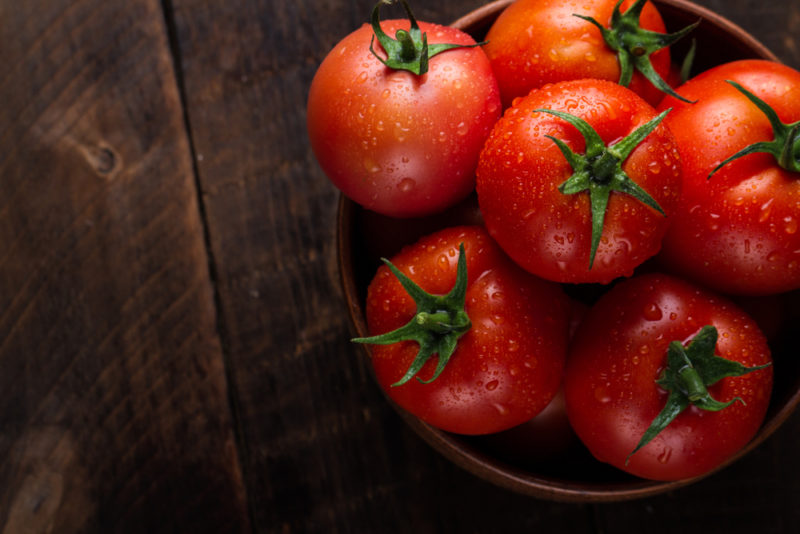 With their bright red coloring, it shouldn't be surprising that tomatoes are powerful for antioxidants. Vitamin A, vitamin C, and lycopene are some of the most prevalent ones that you'll see. Plus, tomatoes are also low in calories, so they're ideal for anyone who is watching their weight.
You can enjoy tomatoes raw too- straight off the vine if you wan, which is another serious advantage. This is ideal, as there is no risk of losing some of the antioxidants after cooking.
You can also turn to options like tomato paste and tomato puree. Tomato paste is especially powerful, as this is a concentrated source of the compounds from tomatoes.
Artichoke Hearts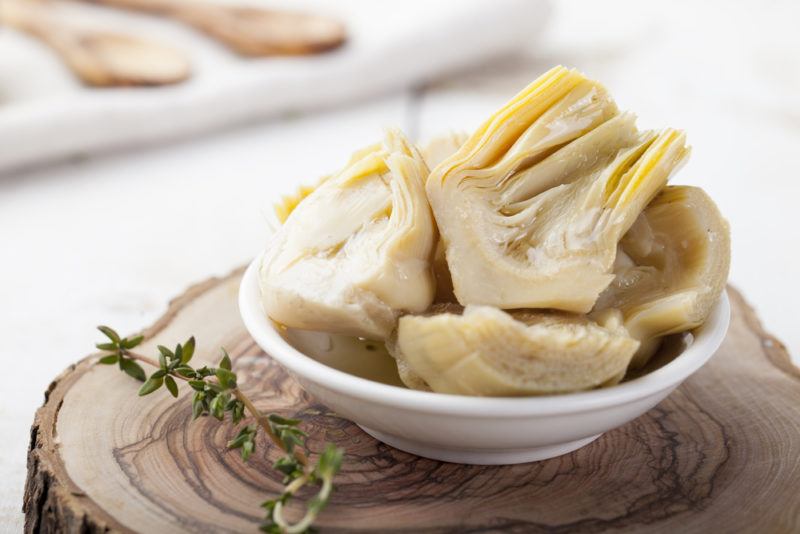 While antioxidant rich foods often have bright colors, this pattern isn't always true. Some foods, like artichoke hearts, don't have much color at all but are still good sources of antioxidants.
In fact, a cup of artichoke hearts even contains more antioxidants than a similar amount of many types of berries.
There's another advantage too. While berries are healthy and offer a decent amount of fiber, they do still contain sugar. This is plant-based sugar, true, but you might not always want more sugar in your diet. Artichoke hearts are one way to increase your antioxidant intake without eating more sugar.
Barley

Barley is another antioxidant source that might be a little bit surprising. Yet, some grains do offer antioxidants, especially if you soak and sprout them first.
You'll also get a different combination of nutrients from grains like barley than you do from fruit and vegetables. This is one reason why it is so important to have a varied diet.
Pecans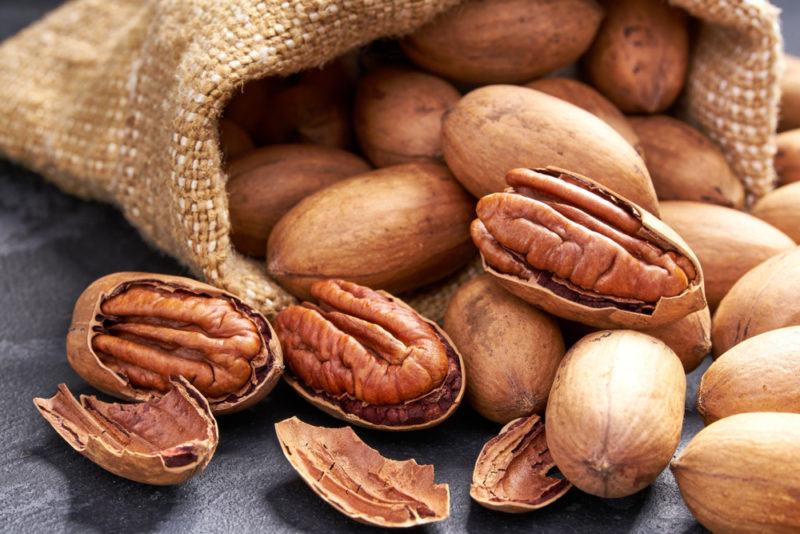 Nuts are another low sugar way to increase antioxidant intake. Pecans top the list here, which is interesting, as they're often less popular than other types of nuts. Pecans certainly don't have the same stellar reputation that you see with almonds, for example.
Still, the antioxidant content of pecans alone is a reason to enjoy the nuts. There are even multiple forms of vitamin E present. Each type may have a slightly different impact on health.
Walnuts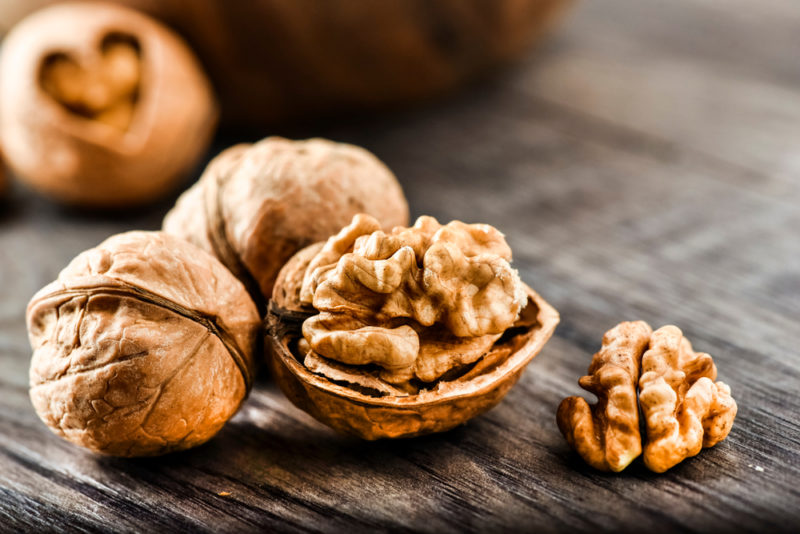 Walnuts are another type of tree nut to consider. They're a very healthy choice due to their balance of monounsaturated fats and polyunsaturated fats.
The nut also has links to brain health. Not only is the nut used in traditional Chinese medicine for this reason, but some research has found a similar effect.
And, of course, walnuts are high in polyphenols, which is an important type of antioxidant. With plenty of healthy fats, nutrients, and antioxidants, it's hard to go past this powerful little nut.
Other Nuts And Seeds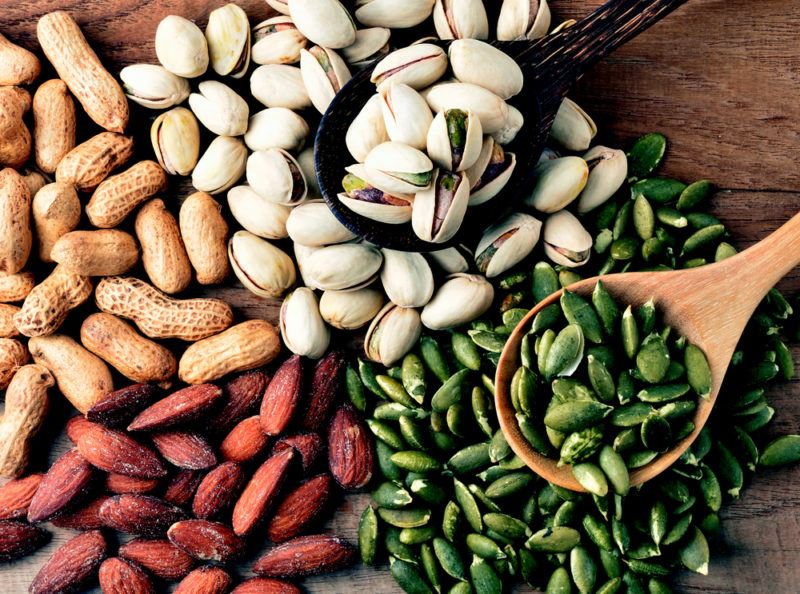 While pecans and walnuts might be the best choices for antioxidants in nuts, you will get some antioxidants from most nuts and seeds. This even includes foods that we call nuts that aren't tree nuts at all (like peanuts, which are technically legumes).
The best option is often just to include a large range of different nuts (and seeds!) in your diet. Each type will have its own combination of nutrients and plant-based compounds.
Potatoes

Despite what many people expect, potatoes can be good for you. True, they are starchy and high in carbs, but they also contain a decent amount of vitamins, minerals, and plant-based compounds.
You'll get the most benefits by focusing on colorful varieties, as pigment molecules are important antioxidants. And, as a general rule, foods with more pigment do tend to contain more antioxidants as well.
Sweet potatoes are a natural choice here, as these bright orange potatoes are rich in beta-carotene (the same molecule that carrots are known for).
You could also try purple potatoes. There are multiple purple potato varieties to choose from, but they all tend to taste much like regular potatoes.
Bee Pollen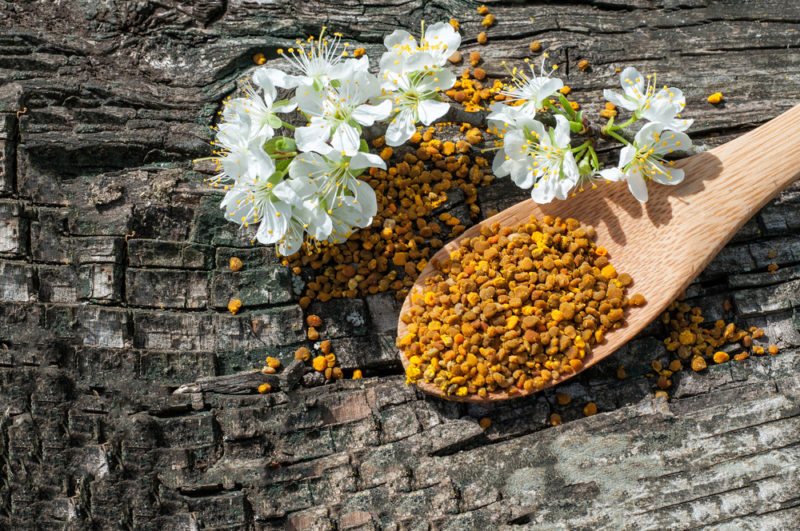 While bee pollen isn't a common food, we're starting to realize that it offers a large amount of important compounds, including antioxidants. There is even a decent amount of vitamin B12 and various important amino acids.
The main limitation is that you won't normally be eating a large amount of bee pollen at a time. Many people start out at around a quarter of a teaspoon of bee pollen and increase the dose, perhaps up to six teaspoons a day.
Cloves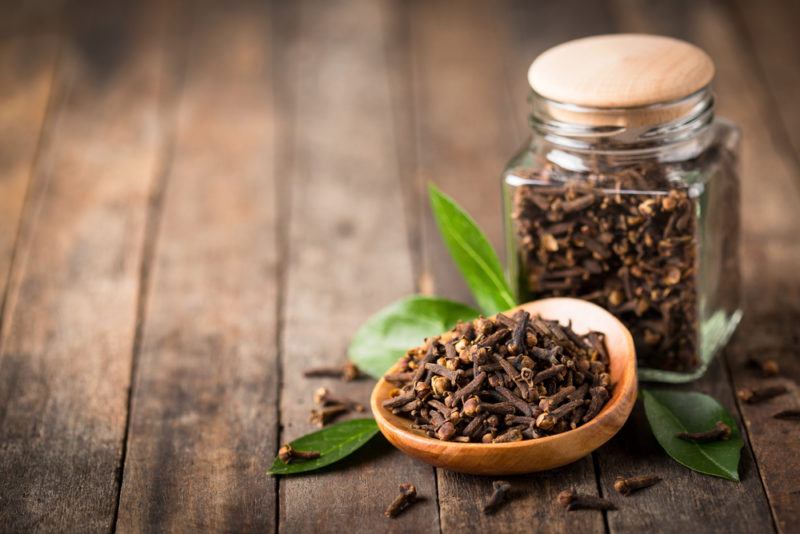 Did you know that spices offer you antioxidants too? Testing shows that cloves have more antioxidants than any other type of spice. Making a chai latte is an easy way to take advantage of cloves, along with other healthy spices at the same time.
Of course, cloves do have a very strong flavor. You're not likely to use very many cloves at a time, which limits how many antioxidants that you'll get from cloves.
You will see a similar pattern with many spices. While they offer a decent amount of antioxidants, the doses are always very small. This doesn't mean that spices aren't powerful. Far from it. It's simply that the small doses mean that you need to rely on other sources of antioxidants too.
Cinnamon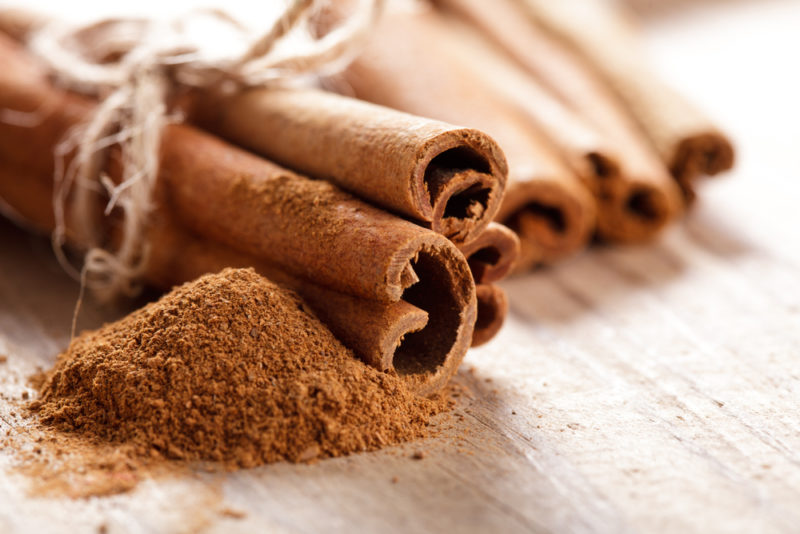 Cinnamon is well-known for its range of health benefits, including the ability to reduce inflammation and lower blood sugar levels. It is a good choice for antioxidants too, especially as it is so easy to include cinnamon in your diet. For example, countless different recipes use cinnamon – and you can easily just scatter cinnamon on top of a meal.
Other Spices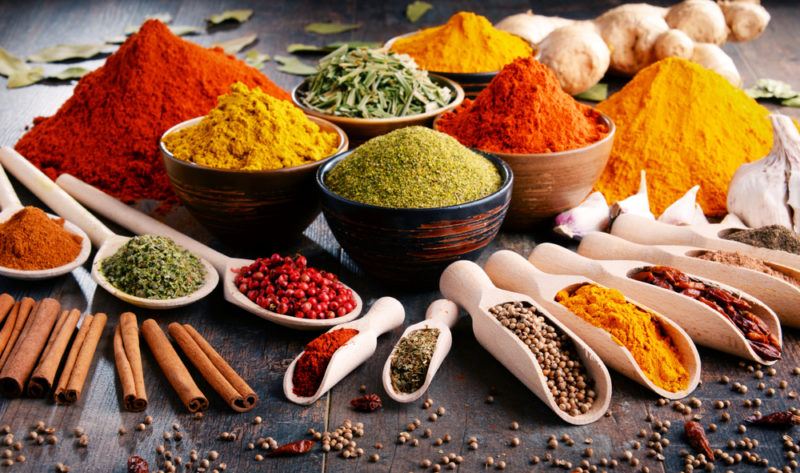 Most spices offer antioxidants, which gives you the chance to pick and choose which spices you rely on. Oregano, thyme, rosemary, and peppermint are all good examples. Turmeric is useful too, as the compound curcumin (which is responsible for many of the health benefits of turmeric) is a strong antioxidant.
In fact, one of the simplest ways to improve health is to rely heavily on fresh fruits and vegetables, herbs and spices, and other whole foods. Focusing on a variety of ingredients will give you a broad range of plant-based compounds, including antioxidants.