Slim Fast (or SlimFast, as the company often writes it) has grown into this enormous health and weight loss brand, one that's meant to help you get healthier with minimal effort. The company is most well-known for protein shakes and protein powder, but they also offer plenty of other products, including meal replacement bars, snack cups, snack bars, and smoothie mixes. So is Slim Fast good for you?
They're also one of the few companies in the field that offers keto-friendly products. They even have an entire keto weight loss plan, which could be incredibly useful if you're just getting started with a keto diet.
But is Slim Fast good for you? After all, weight loss isn't everything. There are plenty of ways to shed pounds, but many of these aren't sustainable or healthy.
To answer the question about Slim Fast, we need to take a close look at the different product lines they offer and how these differ. We also need to think about how you're going to use them, as consuming multiple Slim Fast products each day will be quite different than just having one every so often.
Is Slim Fast Good For You?
Slim Fast's History
Slim Fast Product Ranges
Is Slim Fast Actually Keto Friendly?
Benefits Of The Slim Fast Products
Risks Of The Products
Is The Slim Fast Plan Healthy?
Final Thoughts
Slim Fast's History

Slim Fast started back in 1977. The first product was a protein shake mix that was advertised as a meal replacement for weight loss.
The product didn't initially do well due to market controversy at the time, but saw rapid growth in the 1980s. While success fluctuated after that point, Slim Fast has remained a key player in the weight loss space.
The company has moved beyond simply selling protein powder and now offers a variety of other products. They've also extended their focus to nutrition and the importance of health overall, rather than just weight loss. Even so, many of the original principles remain unchanged.
Slim Fast Product Ranges
Nutrition Shakes & Shake Mixes
What could be simpler than drinking a protein shake to get more protein in your diet? Most offer plenty of nutrients as well, giving you something that's surprisingly similar to a complete meal. Slim Fast offers prepackaged shakes, along with protein powder that you can use to make your own versions.
The original prepackaged shakes come in at 180 calories, with 5 grams of fat, 19 grams of sugar, and 10 grams of protein each. The high sugar content is deeply concerning, but thankfully there is an advanced nutrition version, with 9 grams of fat, 1 gram of sugar, and 20 grams of protein instead.
For an even bigger boost, you can try the coffee versions, which include caffeine.
The shake mix is simpler. There's only one type to choose from, which includes 10 grams of sugar per serving, along with 4 grams of fat and 2 grams of protein.
Most of these products also contain 24 vitamins and minerals, to help boost your nutrient intake.
Meal Bars & Snack Bars
There are two types of non-keto meal bars from Slim Fast – Coconut Caramel Crunch and Peanut Butter Crunch (although the flavors vary over time). Both contain roughly 180 calories per bar, along with 10 grams of fat, 24 grams of carbs, and 15 grams of protein.
They rely on sugar alcohol for sweetness, rather than sugar, which helps to keep the calorie content low. There are also plenty of vitamins and minerals present.
The snack bars are similar, just smaller. They contain roughly 80 calories per serving and include 4 grams of fat, 11 grams of carbs, and 8 grams of protein.
Keto Products

Slim Fast also has an entire keto product range, along with a keto section in their app. Their definition of keto focuses on 5% to 10% of your calories from carbs, 15% to 25% of your calories from protein, and 75% to 85% of your calories from fat.
This is similar to how most other people see keto, which is good news. The company provides fat bombs (as snack cups, mini snack bars, snack squares, and meal replacement bars), keto meal shakes (as pre-mixed shakes and powders), snack crisps, a snack mix, MCT oil, and keto test strips.
The products are all low in net carbs. Here are some of their key features:
Snack Cups: 6 flavors to choose from. The cups are roughly 90 calories each and contain 2 grams of net carbs each, 8 grams of fat, and 2 grams of protein.
Snack Bar Minis: These small bars contain 80 calories each, with 2 net grams of carbs, 6 grams of fat, and 3 grams of protein.
Snack Squares: The snack squares rely on chocolate and nuts. They contain 70 calories each, along with 2 net grams of carbs, 6 grams fat, and 2 grams protein.
Meal Replacement Bars: 5 flavors to choose from. The bars contain roughly 190 calories and include 3 grams of net carbs, 14 grams of fat, and 7 grams of protein, along with 24 vitamins and minerals.
Snack Crisps: These crisps are made using cheddar cheese and little else. Each serving contains 80 calories, 1 gram of net carbs, 6 grams of fat, and 6 grams of protein.
Snack Mix: The mix comes in two flavors, both of which rely on nuts, cheese, and seeds. There are roughly 170 calories per serving, along with 2 net grams of carbs, 16 grams fat, and 6 grams of protein.
Prepared Meal Shakes: These come in just chocolate or vanilla. They contain 180 calories each, with 2 grams of net carbs, 14 grams of fat, and 8 grams of protein. They also offer 24 vitamins and minerals.
Shake Mixes: There are 3 flavors this time, with 190 calories per serving, 2 net grams of carbs, 15 grams fat, and 8 grams protein.
While there are plenty of types, flavors, and textures to choose from with the keto products, the nutritional profile is often very similar. Sometimes it wouldn't even matter which particular product you choose.
Now that you know roughly what to expect from Slim Fast products, we can start looking at the benefits and the risks.
Is Slim Fast Actually Keto Friendly?
Keto dieting can be confusing at first, as you need to dramatically decrease your carb content, while increasing the amount of fat you consume. Doing so often means overhauling your diet and focusing on completely different meals than you would otherwise.
The Slim Fast keto products seem like an easy place to begin, as they're already prepared. They have clear nutrition labels too, so it should be simple to know exactly where you stand with your diets.
But, are the products good for keto dieters?
Their Carb Content
In some senses, yes, the products are keto friendly. The meal bars often contain around 3 net grams of carbs per serving, while the fat bombs contain 2 net grams.
The company also relies on some common keto ingredients, including stevia and MCT oil. Even so, the ingredients in the products work against you somewhat. Some, like dextrose, can still influence your blood sugar levels.
The net carb content may be misleading too, as many keto dieters calculate this by taking total carbs and subtracting fiber. If you do this with the snack squares, you get 4 net grams of carbs, while Slim Fast says that the squares only contain 2 net grams.
These patterns may mean that the products influence your ability to stay in ketosis more than their marketing suggests. This could be a particular problem if you're eating multiple Slim Fast products each day.
Their Macro Balance
The macro distribution isn't ideal for keto either, as most of the products are relatively low in fat and calories, but contain more carbs than you'd expect.
For example, the peanut butter fat bomb from Slim Fast contains 8 grams of total carbs, while this homemade fat bomb recipe has a similar fat and calorie content, and only contains 2.6 grams of carbs per serving.
Then there's this recipe, which gives you 3.3 grams of carbs per serving and close to 25 grams of fat. That might sound like a lot of fat, but the fat content is meant to be high. The snack is called a fat bomb, after all, and keto dieters should be getting around 70% of their calories from fat.
The macro balance suggests that Slim Fast's products might be a good keto snack from time to time, but still… it's best not to rely on them too heavily.
Benefits Of The Slim Fast Products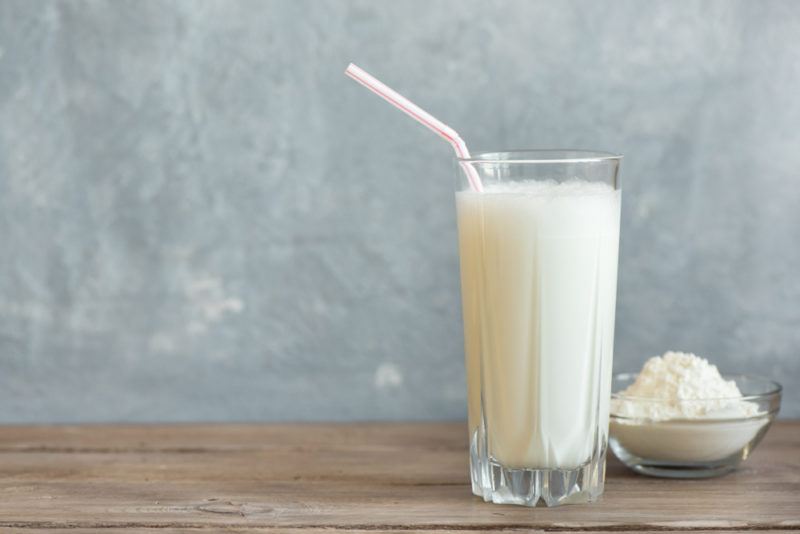 Convenience
Convenience is easily the biggest reason for using Slim Fast products. Most items are pre-made. You just need to open and enjoy them.
This feature is particularly good first thing in the morning, when you need breakfast but don't have the time or the energy to prepare it. Indeed, many people use a protein shake instead of breakfast to help with their weight loss.
You can also take the prepared shakes and bars with you and eat them on the go. That's perfect as an emergency backup, for times when you need to eat and other food isn't available.
The Vitamins And Minerals
Slim Fast's products all contain some vitamins and minerals, while the ones designed as meal replacements contain an impressive selection of 24 vitamins and minerals. These nutrients can help you to hit your daily targets, ones that you might miss otherwise.
The vitamins and minerals are particularly important if you're using some of these products instead of a meal. You want to stay healthy as you're losing weight. Getting enough nutrients is an important part of doing so.
You're also getting useful macronutrients in the products, including protein and some fiber. The protein is highly relevant for weight loss, as this helps you to stay satisfied between meals. It also helps with muscle development and plays other roles in your body.
May Help With Weight Loss
Slim Fast heavily focuses on weight loss and their products could help with this, if used well. In particular, the snack items help keep you satisfied between meals, while you can have a meal replacement shake or bar instead of a full meal.
The idea does work because meal replacement products do contain fewer calories than most meals. Snacks, on the other hand, can keep you satisfied and decrease your cravings for sugary foods.
Risks Of The Products

Highly Processed
The single biggest problem with Slim Fast is the amount of processing. Highly processed food is never ideal for health. The ingredients lose too many of their important nutrients and antioxidants during the processing steps, giving you an inferior finished product.
Many Slim Fast products have vitamins and minerals added back in, but this is never the same as getting them from natural foods.
There's another factor too. Highly processed foods are digested faster than whole foods. This is true even if they contain a decent amount of fiber. Foods that are digested quickly won't give you sustained energy release or a sense of fullness in the same way that slowly digested foods do.
The Sugar To Protein Content
Slim Fast products vary when it comes to sugar. Some avoid it almost entirely and rely on alternative sweeteners instead. Others use a decent amount.
In some cases, the ratio of sugar to protein is incredibly unhelpful. Take the company's main protein powder as an example. It only contains 2 grams of protein and 10 grams of sugar.
The protein content increase if you add milk, with fat free milk providing you with 10 grams of protein per serving. But, the sugar content increases too – all the way up to 22 grams. That's awful for a product that's meant to help with weight loss.
Thankfully, this pattern isn't true for all products. Some contain less sugar and much more protein. However, most of those rely on alternative sweeteners, which come with their own risks.
The Protein Content Isn't Amazing
We need to talk about the protein content too. Protein shakes and protein bars are common tools for health and weight loss. While they can be powerful, they only work well when they contain enough protein.
Slim Fast isn't great here, as many of their products contain less than 10 grams of protein. Some do have 15 or 20 grams per serving, but even this isn't too impressive. Plenty of prepared protein shakes contain between 30 and 35 grams of protein per serving, while protein powder often comes in at between 20 and 25 grams.
The Additives
We also need to talk about the additives. Slim Fast products use a variety of additives for sweetness, flavor, texture, and nutrition.
Maltodextrin is one example. This is a common additive and it's generally considered to be safe, but it has still been linked to a whole raft of possible side effects. Maltodextrin also causes a faster blood sugar spike than sugar, yet it's present in some of the Slim Fast keto products.
Other concerning ingredients include artificial flavors, sucralose, soy lectin, and polydextrose. All of these ingredients are generally recognized as safe, but there's still considerable debate about what they really mean for your health. Some studies do suggest that there are risks.
These risks mightn't be relevant if you consume additives rarely. On the other hand, if your diet is rich in processed foods, the risks become much greater.
Besides, these additives don't actually improve your health at all. They're just there to make the food taste better. Why not give them a pass and focus on whole foods instead?
The Sodium Content

Some of the products are surprisingly high in sodium, sometimes containing 7% or more of your sodium intake in a single serving. As we all know, sodium is important in the body, but too much is harmful, rather than helpful.
If you're consuming too much sodium already, as many of us are, you might need to focus on low sodium products or skip Slim Fast altogether.
They Include Soy
Another issue is soy. Most Slim Fast products use soy somewhere in their formulation, with soy lectin and soy protein isolate being particularly common.
Soy is an interesting ingredient, as it is often seen as healthy and safe, but is sometimes considered dangerous instead. The controversy comes from a few areas, including the presence of plant-based estrogen and antinutrients, along with the way that soy is often genetically modified.
Most of the products aren't marketed as being GMO free, so the soy used could easily be genetically modified.
Studies suggest that the benefits of soy outweigh the risks. Still, with so many other sources of protein out there, some people choose to avoid soy entirely, to be on the safe side.
There Is Milk Too
Many of the Slim Fast products use milk-based ingredients, like milk protein concentrate. This may be a problem for anyone who needs to avoid milk, like if you're a vegan or are lactose intolerant (the Slim Fast Advanced Nutrition shakes are lactose free, but most of their other products aren't).
Might Lead To Weight Gain Instead
Despite the weight loss focus, the products from Slim Fast can easily lead to weight gain instead. Which effect they have entirely depends on how you use them.
Take the meal replacement shakes as an example. These are excellent if you have them instead of a meal and don't change your diet in any other way.
But, if the shake doesn't satisfy you as much as a meal (which is likely), you might eat too much in your next meal or start snacking. That pattern could mean you end up consuming more calories, rather than less, which won't help with weight loss at all.
As such, you need to be very careful with Slim Fast products to make sure they're helping you.
Is The Slim Fast Plan Healthy?
Slim Fast also promotes a diet plan that's meant to help you lose weight. It has three components:
Eat one 'sensible' meal each day. You're allowed whatever food you like, nothing is forbidden, but need to keep your portion sizes reasonable.
Replace two meals per day with Slim Fast products. This includes anything they've designed as a meal replacement, like their protein shakes and protein powder.
Enjoy three snacks, from the Slim Fast snack range.
Benefits Of The Plan
The approach means that you're eating six meals per day, an eating style that's sometimes known as grazing. Some theories suggest that doing so helps to boost your metabolism and leads to weight loss.
Having a combination of meals and snacks like this also helps to keep you satisfied. You're never going a long time without food, so you shouldn't feel deprived in the way you do with regular diets.
The Slim Fast diet might be very relevant if you're busy as well, as you only need to cook one meal per day. The products are formulated with this eating approach in mind, so you should be getting all the nutrients that you need.
There's also little to think about. Everything is prepared for you. All you need to do is choose the meal replacements and snacks that you like.
Finally, reviews suggest that the products do taste good, which always helps. You don't want to be eating unappealing food day after day.
Problems With The Plan
As we mentioned before, Slim Fast products are all highly processed. This is never great for health. In fact, you're only getting one real meal per day.
Plus, regardless of how the products are formulated, they're never going to be as satisfying as regular food. Seriously, have you tried having protein shakes instead of meals? Many people do so successfully, but the process isn't easy. You often end up feeling unsatisfied.
With only one real meal a day, you also lose out on many of the benefits of food, such as slowing down and enjoying eating or connecting with friends and family over a shared meal.
Would You Lose Weight?
Most people probably would lose weight with the Slim Fast plan, at least in the beginning. Relying mostly on snacks and meal replacements should make it easy to keep your calorie intake low, while the protein in the products should help you to feel relatively satisfied.
There are even clinical studies showing that the plan promotes weight loss. Still, it's much healthier to lose weight through eating real foods, rather than heavily processed products.
The studies don't mean much anyway. They just prove that following a calorie-controlled diet while getting exercise and staying hydrated promotes weight loss. That's not rocket science.
The Slim Fast plan isn't very sustainable either. How long could you tolerate eating just one real meal in a day? What about buying the products? Slim Fast products aren't particularly cheap and you'd been going through boxes of them pretty fast.
What happens once you stop? The diet doesn't teach you healthy habits or give you any idea how to keep your weight loss going once you're back to eating normal food.
Honestly, the plan is only useful if you want to quickly lose some weight and already have a healthy plan for keeping that weight off. Don't try the approach if you're looking for a quick fix, as quick fixes are never useful in the long term.
Final Thoughts
Slim Fast products are a convenient source of protein and nutrients, ones that might be powerful if you're in a hurry and need to refuel. The presence of keto friendly products is impressive too, especially as there are plenty of types to choose from.
Even so, the products are all highly processed and packed with additives. Some of them contain a surprising amount of sugar, while others rely on artificial sweeteners instead.
Such patterns mean that Slim Fast products will never be amazing for your health. The healthiest approach may be to see them as something to use every so often, rather than something you use daily. After all, real food will always be more powerful than highly processed shakes or bars.
Related Content
Frequently Asked Questions
Is Slim Fast A Good Way To Lose Weight?
In the short term, Slim Fast products do promote weight loss. That's not surprising, as their meal replacement products contain fewer calories than a full meal.
However, Slim Fast doesn't work well in the long term, as most people will start to miss real food. You'd also be consuming a lot of processed foods and additives, which is never wise.
Most people would do better by skipping Slim Fast entirely and focusing on healthy whole foods. Doing so gives you more nutrients and more filling meals. If you're going to rely on Slim Fast, it's best to use the products every so often, while mostly focusing on whole food meals.
Is Slim Fast Full Of Sugar?
Some Slim Fast products do contain a lot of sugar. For example, their original shake has 19 grams of sugar per serving (despite only containing 10 grams of protein).
Thankfully, there are some low sugar products, including keto friendly ones. These keep the sugar content much lower. Many get their sweetness from sugar alcohols instead.
Why Am I Gaining Weight On Slim Fast?
Weight loss comes down to the balance of energy used consumed versus energy used.
Slim Fast often works because the products contain fewer calories than regular meals. But, they're not as filling as a regular meal either. This is especially true for the shakes, as liquid calories aren't as satisfying as calories from food.
You might find that Slim Fast products don't keep you satisfied and could end up snacking between meals. This easily leads to weight gain.
Is Slim Fast Bad For Your Kidneys?
Slim Fast itself hasn't been linked to any kidney issues. However, there are concerns that excessive protein intake leads to kidney issues. This could happen because waste products build up or because metabolizing excess protein causes strain on the kidneys.
While there's some evidence for this in patients with kidney disease, high protein diets don't appear to cause this issue if you're healthy.
Besides, you can get around the problem by only using Slim Fast if you actually need extra protein. If you already have plenty of protein in your diet, the shakes probably won't help you anyway.
Is Slim Fast Keto Friendly?
Slim Fast does have a keto range that includes shakes, fat bombs, fat bomb shots, and more. However, keto dieters debate whether the products are actually good for keto or not.
One issue is maltodextrin. This can spike your blood sugar just like sugar (perhaps even more so), yet it's found in some of Slim Fast's keto range.
There's also a question of whether you should be eating highly processed foods on keto. Many experts say that it's best to stick to more natural products, particularly those you make yourself.