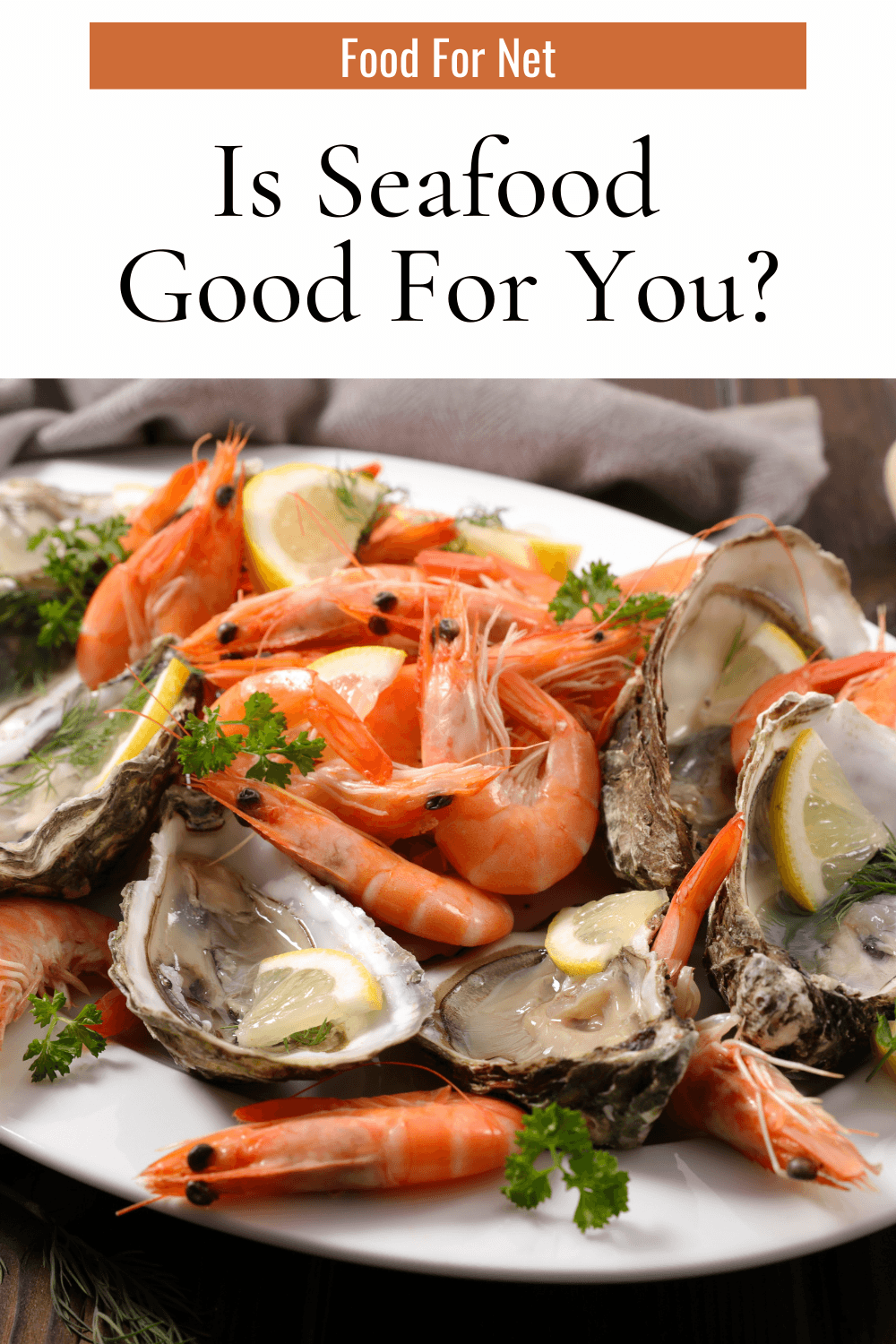 Seafood is amazingly popular, partly because it tastes simply amazing. There are also plenty of different types to choose from, each with its own texture and flavor. The sheer amount of variation is amazing. After all, some of us love lean white fish that is fast and easy to cook, while others turn to rich salmon. Then there are all the other types of seafood, including shrimp, crabs, and oysters.
Of course, flavor is just one part of the equation. We also need to talk about the health effects of your diet as well. In particular, is seafood good for you?
There are plenty of reasons that it might be, including the omega 3 content, the nutrients, and the protein. Yet, there are some pretty concerning factors too, including the contamination of our oceans, which doesn't seem to be getting better.
In this post, we're taking a close look at the benefits of seafood, along with the risks and how you can keep yourself safe. We'll also talk about the healthiest seafood, as the types vary dramatically and don't all have the same health impacts.
Is Seafood Good For You?
Benefits Of Seafood
How Seafood Could Be Harmful
Healthiest Types Of Seafood
Is Raw Seafood Safe?
How Much Seafood Should You Eat?
Final Thoughts
Benefits Of Seafood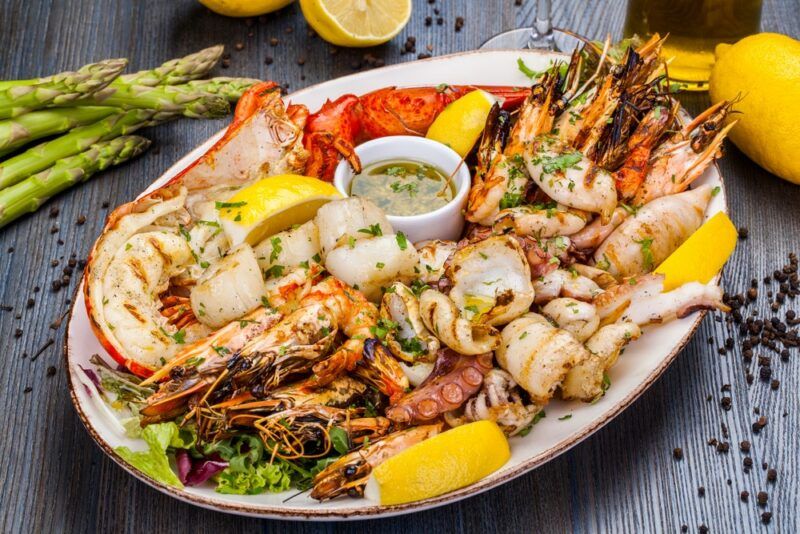 The Omega 3 Content
Seafood is most famous as a source of omega 3 fatty acids. These polyunsaturated fats are now incredibly well-known, as they've been linked many different benefits.
For one thing, omega 3s help with your heart. They're thought to help decrease blood pressure and triglyceride levels, reducing your risk of heart disease in the process. If you do have heart disease, omega 3s may also decrease your risk of death.
Omega 3 can help to lower inflammation as well – a powerful effect, as chronic inflammation has been linked to many problems and may increase your risk of diseases like arthritis and some types of cancer.
Then there are the mental health benefits. Omega 3 could improve your mood and may be particularly relevant for people with depression. For some, omega 3 might even decrease depressive symptoms, helping them to get back to a normal life.
Fish aren't the only source of omega 3s either. Other types of seafood offer omega 3 as well. Oysters, scallops, and shrimp are all excellent choices.
There's another important point here too – seafood is the best source of omega 3 fatty acids. You can get omega 3s from plants too, but these are typically in the form ALA. ALA omega 3s need to be converted into EPA and DHA before they can be used and that conversion process isn't efficient at all.
Seafood provides you with EPA and DHA directly, making it a much more powerful choice.
An Excellent Source Of Protein
Protein is important. That's no secret. The macronutrient is essential for building and maintaining muscle, and also helps to keep us satisfied. Getting enough protein is how we keep our calorie intake well balanced – and seafood is an exceptional source.
For one thing, seafood contains all the amino acids your body needs to function well, making it a complete source of protein. This is exceptional, as plant-based protein sources are often low in one or more amino acids, making them less powerful.
If you choose a lean type of fish, like tilapia or cod, you're getting plenty of protein and not many calories. This could be perfect if you're trying to lose weight.
Generally Low In Saturated Fat
While seafood is often fatty, much of this fat is in the form of polyunsaturated fats, including the powerful omega 3s. There is some saturated fat present, but not nearly as much as in a fatty cut of steak or bacon.
The fat composition of seafood is so good that it's often recommended as a way to improve your heart health. It turns out that swapping saturated fat rich foods for foods with healthy fats is much more powerful than decreasing your fat intake altogether anyway, which is another reason to eat seafood more often.
A Decent Source Of Nutrients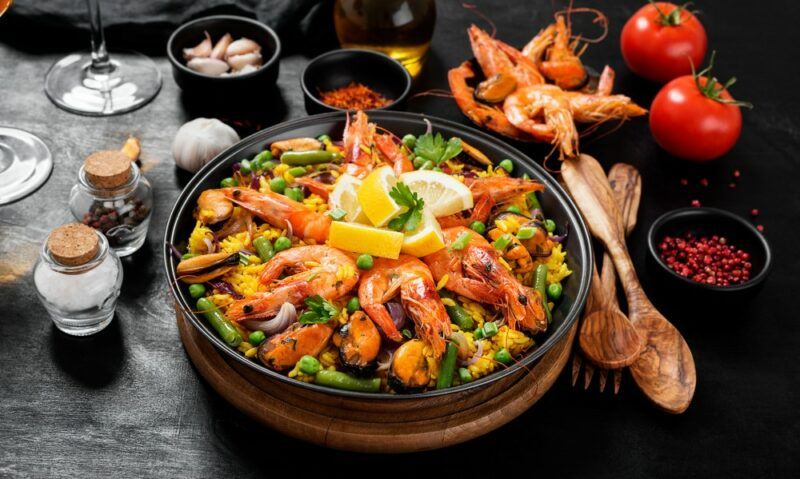 Let's not forget about the nutrients either. Seafood is often packed with nutrients, including many important vitamins and minerals.
The nutrient content does vary depending on the type of seafood you choose, but you'll never be short on nutrients. Some of the most important ones include B vitamins, zinc, magnesium, and selenium. These all have plenty of roles in your body, helping with energy, heart health, your immune system, and more.
Zinc is particularly common. The daily requirements for zinc are 8 mg for women and 11 mg for men, and you get 1.5 mg of zinc from a single oyster. Impressive, right?
That's not all. Some of the nutrients that are prevalent in seafood are ones that people often don't get enough of, including zinc, selenium, iron, and vitamin B12. As such, seafood is a very easy way to boost your nutrient intake and get your health on track.
The importance of this can't be underestimated, as vitamins and minerals play many different roles in our bodies. When we're deficient in even a few of these, our health starts to suffer.
Low In Carbs
While carbs can be part of a healthy diet, there's growing interest in minimizing our carb intake whenever possible. Doing so is powerful, as carbs can influence your blood sugar levels and inflammation, possibly increasing your risk of some diseases.
Seafood is an excellent way to keep your carb intake in check, as most types of seafood are naturally low in carbs. Fish is a particularly good choice, as it often contains no carbs at all. Plus, there are plenty of low carb ways to cook it.
Other types of seafood are more variable. Shrimp, for example, contains a tiny amount of carbs, but the levels are so small that even keto dieters can eat shrimp without a problem. On the other hand, lobster and clams are much higher in carbs, so you might need to be more cautious with them.
Still, even the highest carb types of seafood are lower in carbs than most of the processed foods we eat regularly.
Lowers Your Risk Of Disease
The combination of nutrients, omega 3 fatty acids, and protein makes seafood powerful for health. Indeed, research regularly shows that seafood helps to improve wellbeing in a variety of ways. This includes decreasing the risk of heart disease and type 2 diabetes, and improving cognition.
Researchers are still coming to grips with all the beneficial components of seafood and the ways that seafood can influence health. However, there's little doubt that eating seafood regularly is good for you.
How Seafood Could Be Harmful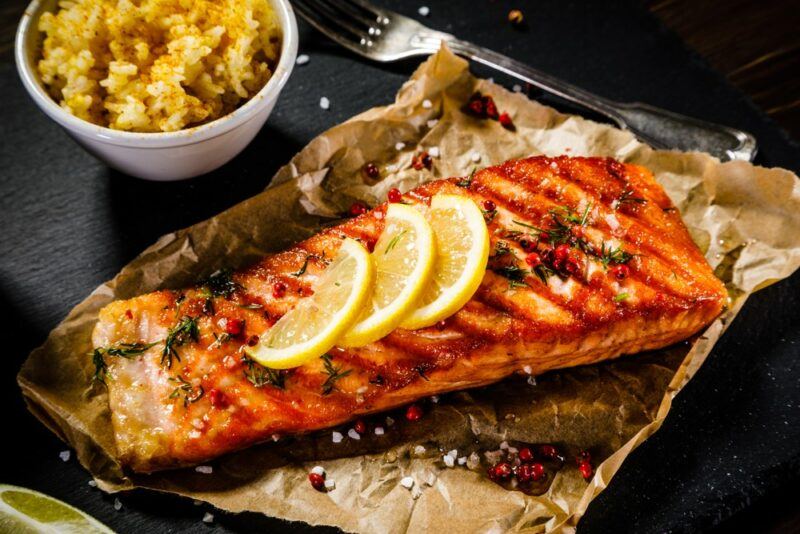 The Mercury Content
Mercury is one of the biggest issues with seafood. Mercury enters the marine environment through a variety of sources, including industry and water pollution. Once there, the mercury can accumulate in the flesh of marine animals, which then leads to health risks for humans.
The mercury content is most concerning for fish that is high in the food chain or lives a long time, such as shark, king mackerel, and tuna.
Women who are pregnant or breastfeeding need to be particularly cautious with mercury, as do young children. However, everyone should try to focus on low mercury seafood whenever they can and consume high mercury seafood rarely. Limiting your seafood intake is important too, which often means having no more than two or perhaps three servings of seafood a week.
Other Contaminants And Heavy Metals
While mercury is the most well-known seafood contaminant, it isn't the only one. Seafood can be contaminated with many different chemical byproducts, pesticides, microplastics, and heavy metals. Some of these chemicals accumulate in the flesh of the fish and may directly impact our health.
This is a serious issue, as our oceans are becoming increasingly contaminated. It's getting harder and harder to find good places to harvest seafood, and the amount of contamination tends to increase over time.
The effects of contaminants tend to be slow and subtle, making it impossible to spot when seafood has been contaminated. To reduce your risk, you need to source your seafood carefully. This involves looking for health-focused companies, ones that are up-front about where their seafood is sourced from.
Even then, your seafood isn't likely to be entirely contaminant free. This doesn't mean you should avoid seafood though. We can tolerate small amounts of contaminants and any risks are more than offset by all the benefits that seafood offers.
It's Often Expensive
Seafood tends to be expensive, especially if you're looking for sustainably sourced seafood from reliable sources. The benefits of seafood can make it worth the price, but that's only relevant if you can afford seafood to begin with.
If your budget is tight and you still want health benefits, try looking for canned salmon or sardines. Both are low in mercury and packed with omega 3 fatty acids. They're also much cheaper than buying fresh fish.
Healthiest Types Of Seafood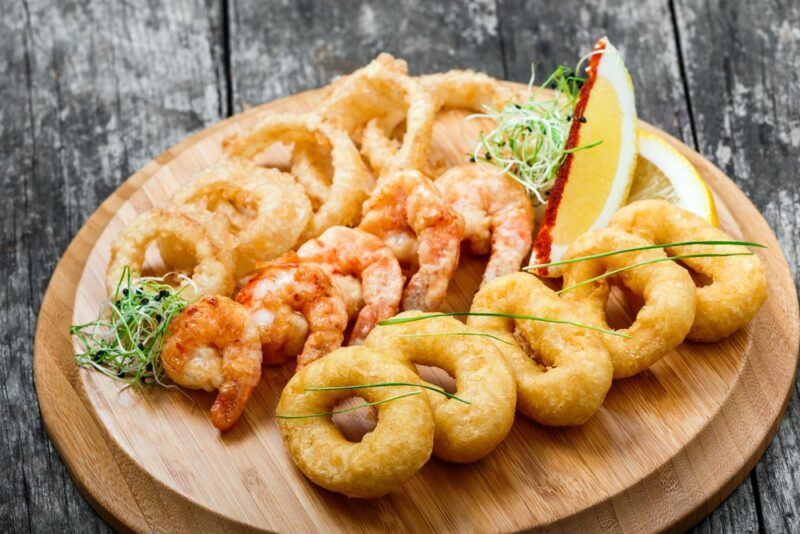 Seafood is a broad category, including all types of fish, crustaceans, and anything else that we eat from the sea. Some definitions even include seaweed, although most don't.
With so many different fish and shellfish out there, seafood can get overwhelming fast. After all, the various options aren't all the same nutritionally. They vary dramatically in their benefits and their risks.
So, while almost all types of seafood can be good for you, some are much better than others.
Best Choices For Fish
Fish fall into two main categories, fatty fish and lean fish. The difference in fat content between them can be quite dramatic, like how tilapia only contains around a third of the fat that you find in salmon.
Fatty fish is a much better source of omega 3 fatty acids, so it offers more benefits from that perspective. However, it is also higher in calories, which isn't always what you're looking for. Lean fish offers more benefits than you might expect anyway and can be a wise choice.
Regardless of whether you choose fatty or lean fish, it's important to choose fish from non-contaminated fishing grounds, ones that are also low in mercury. Here are some of your best choices:
Salmon. Salmon is often seen as the king of fish, due to its nutritional content and how fantastic it tastes. The title is well-deserved too, as salmon really does have a lot to offer. It's also relatively low in mercury, which seals the deal nicely.
Sardines. Like salmon, sardines are an oily fish. You can buy them fresh or canned but, unusually, the canned versions may be healthier, as you can eat the entire fish (bones and skin included). Being able to do so gives you extra nutrients. Plus, sardines are near the bottom of the food chain, making them very low in mercury.
Cod. Cod is a lean choice, one that offers plenty of nutrients and is a low calorie source of protein. Cod is easy to cook as well and works well with many different spices.
Anchovies. These tiny fish have much in common with sardines, as both are small, packed with omega 3 fatty acids, and are low in omega 3.
Other Types Of Seafood
We can't categorize other types of seafood as easily as fish, as there are simply too many differences. However, they do offer health benefits, providing you with plenty of nutrients and protein.
Most of the time, shellfish do contain less omega 3s than fatty fish, but they still provide you with some of the heart healthy fat. Sometimes they're even better choices for omega 3 than lean fish.
The types below are some of the healthiest options. Don't be afraid to experiment though, as variety is always a good thing.
Is Raw Seafood Safe?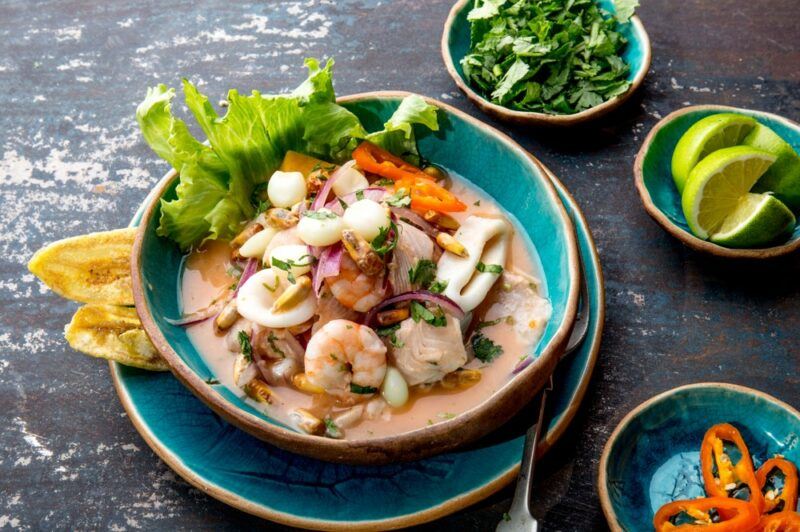 Raw and undercooked seafood is often seen as a delicacy, one that remains popular in the United States and many other parts of the world. The practice may even have some benefits, as the nutritional value of foods tends to decrease after cooking.
The flip side is the risk. Cooking helps to keep us safe by reducing the risk of food poisoning. If you're not fully cooking your food, then you may end up consuming harmful microbes, ones that could lead to stomach cramps, vomiting, and diarrhea. Raw seafood can be home to parasites too, including tapeworms.
The harm caused by microbes or parasites varies from being minor to severe. Sometimes you might end up with mild side effects, but serious illness and even death are on the cards as well.
For most people, the risks of raw seafood are relatively small. You can decrease them further by focusing on seafood that is fresh and has been prepared by a chef or restaurant that you trust, one who carefully follows good food safety practices.
Even then, raw seafood isn't a wise idea for everyone. For some, there's a much higher risk of serious problems from raw seafood. This includes anyone younger than five or above 65. Pregnant women need to be cautious too, as does anyone with a compromised immune system.
If you fall in any of those high risk groups, then raw seafood simply isn't worth it. You could easily come to serious harm.
How Much Seafood Should You Eat?
Most recommendations suggest having two servings of fish per week. Some say that we should be having at least this much, while others suggest eating up to two servings.
While these recommendations focus on fish, they can be applied to other types of seafood as well. Focusing on low mercury choices offers the most benefits. There are plenty of these to choose from, including salmon, sardines, and shrimp.
Pregnant women need to be more cautious. This may include having only one serving of seafood per week rather than two and sticking to very low mercury choices.
Some women choose to avoid seafood entirely while they're pregnant, but doing so mightn't be as powerful as it seems, as the omega 3s in seafood can help the baby's brain development.
If you love seafood and want it more often, you could experiment with smaller portion sizes. If your portion sizes are small enough and your seafood is low in contaminants, you might even be able to eat some seafood every day.
Final Thoughts
The potential for contamination can make seafood sound like a scary prospect – especially as most types of contamination can't be smelled or tasted. Avoiding seafood entirely might feel like a much safer idea, but that's not really the case at all.
Instead, research consistently finds that people who eat seafood regularly are healthier than those who don't.
The most important thing is to be wise. Pay attention to where your seafood comes from and source it from sustainable and transparent companies whenever possible. Think about the mercury content too and focus on low mercury species of seafood as much as you can. And, stick to the recommended servings per week. Taking those approaches will allow you to see the most benefits from seafood, while keeping your risk very low indeed.
Related Content
Frequently Asked Questions
Is Seafood Considered Meat?
In some senses, yes, as meat can be defined as the flesh of an animal that we eat. This means that fish and some other types of seafood are technically a type of meat.
However, seafood also falls into a category of its own, as it has plenty of structural and nutritional differences from meat. Many religious also consider seafood as being distinct from meat.
Is Seafood Good For Diabetics?
Most types of seafood are excellent for diabetics. Not only are you getting plenty of nutrients and omega 3 fats, but the carb content is also very low.
It's crucial that you still watch your portions. After all, some types of seafood are high in calories. There's the mercury content to be careful with as well.
Is Fish Considered Seafood?
Yes. The term seafood includes all types of fish, along with shellfish and crustaceans.
Which Types Of Seafood Are Highest In Cholesterol?
Squid stands out as the highest cholesterol choice, with more than 230 mg of cholesterol in a serving. Shrimp is a close second, at just under 200 mg of cholesterol.
Lobster, oysters, and tuna all contain decent amounts of cholesterol as well, but the amounts are considerably lower (ranging from 30 mg for tuna to 71 for lobster). Yet, despite the cholesterol content, seafood tends to be good for your heart health, often decreasing heart disease risk rather than increasing it.
Is Seafood Fattening?
Most of the time, seafood isn't fattening at all. It can even help with weight loss, as it contains plenty of protein and isn't too high in calories.
Of course, any type of food is fattening if you consume too much of it. For example, a three ounce salmon fillet contains around 121 calories and you might easily consume more than this in a sitting. While salmon is certainly healthy, the calorie content can still quickly lead to weight gain.