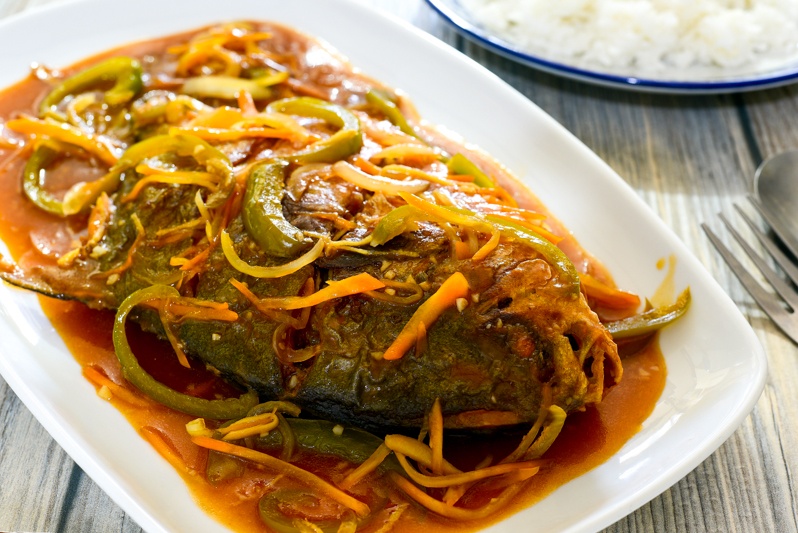 Escabeche is essentially a broad term for a fish dish cooked or marinated in some acidic solution. Of Spanish origin, this dish, which originally was a form of preservation, has made its way into most Spanish speaking colonies, being adapted mostly by the use of more commonly available fish while preserving most of the cooking technique.
Let me walk you through the cooking process, which actually is simple, and hopefully give you ideas on how you could make this dish based on ingredients that may be more locally available from where you are.
Let's start with our fish. We'll be choosing one based on the following criteria:
Availability. Always work with fish that is locally available. You're most likely to get these at a fresher state than something that has been imported.
Structure. Choose fish with a flesh structure that can easily hold up to frying or poaching. Mullet, snapper, or pompano would be excellent choices.
Flavor. You'll want to go for something with relatively more fish flavor so it can stand up to that sweet and sour source without being easily overpowered.
Fish for an escabeche may be fried or poached. For this fried version, adding a thin layer of flour to our fish will give an extra coating for that tasty sauce to cling on to.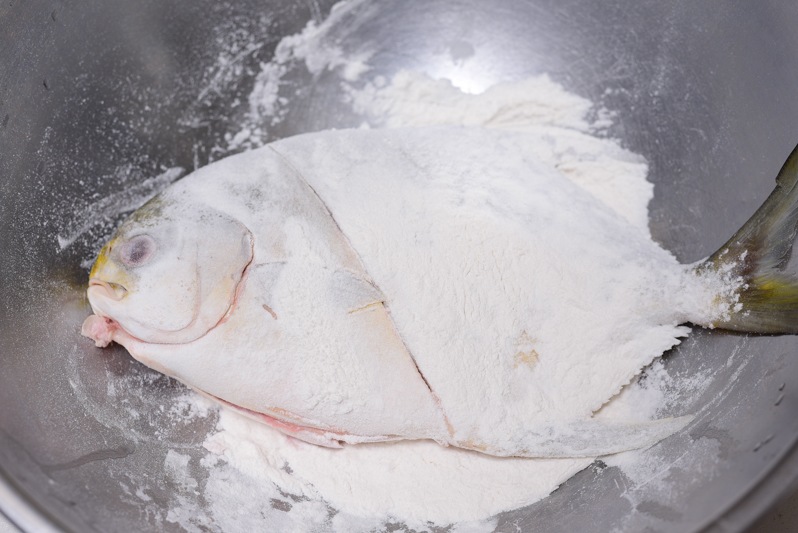 Heat enough oil for deep-frying that fish. You'll want to fry that fish until totally done without being overcooked so it stays really moist and tender. As delicate as fish flesh is, it can easily dry up and toughen if overcooked.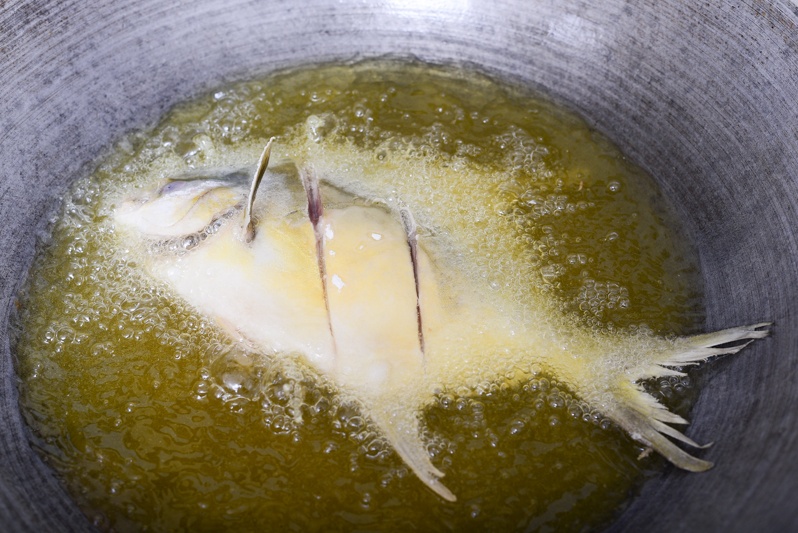 Time to whisk up our sweet and sour sauce. Let me break down the components:
Acid – I used apple cider vinegar. Any other type of vinegar, citrus, or acidic fruit pulp would work with differing but equally effective flavor.
Sweet – I went for brown sugar. Any other type of sugar, honey, or molasses would also get the job done.
Color – This Filipino version calls for catsup to give it that bright red hue. Pimenton or saffron would be more traditional.
Seasoning – Fish sauce, soy sauce, or simply salt would all work.
Thickening – Chilled versions of an escabeche would not require any thickening agent. Some popular versions, like this one, call for thickening with cornstarch over flour for the clear sheen that the former provides.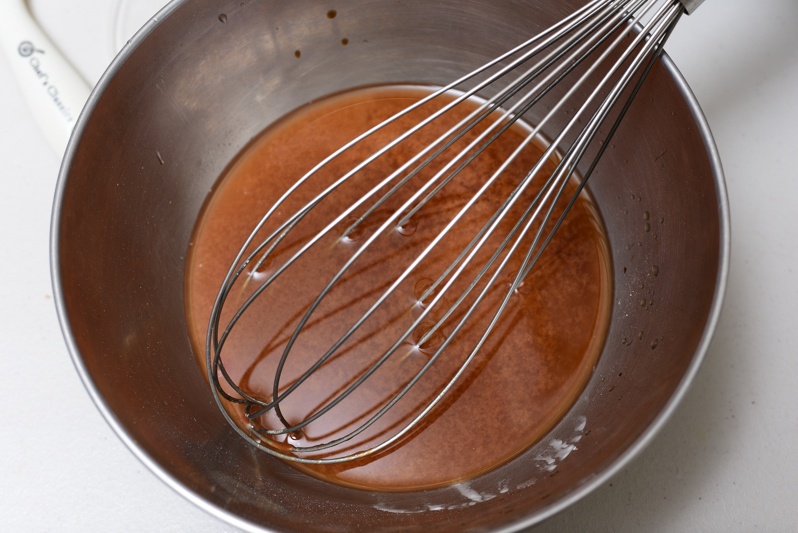 Now for the aromatics – ginger, garlic, onions, carrots, and bell pepper. These would all add depth of flavor to your sauce. I'm sure a more classic matignon of onions, carrots, and celery would work as well.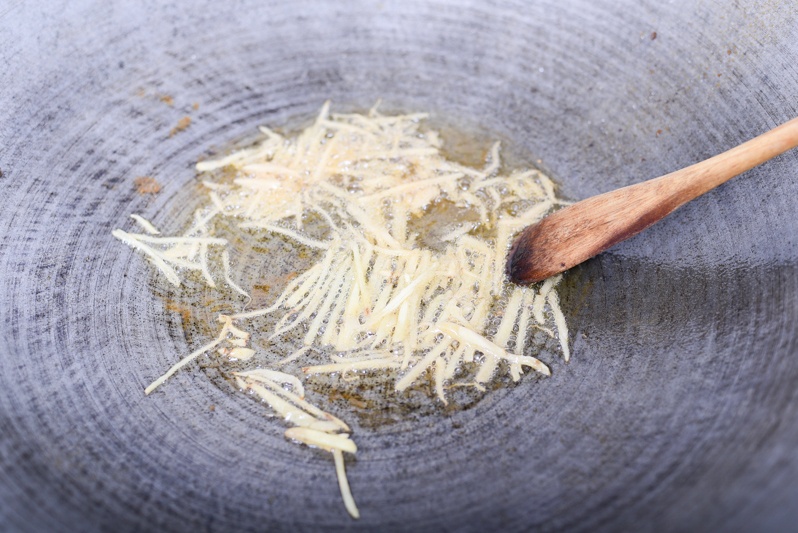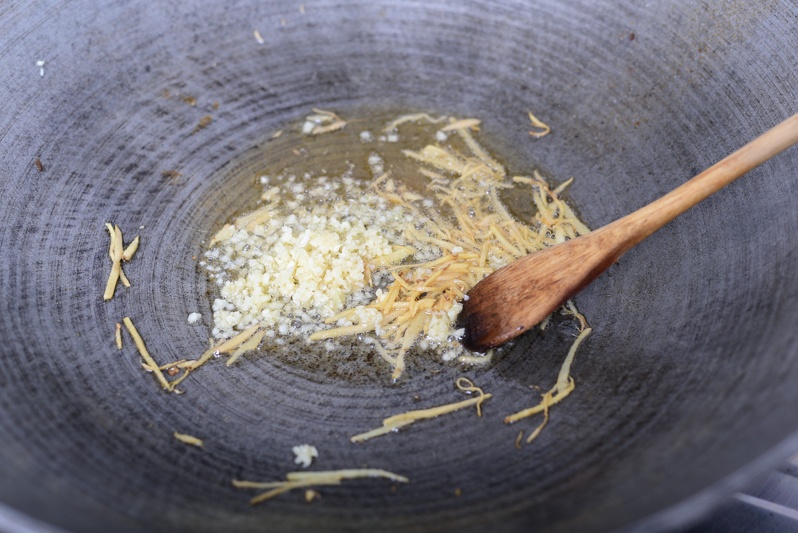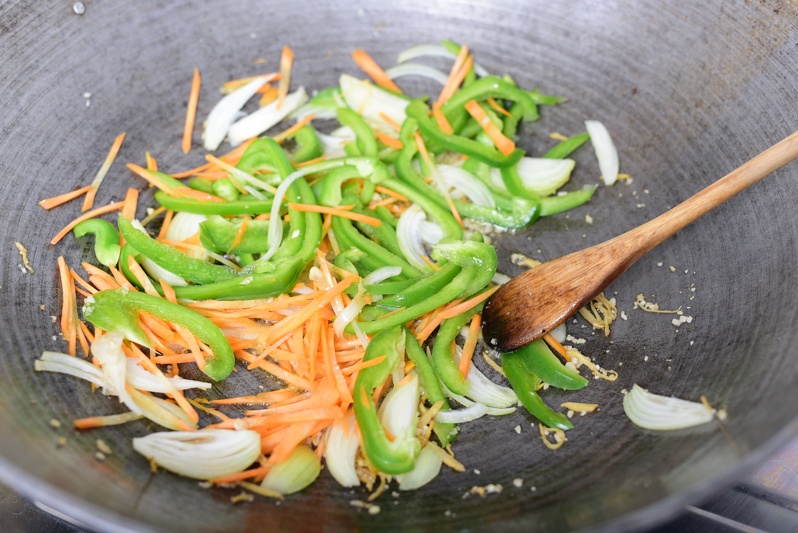 Sweat those aromatics in some oil, being careful not to burn them, then whisk in the sweet and sour mixture you've prepared earlier. This sauce should thicken almost instantly.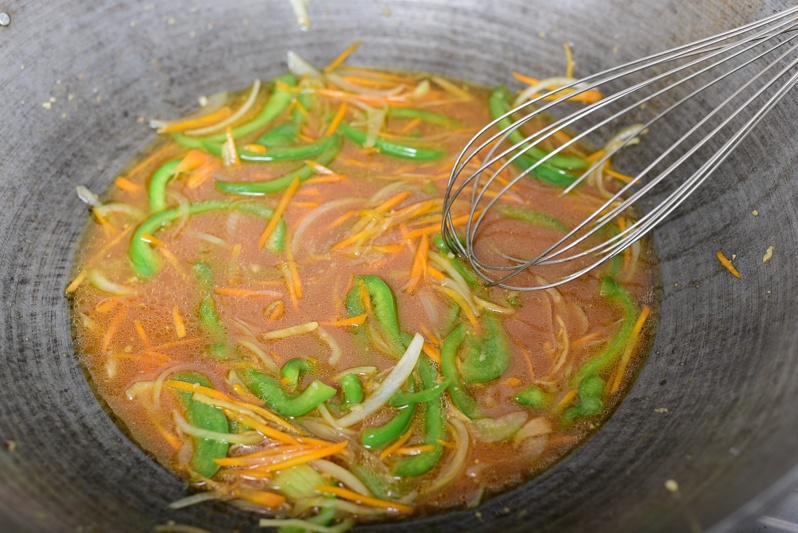 Put the fried fish into the pan and simmer it for a few minutes until it soaks up those flavors in the sauce.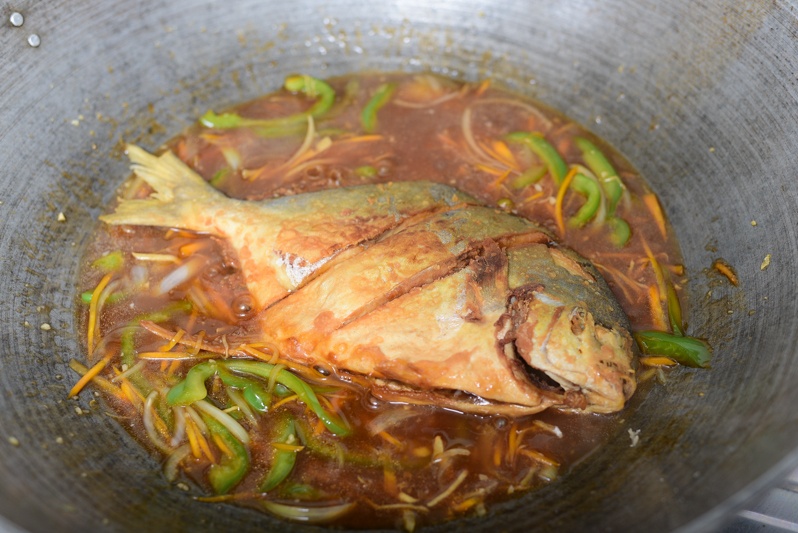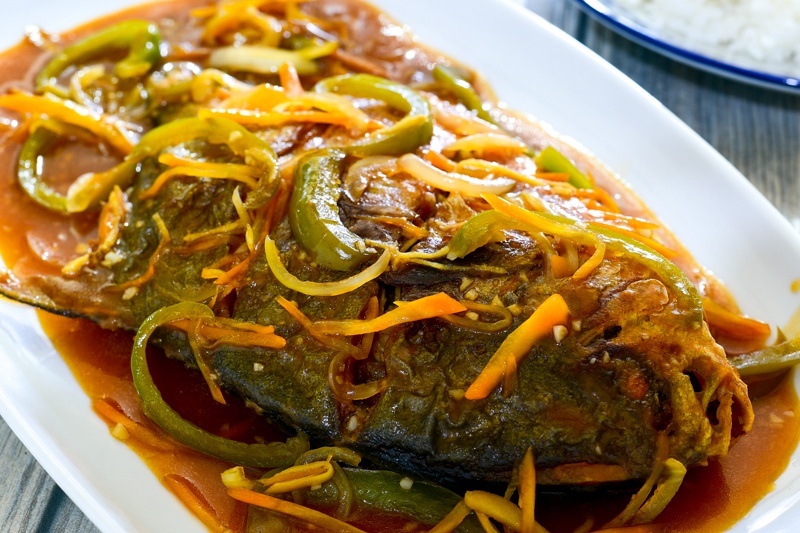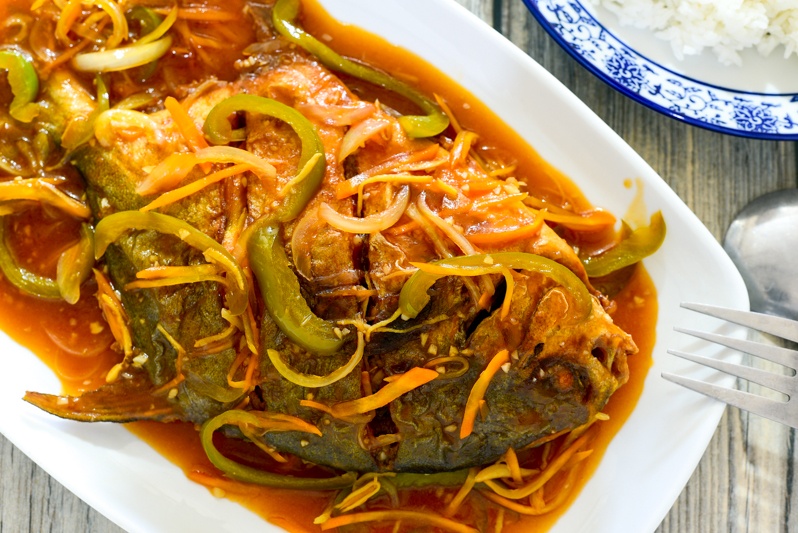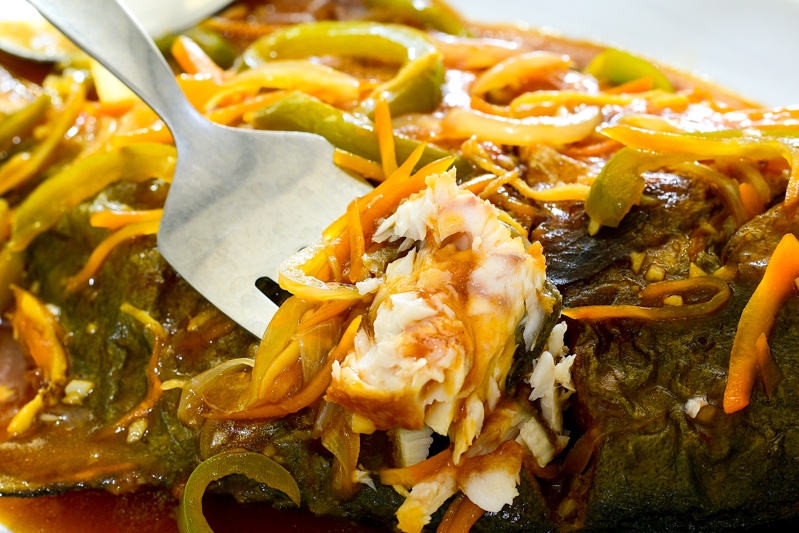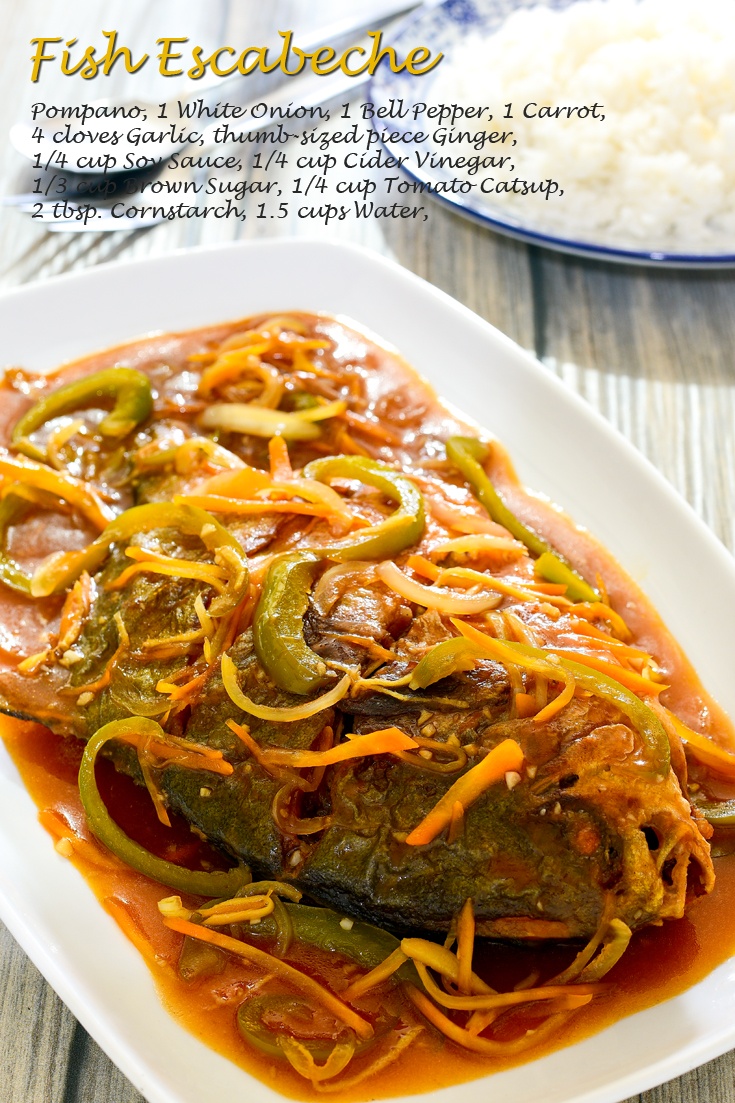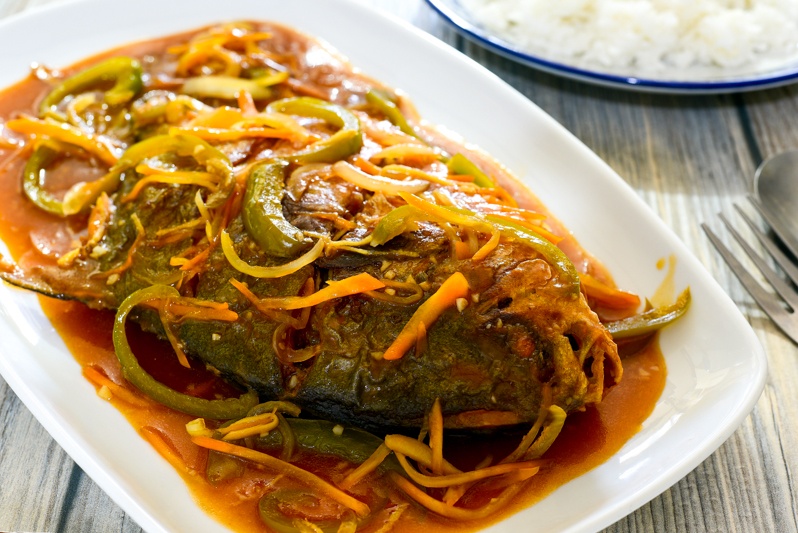 Ingredients
1

Whole

Pompano

2

Tablespoons

Flour

Salt

to taste

Vegetable Oil

for frying

1

Piece

White Onion

thinly sliced

1

Pieces

Carrot

julienne

1

Piece

Bell Pepper

cut int thin strips

4

Cloves

garlic

minced

1

thumb-sized piece

Ginger

cut into thin strips
For the Sauce
1/4

Cup

Cider Vinegar

1/4

Cup

Tomato Catsup

1/4

Cup

Soy Sauce

1/3

Cup

Brown Sugar

1.5

Tablespoons

Cornstarch

1.5

Cups

Water

1

Tablespoon

Fish Sauce
Instructions
Season the fish lightly with salt and dredge in flour.

Deep fry the fish until fully cooked. Set aside.

Whisk all ingredients for the sauce in a bowl.

In a separate pan, sautee ginger and garlic.

Add the carrots, onions, and bell pepper. Sautee until onions are slightly translucent.

Whisk in the sauce mixture and simmer until thick.

Add the fish into the pan and simmer for 5 minutes.