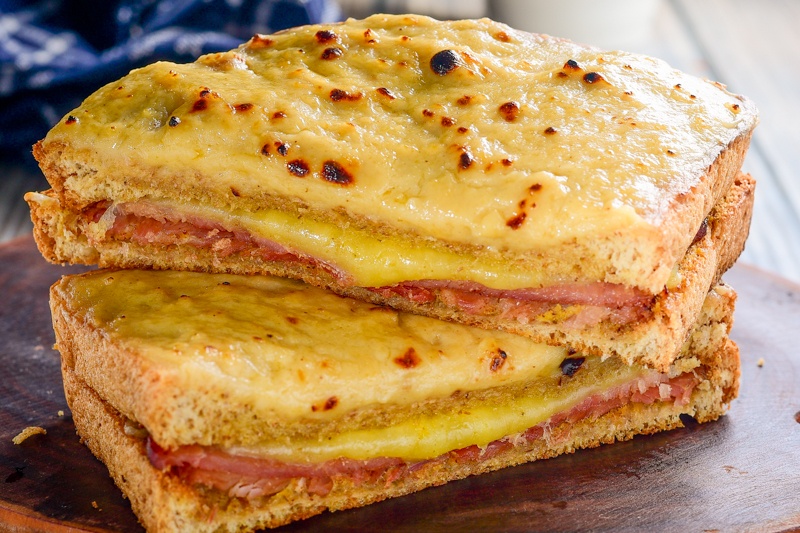 As fancy as this classic French sandwich may seem, it really takes no more than a good choice of cheese and a good understanding of one very basic French sauce – the bechamel. For me, a Croque Monsieur is an ultimately refined ham and cheese sandwich. It is also by this fact that many consider this to be a really overrated dish. That I'll leave open for your opinion.
As with cooking in general, choose the best ingredients you can find – good ham and some excellent gruyere and parmesan. For me, excellent dishes start with and highly rely on the use of excellent ingredients, and this sandwich would be no exception.
Let's get cooking shall we?
Get a skillet nice and hot and give those slices of ham a quick sear. How much cooking the ham will need will depend on how you want it to end up. I prefer mine tender without any crisp parts, so a few seconds on each side would be enough.

Set the ham slices aside. There'll be too much ham flavor left in the skillet and we're not putting that into waste – we'll be making our bechamel in the same pan.
Melt about a tablespoon of butter and let it bubble off just until it smells a bit nutty.

Just before the butter reaches smoking point and eventually browns, stir in an equal amount of flour. Roast it in the pan for a minute or two to get rid of that raw flour taste.
Since we're making a bechamel, which is a white sauce, we want a light-colored roux(butter + flour).

Whisk in the milk before your roux starts to brown. Since we already have that roux heated up in the pan, the milk we'll be adding should be cold or at least at room temperature. Adding warm or hot milk directly into a hot roux would be a sure formula to get lumps in your sauce.

A bechamel on its own would be a good gratinating agent for our Croque Monsieur. Turning it into a mornay sauce with the addition of grated cheese would definitely make it brown better under the broiler aside from the obvious benefit of additional flavor.

Set the bechamel(or mornay) aside for now as we work on the sandwiches.
Brush the slices of bread with melted butter and give it a few minutes inside the oven. Toasting the bread will not only add texture to it but will keep it from turning soggy with that final topping of bechamel sauce.

Brush the toasts with mustard on one side,

set the seared slice of ham on top,

and add a good layer of Gruyere cheese.

Top with another slice of toast and spread a generous amount of that mornay. Notice how thick I decided to make that sauce. That would keep the bread from turning soggy as it gratinates.
Finish your sandwiches under the broiler just until that bechamel turns golden and bubbly.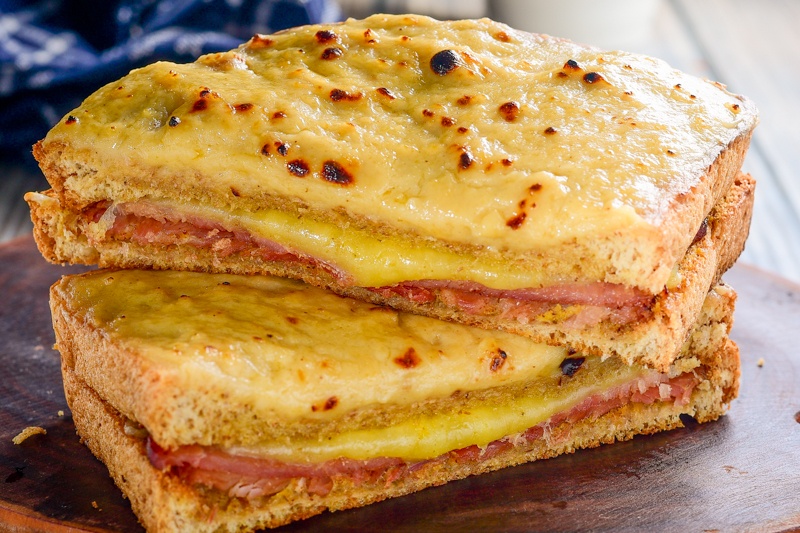 Ingredients
For the Sandwiches
6

Slices

Sandwich Bread

3-6

Slices

Farmer's Ham

pan-fried

3

Slices

Gruyere Cheese

3

Tablespoons

Dijon Mustard
For the Bechamel Sauce
2

Tablespoons

Butter

2

Tablespoons

Flour

1.5

Cups

Milk

1/2

Cup

Shredded Parmesan
Instructions
For the Bechamel Sauce
Melt butter in a saucepan.

Stir in the flour.

Whisk in the milk and simmer until thick.

Stir in the parmesan until fully melted.

Season with salt if needed. Set aside.
For the Sandwiches
Brush the slices of bread with butter on both sides and toast slightly in the oven.

Brush the toasted side of the bread with mustard. Layer in the ham and gruyere. Top with the other slice of bread.

Spread bechamel on top of the assembled sandwiches.

Gratinate until top is bubbly.