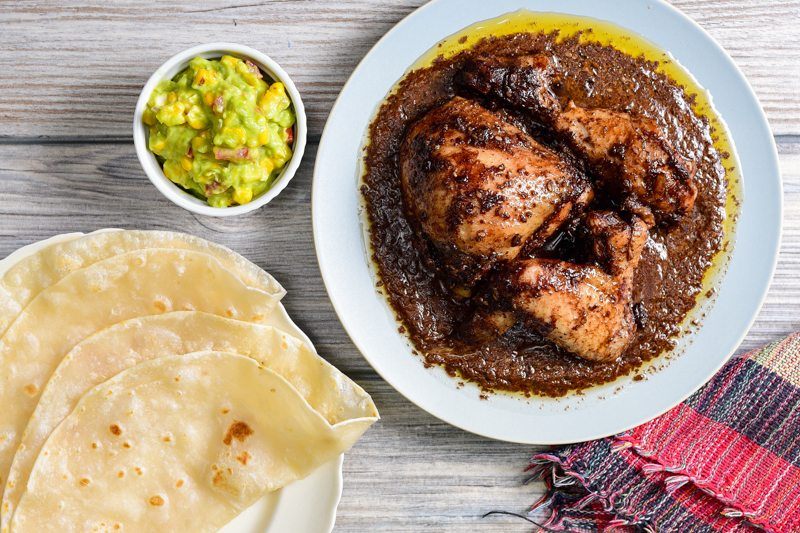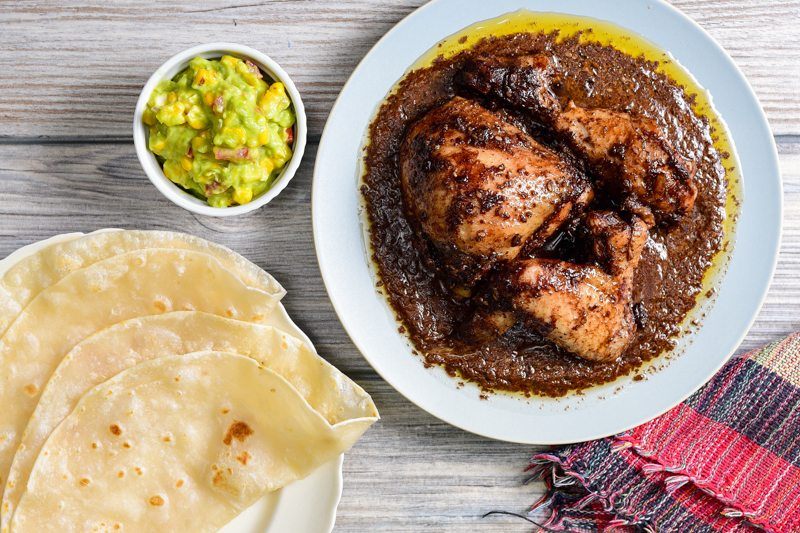 Ingredients
For the Chicken
1

Whole

Chicken

cut into pieces

1

Teaspoon

Salt

1

Teaspoon

Pepper

1

Teaspoon

Garlic Powder

1

Teaspoon

Cumin Powder

1

Teaspoon

Red Pepper Flakes

1

Tablespoon

Lime Juice
For the Mole Sauce
2

Large

Roma Tomatoes

chopped

1

Piece

White Onion

chopped

2

Cloves

garlic

crushed

2

Pieces

Serrano Peppers

chopped

1

Tablespoon

Sesame Seeds

toasted

2

Cups

Chicken Broth

1/2

Cup

Dark Mole Paste

Salt

to taste
Instructions
Mix together salt, pepper, garlic powder, cumin powder, red pepper flakes, and lime juice in a bowl.

Season chicken pieces with spice blend. Marinate for at least an hour.

Blend all ingredients for the mole sauce.

Combine chicken and mole sauce in the slow cooker.

Cook on low for 4-6 hours.
Coming from an ancient word which means 'mix', Mole is basically a collective term for sauces used in Mexican cuisine and all dishes cooked from it. With chili being the main common ingredient, various versions of Mole may be prepared including locally available fruit, seeds, nuts, and spices such as cumin, cinnamon, and pepper.
Though mole may be prepared from a variety of colored peppers, perhaps the most famous outside of Mexico would be the Mole Poblano, with its distinct dark color from the use of chocolate, and poblanos of course.
I tried to recreate this classic dish, not working on any given recipe, but rather simply being guided by an understanding of its origin.
I've used chicken, going by what is popular, though I'm sure that any cut of meat – pork, beef, or any other poultry such as turkey, would work.
Though some cooks may add their choice blend of spices into the sauce, I think that chicken, given its relatively short cooking time would get a much deeper flavor if subjected to these spices in the form of a marinade. For tougher cuts of meat such as beef, which would require more cooking time to tenderize, I would have to totally agree that they'll get enough flavor without any need for marination.
Quite familiar with the spices used in Mexican cooking, I simply went for some cumin, garlic powder, chili flakes, salt, pepper, and some lime juice for my chicken. I left them in this quick spice rub for 4 hours.

Now for the mole sauce. Again, working on my knowledge of this dish, I simply blended up some tomatoes,  onions, garlic, serrano peppers, salt, chicken broth, and mole paste.
Using easily available mole paste which commonly comes in cans would definitely be a lot more convenient, though making one from scratch would also be fairly easy and you'll do find a lot of good recipes from many other sites.
Just as with my curries, I prefer working on my own Mole paste, tweaking the ingredients as I go. Begin with some roasted peanuts(or peanut butter), some chocolate, a few seeds(sesame seeds), some dried herbs such as oregano and thyme, a fruit component such as raisins, and a blend of chiles such as poblanos, guajillos, or anchos. You may also add spices such as cinnamon, cloves, and/or cumin into this paste.
Throw everything in a food processor, tasting and tweaking until you get the taste perfect for your preference.

I simply combined this mole sauce with my chicken in the slow cooker, added some stock to thin the sauce out a bit, and left everything on low for 6 hours.

Simple yet really rich and flavorful. I'm definitely cooking this recipe again in the near future.