Over 21 million Americans – that is about 7% of the population have diabetes. There is, however, a gap in the food market! It seems we can accommodate for paleo, gluten-free, and low-calorie, but there don't seem to be the same options for diabetic friendly meals. These diabetic-friendly meal delivery services are bridging that gap.
Originally, I wanted to compile a list of meal kit services for diabetics, delivering pre-portioned ingredients like Blue Apron, but only found one! A few can be customized to fit into a diet suitable for someone with diabetes, but so far, it's just the one service that specializes this category of meal kits. Luckily, I found a bunch of others that deliver ready made diabetic friendly meals you can get delivered.
Of the list below, my personal choice would be Diet To Go. They are very transparent with their meal options, and have the choice of 5 or 7 day plans. BistroMD is also a very popular service, with delicious meals that'll keep your blood sugar in check.
Our bodies break down the carbs we eat into glucose and sends them into the bloodstream. Usually, the pancreas should produce insulin to transfer the glucose to body cells. For people with diabetes, however, the pancreas is either unable to create adequate insulin or, the cells are unresponsive to the insulin. The inadequate insulin production leads to high blood sugar levels.
It is therefore essential for people with diabetes to watch the carbohydrates they eat (including sugar!). They must avoid causing spikes in their blood glucose levels. Diabetes also makes the body susceptible to cardiovascular conditions and preventing them should also be factored into the diet.
Prepared meals specializing in fare designed for folks with diabetes takes out the stress of always picking the perfect diet-friendly foods, and then making them into a delicious meal. Usually, you have to choose one or the other – healthy or tasty. When someone else cooks, they can figure out how to combine both! This type of food service is also very relevant to (although not limited to) seniors , who often face multiple health conditions. You can also check out our list of meal delivery services for seniors to find other options for that group.
Diabetic-Friendly Meal Delivery Services
Bistro MD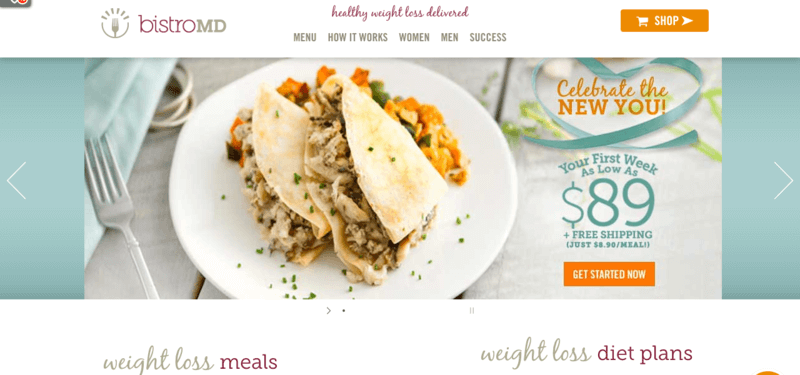 Since 2005, Bistro MD has been delivering healthy, ready to eat gourmet meals right to the doorstep. You can choose from their gluten-free, diabetic, menopause, and silver plans, which all cater for different audiences and needs. You also have the ability to customize your program, by choosing the meals that you want and specifying any other dietary needs.
All of the meals in the diabetic plan were designed by doctors, with the needs of diabetics in mind. The meals are all low in sodium and contain no simple sugars that can cause spikes in blood glucose levels. Most also contain 25 grams (or less) net carbs per serving. The service also creatively combines lean proteins and complex carbohydrates, with the protein helping to keep blood sugar levels stable.
The meals from Bistro MD are satisfying and there is a large variety of dishes that you can choose from. The plan also promotes snacking, with the idea that this helps stabilize blood sugar levels. These can be ordered through the company as well.
You can see the various meals on the site, although information is limited until you actually sign up (and pay). This makes it a frustrating experience all around. I never understand why companies hide their pricing like this and I wish that they wouldn't.
The main plan options are the Full Program and Lunches & Dinners. The seven-day version of the Full Plan costs $134.96 (was $179.95 previously) and provides you with seven breakfasts, seven lunches and six dinners (the missing night is where you practice what you have learned).
The five-day version costs $112.46 (was $149.95 previously) and gives you all of the meals for five days. For Lunches & Dinners, the seven-day plan costs $112.46 (was $149.95), while the five-day plan costs $89.96 (was $119.95 previously). Both of those give lunches & dinners for the full five or seven days.
Diet to Go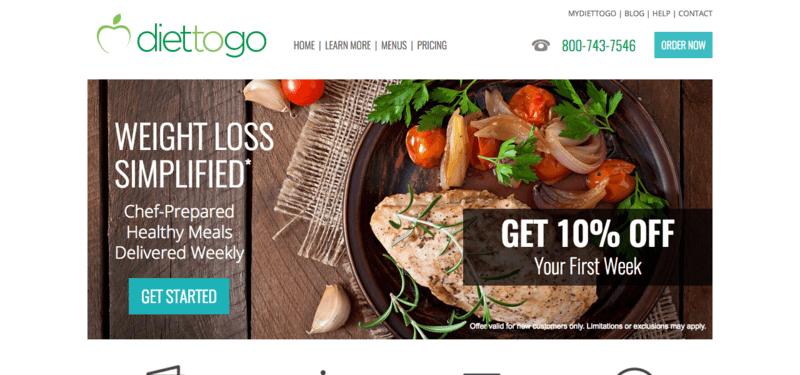 Diet to Go is a prepared meal delivery service designed for weight loss and specialized dietary needs. The company has four different meal plans to choose from, which are Balance, Balance-Diabetes, Carb30, and Vegetarian. The Balance-Diabetes plan is most suitable for diabetes and follows the nutrient recommendations of the American Diabetes Association.
As such, it is suitable for people who have diabetes and those who are trying to avoid the condition. The other menus could also be useful. For example, the vegetarian menu is a powerful way to increase the plants in your diet, while Carb30 allows you to lower your carb intake. While you should consult your doctor first, some people feel that low carb diets can be useful for diabetes.
All of the menus are designed to be heart healthy and to promote weight loss. Both outcomes are critical for people with diabetes or pre-diabetes. Diet to Go works hard to ensure the meals they prepare are low in sodium, carbs, and cholesterol. Some are lower in fat than others, based on the overall goals.
Regardless, the meals contain less than 45 grams of carbs and more than 15 grams of lean proteins per meal. The food delivery service also allows you a free diet analysis where you enter your weight and height details. You then get diet suggestions based on your BMI.
You can choose between receiving meals five days each week or seven days. In either case, you can have two meals per day (lunch and dinner) or three meals (breakfast, lunch and dinner)
You can also choose to take up either the five days a week programs or the seven days a week program. The prices range from $121.99 per week ($12.20 per meal) to $143.59 per week ($9.57 per meal) for the five day plan and between $162.99 per week ($11.64 per meal) and $179.99 per week ($8.57 per meal).
Fresh n' Lean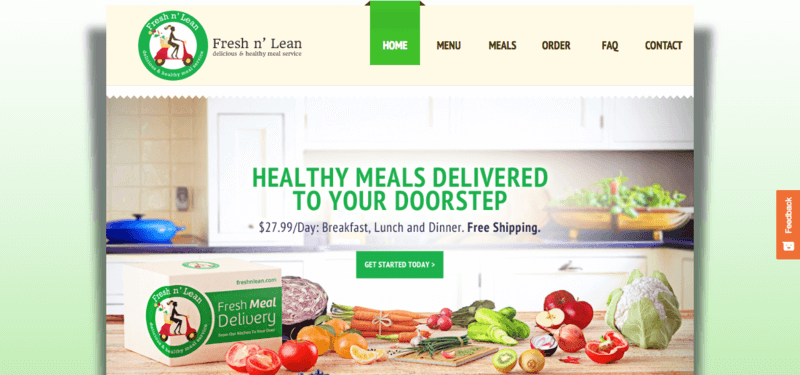 Fresh n' Lean is a prepared meal delivery service that ensures you get organic and healthy meals delivered to your home or office. They have a strong focus on plant-based meals, although some of their plans do include meat as well. Fresh n' Lean menus get inspiration from the Asian, Continental, South American, and Mediterranean cuisines.
You can choose between their A la Carte and weekly meal plans. For their weekly meal plan, you can choose from the one, two or three meals per day options.
The various meals and plans are very suitable for weight loss, and for reducing heart disease risk. They are also low in sodium and in fat, making them a perfect choice for anyone with diabetes. The company is also ideal for pre-op and post-op patients as well as athletes and weight trainers, especially as some plans are high in protein. If you have diabetes, you can call their toll free number to talk to a dietitian and customize your order based on their advice.
The food delivery service gives you nutrient-packed food low in salt, sugar, fat, and carbohydrates. However, there are no raw vegetables in their meals. They also offer tiny portions that may sometimes not be adequate when you are active. You also have to call to cancel an order; there is no provision for that on their website.
The pricing for the A la Carte meals starts at $9.33 per meal but varies depending on the meal chosen. The selection changes over time as well. The price for the meal plans also varies, from $7.95 to $11.33 per meal, depending on the plan that you choose.
However, those prices only apply if you choose three meals in a day. If you want less than that, the average cost per meal changes too. The system is a little frustrating to get used to but it does offer flexibility. One more thing – you don't get to choose the meals on a plan. Instead, you get whatever is on the menu for that week.
Magic Kitchen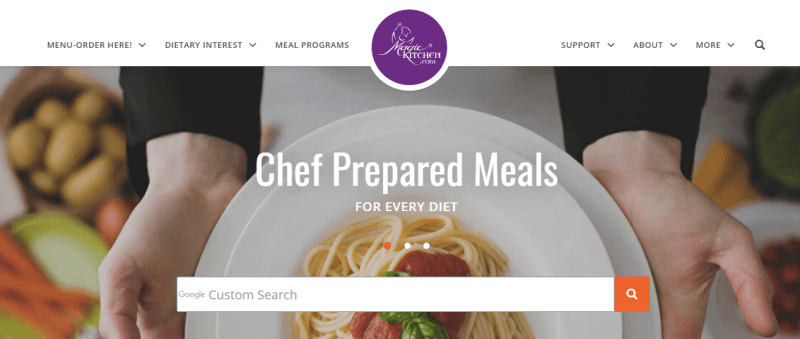 Magic Kitchen meal delivery service came to be in 2005 in North Carolina. Since then they have been delivering healthy low sodium, low sugar and carbohydrate controlled meals. They are most well known for the way they provide for various dietary needs, more than most other companies.
For example, Magic Kitchen offers selections that are diabetic friendly, portion controlled, dialysis-friendly, heart healthy and ones that are ideal for the renal diet (CKD 3&4). They also have dairy-free, gluten-free and low-fat offerings, while catering for seniors as well. Magic Kitchen uses symbols to make it clear which diets individual meals are suitable for.
With all of those areas, the dishes aren't the most amazing or gourmet meals that you'll find. But, they are still appealing and reasonably priced.
The diabetic menu meals all have less than 700 mg of sodium per serving, with most being below 500 mg. The carb content is never more than 65 grams and most meals have between 20 and 45 grams of carbs. The meals tend to have one main dish and either one or two sides. They can be ordered individually or as part of a plan. The prices vary but most meals are between $11.50 and $12.50 per serving.
The meal programs are flexible – and you talk to the company directly to set up what you want. Magic Kitchen estimates that a diabetic meal plan with one meal per day would cost between $75 and $85 per week. The cost would be between $150 to $165 for two meals per day, and $225 to $250 for three meals per day. Because this aspect is personalized, you could easily specify the types of food that you want as well.
Compared to other food delivery services, their preparation instructions are very detailed. However, it is challenging to reorder meals you love since they run out of stock very often. Their meals can also be very bland, but adding extra seasoning is also an option. This is to be expected with any service catering for such a range of customers. After all, some people have more sensitive palates.
Prices for their A la carte meals start at $10.25 per meal and are dependent on the meal you choose. For a meal pack with seven servings, the price starts at $75. There is also a family bundle with two meals each with six servings and its price starts at $166.
Mom's Meals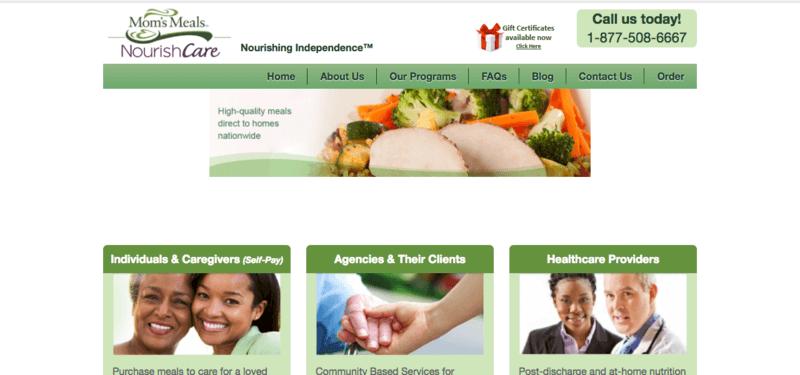 Barb Anderson started Mom's Meals in Nevada Iowa. The prepared meal service is family owned and is USDA certified. The premise behind the meal delivery service was to lend a hand to parents and relatives living far away. It is also ideal for individuals desiring convenience. Patients recuperating at home and those managing a disease will also find the food delivery service helpful, particularly because of the wide variety of programs.
They have gluten-free, vegetarian, diabetic-friendly, heart-healthy, renal, cancer supports, low sodium as well as pureed menus. The food delivery service also has programs for, individuals and caregivers, agencies and their clients, and healthcare providers. They also cater for Medicaid beneficiaries. You can choose from the seven, 10, 14 or 21 meal packages. You also have a selection of over 60 meals.
Mom's Meals provides chef tips on food seasoning if the food is not to your taste. While they have many options, it isn't always possible to avoid allergens. This happens because meals are already packaged when you order them. Their heating instructions are also not very clear, which can be an issue.
Meal prices begin at $6.49 per meal, but pureed meal prices start at $7.49 per meal. Shipping is $14.95 per order. The meal package prices vary with the meals chosen but start at $649 per week for three meals a day.
Overall, the meals are less impressive than many other companies. But, they make up for this by being very inexpensive and supporting so many different types of diets. The meals are still much healthier and tastier than a freezer meal from the local grocery store.
Martha's Senior Gourmet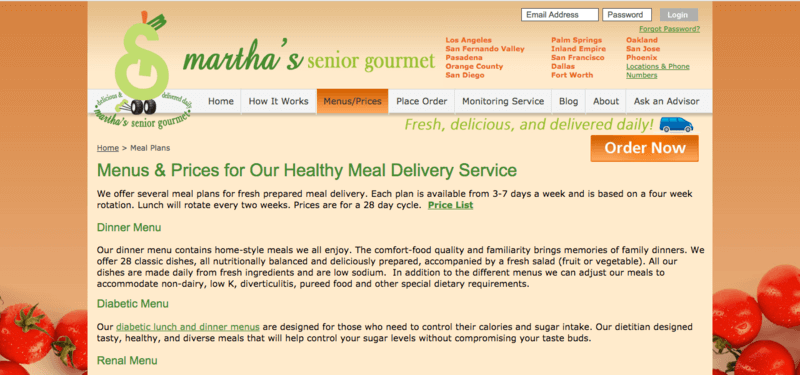 Martha's Senior Gourmet delivers to Northern and Southern California and South Florida. Their specific options cater to healthy lifestyles in general along with the specific needs of diabetic, renal, renal diabetic, congestive heart failure, gluten-free and Vitamin K restrictive diets. For diabetics, they follow the Medical Nutrition Therapy (MNT) model. MNT is high in nutrition, low in fat and calories and emphasizes on fresh vegetable and fruits as well as whole grains.
They provide a monitoring report at your request. The monitoring is especially beneficial if you are subscribing for an invalid or a senior. The report covers time taken to open the door, general appearance and change in mobility and speech patterns.
It also includes recognition and cognition. The Martha's Senior Gourmet also donates excess food to senior or non-profit organizations. Their main downside is their high meal prices. For example, some of the plans calculate out to $20 or more for a single meal. The meals also don't look as amazing as other companies either, although that could be partly due to poor photography. Regardless, the advantages of the service are easy to see, especially if the meals are for someone else.
Their healthy meals comprise of four to six oz protein, 3.5 oz starch, two oz steamed, roasted or grilled vegetables and eight oz fresh fruit or vegetable salads. You can take their five day trial period plan to try out the meal service or subscribe to a meal plan. The programs are available for three to seven days a week.
They bill their meals plans on a four-week basis. There are many different plans in place. Some cater for one person, starting at $284 for four weeks (three meals a week).
Others cater for two and start at $556 (three meals a week). You can order meals for up to seven days a week and can choose either just dinner or lunch and dinner. There are also weekly plans, which start at $120 for five days of just dinner or $195 for lunch and dinner. There are many other prices as well.
Nutrisystem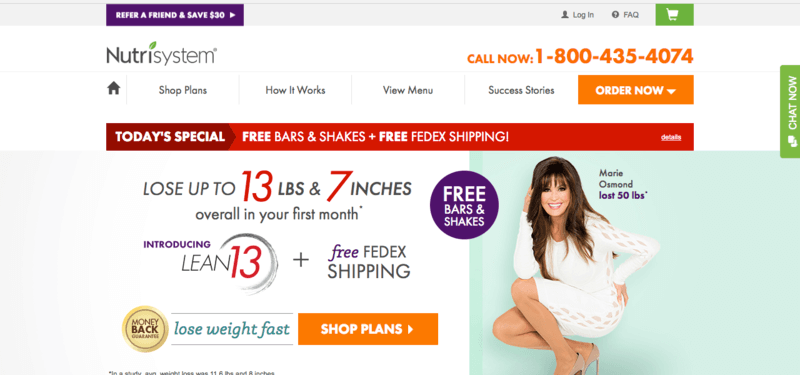 Nutrisystem is a different type of prepared meal service and it mostly focuses on weight loss. With this company, you pay for a plan, which provides you with some prepared meals, along with meal plans and shopping lists for the rest.
The idea is to get you thinking about healthy food and preparing options that are good for you. As with companies like Weight Watchers, there is plenty of support along the way. The style is particularly powerful for people who have just started to think about diabetes, as the service can teach you all that you need to know.
They have multiple meal plans to choose from, including ones that are specific to diabetes. In each case, you choose based on gender and whether you want their favorites menu or to choose your own. The meals rely heavily on lean proteins and fiber.
They are also low in carbs while avoiding the use of artificial sweeteners, colors, or flavors. Despite this, the meals are often more processed than what you find with other companies and many are similar to frozen dinners for the grocery store.
While they may be healthy enough and get good reviews the meals are far from impressive. The system also has members relying on snacks like heavily processed bars, ice cream sandwiches and cheese puffs. The snacks can still be considered healthy but they're very different than the fresh food that other company's produce.
Their weight loss and management programs do work and there are many options to choose from. However, the meal delivery service forces you into the second month; if you cancel before that they charge you $125. If you are unhappy with a product, it will cost you $20 to ship it back. You may have to consult your doctor to be sure your blood glucose will not be adversely affected by what they offer.
They have three-four week plans; Basic, Core and Uniquely Yours. The price for basic is $9.82 a day, Core goes for $10.54 and Uniquely yours $11.96.
DineWise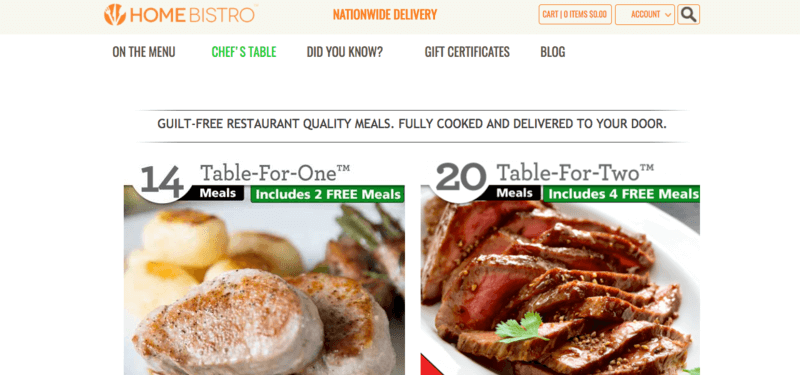 For 45 years, Home Bistro has been delivering prepared meals. They ship orders all over the United States. Their offerings include: Healthy Gourmet, heart friendly, diabetic friendly, cancer support, vegetarian, and paleo meals. They are a no subscription meal delivery service. However, the company is undergoing some transitions currently, so their plans, prices, and services may change.
DineWise's ingredients are picked by hand by their Certified Executive Chef CEC. The title is the highest a chef can attain, and only one-quarter of one percent of Chefs in America have it.
Their website is straightforward to navigate. To choose meals, just click the 'ON THE MENU' tab and then select the diet you prefer from icons on the menu page. They also have lower sodium, gluten-free, low carb and dairy free meals.
You are in good hands here since the chef also has diabetes, so most of their meals are diabetic friendly. You can also order raw meats and other ingredients for those days you want to cook. The balance is interesting and can work well. Just make sure you pay attention to the meals you order so that you only get ones suitable for your needs.
Meal prices start at $8.99 for dishes and $20 for meats per meal. Shipping depends on the amount you order and starts at $15.95. For orders over $300, you will pay 14.5% of the order value in shipping charges.
Send a Meal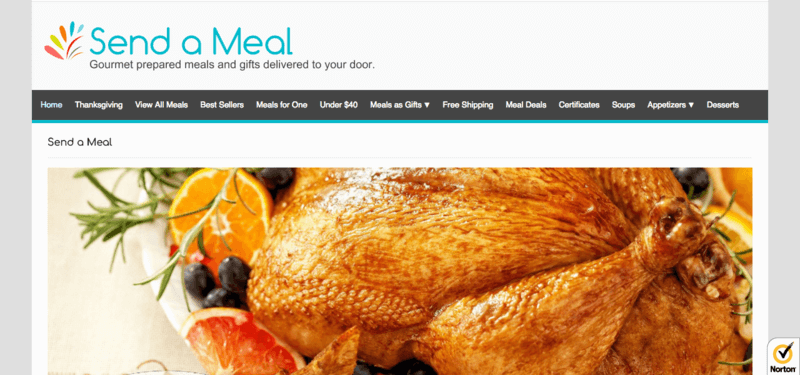 Send a Meal is different from other food delivery services in that they do not prepare their meals. They source from other meal service providers and mainly from Omaha steaks and Lobster Gram. In that sense, it almost acts like a gift service. Send a Meal does have nutritionists and chefs to help determine which meals are healthy. But, most don't come with nutritional information, which is frustrating.
The style means that there is a wide selection of meals to choose from, including sets designed for diabetics and for anyone watching their sodium. There is also variety. For example, some of the plans give you meals for one, while others will serve an entire family. If you are unsatisfied with your order, you can get a refund or replacement for your order.
They have more categories than other services, including focusing on the type of ingredients, such as beef, poultry, pork, seafood, pasta, and BBQ. They also have a special occasion and holiday foods, along with ones for specific diets. This includes meals that are dairy free, low sodium, diabetic friendly, low fat, vegetarian and for seniors.
In most cases, you don't buy meals individually. Instead, you're buying a selection of meals, often seven at a time. Prices vary but many are somewhere between $90 and $100 for dinners.
For example, a seven-day Diabetic Meals for One combo costs $94.95, which averages out to around $13.60 per meal. All of the meals are frozen when shipped and are packed carefully so that they stay frozen. The style does work but only if you're prepared to have little control over the meals you receive and limited nutritional details.
Top Chef Meals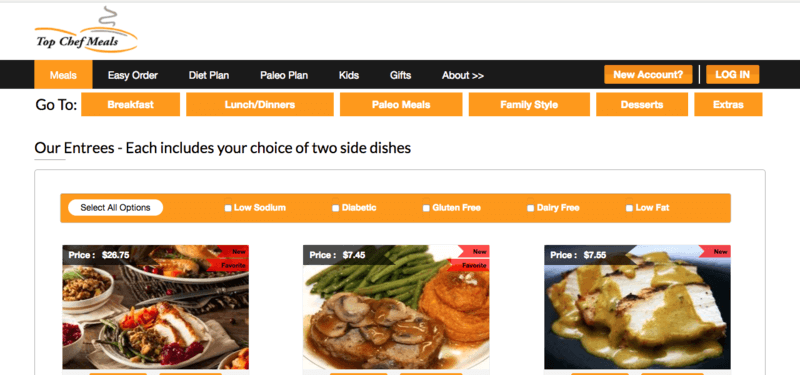 Top Chef Meals works extremely well for dietary restrictions, as the company offers more flexibility than most others. In particular, they provide the ability to choose the main component of your meal and then two sides to go along with it. This style makes it easy to adjust to dietary needs and personal taste preferences.
The company also has a specific diabetic plan and all meals within it use a diabetic emblem. The meals are low in sugars and in carbs, with the goal of supporting healthy blood sugar levels. Each meal will contain 20 grams or less of net carbs.
There is also a substantial catalog of meals to choose from. Nutritional information is provided for the meal as a whole and for each individual component. This makes it easy to adjust your meals as you see fit.
Top Chef Meals offers two options for ordering. The main is to select meals individually. These start at around $6.95, with many of the meals costing less than $8. There are some more expensive gourmet selections, along with breakfasts and desserts. You can also use the Easy Order system, which is basically a pack of meals. The price is based on the number of meals but the cost per meal is similar to ordering individually.
The main limitation with Top Chef Meals is ingredients. The company doesn't offer many details here and appears to have no emphasis on organic or sustainably-sourced food. The meals would still be healthy and would taste good. Still, this aspect wouldn't be appealing to some people.
NutriFit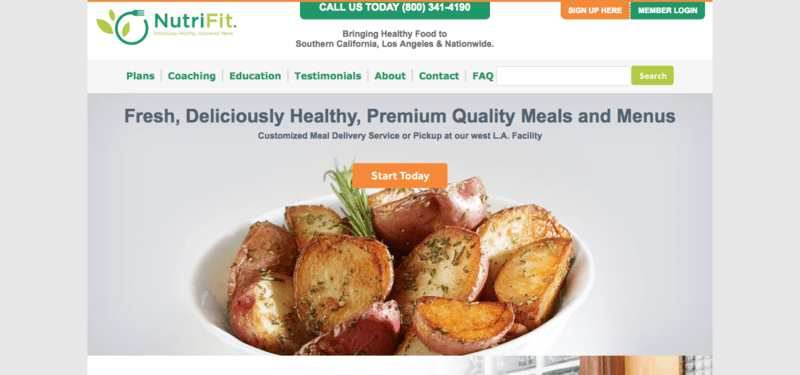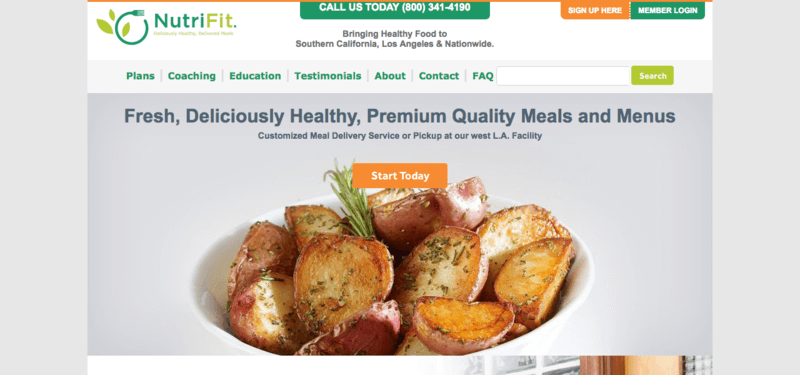 I'll admit it, I don't much like NutriFit. The company has a complex website and they like being vague about pretty much everything. There aren't that many images of the actual meals they provide either, and you have to sign up to even see menus.
Despite this, the company is a good choice for people with significant dietary needs. NutriFit simply allows more customization than most – which is partly why they're so vague as well. You're able to tailor your plan based on pretty much anything, including multiple dietary needs or restrictions. NutriFit also specifically says that their plans can help manage and support diabetes.
Basically, there are two plans on offer. The first is Essentials, which allows for basic customization. The other is Premium. That one is more comprehensive and allows you to change just about everything. Both of them should be suitable for diabetes. However, the company mentions that the Essentials plan will only work for diabetes management in some situations, based on other requirements.
Based on standard pricing details, the Premium plan isn't much more expensive, although dinners do cost around $10 more. The meals aren't cheap to begin with either, starting at $17.95 for Essentials on a 28-day plan and $19.95 on a daily plan.
These are just estimates though. The phrasing on the site suggests that price is based on your specific plan. To get exact numbers, you'd need to talk to the company. But, either way, this isn't a cheap option. It may be worth the price if you have multiple dietary needs. If not, some of the other companies on this list may be better.